PO0005
Terra Di Siena / Violet
4 Lenses
{"hasSingleSKU":true,"catalogEntryTypeCode":"ProductBean","parentCatalogGroupID":["3074457345616676668_3074457345616676668","3074457345616681818_3074457345616678189","3074457345616681818_3074457345616696171","3074457345616681818_3074457345616696200","3074457345616681818_3074457345616700671","3074457345616681818_3074457345616702176","3074457345616681818_3074457345616702177","3074457345616681818_3074457345616707668","3074457345616681818_3074457345616708169"],"singleSKUCatalogEntryID":"3074457345616741765","uniqueID":"3074457345616741230","sKUs":[{"hasSingleSKU":false,"catalogEntryTypeCode":"ItemBean","parentCatalogGroupID":["3074457345616676668_3074457345616676668","3074457345616681818_3074457345616678189","3074457345616681818_3074457345616696171","3074457345616681818_3074457345616696200","3074457345616681818_3074457345616700671","3074457345616681818_3074457345616707668","3074457345616681818_3074457345616708169"],"uniqueID":"3074457345616741765","resourceId":"http:\/\/lux-prdlv-src01.lux-ecomm.net:3737\/search\/resources\/store\/715838404\/productview\/byId\/3074457345616741765","price":[{"description":"L","value":"","usage":"Display","currency":"FIM"},{"description":"O","value":"","usage":"Offer","currency":"FIM"}],"thumbnail":"https:\/\/s7d3.scene7.com\/is\/image\/Persol\/8056597058339_noshad_fr?scl=4","shortDescription":"PO0005 96\/4R 54-17","mfPartNumber_ntk":"0PO0005","name":"PO0005 96\/4R 54-17","buyable":"true","storeID":"715838084","attributes":[{"storeDisplay":false,"values":[{"sequence":"1","value":"Standard","uniqueID":"7741124012283336345","unitOfMeasure":"","unitID":"","identifier":"Standard"}],"sequence":"1","name":"Size","usage":"Defining","uniqueID":"7741124012283334359","displayable":true,"comparable":false,"identifier":"MODEL_SIZE_DISPLAY","searchable":false,"facetable":false},{"storeDisplay":false,"values":[{"sequence":"3","value":"Classic","uniqueID":"7741124012283336894","unitOfMeasure":"","unitID":"","identifier":"Classic"}],"sequence":"3","name":"Lens treatment","usage":"Descriptive","uniqueID":"7741124012283334364","displayable":false,"comparable":false,"identifier":"LENS_TREATMENT","searchable":false,"facetable":false},{"storeDisplay":false,"values":[{"sequence":"3","value":"Supreme 5","uniqueID":"7741124012284313340","unitOfMeasure":"","unitID":"","identifier":"Supreme 5"}],"sequence":"371","name":"Arrow","usage":"Descriptive","uniqueID":"7741124012283348835","displayable":false,"comparable":false,"identifier":"ARROW","searchable":false,"facetable":false},{"storeDisplay":false,"values":[{"sequence":"1","value":"125","uniqueID":"7741124012283336889","unitOfMeasure":"","unitID":"","identifier":"125"}],"sequence":"371","name":"Temple length","usage":"Descriptive","uniqueID":"7741124012283334363","displayable":false,"comparable":false,"identifier":"TEMPLE_LENGTH","searchable":false,"facetable":false},{"storeDisplay":false,"values":[{"sequence":"4","value":"Lenses-sun;material-acetate;arrow-all;meflecto-all","uniqueID":"7741124012284859910","unitOfMeasure":"","unitID":"","identifier":"Lenses-sun;material-acetate;arrow-all;meflecto-all"}],"sequence":"371","name":"FEATURES","usage":"Descriptive","uniqueID":"7741124012284251845","displayable":false,"comparable":false,"identifier":"FEATURES","searchable":false,"facetable":false},{"storeDisplay":false,"values":[{"sequence":"3","value":"Classic","uniqueID":"7741124012283336899","unitOfMeasure":"","unitID":"","identifier":"Classic"}],"sequence":"371","name":"Lens treatment","usage":"Descriptive","uniqueID":"7741124012283334365","displayable":false,"comparable":false,"identifier":"LENS_TREATMENT_FACET","searchable":true,"facetable":false},{"storeDisplay":false,"values":[{"sequence":"2","value":"17","uniqueID":"7741124012283336883","unitOfMeasure":"","unitID":"","identifier":"17"}],"sequence":"371","name":"Lens bridge","usage":"Descriptive","uniqueID":"7741124012283334362","displayable":false,"comparable":false,"identifier":"LENS_BRIDGE","searchable":false,"facetable":false},{"storeDisplay":false,"values":[{"sequence":"5","value":"PO0005 96\/4R 54-17","uniqueID":"7741124012284313137","unitOfMeasure":"","unitID":"","identifier":"PO0005 96\/4R 54-17"}],"sequence":"371","name":"Displaysku","usage":"Descriptive","uniqueID":"7741124012283364836","displayable":false,"comparable":false,"identifier":"DISPLAYSKU","searchable":false,"facetable":false},{"storeDisplay":false,"values":[{"sequence":"1","value":"Zpfn","uniqueID":"7741124012283336923","unitOfMeasure":"","unitID":"","identifier":"Zpfn"}],"sequence":"371","name":"Materialtype","usage":"Descriptive","uniqueID":"7741124012283334372","displayable":false,"comparable":false,"identifier":"MATERIALTYPE","searchable":false,"facetable":false},{"storeDisplay":false,"values":[{"sequence":"3","value":"54","uniqueID":"7741124012283336338","unitOfMeasure":"","unitID":"","identifier":"54"}],"sequence":"371","name":"Model size","usage":"Descriptive","uniqueID":"7741124012283334358","displayable":false,"comparable":false,"identifier":"MODEL_SIZE","searchable":false,"facetable":false},{"storeDisplay":false,"values":[{"sequence":"5","value":"96\/4R 54","uniqueID":"7741124012284312958","unitOfMeasure":"","unitID":"","identifier":"96\/4R 54"}],"sequence":"371","name":"Grid Value","usage":"Descriptive","uniqueID":"7741124012283364837","displayable":true,"comparable":false,"identifier":"GRID VALUE","searchable":false,"facetable":false},{"storeDisplay":false,"values":[{"sequence":"3","value":"Supreme Acetate","uniqueID":"7741124012283355348","unitOfMeasure":"","unitID":"","identifier":"Supreme Acetate"}],"sequence":"371","name":"Temple logo","usage":"Descriptive","uniqueID":"7741124012283348836","displayable":false,"comparable":true,"identifier":"TEMPLE_LOGO","searchable":false,"facetable":false},{"storeDisplay":false,"values":[{"sequence":"1","value":"Trending Now","uniqueID":"7741124012284582837","unitOfMeasure":"","unitID":"","identifier":"Trending Now"}],"sequence":"371","name":"Primary family","usage":"Descriptive","uniqueID":"7741124012284026836","displayable":false,"comparable":false,"identifier":"PRIMARY_FAMILY","searchable":false,"facetable":false},{"storeDisplay":false,"values":[{"sequence":"2","value":"Supreme Acetate","uniqueID":"7741124012283376860","unitOfMeasure":"","unitID":"","identifier":"Supreme Acetate"}],"sequence":"1421","name":"Temple Logo","usage":"Descriptive","uniqueID":"7741124012283379335","displayable":false,"comparable":false,"identifier":"TEMPLE LOGO","searchable":false,"facetable":false}],"partNumber":"8056597058339"}],"merchandisingAssociations":[{"hasSingleSKU":true,"catalogEntryTypeCode":"ProductBean","associationType":"REPLACEMENT","parentCatalogGroupID":["3074457345616676668_3074457345616676668","3074457345616681818_3074457345616678189","3074457345616681818_3074457345616696171","3074457345616681818_3074457345616696200","3074457345616681818_3074457345616700671","3074457345616681818_3074457345616702176","3074457345616681818_3074457345616702177","3074457345616681818_3074457345616707668","3074457345616681818_3074457345616708169","3074457345616681818_3074457345616708674"],"uniqueID":"3074457345616741231","singleSKUCatalogEntryID":"3074457345616741766","sKUs":[{"hasSingleSKU":false,"catalogEntryTypeCode":"ItemBean","parentCatalogGroupID":["3074457345616676668_3074457345616676668","3074457345616681818_3074457345616678189","3074457345616681818_3074457345616696171","3074457345616681818_3074457345616696200","3074457345616681818_3074457345616700671","3074457345616681818_3074457345616707668","3074457345616681818_3074457345616708169","3074457345616681818_3074457345616708674"],"uniqueID":"3074457345616741766","resourceId":"http:\/\/lux-prdlv-src01.lux-ecomm.net:3737\/search\/resources\/store\/715838404\/productview\/byId\/3074457345616741766","price":[{"description":"L","value":"","usage":"Display","currency":"FIM"},{"description":"O","value":"","usage":"Offer","currency":"FIM"}],"thumbnail":"https:\/\/s7d3.scene7.com\/is\/image\/Persol\/8056597058308_noshad_fr?scl=4","shortDescription":"PO0005 96\/56 54-17","mfPartNumber_ntk":"0PO0005","name":"PO0005 96\/56 54-17","buyable":"true","storeID":"715838084","attributes":[{"storeDisplay":false,"values":[{"sequence":"1","value":"Standard","uniqueID":"7741124012283336345","unitOfMeasure":"","unitID":"","identifier":"Standard"}],"sequence":"1","name":"Size","usage":"Defining","uniqueID":"7741124012283334359","displayable":true,"comparable":false,"identifier":"MODEL_SIZE_DISPLAY","searchable":false,"facetable":false},{"storeDisplay":false,"values":[{"sequence":"3","value":"Classic","uniqueID":"7741124012283336894","unitOfMeasure":"","unitID":"","identifier":"Classic"}],"sequence":"3","name":"Lens treatment","usage":"Descriptive","uniqueID":"7741124012283334364","displayable":false,"comparable":false,"identifier":"LENS_TREATMENT","searchable":false,"facetable":false},{"storeDisplay":false,"values":[{"sequence":"3","value":"Supreme 5","uniqueID":"7741124012284313340","unitOfMeasure":"","unitID":"","identifier":"Supreme 5"}],"sequence":"374","name":"Arrow","usage":"Descriptive","uniqueID":"7741124012283348835","displayable":false,"comparable":false,"identifier":"ARROW","searchable":false,"facetable":false},{"storeDisplay":false,"values":[{"sequence":"1","value":"125","uniqueID":"7741124012283336889","unitOfMeasure":"","unitID":"","identifier":"125"}],"sequence":"374","name":"Temple length","usage":"Descriptive","uniqueID":"7741124012283334363","displayable":false,"comparable":false,"identifier":"TEMPLE_LENGTH","searchable":false,"facetable":false},{"storeDisplay":false,"values":[{"sequence":"4","value":"Lenses-sun;material-acetate;arrow-all;meflecto-all","uniqueID":"7741124012284859910","unitOfMeasure":"","unitID":"","identifier":"Lenses-sun;material-acetate;arrow-all;meflecto-all"}],"sequence":"374","name":"FEATURES","usage":"Descriptive","uniqueID":"7741124012284251845","displayable":false,"comparable":false,"identifier":"FEATURES","searchable":false,"facetable":false},{"storeDisplay":false,"values":[{"sequence":"3","value":"Classic","uniqueID":"7741124012283336899","unitOfMeasure":"","unitID":"","identifier":"Classic"}],"sequence":"374","name":"Lens treatment","usage":"Descriptive","uniqueID":"7741124012283334365","displayable":false,"comparable":false,"identifier":"LENS_TREATMENT_FACET","searchable":true,"facetable":false},{"storeDisplay":false,"values":[{"sequence":"2","value":"17","uniqueID":"7741124012283336883","unitOfMeasure":"","unitID":"","identifier":"17"}],"sequence":"374","name":"Lens bridge","usage":"Descriptive","uniqueID":"7741124012283334362","displayable":false,"comparable":false,"identifier":"LENS_BRIDGE","searchable":false,"facetable":false},{"storeDisplay":false,"values":[{"sequence":"3","value":"PO0005 96\/56 54-17","uniqueID":"7741124012284313232","unitOfMeasure":"","unitID":"","identifier":"PO0005 96\/56 54-17"}],"sequence":"374","name":"Displaysku","usage":"Descriptive","uniqueID":"7741124012283364836","displayable":false,"comparable":false,"identifier":"DISPLAYSKU","searchable":false,"facetable":false},{"storeDisplay":false,"values":[{"sequence":"1","value":"Zpfn","uniqueID":"7741124012283336923","unitOfMeasure":"","unitID":"","identifier":"Zpfn"}],"sequence":"374","name":"Materialtype","usage":"Descriptive","uniqueID":"7741124012283334372","displayable":false,"comparable":false,"identifier":"MATERIALTYPE","searchable":false,"facetable":false},{"storeDisplay":false,"values":[{"sequence":"3","value":"54","uniqueID":"7741124012283336338","unitOfMeasure":"","unitID":"","identifier":"54"}],"sequence":"374","name":"Model size","usage":"Descriptive","uniqueID":"7741124012283334358","displayable":false,"comparable":false,"identifier":"MODEL_SIZE","searchable":false,"facetable":false},{"storeDisplay":false,"values":[{"sequence":"1","value":"96\/56 54","uniqueID":"7741124012283376847","unitOfMeasure":"","unitID":"","identifier":"96\/56 54"}],"sequence":"374","name":"Grid Value","usage":"Descriptive","uniqueID":"7741124012283364837","displayable":true,"comparable":false,"identifier":"GRID VALUE","searchable":false,"facetable":false},{"storeDisplay":false,"values":[{"sequence":"3","value":"Supreme Acetate","uniqueID":"7741124012283355348","unitOfMeasure":"","unitID":"","identifier":"Supreme Acetate"}],"sequence":"374","name":"Temple logo","usage":"Descriptive","uniqueID":"7741124012283348836","displayable":false,"comparable":true,"identifier":"TEMPLE_LOGO","searchable":false,"facetable":false},{"storeDisplay":false,"values":[{"sequence":"1","value":"Trending Now","uniqueID":"7741124012284582837","unitOfMeasure":"","unitID":"","identifier":"Trending Now"}],"sequence":"374","name":"Primary family","usage":"Descriptive","uniqueID":"7741124012284026836","displayable":false,"comparable":false,"identifier":"PRIMARY_FAMILY","searchable":false,"facetable":false},{"storeDisplay":false,"values":[{"sequence":"2","value":"Supreme Acetate","uniqueID":"7741124012283376860","unitOfMeasure":"","unitID":"","identifier":"Supreme Acetate"}],"sequence":"1422","name":"Temple Logo","usage":"Descriptive","uniqueID":"7741124012283379335","displayable":false,"comparable":false,"identifier":"TEMPLE LOGO","searchable":false,"facetable":false}],"partNumber":"8056597058308"}],"resourceId":"http:\/\/lux-prdlv-src01.lux-ecomm.net:3737\/search\/resources\/store\/715838404\/productview\/byId\/3074457345616741231","price":[{"description":"L","value":"","usage":"Display","currency":"FIM"},{"description":"O","value":"","usage":"Offer","currency":"FIM"}],"thumbnail":"https:\/\/s7d3.scene7.com\/is\/image\/Persol\/8056597058308_noshad_fr?scl=4","shortDescription":"PO0005","mfPartNumber_ntk":"0PO0005","name":"PO0005","buyable":"true","quantity":1,"attributes":[{"storeDisplay":false,"values":[{"sequence":"4","value":"PO0005","uniqueID":"7741124012284313330","unitOfMeasure":"","unitID":"","identifier":"PO0005"}],"sequence":"0","name":"Model code","associatedKeyword":"-","usage":"Descriptive","uniqueID":"7741124012283334373","displayable":true,"comparable":false,"identifier":"MODEL_CODE_DISPLAY","searchable":false,"facetable":false},{"storeDisplay":false,"values":[{"sequence":"1","value":"Standard","uniqueID":"7741124012283336345","unitOfMeasure":"","unitID":"","identifier":"Standard"}],"sequence":"1","name":"Size","associatedKeyword":"-","usage":"Defining","uniqueID":"7741124012283334359","displayable":true,"comparable":false,"identifier":"MODEL_SIZE_DISPLAY","searchable":false,"facetable":false},{"storeDisplay":false,"values":[{"sequence":"2","value":"201902","uniqueID":"7741124012284255842","unitOfMeasure":"","unitID":"","identifier":"201902"}],"sequence":"1","name":"Collection","associatedKeyword":"-","usage":"Descriptive","uniqueID":"7741124012283334335","displayable":false,"comparable":false,"identifier":"COLLECTION","searchable":true,"facetable":false},{"storeDisplay":false,"values":[{"image1":"https:\/\/s7d3.scene7.com\/is\/image\/Persol\/terra-di-siena-2?scl=1amp;fmt=png-alpha","sequence":"1","value":"Terra Di Siena","uniqueID":"7741124012283335894","image1path":"https:\/\/s7d3.scene7.com\/is\/image\/Persol\/terra-di-siena-2?scl=1amp;fmt=png-alpha","unitOfMeasure":"","unitID":"","identifier":"Terra Di Siena"}],"sequence":"1","name":"Front color","associatedKeyword":"-","usage":"Descriptive","uniqueID":"7741124012283334339","displayable":true,"comparable":false,"identifier":"FRONT_COLOR","searchable":false,"facetable":false},{"storeDisplay":false,"values":[{"sequence":"3","value":"Light Blue","uniqueID":"7741124012283336057","unitOfMeasure":"","unitID":"","identifier":"Light Blue"}],"sequence":"2","name":"Lens color","associatedKeyword":"-","usage":"Descriptive","uniqueID":"7741124012283334346","displayable":true,"comparable":false,"identifier":"LENS_COLOR","searchable":false,"facetable":false},{"storeDisplay":false,"values":[{"sequence":"2","value":"Square","uniqueID":"7741124012283336911","unitOfMeasure":"","unitID":"","identifier":"Square"}],"sequence":"2","name":"Frame shape","associatedKeyword":"-","usage":"Descriptive","uniqueID":"7741124012283334367","displayable":false,"comparable":false,"identifier":"FRAME_SHAPE","searchable":false,"facetable":false},{"storeDisplay":false,"values":[{"sequence":"1","value":"Trending Now","uniqueID":"7741124012284582837","unitOfMeasure":"","unitID":"","identifier":"Trending Now"}],"sequence":"2","name":"Primary family","associatedKeyword":"-","usage":"Descriptive","uniqueID":"7741124012284026836","displayable":false,"comparable":false,"identifier":"PRIMARY_FAMILY","searchable":false,"facetable":false},{"storeDisplay":false,"values":[{"sequence":"1","value":"Born to give full protection from the sun at every angle, the 4 Lenses model was created for the first time ever by Persol in 1935. Once called \"glacier glasses\", as it guaranteed maximum protection from the sun\u2019s reflection on snow, it returns more iconic than ever.","uniqueID":"7741124012284859958","unitOfMeasure":"","unitID":"","identifier":"Born to give full protection from the sun at every angle, the 4 Lenses model was created for the first time ever by Persol in 1935. Once called \"glacier glasses\", as it guaranteed maximum protection from the sun\u2019s reflection on snow, it returns more ic"}],"sequence":"3","name":"DESIGN DNA","associatedKeyword":"-","usage":"Descriptive","uniqueID":"7741124012284251850","displayable":false,"comparable":false,"identifier":"DESIGN DNA","searchable":false,"facetable":false},{"storeDisplay":false,"values":[{"sequence":"3","value":"Classic","uniqueID":"7741124012283336894","unitOfMeasure":"","unitID":"","identifier":"Classic"}],"sequence":"3","name":"Lens treatment","associatedKeyword":"-","usage":"Descriptive","uniqueID":"7741124012283334364","displayable":false,"comparable":false,"identifier":"LENS_TREATMENT","searchable":false,"facetable":false},{"storeDisplay":false,"values":[{"sequence":"2","value":"Crystal","uniqueID":"7741124012284859369","unitOfMeasure":"","unitID":"","identifier":"Crystal"}],"sequence":"4","name":"LENS MATERIAL FACET","associatedKeyword":"-","usage":"Descriptive","uniqueID":"7741124012284251849","displayable":false,"comparable":false,"identifier":"LENS_MATERIAL_FACET","searchable":false,"facetable":false},{"storeDisplay":false,"values":[{"sequence":"2","value":"Acetate","uniqueID":"7741124012283335870","unitOfMeasure":"","unitID":"","identifier":"Acetate"}],"sequence":"5","name":"Frame Material","associatedKeyword":"-","usage":"Descriptive","uniqueID":"7741124012283334338","displayable":false,"comparable":false,"identifier":"FRAMEMATERIAL_FACET","searchable":true,"facetable":true},{"storeDisplay":false,"values":[{"sequence":"2","value":"Crystal","uniqueID":"7741124012284859368","unitOfMeasure":"","unitID":"","identifier":"Crystal"}],"sequence":"5","name":"LENS MATERIAL","associatedKeyword":"-","usage":"Descriptive","uniqueID":"7741124012284251848","displayable":true,"comparable":false,"identifier":"LENS_MATERIAL","searchable":false,"facetable":false},{"storeDisplay":false,"values":[{"sequence":"1","value":"False","uniqueID":"7741124012283336065","unitOfMeasure":"","unitID":"","identifier":"False"}],"sequence":"6","name":"Limited edition","associatedKeyword":"-","usage":"Descriptive","uniqueID":"7741124012283334347","displayable":false,"comparable":false,"identifier":"LIMITED_EDITION","searchable":false,"facetable":false},{"storeDisplay":false,"values":[{"sequence":"2","value":"Acetate","uniqueID":"7741124012283335867","unitOfMeasure":"","unitID":"","identifier":"Acetate"}],"sequence":"6","name":"Frame Material","associatedKeyword":"-","usage":"Descriptive","uniqueID":"7741124012283334337","displayable":true,"comparable":false,"identifier":"FRAMEMATERIAL","searchable":false,"facetable":false},{"storeDisplay":false,"values":[{"sequence":"1","value":"Not Adjustable","uniqueID":"7741124012284859354","unitOfMeasure":"","unitID":"","identifier":"Not Adjustable"}],"sequence":"7","name":"NOSEPADS","associatedKeyword":"-","usage":"Descriptive","uniqueID":"7741124012284251840","displayable":true,"comparable":false,"identifier":"NOSEPADS","searchable":false,"facetable":false},{"storeDisplay":false,"values":[{"image1":"https:\/\/s7d3.scene7.com\/is\/image\/Persol\/terra-di-siena-2?scl=1amp;fmt=png-alpha","sequence":"1","value":"Terra Di Siena","uniqueID":"7741124012283336221","image1path":"https:\/\/s7d3.scene7.com\/is\/image\/Persol\/terra-di-siena-2?scl=1amp;fmt=png-alpha","unitOfMeasure":"","unitID":"","identifier":"Terra Di Siena"}],"sequence":"7","name":"Temple color","associatedKeyword":"-","usage":"Descriptive","uniqueID":"7741124012283334354","displayable":false,"comparable":false,"identifier":"TEMPLE_COLOR","searchable":false,"facetable":false},{"storeDisplay":false,"values":[{"sequence":"1","value":"1","uniqueID":"7741124012284859356","unitOfMeasure":"","unitID":"","identifier":"1"}],"sequence":"8","name":"PLACEHOLDER_SIZE","associatedKeyword":"-","usage":"Descriptive","uniqueID":"7741124012284251841","displayable":true,"comparable":false,"identifier":"PLACEHOLDER_SIZE","searchable":false,"facetable":false},{"storeDisplay":false,"values":[{"sequence":"2","value":"Wide","uniqueID":"7741124012284859364","unitOfMeasure":"","unitID":"","identifier":"Wide"}],"sequence":"9","name":"FRAME FIT","associatedKeyword":"-","usage":"Descriptive","uniqueID":"7741124012284251846","displayable":true,"comparable":false,"identifier":"FRAME FIT","searchable":false,"facetable":false},{"storeDisplay":false,"values":[{"sequence":"2","value":"Polished","uniqueID":"7741124012284859363","unitOfMeasure":"","unitID":"","identifier":"Polished"}],"sequence":"9","name":"FINISHING","associatedKeyword":"-","usage":"Descriptive","uniqueID":"7741124012284251844","displayable":false,"comparable":false,"identifier":"FINISHING","searchable":false,"facetable":false},{"storeDisplay":false,"values":[{"sequence":"3","value":"Supreme 5","uniqueID":"7741124012284313340","unitOfMeasure":"","unitID":"","identifier":"Supreme 5"}],"sequence":"10","name":"Arrow","associatedKeyword":"-","usage":"Descriptive","uniqueID":"7741124012283348835","displayable":false,"comparable":false,"identifier":"ARROW","searchable":false,"facetable":false},{"storeDisplay":false,"values":[{"sequence":"1","value":"Italy","uniqueID":"7741124012283336067","unitOfMeasure":"","unitID":"","identifier":"Italy"}],"sequence":"10","name":"Madein","associatedKeyword":"-","usage":"Descriptive","uniqueID":"7741124012283334348","displayable":true,"comparable":false,"identifier":"MADEIN","searchable":false,"facetable":false},{"storeDisplay":false,"values":[{"sequence":"3","value":"Saddle Bridge","uniqueID":"7741124012284859337","unitOfMeasure":"","unitID":"","identifier":"Saddle Bridge"}],"sequence":"10","name":"BRIDGE TYPE","associatedKeyword":"-","usage":"Descriptive","uniqueID":"7741124012284251836","displayable":false,"comparable":false,"identifier":"BRIDGE TYPE","searchable":false,"facetable":false},{"storeDisplay":false,"values":[{"sequence":"2","value":"Supreme Acetate","uniqueID":"7741124012283376860","unitOfMeasure":"","unitID":"","identifier":"Supreme Acetate"}],"sequence":"11","name":"Temple Logo","associatedKeyword":"-","usage":"Descriptive","uniqueID":"7741124012283379335","displayable":false,"comparable":false,"identifier":"TEMPLE LOGO","searchable":false,"facetable":false},{"storeDisplay":false,"values":[{"sequence":"1","value":"Full Rim","uniqueID":"7741124012283360863","unitOfMeasure":"","unitID":"","identifier":"Full Rim"}],"sequence":"11","name":"Frame Type","associatedKeyword":"-","usage":"Descriptive","uniqueID":"7741124012283334370","displayable":false,"comparable":false,"identifier":"FRAMETYPE","searchable":false,"facetable":false},{"storeDisplay":false,"values":[{"sequence":"1","value":"Round Face;oval Face","uniqueID":"7741124012284860410","unitOfMeasure":"","unitID":"","identifier":"Round Face;oval Face"}],"sequence":"12","name":"SUGGESTED FACE SHAPE","associatedKeyword":"-","usage":"Descriptive","uniqueID":"7741124012284251843","displayable":false,"comparable":false,"identifier":"SUGGESTED_FACE_SHAPE","searchable":false,"facetable":false},{"storeDisplay":false,"values":[{"sequence":"4","value":"2N","uniqueID":"7741124012283444313","unitOfMeasure":"","unitID":"","identifier":"2N"}],"sequence":"13","name":"Notainformativa","associatedKeyword":"-","usage":"Descriptive","uniqueID":"7741124012283334350","displayable":false,"comparable":false,"identifier":"NOTAINFORMATIVA","searchable":false,"facetable":false},{"storeDisplay":false,"values":[{"sequence":"1","value":"96\/56","uniqueID":"7741124012284861726","unitOfMeasure":"","unitID":"","identifier":"96\/56"}],"sequence":"14","name":"COLOR CODE","associatedKeyword":"-","usage":"Descriptive","uniqueID":"7741124012284253335","displayable":false,"comparable":false,"identifier":"COLOR CODE","searchable":false,"facetable":false},{"storeDisplay":false,"values":[{"sequence":"4","value":"PO_pack2_gallery","uniqueID":"7741124012284859921","unitOfMeasure":"","unitID":"","identifier":"PO_pack2_gallery"}],"sequence":"16","name":"CASE","associatedKeyword":"-","usage":"Descriptive","uniqueID":"7741124012284251837","displayable":false,"comparable":false,"identifier":"CASE","searchable":false,"facetable":false},{"storeDisplay":false,"values":[{"sequence":"2","value":"4 Lenses","uniqueID":"7741124012284146853","unitOfMeasure":"","unitID":"","identifier":"4 Lenses"}],"sequence":"17","name":"Model family","associatedKeyword":"-","usage":"Descriptive","uniqueID":"7741124012283333374","displayable":false,"comparable":false,"identifier":"MODEL_FAMILY","searchable":true,"facetable":true},{"storeDisplay":false,"values":[{"image1":"https:\/\/s7d3.scene7.com\/is\/image\/Persol\/terra-di-siena-2?scl=1amp;fmt=png-alpha","sequence":"5","value":"Terra Di Siena","uniqueID":"7741124012283336326","image1path":"https:\/\/s7d3.scene7.com\/is\/image\/Persol\/terra-di-siena-2?scl=1amp;fmt=png-alpha","unitOfMeasure":"","unitID":"","identifier":"Terra Di Siena"}],"sequence":"18","name":"Temple inner color facet","associatedKeyword":"-","usage":"Descriptive","uniqueID":"7741124012283334357","displayable":false,"comparable":false,"identifier":"TEMPLE_INNER_COLOR_FACET","searchable":true,"facetable":false},{"storeDisplay":false,"values":[{"sequence":"1","value":"False","uniqueID":"7741124012283337030","unitOfMeasure":"","unitID":"","identifier":"False"}],"sequence":"20","name":"Noreturn","associatedKeyword":"-","usage":"Descriptive","uniqueID":"7741124012283334374","displayable":false,"comparable":false,"identifier":"NORETURN","searchable":false,"facetable":false},{"storeDisplay":false,"values":[{"sequence":"1","value":"True","uniqueID":"7741124012284859353","unitOfMeasure":"","unitID":"","identifier":"True"}],"sequence":"22","name":"ENGRAVINGELIGIBLE","associatedKeyword":"-","usage":"Descriptive","uniqueID":"7741124012284251838","displayable":false,"comparable":false,"identifier":"ENGRAVINGELIGIBLE","searchable":false,"facetable":false},{"storeDisplay":false,"values":[{"sequence":"1","value":"Icona","uniqueID":"7741124012283336922","unitOfMeasure":"","unitID":"","identifier":"Icona"}],"sequence":"23","name":"Range","associatedKeyword":"-","usage":"Descriptive","uniqueID":"7741124012283334371","displayable":false,"comparable":false,"identifier":"RANGE","searchable":false,"facetable":false},{"storeDisplay":false,"values":[{"image1":"https:\/\/s7d3.scene7.com\/is\/image\/Persol\/blue-4?scl=1&fmt=png-alpha","sequence":"1","value":"Blue","uniqueID":"7741124012283336040","image1path":"https:\/\/s7d3.scene7.com\/is\/image\/Persol\/blue-4?scl=1&fmt=png-alpha","unitOfMeasure":"","unitID":"","identifier":"Blue"}],"sequence":"24","name":"Lens color","associatedKeyword":"-","usage":"Descriptive","uniqueID":"7741124012283334345","displayable":false,"comparable":false,"identifier":"LENS_COLOR_FACET","searchable":true,"facetable":true},{"storeDisplay":false,"values":[{"sequence":"1","value":"False","uniqueID":"7741124012283336068","unitOfMeasure":"","unitID":"","identifier":"False"}],"sequence":"25","name":"Newreleases","associatedKeyword":"-","usage":"Descriptive","uniqueID":"7741124012283334349","displayable":false,"comparable":false,"identifier":"NEWRELEASES","searchable":true,"facetable":false},{"storeDisplay":false,"values":[{"sequence":"1","value":"0501c","uniqueID":"7741124012283336017","unitOfMeasure":"","unitID":"","identifier":"0501c"}],"sequence":"27","name":"Clen","associatedKeyword":"-","usage":"Descriptive","uniqueID":"7741124012283334344","displayable":false,"comparable":false,"identifier":"CLEN","searchable":false,"facetable":false},{"storeDisplay":false,"values":[{"sequence":"1","value":"111000","uniqueID":"7741124012284610840","unitOfMeasure":"","unitID":"","identifier":"111000"}],"sequence":"29","name":"Sequence","associatedKeyword":"-","usage":"Descriptive","uniqueID":"7741124012283593337","displayable":false,"comparable":false,"identifier":"SEQUENCE","searchable":true,"facetable":false},{"storeDisplay":false,"values":[{"sequence":"2","value":"Male","uniqueID":"7741124012283376840","unitOfMeasure":"","unitID":"","identifier":"Male"}],"sequence":"30","name":"Gender","associatedKeyword":"-","usage":"Descriptive","uniqueID":"7741124012283334343","displayable":false,"comparable":false,"identifier":"GENDER","searchable":false,"facetable":false},{"storeDisplay":false,"values":[{"sequence":"2","value":"False","uniqueID":"7741124012284860407","unitOfMeasure":"","unitID":"","identifier":"False"}],"sequence":"31","name":"Flex","associatedKeyword":"-","usage":"Descriptive","uniqueID":"7741124012283364835","displayable":false,"comparable":false,"identifier":"FLEX","searchable":false,"facetable":false},{"storeDisplay":false,"values":[{"sequence":"2","value":"False","uniqueID":"7741124012284582835","unitOfMeasure":"","unitID":"","identifier":"False"}],"sequence":"32","name":"Best Sellers","associatedKeyword":"-","usage":"Descriptive","uniqueID":"7741124012284026835","displayable":false,"comparable":false,"identifier":"BESTSELLERS","searchable":false,"facetable":false},{"storeDisplay":false,"values":[{"image1":"https:\/\/s7d3.scene7.com\/is\/image\/Persol\/terra-di-siena-2?scl=1amp;fmt=png-alpha","sequence":"5","value":"Terra Di Siena","uniqueID":"7741124012283336011","image1path":"https:\/\/s7d3.scene7.com\/is\/image\/Persol\/terra-di-siena-2?scl=1amp;fmt=png-alpha","unitOfMeasure":"","unitID":"","identifier":"Terra Di Siena"}],"sequence":"33","name":"Front inner color facet","associatedKeyword":"-","usage":"Descriptive","uniqueID":"7741124012283334342","displayable":false,"comparable":false,"identifier":"FRONT_INNER_COLOR_FACET","searchable":true,"facetable":false},{"storeDisplay":false,"values":[{"sequence":"5","value":"PO0005","uniqueID":"7741124012284313293","unitOfMeasure":"","unitID":"","identifier":"PO0005"}],"sequence":"34","name":"Modelname","associatedKeyword":"-","usage":"Descriptive","uniqueID":"7741124012283334353","displayable":false,"comparable":false,"identifier":"MODELNAME","searchable":true,"facetable":false},{"storeDisplay":false,"values":[{"sequence":"2","value":"False","uniqueID":"7741124012283335865","unitOfMeasure":"","unitID":"","identifier":"False"}],"sequence":"35","name":"Exclusive","associatedKeyword":"-","usage":"Descriptive","uniqueID":"7741124012283334336","displayable":false,"comparable":false,"identifier":"EXCLUSIVE","searchable":false,"facetable":false},{"storeDisplay":false,"values":[{"image1":"https:\/\/s7d3.scene7.com\/is\/image\/Persol\/terra-di-siena-2?scl=1&fmt=png-alpha","sequence":"5","value":"Terra Di Siena","uniqueID":"7741124012283335937","image1path":"https:\/\/s7d3.scene7.com\/is\/image\/Persol\/terra-di-siena-2?scl=1&fmt=png-alpha","unitOfMeasure":"","unitID":"","identifier":"Terra Di Siena"}],"sequence":"36","name":"Front color","associatedKeyword":"-","usage":"Descriptive","uniqueID":"7741124012283334340","displayable":false,"comparable":false,"identifier":"FRONT_COLOR_FACET","searchable":true,"facetable":true},{"storeDisplay":false,"values":[{"sequence":"3","value":"Square","uniqueID":"7741124012283336915","unitOfMeasure":"","unitID":"","identifier":"Square"}],"sequence":"38","name":"Frame shape","associatedKeyword":"-","usage":"Descriptive","uniqueID":"7741124012283334368","displayable":false,"comparable":false,"identifier":"FRAME_SHAPE_FACET","searchable":true,"facetable":true},{"storeDisplay":false,"values":[{"sequence":"2","value":"False","uniqueID":"7741124012283336078","unitOfMeasure":"","unitID":"","identifier":"False"}],"sequence":"39","name":"Polarized","associatedKeyword":"-","usage":"Descriptive","uniqueID":"7741124012283334352","displayable":false,"comparable":false,"identifier":"POLARIZED","searchable":false,"facetable":false},{"storeDisplay":false,"values":[{"sequence":"1","value":"False","uniqueID":"7741124012283336077","unitOfMeasure":"","unitID":"","identifier":"False"}],"sequence":"40","name":"Onsale","associatedKeyword":"-","usage":"Descriptive","uniqueID":"7741124012283334351","displayable":false,"comparable":false,"identifier":"ONSALE","searchable":false,"facetable":false},{"storeDisplay":false,"values":[{"sequence":"2","value":"True","uniqueID":"7741124012283355351","unitOfMeasure":"","unitID":"","identifier":"True"}],"sequence":"43","name":"Vintage Celebration","associatedKeyword":"-","usage":"Descriptive","uniqueID":"7741124012283348837","displayable":false,"comparable":false,"identifier":"VINTAGE CELEBRATION","searchable":false,"facetable":false},{"storeDisplay":false,"values":[{"sequence":"2","value":"Sun","uniqueID":"7741124012283333656","unitOfMeasure":"","unitID":"","identifier":"Sun"}],"sequence":"44","name":"Producttype","associatedKeyword":"-","usage":"Descriptive","uniqueID":"7741124012283333376","displayable":false,"comparable":false,"identifier":"PRODUCTTYPE","searchable":true,"facetable":false},{"storeDisplay":false,"values":[{"sequence":"1","value":"False","uniqueID":"7741124012283336902","unitOfMeasure":"","unitID":"","identifier":"False"}],"sequence":"45","name":"Foldable","associatedKeyword":"-","usage":"Descriptive","uniqueID":"7741124012283334366","displayable":false,"comparable":false,"identifier":"FOLDABLE","searchable":false,"facetable":false},{"storeDisplay":false,"values":[{"sequence":"1","value":"False","uniqueID":"7741124012284859336","unitOfMeasure":"","unitID":"","identifier":"False"}],"sequence":"46","name":"AVANT_PREMIERE","associatedKeyword":"-","usage":"Descriptive","uniqueID":"7741124012284251835","displayable":false,"comparable":false,"identifier":"AVANT_PREMIERE","searchable":false,"facetable":false},{"storeDisplay":false,"values":[{"image1":"https:\/\/s7d3.scene7.com\/is\/image\/Persol\/terra-di-siena-2?scl=1amp;fmt=png-alpha","sequence":"1","value":"Terra Di Siena","uniqueID":"7741124012283335978","image1path":"https:\/\/s7d3.scene7.com\/is\/image\/Persol\/terra-di-siena-2?scl=1amp;fmt=png-alpha","unitOfMeasure":"","unitID":"","identifier":"Terra Di Siena"}],"sequence":"47","name":"Front inner color","associatedKeyword":"-","usage":"Descriptive","uniqueID":"7741124012283334341","displayable":false,"comparable":false,"identifier":"FRONT_INNER_COLOR","searchable":false,"facetable":false},{"storeDisplay":false,"values":[{"image1":"https:\/\/s7d3.scene7.com\/is\/image\/Persol\/terra-di-siena-2?scl=1amp;fmt=png-alpha","sequence":"1","value":"Terra Di Siena","uniqueID":"7741124012283336294","image1path":"https:\/\/s7d3.scene7.com\/is\/image\/Persol\/terra-di-siena-2?scl=1amp;fmt=png-alpha","unitOfMeasure":"","unitID":"","identifier":"Terra Di Siena"}],"sequence":"48","name":"Temple inner color","associatedKeyword":"-","usage":"Descriptive","uniqueID":"7741124012283334356","displayable":false,"comparable":false,"identifier":"TEMPLE_INNER_COLOR","searchable":false,"facetable":false},{"storeDisplay":false,"values":[{"image1":"https:\/\/s7d3.scene7.com\/is\/image\/Persol\/terra-di-siena-2?scl=1amp;fmt=png-alpha","sequence":"5","value":"Terra Di Siena","uniqueID":"7741124012283336253","image1path":"https:\/\/s7d3.scene7.com\/is\/image\/Persol\/terra-di-siena-2?scl=1amp;fmt=png-alpha","unitOfMeasure":"","unitID":"","identifier":"Terra Di Siena"}],"sequence":"49","name":"Temple color facet","associatedKeyword":"-","usage":"Descriptive","uniqueID":"7741124012283334355","displayable":false,"comparable":false,"identifier":"TEMPLE_COLOR_FACET","searchable":true,"facetable":false},{"storeDisplay":false,"values":[{"sequence":"1","value":"True","uniqueID":"7741124012284859902","unitOfMeasure":"","unitID":"","identifier":"True"}],"sequence":"50","name":"MEFLECTO","associatedKeyword":"-","usage":"Descriptive","uniqueID":"7741124012284251847","displayable":false,"comparable":false,"identifier":"MEFLECTO","searchable":false,"facetable":false},{"storeDisplay":false,"values":[{"sequence":"1","value":"Global","uniqueID":"7741124012283336916","unitOfMeasure":"","unitID":"","identifier":"Global"}],"sequence":"51","name":"Geo fit","associatedKeyword":"-","usage":"Descriptive","uniqueID":"7741124012283334369","displayable":false,"comparable":false,"identifier":"GEO_FIT","searchable":false,"facetable":false}],"storeID":"715838084","numberOfSKUs":1,"partNumber":"0PO0005__96_56"},{"hasSingleSKU":true,"catalogEntryTypeCode":"ProductBean","associationType":"REPLACEMENT","parentCatalogGroupID":["3074457345616676668_3074457345616676668","3074457345616681818_3074457345616678189","3074457345616681818_3074457345616696171","3074457345616681818_3074457345616696200","3074457345616681818_3074457345616700671","3074457345616681818_3074457345616702176","3074457345616681818_3074457345616702177","3074457345616681818_3074457345616707668"],"uniqueID":"3074457345616741232","singleSKUCatalogEntryID":"3074457345616741767","sKUs":[{"hasSingleSKU":false,"catalogEntryTypeCode":"ItemBean","parentCatalogGroupID":["3074457345616676668_3074457345616676668","3074457345616681818_3074457345616678189","3074457345616681818_3074457345616696171","3074457345616681818_3074457345616696200","3074457345616681818_3074457345616700671","3074457345616681818_3074457345616707668"],"uniqueID":"3074457345616741767","resourceId":"http:\/\/lux-prdlv-src01.lux-ecomm.net:3737\/search\/resources\/store\/715838404\/productview\/byId\/3074457345616741767","price":[{"description":"L","value":"","usage":"Display","currency":"FIM"},{"description":"O","value":"","usage":"Offer","currency":"FIM"}],"thumbnail":"https:\/\/s7d3.scene7.com\/is\/image\/Persol\/8056597058346_noshad_fr?scl=4","shortDescription":"PO0005 96\/R5 54-17","mfPartNumber_ntk":"0PO0005","name":"PO0005 96\/R5 54-17","buyable":"true","storeID":"715838084","attributes":[{"storeDisplay":false,"values":[{"sequence":"1","value":"Standard","uniqueID":"7741124012283336345","unitOfMeasure":"","unitID":"","identifier":"Standard"}],"sequence":"1","name":"Size","usage":"Defining","uniqueID":"7741124012283334359","displayable":true,"comparable":false,"identifier":"MODEL_SIZE_DISPLAY","searchable":false,"facetable":false},{"storeDisplay":false,"values":[{"sequence":"3","value":"Classic","uniqueID":"7741124012283336894","unitOfMeasure":"","unitID":"","identifier":"Classic"}],"sequence":"3","name":"Lens treatment","usage":"Descriptive","uniqueID":"7741124012283334364","displayable":false,"comparable":false,"identifier":"LENS_TREATMENT","searchable":false,"facetable":false},{"storeDisplay":false,"values":[{"sequence":"3","value":"Supreme 5","uniqueID":"7741124012284313340","unitOfMeasure":"","unitID":"","identifier":"Supreme 5"}],"sequence":"375","name":"Arrow","usage":"Descriptive","uniqueID":"7741124012283348835","displayable":false,"comparable":false,"identifier":"ARROW","searchable":false,"facetable":false},{"storeDisplay":false,"values":[{"sequence":"1","value":"125","uniqueID":"7741124012283336889","unitOfMeasure":"","unitID":"","identifier":"125"}],"sequence":"375","name":"Temple length","usage":"Descriptive","uniqueID":"7741124012283334363","displayable":false,"comparable":false,"identifier":"TEMPLE_LENGTH","searchable":false,"facetable":false},{"storeDisplay":false,"values":[{"sequence":"4","value":"Lenses-sun;material-acetate;arrow-all;meflecto-all","uniqueID":"7741124012284859910","unitOfMeasure":"","unitID":"","identifier":"Lenses-sun;material-acetate;arrow-all;meflecto-all"}],"sequence":"375","name":"FEATURES","usage":"Descriptive","uniqueID":"7741124012284251845","displayable":false,"comparable":false,"identifier":"FEATURES","searchable":false,"facetable":false},{"storeDisplay":false,"values":[{"sequence":"3","value":"Classic","uniqueID":"7741124012283336899","unitOfMeasure":"","unitID":"","identifier":"Classic"}],"sequence":"375","name":"Lens treatment","usage":"Descriptive","uniqueID":"7741124012283334365","displayable":false,"comparable":false,"identifier":"LENS_TREATMENT_FACET","searchable":true,"facetable":false},{"storeDisplay":false,"values":[{"sequence":"2","value":"17","uniqueID":"7741124012283336883","unitOfMeasure":"","unitID":"","identifier":"17"}],"sequence":"375","name":"Lens bridge","usage":"Descriptive","uniqueID":"7741124012283334362","displayable":false,"comparable":false,"identifier":"LENS_BRIDGE","searchable":false,"facetable":false},{"storeDisplay":false,"values":[{"sequence":"4","value":"PO0005 96\/R5 54-17","uniqueID":"7741124012284313100","unitOfMeasure":"","unitID":"","identifier":"PO0005 96\/R5 54-17"}],"sequence":"375","name":"Displaysku","usage":"Descriptive","uniqueID":"7741124012283364836","displayable":false,"comparable":false,"identifier":"DISPLAYSKU","searchable":false,"facetable":false},{"storeDisplay":false,"values":[{"sequence":"1","value":"Zpfn","uniqueID":"7741124012283336923","unitOfMeasure":"","unitID":"","identifier":"Zpfn"}],"sequence":"375","name":"Materialtype","usage":"Descriptive","uniqueID":"7741124012283334372","displayable":false,"comparable":false,"identifier":"MATERIALTYPE","searchable":false,"facetable":false},{"storeDisplay":false,"values":[{"sequence":"3","value":"54","uniqueID":"7741124012283336338","unitOfMeasure":"","unitID":"","identifier":"54"}],"sequence":"375","name":"Model size","usage":"Descriptive","uniqueID":"7741124012283334358","displayable":false,"comparable":false,"identifier":"MODEL_SIZE","searchable":false,"facetable":false},{"storeDisplay":false,"values":[{"sequence":"5","value":"96\/R5 54","uniqueID":"7741124012284313046","unitOfMeasure":"","unitID":"","identifier":"96\/R5 54"}],"sequence":"375","name":"Grid Value","usage":"Descriptive","uniqueID":"7741124012283364837","displayable":true,"comparable":false,"identifier":"GRID VALUE","searchable":false,"facetable":false},{"storeDisplay":false,"values":[{"sequence":"3","value":"Supreme Acetate","uniqueID":"7741124012283355348","unitOfMeasure":"","unitID":"","identifier":"Supreme Acetate"}],"sequence":"375","name":"Temple logo","usage":"Descriptive","uniqueID":"7741124012283348836","displayable":false,"comparable":true,"identifier":"TEMPLE_LOGO","searchable":false,"facetable":false},{"storeDisplay":false,"values":[{"sequence":"1","value":"Trending Now","uniqueID":"7741124012284582837","unitOfMeasure":"","unitID":"","identifier":"Trending Now"}],"sequence":"375","name":"Primary family","usage":"Descriptive","uniqueID":"7741124012284026836","displayable":false,"comparable":false,"identifier":"PRIMARY_FAMILY","searchable":false,"facetable":false},{"storeDisplay":false,"values":[{"sequence":"2","value":"Supreme Acetate","uniqueID":"7741124012283376860","unitOfMeasure":"","unitID":"","identifier":"Supreme Acetate"}],"sequence":"1423","name":"Temple Logo","usage":"Descriptive","uniqueID":"7741124012283379335","displayable":false,"comparable":false,"identifier":"TEMPLE LOGO","searchable":false,"facetable":false}],"partNumber":"8056597058346"}],"resourceId":"http:\/\/lux-prdlv-src01.lux-ecomm.net:3737\/search\/resources\/store\/715838404\/productview\/byId\/3074457345616741232","price":[{"description":"L","value":"","usage":"Display","currency":"FIM"},{"description":"O","value":"","usage":"Offer","currency":"FIM"}],"thumbnail":"https:\/\/s7d3.scene7.com\/is\/image\/Persol\/8056597058346_noshad_fr?scl=4","shortDescription":"PO0005","mfPartNumber_ntk":"0PO0005","name":"PO0005","buyable":"true","quantity":1,"attributes":[{"storeDisplay":false,"values":[{"sequence":"4","value":"PO0005","uniqueID":"7741124012284313330","unitOfMeasure":"","unitID":"","identifier":"PO0005"}],"sequence":"0","name":"Model code","associatedKeyword":"-","usage":"Descriptive","uniqueID":"7741124012283334373","displayable":true,"comparable":false,"identifier":"MODEL_CODE_DISPLAY","searchable":false,"facetable":false},{"storeDisplay":false,"values":[{"image1":"https:\/\/s7d3.scene7.com\/is\/image\/Persol\/terra-di-siena-2?scl=1amp;fmt=png-alpha","sequence":"1","value":"Terra Di Siena","uniqueID":"7741124012283335894","image1path":"https:\/\/s7d3.scene7.com\/is\/image\/Persol\/terra-di-siena-2?scl=1amp;fmt=png-alpha","unitOfMeasure":"","unitID":"","identifier":"Terra Di Siena"}],"sequence":"1","name":"Front color","associatedKeyword":"-","usage":"Descriptive","uniqueID":"7741124012283334339","displayable":true,"comparable":false,"identifier":"FRONT_COLOR","searchable":false,"facetable":false},{"storeDisplay":false,"values":[{"sequence":"2","value":"201902","uniqueID":"7741124012284255842","unitOfMeasure":"","unitID":"","identifier":"201902"}],"sequence":"1","name":"Collection","associatedKeyword":"-","usage":"Descriptive","uniqueID":"7741124012283334335","displayable":false,"comparable":false,"identifier":"COLLECTION","searchable":true,"facetable":false},{"storeDisplay":false,"values":[{"sequence":"1","value":"Standard","uniqueID":"7741124012283336345","unitOfMeasure":"","unitID":"","identifier":"Standard"}],"sequence":"1","name":"Size","associatedKeyword":"-","usage":"Defining","uniqueID":"7741124012283334359","displayable":true,"comparable":false,"identifier":"MODEL_SIZE_DISPLAY","searchable":false,"facetable":false},{"storeDisplay":false,"values":[{"sequence":"2","value":"Square","uniqueID":"7741124012283336911","unitOfMeasure":"","unitID":"","identifier":"Square"}],"sequence":"2","name":"Frame shape","associatedKeyword":"-","usage":"Descriptive","uniqueID":"7741124012283334367","displayable":false,"comparable":false,"identifier":"FRAME_SHAPE","searchable":false,"facetable":false},{"storeDisplay":false,"values":[{"image1":"https:\/\/s7d3.scene7.com\/is\/image\/Persol\/grey-brush?scl=1fmt=png-alpha","sequence":"3","value":"Grey","uniqueID":"7741124012283601697","image1path":"https:\/\/s7d3.scene7.com\/is\/image\/Persol\/grey-brush?scl=1fmt=png-alpha","unitOfMeasure":"","unitID":"","identifier":"Grey"}],"sequence":"2","name":"Lens color","associatedKeyword":"-","usage":"Descriptive","uniqueID":"7741124012283334346","displayable":true,"comparable":false,"identifier":"LENS_COLOR","searchable":false,"facetable":false},{"storeDisplay":false,"values":[{"sequence":"1","value":"Trending Now","uniqueID":"7741124012284582837","unitOfMeasure":"","unitID":"","identifier":"Trending Now"}],"sequence":"2","name":"Primary family","associatedKeyword":"-","usage":"Descriptive","uniqueID":"7741124012284026836","displayable":false,"comparable":false,"identifier":"PRIMARY_FAMILY","searchable":false,"facetable":false},{"storeDisplay":false,"values":[{"sequence":"1","value":"Born to give full protection from the sun at every angle, the 4 Lenses model was created for the first time ever by Persol in 1935. Once called \"glacier glasses\", as it guaranteed maximum protection from the sun\u2019s reflection on snow, it returns more iconic than ever.","uniqueID":"7741124012284859958","unitOfMeasure":"","unitID":"","identifier":"Born to give full protection from the sun at every angle, the 4 Lenses model was created for the first time ever by Persol in 1935. Once called \"glacier glasses\", as it guaranteed maximum protection from the sun\u2019s reflection on snow, it returns more ic"}],"sequence":"3","name":"DESIGN DNA","associatedKeyword":"-","usage":"Descriptive","uniqueID":"7741124012284251850","displayable":false,"comparable":false,"identifier":"DESIGN DNA","searchable":false,"facetable":false},{"storeDisplay":false,"values":[{"sequence":"3","value":"Classic","uniqueID":"7741124012283336894","unitOfMeasure":"","unitID":"","identifier":"Classic"}],"sequence":"3","name":"Lens treatment","associatedKeyword":"-","usage":"Descriptive","uniqueID":"7741124012283334364","displayable":false,"comparable":false,"identifier":"LENS_TREATMENT","searchable":false,"facetable":false},{"storeDisplay":false,"values":[{"sequence":"2","value":"Crystal","uniqueID":"7741124012284859369","unitOfMeasure":"","unitID":"","identifier":"Crystal"}],"sequence":"4","name":"LENS MATERIAL FACET","associatedKeyword":"-","usage":"Descriptive","uniqueID":"7741124012284251849","displayable":false,"comparable":false,"identifier":"LENS_MATERIAL_FACET","searchable":false,"facetable":false},{"storeDisplay":false,"values":[{"sequence":"2","value":"Acetate","uniqueID":"7741124012283335870","unitOfMeasure":"","unitID":"","identifier":"Acetate"}],"sequence":"5","name":"Frame Material","associatedKeyword":"-","usage":"Descriptive","uniqueID":"7741124012283334338","displayable":false,"comparable":false,"identifier":"FRAMEMATERIAL_FACET","searchable":true,"facetable":true},{"storeDisplay":false,"values":[{"sequence":"2","value":"Crystal","uniqueID":"7741124012284859368","unitOfMeasure":"","unitID":"","identifier":"Crystal"}],"sequence":"5","name":"LENS MATERIAL","associatedKeyword":"-","usage":"Descriptive","uniqueID":"7741124012284251848","displayable":true,"comparable":false,"identifier":"LENS_MATERIAL","searchable":false,"facetable":false},{"storeDisplay":false,"values":[{"sequence":"1","value":"False","uniqueID":"7741124012283336065","unitOfMeasure":"","unitID":"","identifier":"False"}],"sequence":"6","name":"Limited edition","associatedKeyword":"-","usage":"Descriptive","uniqueID":"7741124012283334347","displayable":false,"comparable":false,"identifier":"LIMITED_EDITION","searchable":false,"facetable":false},{"storeDisplay":false,"values":[{"sequence":"2","value":"Acetate","uniqueID":"7741124012283335867","unitOfMeasure":"","unitID":"","identifier":"Acetate"}],"sequence":"6","name":"Frame Material","associatedKeyword":"-","usage":"Descriptive","uniqueID":"7741124012283334337","displayable":true,"comparable":false,"identifier":"FRAMEMATERIAL","searchable":false,"facetable":false},{"storeDisplay":false,"values":[{"sequence":"1","value":"Not Adjustable","uniqueID":"7741124012284859354","unitOfMeasure":"","unitID":"","identifier":"Not Adjustable"}],"sequence":"7","name":"NOSEPADS","associatedKeyword":"-","usage":"Descriptive","uniqueID":"7741124012284251840","displayable":true,"comparable":false,"identifier":"NOSEPADS","searchable":false,"facetable":false},{"storeDisplay":false,"values":[{"image1":"https:\/\/s7d3.scene7.com\/is\/image\/Persol\/terra-di-siena-2?scl=1amp;fmt=png-alpha","sequence":"1","value":"Terra Di Siena","uniqueID":"7741124012283336221","image1path":"https:\/\/s7d3.scene7.com\/is\/image\/Persol\/terra-di-siena-2?scl=1amp;fmt=png-alpha","unitOfMeasure":"","unitID":"","identifier":"Terra Di Siena"}],"sequence":"7","name":"Temple color","associatedKeyword":"-","usage":"Descriptive","uniqueID":"7741124012283334354","displayable":false,"comparable":false,"identifier":"TEMPLE_COLOR","searchable":false,"facetable":false},{"storeDisplay":false,"values":[{"sequence":"1","value":"1","uniqueID":"7741124012284859356","unitOfMeasure":"","unitID":"","identifier":"1"}],"sequence":"8","name":"PLACEHOLDER_SIZE","associatedKeyword":"-","usage":"Descriptive","uniqueID":"7741124012284251841","displayable":true,"comparable":false,"identifier":"PLACEHOLDER_SIZE","searchable":false,"facetable":false},{"storeDisplay":false,"values":[{"sequence":"2","value":"Polished","uniqueID":"7741124012284859363","unitOfMeasure":"","unitID":"","identifier":"Polished"}],"sequence":"9","name":"FINISHING","associatedKeyword":"-","usage":"Descriptive","uniqueID":"7741124012284251844","displayable":false,"comparable":false,"identifier":"FINISHING","searchable":false,"facetable":false},{"storeDisplay":false,"values":[{"sequence":"2","value":"Wide","uniqueID":"7741124012284859364","unitOfMeasure":"","unitID":"","identifier":"Wide"}],"sequence":"9","name":"FRAME FIT","associatedKeyword":"-","usage":"Descriptive","uniqueID":"7741124012284251846","displayable":true,"comparable":false,"identifier":"FRAME FIT","searchable":false,"facetable":false},{"storeDisplay":false,"values":[{"sequence":"3","value":"Saddle Bridge","uniqueID":"7741124012284859337","unitOfMeasure":"","unitID":"","identifier":"Saddle Bridge"}],"sequence":"10","name":"BRIDGE TYPE","associatedKeyword":"-","usage":"Descriptive","uniqueID":"7741124012284251836","displayable":false,"comparable":false,"identifier":"BRIDGE TYPE","searchable":false,"facetable":false},{"storeDisplay":false,"values":[{"sequence":"1","value":"Italy","uniqueID":"7741124012283336067","unitOfMeasure":"","unitID":"","identifier":"Italy"}],"sequence":"10","name":"Madein","associatedKeyword":"-","usage":"Descriptive","uniqueID":"7741124012283334348","displayable":true,"comparable":false,"identifier":"MADEIN","searchable":false,"facetable":false},{"storeDisplay":false,"values":[{"sequence":"3","value":"Supreme 5","uniqueID":"7741124012284313340","unitOfMeasure":"","unitID":"","identifier":"Supreme 5"}],"sequence":"10","name":"Arrow","associatedKeyword":"-","usage":"Descriptive","uniqueID":"7741124012283348835","displayable":false,"comparable":false,"identifier":"ARROW","searchable":false,"facetable":false},{"storeDisplay":false,"values":[{"sequence":"1","value":"Full Rim","uniqueID":"7741124012283360863","unitOfMeasure":"","unitID":"","identifier":"Full Rim"}],"sequence":"11","name":"Frame Type","associatedKeyword":"-","usage":"Descriptive","uniqueID":"7741124012283334370","displayable":false,"comparable":false,"identifier":"FRAMETYPE","searchable":false,"facetable":false},{"storeDisplay":false,"values":[{"sequence":"2","value":"Supreme Acetate","uniqueID":"7741124012283376860","unitOfMeasure":"","unitID":"","identifier":"Supreme Acetate"}],"sequence":"11","name":"Temple Logo","associatedKeyword":"-","usage":"Descriptive","uniqueID":"7741124012283379335","displayable":false,"comparable":false,"identifier":"TEMPLE LOGO","searchable":false,"facetable":false},{"storeDisplay":false,"values":[{"sequence":"1","value":"Round Face;oval Face","uniqueID":"7741124012284860410","unitOfMeasure":"","unitID":"","identifier":"Round Face;oval Face"}],"sequence":"12","name":"SUGGESTED FACE SHAPE","associatedKeyword":"-","usage":"Descriptive","uniqueID":"7741124012284251843","displayable":false,"comparable":false,"identifier":"SUGGESTED_FACE_SHAPE","searchable":false,"facetable":false},{"storeDisplay":false,"values":[{"sequence":"4","value":"2N","uniqueID":"7741124012283444313","unitOfMeasure":"","unitID":"","identifier":"2N"}],"sequence":"13","name":"Notainformativa","associatedKeyword":"-","usage":"Descriptive","uniqueID":"7741124012283334350","displayable":false,"comparable":false,"identifier":"NOTAINFORMATIVA","searchable":false,"facetable":false},{"storeDisplay":false,"values":[{"sequence":"5","value":"96\/r5","uniqueID":"7741124012284861409","unitOfMeasure":"","unitID":"","identifier":"96\/r5"}],"sequence":"14","name":"COLOR CODE","associatedKeyword":"-","usage":"Descriptive","uniqueID":"7741124012284253335","displayable":false,"comparable":false,"identifier":"COLOR CODE","searchable":false,"facetable":false},{"storeDisplay":false,"values":[{"sequence":"2","value":"4 Lenses","uniqueID":"7741124012284146853","unitOfMeasure":"","unitID":"","identifier":"4 Lenses"}],"sequence":"16","name":"Model family","associatedKeyword":"-","usage":"Descriptive","uniqueID":"7741124012283333374","displayable":false,"comparable":false,"identifier":"MODEL_FAMILY","searchable":true,"facetable":true},{"storeDisplay":false,"values":[{"image1":"https:\/\/s7d3.scene7.com\/is\/image\/Persol\/terra-di-siena-2?scl=1amp;fmt=png-alpha","sequence":"5","value":"Terra Di Siena","uniqueID":"7741124012283336326","image1path":"https:\/\/s7d3.scene7.com\/is\/image\/Persol\/terra-di-siena-2?scl=1amp;fmt=png-alpha","unitOfMeasure":"","unitID":"","identifier":"Terra Di Siena"}],"sequence":"17","name":"Temple inner color facet","associatedKeyword":"-","usage":"Descriptive","uniqueID":"7741124012283334357","displayable":false,"comparable":false,"identifier":"TEMPLE_INNER_COLOR_FACET","searchable":true,"facetable":false},{"storeDisplay":false,"values":[{"sequence":"1","value":"False","uniqueID":"7741124012283337030","unitOfMeasure":"","unitID":"","identifier":"False"}],"sequence":"19","name":"Noreturn","associatedKeyword":"-","usage":"Descriptive","uniqueID":"7741124012283334374","displayable":false,"comparable":false,"identifier":"NORETURN","searchable":false,"facetable":false},{"storeDisplay":false,"values":[{"sequence":"1","value":"True","uniqueID":"7741124012284859353","unitOfMeasure":"","unitID":"","identifier":"True"}],"sequence":"21","name":"ENGRAVINGELIGIBLE","associatedKeyword":"-","usage":"Descriptive","uniqueID":"7741124012284251838","displayable":false,"comparable":false,"identifier":"ENGRAVINGELIGIBLE","searchable":false,"facetable":false},{"storeDisplay":false,"values":[{"sequence":"1","value":"Icona","uniqueID":"7741124012283336922","unitOfMeasure":"","unitID":"","identifier":"Icona"}],"sequence":"22","name":"Range","associatedKeyword":"-","usage":"Descriptive","uniqueID":"7741124012283334371","displayable":false,"comparable":false,"identifier":"RANGE","searchable":false,"facetable":false},{"storeDisplay":false,"values":[{"image1":"https:\/\/s7d3.scene7.com\/is\/image\/Persol\/grey-4?scl=1&fmt=png-alpha","sequence":"4","value":"Grey","uniqueID":"7741124012283336044","image1path":"https:\/\/s7d3.scene7.com\/is\/image\/Persol\/grey-4?scl=1&fmt=png-alpha","unitOfMeasure":"","unitID":"","identifier":"Grey"}],"sequence":"23","name":"Lens color","associatedKeyword":"-","usage":"Descriptive","uniqueID":"7741124012283334345","displayable":false,"comparable":false,"identifier":"LENS_COLOR_FACET","searchable":true,"facetable":true},{"storeDisplay":false,"values":[{"sequence":"1","value":"False","uniqueID":"7741124012283336068","unitOfMeasure":"","unitID":"","identifier":"False"}],"sequence":"24","name":"Newreleases","associatedKeyword":"-","usage":"Descriptive","uniqueID":"7741124012283334349","displayable":false,"comparable":false,"identifier":"NEWRELEASES","searchable":true,"facetable":false},{"storeDisplay":false,"values":[{"sequence":"3","value":"0803c","uniqueID":"7741124012283601689","unitOfMeasure":"","unitID":"","identifier":"0803c"}],"sequence":"26","name":"Clen","associatedKeyword":"-","usage":"Descriptive","uniqueID":"7741124012283334344","displayable":false,"comparable":false,"identifier":"CLEN","searchable":false,"facetable":false},{"storeDisplay":false,"values":[{"sequence":"5","value":"111500","uniqueID":"7741124012284611765","unitOfMeasure":"","unitID":"","identifier":"111500"}],"sequence":"28","name":"Sequence","associatedKeyword":"-","usage":"Descriptive","uniqueID":"7741124012283593337","displayable":false,"comparable":false,"identifier":"SEQUENCE","searchable":true,"facetable":false},{"storeDisplay":false,"values":[{"sequence":"2","value":"Male","uniqueID":"7741124012283376840","unitOfMeasure":"","unitID":"","identifier":"Male"}],"sequence":"29","name":"Gender","associatedKeyword":"-","usage":"Descriptive","uniqueID":"7741124012283334343","displayable":false,"comparable":false,"identifier":"GENDER","searchable":false,"facetable":false},{"storeDisplay":false,"values":[{"sequence":"2","value":"False","uniqueID":"7741124012284860407","unitOfMeasure":"","unitID":"","identifier":"False"}],"sequence":"30","name":"Flex","associatedKeyword":"-","usage":"Descriptive","uniqueID":"7741124012283364835","displayable":false,"comparable":false,"identifier":"FLEX","searchable":false,"facetable":false},{"storeDisplay":false,"values":[{"sequence":"2","value":"False","uniqueID":"7741124012284582835","unitOfMeasure":"","unitID":"","identifier":"False"}],"sequence":"31","name":"Best Sellers","associatedKeyword":"-","usage":"Descriptive","uniqueID":"7741124012284026835","displayable":false,"comparable":false,"identifier":"BESTSELLERS","searchable":false,"facetable":false},{"storeDisplay":false,"values":[{"image1":"https:\/\/s7d3.scene7.com\/is\/image\/Persol\/terra-di-siena-2?scl=1amp;fmt=png-alpha","sequence":"5","value":"Terra Di Siena","uniqueID":"7741124012283336011","image1path":"https:\/\/s7d3.scene7.com\/is\/image\/Persol\/terra-di-siena-2?scl=1amp;fmt=png-alpha","unitOfMeasure":"","unitID":"","identifier":"Terra Di Siena"}],"sequence":"32","name":"Front inner color facet","associatedKeyword":"-","usage":"Descriptive","uniqueID":"7741124012283334342","displayable":false,"comparable":false,"identifier":"FRONT_INNER_COLOR_FACET","searchable":true,"facetable":false},{"storeDisplay":false,"values":[{"sequence":"5","value":"PO0005","uniqueID":"7741124012284313293","unitOfMeasure":"","unitID":"","identifier":"PO0005"}],"sequence":"33","name":"Modelname","associatedKeyword":"-","usage":"Descriptive","uniqueID":"7741124012283334353","displayable":false,"comparable":false,"identifier":"MODELNAME","searchable":true,"facetable":false},{"storeDisplay":false,"values":[{"sequence":"2","value":"False","uniqueID":"7741124012283335865","unitOfMeasure":"","unitID":"","identifier":"False"}],"sequence":"34","name":"Exclusive","associatedKeyword":"-","usage":"Descriptive","uniqueID":"7741124012283334336","displayable":false,"comparable":false,"identifier":"EXCLUSIVE","searchable":false,"facetable":false},{"storeDisplay":false,"values":[{"image1":"https:\/\/s7d3.scene7.com\/is\/image\/Persol\/terra-di-siena-2?scl=1&fmt=png-alpha","sequence":"5","value":"Terra Di Siena","uniqueID":"7741124012283335937","image1path":"https:\/\/s7d3.scene7.com\/is\/image\/Persol\/terra-di-siena-2?scl=1&fmt=png-alpha","unitOfMeasure":"","unitID":"","identifier":"Terra Di Siena"}],"sequence":"35","name":"Front color","associatedKeyword":"-","usage":"Descriptive","uniqueID":"7741124012283334340","displayable":false,"comparable":false,"identifier":"FRONT_COLOR_FACET","searchable":true,"facetable":true},{"storeDisplay":false,"values":[{"sequence":"3","value":"Square","uniqueID":"7741124012283336915","unitOfMeasure":"","unitID":"","identifier":"Square"}],"sequence":"37","name":"Frame shape","associatedKeyword":"-","usage":"Descriptive","uniqueID":"7741124012283334368","displayable":false,"comparable":false,"identifier":"FRAME_SHAPE_FACET","searchable":true,"facetable":true},{"storeDisplay":false,"values":[{"sequence":"2","value":"False","uniqueID":"7741124012283336078","unitOfMeasure":"","unitID":"","identifier":"False"}],"sequence":"38","name":"Polarized","associatedKeyword":"-","usage":"Descriptive","uniqueID":"7741124012283334352","displayable":false,"comparable":false,"identifier":"POLARIZED","searchable":false,"facetable":false},{"storeDisplay":false,"values":[{"sequence":"1","value":"False","uniqueID":"7741124012283336077","unitOfMeasure":"","unitID":"","identifier":"False"}],"sequence":"39","name":"Onsale","associatedKeyword":"-","usage":"Descriptive","uniqueID":"7741124012283334351","displayable":false,"comparable":false,"identifier":"ONSALE","searchable":false,"facetable":false},{"storeDisplay":false,"values":[{"sequence":"2","value":"True","uniqueID":"7741124012283355351","unitOfMeasure":"","unitID":"","identifier":"True"}],"sequence":"42","name":"Vintage Celebration","associatedKeyword":"-","usage":"Descriptive","uniqueID":"7741124012283348837","displayable":false,"comparable":false,"identifier":"VINTAGE CELEBRATION","searchable":false,"facetable":false},{"storeDisplay":false,"values":[{"sequence":"2","value":"Sun","uniqueID":"7741124012283333656","unitOfMeasure":"","unitID":"","identifier":"Sun"}],"sequence":"43","name":"Producttype","associatedKeyword":"-","usage":"Descriptive","uniqueID":"7741124012283333376","displayable":false,"comparable":false,"identifier":"PRODUCTTYPE","searchable":true,"facetable":false},{"storeDisplay":false,"values":[{"sequence":"1","value":"False","uniqueID":"7741124012283336902","unitOfMeasure":"","unitID":"","identifier":"False"}],"sequence":"44","name":"Foldable","associatedKeyword":"-","usage":"Descriptive","uniqueID":"7741124012283334366","displayable":false,"comparable":false,"identifier":"FOLDABLE","searchable":false,"facetable":false},{"storeDisplay":false,"values":[{"sequence":"1","value":"False","uniqueID":"7741124012284859336","unitOfMeasure":"","unitID":"","identifier":"False"}],"sequence":"45","name":"AVANT_PREMIERE","associatedKeyword":"-","usage":"Descriptive","uniqueID":"7741124012284251835","displayable":false,"comparable":false,"identifier":"AVANT_PREMIERE","searchable":false,"facetable":false},{"storeDisplay":false,"values":[{"image1":"https:\/\/s7d3.scene7.com\/is\/image\/Persol\/terra-di-siena-2?scl=1amp;fmt=png-alpha","sequence":"1","value":"Terra Di Siena","uniqueID":"7741124012283335978","image1path":"https:\/\/s7d3.scene7.com\/is\/image\/Persol\/terra-di-siena-2?scl=1amp;fmt=png-alpha","unitOfMeasure":"","unitID":"","identifier":"Terra Di Siena"}],"sequence":"46","name":"Front inner color","associatedKeyword":"-","usage":"Descriptive","uniqueID":"7741124012283334341","displayable":false,"comparable":false,"identifier":"FRONT_INNER_COLOR","searchable":false,"facetable":false},{"storeDisplay":false,"values":[{"image1":"https:\/\/s7d3.scene7.com\/is\/image\/Persol\/terra-di-siena-2?scl=1amp;fmt=png-alpha","sequence":"1","value":"Terra Di Siena","uniqueID":"7741124012283336294","image1path":"https:\/\/s7d3.scene7.com\/is\/image\/Persol\/terra-di-siena-2?scl=1amp;fmt=png-alpha","unitOfMeasure":"","unitID":"","identifier":"Terra Di Siena"}],"sequence":"47","name":"Temple inner color","associatedKeyword":"-","usage":"Descriptive","uniqueID":"7741124012283334356","displayable":false,"comparable":false,"identifier":"TEMPLE_INNER_COLOR","searchable":false,"facetable":false},{"storeDisplay":false,"values":[{"image1":"https:\/\/s7d3.scene7.com\/is\/image\/Persol\/terra-di-siena-2?scl=1amp;fmt=png-alpha","sequence":"5","value":"Terra Di Siena","uniqueID":"7741124012283336253","image1path":"https:\/\/s7d3.scene7.com\/is\/image\/Persol\/terra-di-siena-2?scl=1amp;fmt=png-alpha","unitOfMeasure":"","unitID":"","identifier":"Terra Di Siena"}],"sequence":"48","name":"Temple color facet","associatedKeyword":"-","usage":"Descriptive","uniqueID":"7741124012283334355","displayable":false,"comparable":false,"identifier":"TEMPLE_COLOR_FACET","searchable":true,"facetable":false},{"storeDisplay":false,"values":[{"sequence":"1","value":"True","uniqueID":"7741124012284859902","unitOfMeasure":"","unitID":"","identifier":"True"}],"sequence":"49","name":"MEFLECTO","associatedKeyword":"-","usage":"Descriptive","uniqueID":"7741124012284251847","displayable":false,"comparable":false,"identifier":"MEFLECTO","searchable":false,"facetable":false},{"storeDisplay":false,"values":[{"sequence":"1","value":"Global","uniqueID":"7741124012283336916","unitOfMeasure":"","unitID":"","identifier":"Global"}],"sequence":"50","name":"Geo fit","associatedKeyword":"-","usage":"Descriptive","uniqueID":"7741124012283334369","displayable":false,"comparable":false,"identifier":"GEO_FIT","searchable":false,"facetable":false}],"storeID":"715838084","numberOfSKUs":1,"partNumber":"0PO0005__96_R5"},{"hasSingleSKU":true,"catalogEntryTypeCode":"ProductBean","associationType":"REPLACEMENT","parentCatalogGroupID":["3074457345616676668_3074457345616676668","3074457345616681818_3074457345616678189","3074457345616681818_3074457345616696171","3074457345616681818_3074457345616696200","3074457345616681818_3074457345616700671","3074457345616681818_3074457345616702176","3074457345616681818_3074457345616702177","3074457345616681818_3074457345616707668"],"uniqueID":"3074457345616741233","singleSKUCatalogEntryID":"3074457345616741768","sKUs":[{"hasSingleSKU":false,"catalogEntryTypeCode":"ItemBean","parentCatalogGroupID":["3074457345616676668_3074457345616676668","3074457345616681818_3074457345616678189","3074457345616681818_3074457345616696171","3074457345616681818_3074457345616696200","3074457345616681818_3074457345616700671","3074457345616681818_3074457345616707668"],"uniqueID":"3074457345616741768","resourceId":"http:\/\/lux-prdlv-src01.lux-ecomm.net:3737\/search\/resources\/store\/715838404\/productview\/byId\/3074457345616741768","price":[{"description":"L","value":"","usage":"Display","currency":"FIM"},{"description":"O","value":"","usage":"Offer","currency":"FIM"}],"thumbnail":"https:\/\/s7d3.scene7.com\/is\/image\/Persol\/8056597058278_noshad_fr?scl=4","shortDescription":"PO0005 95\/31 54-17","mfPartNumber_ntk":"0PO0005","name":"PO0005 95\/31 54-17","buyable":"true","storeID":"715838084","attributes":[{"storeDisplay":false,"values":[{"sequence":"1","value":"Standard","uniqueID":"7741124012283336345","unitOfMeasure":"","unitID":"","identifier":"Standard"}],"sequence":"1","name":"Size","usage":"Defining","uniqueID":"7741124012283334359","displayable":true,"comparable":false,"identifier":"MODEL_SIZE_DISPLAY","searchable":false,"facetable":false},{"storeDisplay":false,"values":[{"sequence":"3","value":"Classic","uniqueID":"7741124012283336894","unitOfMeasure":"","unitID":"","identifier":"Classic"}],"sequence":"3","name":"Lens treatment","usage":"Descriptive","uniqueID":"7741124012283334364","displayable":false,"comparable":false,"identifier":"LENS_TREATMENT","searchable":false,"facetable":false},{"storeDisplay":false,"values":[{"sequence":"3","value":"Supreme 5","uniqueID":"7741124012284313340","unitOfMeasure":"","unitID":"","identifier":"Supreme 5"}],"sequence":"370","name":"Arrow","usage":"Descriptive","uniqueID":"7741124012283348835","displayable":false,"comparable":false,"identifier":"ARROW","searchable":false,"facetable":false},{"storeDisplay":false,"values":[{"sequence":"1","value":"125","uniqueID":"7741124012283336889","unitOfMeasure":"","unitID":"","identifier":"125"}],"sequence":"370","name":"Temple length","usage":"Descriptive","uniqueID":"7741124012283334363","displayable":false,"comparable":false,"identifier":"TEMPLE_LENGTH","searchable":false,"facetable":false},{"storeDisplay":false,"values":[{"sequence":"4","value":"Lenses-sun;material-acetate;arrow-all;meflecto-all","uniqueID":"7741124012284859910","unitOfMeasure":"","unitID":"","identifier":"Lenses-sun;material-acetate;arrow-all;meflecto-all"}],"sequence":"370","name":"FEATURES","usage":"Descriptive","uniqueID":"7741124012284251845","displayable":false,"comparable":false,"identifier":"FEATURES","searchable":false,"facetable":false},{"storeDisplay":false,"values":[{"sequence":"3","value":"Classic","uniqueID":"7741124012283336899","unitOfMeasure":"","unitID":"","identifier":"Classic"}],"sequence":"370","name":"Lens treatment","usage":"Descriptive","uniqueID":"7741124012283334365","displayable":false,"comparable":false,"identifier":"LENS_TREATMENT_FACET","searchable":true,"facetable":false},{"storeDisplay":false,"values":[{"sequence":"2","value":"17","uniqueID":"7741124012283336883","unitOfMeasure":"","unitID":"","identifier":"17"}],"sequence":"370","name":"Lens bridge","usage":"Descriptive","uniqueID":"7741124012283334362","displayable":false,"comparable":false,"identifier":"LENS_BRIDGE","searchable":false,"facetable":false},{"storeDisplay":false,"values":[{"sequence":"5","value":"PO0005 95\/31 54-17","uniqueID":"7741124012284313155","unitOfMeasure":"","unitID":"","identifier":"PO0005 95\/31 54-17"}],"sequence":"370","name":"Displaysku","usage":"Descriptive","uniqueID":"7741124012283364836","displayable":false,"comparable":false,"identifier":"DISPLAYSKU","searchable":false,"facetable":false},{"storeDisplay":false,"values":[{"sequence":"1","value":"Zpfn","uniqueID":"7741124012283336923","unitOfMeasure":"","unitID":"","identifier":"Zpfn"}],"sequence":"370","name":"Materialtype","usage":"Descriptive","uniqueID":"7741124012283334372","displayable":false,"comparable":false,"identifier":"MATERIALTYPE","searchable":false,"facetable":false},{"storeDisplay":false,"values":[{"sequence":"3","value":"54","uniqueID":"7741124012283336338","unitOfMeasure":"","unitID":"","identifier":"54"}],"sequence":"370","name":"Model size","usage":"Descriptive","uniqueID":"7741124012283334358","displayable":false,"comparable":false,"identifier":"MODEL_SIZE","searchable":false,"facetable":false},{"storeDisplay":false,"values":[{"sequence":"2","value":"95\/31 54","uniqueID":"7741124012283376848","unitOfMeasure":"","unitID":"","identifier":"95\/31 54"}],"sequence":"370","name":"Grid Value","usage":"Descriptive","uniqueID":"7741124012283364837","displayable":true,"comparable":false,"identifier":"GRID VALUE","searchable":false,"facetable":false},{"storeDisplay":false,"values":[{"sequence":"3","value":"Supreme Acetate","uniqueID":"7741124012283355348","unitOfMeasure":"","unitID":"","identifier":"Supreme Acetate"}],"sequence":"370","name":"Temple logo","usage":"Descriptive","uniqueID":"7741124012283348836","displayable":false,"comparable":true,"identifier":"TEMPLE_LOGO","searchable":false,"facetable":false},{"storeDisplay":false,"values":[{"sequence":"1","value":"Trending Now","uniqueID":"7741124012284582837","unitOfMeasure":"","unitID":"","identifier":"Trending Now"}],"sequence":"370","name":"Primary family","usage":"Descriptive","uniqueID":"7741124012284026836","displayable":false,"comparable":false,"identifier":"PRIMARY_FAMILY","searchable":false,"facetable":false},{"storeDisplay":false,"values":[{"sequence":"2","value":"Supreme Acetate","uniqueID":"7741124012283376860","unitOfMeasure":"","unitID":"","identifier":"Supreme Acetate"}],"sequence":"1424","name":"Temple Logo","usage":"Descriptive","uniqueID":"7741124012283379335","displayable":false,"comparable":false,"identifier":"TEMPLE LOGO","searchable":false,"facetable":false}],"partNumber":"8056597058278"}],"resourceId":"http:\/\/lux-prdlv-src01.lux-ecomm.net:3737\/search\/resources\/store\/715838404\/productview\/byId\/3074457345616741233","price":[{"description":"L","value":"","usage":"Display","currency":"FIM"},{"description":"O","value":"","usage":"Offer","currency":"FIM"}],"thumbnail":"https:\/\/s7d3.scene7.com\/is\/image\/Persol\/8056597058278_noshad_fr?scl=4","shortDescription":"PO0005","mfPartNumber_ntk":"0PO0005","name":"PO0005","buyable":"true","quantity":1,"attributes":[{"storeDisplay":false,"values":[{"sequence":"4","value":"PO0005","uniqueID":"7741124012284313330","unitOfMeasure":"","unitID":"","identifier":"PO0005"}],"sequence":"0","name":"Model code","associatedKeyword":"-","usage":"Descriptive","uniqueID":"7741124012283334373","displayable":true,"comparable":false,"identifier":"MODEL_CODE_DISPLAY","searchable":false,"facetable":false},{"storeDisplay":false,"values":[{"sequence":"2","value":"201902","uniqueID":"7741124012284255842","unitOfMeasure":"","unitID":"","identifier":"201902"}],"sequence":"1","name":"Collection","associatedKeyword":"-","usage":"Descriptive","uniqueID":"7741124012283334335","displayable":false,"comparable":false,"identifier":"COLLECTION","searchable":true,"facetable":false},{"storeDisplay":false,"values":[{"sequence":"2","value":"Black","uniqueID":"7741124012283335902","unitOfMeasure":"","unitID":"","identifier":"Black"}],"sequence":"1","name":"Front color","associatedKeyword":"-","usage":"Descriptive","uniqueID":"7741124012283334339","displayable":true,"comparable":false,"identifier":"FRONT_COLOR","searchable":false,"facetable":false},{"storeDisplay":false,"values":[{"sequence":"1","value":"Standard","uniqueID":"7741124012283336345","unitOfMeasure":"","unitID":"","identifier":"Standard"}],"sequence":"1","name":"Size","associatedKeyword":"-","usage":"Defining","uniqueID":"7741124012283334359","displayable":true,"comparable":false,"identifier":"MODEL_SIZE_DISPLAY","searchable":false,"facetable":false},{"storeDisplay":false,"values":[{"sequence":"2","value":"Square","uniqueID":"7741124012283336911","unitOfMeasure":"","unitID":"","identifier":"Square"}],"sequence":"2","name":"Frame shape","associatedKeyword":"-","usage":"Descriptive","uniqueID":"7741124012283334367","displayable":false,"comparable":false,"identifier":"FRAME_SHAPE","searchable":false,"facetable":false},{"storeDisplay":false,"values":[{"sequence":"1","value":"Trending Now","uniqueID":"7741124012284582837","unitOfMeasure":"","unitID":"","identifier":"Trending Now"}],"sequence":"2","name":"Primary family","associatedKeyword":"-","usage":"Descriptive","uniqueID":"7741124012284026836","displayable":false,"comparable":false,"identifier":"PRIMARY_FAMILY","searchable":false,"facetable":false},{"storeDisplay":false,"values":[{"sequence":"1","value":"Green","uniqueID":"7741124012283336056","unitOfMeasure":"","unitID":"","identifier":"Green"}],"sequence":"2","name":"Lens color","associatedKeyword":"-","usage":"Descriptive","uniqueID":"7741124012283334346","displayable":true,"comparable":false,"identifier":"LENS_COLOR","searchable":false,"facetable":false},{"storeDisplay":false,"values":[{"sequence":"3","value":"Classic","uniqueID":"7741124012283336894","unitOfMeasure":"","unitID":"","identifier":"Classic"}],"sequence":"3","name":"Lens treatment","associatedKeyword":"-","usage":"Descriptive","uniqueID":"7741124012283334364","displayable":false,"comparable":false,"identifier":"LENS_TREATMENT","searchable":false,"facetable":false},{"storeDisplay":false,"values":[{"sequence":"1","value":"Born to give full protection from the sun at every angle, the 4 Lenses model was created for the first time ever by Persol in 1935. Once called \"glacier glasses\", as it guaranteed maximum protection from the sun\u2019s reflection on snow, it returns more iconic than ever.","uniqueID":"7741124012284859958","unitOfMeasure":"","unitID":"","identifier":"Born to give full protection from the sun at every angle, the 4 Lenses model was created for the first time ever by Persol in 1935. Once called \"glacier glasses\", as it guaranteed maximum protection from the sun\u2019s reflection on snow, it returns more ic"}],"sequence":"3","name":"DESIGN DNA","associatedKeyword":"-","usage":"Descriptive","uniqueID":"7741124012284251850","displayable":false,"comparable":false,"identifier":"DESIGN DNA","searchable":false,"facetable":false},{"storeDisplay":false,"values":[{"sequence":"2","value":"Crystal","uniqueID":"7741124012284859369","unitOfMeasure":"","unitID":"","identifier":"Crystal"}],"sequence":"4","name":"LENS MATERIAL FACET","associatedKeyword":"-","usage":"Descriptive","uniqueID":"7741124012284251849","displayable":false,"comparable":false,"identifier":"LENS_MATERIAL_FACET","searchable":false,"facetable":false},{"storeDisplay":false,"values":[{"sequence":"2","value":"Crystal","uniqueID":"7741124012284859368","unitOfMeasure":"","unitID":"","identifier":"Crystal"}],"sequence":"5","name":"LENS MATERIAL","associatedKeyword":"-","usage":"Descriptive","uniqueID":"7741124012284251848","displayable":true,"comparable":false,"identifier":"LENS_MATERIAL","searchable":false,"facetable":false},{"storeDisplay":false,"values":[{"sequence":"2","value":"Acetate","uniqueID":"7741124012283335870","unitOfMeasure":"","unitID":"","identifier":"Acetate"}],"sequence":"5","name":"Frame Material","associatedKeyword":"-","usage":"Descriptive","uniqueID":"7741124012283334338","displayable":false,"comparable":false,"identifier":"FRAMEMATERIAL_FACET","searchable":true,"facetable":true},{"storeDisplay":false,"values":[{"sequence":"1","value":"False","uniqueID":"7741124012283336065","unitOfMeasure":"","unitID":"","identifier":"False"}],"sequence":"6","name":"Limited edition","associatedKeyword":"-","usage":"Descriptive","uniqueID":"7741124012283334347","displayable":false,"comparable":false,"identifier":"LIMITED_EDITION","searchable":false,"facetable":false},{"storeDisplay":false,"values":[{"sequence":"2","value":"Acetate","uniqueID":"7741124012283335867","unitOfMeasure":"","unitID":"","identifier":"Acetate"}],"sequence":"6","name":"Frame Material","associatedKeyword":"-","usage":"Descriptive","uniqueID":"7741124012283334337","displayable":true,"comparable":false,"identifier":"FRAMEMATERIAL","searchable":false,"facetable":false},{"storeDisplay":false,"values":[{"sequence":"2","value":"Black","uniqueID":"7741124012283336212","unitOfMeasure":"","unitID":"","identifier":"Black"}],"sequence":"7","name":"Temple color","associatedKeyword":"-","usage":"Descriptive","uniqueID":"7741124012283334354","displayable":false,"comparable":false,"identifier":"TEMPLE_COLOR","searchable":false,"facetable":false},{"storeDisplay":false,"values":[{"sequence":"1","value":"Not Adjustable","uniqueID":"7741124012284859354","unitOfMeasure":"","unitID":"","identifier":"Not Adjustable"}],"sequence":"7","name":"NOSEPADS","associatedKeyword":"-","usage":"Descriptive","uniqueID":"7741124012284251840","displayable":true,"comparable":false,"identifier":"NOSEPADS","searchable":false,"facetable":false},{"storeDisplay":false,"values":[{"sequence":"1","value":"1","uniqueID":"7741124012284859356","unitOfMeasure":"","unitID":"","identifier":"1"}],"sequence":"8","name":"PLACEHOLDER_SIZE","associatedKeyword":"-","usage":"Descriptive","uniqueID":"7741124012284251841","displayable":true,"comparable":false,"identifier":"PLACEHOLDER_SIZE","searchable":false,"facetable":false},{"storeDisplay":false,"values":[{"sequence":"2","value":"Polished","uniqueID":"7741124012284859363","unitOfMeasure":"","unitID":"","identifier":"Polished"}],"sequence":"9","name":"FINISHING","associatedKeyword":"-","usage":"Descriptive","uniqueID":"7741124012284251844","displayable":false,"comparable":false,"identifier":"FINISHING","searchable":false,"facetable":false},{"storeDisplay":false,"values":[{"sequence":"2","value":"Wide","uniqueID":"7741124012284859364","unitOfMeasure":"","unitID":"","identifier":"Wide"}],"sequence":"9","name":"FRAME FIT","associatedKeyword":"-","usage":"Descriptive","uniqueID":"7741124012284251846","displayable":true,"comparable":false,"identifier":"FRAME FIT","searchable":false,"facetable":false},{"storeDisplay":false,"values":[{"sequence":"3","value":"Saddle Bridge","uniqueID":"7741124012284859337","unitOfMeasure":"","unitID":"","identifier":"Saddle Bridge"}],"sequence":"10","name":"BRIDGE TYPE","associatedKeyword":"-","usage":"Descriptive","uniqueID":"7741124012284251836","displayable":false,"comparable":false,"identifier":"BRIDGE TYPE","searchable":false,"facetable":false},{"storeDisplay":false,"values":[{"sequence":"1","value":"Italy","uniqueID":"7741124012283336067","unitOfMeasure":"","unitID":"","identifier":"Italy"}],"sequence":"10","name":"Madein","associatedKeyword":"-","usage":"Descriptive","uniqueID":"7741124012283334348","displayable":true,"comparable":false,"identifier":"MADEIN","searchable":false,"facetable":false},{"storeDisplay":false,"values":[{"sequence":"3","value":"Supreme 5","uniqueID":"7741124012284313340","unitOfMeasure":"","unitID":"","identifier":"Supreme 5"}],"sequence":"10","name":"Arrow","associatedKeyword":"-","usage":"Descriptive","uniqueID":"7741124012283348835","displayable":false,"comparable":false,"identifier":"ARROW","searchable":false,"facetable":false},{"storeDisplay":false,"values":[{"sequence":"1","value":"Full Rim","uniqueID":"7741124012283360863","unitOfMeasure":"","unitID":"","identifier":"Full Rim"}],"sequence":"11","name":"Frame Type","associatedKeyword":"-","usage":"Descriptive","uniqueID":"7741124012283334370","displayable":false,"comparable":false,"identifier":"FRAMETYPE","searchable":false,"facetable":false},{"storeDisplay":false,"values":[{"sequence":"2","value":"Supreme Acetate","uniqueID":"7741124012283376860","unitOfMeasure":"","unitID":"","identifier":"Supreme Acetate"}],"sequence":"11","name":"Temple Logo","associatedKeyword":"-","usage":"Descriptive","uniqueID":"7741124012283379335","displayable":false,"comparable":false,"identifier":"TEMPLE LOGO","searchable":false,"facetable":false},{"storeDisplay":false,"values":[{"sequence":"1","value":"Round Face;oval Face","uniqueID":"7741124012284860410","unitOfMeasure":"","unitID":"","identifier":"Round Face;oval Face"}],"sequence":"12","name":"SUGGESTED FACE SHAPE","associatedKeyword":"-","usage":"Descriptive","uniqueID":"7741124012284251843","displayable":false,"comparable":false,"identifier":"SUGGESTED_FACE_SHAPE","searchable":false,"facetable":false},{"storeDisplay":false,"values":[{"sequence":"3","value":"3N","uniqueID":"7741124012283444311","unitOfMeasure":"","unitID":"","identifier":"3N"}],"sequence":"13","name":"Notainformativa","associatedKeyword":"-","usage":"Descriptive","uniqueID":"7741124012283334350","displayable":false,"comparable":false,"identifier":"NOTAINFORMATIVA","searchable":false,"facetable":false},{"storeDisplay":false,"values":[{"sequence":"3","value":"95\/31","uniqueID":"7741124012284861603","unitOfMeasure":"","unitID":"","identifier":"95\/31"}],"sequence":"14","name":"COLOR CODE","associatedKeyword":"-","usage":"Descriptive","uniqueID":"7741124012284253335","displayable":false,"comparable":false,"identifier":"COLOR CODE","searchable":false,"facetable":false},{"storeDisplay":false,"values":[{"sequence":"4","value":"PO_pack2_gallery","uniqueID":"7741124012284859921","unitOfMeasure":"","unitID":"","identifier":"PO_pack2_gallery"}],"sequence":"16","name":"CASE","associatedKeyword":"-","usage":"Descriptive","uniqueID":"7741124012284251837","displayable":false,"comparable":false,"identifier":"CASE","searchable":false,"facetable":false},{"storeDisplay":false,"values":[{"sequence":"2","value":"4 Lenses","uniqueID":"7741124012284146853","unitOfMeasure":"","unitID":"","identifier":"4 Lenses"}],"sequence":"17","name":"Model family","associatedKeyword":"-","usage":"Descriptive","uniqueID":"7741124012283333374","displayable":false,"comparable":false,"identifier":"MODEL_FAMILY","searchable":true,"facetable":true},{"storeDisplay":false,"values":[{"sequence":"2","value":"Black","uniqueID":"7741124012283336322","unitOfMeasure":"","unitID":"","identifier":"Black"}],"sequence":"18","name":"Temple inner color facet","associatedKeyword":"-","usage":"Descriptive","uniqueID":"7741124012283334357","displayable":false,"comparable":false,"identifier":"TEMPLE_INNER_COLOR_FACET","searchable":true,"facetable":false},{"storeDisplay":false,"values":[{"sequence":"1","value":"False","uniqueID":"7741124012283337030","unitOfMeasure":"","unitID":"","identifier":"False"}],"sequence":"20","name":"Noreturn","associatedKeyword":"-","usage":"Descriptive","uniqueID":"7741124012283334374","displayable":false,"comparable":false,"identifier":"NORETURN","searchable":false,"facetable":false},{"storeDisplay":false,"values":[{"sequence":"1","value":"True","uniqueID":"7741124012284859353","unitOfMeasure":"","unitID":"","identifier":"True"}],"sequence":"22","name":"ENGRAVINGELIGIBLE","associatedKeyword":"-","usage":"Descriptive","uniqueID":"7741124012284251838","displayable":false,"comparable":false,"identifier":"ENGRAVINGELIGIBLE","searchable":false,"facetable":false},{"storeDisplay":false,"values":[{"sequence":"1","value":"Icona","uniqueID":"7741124012283336922","unitOfMeasure":"","unitID":"","identifier":"Icona"}],"sequence":"23","name":"Range","associatedKeyword":"-","usage":"Descriptive","uniqueID":"7741124012283334371","displayable":false,"comparable":false,"identifier":"RANGE","searchable":false,"facetable":false},{"storeDisplay":false,"values":[{"image1":"https:\/\/s7d3.scene7.com\/is\/image\/Persol\/green-2?scl=1&fmt=png-alpha","sequence":"3","value":"Green","uniqueID":"7741124012283336041","image1path":"https:\/\/s7d3.scene7.com\/is\/image\/Persol\/green-2?scl=1&fmt=png-alpha","unitOfMeasure":"","unitID":"","identifier":"Green"}],"sequence":"24","name":"Lens color","associatedKeyword":"-","usage":"Descriptive","uniqueID":"7741124012283334345","displayable":false,"comparable":false,"identifier":"LENS_COLOR_FACET","searchable":true,"facetable":true},{"storeDisplay":false,"values":[{"sequence":"1","value":"False","uniqueID":"7741124012283336068","unitOfMeasure":"","unitID":"","identifier":"False"}],"sequence":"25","name":"Newreleases","associatedKeyword":"-","usage":"Descriptive","uniqueID":"7741124012283334349","displayable":false,"comparable":false,"identifier":"NEWRELEASES","searchable":true,"facetable":false},{"storeDisplay":false,"values":[{"sequence":"2","value":"0058c","uniqueID":"7741124012283336023","unitOfMeasure":"","unitID":"","identifier":"0058c"}],"sequence":"27","name":"Clen","associatedKeyword":"-","usage":"Descriptive","uniqueID":"7741124012283334344","displayable":false,"comparable":false,"identifier":"CLEN","searchable":false,"facetable":false},{"storeDisplay":false,"values":[{"sequence":"5","value":"109000","uniqueID":"7741124012284611303","unitOfMeasure":"","unitID":"","identifier":"109000"}],"sequence":"29","name":"Sequence","associatedKeyword":"-","usage":"Descriptive","uniqueID":"7741124012283593337","displayable":false,"comparable":false,"identifier":"SEQUENCE","searchable":true,"facetable":false},{"storeDisplay":false,"values":[{"sequence":"2","value":"Male","uniqueID":"7741124012283376840","unitOfMeasure":"","unitID":"","identifier":"Male"}],"sequence":"30","name":"Gender","associatedKeyword":"-","usage":"Descriptive","uniqueID":"7741124012283334343","displayable":false,"comparable":false,"identifier":"GENDER","searchable":false,"facetable":false},{"storeDisplay":false,"values":[{"sequence":"2","value":"False","uniqueID":"7741124012284860407","unitOfMeasure":"","unitID":"","identifier":"False"}],"sequence":"31","name":"Flex","associatedKeyword":"-","usage":"Descriptive","uniqueID":"7741124012283364835","displayable":false,"comparable":false,"identifier":"FLEX","searchable":false,"facetable":false},{"storeDisplay":false,"values":[{"sequence":"2","value":"False","uniqueID":"7741124012284582835","unitOfMeasure":"","unitID":"","identifier":"False"}],"sequence":"32","name":"Best Sellers","associatedKeyword":"-","usage":"Descriptive","uniqueID":"7741124012284026835","displayable":false,"comparable":false,"identifier":"BESTSELLERS","searchable":false,"facetable":false},{"storeDisplay":false,"values":[{"sequence":"1","value":"Black","uniqueID":"7741124012283336006","unitOfMeasure":"","unitID":"","identifier":"Black"}],"sequence":"33","name":"Front inner color facet","associatedKeyword":"-","usage":"Descriptive","uniqueID":"7741124012283334342","displayable":false,"comparable":false,"identifier":"FRONT_INNER_COLOR_FACET","searchable":true,"facetable":false},{"storeDisplay":false,"values":[{"sequence":"5","value":"PO0005","uniqueID":"7741124012284313293","unitOfMeasure":"","unitID":"","identifier":"PO0005"}],"sequence":"34","name":"Modelname","associatedKeyword":"-","usage":"Descriptive","uniqueID":"7741124012283334353","displayable":false,"comparable":false,"identifier":"MODELNAME","searchable":true,"facetable":false},{"storeDisplay":false,"values":[{"sequence":"2","value":"False","uniqueID":"7741124012283335865","unitOfMeasure":"","unitID":"","identifier":"False"}],"sequence":"35","name":"Exclusive","associatedKeyword":"-","usage":"Descriptive","uniqueID":"7741124012283334336","displayable":false,"comparable":false,"identifier":"EXCLUSIVE","searchable":false,"facetable":false},{"storeDisplay":false,"values":[{"image1":"https:\/\/s7d3.scene7.com\/is\/image\/Persol\/black?scl=1&fmt=png-alpha","sequence":"1","value":"Black","uniqueID":"7741124012283335934","image1path":"https:\/\/s7d3.scene7.com\/is\/image\/Persol\/black?scl=1&fmt=png-alpha","unitOfMeasure":"","unitID":"","identifier":"Black"}],"sequence":"36","name":"Front color","associatedKeyword":"-","usage":"Descriptive","uniqueID":"7741124012283334340","displayable":false,"comparable":false,"identifier":"FRONT_COLOR_FACET","searchable":true,"facetable":true},{"storeDisplay":false,"values":[{"sequence":"3","value":"Square","uniqueID":"7741124012283336915","unitOfMeasure":"","unitID":"","identifier":"Square"}],"sequence":"38","name":"Frame shape","associatedKeyword":"-","usage":"Descriptive","uniqueID":"7741124012283334368","displayable":false,"comparable":false,"identifier":"FRAME_SHAPE_FACET","searchable":true,"facetable":true},{"storeDisplay":false,"values":[{"sequence":"2","value":"False","uniqueID":"7741124012283336078","unitOfMeasure":"","unitID":"","identifier":"False"}],"sequence":"39","name":"Polarized","associatedKeyword":"-","usage":"Descriptive","uniqueID":"7741124012283334352","displayable":false,"comparable":false,"identifier":"POLARIZED","searchable":false,"facetable":false},{"storeDisplay":false,"values":[{"sequence":"1","value":"False","uniqueID":"7741124012283336077","unitOfMeasure":"","unitID":"","identifier":"False"}],"sequence":"40","name":"Onsale","associatedKeyword":"-","usage":"Descriptive","uniqueID":"7741124012283334351","displayable":false,"comparable":false,"identifier":"ONSALE","searchable":false,"facetable":false},{"storeDisplay":false,"values":[{"sequence":"1","value":"False","uniqueID":"7741124012283355350","unitOfMeasure":"","unitID":"","identifier":"False"}],"sequence":"43","name":"Vintage Celebration","associatedKeyword":"-","usage":"Descriptive","uniqueID":"7741124012283348837","displayable":false,"comparable":false,"identifier":"VINTAGE CELEBRATION","searchable":false,"facetable":false},{"storeDisplay":false,"values":[{"sequence":"2","value":"Sun","uniqueID":"7741124012283333656","unitOfMeasure":"","unitID":"","identifier":"Sun"}],"sequence":"44","name":"Producttype","associatedKeyword":"-","usage":"Descriptive","uniqueID":"7741124012283333376","displayable":false,"comparable":false,"identifier":"PRODUCTTYPE","searchable":true,"facetable":false},{"storeDisplay":false,"values":[{"sequence":"1","value":"False","uniqueID":"7741124012283336902","unitOfMeasure":"","unitID":"","identifier":"False"}],"sequence":"45","name":"Foldable","associatedKeyword":"-","usage":"Descriptive","uniqueID":"7741124012283334366","displayable":false,"comparable":false,"identifier":"FOLDABLE","searchable":false,"facetable":false},{"storeDisplay":false,"values":[{"sequence":"1","value":"False","uniqueID":"7741124012284859336","unitOfMeasure":"","unitID":"","identifier":"False"}],"sequence":"46","name":"AVANT_PREMIERE","associatedKeyword":"-","usage":"Descriptive","uniqueID":"7741124012284251835","displayable":false,"comparable":false,"identifier":"AVANT_PREMIERE","searchable":false,"facetable":false},{"storeDisplay":false,"values":[{"sequence":"2","value":"Black","uniqueID":"7741124012283335969","unitOfMeasure":"","unitID":"","identifier":"Black"}],"sequence":"47","name":"Front inner color","associatedKeyword":"-","usage":"Descriptive","uniqueID":"7741124012283334341","displayable":false,"comparable":false,"identifier":"FRONT_INNER_COLOR","searchable":false,"facetable":false},{"storeDisplay":false,"values":[{"sequence":"2","value":"Black","uniqueID":"7741124012283336285","unitOfMeasure":"","unitID":"","identifier":"Black"}],"sequence":"48","name":"Temple inner color","associatedKeyword":"-","usage":"Descriptive","uniqueID":"7741124012283334356","displayable":false,"comparable":false,"identifier":"TEMPLE_INNER_COLOR","searchable":false,"facetable":false},{"storeDisplay":false,"values":[{"sequence":"1","value":"Black","uniqueID":"7741124012283336249","unitOfMeasure":"","unitID":"","identifier":"Black"}],"sequence":"49","name":"Temple color facet","associatedKeyword":"-","usage":"Descriptive","uniqueID":"7741124012283334355","displayable":false,"comparable":false,"identifier":"TEMPLE_COLOR_FACET","searchable":true,"facetable":false},{"storeDisplay":false,"values":[{"sequence":"1","value":"True","uniqueID":"7741124012284859902","unitOfMeasure":"","unitID":"","identifier":"True"}],"sequence":"50","name":"MEFLECTO","associatedKeyword":"-","usage":"Descriptive","uniqueID":"7741124012284251847","displayable":false,"comparable":false,"identifier":"MEFLECTO","searchable":false,"facetable":false},{"storeDisplay":false,"values":[{"sequence":"1","value":"Global","uniqueID":"7741124012283336916","unitOfMeasure":"","unitID":"","identifier":"Global"}],"sequence":"51","name":"Geo fit","associatedKeyword":"-","usage":"Descriptive","uniqueID":"7741124012283334369","displayable":false,"comparable":false,"identifier":"GEO_FIT","searchable":false,"facetable":false}],"storeID":"715838084","numberOfSKUs":1,"partNumber":"0PO0005__95_31"},{"hasSingleSKU":true,"catalogEntryTypeCode":"ProductBean","associationType":"REPLACEMENT","parentCatalogGroupID":["3074457345616676668_3074457345616676668","3074457345616681818_3074457345616678189","3074457345616681818_3074457345616696171","3074457345616681818_3074457345616696200","3074457345616681818_3074457345616700671","3074457345616681818_3074457345616702176","3074457345616681818_3074457345616702177","3074457345616681818_3074457345616707668"],"uniqueID":"3074457345616741237","singleSKUCatalogEntryID":"3074457345616741772","sKUs":[{"hasSingleSKU":false,"catalogEntryTypeCode":"ItemBean","parentCatalogGroupID":["3074457345616676668_3074457345616676668","3074457345616681818_3074457345616678189","3074457345616681818_3074457345616696171","3074457345616681818_3074457345616696200","3074457345616681818_3074457345616700671","3074457345616681818_3074457345616707668"],"uniqueID":"3074457345616741772","resourceId":"http:\/\/lux-prdlv-src01.lux-ecomm.net:3737\/search\/resources\/store\/715838404\/productview\/byId\/3074457345616741772","price":[{"description":"L","value":"","usage":"Display","currency":"FIM"},{"description":"O","value":"","usage":"Offer","currency":"FIM"}],"thumbnail":"https:\/\/s7d3.scene7.com\/is\/image\/Persol\/8056597058292_noshad_fr?scl=4","shortDescription":"PO0005 109833 54-17","mfPartNumber_ntk":"0PO0005","name":"PO0005 109833 54-17","buyable":"true","storeID":"715838084","attributes":[{"storeDisplay":false,"values":[{"sequence":"1","value":"Standard","uniqueID":"7741124012283336345","unitOfMeasure":"","unitID":"","identifier":"Standard"}],"sequence":"1","name":"Size","usage":"Defining","uniqueID":"7741124012283334359","displayable":true,"comparable":false,"identifier":"MODEL_SIZE_DISPLAY","searchable":false,"facetable":false},{"storeDisplay":false,"values":[{"sequence":"3","value":"Classic","uniqueID":"7741124012283336894","unitOfMeasure":"","unitID":"","identifier":"Classic"}],"sequence":"3","name":"Lens treatment","usage":"Descriptive","uniqueID":"7741124012283334364","displayable":false,"comparable":false,"identifier":"LENS_TREATMENT","searchable":false,"facetable":false},{"storeDisplay":false,"values":[{"sequence":"1","value":"Zpfn","uniqueID":"7741124012283336923","unitOfMeasure":"","unitID":"","identifier":"Zpfn"}],"sequence":"368","name":"Materialtype","usage":"Descriptive","uniqueID":"7741124012283334372","displayable":false,"comparable":false,"identifier":"MATERIALTYPE","searchable":false,"facetable":false},{"storeDisplay":false,"values":[{"sequence":"3","value":"Supreme 5","uniqueID":"7741124012284313340","unitOfMeasure":"","unitID":"","identifier":"Supreme 5"}],"sequence":"368","name":"Arrow","usage":"Descriptive","uniqueID":"7741124012283348835","displayable":false,"comparable":false,"identifier":"ARROW","searchable":false,"facetable":false},{"storeDisplay":false,"values":[{"sequence":"4","value":"Lenses-sun;material-acetate;arrow-all;meflecto-all","uniqueID":"7741124012284859910","unitOfMeasure":"","unitID":"","identifier":"Lenses-sun;material-acetate;arrow-all;meflecto-all"}],"sequence":"368","name":"FEATURES","usage":"Descriptive","uniqueID":"7741124012284251845","displayable":false,"comparable":false,"identifier":"FEATURES","searchable":false,"facetable":false},{"storeDisplay":false,"values":[{"sequence":"1","value":"10983354","uniqueID":"7741124012284313048","unitOfMeasure":"","unitID":"","identifier":"10983354"}],"sequence":"368","name":"Grid Value","usage":"Descriptive","uniqueID":"7741124012283364837","displayable":true,"comparable":false,"identifier":"GRID VALUE","searchable":false,"facetable":false},{"storeDisplay":false,"values":[{"sequence":"3","value":"Classic","uniqueID":"7741124012283336899","unitOfMeasure":"","unitID":"","identifier":"Classic"}],"sequence":"368","name":"Lens treatment","usage":"Descriptive","uniqueID":"7741124012283334365","displayable":false,"comparable":false,"identifier":"LENS_TREATMENT_FACET","searchable":true,"facetable":false},{"storeDisplay":false,"values":[{"sequence":"2","value":"17","uniqueID":"7741124012283336883","unitOfMeasure":"","unitID":"","identifier":"17"}],"sequence":"368","name":"Lens bridge","usage":"Descriptive","uniqueID":"7741124012283334362","displayable":false,"comparable":false,"identifier":"LENS_BRIDGE","searchable":false,"facetable":false},{"storeDisplay":false,"values":[{"sequence":"3","value":"54","uniqueID":"7741124012283336338","unitOfMeasure":"","unitID":"","identifier":"54"}],"sequence":"368","name":"Model size","usage":"Descriptive","uniqueID":"7741124012283334358","displayable":false,"comparable":false,"identifier":"MODEL_SIZE","searchable":false,"facetable":false},{"storeDisplay":false,"values":[{"sequence":"4","value":"PO0005 109833 54-17","uniqueID":"7741124012284313189","unitOfMeasure":"","unitID":"","identifier":"PO0005 109833 54-17"}],"sequence":"368","name":"Displaysku","usage":"Descriptive","uniqueID":"7741124012283364836","displayable":false,"comparable":false,"identifier":"DISPLAYSKU","searchable":false,"facetable":false},{"storeDisplay":false,"values":[{"sequence":"1","value":"125","uniqueID":"7741124012283336889","unitOfMeasure":"","unitID":"","identifier":"125"}],"sequence":"368","name":"Temple length","usage":"Descriptive","uniqueID":"7741124012283334363","displayable":false,"comparable":false,"identifier":"TEMPLE_LENGTH","searchable":false,"facetable":false},{"storeDisplay":false,"values":[{"sequence":"3","value":"Supreme Acetate","uniqueID":"7741124012283355348","unitOfMeasure":"","unitID":"","identifier":"Supreme Acetate"}],"sequence":"368","name":"Temple logo","usage":"Descriptive","uniqueID":"7741124012283348836","displayable":false,"comparable":true,"identifier":"TEMPLE_LOGO","searchable":false,"facetable":false},{"storeDisplay":false,"values":[{"sequence":"1","value":"Trending Now","uniqueID":"7741124012284582837","unitOfMeasure":"","unitID":"","identifier":"Trending Now"}],"sequence":"368","name":"Primary family","usage":"Descriptive","uniqueID":"7741124012284026836","displayable":false,"comparable":false,"identifier":"PRIMARY_FAMILY","searchable":false,"facetable":false},{"storeDisplay":false,"values":[{"sequence":"2","value":"Supreme Acetate","uniqueID":"7741124012283376860","unitOfMeasure":"","unitID":"","identifier":"Supreme Acetate"}],"sequence":"1428","name":"Temple Logo","usage":"Descriptive","uniqueID":"7741124012283379335","displayable":false,"comparable":false,"identifier":"TEMPLE LOGO","searchable":false,"facetable":false}],"partNumber":"8056597058292"}],"resourceId":"http:\/\/lux-prdlv-src01.lux-ecomm.net:3737\/search\/resources\/store\/715838404\/productview\/byId\/3074457345616741237","price":[{"description":"L","value":"","usage":"Display","currency":"FIM"},{"description":"O","value":"","usage":"Offer","currency":"FIM"}],"thumbnail":"https:\/\/s7d3.scene7.com\/is\/image\/Persol\/8056597058292_noshad_fr?scl=4","shortDescription":"PO0005","mfPartNumber_ntk":"0PO0005","name":"PO0005","buyable":"true","quantity":1,"attributes":[{"storeDisplay":false,"values":[{"sequence":"4","value":"PO0005","uniqueID":"7741124012284313330","unitOfMeasure":"","unitID":"","identifier":"PO0005"}],"sequence":"0","name":"Model code","associatedKeyword":"-","usage":"Descriptive","uniqueID":"7741124012283334373","displayable":true,"comparable":false,"identifier":"MODEL_CODE_DISPLAY","searchable":false,"facetable":false},{"storeDisplay":false,"values":[{"sequence":"1","value":"Standard","uniqueID":"7741124012283336345","unitOfMeasure":"","unitID":"","identifier":"Standard"}],"sequence":"1","name":"Size","associatedKeyword":"-","usage":"Defining","uniqueID":"7741124012283334359","displayable":true,"comparable":false,"identifier":"MODEL_SIZE_DISPLAY","searchable":false,"facetable":false},{"storeDisplay":false,"values":[{"sequence":"4","value":"White","uniqueID":"7741124012284200393","unitOfMeasure":"","unitID":"","identifier":"White"}],"sequence":"1","name":"Front color","associatedKeyword":"-","usage":"Descriptive","uniqueID":"7741124012283334339","displayable":true,"comparable":false,"identifier":"FRONT_COLOR","searchable":false,"facetable":false},{"storeDisplay":false,"values":[{"sequence":"2","value":"201902","uniqueID":"7741124012284255842","unitOfMeasure":"","unitID":"","identifier":"201902"}],"sequence":"1","name":"Collection","associatedKeyword":"-","usage":"Descriptive","uniqueID":"7741124012283334335","displayable":false,"comparable":false,"identifier":"COLLECTION","searchable":true,"facetable":false},{"storeDisplay":false,"values":[{"sequence":"1","value":"Trending Now","uniqueID":"7741124012284582837","unitOfMeasure":"","unitID":"","identifier":"Trending Now"}],"sequence":"2","name":"Primary family","associatedKeyword":"-","usage":"Descriptive","uniqueID":"7741124012284026836","displayable":false,"comparable":false,"identifier":"PRIMARY_FAMILY","searchable":false,"facetable":false},{"storeDisplay":false,"values":[{"sequence":"4","value":"Brown","uniqueID":"7741124012283336055","unitOfMeasure":"","unitID":"","identifier":"Brown"}],"sequence":"2","name":"Lens color","associatedKeyword":"-","usage":"Descriptive","uniqueID":"7741124012283334346","displayable":true,"comparable":false,"identifier":"LENS_COLOR","searchable":false,"facetable":false},{"storeDisplay":false,"values":[{"sequence":"2","value":"Square","uniqueID":"7741124012283336911","unitOfMeasure":"","unitID":"","identifier":"Square"}],"sequence":"2","name":"Frame shape","associatedKeyword":"-","usage":"Descriptive","uniqueID":"7741124012283334367","displayable":false,"comparable":false,"identifier":"FRAME_SHAPE","searchable":false,"facetable":false},{"storeDisplay":false,"values":[{"sequence":"1","value":"Born to give full protection from the sun at every angle, the 4 Lenses model was created for the first time ever by Persol in 1935. Once called \"glacier glasses\", as it guaranteed maximum protection from the sun\u2019s reflection on snow, it returns more iconic than ever.","uniqueID":"7741124012284859958","unitOfMeasure":"","unitID":"","identifier":"Born to give full protection from the sun at every angle, the 4 Lenses model was created for the first time ever by Persol in 1935. Once called \"glacier glasses\", as it guaranteed maximum protection from the sun\u2019s reflection on snow, it returns more ic"}],"sequence":"3","name":"DESIGN DNA","associatedKeyword":"-","usage":"Descriptive","uniqueID":"7741124012284251850","displayable":false,"comparable":false,"identifier":"DESIGN DNA","searchable":false,"facetable":false},{"storeDisplay":false,"values":[{"sequence":"3","value":"Classic","uniqueID":"7741124012283336894","unitOfMeasure":"","unitID":"","identifier":"Classic"}],"sequence":"3","name":"Lens treatment","associatedKeyword":"-","usage":"Descriptive","uniqueID":"7741124012283334364","displayable":false,"comparable":false,"identifier":"LENS_TREATMENT","searchable":false,"facetable":false},{"storeDisplay":false,"values":[{"sequence":"2","value":"Crystal","uniqueID":"7741124012284859369","unitOfMeasure":"","unitID":"","identifier":"Crystal"}],"sequence":"4","name":"LENS MATERIAL FACET","associatedKeyword":"-","usage":"Descriptive","uniqueID":"7741124012284251849","displayable":false,"comparable":false,"identifier":"LENS_MATERIAL_FACET","searchable":false,"facetable":false},{"storeDisplay":false,"values":[{"sequence":"2","value":"Crystal","uniqueID":"7741124012284859368","unitOfMeasure":"","unitID":"","identifier":"Crystal"}],"sequence":"5","name":"LENS MATERIAL","associatedKeyword":"-","usage":"Descriptive","uniqueID":"7741124012284251848","displayable":true,"comparable":false,"identifier":"LENS_MATERIAL","searchable":false,"facetable":false},{"storeDisplay":false,"values":[{"sequence":"2","value":"Acetate","uniqueID":"7741124012283335870","unitOfMeasure":"","unitID":"","identifier":"Acetate"}],"sequence":"5","name":"Frame Material","associatedKeyword":"-","usage":"Descriptive","uniqueID":"7741124012283334338","displayable":false,"comparable":false,"identifier":"FRAMEMATERIAL_FACET","searchable":true,"facetable":true},{"storeDisplay":false,"values":[{"sequence":"2","value":"Acetate","uniqueID":"7741124012283335867","unitOfMeasure":"","unitID":"","identifier":"Acetate"}],"sequence":"6","name":"Frame Material","associatedKeyword":"-","usage":"Descriptive","uniqueID":"7741124012283334337","displayable":true,"comparable":false,"identifier":"FRAMEMATERIAL","searchable":false,"facetable":false},{"storeDisplay":false,"values":[{"sequence":"1","value":"False","uniqueID":"7741124012283336065","unitOfMeasure":"","unitID":"","identifier":"False"}],"sequence":"6","name":"Limited edition","associatedKeyword":"-","usage":"Descriptive","uniqueID":"7741124012283334347","displayable":false,"comparable":false,"identifier":"LIMITED_EDITION","searchable":false,"facetable":false},{"storeDisplay":false,"values":[{"sequence":"1","value":"Not Adjustable","uniqueID":"7741124012284859354","unitOfMeasure":"","unitID":"","identifier":"Not Adjustable"}],"sequence":"7","name":"NOSEPADS","associatedKeyword":"-","usage":"Descriptive","uniqueID":"7741124012284251840","displayable":true,"comparable":false,"identifier":"NOSEPADS","searchable":false,"facetable":false},{"storeDisplay":false,"values":[{"sequence":"1","value":"White Ivory","uniqueID":"7741124012284313304","unitOfMeasure":"","unitID":"","identifier":"White Ivory"}],"sequence":"7","name":"Temple color","associatedKeyword":"-","usage":"Descriptive","uniqueID":"7741124012283334354","displayable":false,"comparable":false,"identifier":"TEMPLE_COLOR","searchable":false,"facetable":false},{"storeDisplay":false,"values":[{"sequence":"1","value":"1","uniqueID":"7741124012284859356","unitOfMeasure":"","unitID":"","identifier":"1"}],"sequence":"8","name":"PLACEHOLDER_SIZE","associatedKeyword":"-","usage":"Descriptive","uniqueID":"7741124012284251841","displayable":true,"comparable":false,"identifier":"PLACEHOLDER_SIZE","searchable":false,"facetable":false},{"storeDisplay":false,"values":[{"sequence":"2","value":"Polished","uniqueID":"7741124012284859363","unitOfMeasure":"","unitID":"","identifier":"Polished"}],"sequence":"9","name":"FINISHING","associatedKeyword":"-","usage":"Descriptive","uniqueID":"7741124012284251844","displayable":false,"comparable":false,"identifier":"FINISHING","searchable":false,"facetable":false},{"storeDisplay":false,"values":[{"sequence":"2","value":"Wide","uniqueID":"7741124012284859364","unitOfMeasure":"","unitID":"","identifier":"Wide"}],"sequence":"9","name":"FRAME FIT","associatedKeyword":"-","usage":"Descriptive","uniqueID":"7741124012284251846","displayable":true,"comparable":false,"identifier":"FRAME FIT","searchable":false,"facetable":false},{"storeDisplay":false,"values":[{"sequence":"3","value":"Supreme 5","uniqueID":"7741124012284313340","unitOfMeasure":"","unitID":"","identifier":"Supreme 5"}],"sequence":"10","name":"Arrow","associatedKeyword":"-","usage":"Descriptive","uniqueID":"7741124012283348835","displayable":false,"comparable":false,"identifier":"ARROW","searchable":false,"facetable":false},{"storeDisplay":false,"values":[{"sequence":"1","value":"Italy","uniqueID":"7741124012283336067","unitOfMeasure":"","unitID":"","identifier":"Italy"}],"sequence":"10","name":"Madein","associatedKeyword":"-","usage":"Descriptive","uniqueID":"7741124012283334348","displayable":true,"comparable":false,"identifier":"MADEIN","searchable":false,"facetable":false},{"storeDisplay":false,"values":[{"sequence":"3","value":"Saddle Bridge","uniqueID":"7741124012284859337","unitOfMeasure":"","unitID":"","identifier":"Saddle Bridge"}],"sequence":"10","name":"BRIDGE TYPE","associatedKeyword":"-","usage":"Descriptive","uniqueID":"7741124012284251836","displayable":false,"comparable":false,"identifier":"BRIDGE TYPE","searchable":false,"facetable":false},{"storeDisplay":false,"values":[{"sequence":"2","value":"Supreme Acetate","uniqueID":"7741124012283376860","unitOfMeasure":"","unitID":"","identifier":"Supreme Acetate"}],"sequence":"11","name":"Temple Logo","associatedKeyword":"-","usage":"Descriptive","uniqueID":"7741124012283379335","displayable":false,"comparable":false,"identifier":"TEMPLE LOGO","searchable":false,"facetable":false},{"storeDisplay":false,"values":[{"sequence":"1","value":"Full Rim","uniqueID":"7741124012283360863","unitOfMeasure":"","unitID":"","identifier":"Full Rim"}],"sequence":"11","name":"Frame Type","associatedKeyword":"-","usage":"Descriptive","uniqueID":"7741124012283334370","displayable":false,"comparable":false,"identifier":"FRAMETYPE","searchable":false,"facetable":false},{"storeDisplay":false,"values":[{"sequence":"1","value":"Round Face;oval Face","uniqueID":"7741124012284860410","unitOfMeasure":"","unitID":"","identifier":"Round Face;oval Face"}],"sequence":"12","name":"SUGGESTED FACE SHAPE","associatedKeyword":"-","usage":"Descriptive","uniqueID":"7741124012284251843","displayable":false,"comparable":false,"identifier":"SUGGESTED_FACE_SHAPE","searchable":false,"facetable":false},{"storeDisplay":false,"values":[{"sequence":"3","value":"3N","uniqueID":"7741124012283444311","unitOfMeasure":"","unitID":"","identifier":"3N"}],"sequence":"13","name":"Notainformativa","associatedKeyword":"-","usage":"Descriptive","uniqueID":"7741124012283334350","displayable":false,"comparable":false,"identifier":"NOTAINFORMATIVA","searchable":false,"facetable":false},{"storeDisplay":false,"values":[{"sequence":"1","value":"109833","uniqueID":"7741124012284861535","unitOfMeasure":"","unitID":"","identifier":"109833"}],"sequence":"14","name":"COLOR CODE","associatedKeyword":"-","usage":"Descriptive","uniqueID":"7741124012284253335","displayable":false,"comparable":false,"identifier":"COLOR CODE","searchable":false,"facetable":false},{"storeDisplay":false,"values":[{"sequence":"4","value":"PO_pack2_gallery","uniqueID":"7741124012284859921","unitOfMeasure":"","unitID":"","identifier":"PO_pack2_gallery"}],"sequence":"16","name":"CASE","associatedKeyword":"-","usage":"Descriptive","uniqueID":"7741124012284251837","displayable":false,"comparable":false,"identifier":"CASE","searchable":false,"facetable":false},{"storeDisplay":false,"values":[{"sequence":"2","value":"4 Lenses","uniqueID":"7741124012284146853","unitOfMeasure":"","unitID":"","identifier":"4 Lenses"}],"sequence":"17","name":"Model family","associatedKeyword":"-","usage":"Descriptive","uniqueID":"7741124012283333374","displayable":false,"comparable":false,"identifier":"MODEL_FAMILY","searchable":true,"facetable":true},{"storeDisplay":false,"values":[{"sequence":"2","value":"White","uniqueID":"7741124012284313322","unitOfMeasure":"","unitID":"","identifier":"White"}],"sequence":"18","name":"Temple inner color facet","associatedKeyword":"-","usage":"Descriptive","uniqueID":"7741124012283334357","displayable":false,"comparable":false,"identifier":"TEMPLE_INNER_COLOR_FACET","searchable":true,"facetable":false},{"storeDisplay":false,"values":[{"sequence":"1","value":"False","uniqueID":"7741124012283337030","unitOfMeasure":"","unitID":"","identifier":"False"}],"sequence":"20","name":"Noreturn","associatedKeyword":"-","usage":"Descriptive","uniqueID":"7741124012283334374","displayable":false,"comparable":false,"identifier":"NORETURN","searchable":false,"facetable":false},{"storeDisplay":false,"values":[{"sequence":"1","value":"True","uniqueID":"7741124012284859353","unitOfMeasure":"","unitID":"","identifier":"True"}],"sequence":"22","name":"ENGRAVINGELIGIBLE","associatedKeyword":"-","usage":"Descriptive","uniqueID":"7741124012284251838","displayable":false,"comparable":false,"identifier":"ENGRAVINGELIGIBLE","searchable":false,"facetable":false},{"storeDisplay":false,"values":[{"sequence":"1","value":"Icona","uniqueID":"7741124012283336922","unitOfMeasure":"","unitID":"","identifier":"Icona"}],"sequence":"23","name":"Range","associatedKeyword":"-","usage":"Descriptive","uniqueID":"7741124012283334371","displayable":false,"comparable":false,"identifier":"RANGE","searchable":false,"facetable":false},{"storeDisplay":false,"values":[{"image1":"https:\/\/s7d3.scene7.com\/is\/image\/Persol\/brown-1?scl=1&fmt=png-alpha","sequence":"5","value":"Brown","uniqueID":"7741124012283336043","image1path":"https:\/\/s7d3.scene7.com\/is\/image\/Persol\/brown-1?scl=1&fmt=png-alpha","unitOfMeasure":"","unitID":"","identifier":"Brown"}],"sequence":"24","name":"Lens color","associatedKeyword":"-","usage":"Descriptive","uniqueID":"7741124012283334345","displayable":false,"comparable":false,"identifier":"LENS_COLOR_FACET","searchable":true,"facetable":true},{"storeDisplay":false,"values":[{"sequence":"1","value":"False","uniqueID":"7741124012283336068","unitOfMeasure":"","unitID":"","identifier":"False"}],"sequence":"25","name":"Newreleases","associatedKeyword":"-","usage":"Descriptive","uniqueID":"7741124012283334349","displayable":false,"comparable":false,"identifier":"NEWRELEASES","searchable":true,"facetable":false},{"storeDisplay":false,"values":[{"sequence":"5","value":"0060c","uniqueID":"7741124012283336016","unitOfMeasure":"","unitID":"","identifier":"0060c"}],"sequence":"27","name":"Clen","associatedKeyword":"-","usage":"Descriptive","uniqueID":"7741124012283334344","displayable":false,"comparable":false,"identifier":"CLEN","searchable":false,"facetable":false},{"storeDisplay":false,"values":[{"sequence":"5","value":"108000","uniqueID":"7741124012284611560","unitOfMeasure":"","unitID":"","identifier":"108000"}],"sequence":"29","name":"Sequence","associatedKeyword":"-","usage":"Descriptive","uniqueID":"7741124012283593337","displayable":false,"comparable":false,"identifier":"SEQUENCE","searchable":true,"facetable":false},{"storeDisplay":false,"values":[{"sequence":"2","value":"Male","uniqueID":"7741124012283376840","unitOfMeasure":"","unitID":"","identifier":"Male"}],"sequence":"30","name":"Gender","associatedKeyword":"-","usage":"Descriptive","uniqueID":"7741124012283334343","displayable":false,"comparable":false,"identifier":"GENDER","searchable":false,"facetable":false},{"storeDisplay":false,"values":[{"sequence":"2","value":"False","uniqueID":"7741124012284860407","unitOfMeasure":"","unitID":"","identifier":"False"}],"sequence":"31","name":"Flex","associatedKeyword":"-","usage":"Descriptive","uniqueID":"7741124012283364835","displayable":false,"comparable":false,"identifier":"FLEX","searchable":false,"facetable":false},{"storeDisplay":false,"values":[{"sequence":"2","value":"False","uniqueID":"7741124012284582835","unitOfMeasure":"","unitID":"","identifier":"False"}],"sequence":"32","name":"Best Sellers","associatedKeyword":"-","usage":"Descriptive","uniqueID":"7741124012284026835","displayable":false,"comparable":false,"identifier":"BESTSELLERS","searchable":false,"facetable":false},{"storeDisplay":false,"values":[{"sequence":"2","value":"White","uniqueID":"7741124012284313278","unitOfMeasure":"","unitID":"","identifier":"White"}],"sequence":"33","name":"Front inner color facet","associatedKeyword":"-","usage":"Descriptive","uniqueID":"7741124012283334342","displayable":false,"comparable":false,"identifier":"FRONT_INNER_COLOR_FACET","searchable":true,"facetable":false},{"storeDisplay":false,"values":[{"sequence":"5","value":"PO0005","uniqueID":"7741124012284313293","unitOfMeasure":"","unitID":"","identifier":"PO0005"}],"sequence":"34","name":"Modelname","associatedKeyword":"-","usage":"Descriptive","uniqueID":"7741124012283334353","displayable":false,"comparable":false,"identifier":"MODELNAME","searchable":true,"facetable":false},{"storeDisplay":false,"values":[{"sequence":"2","value":"False","uniqueID":"7741124012283335865","unitOfMeasure":"","unitID":"","identifier":"False"}],"sequence":"35","name":"Exclusive","associatedKeyword":"-","usage":"Descriptive","uniqueID":"7741124012283334336","displayable":false,"comparable":false,"identifier":"EXCLUSIVE","searchable":false,"facetable":false},{"storeDisplay":false,"values":[{"image1":"https:\/\/s7d3.scene7.com\/is\/image\/Persol\/white?scl=1&fmt=png-alpha","sequence":"1","value":"White","uniqueID":"7741124012284200397","image1path":"https:\/\/s7d3.scene7.com\/is\/image\/Persol\/white?scl=1&fmt=png-alpha","unitOfMeasure":"","unitID":"","identifier":"White"}],"sequence":"36","name":"Front color","associatedKeyword":"-","usage":"Descriptive","uniqueID":"7741124012283334340","displayable":false,"comparable":false,"identifier":"FRONT_COLOR_FACET","searchable":true,"facetable":true},{"storeDisplay":false,"values":[{"sequence":"3","value":"Square","uniqueID":"7741124012283336915","unitOfMeasure":"","unitID":"","identifier":"Square"}],"sequence":"38","name":"Frame shape","associatedKeyword":"-","usage":"Descriptive","uniqueID":"7741124012283334368","displayable":false,"comparable":false,"identifier":"FRAME_SHAPE_FACET","searchable":true,"facetable":true},{"storeDisplay":false,"values":[{"sequence":"2","value":"False","uniqueID":"7741124012283336078","unitOfMeasure":"","unitID":"","identifier":"False"}],"sequence":"39","name":"Polarized","associatedKeyword":"-","usage":"Descriptive","uniqueID":"7741124012283334352","displayable":false,"comparable":false,"identifier":"POLARIZED","searchable":false,"facetable":false},{"storeDisplay":false,"values":[{"sequence":"1","value":"False","uniqueID":"7741124012283336077","unitOfMeasure":"","unitID":"","identifier":"False"}],"sequence":"40","name":"Onsale","associatedKeyword":"-","usage":"Descriptive","uniqueID":"7741124012283334351","displayable":false,"comparable":false,"identifier":"ONSALE","searchable":false,"facetable":false},{"storeDisplay":false,"values":[{"sequence":"1","value":"False","uniqueID":"7741124012283355350","unitOfMeasure":"","unitID":"","identifier":"False"}],"sequence":"43","name":"Vintage Celebration","associatedKeyword":"-","usage":"Descriptive","uniqueID":"7741124012283348837","displayable":false,"comparable":false,"identifier":"VINTAGE CELEBRATION","searchable":false,"facetable":false},{"storeDisplay":false,"values":[{"sequence":"2","value":"Sun","uniqueID":"7741124012283333656","unitOfMeasure":"","unitID":"","identifier":"Sun"}],"sequence":"44","name":"Producttype","associatedKeyword":"-","usage":"Descriptive","uniqueID":"7741124012283333376","displayable":false,"comparable":false,"identifier":"PRODUCTTYPE","searchable":true,"facetable":false},{"storeDisplay":false,"values":[{"sequence":"1","value":"False","uniqueID":"7741124012283336902","unitOfMeasure":"","unitID":"","identifier":"False"}],"sequence":"45","name":"Foldable","associatedKeyword":"-","usage":"Descriptive","uniqueID":"7741124012283334366","displayable":false,"comparable":false,"identifier":"FOLDABLE","searchable":false,"facetable":false},{"storeDisplay":false,"values":[{"sequence":"1","value":"False","uniqueID":"7741124012284859336","unitOfMeasure":"","unitID":"","identifier":"False"}],"sequence":"46","name":"AVANT_PREMIERE","associatedKeyword":"-","usage":"Descriptive","uniqueID":"7741124012284251835","displayable":false,"comparable":false,"identifier":"AVANT_PREMIERE","searchable":false,"facetable":false},{"storeDisplay":false,"values":[{"sequence":"2","value":"White","uniqueID":"7741124012284313277","unitOfMeasure":"","unitID":"","identifier":"White"}],"sequence":"47","name":"Front inner color","associatedKeyword":"-","usage":"Descriptive","uniqueID":"7741124012283334341","displayable":false,"comparable":false,"identifier":"FRONT_INNER_COLOR","searchable":false,"facetable":false},{"storeDisplay":false,"values":[{"sequence":"1","value":"White","uniqueID":"7741124012284313321","unitOfMeasure":"","unitID":"","identifier":"White"}],"sequence":"48","name":"Temple inner color","associatedKeyword":"-","usage":"Descriptive","uniqueID":"7741124012283334356","displayable":false,"comparable":false,"identifier":"TEMPLE_INNER_COLOR","searchable":false,"facetable":false},{"storeDisplay":false,"values":[{"sequence":"2","value":"White","uniqueID":"7741124012284200403","unitOfMeasure":"","unitID":"","identifier":"White"}],"sequence":"49","name":"Temple color facet","associatedKeyword":"-","usage":"Descriptive","uniqueID":"7741124012283334355","displayable":false,"comparable":false,"identifier":"TEMPLE_COLOR_FACET","searchable":true,"facetable":false},{"storeDisplay":false,"values":[{"sequence":"1","value":"True","uniqueID":"7741124012284859902","unitOfMeasure":"","unitID":"","identifier":"True"}],"sequence":"50","name":"MEFLECTO","associatedKeyword":"-","usage":"Descriptive","uniqueID":"7741124012284251847","displayable":false,"comparable":false,"identifier":"MEFLECTO","searchable":false,"facetable":false},{"storeDisplay":false,"values":[{"sequence":"1","value":"Global","uniqueID":"7741124012283336916","unitOfMeasure":"","unitID":"","identifier":"Global"}],"sequence":"51","name":"Geo fit","associatedKeyword":"-","usage":"Descriptive","uniqueID":"7741124012283334369","displayable":false,"comparable":false,"identifier":"GEO_FIT","searchable":false,"facetable":false}],"storeID":"715838084","numberOfSKUs":1,"partNumber":"0PO0005__109833"},{"hasSingleSKU":true,"catalogEntryTypeCode":"ProductBean","associationType":"REPLACEMENT","parentCatalogGroupID":["3074457345616676668_3074457345616676668","3074457345616681818_3074457345616678189","3074457345616681818_3074457345616696171","3074457345616681818_3074457345616696200","3074457345616681818_3074457345616700671","3074457345616681818_3074457345616702176","3074457345616681818_3074457345616702177","3074457345616681818_3074457345616707668"],"uniqueID":"3074457345616741235","singleSKUCatalogEntryID":"3074457345616741770","sKUs":[{"hasSingleSKU":false,"catalogEntryTypeCode":"ItemBean","parentCatalogGroupID":["3074457345616676668_3074457345616676668","3074457345616681818_3074457345616678189","3074457345616681818_3074457345616696171","3074457345616681818_3074457345616696200","3074457345616681818_3074457345616700671","3074457345616681818_3074457345616707668"],"uniqueID":"3074457345616741770","resourceId":"http:\/\/lux-prdlv-src01.lux-ecomm.net:3737\/search\/resources\/store\/715838404\/productview\/byId\/3074457345616741770","price":[{"description":"L","value":"","usage":"Display","currency":"FIM"},{"description":"O","value":"","usage":"Offer","currency":"FIM"}],"thumbnail":"https:\/\/s7d3.scene7.com\/is\/image\/Persol\/8056597058285_noshad_fr?scl=4","shortDescription":"PO0005 24\/31 54-17","mfPartNumber_ntk":"0PO0005","name":"PO0005 24\/31 54-17","buyable":"true","storeID":"715838084","attributes":[{"storeDisplay":false,"values":[{"sequence":"1","value":"Standard","uniqueID":"7741124012283336345","unitOfMeasure":"","unitID":"","identifier":"Standard"}],"sequence":"1","name":"Size","usage":"Defining","uniqueID":"7741124012283334359","displayable":true,"comparable":false,"identifier":"MODEL_SIZE_DISPLAY","searchable":false,"facetable":false},{"storeDisplay":false,"values":[{"sequence":"3","value":"Classic","uniqueID":"7741124012283336894","unitOfMeasure":"","unitID":"","identifier":"Classic"}],"sequence":"3","name":"Lens treatment","usage":"Descriptive","uniqueID":"7741124012283334364","displayable":false,"comparable":false,"identifier":"LENS_TREATMENT","searchable":false,"facetable":false},{"storeDisplay":false,"values":[{"sequence":"3","value":"Supreme 5","uniqueID":"7741124012284313340","unitOfMeasure":"","unitID":"","identifier":"Supreme 5"}],"sequence":"369","name":"Arrow","usage":"Descriptive","uniqueID":"7741124012283348835","displayable":false,"comparable":false,"identifier":"ARROW","searchable":false,"facetable":false},{"storeDisplay":false,"values":[{"sequence":"1","value":"125","uniqueID":"7741124012283336889","unitOfMeasure":"","unitID":"","identifier":"125"}],"sequence":"369","name":"Temple length","usage":"Descriptive","uniqueID":"7741124012283334363","displayable":false,"comparable":false,"identifier":"TEMPLE_LENGTH","searchable":false,"facetable":false},{"storeDisplay":false,"values":[{"sequence":"4","value":"Lenses-sun;material-acetate;arrow-all;meflecto-all","uniqueID":"7741124012284859910","unitOfMeasure":"","unitID":"","identifier":"Lenses-sun;material-acetate;arrow-all;meflecto-all"}],"sequence":"369","name":"FEATURES","usage":"Descriptive","uniqueID":"7741124012284251845","displayable":false,"comparable":false,"identifier":"FEATURES","searchable":false,"facetable":false},{"storeDisplay":false,"values":[{"sequence":"3","value":"Classic","uniqueID":"7741124012283336899","unitOfMeasure":"","unitID":"","identifier":"Classic"}],"sequence":"369","name":"Lens treatment","usage":"Descriptive","uniqueID":"7741124012283334365","displayable":false,"comparable":false,"identifier":"LENS_TREATMENT_FACET","searchable":true,"facetable":false},{"storeDisplay":false,"values":[{"sequence":"2","value":"17","uniqueID":"7741124012283336883","unitOfMeasure":"","unitID":"","identifier":"17"}],"sequence":"369","name":"Lens bridge","usage":"Descriptive","uniqueID":"7741124012283334362","displayable":false,"comparable":false,"identifier":"LENS_BRIDGE","searchable":false,"facetable":false},{"storeDisplay":false,"values":[{"sequence":"2","value":"PO0005 24\/31 54-17","uniqueID":"7741124012284313162","unitOfMeasure":"","unitID":"","identifier":"PO0005 24\/31 54-17"}],"sequence":"369","name":"Displaysku","usage":"Descriptive","uniqueID":"7741124012283364836","displayable":false,"comparable":false,"identifier":"DISPLAYSKU","searchable":false,"facetable":false},{"storeDisplay":false,"values":[{"sequence":"1","value":"Zpfn","uniqueID":"7741124012283336923","unitOfMeasure":"","unitID":"","identifier":"Zpfn"}],"sequence":"369","name":"Materialtype","usage":"Descriptive","uniqueID":"7741124012283334372","displayable":false,"comparable":false,"identifier":"MATERIALTYPE","searchable":false,"facetable":false},{"storeDisplay":false,"values":[{"sequence":"3","value":"54","uniqueID":"7741124012283336338","unitOfMeasure":"","unitID":"","identifier":"54"}],"sequence":"369","name":"Model size","usage":"Descriptive","uniqueID":"7741124012283334358","displayable":false,"comparable":false,"identifier":"MODEL_SIZE","searchable":false,"facetable":false},{"storeDisplay":false,"values":[{"sequence":"2","value":"24\/31 54","uniqueID":"7741124012283376851","unitOfMeasure":"","unitID":"","identifier":"24\/31 54"}],"sequence":"369","name":"Grid Value","usage":"Descriptive","uniqueID":"7741124012283364837","displayable":true,"comparable":false,"identifier":"GRID VALUE","searchable":false,"facetable":false},{"storeDisplay":false,"values":[{"sequence":"3","value":"Supreme Acetate","uniqueID":"7741124012283355348","unitOfMeasure":"","unitID":"","identifier":"Supreme Acetate"}],"sequence":"369","name":"Temple logo","usage":"Descriptive","uniqueID":"7741124012283348836","displayable":false,"comparable":true,"identifier":"TEMPLE_LOGO","searchable":false,"facetable":false},{"storeDisplay":false,"values":[{"sequence":"1","value":"Trending Now","uniqueID":"7741124012284582837","unitOfMeasure":"","unitID":"","identifier":"Trending Now"}],"sequence":"369","name":"Primary family","usage":"Descriptive","uniqueID":"7741124012284026836","displayable":false,"comparable":false,"identifier":"PRIMARY_FAMILY","searchable":false,"facetable":false},{"storeDisplay":false,"values":[{"sequence":"2","value":"Supreme Acetate","uniqueID":"7741124012283376860","unitOfMeasure":"","unitID":"","identifier":"Supreme Acetate"}],"sequence":"1426","name":"Temple Logo","usage":"Descriptive","uniqueID":"7741124012283379335","displayable":false,"comparable":false,"identifier":"TEMPLE LOGO","searchable":false,"facetable":false}],"partNumber":"8056597058285"}],"resourceId":"http:\/\/lux-prdlv-src01.lux-ecomm.net:3737\/search\/resources\/store\/715838404\/productview\/byId\/3074457345616741235","price":[{"description":"L","value":"","usage":"Display","currency":"FIM"},{"description":"O","value":"","usage":"Offer","currency":"FIM"}],"thumbnail":"https:\/\/s7d3.scene7.com\/is\/image\/Persol\/8056597058285_noshad_fr?scl=4","shortDescription":"PO0005","mfPartNumber_ntk":"0PO0005","name":"PO0005","buyable":"true","quantity":1,"attributes":[{"storeDisplay":false,"values":[{"sequence":"4","value":"PO0005","uniqueID":"7741124012284313330","unitOfMeasure":"","unitID":"","identifier":"PO0005"}],"sequence":"0","name":"Model code","associatedKeyword":"-","usage":"Descriptive","uniqueID":"7741124012283334373","displayable":true,"comparable":false,"identifier":"MODEL_CODE_DISPLAY","searchable":false,"facetable":false},{"storeDisplay":false,"values":[{"image1":"https:\/\/s7d3.scene7.com\/is\/image\/Persol\/havana?scl=1fmt=png-alpha","sequence":"3","value":"Havana","uniqueID":"7741124012283335886","image1path":"https:\/\/s7d3.scene7.com\/is\/image\/Persol\/havana?scl=1fmt=png-alpha","unitOfMeasure":"","unitID":"","identifier":"Havana"}],"sequence":"1","name":"Front color","associatedKeyword":"-","usage":"Descriptive","uniqueID":"7741124012283334339","displayable":true,"comparable":false,"identifier":"FRONT_COLOR","searchable":false,"facetable":false},{"storeDisplay":false,"values":[{"sequence":"1","value":"Standard","uniqueID":"7741124012283336345","unitOfMeasure":"","unitID":"","identifier":"Standard"}],"sequence":"1","name":"Size","associatedKeyword":"-","usage":"Defining","uniqueID":"7741124012283334359","displayable":true,"comparable":false,"identifier":"MODEL_SIZE_DISPLAY","searchable":false,"facetable":false},{"storeDisplay":false,"values":[{"sequence":"2","value":"201902","uniqueID":"7741124012284255842","unitOfMeasure":"","unitID":"","identifier":"201902"}],"sequence":"1","name":"Collection","associatedKeyword":"-","usage":"Descriptive","uniqueID":"7741124012283334335","displayable":false,"comparable":false,"identifier":"COLLECTION","searchable":true,"facetable":false},{"storeDisplay":false,"values":[{"sequence":"2","value":"Square","uniqueID":"7741124012283336911","unitOfMeasure":"","unitID":"","identifier":"Square"}],"sequence":"2","name":"Frame shape","associatedKeyword":"-","usage":"Descriptive","uniqueID":"7741124012283334367","displayable":false,"comparable":false,"identifier":"FRAME_SHAPE","searchable":false,"facetable":false},{"storeDisplay":false,"values":[{"sequence":"1","value":"Green","uniqueID":"7741124012283336056","unitOfMeasure":"","unitID":"","identifier":"Green"}],"sequence":"2","name":"Lens color","associatedKeyword":"-","usage":"Descriptive","uniqueID":"7741124012283334346","displayable":true,"comparable":false,"identifier":"LENS_COLOR","searchable":false,"facetable":false},{"storeDisplay":false,"values":[{"sequence":"1","value":"Trending Now","uniqueID":"7741124012284582837","unitOfMeasure":"","unitID":"","identifier":"Trending Now"}],"sequence":"2","name":"Primary family","associatedKeyword":"-","usage":"Descriptive","uniqueID":"7741124012284026836","displayable":false,"comparable":false,"identifier":"PRIMARY_FAMILY","searchable":false,"facetable":false},{"storeDisplay":false,"values":[{"sequence":"1","value":"Born to give full protection from the sun at every angle, the 4 Lenses model was created for the first time ever by Persol in 1935. Once called \"glacier glasses\", as it guaranteed maximum protection from the sun\u2019s reflection on snow, it returns more iconic than ever.","uniqueID":"7741124012284859958","unitOfMeasure":"","unitID":"","identifier":"Born to give full protection from the sun at every angle, the 4 Lenses model was created for the first time ever by Persol in 1935. Once called \"glacier glasses\", as it guaranteed maximum protection from the sun\u2019s reflection on snow, it returns more ic"}],"sequence":"3","name":"DESIGN DNA","associatedKeyword":"-","usage":"Descriptive","uniqueID":"7741124012284251850","displayable":false,"comparable":false,"identifier":"DESIGN DNA","searchable":false,"facetable":false},{"storeDisplay":false,"values":[{"sequence":"3","value":"Classic","uniqueID":"7741124012283336894","unitOfMeasure":"","unitID":"","identifier":"Classic"}],"sequence":"3","name":"Lens treatment","associatedKeyword":"-","usage":"Descriptive","uniqueID":"7741124012283334364","displayable":false,"comparable":false,"identifier":"LENS_TREATMENT","searchable":false,"facetable":false},{"storeDisplay":false,"values":[{"sequence":"2","value":"Crystal","uniqueID":"7741124012284859369","unitOfMeasure":"","unitID":"","identifier":"Crystal"}],"sequence":"4","name":"LENS MATERIAL FACET","associatedKeyword":"-","usage":"Descriptive","uniqueID":"7741124012284251849","displayable":false,"comparable":false,"identifier":"LENS_MATERIAL_FACET","searchable":false,"facetable":false},{"storeDisplay":false,"values":[{"sequence":"2","value":"Acetate","uniqueID":"7741124012283335870","unitOfMeasure":"","unitID":"","identifier":"Acetate"}],"sequence":"5","name":"Frame Material","associatedKeyword":"-","usage":"Descriptive","uniqueID":"7741124012283334338","displayable":false,"comparable":false,"identifier":"FRAMEMATERIAL_FACET","searchable":true,"facetable":true},{"storeDisplay":false,"values":[{"sequence":"2","value":"Crystal","uniqueID":"7741124012284859368","unitOfMeasure":"","unitID":"","identifier":"Crystal"}],"sequence":"5","name":"LENS MATERIAL","associatedKeyword":"-","usage":"Descriptive","uniqueID":"7741124012284251848","displayable":true,"comparable":false,"identifier":"LENS_MATERIAL","searchable":false,"facetable":false},{"storeDisplay":false,"values":[{"sequence":"2","value":"Acetate","uniqueID":"7741124012283335867","unitOfMeasure":"","unitID":"","identifier":"Acetate"}],"sequence":"6","name":"Frame Material","associatedKeyword":"-","usage":"Descriptive","uniqueID":"7741124012283334337","displayable":true,"comparable":false,"identifier":"FRAMEMATERIAL","searchable":false,"facetable":false},{"storeDisplay":false,"values":[{"sequence":"1","value":"False","uniqueID":"7741124012283336065","unitOfMeasure":"","unitID":"","identifier":"False"}],"sequence":"6","name":"Limited edition","associatedKeyword":"-","usage":"Descriptive","uniqueID":"7741124012283334347","displayable":false,"comparable":false,"identifier":"LIMITED_EDITION","searchable":false,"facetable":false},{"storeDisplay":false,"values":[{"image1":"https:\/\/s7d3.scene7.com\/is\/image\/Persol\/havana?scl=1fmt=png-alpha","sequence":"5","value":"Havana","uniqueID":"7741124012283336215","image1path":"https:\/\/s7d3.scene7.com\/is\/image\/Persol\/havana?scl=1fmt=png-alpha","unitOfMeasure":"","unitID":"","identifier":"Havana"}],"sequence":"7","name":"Temple color","associatedKeyword":"-","usage":"Descriptive","uniqueID":"7741124012283334354","displayable":false,"comparable":false,"identifier":"TEMPLE_COLOR","searchable":false,"facetable":false},{"storeDisplay":false,"values":[{"sequence":"1","value":"Not Adjustable","uniqueID":"7741124012284859354","unitOfMeasure":"","unitID":"","identifier":"Not Adjustable"}],"sequence":"7","name":"NOSEPADS","associatedKeyword":"-","usage":"Descriptive","uniqueID":"7741124012284251840","displayable":true,"comparable":false,"identifier":"NOSEPADS","searchable":false,"facetable":false},{"storeDisplay":false,"values":[{"sequence":"1","value":"1","uniqueID":"7741124012284859356","unitOfMeasure":"","unitID":"","identifier":"1"}],"sequence":"8","name":"PLACEHOLDER_SIZE","associatedKeyword":"-","usage":"Descriptive","uniqueID":"7741124012284251841","displayable":true,"comparable":false,"identifier":"PLACEHOLDER_SIZE","searchable":false,"facetable":false},{"storeDisplay":false,"values":[{"sequence":"2","value":"Wide","uniqueID":"7741124012284859364","unitOfMeasure":"","unitID":"","identifier":"Wide"}],"sequence":"9","name":"FRAME FIT","associatedKeyword":"-","usage":"Descriptive","uniqueID":"7741124012284251846","displayable":true,"comparable":false,"identifier":"FRAME FIT","searchable":false,"facetable":false},{"storeDisplay":false,"values":[{"sequence":"2","value":"Polished","uniqueID":"7741124012284859363","unitOfMeasure":"","unitID":"","identifier":"Polished"}],"sequence":"9","name":"FINISHING","associatedKeyword":"-","usage":"Descriptive","uniqueID":"7741124012284251844","displayable":false,"comparable":false,"identifier":"FINISHING","searchable":false,"facetable":false},{"storeDisplay":false,"values":[{"sequence":"3","value":"Saddle Bridge","uniqueID":"7741124012284859337","unitOfMeasure":"","unitID":"","identifier":"Saddle Bridge"}],"sequence":"10","name":"BRIDGE TYPE","associatedKeyword":"-","usage":"Descriptive","uniqueID":"7741124012284251836","displayable":false,"comparable":false,"identifier":"BRIDGE TYPE","searchable":false,"facetable":false},{"storeDisplay":false,"values":[{"sequence":"1","value":"Italy","uniqueID":"7741124012283336067","unitOfMeasure":"","unitID":"","identifier":"Italy"}],"sequence":"10","name":"Madein","associatedKeyword":"-","usage":"Descriptive","uniqueID":"7741124012283334348","displayable":true,"comparable":false,"identifier":"MADEIN","searchable":false,"facetable":false},{"storeDisplay":false,"values":[{"sequence":"3","value":"Supreme 5","uniqueID":"7741124012284313340","unitOfMeasure":"","unitID":"","identifier":"Supreme 5"}],"sequence":"10","name":"Arrow","associatedKeyword":"-","usage":"Descriptive","uniqueID":"7741124012283348835","displayable":false,"comparable":false,"identifier":"ARROW","searchable":false,"facetable":false},{"storeDisplay":false,"values":[{"sequence":"2","value":"Supreme Acetate","uniqueID":"7741124012283376860","unitOfMeasure":"","unitID":"","identifier":"Supreme Acetate"}],"sequence":"11","name":"Temple Logo","associatedKeyword":"-","usage":"Descriptive","uniqueID":"7741124012283379335","displayable":false,"comparable":false,"identifier":"TEMPLE LOGO","searchable":false,"facetable":false},{"storeDisplay":false,"values":[{"sequence":"1","value":"Full Rim","uniqueID":"7741124012283360863","unitOfMeasure":"","unitID":"","identifier":"Full Rim"}],"sequence":"11","name":"Frame Type","associatedKeyword":"-","usage":"Descriptive","uniqueID":"7741124012283334370","displayable":false,"comparable":false,"identifier":"FRAMETYPE","searchable":false,"facetable":false},{"storeDisplay":false,"values":[{"sequence":"1","value":"Round Face;oval Face","uniqueID":"7741124012284860410","unitOfMeasure":"","unitID":"","identifier":"Round Face;oval Face"}],"sequence":"12","name":"SUGGESTED FACE SHAPE","associatedKeyword":"-","usage":"Descriptive","uniqueID":"7741124012284251843","displayable":false,"comparable":false,"identifier":"SUGGESTED_FACE_SHAPE","searchable":false,"facetable":false},{"storeDisplay":false,"values":[{"sequence":"3","value":"3N","uniqueID":"7741124012283444311","unitOfMeasure":"","unitID":"","identifier":"3N"}],"sequence":"13","name":"Notainformativa","associatedKeyword":"-","usage":"Descriptive","uniqueID":"7741124012283334350","displayable":false,"comparable":false,"identifier":"NOTAINFORMATIVA","searchable":false,"facetable":false},{"storeDisplay":false,"values":[{"sequence":"1","value":"24\/31","uniqueID":"7741124012284861474","unitOfMeasure":"","unitID":"","identifier":"24\/31"}],"sequence":"14","name":"COLOR CODE","associatedKeyword":"-","usage":"Descriptive","uniqueID":"7741124012284253335","displayable":false,"comparable":false,"identifier":"COLOR CODE","searchable":false,"facetable":false},{"storeDisplay":false,"values":[{"sequence":"4","value":"PO_pack2_gallery","uniqueID":"7741124012284859921","unitOfMeasure":"","unitID":"","identifier":"PO_pack2_gallery"}],"sequence":"16","name":"CASE","associatedKeyword":"-","usage":"Descriptive","uniqueID":"7741124012284251837","displayable":false,"comparable":false,"identifier":"CASE","searchable":false,"facetable":false},{"storeDisplay":false,"values":[{"sequence":"2","value":"4 Lenses","uniqueID":"7741124012284146853","unitOfMeasure":"","unitID":"","identifier":"4 Lenses"}],"sequence":"17","name":"Model family","associatedKeyword":"-","usage":"Descriptive","uniqueID":"7741124012283333374","displayable":false,"comparable":false,"identifier":"MODEL_FAMILY","searchable":true,"facetable":true},{"storeDisplay":false,"values":[{"image1":"https:\/\/s7d3.scene7.com\/is\/image\/Persol\/havana?scl=1fmt=png-alpha","sequence":"1","value":"Havana","uniqueID":"7741124012283336323","image1path":"https:\/\/s7d3.scene7.com\/is\/image\/Persol\/havana?scl=1fmt=png-alpha","unitOfMeasure":"","unitID":"","identifier":"Havana"}],"sequence":"18","name":"Temple inner color facet","associatedKeyword":"-","usage":"Descriptive","uniqueID":"7741124012283334357","displayable":false,"comparable":false,"identifier":"TEMPLE_INNER_COLOR_FACET","searchable":true,"facetable":false},{"storeDisplay":false,"values":[{"sequence":"1","value":"False","uniqueID":"7741124012283337030","unitOfMeasure":"","unitID":"","identifier":"False"}],"sequence":"20","name":"Noreturn","associatedKeyword":"-","usage":"Descriptive","uniqueID":"7741124012283334374","displayable":false,"comparable":false,"identifier":"NORETURN","searchable":false,"facetable":false},{"storeDisplay":false,"values":[{"sequence":"1","value":"True","uniqueID":"7741124012284859353","unitOfMeasure":"","unitID":"","identifier":"True"}],"sequence":"22","name":"ENGRAVINGELIGIBLE","associatedKeyword":"-","usage":"Descriptive","uniqueID":"7741124012284251838","displayable":false,"comparable":false,"identifier":"ENGRAVINGELIGIBLE","searchable":false,"facetable":false},{"storeDisplay":false,"values":[{"sequence":"1","value":"Icona","uniqueID":"7741124012283336922","unitOfMeasure":"","unitID":"","identifier":"Icona"}],"sequence":"23","name":"Range","associatedKeyword":"-","usage":"Descriptive","uniqueID":"7741124012283334371","displayable":false,"comparable":false,"identifier":"RANGE","searchable":false,"facetable":false},{"storeDisplay":false,"values":[{"image1":"https:\/\/s7d3.scene7.com\/is\/image\/Persol\/green-2?scl=1&fmt=png-alpha","sequence":"3","value":"Green","uniqueID":"7741124012283336041","image1path":"https:\/\/s7d3.scene7.com\/is\/image\/Persol\/green-2?scl=1&fmt=png-alpha","unitOfMeasure":"","unitID":"","identifier":"Green"}],"sequence":"24","name":"Lens color","associatedKeyword":"-","usage":"Descriptive","uniqueID":"7741124012283334345","displayable":false,"comparable":false,"identifier":"LENS_COLOR_FACET","searchable":true,"facetable":true},{"storeDisplay":false,"values":[{"sequence":"1","value":"False","uniqueID":"7741124012283336068","unitOfMeasure":"","unitID":"","identifier":"False"}],"sequence":"25","name":"Newreleases","associatedKeyword":"-","usage":"Descriptive","uniqueID":"7741124012283334349","displayable":false,"comparable":false,"identifier":"NEWRELEASES","searchable":true,"facetable":false},{"storeDisplay":false,"values":[{"sequence":"2","value":"0058c","uniqueID":"7741124012283336023","unitOfMeasure":"","unitID":"","identifier":"0058c"}],"sequence":"27","name":"Clen","associatedKeyword":"-","usage":"Descriptive","uniqueID":"7741124012283334344","displayable":false,"comparable":false,"identifier":"CLEN","searchable":false,"facetable":false},{"storeDisplay":false,"values":[{"sequence":"2","value":"108500","uniqueID":"7741124012284611199","unitOfMeasure":"","unitID":"","identifier":"108500"}],"sequence":"29","name":"Sequence","associatedKeyword":"-","usage":"Descriptive","uniqueID":"7741124012283593337","displayable":false,"comparable":false,"identifier":"SEQUENCE","searchable":true,"facetable":false},{"storeDisplay":false,"values":[{"sequence":"2","value":"Male","uniqueID":"7741124012283376840","unitOfMeasure":"","unitID":"","identifier":"Male"}],"sequence":"30","name":"Gender","associatedKeyword":"-","usage":"Descriptive","uniqueID":"7741124012283334343","displayable":false,"comparable":false,"identifier":"GENDER","searchable":false,"facetable":false},{"storeDisplay":false,"values":[{"sequence":"2","value":"False","uniqueID":"7741124012284860407","unitOfMeasure":"","unitID":"","identifier":"False"}],"sequence":"31","name":"Flex","associatedKeyword":"-","usage":"Descriptive","uniqueID":"7741124012283364835","displayable":false,"comparable":false,"identifier":"FLEX","searchable":false,"facetable":false},{"storeDisplay":false,"values":[{"sequence":"2","value":"False","uniqueID":"7741124012284582835","unitOfMeasure":"","unitID":"","identifier":"False"}],"sequence":"32","name":"Best Sellers","associatedKeyword":"-","usage":"Descriptive","uniqueID":"7741124012284026835","displayable":false,"comparable":false,"identifier":"BESTSELLERS","searchable":false,"facetable":false},{"storeDisplay":false,"values":[{"sequence":"2","value":"Havana","uniqueID":"7741124012283336007","unitOfMeasure":"","unitID":"","identifier":"Havana"}],"sequence":"33","name":"Front inner color facet","associatedKeyword":"-","usage":"Descriptive","uniqueID":"7741124012283334342","displayable":false,"comparable":false,"identifier":"FRONT_INNER_COLOR_FACET","searchable":true,"facetable":false},{"storeDisplay":false,"values":[{"sequence":"5","value":"PO0005","uniqueID":"7741124012284313293","unitOfMeasure":"","unitID":"","identifier":"PO0005"}],"sequence":"34","name":"Modelname","associatedKeyword":"-","usage":"Descriptive","uniqueID":"7741124012283334353","displayable":false,"comparable":false,"identifier":"MODELNAME","searchable":true,"facetable":false},{"storeDisplay":false,"values":[{"sequence":"2","value":"False","uniqueID":"7741124012283335865","unitOfMeasure":"","unitID":"","identifier":"False"}],"sequence":"35","name":"Exclusive","associatedKeyword":"-","usage":"Descriptive","uniqueID":"7741124012283334336","displayable":false,"comparable":false,"identifier":"EXCLUSIVE","searchable":false,"facetable":false},{"storeDisplay":false,"values":[{"image1":"https:\/\/s7d3.scene7.com\/is\/image\/Persol\/havana?scl=1&fmt=png-alpha","sequence":"2","value":"Havana","uniqueID":"7741124012283335935","image1path":"https:\/\/s7d3.scene7.com\/is\/image\/Persol\/havana?scl=1&fmt=png-alpha","unitOfMeasure":"","unitID":"","identifier":"Havana"}],"sequence":"36","name":"Front color","associatedKeyword":"-","usage":"Descriptive","uniqueID":"7741124012283334340","displayable":false,"comparable":false,"identifier":"FRONT_COLOR_FACET","searchable":true,"facetable":true},{"storeDisplay":false,"values":[{"sequence":"3","value":"Square","uniqueID":"7741124012283336915","unitOfMeasure":"","unitID":"","identifier":"Square"}],"sequence":"38","name":"Frame shape","associatedKeyword":"-","usage":"Descriptive","uniqueID":"7741124012283334368","displayable":false,"comparable":false,"identifier":"FRAME_SHAPE_FACET","searchable":true,"facetable":true},{"storeDisplay":false,"values":[{"sequence":"2","value":"False","uniqueID":"7741124012283336078","unitOfMeasure":"","unitID":"","identifier":"False"}],"sequence":"39","name":"Polarized","associatedKeyword":"-","usage":"Descriptive","uniqueID":"7741124012283334352","displayable":false,"comparable":false,"identifier":"POLARIZED","searchable":false,"facetable":false},{"storeDisplay":false,"values":[{"sequence":"1","value":"False","uniqueID":"7741124012283336077","unitOfMeasure":"","unitID":"","identifier":"False"}],"sequence":"40","name":"Onsale","associatedKeyword":"-","usage":"Descriptive","uniqueID":"7741124012283334351","displayable":false,"comparable":false,"identifier":"ONSALE","searchable":false,"facetable":false},{"storeDisplay":false,"values":[{"sequence":"1","value":"False","uniqueID":"7741124012283355350","unitOfMeasure":"","unitID":"","identifier":"False"}],"sequence":"43","name":"Vintage Celebration","associatedKeyword":"-","usage":"Descriptive","uniqueID":"7741124012283348837","displayable":false,"comparable":false,"identifier":"VINTAGE CELEBRATION","searchable":false,"facetable":false},{"storeDisplay":false,"values":[{"sequence":"2","value":"Sun","uniqueID":"7741124012283333656","unitOfMeasure":"","unitID":"","identifier":"Sun"}],"sequence":"44","name":"Producttype","associatedKeyword":"-","usage":"Descriptive","uniqueID":"7741124012283333376","displayable":false,"comparable":false,"identifier":"PRODUCTTYPE","searchable":true,"facetable":false},{"storeDisplay":false,"values":[{"sequence":"1","value":"False","uniqueID":"7741124012283336902","unitOfMeasure":"","unitID":"","identifier":"False"}],"sequence":"45","name":"Foldable","associatedKeyword":"-","usage":"Descriptive","uniqueID":"7741124012283334366","displayable":false,"comparable":false,"identifier":"FOLDABLE","searchable":false,"facetable":false},{"storeDisplay":false,"values":[{"sequence":"1","value":"False","uniqueID":"7741124012284859336","unitOfMeasure":"","unitID":"","identifier":"False"}],"sequence":"46","name":"AVANT_PREMIERE","associatedKeyword":"-","usage":"Descriptive","uniqueID":"7741124012284251835","displayable":false,"comparable":false,"identifier":"AVANT_PREMIERE","searchable":false,"facetable":false},{"storeDisplay":false,"values":[{"sequence":"3","value":"Havana","uniqueID":"7741124012283335971","unitOfMeasure":"","unitID":"","identifier":"Havana"}],"sequence":"47","name":"Front inner color","associatedKeyword":"-","usage":"Descriptive","uniqueID":"7741124012283334341","displayable":false,"comparable":false,"identifier":"FRONT_INNER_COLOR","searchable":false,"facetable":false},{"storeDisplay":false,"values":[{"image1":"https:\/\/s7d3.scene7.com\/is\/image\/Persol\/havana?scl=1fmt=png-alpha","sequence":"5","value":"Havana","uniqueID":"7741124012283336288","image1path":"https:\/\/s7d3.scene7.com\/is\/image\/Persol\/havana?scl=1fmt=png-alpha","unitOfMeasure":"","unitID":"","identifier":"Havana"}],"sequence":"48","name":"Temple inner color","associatedKeyword":"-","usage":"Descriptive","uniqueID":"7741124012283334356","displayable":false,"comparable":false,"identifier":"TEMPLE_INNER_COLOR","searchable":false,"facetable":false},{"storeDisplay":false,"values":[{"image1":"https:\/\/s7d3.scene7.com\/is\/image\/Persol\/havana?scl=1fmt=png-alpha","sequence":"2","value":"Havana","uniqueID":"7741124012283336250","image1path":"https:\/\/s7d3.scene7.com\/is\/image\/Persol\/havana?scl=1fmt=png-alpha","unitOfMeasure":"","unitID":"","identifier":"Havana"}],"sequence":"49","name":"Temple color facet","associatedKeyword":"-","usage":"Descriptive","uniqueID":"7741124012283334355","displayable":false,"comparable":false,"identifier":"TEMPLE_COLOR_FACET","searchable":true,"facetable":false},{"storeDisplay":false,"values":[{"sequence":"1","value":"True","uniqueID":"7741124012284859902","unitOfMeasure":"","unitID":"","identifier":"True"}],"sequence":"50","name":"MEFLECTO","associatedKeyword":"-","usage":"Descriptive","uniqueID":"7741124012284251847","displayable":false,"comparable":false,"identifier":"MEFLECTO","searchable":false,"facetable":false},{"storeDisplay":false,"values":[{"sequence":"1","value":"Global","uniqueID":"7741124012283336916","unitOfMeasure":"","unitID":"","identifier":"Global"}],"sequence":"51","name":"Geo fit","associatedKeyword":"-","usage":"Descriptive","uniqueID":"7741124012283334369","displayable":false,"comparable":false,"identifier":"GEO_FIT","searchable":false,"facetable":false}],"storeID":"715838084","numberOfSKUs":1,"partNumber":"0PO0005__24_31"},{"hasSingleSKU":true,"catalogEntryTypeCode":"ProductBean","associationType":"REPLACEMENT","parentCatalogGroupID":["3074457345616676668_3074457345616676668","3074457345616681818_3074457345616678189","3074457345616681818_3074457345616696171","3074457345616681818_3074457345616696200","3074457345616681818_3074457345616700671","3074457345616681818_3074457345616702176","3074457345616681818_3074457345616702177","3074457345616681818_3074457345616707668","3074457345616681818_3074457345616708169"],"uniqueID":"3074457345616741236","singleSKUCatalogEntryID":"3074457345616741771","sKUs":[{"hasSingleSKU":false,"catalogEntryTypeCode":"ItemBean","parentCatalogGroupID":["3074457345616676668_3074457345616676668","3074457345616681818_3074457345616678189","3074457345616681818_3074457345616696171","3074457345616681818_3074457345616696200","3074457345616681818_3074457345616700671","3074457345616681818_3074457345616707668","3074457345616681818_3074457345616708169"],"uniqueID":"3074457345616741771","resourceId":"http:\/\/lux-prdlv-src01.lux-ecomm.net:3737\/search\/resources\/store\/715838404\/productview\/byId\/3074457345616741771","price":[{"description":"L","value":"","usage":"Display","currency":"FIM"},{"description":"O","value":"","usage":"Offer","currency":"FIM"}],"thumbnail":"https:\/\/s7d3.scene7.com\/is\/image\/Persol\/8056597058322_noshad_fr?scl=4","shortDescription":"PO0005 96\/52 54-17","mfPartNumber_ntk":"0PO0005","name":"PO0005 96\/52 54-17","buyable":"true","storeID":"715838084","attributes":[{"storeDisplay":false,"values":[{"sequence":"1","value":"Standard","uniqueID":"7741124012283336345","unitOfMeasure":"","unitID":"","identifier":"Standard"}],"sequence":"1","name":"Size","usage":"Defining","uniqueID":"7741124012283334359","displayable":true,"comparable":false,"identifier":"MODEL_SIZE_DISPLAY","searchable":false,"facetable":false},{"storeDisplay":false,"values":[{"sequence":"3","value":"Classic","uniqueID":"7741124012283336894","unitOfMeasure":"","unitID":"","identifier":"Classic"}],"sequence":"3","name":"Lens treatment","usage":"Descriptive","uniqueID":"7741124012283334364","displayable":false,"comparable":false,"identifier":"LENS_TREATMENT","searchable":false,"facetable":false},{"storeDisplay":false,"values":[{"sequence":"3","value":"Supreme 5","uniqueID":"7741124012284313340","unitOfMeasure":"","unitID":"","identifier":"Supreme 5"}],"sequence":"372","name":"Arrow","usage":"Descriptive","uniqueID":"7741124012283348835","displayable":false,"comparable":false,"identifier":"ARROW","searchable":false,"facetable":false},{"storeDisplay":false,"values":[{"sequence":"1","value":"125","uniqueID":"7741124012283336889","unitOfMeasure":"","unitID":"","identifier":"125"}],"sequence":"372","name":"Temple length","usage":"Descriptive","uniqueID":"7741124012283334363","displayable":false,"comparable":false,"identifier":"TEMPLE_LENGTH","searchable":false,"facetable":false},{"storeDisplay":false,"values":[{"sequence":"4","value":"Lenses-sun;material-acetate;arrow-all;meflecto-all","uniqueID":"7741124012284859910","unitOfMeasure":"","unitID":"","identifier":"Lenses-sun;material-acetate;arrow-all;meflecto-all"}],"sequence":"372","name":"FEATURES","usage":"Descriptive","uniqueID":"7741124012284251845","displayable":false,"comparable":false,"identifier":"FEATURES","searchable":false,"facetable":false},{"storeDisplay":false,"values":[{"sequence":"3","value":"Classic","uniqueID":"7741124012283336899","unitOfMeasure":"","unitID":"","identifier":"Classic"}],"sequence":"372","name":"Lens treatment","usage":"Descriptive","uniqueID":"7741124012283334365","displayable":false,"comparable":false,"identifier":"LENS_TREATMENT_FACET","searchable":true,"facetable":false},{"storeDisplay":false,"values":[{"sequence":"2","value":"17","uniqueID":"7741124012283336883","unitOfMeasure":"","unitID":"","identifier":"17"}],"sequence":"372","name":"Lens bridge","usage":"Descriptive","uniqueID":"7741124012283334362","displayable":false,"comparable":false,"identifier":"LENS_BRIDGE","searchable":false,"facetable":false},{"storeDisplay":false,"values":[{"sequence":"4","value":"PO0005 96\/52 54-17","uniqueID":"7741124012284313163","unitOfMeasure":"","unitID":"","identifier":"PO0005 96\/52 54-17"}],"sequence":"372","name":"Displaysku","usage":"Descriptive","uniqueID":"7741124012283364836","displayable":false,"comparable":false,"identifier":"DISPLAYSKU","searchable":false,"facetable":false},{"storeDisplay":false,"values":[{"sequence":"1","value":"Zpfn","uniqueID":"7741124012283336923","unitOfMeasure":"","unitID":"","identifier":"Zpfn"}],"sequence":"372","name":"Materialtype","usage":"Descriptive","uniqueID":"7741124012283334372","displayable":false,"comparable":false,"identifier":"MATERIALTYPE","searchable":false,"facetable":false},{"storeDisplay":false,"values":[{"sequence":"3","value":"54","uniqueID":"7741124012283336338","unitOfMeasure":"","unitID":"","identifier":"54"}],"sequence":"372","name":"Model size","usage":"Descriptive","uniqueID":"7741124012283334358","displayable":false,"comparable":false,"identifier":"MODEL_SIZE","searchable":false,"facetable":false},{"storeDisplay":false,"values":[{"sequence":"2","value":"96\/52 54","uniqueID":"7741124012284313011","unitOfMeasure":"","unitID":"","identifier":"96\/52 54"}],"sequence":"372","name":"Grid Value","usage":"Descriptive","uniqueID":"7741124012283364837","displayable":true,"comparable":false,"identifier":"GRID VALUE","searchable":false,"facetable":false},{"storeDisplay":false,"values":[{"sequence":"3","value":"Supreme Acetate","uniqueID":"7741124012283355348","unitOfMeasure":"","unitID":"","identifier":"Supreme Acetate"}],"sequence":"372","name":"Temple logo","usage":"Descriptive","uniqueID":"7741124012283348836","displayable":false,"comparable":true,"identifier":"TEMPLE_LOGO","searchable":false,"facetable":false},{"storeDisplay":false,"values":[{"sequence":"1","value":"Trending Now","uniqueID":"7741124012284582837","unitOfMeasure":"","unitID":"","identifier":"Trending Now"}],"sequence":"372","name":"Primary family","usage":"Descriptive","uniqueID":"7741124012284026836","displayable":false,"comparable":false,"identifier":"PRIMARY_FAMILY","searchable":false,"facetable":false},{"storeDisplay":false,"values":[{"sequence":"2","value":"Supreme Acetate","uniqueID":"7741124012283376860","unitOfMeasure":"","unitID":"","identifier":"Supreme Acetate"}],"sequence":"1427","name":"Temple Logo","usage":"Descriptive","uniqueID":"7741124012283379335","displayable":false,"comparable":false,"identifier":"TEMPLE LOGO","searchable":false,"facetable":false}],"partNumber":"8056597058322"}],"resourceId":"http:\/\/lux-prdlv-src01.lux-ecomm.net:3737\/search\/resources\/store\/715838404\/productview\/byId\/3074457345616741236","price":[{"description":"L","value":"","usage":"Display","currency":"FIM"},{"description":"O","value":"","usage":"Offer","currency":"FIM"}],"thumbnail":"https:\/\/s7d3.scene7.com\/is\/image\/Persol\/8056597058322_noshad_fr?scl=4","shortDescription":"PO0005","mfPartNumber_ntk":"0PO0005","name":"PO0005","buyable":"true","quantity":1,"attributes":[{"storeDisplay":false,"values":[{"sequence":"4","value":"PO0005","uniqueID":"7741124012284313330","unitOfMeasure":"","unitID":"","identifier":"PO0005"}],"sequence":"0","name":"Model code","associatedKeyword":"-","usage":"Descriptive","uniqueID":"7741124012283334373","displayable":true,"comparable":false,"identifier":"MODEL_CODE_DISPLAY","searchable":false,"facetable":false},{"storeDisplay":false,"values":[{"image1":"https:\/\/s7d3.scene7.com\/is\/image\/Persol\/terra-di-siena-2?scl=1amp;fmt=png-alpha","sequence":"1","value":"Terra Di Siena","uniqueID":"7741124012283335894","image1path":"https:\/\/s7d3.scene7.com\/is\/image\/Persol\/terra-di-siena-2?scl=1amp;fmt=png-alpha","unitOfMeasure":"","unitID":"","identifier":"Terra Di Siena"}],"sequence":"1","name":"Front color","associatedKeyword":"-","usage":"Descriptive","uniqueID":"7741124012283334339","displayable":true,"comparable":false,"identifier":"FRONT_COLOR","searchable":false,"facetable":false},{"storeDisplay":false,"values":[{"sequence":"1","value":"Standard","uniqueID":"7741124012283336345","unitOfMeasure":"","unitID":"","identifier":"Standard"}],"sequence":"1","name":"Size","associatedKeyword":"-","usage":"Defining","uniqueID":"7741124012283334359","displayable":true,"comparable":false,"identifier":"MODEL_SIZE_DISPLAY","searchable":false,"facetable":false},{"storeDisplay":false,"values":[{"sequence":"2","value":"201902","uniqueID":"7741124012284255842","unitOfMeasure":"","unitID":"","identifier":"201902"}],"sequence":"1","name":"Collection","associatedKeyword":"-","usage":"Descriptive","uniqueID":"7741124012283334335","displayable":false,"comparable":false,"identifier":"COLLECTION","searchable":true,"facetable":false},{"storeDisplay":false,"values":[{"sequence":"2","value":"Square","uniqueID":"7741124012283336911","unitOfMeasure":"","unitID":"","identifier":"Square"}],"sequence":"2","name":"Frame shape","associatedKeyword":"-","usage":"Descriptive","uniqueID":"7741124012283334367","displayable":false,"comparable":false,"identifier":"FRAME_SHAPE","searchable":false,"facetable":false},{"storeDisplay":false,"values":[{"sequence":"1","value":"Trending Now","uniqueID":"7741124012284582837","unitOfMeasure":"","unitID":"","identifier":"Trending Now"}],"sequence":"2","name":"Primary family","associatedKeyword":"-","usage":"Descriptive","uniqueID":"7741124012284026836","displayable":false,"comparable":false,"identifier":"PRIMARY_FAMILY","searchable":false,"facetable":false},{"storeDisplay":false,"values":[{"sequence":"1","value":"Green","uniqueID":"7741124012283336056","unitOfMeasure":"","unitID":"","identifier":"Green"}],"sequence":"2","name":"Lens color","associatedKeyword":"-","usage":"Descriptive","uniqueID":"7741124012283334346","displayable":true,"comparable":false,"identifier":"LENS_COLOR","searchable":false,"facetable":false},{"storeDisplay":false,"values":[{"sequence":"3","value":"Classic","uniqueID":"7741124012283336894","unitOfMeasure":"","unitID":"","identifier":"Classic"}],"sequence":"3","name":"Lens treatment","associatedKeyword":"-","usage":"Descriptive","uniqueID":"7741124012283334364","displayable":false,"comparable":false,"identifier":"LENS_TREATMENT","searchable":false,"facetable":false},{"storeDisplay":false,"values":[{"sequence":"1","value":"Born to give full protection from the sun at every angle, the 4 Lenses model was created for the first time ever by Persol in 1935. Once called \"glacier glasses\", as it guaranteed maximum protection from the sun\u2019s reflection on snow, it returns more iconic than ever.","uniqueID":"7741124012284859958","unitOfMeasure":"","unitID":"","identifier":"Born to give full protection from the sun at every angle, the 4 Lenses model was created for the first time ever by Persol in 1935. Once called \"glacier glasses\", as it guaranteed maximum protection from the sun\u2019s reflection on snow, it returns more ic"}],"sequence":"3","name":"DESIGN DNA","associatedKeyword":"-","usage":"Descriptive","uniqueID":"7741124012284251850","displayable":false,"comparable":false,"identifier":"DESIGN DNA","searchable":false,"facetable":false},{"storeDisplay":false,"values":[{"sequence":"2","value":"Crystal","uniqueID":"7741124012284859369","unitOfMeasure":"","unitID":"","identifier":"Crystal"}],"sequence":"4","name":"LENS MATERIAL FACET","associatedKeyword":"-","usage":"Descriptive","uniqueID":"7741124012284251849","displayable":false,"comparable":false,"identifier":"LENS_MATERIAL_FACET","searchable":false,"facetable":false},{"storeDisplay":false,"values":[{"sequence":"2","value":"Acetate","uniqueID":"7741124012283335870","unitOfMeasure":"","unitID":"","identifier":"Acetate"}],"sequence":"5","name":"Frame Material","associatedKeyword":"-","usage":"Descriptive","uniqueID":"7741124012283334338","displayable":false,"comparable":false,"identifier":"FRAMEMATERIAL_FACET","searchable":true,"facetable":true},{"storeDisplay":false,"values":[{"sequence":"2","value":"Crystal","uniqueID":"7741124012284859368","unitOfMeasure":"","unitID":"","identifier":"Crystal"}],"sequence":"5","name":"LENS MATERIAL","associatedKeyword":"-","usage":"Descriptive","uniqueID":"7741124012284251848","displayable":true,"comparable":false,"identifier":"LENS_MATERIAL","searchable":false,"facetable":false},{"storeDisplay":false,"values":[{"sequence":"1","value":"False","uniqueID":"7741124012283336065","unitOfMeasure":"","unitID":"","identifier":"False"}],"sequence":"6","name":"Limited edition","associatedKeyword":"-","usage":"Descriptive","uniqueID":"7741124012283334347","displayable":false,"comparable":false,"identifier":"LIMITED_EDITION","searchable":false,"facetable":false},{"storeDisplay":false,"values":[{"sequence":"2","value":"Acetate","uniqueID":"7741124012283335867","unitOfMeasure":"","unitID":"","identifier":"Acetate"}],"sequence":"6","name":"Frame Material","associatedKeyword":"-","usage":"Descriptive","uniqueID":"7741124012283334337","displayable":true,"comparable":false,"identifier":"FRAMEMATERIAL","searchable":false,"facetable":false},{"storeDisplay":false,"values":[{"sequence":"1","value":"Not Adjustable","uniqueID":"7741124012284859354","unitOfMeasure":"","unitID":"","identifier":"Not Adjustable"}],"sequence":"7","name":"NOSEPADS","associatedKeyword":"-","usage":"Descriptive","uniqueID":"7741124012284251840","displayable":true,"comparable":false,"identifier":"NOSEPADS","searchable":false,"facetable":false},{"storeDisplay":false,"values":[{"image1":"https:\/\/s7d3.scene7.com\/is\/image\/Persol\/terra-di-siena-2?scl=1amp;fmt=png-alpha","sequence":"1","value":"Terra Di Siena","uniqueID":"7741124012283336221","image1path":"https:\/\/s7d3.scene7.com\/is\/image\/Persol\/terra-di-siena-2?scl=1amp;fmt=png-alpha","unitOfMeasure":"","unitID":"","identifier":"Terra Di Siena"}],"sequence":"7","name":"Temple color","associatedKeyword":"-","usage":"Descriptive","uniqueID":"7741124012283334354","displayable":false,"comparable":false,"identifier":"TEMPLE_COLOR","searchable":false,"facetable":false},{"storeDisplay":false,"values":[{"sequence":"1","value":"1","uniqueID":"7741124012284859356","unitOfMeasure":"","unitID":"","identifier":"1"}],"sequence":"8","name":"PLACEHOLDER_SIZE","associatedKeyword":"-","usage":"Descriptive","uniqueID":"7741124012284251841","displayable":true,"comparable":false,"identifier":"PLACEHOLDER_SIZE","searchable":false,"facetable":false},{"storeDisplay":false,"values":[{"sequence":"2","value":"Wide","uniqueID":"7741124012284859364","unitOfMeasure":"","unitID":"","identifier":"Wide"}],"sequence":"9","name":"FRAME FIT","associatedKeyword":"-","usage":"Descriptive","uniqueID":"7741124012284251846","displayable":true,"comparable":false,"identifier":"FRAME FIT","searchable":false,"facetable":false},{"storeDisplay":false,"values":[{"sequence":"2","value":"Polished","uniqueID":"7741124012284859363","unitOfMeasure":"","unitID":"","identifier":"Polished"}],"sequence":"9","name":"FINISHING","associatedKeyword":"-","usage":"Descriptive","uniqueID":"7741124012284251844","displayable":false,"comparable":false,"identifier":"FINISHING","searchable":false,"facetable":false},{"storeDisplay":false,"values":[{"sequence":"3","value":"Saddle Bridge","uniqueID":"7741124012284859337","unitOfMeasure":"","unitID":"","identifier":"Saddle Bridge"}],"sequence":"10","name":"BRIDGE TYPE","associatedKeyword":"-","usage":"Descriptive","uniqueID":"7741124012284251836","displayable":false,"comparable":false,"identifier":"BRIDGE TYPE","searchable":false,"facetable":false},{"storeDisplay":false,"values":[{"sequence":"1","value":"Italy","uniqueID":"7741124012283336067","unitOfMeasure":"","unitID":"","identifier":"Italy"}],"sequence":"10","name":"Madein","associatedKeyword":"-","usage":"Descriptive","uniqueID":"7741124012283334348","displayable":true,"comparable":false,"identifier":"MADEIN","searchable":false,"facetable":false},{"storeDisplay":false,"values":[{"sequence":"3","value":"Supreme 5","uniqueID":"7741124012284313340","unitOfMeasure":"","unitID":"","identifier":"Supreme 5"}],"sequence":"10","name":"Arrow","associatedKeyword":"-","usage":"Descriptive","uniqueID":"7741124012283348835","displayable":false,"comparable":false,"identifier":"ARROW","searchable":false,"facetable":false},{"storeDisplay":false,"values":[{"sequence":"2","value":"Supreme Acetate","uniqueID":"7741124012283376860","unitOfMeasure":"","unitID":"","identifier":"Supreme Acetate"}],"sequence":"11","name":"Temple Logo","associatedKeyword":"-","usage":"Descriptive","uniqueID":"7741124012283379335","displayable":false,"comparable":false,"identifier":"TEMPLE LOGO","searchable":false,"facetable":false},{"storeDisplay":false,"values":[{"sequence":"1","value":"Full Rim","uniqueID":"7741124012283360863","unitOfMeasure":"","unitID":"","identifier":"Full Rim"}],"sequence":"11","name":"Frame Type","associatedKeyword":"-","usage":"Descriptive","uniqueID":"7741124012283334370","displayable":false,"comparable":false,"identifier":"FRAMETYPE","searchable":false,"facetable":false},{"storeDisplay":false,"values":[{"sequence":"1","value":"Round Face;oval Face","uniqueID":"7741124012284860410","unitOfMeasure":"","unitID":"","identifier":"Round Face;oval Face"}],"sequence":"12","name":"SUGGESTED FACE SHAPE","associatedKeyword":"-","usage":"Descriptive","uniqueID":"7741124012284251843","displayable":false,"comparable":false,"identifier":"SUGGESTED_FACE_SHAPE","searchable":false,"facetable":false},{"storeDisplay":false,"values":[{"sequence":"4","value":"2N","uniqueID":"7741124012283444313","unitOfMeasure":"","unitID":"","identifier":"2N"}],"sequence":"13","name":"Notainformativa","associatedKeyword":"-","usage":"Descriptive","uniqueID":"7741124012283334350","displayable":false,"comparable":false,"identifier":"NOTAINFORMATIVA","searchable":false,"facetable":false},{"storeDisplay":false,"values":[{"sequence":"4","value":"96\/52","uniqueID":"7741124012284861728","unitOfMeasure":"","unitID":"","identifier":"96\/52"}],"sequence":"14","name":"COLOR CODE","associatedKeyword":"-","usage":"Descriptive","uniqueID":"7741124012284253335","displayable":false,"comparable":false,"identifier":"COLOR CODE","searchable":false,"facetable":false},{"storeDisplay":false,"values":[{"sequence":"2","value":"4 Lenses","uniqueID":"7741124012284146853","unitOfMeasure":"","unitID":"","identifier":"4 Lenses"}],"sequence":"16","name":"Model family","associatedKeyword":"-","usage":"Descriptive","uniqueID":"7741124012283333374","displayable":false,"comparable":false,"identifier":"MODEL_FAMILY","searchable":true,"facetable":true},{"storeDisplay":false,"values":[{"image1":"https:\/\/s7d3.scene7.com\/is\/image\/Persol\/terra-di-siena-2?scl=1amp;fmt=png-alpha","sequence":"5","value":"Terra Di Siena","uniqueID":"7741124012283336326","image1path":"https:\/\/s7d3.scene7.com\/is\/image\/Persol\/terra-di-siena-2?scl=1amp;fmt=png-alpha","unitOfMeasure":"","unitID":"","identifier":"Terra Di Siena"}],"sequence":"17","name":"Temple inner color facet","associatedKeyword":"-","usage":"Descriptive","uniqueID":"7741124012283334357","displayable":false,"comparable":false,"identifier":"TEMPLE_INNER_COLOR_FACET","searchable":true,"facetable":false},{"storeDisplay":false,"values":[{"sequence":"1","value":"False","uniqueID":"7741124012283337030","unitOfMeasure":"","unitID":"","identifier":"False"}],"sequence":"19","name":"Noreturn","associatedKeyword":"-","usage":"Descriptive","uniqueID":"7741124012283334374","displayable":false,"comparable":false,"identifier":"NORETURN","searchable":false,"facetable":false},{"storeDisplay":false,"values":[{"sequence":"1","value":"True","uniqueID":"7741124012284859353","unitOfMeasure":"","unitID":"","identifier":"True"}],"sequence":"21","name":"ENGRAVINGELIGIBLE","associatedKeyword":"-","usage":"Descriptive","uniqueID":"7741124012284251838","displayable":false,"comparable":false,"identifier":"ENGRAVINGELIGIBLE","searchable":false,"facetable":false},{"storeDisplay":false,"values":[{"sequence":"1","value":"Icona","uniqueID":"7741124012283336922","unitOfMeasure":"","unitID":"","identifier":"Icona"}],"sequence":"22","name":"Range","associatedKeyword":"-","usage":"Descriptive","uniqueID":"7741124012283334371","displayable":false,"comparable":false,"identifier":"RANGE","searchable":false,"facetable":false},{"storeDisplay":false,"values":[{"image1":"https:\/\/s7d3.scene7.com\/is\/image\/Persol\/green-2?scl=1&fmt=png-alpha","sequence":"3","value":"Green","uniqueID":"7741124012283336041","image1path":"https:\/\/s7d3.scene7.com\/is\/image\/Persol\/green-2?scl=1&fmt=png-alpha","unitOfMeasure":"","unitID":"","identifier":"Green"}],"sequence":"23","name":"Lens color","associatedKeyword":"-","usage":"Descriptive","uniqueID":"7741124012283334345","displayable":false,"comparable":false,"identifier":"LENS_COLOR_FACET","searchable":true,"facetable":true},{"storeDisplay":false,"values":[{"sequence":"1","value":"False","uniqueID":"7741124012283336068","unitOfMeasure":"","unitID":"","identifier":"False"}],"sequence":"24","name":"Newreleases","associatedKeyword":"-","usage":"Descriptive","uniqueID":"7741124012283334349","displayable":false,"comparable":false,"identifier":"NEWRELEASES","searchable":true,"facetable":false},{"storeDisplay":false,"values":[{"sequence":"1","value":"0801c","uniqueID":"7741124012283601693","unitOfMeasure":"","unitID":"","identifier":"0801c"}],"sequence":"26","name":"Clen","associatedKeyword":"-","usage":"Descriptive","uniqueID":"7741124012283334344","displayable":false,"comparable":false,"identifier":"CLEN","searchable":false,"facetable":false},{"storeDisplay":false,"values":[{"sequence":"5","value":"110000","uniqueID":"7741124012284611095","unitOfMeasure":"","unitID":"","identifier":"110000"}],"sequence":"28","name":"Sequence","associatedKeyword":"-","usage":"Descriptive","uniqueID":"7741124012283593337","displayable":false,"comparable":false,"identifier":"SEQUENCE","searchable":true,"facetable":false},{"storeDisplay":false,"values":[{"sequence":"2","value":"Male","uniqueID":"7741124012283376840","unitOfMeasure":"","unitID":"","identifier":"Male"}],"sequence":"29","name":"Gender","associatedKeyword":"-","usage":"Descriptive","uniqueID":"7741124012283334343","displayable":false,"comparable":false,"identifier":"GENDER","searchable":false,"facetable":false},{"storeDisplay":false,"values":[{"sequence":"2","value":"False","uniqueID":"7741124012284860407","unitOfMeasure":"","unitID":"","identifier":"False"}],"sequence":"30","name":"Flex","associatedKeyword":"-","usage":"Descriptive","uniqueID":"7741124012283364835","displayable":false,"comparable":false,"identifier":"FLEX","searchable":false,"facetable":false},{"storeDisplay":false,"values":[{"sequence":"2","value":"False","uniqueID":"7741124012284582835","unitOfMeasure":"","unitID":"","identifier":"False"}],"sequence":"31","name":"Best Sellers","associatedKeyword":"-","usage":"Descriptive","uniqueID":"7741124012284026835","displayable":false,"comparable":false,"identifier":"BESTSELLERS","searchable":false,"facetable":false},{"storeDisplay":false,"values":[{"image1":"https:\/\/s7d3.scene7.com\/is\/image\/Persol\/terra-di-siena-2?scl=1amp;fmt=png-alpha","sequence":"5","value":"Terra Di Siena","uniqueID":"7741124012283336011","image1path":"https:\/\/s7d3.scene7.com\/is\/image\/Persol\/terra-di-siena-2?scl=1amp;fmt=png-alpha","unitOfMeasure":"","unitID":"","identifier":"Terra Di Siena"}],"sequence":"32","name":"Front inner color facet","associatedKeyword":"-","usage":"Descriptive","uniqueID":"7741124012283334342","displayable":false,"comparable":false,"identifier":"FRONT_INNER_COLOR_FACET","searchable":true,"facetable":false},{"storeDisplay":false,"values":[{"sequence":"5","value":"PO0005","uniqueID":"7741124012284313293","unitOfMeasure":"","unitID":"","identifier":"PO0005"}],"sequence":"33","name":"Modelname","associatedKeyword":"-","usage":"Descriptive","uniqueID":"7741124012283334353","displayable":false,"comparable":false,"identifier":"MODELNAME","searchable":true,"facetable":false},{"storeDisplay":false,"values":[{"sequence":"2","value":"False","uniqueID":"7741124012283335865","unitOfMeasure":"","unitID":"","identifier":"False"}],"sequence":"34","name":"Exclusive","associatedKeyword":"-","usage":"Descriptive","uniqueID":"7741124012283334336","displayable":false,"comparable":false,"identifier":"EXCLUSIVE","searchable":false,"facetable":false},{"storeDisplay":false,"values":[{"image1":"https:\/\/s7d3.scene7.com\/is\/image\/Persol\/terra-di-siena-2?scl=1&fmt=png-alpha","sequence":"5","value":"Terra Di Siena","uniqueID":"7741124012283335937","image1path":"https:\/\/s7d3.scene7.com\/is\/image\/Persol\/terra-di-siena-2?scl=1&fmt=png-alpha","unitOfMeasure":"","unitID":"","identifier":"Terra Di Siena"}],"sequence":"35","name":"Front color","associatedKeyword":"-","usage":"Descriptive","uniqueID":"7741124012283334340","displayable":false,"comparable":false,"identifier":"FRONT_COLOR_FACET","searchable":true,"facetable":true},{"storeDisplay":false,"values":[{"sequence":"3","value":"Square","uniqueID":"7741124012283336915","unitOfMeasure":"","unitID":"","identifier":"Square"}],"sequence":"37","name":"Frame shape","associatedKeyword":"-","usage":"Descriptive","uniqueID":"7741124012283334368","displayable":false,"comparable":false,"identifier":"FRAME_SHAPE_FACET","searchable":true,"facetable":true},{"storeDisplay":false,"values":[{"sequence":"2","value":"False","uniqueID":"7741124012283336078","unitOfMeasure":"","unitID":"","identifier":"False"}],"sequence":"38","name":"Polarized","associatedKeyword":"-","usage":"Descriptive","uniqueID":"7741124012283334352","displayable":false,"comparable":false,"identifier":"POLARIZED","searchable":false,"facetable":false},{"storeDisplay":false,"values":[{"sequence":"1","value":"False","uniqueID":"7741124012283336077","unitOfMeasure":"","unitID":"","identifier":"False"}],"sequence":"39","name":"Onsale","associatedKeyword":"-","usage":"Descriptive","uniqueID":"7741124012283334351","displayable":false,"comparable":false,"identifier":"ONSALE","searchable":false,"facetable":false},{"storeDisplay":false,"values":[{"sequence":"2","value":"True","uniqueID":"7741124012283355351","unitOfMeasure":"","unitID":"","identifier":"True"}],"sequence":"42","name":"Vintage Celebration","associatedKeyword":"-","usage":"Descriptive","uniqueID":"7741124012283348837","displayable":false,"comparable":false,"identifier":"VINTAGE CELEBRATION","searchable":false,"facetable":false},{"storeDisplay":false,"values":[{"sequence":"2","value":"Sun","uniqueID":"7741124012283333656","unitOfMeasure":"","unitID":"","identifier":"Sun"}],"sequence":"43","name":"Producttype","associatedKeyword":"-","usage":"Descriptive","uniqueID":"7741124012283333376","displayable":false,"comparable":false,"identifier":"PRODUCTTYPE","searchable":true,"facetable":false},{"storeDisplay":false,"values":[{"sequence":"1","value":"False","uniqueID":"7741124012283336902","unitOfMeasure":"","unitID":"","identifier":"False"}],"sequence":"44","name":"Foldable","associatedKeyword":"-","usage":"Descriptive","uniqueID":"7741124012283334366","displayable":false,"comparable":false,"identifier":"FOLDABLE","searchable":false,"facetable":false},{"storeDisplay":false,"values":[{"sequence":"1","value":"False","uniqueID":"7741124012284859336","unitOfMeasure":"","unitID":"","identifier":"False"}],"sequence":"45","name":"AVANT_PREMIERE","associatedKeyword":"-","usage":"Descriptive","uniqueID":"7741124012284251835","displayable":false,"comparable":false,"identifier":"AVANT_PREMIERE","searchable":false,"facetable":false},{"storeDisplay":false,"values":[{"image1":"https:\/\/s7d3.scene7.com\/is\/image\/Persol\/terra-di-siena-2?scl=1amp;fmt=png-alpha","sequence":"1","value":"Terra Di Siena","uniqueID":"7741124012283335978","image1path":"https:\/\/s7d3.scene7.com\/is\/image\/Persol\/terra-di-siena-2?scl=1amp;fmt=png-alpha","unitOfMeasure":"","unitID":"","identifier":"Terra Di Siena"}],"sequence":"46","name":"Front inner color","associatedKeyword":"-","usage":"Descriptive","uniqueID":"7741124012283334341","displayable":false,"comparable":false,"identifier":"FRONT_INNER_COLOR","searchable":false,"facetable":false},{"storeDisplay":false,"values":[{"image1":"https:\/\/s7d3.scene7.com\/is\/image\/Persol\/terra-di-siena-2?scl=1amp;fmt=png-alpha","sequence":"1","value":"Terra Di Siena","uniqueID":"7741124012283336294","image1path":"https:\/\/s7d3.scene7.com\/is\/image\/Persol\/terra-di-siena-2?scl=1amp;fmt=png-alpha","unitOfMeasure":"","unitID":"","identifier":"Terra Di Siena"}],"sequence":"47","name":"Temple inner color","associatedKeyword":"-","usage":"Descriptive","uniqueID":"7741124012283334356","displayable":false,"comparable":false,"identifier":"TEMPLE_INNER_COLOR","searchable":false,"facetable":false},{"storeDisplay":false,"values":[{"image1":"https:\/\/s7d3.scene7.com\/is\/image\/Persol\/terra-di-siena-2?scl=1amp;fmt=png-alpha","sequence":"5","value":"Terra Di Siena","uniqueID":"7741124012283336253","image1path":"https:\/\/s7d3.scene7.com\/is\/image\/Persol\/terra-di-siena-2?scl=1amp;fmt=png-alpha","unitOfMeasure":"","unitID":"","identifier":"Terra Di Siena"}],"sequence":"48","name":"Temple color facet","associatedKeyword":"-","usage":"Descriptive","uniqueID":"7741124012283334355","displayable":false,"comparable":false,"identifier":"TEMPLE_COLOR_FACET","searchable":true,"facetable":false},{"storeDisplay":false,"values":[{"sequence":"1","value":"True","uniqueID":"7741124012284859902","unitOfMeasure":"","unitID":"","identifier":"True"}],"sequence":"49","name":"MEFLECTO","associatedKeyword":"-","usage":"Descriptive","uniqueID":"7741124012284251847","displayable":false,"comparable":false,"identifier":"MEFLECTO","searchable":false,"facetable":false},{"storeDisplay":false,"values":[{"sequence":"1","value":"Global","uniqueID":"7741124012283336916","unitOfMeasure":"","unitID":"","identifier":"Global"}],"sequence":"50","name":"Geo fit","associatedKeyword":"-","usage":"Descriptive","uniqueID":"7741124012283334369","displayable":false,"comparable":false,"identifier":"GEO_FIT","searchable":false,"facetable":false}],"storeID":"715838084","numberOfSKUs":1,"partNumber":"0PO0005__96_52"},{"hasSingleSKU":true,"catalogEntryTypeCode":"ProductBean","associationType":"REPLACEMENT","parentCatalogGroupID":["3074457345616676668_3074457345616676668","3074457345616681818_3074457345616678189","3074457345616681818_3074457345616696171","3074457345616681818_3074457345616696200","3074457345616681818_3074457345616700671","3074457345616681818_3074457345616702176","3074457345616681818_3074457345616702177","3074457345616681818_3074457345616707668"],"uniqueID":"3074457345616741234","singleSKUCatalogEntryID":"3074457345616741769","sKUs":[{"hasSingleSKU":false,"catalogEntryTypeCode":"ItemBean","parentCatalogGroupID":["3074457345616676668_3074457345616676668","3074457345616681818_3074457345616678189","3074457345616681818_3074457345616696171","3074457345616681818_3074457345616696200","3074457345616681818_3074457345616700671","3074457345616681818_3074457345616707668"],"uniqueID":"3074457345616741769","resourceId":"http:\/\/lux-prdlv-src01.lux-ecomm.net:3737\/search\/resources\/store\/715838404\/productview\/byId\/3074457345616741769","price":[{"description":"L","value":"","usage":"Display","currency":"FIM"},{"description":"O","value":"","usage":"Offer","currency":"FIM"}],"thumbnail":"https:\/\/s7d3.scene7.com\/is\/image\/Persol\/8056597058315_noshad_fr?scl=4","shortDescription":"PO0005 96\/53 54-17","mfPartNumber_ntk":"0PO0005","name":"PO0005 96\/53 54-17","buyable":"true","storeID":"715838084","attributes":[{"storeDisplay":false,"values":[{"sequence":"1","value":"Standard","uniqueID":"7741124012283336345","unitOfMeasure":"","unitID":"","identifier":"Standard"}],"sequence":"1","name":"Size","usage":"Defining","uniqueID":"7741124012283334359","displayable":true,"comparable":false,"identifier":"MODEL_SIZE_DISPLAY","searchable":false,"facetable":false},{"storeDisplay":false,"values":[{"sequence":"3","value":"Classic","uniqueID":"7741124012283336894","unitOfMeasure":"","unitID":"","identifier":"Classic"}],"sequence":"3","name":"Lens treatment","usage":"Descriptive","uniqueID":"7741124012283334364","displayable":false,"comparable":false,"identifier":"LENS_TREATMENT","searchable":false,"facetable":false},{"storeDisplay":false,"values":[{"sequence":"3","value":"Supreme 5","uniqueID":"7741124012284313340","unitOfMeasure":"","unitID":"","identifier":"Supreme 5"}],"sequence":"373","name":"Arrow","usage":"Descriptive","uniqueID":"7741124012283348835","displayable":false,"comparable":false,"identifier":"ARROW","searchable":false,"facetable":false},{"storeDisplay":false,"values":[{"sequence":"1","value":"125","uniqueID":"7741124012283336889","unitOfMeasure":"","unitID":"","identifier":"125"}],"sequence":"373","name":"Temple length","usage":"Descriptive","uniqueID":"7741124012283334363","displayable":false,"comparable":false,"identifier":"TEMPLE_LENGTH","searchable":false,"facetable":false},{"storeDisplay":false,"values":[{"sequence":"4","value":"Lenses-sun;material-acetate;arrow-all;meflecto-all","uniqueID":"7741124012284859910","unitOfMeasure":"","unitID":"","identifier":"Lenses-sun;material-acetate;arrow-all;meflecto-all"}],"sequence":"373","name":"FEATURES","usage":"Descriptive","uniqueID":"7741124012284251845","displayable":false,"comparable":false,"identifier":"FEATURES","searchable":false,"facetable":false},{"storeDisplay":false,"values":[{"sequence":"3","value":"Classic","uniqueID":"7741124012283336899","unitOfMeasure":"","unitID":"","identifier":"Classic"}],"sequence":"373","name":"Lens treatment","usage":"Descriptive","uniqueID":"7741124012283334365","displayable":false,"comparable":false,"identifier":"LENS_TREATMENT_FACET","searchable":true,"facetable":false},{"storeDisplay":false,"values":[{"sequence":"2","value":"17","uniqueID":"7741124012283336883","unitOfMeasure":"","unitID":"","identifier":"17"}],"sequence":"373","name":"Lens bridge","usage":"Descriptive","uniqueID":"7741124012283334362","displayable":false,"comparable":false,"identifier":"LENS_BRIDGE","searchable":false,"facetable":false},{"storeDisplay":false,"values":[{"sequence":"1","value":"PO0005 96\/53 54-17","uniqueID":"7741124012284313138","unitOfMeasure":"","unitID":"","identifier":"PO0005 96\/53 54-17"}],"sequence":"373","name":"Displaysku","usage":"Descriptive","uniqueID":"7741124012283364836","displayable":false,"comparable":false,"identifier":"DISPLAYSKU","searchable":false,"facetable":false},{"storeDisplay":false,"values":[{"sequence":"1","value":"Zpfn","uniqueID":"7741124012283336923","unitOfMeasure":"","unitID":"","identifier":"Zpfn"}],"sequence":"373","name":"Materialtype","usage":"Descriptive","uniqueID":"7741124012283334372","displayable":false,"comparable":false,"identifier":"MATERIALTYPE","searchable":false,"facetable":false},{"storeDisplay":false,"values":[{"sequence":"3","value":"54","uniqueID":"7741124012283336338","unitOfMeasure":"","unitID":"","identifier":"54"}],"sequence":"373","name":"Model size","usage":"Descriptive","uniqueID":"7741124012283334358","displayable":false,"comparable":false,"identifier":"MODEL_SIZE","searchable":false,"facetable":false},{"storeDisplay":false,"values":[{"sequence":"1","value":"96\/53 54","uniqueID":"7741124012284312959","unitOfMeasure":"","unitID":"","identifier":"96\/53 54"}],"sequence":"373","name":"Grid Value","usage":"Descriptive","uniqueID":"7741124012283364837","displayable":true,"comparable":false,"identifier":"GRID VALUE","searchable":false,"facetable":false},{"storeDisplay":false,"values":[{"sequence":"3","value":"Supreme Acetate","uniqueID":"7741124012283355348","unitOfMeasure":"","unitID":"","identifier":"Supreme Acetate"}],"sequence":"373","name":"Temple logo","usage":"Descriptive","uniqueID":"7741124012283348836","displayable":false,"comparable":true,"identifier":"TEMPLE_LOGO","searchable":false,"facetable":false},{"storeDisplay":false,"values":[{"sequence":"1","value":"Trending Now","uniqueID":"7741124012284582837","unitOfMeasure":"","unitID":"","identifier":"Trending Now"}],"sequence":"373","name":"Primary family","usage":"Descriptive","uniqueID":"7741124012284026836","displayable":false,"comparable":false,"identifier":"PRIMARY_FAMILY","searchable":false,"facetable":false},{"storeDisplay":false,"values":[{"sequence":"2","value":"Supreme Acetate","uniqueID":"7741124012283376860","unitOfMeasure":"","unitID":"","identifier":"Supreme Acetate"}],"sequence":"1425","name":"Temple Logo","usage":"Descriptive","uniqueID":"7741124012283379335","displayable":false,"comparable":false,"identifier":"TEMPLE LOGO","searchable":false,"facetable":false}],"partNumber":"8056597058315"}],"resourceId":"http:\/\/lux-prdlv-src01.lux-ecomm.net:3737\/search\/resources\/store\/715838404\/productview\/byId\/3074457345616741234","price":[{"description":"L","value":"","usage":"Display","currency":"FIM"},{"description":"O","value":"","usage":"Offer","currency":"FIM"}],"thumbnail":"https:\/\/s7d3.scene7.com\/is\/image\/Persol\/8056597058315_noshad_fr?scl=4","shortDescription":"PO0005","mfPartNumber_ntk":"0PO0005","name":"PO0005","buyable":"true","quantity":1,"attributes":[{"storeDisplay":false,"values":[{"sequence":"4","value":"PO0005","uniqueID":"7741124012284313330","unitOfMeasure":"","unitID":"","identifier":"PO0005"}],"sequence":"0","name":"Model code","associatedKeyword":"-","usage":"Descriptive","uniqueID":"7741124012283334373","displayable":true,"comparable":false,"identifier":"MODEL_CODE_DISPLAY","searchable":false,"facetable":false},{"storeDisplay":false,"values":[{"sequence":"2","value":"201902","uniqueID":"7741124012284255842","unitOfMeasure":"","unitID":"","identifier":"201902"}],"sequence":"1","name":"Collection","associatedKeyword":"-","usage":"Descriptive","uniqueID":"7741124012283334335","displayable":false,"comparable":false,"identifier":"COLLECTION","searchable":true,"facetable":false},{"storeDisplay":false,"values":[{"sequence":"1","value":"Standard","uniqueID":"7741124012283336345","unitOfMeasure":"","unitID":"","identifier":"Standard"}],"sequence":"1","name":"Size","associatedKeyword":"-","usage":"Defining","uniqueID":"7741124012283334359","displayable":true,"comparable":false,"identifier":"MODEL_SIZE_DISPLAY","searchable":false,"facetable":false},{"storeDisplay":false,"values":[{"image1":"https:\/\/s7d3.scene7.com\/is\/image\/Persol\/terra-di-siena-2?scl=1amp;fmt=png-alpha","sequence":"1","value":"Terra Di Siena","uniqueID":"7741124012283335894","image1path":"https:\/\/s7d3.scene7.com\/is\/image\/Persol\/terra-di-siena-2?scl=1amp;fmt=png-alpha","unitOfMeasure":"","unitID":"","identifier":"Terra Di Siena"}],"sequence":"1","name":"Front color","associatedKeyword":"-","usage":"Descriptive","uniqueID":"7741124012283334339","displayable":true,"comparable":false,"identifier":"FRONT_COLOR","searchable":false,"facetable":false},{"storeDisplay":false,"values":[{"sequence":"2","value":"Square","uniqueID":"7741124012283336911","unitOfMeasure":"","unitID":"","identifier":"Square"}],"sequence":"2","name":"Frame shape","associatedKeyword":"-","usage":"Descriptive","uniqueID":"7741124012283334367","displayable":false,"comparable":false,"identifier":"FRAME_SHAPE","searchable":false,"facetable":false},{"storeDisplay":false,"values":[{"sequence":"4","value":"Brown","uniqueID":"7741124012283336055","unitOfMeasure":"","unitID":"","identifier":"Brown"}],"sequence":"2","name":"Lens color","associatedKeyword":"-","usage":"Descriptive","uniqueID":"7741124012283334346","displayable":true,"comparable":false,"identifier":"LENS_COLOR","searchable":false,"facetable":false},{"storeDisplay":false,"values":[{"sequence":"1","value":"Trending Now","uniqueID":"7741124012284582837","unitOfMeasure":"","unitID":"","identifier":"Trending Now"}],"sequence":"2","name":"Primary family","associatedKeyword":"-","usage":"Descriptive","uniqueID":"7741124012284026836","displayable":false,"comparable":false,"identifier":"PRIMARY_FAMILY","searchable":false,"facetable":false},{"storeDisplay":false,"values":[{"sequence":"1","value":"Born to give full protection from the sun at every angle, the 4 Lenses model was created for the first time ever by Persol in 1935. Once called \"glacier glasses\", as it guaranteed maximum protection from the sun\u2019s reflection on snow, it returns more iconic than ever.","uniqueID":"7741124012284859958","unitOfMeasure":"","unitID":"","identifier":"Born to give full protection from the sun at every angle, the 4 Lenses model was created for the first time ever by Persol in 1935. Once called \"glacier glasses\", as it guaranteed maximum protection from the sun\u2019s reflection on snow, it returns more ic"}],"sequence":"3","name":"DESIGN DNA","associatedKeyword":"-","usage":"Descriptive","uniqueID":"7741124012284251850","displayable":false,"comparable":false,"identifier":"DESIGN DNA","searchable":false,"facetable":false},{"storeDisplay":false,"values":[{"sequence":"3","value":"Classic","uniqueID":"7741124012283336894","unitOfMeasure":"","unitID":"","identifier":"Classic"}],"sequence":"3","name":"Lens treatment","associatedKeyword":"-","usage":"Descriptive","uniqueID":"7741124012283334364","displayable":false,"comparable":false,"identifier":"LENS_TREATMENT","searchable":false,"facetable":false},{"storeDisplay":false,"values":[{"sequence":"2","value":"Crystal","uniqueID":"7741124012284859369","unitOfMeasure":"","unitID":"","identifier":"Crystal"}],"sequence":"4","name":"LENS MATERIAL FACET","associatedKeyword":"-","usage":"Descriptive","uniqueID":"7741124012284251849","displayable":false,"comparable":false,"identifier":"LENS_MATERIAL_FACET","searchable":false,"facetable":false},{"storeDisplay":false,"values":[{"sequence":"2","value":"Acetate","uniqueID":"7741124012283335870","unitOfMeasure":"","unitID":"","identifier":"Acetate"}],"sequence":"5","name":"Frame Material","associatedKeyword":"-","usage":"Descriptive","uniqueID":"7741124012283334338","displayable":false,"comparable":false,"identifier":"FRAMEMATERIAL_FACET","searchable":true,"facetable":true},{"storeDisplay":false,"values":[{"sequence":"2","value":"Crystal","uniqueID":"7741124012284859368","unitOfMeasure":"","unitID":"","identifier":"Crystal"}],"sequence":"5","name":"LENS MATERIAL","associatedKeyword":"-","usage":"Descriptive","uniqueID":"7741124012284251848","displayable":true,"comparable":false,"identifier":"LENS_MATERIAL","searchable":false,"facetable":false},{"storeDisplay":false,"values":[{"sequence":"2","value":"Acetate","uniqueID":"7741124012283335867","unitOfMeasure":"","unitID":"","identifier":"Acetate"}],"sequence":"6","name":"Frame Material","associatedKeyword":"-","usage":"Descriptive","uniqueID":"7741124012283334337","displayable":true,"comparable":false,"identifier":"FRAMEMATERIAL","searchable":false,"facetable":false},{"storeDisplay":false,"values":[{"sequence":"1","value":"False","uniqueID":"7741124012283336065","unitOfMeasure":"","unitID":"","identifier":"False"}],"sequence":"6","name":"Limited edition","associatedKeyword":"-","usage":"Descriptive","uniqueID":"7741124012283334347","displayable":false,"comparable":false,"identifier":"LIMITED_EDITION","searchable":false,"facetable":false},{"storeDisplay":false,"values":[{"sequence":"1","value":"Not Adjustable","uniqueID":"7741124012284859354","unitOfMeasure":"","unitID":"","identifier":"Not Adjustable"}],"sequence":"7","name":"NOSEPADS","associatedKeyword":"-","usage":"Descriptive","uniqueID":"7741124012284251840","displayable":true,"comparable":false,"identifier":"NOSEPADS","searchable":false,"facetable":false},{"storeDisplay":false,"values":[{"image1":"https:\/\/s7d3.scene7.com\/is\/image\/Persol\/terra-di-siena-2?scl=1amp;fmt=png-alpha","sequence":"1","value":"Terra Di Siena","uniqueID":"7741124012283336221","image1path":"https:\/\/s7d3.scene7.com\/is\/image\/Persol\/terra-di-siena-2?scl=1amp;fmt=png-alpha","unitOfMeasure":"","unitID":"","identifier":"Terra Di Siena"}],"sequence":"7","name":"Temple color","associatedKeyword":"-","usage":"Descriptive","uniqueID":"7741124012283334354","displayable":false,"comparable":false,"identifier":"TEMPLE_COLOR","searchable":false,"facetable":false},{"storeDisplay":false,"values":[{"sequence":"1","value":"1","uniqueID":"7741124012284859356","unitOfMeasure":"","unitID":"","identifier":"1"}],"sequence":"8","name":"PLACEHOLDER_SIZE","associatedKeyword":"-","usage":"Descriptive","uniqueID":"7741124012284251841","displayable":true,"comparable":false,"identifier":"PLACEHOLDER_SIZE","searchable":false,"facetable":false},{"storeDisplay":false,"values":[{"sequence":"2","value":"Polished","uniqueID":"7741124012284859363","unitOfMeasure":"","unitID":"","identifier":"Polished"}],"sequence":"9","name":"FINISHING","associatedKeyword":"-","usage":"Descriptive","uniqueID":"7741124012284251844","displayable":false,"comparable":false,"identifier":"FINISHING","searchable":false,"facetable":false},{"storeDisplay":false,"values":[{"sequence":"2","value":"Wide","uniqueID":"7741124012284859364","unitOfMeasure":"","unitID":"","identifier":"Wide"}],"sequence":"9","name":"FRAME FIT","associatedKeyword":"-","usage":"Descriptive","uniqueID":"7741124012284251846","displayable":true,"comparable":false,"identifier":"FRAME FIT","searchable":false,"facetable":false},{"storeDisplay":false,"values":[{"sequence":"1","value":"Italy","uniqueID":"7741124012283336067","unitOfMeasure":"","unitID":"","identifier":"Italy"}],"sequence":"10","name":"Madein","associatedKeyword":"-","usage":"Descriptive","uniqueID":"7741124012283334348","displayable":true,"comparable":false,"identifier":"MADEIN","searchable":false,"facetable":false},{"storeDisplay":false,"values":[{"sequence":"3","value":"Supreme 5","uniqueID":"7741124012284313340","unitOfMeasure":"","unitID":"","identifier":"Supreme 5"}],"sequence":"10","name":"Arrow","associatedKeyword":"-","usage":"Descriptive","uniqueID":"7741124012283348835","displayable":false,"comparable":false,"identifier":"ARROW","searchable":false,"facetable":false},{"storeDisplay":false,"values":[{"sequence":"3","value":"Saddle Bridge","uniqueID":"7741124012284859337","unitOfMeasure":"","unitID":"","identifier":"Saddle Bridge"}],"sequence":"10","name":"BRIDGE TYPE","associatedKeyword":"-","usage":"Descriptive","uniqueID":"7741124012284251836","displayable":false,"comparable":false,"identifier":"BRIDGE TYPE","searchable":false,"facetable":false},{"storeDisplay":false,"values":[{"sequence":"1","value":"Full Rim","uniqueID":"7741124012283360863","unitOfMeasure":"","unitID":"","identifier":"Full Rim"}],"sequence":"11","name":"Frame Type","associatedKeyword":"-","usage":"Descriptive","uniqueID":"7741124012283334370","displayable":false,"comparable":false,"identifier":"FRAMETYPE","searchable":false,"facetable":false},{"storeDisplay":false,"values":[{"sequence":"2","value":"Supreme Acetate","uniqueID":"7741124012283376860","unitOfMeasure":"","unitID":"","identifier":"Supreme Acetate"}],"sequence":"11","name":"Temple Logo","associatedKeyword":"-","usage":"Descriptive","uniqueID":"7741124012283379335","displayable":false,"comparable":false,"identifier":"TEMPLE LOGO","searchable":false,"facetable":false},{"storeDisplay":false,"values":[{"sequence":"1","value":"Round Face;oval Face","uniqueID":"7741124012284860410","unitOfMeasure":"","unitID":"","identifier":"Round Face;oval Face"}],"sequence":"12","name":"SUGGESTED FACE SHAPE","associatedKeyword":"-","usage":"Descriptive","uniqueID":"7741124012284251843","displayable":false,"comparable":false,"identifier":"SUGGESTED_FACE_SHAPE","searchable":false,"facetable":false},{"storeDisplay":false,"values":[{"sequence":"4","value":"2N","uniqueID":"7741124012283444313","unitOfMeasure":"","unitID":"","identifier":"2N"}],"sequence":"13","name":"Notainformativa","associatedKeyword":"-","usage":"Descriptive","uniqueID":"7741124012283334350","displayable":false,"comparable":false,"identifier":"NOTAINFORMATIVA","searchable":false,"facetable":false},{"storeDisplay":false,"values":[{"sequence":"1","value":"96\/53","uniqueID":"7741124012284861725","unitOfMeasure":"","unitID":"","identifier":"96\/53"}],"sequence":"14","name":"COLOR CODE","associatedKeyword":"-","usage":"Descriptive","uniqueID":"7741124012284253335","displayable":false,"comparable":false,"identifier":"COLOR CODE","searchable":false,"facetable":false},{"storeDisplay":false,"values":[{"sequence":"4","value":"PO_pack2_gallery","uniqueID":"7741124012284859921","unitOfMeasure":"","unitID":"","identifier":"PO_pack2_gallery"}],"sequence":"16","name":"CASE","associatedKeyword":"-","usage":"Descriptive","uniqueID":"7741124012284251837","displayable":false,"comparable":false,"identifier":"CASE","searchable":false,"facetable":false},{"storeDisplay":false,"values":[{"sequence":"2","value":"4 Lenses","uniqueID":"7741124012284146853","unitOfMeasure":"","unitID":"","identifier":"4 Lenses"}],"sequence":"17","name":"Model family","associatedKeyword":"-","usage":"Descriptive","uniqueID":"7741124012283333374","displayable":false,"comparable":false,"identifier":"MODEL_FAMILY","searchable":true,"facetable":true},{"storeDisplay":false,"values":[{"image1":"https:\/\/s7d3.scene7.com\/is\/image\/Persol\/terra-di-siena-2?scl=1amp;fmt=png-alpha","sequence":"5","value":"Terra Di Siena","uniqueID":"7741124012283336326","image1path":"https:\/\/s7d3.scene7.com\/is\/image\/Persol\/terra-di-siena-2?scl=1amp;fmt=png-alpha","unitOfMeasure":"","unitID":"","identifier":"Terra Di Siena"}],"sequence":"18","name":"Temple inner color facet","associatedKeyword":"-","usage":"Descriptive","uniqueID":"7741124012283334357","displayable":false,"comparable":false,"identifier":"TEMPLE_INNER_COLOR_FACET","searchable":true,"facetable":false},{"storeDisplay":false,"values":[{"sequence":"1","value":"False","uniqueID":"7741124012283337030","unitOfMeasure":"","unitID":"","identifier":"False"}],"sequence":"20","name":"Noreturn","associatedKeyword":"-","usage":"Descriptive","uniqueID":"7741124012283334374","displayable":false,"comparable":false,"identifier":"NORETURN","searchable":false,"facetable":false},{"storeDisplay":false,"values":[{"sequence":"1","value":"True","uniqueID":"7741124012284859353","unitOfMeasure":"","unitID":"","identifier":"True"}],"sequence":"22","name":"ENGRAVINGELIGIBLE","associatedKeyword":"-","usage":"Descriptive","uniqueID":"7741124012284251838","displayable":false,"comparable":false,"identifier":"ENGRAVINGELIGIBLE","searchable":false,"facetable":false},{"storeDisplay":false,"values":[{"sequence":"1","value":"Icona","uniqueID":"7741124012283336922","unitOfMeasure":"","unitID":"","identifier":"Icona"}],"sequence":"23","name":"Range","associatedKeyword":"-","usage":"Descriptive","uniqueID":"7741124012283334371","displayable":false,"comparable":false,"identifier":"RANGE","searchable":false,"facetable":false},{"storeDisplay":false,"values":[{"image1":"https:\/\/s7d3.scene7.com\/is\/image\/Persol\/brown-1?scl=1&fmt=png-alpha","sequence":"5","value":"Brown","uniqueID":"7741124012283336043","image1path":"https:\/\/s7d3.scene7.com\/is\/image\/Persol\/brown-1?scl=1&fmt=png-alpha","unitOfMeasure":"","unitID":"","identifier":"Brown"}],"sequence":"24","name":"Lens color","associatedKeyword":"-","usage":"Descriptive","uniqueID":"7741124012283334345","displayable":false,"comparable":false,"identifier":"LENS_COLOR_FACET","searchable":true,"facetable":true},{"storeDisplay":false,"values":[{"sequence":"1","value":"False","uniqueID":"7741124012283336068","unitOfMeasure":"","unitID":"","identifier":"False"}],"sequence":"25","name":"Newreleases","associatedKeyword":"-","usage":"Descriptive","uniqueID":"7741124012283334349","displayable":false,"comparable":false,"identifier":"NEWRELEASES","searchable":true,"facetable":false},{"storeDisplay":false,"values":[{"sequence":"1","value":"0799c","uniqueID":"7741124012283601687","unitOfMeasure":"","unitID":"","identifier":"0799c"}],"sequence":"27","name":"Clen","associatedKeyword":"-","usage":"Descriptive","uniqueID":"7741124012283334344","displayable":false,"comparable":false,"identifier":"CLEN","searchable":false,"facetable":false},{"storeDisplay":false,"values":[{"sequence":"4","value":"110500","uniqueID":"7741124012284610988","unitOfMeasure":"","unitID":"","identifier":"110500"}],"sequence":"29","name":"Sequence","associatedKeyword":"-","usage":"Descriptive","uniqueID":"7741124012283593337","displayable":false,"comparable":false,"identifier":"SEQUENCE","searchable":true,"facetable":false},{"storeDisplay":false,"values":[{"sequence":"2","value":"Male","uniqueID":"7741124012283376840","unitOfMeasure":"","unitID":"","identifier":"Male"}],"sequence":"30","name":"Gender","associatedKeyword":"-","usage":"Descriptive","uniqueID":"7741124012283334343","displayable":false,"comparable":false,"identifier":"GENDER","searchable":false,"facetable":false},{"storeDisplay":false,"values":[{"sequence":"2","value":"False","uniqueID":"7741124012284860407","unitOfMeasure":"","unitID":"","identifier":"False"}],"sequence":"31","name":"Flex","associatedKeyword":"-","usage":"Descriptive","uniqueID":"7741124012283364835","displayable":false,"comparable":false,"identifier":"FLEX","searchable":false,"facetable":false},{"storeDisplay":false,"values":[{"sequence":"2","value":"False","uniqueID":"7741124012284582835","unitOfMeasure":"","unitID":"","identifier":"False"}],"sequence":"32","name":"Best Sellers","associatedKeyword":"-","usage":"Descriptive","uniqueID":"7741124012284026835","displayable":false,"comparable":false,"identifier":"BESTSELLERS","searchable":false,"facetable":false},{"storeDisplay":false,"values":[{"image1":"https:\/\/s7d3.scene7.com\/is\/image\/Persol\/terra-di-siena-2?scl=1amp;fmt=png-alpha","sequence":"5","value":"Terra Di Siena","uniqueID":"7741124012283336011","image1path":"https:\/\/s7d3.scene7.com\/is\/image\/Persol\/terra-di-siena-2?scl=1amp;fmt=png-alpha","unitOfMeasure":"","unitID":"","identifier":"Terra Di Siena"}],"sequence":"33","name":"Front inner color facet","associatedKeyword":"-","usage":"Descriptive","uniqueID":"7741124012283334342","displayable":false,"comparable":false,"identifier":"FRONT_INNER_COLOR_FACET","searchable":true,"facetable":false},{"storeDisplay":false,"values":[{"sequence":"5","value":"PO0005","uniqueID":"7741124012284313293","unitOfMeasure":"","unitID":"","identifier":"PO0005"}],"sequence":"34","name":"Modelname","associatedKeyword":"-","usage":"Descriptive","uniqueID":"7741124012283334353","displayable":false,"comparable":false,"identifier":"MODELNAME","searchable":true,"facetable":false},{"storeDisplay":false,"values":[{"sequence":"2","value":"False","uniqueID":"7741124012283335865","unitOfMeasure":"","unitID":"","identifier":"False"}],"sequence":"35","name":"Exclusive","associatedKeyword":"-","usage":"Descriptive","uniqueID":"7741124012283334336","displayable":false,"comparable":false,"identifier":"EXCLUSIVE","searchable":false,"facetable":false},{"storeDisplay":false,"values":[{"image1":"https:\/\/s7d3.scene7.com\/is\/image\/Persol\/terra-di-siena-2?scl=1&fmt=png-alpha","sequence":"5","value":"Terra Di Siena","uniqueID":"7741124012283335937","image1path":"https:\/\/s7d3.scene7.com\/is\/image\/Persol\/terra-di-siena-2?scl=1&fmt=png-alpha","unitOfMeasure":"","unitID":"","identifier":"Terra Di Siena"}],"sequence":"36","name":"Front color","associatedKeyword":"-","usage":"Descriptive","uniqueID":"7741124012283334340","displayable":false,"comparable":false,"identifier":"FRONT_COLOR_FACET","searchable":true,"facetable":true},{"storeDisplay":false,"values":[{"sequence":"3","value":"Square","uniqueID":"7741124012283336915","unitOfMeasure":"","unitID":"","identifier":"Square"}],"sequence":"38","name":"Frame shape","associatedKeyword":"-","usage":"Descriptive","uniqueID":"7741124012283334368","displayable":false,"comparable":false,"identifier":"FRAME_SHAPE_FACET","searchable":true,"facetable":true},{"storeDisplay":false,"values":[{"sequence":"2","value":"False","uniqueID":"7741124012283336078","unitOfMeasure":"","unitID":"","identifier":"False"}],"sequence":"39","name":"Polarized","associatedKeyword":"-","usage":"Descriptive","uniqueID":"7741124012283334352","displayable":false,"comparable":false,"identifier":"POLARIZED","searchable":false,"facetable":false},{"storeDisplay":false,"values":[{"sequence":"1","value":"False","uniqueID":"7741124012283336077","unitOfMeasure":"","unitID":"","identifier":"False"}],"sequence":"40","name":"Onsale","associatedKeyword":"-","usage":"Descriptive","uniqueID":"7741124012283334351","displayable":false,"comparable":false,"identifier":"ONSALE","searchable":false,"facetable":false},{"storeDisplay":false,"values":[{"sequence":"2","value":"True","uniqueID":"7741124012283355351","unitOfMeasure":"","unitID":"","identifier":"True"}],"sequence":"43","name":"Vintage Celebration","associatedKeyword":"-","usage":"Descriptive","uniqueID":"7741124012283348837","displayable":false,"comparable":false,"identifier":"VINTAGE CELEBRATION","searchable":false,"facetable":false},{"storeDisplay":false,"values":[{"sequence":"2","value":"Sun","uniqueID":"7741124012283333656","unitOfMeasure":"","unitID":"","identifier":"Sun"}],"sequence":"44","name":"Producttype","associatedKeyword":"-","usage":"Descriptive","uniqueID":"7741124012283333376","displayable":false,"comparable":false,"identifier":"PRODUCTTYPE","searchable":true,"facetable":false},{"storeDisplay":false,"values":[{"sequence":"1","value":"False","uniqueID":"7741124012283336902","unitOfMeasure":"","unitID":"","identifier":"False"}],"sequence":"45","name":"Foldable","associatedKeyword":"-","usage":"Descriptive","uniqueID":"7741124012283334366","displayable":false,"comparable":false,"identifier":"FOLDABLE","searchable":false,"facetable":false},{"storeDisplay":false,"values":[{"sequence":"1","value":"False","uniqueID":"7741124012284859336","unitOfMeasure":"","unitID":"","identifier":"False"}],"sequence":"46","name":"AVANT_PREMIERE","associatedKeyword":"-","usage":"Descriptive","uniqueID":"7741124012284251835","displayable":false,"comparable":false,"identifier":"AVANT_PREMIERE","searchable":false,"facetable":false},{"storeDisplay":false,"values":[{"image1":"https:\/\/s7d3.scene7.com\/is\/image\/Persol\/terra-di-siena-2?scl=1amp;fmt=png-alpha","sequence":"1","value":"Terra Di Siena","uniqueID":"7741124012283335978","image1path":"https:\/\/s7d3.scene7.com\/is\/image\/Persol\/terra-di-siena-2?scl=1amp;fmt=png-alpha","unitOfMeasure":"","unitID":"","identifier":"Terra Di Siena"}],"sequence":"47","name":"Front inner color","associatedKeyword":"-","usage":"Descriptive","uniqueID":"7741124012283334341","displayable":false,"comparable":false,"identifier":"FRONT_INNER_COLOR","searchable":false,"facetable":false},{"storeDisplay":false,"values":[{"image1":"https:\/\/s7d3.scene7.com\/is\/image\/Persol\/terra-di-siena-2?scl=1amp;fmt=png-alpha","sequence":"1","value":"Terra Di Siena","uniqueID":"7741124012283336294","image1path":"https:\/\/s7d3.scene7.com\/is\/image\/Persol\/terra-di-siena-2?scl=1amp;fmt=png-alpha","unitOfMeasure":"","unitID":"","identifier":"Terra Di Siena"}],"sequence":"48","name":"Temple inner color","associatedKeyword":"-","usage":"Descriptive","uniqueID":"7741124012283334356","displayable":false,"comparable":false,"identifier":"TEMPLE_INNER_COLOR","searchable":false,"facetable":false},{"storeDisplay":false,"values":[{"image1":"https:\/\/s7d3.scene7.com\/is\/image\/Persol\/terra-di-siena-2?scl=1amp;fmt=png-alpha","sequence":"5","value":"Terra Di Siena","uniqueID":"7741124012283336253","image1path":"https:\/\/s7d3.scene7.com\/is\/image\/Persol\/terra-di-siena-2?scl=1amp;fmt=png-alpha","unitOfMeasure":"","unitID":"","identifier":"Terra Di Siena"}],"sequence":"49","name":"Temple color facet","associatedKeyword":"-","usage":"Descriptive","uniqueID":"7741124012283334355","displayable":false,"comparable":false,"identifier":"TEMPLE_COLOR_FACET","searchable":true,"facetable":false},{"storeDisplay":false,"values":[{"sequence":"1","value":"True","uniqueID":"7741124012284859902","unitOfMeasure":"","unitID":"","identifier":"True"}],"sequence":"50","name":"MEFLECTO","associatedKeyword":"-","usage":"Descriptive","uniqueID":"7741124012284251847","displayable":false,"comparable":false,"identifier":"MEFLECTO","searchable":false,"facetable":false},{"storeDisplay":false,"values":[{"sequence":"1","value":"Global","uniqueID":"7741124012283336916","unitOfMeasure":"","unitID":"","identifier":"Global"}],"sequence":"51","name":"Geo fit","associatedKeyword":"-","usage":"Descriptive","uniqueID":"7741124012283334369","displayable":false,"comparable":false,"identifier":"GEO_FIT","searchable":false,"facetable":false}],"storeID":"715838084","numberOfSKUs":1,"partNumber":"0PO0005__96_53"}],"fullImage":"https:\/\/s7d3.scene7.com\/is\/image\/Persol\/8056597058339_noshad_qt?scl=1","resourceId":"http:\/\/lux-prdlv-src01.lux-ecomm.net:3737\/search\/resources\/store\/715838404\/productview\/byId\/3074457345616741230","price":[{"description":"L","value":"","usage":"Display","currency":"FIM"},{"description":"O","value":"","usage":"Offer","currency":"FIM"}],"thumbnail":"https:\/\/s7d3.scene7.com\/is\/image\/Persol\/8056597058339_noshad_fr?scl=4","shortDescription":"PO0005","mfPartNumber_ntk":"0PO0005","name":"PO0005","longDescription":"PO0005","buyable":"true","storeID":"715838084","attributes":[{"storeDisplay":false,"values":[{"sequence":"4","value":"PO0005","uniqueID":"7741124012284313330","unitOfMeasure":"","unitID":"","identifier":"PO0005"}],"sequence":"0","name":"Model code","associatedKeyword":"-","usage":"Descriptive","uniqueID":"7741124012283334373","displayable":true,"comparable":false,"identifier":"MODEL_CODE_DISPLAY","searchable":false,"facetable":false},{"storeDisplay":false,"values":[{"sequence":"1","value":"Standard","uniqueID":"7741124012283336345","unitOfMeasure":"","unitID":"","identifier":"Standard"}],"sequence":"1","name":"Size","associatedKeyword":"-","usage":"Defining","uniqueID":"7741124012283334359","displayable":true,"comparable":false,"identifier":"MODEL_SIZE_DISPLAY","searchable":false,"facetable":false},{"storeDisplay":false,"values":[{"sequence":"2","value":"201902","uniqueID":"7741124012284255842","unitOfMeasure":"","unitID":"","identifier":"201902"}],"sequence":"1","name":"Collection","associatedKeyword":"-","usage":"Descriptive","uniqueID":"7741124012283334335","displayable":false,"comparable":false,"identifier":"COLLECTION","searchable":true,"facetable":false},{"storeDisplay":false,"values":[{"image1":"https:\/\/s7d3.scene7.com\/is\/image\/Persol\/terra-di-siena-2?scl=1amp;fmt=png-alpha","sequence":"1","value":"Terra Di Siena","uniqueID":"7741124012283335894","image1path":"https:\/\/s7d3.scene7.com\/is\/image\/Persol\/terra-di-siena-2?scl=1amp;fmt=png-alpha","unitOfMeasure":"","unitID":"","identifier":"Terra Di Siena"}],"sequence":"1","name":"Front color","associatedKeyword":"-","usage":"Descriptive","uniqueID":"7741124012283334339","displayable":true,"comparable":false,"identifier":"FRONT_COLOR","searchable":false,"facetable":false},{"storeDisplay":false,"values":[{"sequence":"1","value":"Trending Now","uniqueID":"7741124012284582837","unitOfMeasure":"","unitID":"","identifier":"Trending Now"}],"sequence":"2","name":"Primary family","associatedKeyword":"-","usage":"Descriptive","uniqueID":"7741124012284026836","displayable":false,"comparable":false,"identifier":"PRIMARY_FAMILY","searchable":false,"facetable":false},{"storeDisplay":false,"values":[{"sequence":"5","value":"Violet","uniqueID":"7741124012283601695","unitOfMeasure":"","unitID":"","identifier":"Violet"}],"sequence":"2","name":"Lens color","associatedKeyword":"-","usage":"Descriptive","uniqueID":"7741124012283334346","displayable":true,"comparable":false,"identifier":"LENS_COLOR","searchable":false,"facetable":false},{"storeDisplay":false,"values":[{"sequence":"2","value":"Square","uniqueID":"7741124012283336911","unitOfMeasure":"","unitID":"","identifier":"Square"}],"sequence":"2","name":"Frame shape","associatedKeyword":"-","usage":"Descriptive","uniqueID":"7741124012283334367","displayable":false,"comparable":false,"identifier":"FRAME_SHAPE","searchable":false,"facetable":false},{"storeDisplay":false,"values":[{"sequence":"1","value":"Born to give full protection from the sun at every angle, the 4 Lenses model was created for the first time ever by Persol in 1935. Once called \"glacier glasses\", as it guaranteed maximum protection from the sun\u2019s reflection on snow, it returns more iconic than ever.","uniqueID":"7741124012284859958","unitOfMeasure":"","unitID":"","identifier":"Born to give full protection from the sun at every angle, the 4 Lenses model was created for the first time ever by Persol in 1935. Once called \"glacier glasses\", as it guaranteed maximum protection from the sun\u2019s reflection on snow, it returns more ic"}],"sequence":"3","name":"DESIGN DNA","associatedKeyword":"-","usage":"Descriptive","uniqueID":"7741124012284251850","displayable":false,"comparable":false,"identifier":"DESIGN DNA","searchable":false,"facetable":false},{"storeDisplay":false,"values":[{"sequence":"3","value":"Classic","uniqueID":"7741124012283336894","unitOfMeasure":"","unitID":"","identifier":"Classic"}],"sequence":"3","name":"Lens treatment","associatedKeyword":"-","usage":"Descriptive","uniqueID":"7741124012283334364","displayable":false,"comparable":false,"identifier":"LENS_TREATMENT","searchable":false,"facetable":false},{"storeDisplay":false,"values":[{"sequence":"2","value":"Crystal","uniqueID":"7741124012284859369","unitOfMeasure":"","unitID":"","identifier":"Crystal"}],"sequence":"4","name":"LENS MATERIAL FACET","associatedKeyword":"-","usage":"Descriptive","uniqueID":"7741124012284251849","displayable":false,"comparable":false,"identifier":"LENS_MATERIAL_FACET","searchable":false,"facetable":false},{"storeDisplay":false,"values":[{"sequence":"2","value":"Acetate","uniqueID":"7741124012283335870","unitOfMeasure":"","unitID":"","identifier":"Acetate"}],"sequence":"5","name":"Frame Material","associatedKeyword":"-","usage":"Descriptive","uniqueID":"7741124012283334338","displayable":false,"comparable":false,"identifier":"FRAMEMATERIAL_FACET","searchable":true,"facetable":true},{"storeDisplay":false,"values":[{"sequence":"2","value":"Crystal","uniqueID":"7741124012284859368","unitOfMeasure":"","unitID":"","identifier":"Crystal"}],"sequence":"5","name":"LENS MATERIAL","associatedKeyword":"-","usage":"Descriptive","uniqueID":"7741124012284251848","displayable":true,"comparable":false,"identifier":"LENS_MATERIAL","searchable":false,"facetable":false},{"storeDisplay":false,"values":[{"sequence":"1","value":"False","uniqueID":"7741124012283336065","unitOfMeasure":"","unitID":"","identifier":"False"}],"sequence":"6","name":"Limited edition","associatedKeyword":"-","usage":"Descriptive","uniqueID":"7741124012283334347","displayable":false,"comparable":false,"identifier":"LIMITED_EDITION","searchable":false,"facetable":false},{"storeDisplay":false,"values":[{"sequence":"2","value":"Acetate","uniqueID":"7741124012283335867","unitOfMeasure":"","unitID":"","identifier":"Acetate"}],"sequence":"6","name":"Frame Material","associatedKeyword":"-","usage":"Descriptive","uniqueID":"7741124012283334337","displayable":true,"comparable":false,"identifier":"FRAMEMATERIAL","searchable":false,"facetable":false},{"storeDisplay":false,"values":[{"image1":"https:\/\/s7d3.scene7.com\/is\/image\/Persol\/terra-di-siena-2?scl=1amp;fmt=png-alpha","sequence":"1","value":"Terra Di Siena","uniqueID":"7741124012283336221","image1path":"https:\/\/s7d3.scene7.com\/is\/image\/Persol\/terra-di-siena-2?scl=1amp;fmt=png-alpha","unitOfMeasure":"","unitID":"","identifier":"Terra Di Siena"}],"sequence":"7","name":"Temple color","associatedKeyword":"-","usage":"Descriptive","uniqueID":"7741124012283334354","displayable":false,"comparable":false,"identifier":"TEMPLE_COLOR","searchable":false,"facetable":false},{"storeDisplay":false,"values":[{"sequence":"1","value":"Not Adjustable","uniqueID":"7741124012284859354","unitOfMeasure":"","unitID":"","identifier":"Not Adjustable"}],"sequence":"7","name":"NOSEPADS","associatedKeyword":"-","usage":"Descriptive","uniqueID":"7741124012284251840","displayable":true,"comparable":false,"identifier":"NOSEPADS","searchable":false,"facetable":false},{"storeDisplay":false,"values":[{"sequence":"1","value":"1","uniqueID":"7741124012284859356","unitOfMeasure":"","unitID":"","identifier":"1"}],"sequence":"8","name":"PLACEHOLDER_SIZE","associatedKeyword":"-","usage":"Descriptive","uniqueID":"7741124012284251841","displayable":true,"comparable":false,"identifier":"PLACEHOLDER_SIZE","searchable":false,"facetable":false},{"storeDisplay":false,"values":[{"sequence":"2","value":"Wide","uniqueID":"7741124012284859364","unitOfMeasure":"","unitID":"","identifier":"Wide"}],"sequence":"9","name":"FRAME FIT","associatedKeyword":"-","usage":"Descriptive","uniqueID":"7741124012284251846","displayable":true,"comparable":false,"identifier":"FRAME FIT","searchable":false,"facetable":false},{"storeDisplay":false,"values":[{"sequence":"2","value":"Polished","uniqueID":"7741124012284859363","unitOfMeasure":"","unitID":"","identifier":"Polished"}],"sequence":"9","name":"FINISHING","associatedKeyword":"-","usage":"Descriptive","uniqueID":"7741124012284251844","displayable":false,"comparable":false,"identifier":"FINISHING","searchable":false,"facetable":false},{"storeDisplay":false,"values":[{"sequence":"3","value":"Saddle Bridge","uniqueID":"7741124012284859337","unitOfMeasure":"","unitID":"","identifier":"Saddle Bridge"}],"sequence":"10","name":"BRIDGE TYPE","associatedKeyword":"-","usage":"Descriptive","uniqueID":"7741124012284251836","displayable":false,"comparable":false,"identifier":"BRIDGE TYPE","searchable":false,"facetable":false},{"storeDisplay":false,"values":[{"sequence":"1","value":"Italy","uniqueID":"7741124012283336067","unitOfMeasure":"","unitID":"","identifier":"Italy"}],"sequence":"10","name":"Madein","associatedKeyword":"-","usage":"Descriptive","uniqueID":"7741124012283334348","displayable":true,"comparable":false,"identifier":"MADEIN","searchable":false,"facetable":false},{"storeDisplay":false,"values":[{"sequence":"3","value":"Supreme 5","uniqueID":"7741124012284313340","unitOfMeasure":"","unitID":"","identifier":"Supreme 5"}],"sequence":"10","name":"Arrow","associatedKeyword":"-","usage":"Descriptive","uniqueID":"7741124012283348835","displayable":false,"comparable":false,"identifier":"ARROW","searchable":false,"facetable":false},{"storeDisplay":false,"values":[{"sequence":"2","value":"Supreme Acetate","uniqueID":"7741124012283376860","unitOfMeasure":"","unitID":"","identifier":"Supreme Acetate"}],"sequence":"11","name":"Temple Logo","associatedKeyword":"-","usage":"Descriptive","uniqueID":"7741124012283379335","displayable":false,"comparable":false,"identifier":"TEMPLE LOGO","searchable":false,"facetable":false},{"storeDisplay":false,"values":[{"sequence":"1","value":"Full Rim","uniqueID":"7741124012283360863","unitOfMeasure":"","unitID":"","identifier":"Full Rim"}],"sequence":"11","name":"Frame Type","associatedKeyword":"-","usage":"Descriptive","uniqueID":"7741124012283334370","displayable":false,"comparable":false,"identifier":"FRAMETYPE","searchable":false,"facetable":false},{"storeDisplay":false,"values":[{"sequence":"1","value":"Round Face;oval Face","uniqueID":"7741124012284860410","unitOfMeasure":"","unitID":"","identifier":"Round Face;oval Face"}],"sequence":"12","name":"SUGGESTED FACE SHAPE","associatedKeyword":"-","usage":"Descriptive","uniqueID":"7741124012284251843","displayable":false,"comparable":false,"identifier":"SUGGESTED_FACE_SHAPE","searchable":false,"facetable":false},{"storeDisplay":false,"values":[{"sequence":"2","value":"3F","uniqueID":"7741124012283601753","unitOfMeasure":"","unitID":"","identifier":"3F"}],"sequence":"13","name":"Notainformativa","associatedKeyword":"-","usage":"Descriptive","uniqueID":"7741124012283334350","displayable":false,"comparable":false,"identifier":"NOTAINFORMATIVA","searchable":false,"facetable":false},{"storeDisplay":false,"values":[{"sequence":"5","value":"96\/4r","uniqueID":"7741124012284861724","unitOfMeasure":"","unitID":"","identifier":"96\/4r"}],"sequence":"14","name":"COLOR CODE","associatedKeyword":"-","usage":"Descriptive","uniqueID":"7741124012284253335","displayable":false,"comparable":false,"identifier":"COLOR CODE","searchable":false,"facetable":false},{"storeDisplay":false,"values":[{"sequence":"2","value":"4 Lenses","uniqueID":"7741124012284146853","unitOfMeasure":"","unitID":"","identifier":"4 Lenses"}],"sequence":"16","name":"Model family","associatedKeyword":"-","usage":"Descriptive","uniqueID":"7741124012283333374","displayable":false,"comparable":false,"identifier":"MODEL_FAMILY","searchable":true,"facetable":true},{"storeDisplay":false,"values":[{"image1":"https:\/\/s7d3.scene7.com\/is\/image\/Persol\/terra-di-siena-2?scl=1amp;fmt=png-alpha","sequence":"5","value":"Terra Di Siena","uniqueID":"7741124012283336326","image1path":"https:\/\/s7d3.scene7.com\/is\/image\/Persol\/terra-di-siena-2?scl=1amp;fmt=png-alpha","unitOfMeasure":"","unitID":"","identifier":"Terra Di Siena"}],"sequence":"17","name":"Temple inner color facet","associatedKeyword":"-","usage":"Descriptive","uniqueID":"7741124012283334357","displayable":false,"comparable":false,"identifier":"TEMPLE_INNER_COLOR_FACET","searchable":true,"facetable":false},{"storeDisplay":false,"values":[{"sequence":"1","value":"False","uniqueID":"7741124012283337030","unitOfMeasure":"","unitID":"","identifier":"False"}],"sequence":"19","name":"Noreturn","associatedKeyword":"-","usage":"Descriptive","uniqueID":"7741124012283334374","displayable":false,"comparable":false,"identifier":"NORETURN","searchable":false,"facetable":false},{"storeDisplay":false,"values":[{"sequence":"1","value":"True","uniqueID":"7741124012284859353","unitOfMeasure":"","unitID":"","identifier":"True"}],"sequence":"21","name":"ENGRAVINGELIGIBLE","associatedKeyword":"-","usage":"Descriptive","uniqueID":"7741124012284251838","displayable":false,"comparable":false,"identifier":"ENGRAVINGELIGIBLE","searchable":false,"facetable":false},{"storeDisplay":false,"values":[{"sequence":"1","value":"Icona","uniqueID":"7741124012283336922","unitOfMeasure":"","unitID":"","identifier":"Icona"}],"sequence":"22","name":"Range","associatedKeyword":"-","usage":"Descriptive","uniqueID":"7741124012283334371","displayable":false,"comparable":false,"identifier":"RANGE","searchable":false,"facetable":false},{"storeDisplay":false,"values":[{"image1":"https:\/\/s7d3.scene7.com\/is\/image\/Persol\/violet-4?scl=1&fmt=png-alpha","sequence":"3","value":"Violet","uniqueID":"7741124012283601694","image1path":"https:\/\/s7d3.scene7.com\/is\/image\/Persol\/violet-4?scl=1&fmt=png-alpha","unitOfMeasure":"","unitID":"","identifier":"Violet"}],"sequence":"23","name":"Lens color","associatedKeyword":"-","usage":"Descriptive","uniqueID":"7741124012283334345","displayable":false,"comparable":false,"identifier":"LENS_COLOR_FACET","searchable":true,"facetable":true},{"storeDisplay":false,"values":[{"sequence":"1","value":"False","uniqueID":"7741124012283336068","unitOfMeasure":"","unitID":"","identifier":"False"}],"sequence":"24","name":"Newreleases","associatedKeyword":"-","usage":"Descriptive","uniqueID":"7741124012283334349","displayable":false,"comparable":false,"identifier":"NEWRELEASES","searchable":true,"facetable":false},{"storeDisplay":false,"values":[{"sequence":"2","value":"0804c","uniqueID":"7741124012283601688","unitOfMeasure":"","unitID":"","identifier":"0804c"}],"sequence":"26","name":"Clen","associatedKeyword":"-","usage":"Descriptive","uniqueID":"7741124012283334344","displayable":false,"comparable":false,"identifier":"CLEN","searchable":false,"facetable":false},{"storeDisplay":false,"values":[{"sequence":"1","value":"109500","uniqueID":"7741124012284611016","unitOfMeasure":"","unitID":"","identifier":"109500"}],"sequence":"28","name":"Sequence","associatedKeyword":"-","usage":"Descriptive","uniqueID":"7741124012283593337","displayable":false,"comparable":false,"identifier":"SEQUENCE","searchable":true,"facetable":false},{"storeDisplay":false,"values":[{"sequence":"2","value":"Male","uniqueID":"7741124012283376840","unitOfMeasure":"","unitID":"","identifier":"Male"}],"sequence":"29","name":"Gender","associatedKeyword":"-","usage":"Descriptive","uniqueID":"7741124012283334343","displayable":false,"comparable":false,"identifier":"GENDER","searchable":false,"facetable":false},{"storeDisplay":false,"values":[{"sequence":"2","value":"False","uniqueID":"7741124012284860407","unitOfMeasure":"","unitID":"","identifier":"False"}],"sequence":"30","name":"Flex","associatedKeyword":"-","usage":"Descriptive","uniqueID":"7741124012283364835","displayable":false,"comparable":false,"identifier":"FLEX","searchable":false,"facetable":false},{"storeDisplay":false,"values":[{"sequence":"2","value":"False","uniqueID":"7741124012284582835","unitOfMeasure":"","unitID":"","identifier":"False"}],"sequence":"31","name":"Best Sellers","associatedKeyword":"-","usage":"Descriptive","uniqueID":"7741124012284026835","displayable":false,"comparable":false,"identifier":"BESTSELLERS","searchable":false,"facetable":false},{"storeDisplay":false,"values":[{"image1":"https:\/\/s7d3.scene7.com\/is\/image\/Persol\/terra-di-siena-2?scl=1amp;fmt=png-alpha","sequence":"5","value":"Terra Di Siena","uniqueID":"7741124012283336011","image1path":"https:\/\/s7d3.scene7.com\/is\/image\/Persol\/terra-di-siena-2?scl=1amp;fmt=png-alpha","unitOfMeasure":"","unitID":"","identifier":"Terra Di Siena"}],"sequence":"32","name":"Front inner color facet","associatedKeyword":"-","usage":"Descriptive","uniqueID":"7741124012283334342","displayable":false,"comparable":false,"identifier":"FRONT_INNER_COLOR_FACET","searchable":true,"facetable":false},{"storeDisplay":false,"values":[{"sequence":"5","value":"PO0005","uniqueID":"7741124012284313293","unitOfMeasure":"","unitID":"","identifier":"PO0005"}],"sequence":"33","name":"Modelname","associatedKeyword":"-","usage":"Descriptive","uniqueID":"7741124012283334353","displayable":false,"comparable":false,"identifier":"MODELNAME","searchable":true,"facetable":false},{"storeDisplay":false,"values":[{"sequence":"2","value":"False","uniqueID":"7741124012283335865","unitOfMeasure":"","unitID":"","identifier":"False"}],"sequence":"34","name":"Exclusive","associatedKeyword":"-","usage":"Descriptive","uniqueID":"7741124012283334336","displayable":false,"comparable":false,"identifier":"EXCLUSIVE","searchable":false,"facetable":false},{"storeDisplay":false,"values":[{"image1":"https:\/\/s7d3.scene7.com\/is\/image\/Persol\/terra-di-siena-2?scl=1&fmt=png-alpha","sequence":"5","value":"Terra Di Siena","uniqueID":"7741124012283335937","image1path":"https:\/\/s7d3.scene7.com\/is\/image\/Persol\/terra-di-siena-2?scl=1&fmt=png-alpha","unitOfMeasure":"","unitID":"","identifier":"Terra Di Siena"}],"sequence":"35","name":"Front color","associatedKeyword":"-","usage":"Descriptive","uniqueID":"7741124012283334340","displayable":false,"comparable":false,"identifier":"FRONT_COLOR_FACET","searchable":true,"facetable":true},{"storeDisplay":false,"values":[{"sequence":"3","value":"Square","uniqueID":"7741124012283336915","unitOfMeasure":"","unitID":"","identifier":"Square"}],"sequence":"37","name":"Frame shape","associatedKeyword":"-","usage":"Descriptive","uniqueID":"7741124012283334368","displayable":false,"comparable":false,"identifier":"FRAME_SHAPE_FACET","searchable":true,"facetable":true},{"storeDisplay":false,"values":[{"sequence":"2","value":"False","uniqueID":"7741124012283336078","unitOfMeasure":"","unitID":"","identifier":"False"}],"sequence":"38","name":"Polarized","associatedKeyword":"-","usage":"Descriptive","uniqueID":"7741124012283334352","displayable":false,"comparable":false,"identifier":"POLARIZED","searchable":false,"facetable":false},{"storeDisplay":false,"values":[{"sequence":"1","value":"False","uniqueID":"7741124012283336077","unitOfMeasure":"","unitID":"","identifier":"False"}],"sequence":"39","name":"Onsale","associatedKeyword":"-","usage":"Descriptive","uniqueID":"7741124012283334351","displayable":false,"comparable":false,"identifier":"ONSALE","searchable":false,"facetable":false},{"storeDisplay":false,"values":[{"sequence":"2","value":"True","uniqueID":"7741124012283355351","unitOfMeasure":"","unitID":"","identifier":"True"}],"sequence":"42","name":"Vintage Celebration","associatedKeyword":"-","usage":"Descriptive","uniqueID":"7741124012283348837","displayable":false,"comparable":false,"identifier":"VINTAGE CELEBRATION","searchable":false,"facetable":false},{"storeDisplay":false,"values":[{"sequence":"2","value":"Sun","uniqueID":"7741124012283333656","unitOfMeasure":"","unitID":"","identifier":"Sun"}],"sequence":"43","name":"Producttype","associatedKeyword":"-","usage":"Descriptive","uniqueID":"7741124012283333376","displayable":false,"comparable":false,"identifier":"PRODUCTTYPE","searchable":true,"facetable":false},{"storeDisplay":false,"values":[{"sequence":"1","value":"False","uniqueID":"7741124012283336902","unitOfMeasure":"","unitID":"","identifier":"False"}],"sequence":"44","name":"Foldable","associatedKeyword":"-","usage":"Descriptive","uniqueID":"7741124012283334366","displayable":false,"comparable":false,"identifier":"FOLDABLE","searchable":false,"facetable":false},{"storeDisplay":false,"values":[{"sequence":"1","value":"False","uniqueID":"7741124012284859336","unitOfMeasure":"","unitID":"","identifier":"False"}],"sequence":"45","name":"AVANT_PREMIERE","associatedKeyword":"-","usage":"Descriptive","uniqueID":"7741124012284251835","displayable":false,"comparable":false,"identifier":"AVANT_PREMIERE","searchable":false,"facetable":false},{"storeDisplay":false,"values":[{"image1":"https:\/\/s7d3.scene7.com\/is\/image\/Persol\/terra-di-siena-2?scl=1amp;fmt=png-alpha","sequence":"1","value":"Terra Di Siena","uniqueID":"7741124012283335978","image1path":"https:\/\/s7d3.scene7.com\/is\/image\/Persol\/terra-di-siena-2?scl=1amp;fmt=png-alpha","unitOfMeasure":"","unitID":"","identifier":"Terra Di Siena"}],"sequence":"46","name":"Front inner color","associatedKeyword":"-","usage":"Descriptive","uniqueID":"7741124012283334341","displayable":false,"comparable":false,"identifier":"FRONT_INNER_COLOR","searchable":false,"facetable":false},{"storeDisplay":false,"values":[{"image1":"https:\/\/s7d3.scene7.com\/is\/image\/Persol\/terra-di-siena-2?scl=1amp;fmt=png-alpha","sequence":"1","value":"Terra Di Siena","uniqueID":"7741124012283336294","image1path":"https:\/\/s7d3.scene7.com\/is\/image\/Persol\/terra-di-siena-2?scl=1amp;fmt=png-alpha","unitOfMeasure":"","unitID":"","identifier":"Terra Di Siena"}],"sequence":"47","name":"Temple inner color","associatedKeyword":"-","usage":"Descriptive","uniqueID":"7741124012283334356","displayable":false,"comparable":false,"identifier":"TEMPLE_INNER_COLOR","searchable":false,"facetable":false},{"storeDisplay":false,"values":[{"image1":"https:\/\/s7d3.scene7.com\/is\/image\/Persol\/terra-di-siena-2?scl=1amp;fmt=png-alpha","sequence":"5","value":"Terra Di Siena","uniqueID":"7741124012283336253","image1path":"https:\/\/s7d3.scene7.com\/is\/image\/Persol\/terra-di-siena-2?scl=1amp;fmt=png-alpha","unitOfMeasure":"","unitID":"","identifier":"Terra Di Siena"}],"sequence":"48","name":"Temple color facet","associatedKeyword":"-","usage":"Descriptive","uniqueID":"7741124012283334355","displayable":false,"comparable":false,"identifier":"TEMPLE_COLOR_FACET","searchable":true,"facetable":false},{"storeDisplay":false,"values":[{"sequence":"1","value":"True","uniqueID":"7741124012284859902","unitOfMeasure":"","unitID":"","identifier":"True"}],"sequence":"49","name":"MEFLECTO","associatedKeyword":"-","usage":"Descriptive","uniqueID":"7741124012284251847","displayable":false,"comparable":false,"identifier":"MEFLECTO","searchable":false,"facetable":false},{"storeDisplay":false,"values":[{"sequence":"1","value":"Global","uniqueID":"7741124012283336916","unitOfMeasure":"","unitID":"","identifier":"Global"}],"sequence":"50","name":"Geo fit","associatedKeyword":"-","usage":"Descriptive","uniqueID":"7741124012283334369","displayable":false,"comparable":false,"identifier":"GEO_FIT","searchable":false,"facetable":false}],"numberOfSKUs":1,"partNumber":"0PO0005__96_4R"}
Born to give full protection from the sun at every angle, the 4 Lenses model was created for the first time ever by Persol in 1935. Once called "glacier glasses", as it guaranteed maximum protection from the sun's reflection on snow, it returns more iconic than ever.
Model code:

PO0005

Front color:

Terra Di Siena

Lens color:

Violet

LENS MATERIAL:

Crystal

Frame Material:

Acetate

NOSEPADS:

Not Adjustable

Measurements

:

FRAME FIT:

Wide

Madein:

Italy
Lenses
From standard to polarized, the selection of crystal sun lenses represent quality and excellence, made from the most precious optical materials and used to guarantee the best protection and visual clarity.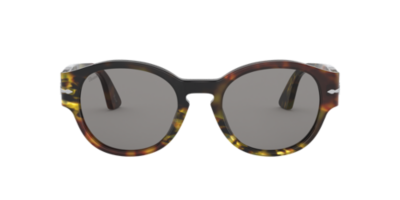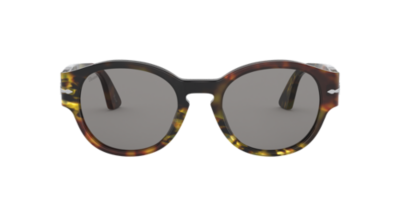 Acetates
Acetate from​ cotton and powdery pigments blend to form​ variations that can only be found in Persol glasses, unique for each frame. Made by hand with the highest quality materials, all these glasses are a natural work of art.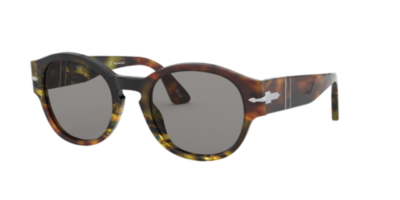 Arrow
Persol's founder Giuseppe Ratti recognised the need to make his products iconic, choosing the sword of ancient warriors as an inspiration for the Arrow symbol, the unquestioned emblem of the Brand. This Arrow is what makes every Persol unmatchable.
Meflecto
Patented in the '30s, the Meflecto is the first flexible stem system designed for maximum comfort by eliminating pressure on the head from glasses. This system allows glasses to adapt to any face shape and still today represents a technologically unsurpassed solution.