PO3264S
Trasparent Grey / Light Pink
Other
{"hasSingleSKU":true,"catalogEntryTypeCode":"ProductBean","parentCatalogGroupID":["3074457345616676668_3074457345616676668","3074457345616681818_3074457345616696200","3074457345616681818_3074457345616700671","3074457345616681818_3074457345616714671","3074457345616681818_3074457345616714672","3074457345616681818_3074457345616718170","3074457345616681818_3074457345616718173","3074457345616681818_3074457345616718180","3074457345616681818_3074457345616718181","3074457345616681818_3074457345616718185","3074457345616681818_3074457345616718188","3074457345616681818_3074457345616718189","3074457345616681818_3074457345616720168","3074457345616681818_3074457345616720172","3074457345616681818_3074457345616720173","3074457345616685418_3074457345616696200","3074457345616685418_3074457345616700671","3074457345616685418_3074457345616714671","3074457345616685418_3074457345616714672","3074457345616685418_3074457345616718170","3074457345616685418_3074457345616718173","3074457345616685418_3074457345616718180","3074457345616685418_3074457345616718181","3074457345616685418_3074457345616718185","3074457345616685418_3074457345616718188","3074457345616685418_3074457345616718189","3074457345616685418_3074457345616720168","3074457345616685418_3074457345616720172","3074457345616685418_3074457345616720173"],"singleSKUCatalogEntryID":"3074457345616835420","uniqueID":"3074457345616835263","sKUs":[{"hasSingleSKU":false,"catalogEntryTypeCode":"ItemBean","parentCatalogGroupID":["3074457345616676668_3074457345616676668","3074457345616681818_3074457345616696200","3074457345616681818_3074457345616700671","3074457345616681818_3074457345616714671","3074457345616681818_3074457345616714672","3074457345616681818_3074457345616718170","3074457345616681818_3074457345616718173","3074457345616681818_3074457345616718180","3074457345616681818_3074457345616718181","3074457345616681818_3074457345616718185","3074457345616681818_3074457345616718188","3074457345616681818_3074457345616718189","3074457345616681818_3074457345616720168","3074457345616681818_3074457345616720172","3074457345616681818_3074457345616720173","3074457345616685418_3074457345616696200","3074457345616685418_3074457345616700671","3074457345616685418_3074457345616714671","3074457345616685418_3074457345616714672","3074457345616685418_3074457345616718170","3074457345616685418_3074457345616718173","3074457345616685418_3074457345616718180","3074457345616685418_3074457345616718181","3074457345616685418_3074457345616718185","3074457345616685418_3074457345616718188","3074457345616685418_3074457345616718189","3074457345616685418_3074457345616720168","3074457345616685418_3074457345616720172","3074457345616685418_3074457345616720173"],"uniqueID":"3074457345616835420","resourceId":"http:\/\/lrhsbrdilbp01.luxgroup.net:3737\/search\/resources\/store\/715838404\/productview\/byId\/3074457345616835420","price":[{"description":"L","value":"","usage":"Display","currency":"FIM"},{"description":"O","value":"","usage":"Offer","currency":"FIM"}],"thumbnail":"https:\/\/assets.persol.com\/is\/image\/Persol\/8056597422871__001.png?impolicy=HB_parameters&sclw=0.25&sclh=0.25","mfPartNumber_ntk":"0PO3264S","manufacturer":"Persol","name":"PO3264S","buyable":"true","storeID":"715838084","attributes":[{"storeDisplay":false,"values":[{"sequence":"1","value":"0PO3264S--309-4Q","uniqueID":"7741124012287141535","unitOfMeasure":"","unitID":"","identifier":"0PO3264S--309-4Q"}],"sequence":"1","name":"Moco","usage":"Descriptive","uniqueID":"7741124012283407835","displayable":false,"comparable":false,"identifier":"MOCO","searchable":false,"facetable":false},{"storeDisplay":false,"values":[{"sequence":"0","value":"140","uniqueID":"7741124012286564551","unitOfMeasure":"","unitID":"","identifier":"140"}],"sequence":"10000","name":"TEMPLE_LENGTH","usage":"Descriptive","uniqueID":"7741124012285183381","displayable":false,"comparable":true,"identifier":"TEMPLE_LENGTH","searchable":true,"facetable":false},{"storeDisplay":false,"values":[{"sequence":"0","value":"5022","uniqueID":"7741124012286815544","unitOfMeasure":"","unitID":"","identifier":"5022"}],"sequence":"10000","name":"LENS_BRIDGE","usage":"Descriptive","uniqueID":"7741124012285183359","displayable":false,"comparable":true,"identifier":"LENS_BRIDGE","searchable":true,"facetable":false},{"storeDisplay":false,"values":[{"sequence":"0","value":"133","uniqueID":"7741124012286564703","unitOfMeasure":"","unitID":"","identifier":"133"}],"sequence":"10000","name":"HINGE_DISTANCE","usage":"Descriptive","uniqueID":"7741124012285183405","displayable":false,"comparable":true,"identifier":"HINGE_DISTANCE","searchable":true,"facetable":false},{"storeDisplay":false,"values":[{"sequence":"0","value":"22","uniqueID":"7741124012286564881","unitOfMeasure":"","unitID":"","identifier":"22"}],"sequence":"10000","name":"BRIDGE","usage":"Descriptive","uniqueID":"7741124012285183401","displayable":true,"comparable":true,"identifier":"BRIDGE","searchable":true,"facetable":false},{"storeDisplay":false,"values":[{"sequence":"0","value":"309\/4Q50","uniqueID":"7741124012286817218","unitOfMeasure":"","unitID":"","identifier":"309\/4Q50"}],"sequence":"10000","name":"GRID","usage":"Descriptive","uniqueID":"7741124012285183355","displayable":false,"comparable":true,"identifier":"GRID","searchable":true,"facetable":false},{"storeDisplay":false,"values":[{"sequence":"0","value":"PO3264S 309\/4Q 50-22","uniqueID":"7741124012287559211","unitOfMeasure":"","unitID":"","identifier":"PO3264S 309\/4Q 50-22"}],"sequence":"10000","name":"DISPLAYSKU","usage":"Descriptive","uniqueID":"7741124012285183340","displayable":false,"comparable":true,"identifier":"DISPLAYSKU","searchable":true,"facetable":false},{"storeDisplay":false,"values":[{"sequence":"0","value":"160","uniqueID":"7741124012286564532","unitOfMeasure":"","unitID":"","identifier":"160"}],"sequence":"10000","name":"GROSSWEIGHT","usage":"Descriptive","uniqueID":"7741124012285183356","displayable":false,"comparable":true,"identifier":"GROSSWEIGHT","searchable":true,"facetable":false},{"storeDisplay":false,"values":[{"sequence":"0","value":"26","uniqueID":"7741124012286867731","unitOfMeasure":"","unitID":"","identifier":"26"}],"sequence":"10000","name":"SEG_HEIGHT","usage":"Descriptive","uniqueID":"7741124012285183386","displayable":false,"comparable":true,"identifier":"SEG_HEIGHT","searchable":true,"facetable":false},{"storeDisplay":false,"values":[{"sequence":"0","value":"46.5","uniqueID":"7741124012286565858","unitOfMeasure":"","unitID":"","identifier":"46.5"}],"sequence":"10000","name":"LENSHEIGHT","usage":"Descriptive","uniqueID":"7741124012285183385","displayable":true,"comparable":true,"identifier":"LENSHEIGHT","searchable":true,"facetable":false},{"storeDisplay":false,"values":[{"sequence":"0","value":"L","uniqueID":"7741124012287684129","unitOfMeasure":"","unitID":"","identifier":"L"}],"sequence":"10000","name":"Size","usage":"Defining","uniqueID":"7741124012285183347","displayable":true,"comparable":true,"identifier":"MODEL_SIZE_DISPLAY","searchable":true,"facetable":false},{"storeDisplay":false,"values":[{"sequence":"0","value":"0po3264s 50 309\/4q","uniqueID":"7741124012287559205","unitOfMeasure":"","unitID":"","identifier":"0po3264s 50 309\/4q"}],"sequence":"10000","name":"SKU","usage":"Descriptive","uniqueID":"7741124012285183375","displayable":true,"comparable":true,"identifier":"SKU","searchable":true,"facetable":false},{"storeDisplay":false,"values":[{"sequence":"0","value":"50.2","uniqueID":"7741124012286817194","unitOfMeasure":"","unitID":"","identifier":"50.2"}],"sequence":"10000","name":"LENS_WIDTH","usage":"Descriptive","uniqueID":"7741124012285183392","displayable":false,"comparable":false,"identifier":"LENS_WIDTH","searchable":true,"facetable":false},{"storeDisplay":false,"values":[{"sequence":"0","value":"50","uniqueID":"7741124012286570308","unitOfMeasure":"","unitID":"","identifier":"50"}],"sequence":"10000","name":"MODEL_SIZE","usage":"Descriptive","uniqueID":"7741124012285183346","displayable":false,"comparable":true,"identifier":"MODEL_SIZE","searchable":true,"facetable":false}],"partNumber":"8056597422871"}],"merchandisingAssociations":[{"hasSingleSKU":true,"catalogEntryTypeCode":"ProductBean","associationType":"UPSELL","parentCatalogGroupID":["3074457345616676668_3074457345616722668","3074457345616681818_3074457345616718168","3074457345616681818_3074457345616721168","3074457345616681818_3074457345616721668","3074457345616685418_3074457345616718168","3074457345616685418_3074457345616721168","3074457345616685418_3074457345616721668"],"uniqueID":"3074457345616863168","singleSKUCatalogEntryID":"3074457345616863169","sKUs":[{"hasSingleSKU":false,"catalogEntryTypeCode":"ItemBean","parentCatalogGroupID":["3074457345616676668_3074457345616722668","3074457345616681818_3074457345616718168","3074457345616681818_3074457345616721168","3074457345616681818_3074457345616721668","3074457345616685418_3074457345616718168","3074457345616685418_3074457345616721168","3074457345616685418_3074457345616721668"],"uniqueID":"3074457345616863169","resourceId":"http:\/\/lrhsbrdilbp01.luxgroup.net:3737\/search\/resources\/store\/715838404\/productview\/byId\/3074457345616863169","price":[{"description":"L","value":"","usage":"Display","currency":"FIM"},{"description":"O","value":"","usage":"Offer","currency":"FIM"}],"thumbnail":"https:\/\/assets.persol.com\/extra\/image\/TargetOptical\/accessories\/8056597316644_shad_fr.jpg?impolicy=HB_parameters&sclw=0.25&sclh=0.25","mfPartNumber_ntk":"APO0001CK","manufacturer":"Persol","name":"Cleaning Kit","buyable":"true","storeID":"715838084","attributes":[{"storeDisplay":false,"values":[{"sequence":"1","value":"APO0001CK--000001","uniqueID":"7741124012287383445","unitOfMeasure":"","unitID":"","identifier":"APO0001CK--000001"}],"sequence":"1","name":"Moco","usage":"Descriptive","uniqueID":"7741124012283407835","displayable":false,"comparable":false,"identifier":"MOCO","searchable":false,"facetable":false},{"storeDisplay":false,"values":[{"sequence":"0","value":"APO0001CK 000001","uniqueID":"7741124012287378035","unitOfMeasure":"","unitID":"","identifier":"APO0001CK 000001"}],"sequence":"10000","name":"DISPLAYSKU","usage":"Descriptive","uniqueID":"7741124012285183340","displayable":false,"comparable":true,"identifier":"DISPLAYSKU","searchable":true,"facetable":false},{"storeDisplay":false,"values":[{"sequence":"0","value":"00000100","uniqueID":"7741124012287378034","unitOfMeasure":"","unitID":"","identifier":"00000100"}],"sequence":"10000","name":"GRID","usage":"Descriptive","uniqueID":"7741124012285183355","displayable":false,"comparable":true,"identifier":"GRID","searchable":true,"facetable":false},{"storeDisplay":false,"values":[{"sequence":"0","value":"Apo0001ck 00 000001","uniqueID":"7741124012287583622","unitOfMeasure":"","unitID":"","identifier":"Apo0001ck 00 000001"}],"sequence":"10000","name":"SKU","usage":"Descriptive","uniqueID":"7741124012285183375","displayable":true,"comparable":true,"identifier":"SKU","searchable":true,"facetable":false},{"storeDisplay":false,"values":[{"sequence":"0","value":"Standard","uniqueID":"7741124012286537435","unitOfMeasure":"","unitID":"","identifier":"Standard"}],"sequence":"10000","name":"Size","usage":"Defining","uniqueID":"7741124012285183347","displayable":true,"comparable":true,"identifier":"MODEL_SIZE_DISPLAY","searchable":true,"facetable":false}],"partNumber":"8056597316644"}],"resourceId":"http:\/\/lrhsbrdilbp01.luxgroup.net:3737\/search\/resources\/store\/715838404\/productview\/byId\/3074457345616863168","price":[{"description":"L","value":"","usage":"Display","currency":"FIM"},{"description":"O","value":"","usage":"Offer","currency":"FIM"}],"thumbnail":"https:\/\/assets.persol.com\/extra\/image\/TargetOptical\/accessories\/8056597316644_shad_fr.jpg?impolicy=HB_parameters&sclw=0.25&sclh=0.25","manufacturer":"Persol","name":"Cleaning Kit","buyable":"true","quantity":1,"attributes":[{"storeDisplay":false,"values":[{"sequence":"0","value":"APO0001CK","uniqueID":"7741124012287377527","unitOfMeasure":"","unitID":"","identifier":"APO0001CK"}],"sequence":"0","name":"Model code","associatedKeyword":"-","usage":"Descriptive","uniqueID":"7741124012285183387","displayable":true,"comparable":true,"identifier":"MODEL_CODE_DISPLAY","searchable":true,"facetable":false},{"storeDisplay":false,"values":[{"sequence":"0","value":"Black","uniqueID":"7741124012286537438","unitOfMeasure":"","unitID":"","identifier":"Black"}],"sequence":"1","name":"Front color","associatedKeyword":"-","usage":"Descriptive","uniqueID":"7741124012285183348","displayable":true,"comparable":true,"identifier":"FRONT_COLOR","searchable":true,"facetable":false},{"storeDisplay":false,"values":[{"sequence":"0","value":"Demo Lens","uniqueID":"7741124012286537794","unitOfMeasure":"","unitID":"","identifier":"Demo Lens"}],"sequence":"3","name":"LENS_TREATMENT","associatedKeyword":"-","usage":"Descriptive","uniqueID":"7741124012285183358","displayable":false,"comparable":true,"identifier":"LENS_TREATMENT","searchable":true,"facetable":false},{"storeDisplay":false,"values":[{"sequence":"0","value":"Polyamide","uniqueID":"7741124012286933850","unitOfMeasure":"","unitID":"","identifier":"Polyamide"}],"sequence":"5","name":"LENS MATERIAL","associatedKeyword":"-","usage":"Descriptive","uniqueID":"7741124012285183391","displayable":true,"comparable":false,"identifier":"LENS_MATERIAL","searchable":true,"facetable":false},{"storeDisplay":false,"values":[{"sequence":"0","value":"Eyewear Accessories","uniqueID":"7741124012287759127","unitOfMeasure":"","unitID":"","identifier":"Eyewear Accessories"}],"sequence":"10000","name":"PROD_HIERARCHY_1","associatedKeyword":"-","usage":"Descriptive","uniqueID":"7741124012285183396","displayable":false,"comparable":false,"identifier":"PROD_HIERARCHY_1","searchable":true,"facetable":false},{"storeDisplay":false,"values":[{"sequence":"0","value":"Cleaning Kits","uniqueID":"7741124012287809803","unitOfMeasure":"","unitID":"","identifier":"Cleaning Kits"}],"sequence":"10000","name":"PROD_HIERARCHY_2","associatedKeyword":"-","usage":"Descriptive","uniqueID":"7741124012285183397","displayable":false,"comparable":false,"identifier":"PROD_HIERARCHY_2","searchable":true,"facetable":false},{"storeDisplay":false,"values":[{"sequence":"0","value":"Cleaning Kits","uniqueID":"7741124012287809804","unitOfMeasure":"","unitID":"","identifier":"Cleaning Kits"}],"sequence":"10000","name":"PROD_HIERARCHY_3","associatedKeyword":"-","usage":"Descriptive","uniqueID":"7741124012285183398","displayable":false,"comparable":true,"identifier":"PROD_HIERARCHY_3","searchable":true,"facetable":false},{"storeDisplay":false,"values":[{"sequence":"0","value":"202107","uniqueID":"7741124012287142677","unitOfMeasure":"","unitID":"","identifier":"202107"}],"sequence":"10000","name":"Collection","associatedKeyword":"-","usage":"Descriptive","uniqueID":"7741124012285183338","displayable":false,"comparable":true,"identifier":"COLLECTION","searchable":true,"facetable":false},{"storeDisplay":false,"values":[{"sequence":"0","value":"Not Classified","uniqueID":"7741124012287538287","unitOfMeasure":"","unitID":"","identifier":"Not Classified"}],"sequence":"10000","name":"Range","associatedKeyword":"-","usage":"Descriptive","uniqueID":"7741124012285183366","displayable":false,"comparable":true,"identifier":"RANGE","searchable":true,"facetable":true},{"storeDisplay":false,"values":[{"sequence":"0","value":"True","uniqueID":"7741124012286585967","unitOfMeasure":"","unitID":"","identifier":"TRUE"}],"sequence":"10000","name":"Newreleases","associatedKeyword":"-","usage":"Descriptive","uniqueID":"7741124012285183368","displayable":false,"comparable":true,"identifier":"NEWRELEASES","searchable":true,"facetable":false},{"storeDisplay":false,"values":[{"sequence":"0","value":"False","uniqueID":"7741124012286559531","unitOfMeasure":"","unitID":"","identifier":"False"}],"sequence":"10000","name":"ENGRAVINGELIGIBLE","associatedKeyword":"-","usage":"Descriptive","uniqueID":"7741124012285183402","displayable":false,"comparable":true,"identifier":"ENGRAVINGELIGIBLE","searchable":true,"facetable":false},{"storeDisplay":false,"values":[{"sequence":"0","value":"False","uniqueID":"7741124012286815386","unitOfMeasure":"","unitID":"","identifier":"False"}],"sequence":"10000","name":"IS_ROXABLE","associatedKeyword":"-","usage":"Descriptive","uniqueID":"7741124012285183384","displayable":false,"comparable":true,"identifier":"IS_ROXABLE","searchable":true,"facetable":true},{"storeDisplay":false,"values":[{"sequence":"0","value":"50","uniqueID":"7741124012287396294","unitOfMeasure":"","unitID":"","identifier":"50"}],"sequence":"10000","name":"GROSSWEIGHT","associatedKeyword":"-","usage":"Descriptive","uniqueID":"7741124012285183356","displayable":false,"comparable":true,"identifier":"GROSSWEIGHT","searchable":true,"facetable":false},{"storeDisplay":false,"values":[{"sequence":"0","value":"Demo Lens","uniqueID":"7741124012286537799","unitOfMeasure":"","unitID":"","identifier":"Demo Lens"}],"sequence":"10000","name":"Lens type","associatedKeyword":"-","usage":"Descriptive","uniqueID":"7741124012285183389","displayable":false,"comparable":true,"identifier":"LENS_TREATMENT_FACET","searchable":true,"facetable":true},{"storeDisplay":false,"values":[{"sequence":"0","value":"Not Classified","uniqueID":"7741124012286540244","unitOfMeasure":"","unitID":"","identifier":"Not Classified"}],"sequence":"10000","name":"MARKETING_THEME_STORY","associatedKeyword":"-","usage":"Descriptive","uniqueID":"7741124012285183404","displayable":false,"comparable":true,"identifier":"MARKETING_THEME_STORY","searchable":true,"facetable":false},{"storeDisplay":false,"values":[{"sequence":"0","value":"Zacc","uniqueID":"7741124012287479065","unitOfMeasure":"","unitID":"","identifier":"ZACC"}],"sequence":"10000","name":"MATERIALTYPE","associatedKeyword":"-","usage":"Descriptive","uniqueID":"7741124012285183367","displayable":false,"comparable":true,"identifier":"MATERIALTYPE","searchable":true,"facetable":false},{"storeDisplay":false,"values":[{"sequence":"0","value":"Accessories","uniqueID":"7741124012287378029","unitOfMeasure":"","unitID":"","identifier":"Accessories"}],"sequence":"10000","name":"Producttype","associatedKeyword":"-","usage":"Descriptive","uniqueID":"7741124012285183374","displayable":false,"comparable":true,"identifier":"PRODUCTTYPE","searchable":true,"facetable":false},{"storeDisplay":false,"values":[{"sequence":"0","value":"False","uniqueID":"7741124012286539021","unitOfMeasure":"","unitID":"","identifier":"False"}],"sequence":"10000","name":"BESTSELLERS","associatedKeyword":"-","usage":"Descriptive","uniqueID":"7741124012285183337","displayable":false,"comparable":true,"identifier":"BESTSELLERS","searchable":true,"facetable":false},{"storeDisplay":false,"values":[{"sequence":"0","value":"Cleaning Kit","uniqueID":"7741124012287377528","unitOfMeasure":"","unitID":"","identifier":"Cleaning Kit"}],"sequence":"10000","name":"MODELNAME","associatedKeyword":"-","usage":"Descriptive","uniqueID":"7741124012285183376","displayable":false,"comparable":true,"identifier":"MODELNAME","searchable":true,"facetable":false},{"storeDisplay":false,"values":[{"image1":"https:\/\/assets.persol.com\/extra\/image\/TargetOptical\/filters\/black.png","sequence":"0","value":"Black","uniqueID":"7741124012286537569","image1path":"https:\/\/assets.persol.com\/extra\/image\/TargetOptical\/filters\/black.png","unitOfMeasure":"","unitID":"","identifier":"Black"}],"sequence":"10000","name":"Frame color","associatedKeyword":"-","usage":"Descriptive","uniqueID":"7741124012285183349","displayable":false,"comparable":true,"identifier":"FRONT_COLOR_FACET","searchable":true,"facetable":true},{"storeDisplay":false,"values":[{"sequence":"0","value":"False","uniqueID":"7741124012286585969","unitOfMeasure":"","unitID":"","identifier":"FALSE"}],"sequence":"10000","name":"Polarized","associatedKeyword":"-","usage":"Descriptive","uniqueID":"7741124012285183372","displayable":false,"comparable":true,"identifier":"POLARIZED","searchable":true,"facetable":true},{"storeDisplay":false,"values":[{"sequence":"0","value":"False","uniqueID":"7741124012286808336","unitOfMeasure":"","unitID":"","identifier":"FALSE"}],"sequence":"10000","name":"Photochromic","associatedKeyword":"-","usage":"Descriptive","uniqueID":"7741124012285183417","displayable":false,"comparable":true,"identifier":"PHOTOCHROMIC","searchable":true,"facetable":true},{"storeDisplay":false,"values":[{"sequence":"0","value":"False","uniqueID":"7741124012286551805","unitOfMeasure":"","unitID":"","identifier":"False"}],"sequence":"10000","name":"Exclusive","associatedKeyword":"-","usage":"Descriptive","uniqueID":"7741124012285183341","displayable":false,"comparable":true,"identifier":"EXCLUSIVE","searchable":true,"facetable":true},{"storeDisplay":false,"values":[{"sequence":"0","value":"000001","uniqueID":"7741124012287378031","unitOfMeasure":"","unitID":"","identifier":"000001"}],"sequence":"10000","name":"COLOR_CODE","associatedKeyword":"-","usage":"Descriptive","uniqueID":"7741124012285183339","displayable":false,"comparable":false,"identifier":"COLOR_CODE","searchable":true,"facetable":false},{"storeDisplay":false,"values":[{"sequence":"0","value":"False","uniqueID":"7741124012286551777","unitOfMeasure":"","unitID":"","identifier":"False"}],"sequence":"10000","name":"Limited edition","associatedKeyword":"-","usage":"Descriptive","uniqueID":"7741124012285183364","displayable":false,"comparable":true,"identifier":"LIMITED_EDITION","searchable":true,"facetable":false},{"storeDisplay":false,"values":[{"sequence":"0","value":"Standard","uniqueID":"7741124012286537435","unitOfMeasure":"","unitID":"","identifier":"Standard"}],"sequence":"10000","name":"Size","associatedKeyword":"-","usage":"Defining","uniqueID":"7741124012285183347","displayable":true,"comparable":true,"identifier":"MODEL_SIZE_DISPLAY","searchable":true,"facetable":false},{"storeDisplay":false,"values":[{"sequence":"0","value":"Woman","uniqueID":"7741124012287660366","unitOfMeasure":"","unitID":"","identifier":"FEMALE"}],"sequence":"10000","name":"Gender","associatedKeyword":"-","usage":"Descriptive","uniqueID":"7741124012285183353","displayable":false,"comparable":true,"identifier":"GENDER","searchable":true,"facetable":true}],"storeID":"715838084","numberOfSKUs":1,"partNumber":"APO0001CK__000001"}],"fullImage":"https:\/\/assets.persol.com\/is\/image\/Persol\/8056597422871__001.png?impolicy=HB_parameters&sclw=1&sclh=1","resourceId":"http:\/\/lrhsbrdilbp01.luxgroup.net:3737\/search\/resources\/store\/715838404\/productview\/byId\/3074457345616835263","price":[{"description":"L","value":"","usage":"Display","currency":"FIM"},{"description":"O","value":"","usage":"Offer","currency":"FIM"}],"thumbnail":"https:\/\/assets.persol.com\/is\/image\/Persol\/8056597422871__001.png?impolicy=HB_parameters&sclw=0.25&sclh=0.25","manufacturer":"Persol","name":"PO3264S","longDescription":"On-point acetate rounded panthos shape, raised flat top acetate bar, metal low bridge and sophisticated material mixes make this model a nust-have for everybody","buyable":"true","storeID":"715838084","attributes":[{"storeDisplay":false,"values":[{"sequence":"0","value":"PO3264S","uniqueID":"7741124012286813376","unitOfMeasure":"","unitID":"","identifier":"PO3264S"}],"sequence":"0","name":"Model code","associatedKeyword":"-","usage":"Descriptive","uniqueID":"7741124012285183387","displayable":true,"comparable":true,"identifier":"MODEL_CODE_DISPLAY","searchable":true,"facetable":false},{"storeDisplay":false,"values":[{"sequence":"0","value":"Trasparent Grey","uniqueID":"7741124012286813349","unitOfMeasure":"","unitID":"","identifier":"Trasparent Grey"}],"sequence":"1","name":"Front color","associatedKeyword":"-","usage":"Descriptive","uniqueID":"7741124012285183348","displayable":true,"comparable":true,"identifier":"FRONT_COLOR","searchable":true,"facetable":false},{"storeDisplay":false,"values":[{"sequence":"0","value":"Light Pink","uniqueID":"7741124012286813357","unitOfMeasure":"","unitID":"","identifier":"Light Pink"}],"sequence":"2","name":"Lens color","associatedKeyword":"-","usage":"Descriptive","uniqueID":"7741124012285183361","displayable":true,"comparable":true,"identifier":"LENS_COLOR","searchable":true,"facetable":false},{"storeDisplay":false,"values":[{"sequence":"0","value":"Classic","uniqueID":"7741124012286537792","unitOfMeasure":"","unitID":"","identifier":"Classic"}],"sequence":"3","name":"LENS_TREATMENT","associatedKeyword":"-","usage":"Descriptive","uniqueID":"7741124012285183358","displayable":false,"comparable":true,"identifier":"LENS_TREATMENT","searchable":true,"facetable":false},{"storeDisplay":false,"values":[{"sequence":"0","value":"Crystal","uniqueID":"7741124012286537865","unitOfMeasure":"","unitID":"","identifier":"Crystal"}],"sequence":"5","name":"LENS MATERIAL","associatedKeyword":"-","usage":"Descriptive","uniqueID":"7741124012285183391","displayable":true,"comparable":false,"identifier":"LENS_MATERIAL","searchable":true,"facetable":false},{"storeDisplay":false,"values":[{"sequence":"0","value":"Acetate","uniqueID":"7741124012286537413","unitOfMeasure":"","unitID":"","identifier":"Acetate"}],"sequence":"6","name":"Frame Material","associatedKeyword":"-","usage":"Descriptive","uniqueID":"7741124012285183343","displayable":true,"comparable":true,"identifier":"FRAMEMATERIAL","searchable":true,"facetable":false},{"storeDisplay":false,"values":[{"sequence":"0","value":"Adjustable","uniqueID":"7741124012286539872","unitOfMeasure":"","unitID":"","identifier":"Adjustable"}],"sequence":"7","name":"Nosepads","associatedKeyword":"-","usage":"Descriptive","uniqueID":"7741124012285183406","displayable":true,"comparable":true,"identifier":"NOSEPADS","searchable":true,"facetable":false},{"storeDisplay":false,"values":[{"sequence":"1","value":"1","uniqueID":"7741124012286536835","unitOfMeasure":"","unitID":"","identifier":"1"}],"sequence":"8","name":"PLACEHOLDER_SIZE","associatedKeyword":"-","usage":"Descriptive","uniqueID":"7741124012285182835","displayable":true,"comparable":false,"identifier":"PLACEHOLDER_SIZE","searchable":false,"facetable":false},{"storeDisplay":false,"values":[{"sequence":"0","value":"Regular","uniqueID":"7741124012287639963","unitOfMeasure":"","unitID":"","identifier":"Regular"}],"sequence":"10","name":"Fit","associatedKeyword":"-","usage":"Descriptive","uniqueID":"7741124012285183407","displayable":true,"comparable":true,"identifier":"FRAME_FIT","searchable":true,"facetable":true},{"storeDisplay":false,"values":[{"sequence":"0","value":"High Bridge Fit","uniqueID":"7741124012287792481","unitOfMeasure":"","unitID":"","identifier":"High Bridge Fit"}],"sequence":"11","name":"Bridge choice & nosepad","associatedKeyword":"-","usage":"Descriptive","uniqueID":"7741124012285183354","displayable":true,"comparable":true,"identifier":"GEO_FIT","searchable":true,"facetable":true},{"storeDisplay":false,"values":[{"sequence":"0","value":"Italy","uniqueID":"7741124012286551468","unitOfMeasure":"","unitID":"","identifier":"Italy"}],"sequence":"12","name":"Made in","associatedKeyword":"-","usage":"Descriptive","uniqueID":"7741124012285183365","displayable":true,"comparable":true,"identifier":"MADEIN","searchable":true,"facetable":false},{"storeDisplay":false,"values":[{"sequence":"0","value":"Oval","uniqueID":"7741124012287792503","unitOfMeasure":"","unitID":"","identifier":"Oval"}],"sequence":"10000","name":"ML_FRAME_SHAPE","associatedKeyword":"-","usage":"Descriptive","uniqueID":"7741124012285273847","displayable":false,"comparable":true,"identifier":"ML_FRAME_SHAPE","searchable":true,"facetable":false},{"storeDisplay":false,"values":[{"sequence":"0","value":"Silver_metals","uniqueID":"7741124012287792514","unitOfMeasure":"","unitID":"","identifier":"Silver_metals"}],"sequence":"10000","name":"ML_FRAME_COLOR","associatedKeyword":"-","usage":"Descriptive","uniqueID":"7741124012285273850","displayable":false,"comparable":true,"identifier":"ML_FRAME_COLOR","searchable":true,"facetable":false},{"storeDisplay":false,"values":[{"sequence":"0","value":"Metal","uniqueID":"7741124012287792511","unitOfMeasure":"","unitID":"","identifier":"Metal"}],"sequence":"10000","name":"ML_FRAME_FRONT_MATERIAL","associatedKeyword":"-","usage":"Descriptive","uniqueID":"7741124012285273852","displayable":false,"comparable":true,"identifier":"ML_FRAME_FRONT_MATERIAL","searchable":true,"facetable":false},{"storeDisplay":false,"values":[{"sequence":"0","value":"Low","uniqueID":"7741124012287792510","unitOfMeasure":"","unitID":"","identifier":"Low"}],"sequence":"10000","name":"ML_FRAME_BRIDGE_POSITION","associatedKeyword":"-","usage":"Descriptive","uniqueID":"7741124012285273849","displayable":false,"comparable":true,"identifier":"ML_FRAME_BRIDGE_POSITION","searchable":true,"facetable":false},{"storeDisplay":false,"values":[{"sequence":"0","value":"Thick","uniqueID":"7741124012287792508","unitOfMeasure":"","unitID":"","identifier":"Thick"}],"sequence":"10000","name":"ML_FRAME_TEMPLE_THICKNESS","associatedKeyword":"-","usage":"Descriptive","uniqueID":"7741124012285273843","displayable":false,"comparable":true,"identifier":"ML_FRAME_TEMPLE_THICKNESS","searchable":true,"facetable":false},{"storeDisplay":false,"values":[{"sequence":"0","value":"Full_rim","uniqueID":"7741124012287792499","unitOfMeasure":"","unitID":"","identifier":"Full_rim"}],"sequence":"10000","name":"ML_FRAME_RIM","associatedKeyword":"-","usage":"Descriptive","uniqueID":"7741124012285273846","displayable":false,"comparable":true,"identifier":"ML_FRAME_RIM","searchable":true,"facetable":false},{"storeDisplay":false,"values":[{"sequence":"0","value":"Summer","uniqueID":"7741124012287792509","unitOfMeasure":"","unitID":"","identifier":"Summer"}],"sequence":"10000","name":"ML_FRAME_COLOR_PALETTE","associatedKeyword":"-","usage":"Descriptive","uniqueID":"7741124012285273841","displayable":false,"comparable":true,"identifier":"ML_FRAME_COLOR_PALETTE","searchable":true,"facetable":false},{"storeDisplay":false,"values":[{"sequence":"0","value":"High","uniqueID":"7741124012287792494","unitOfMeasure":"","unitID":"","identifier":"High"}],"sequence":"10000","name":"ML_FRAME_TEMPLE_FITTING","associatedKeyword":"-","usage":"Descriptive","uniqueID":"7741124012285273842","displayable":false,"comparable":true,"identifier":"ML_FRAME_TEMPLE_FITTING","searchable":true,"facetable":false},{"storeDisplay":false,"values":[{"sequence":"0","value":"Male","uniqueID":"7741124012287792513","unitOfMeasure":"","unitID":"","identifier":"Male"}],"sequence":"10000","name":"ML_GLASS_GENDER","associatedKeyword":"-","usage":"Descriptive","uniqueID":"7741124012285273848","displayable":false,"comparable":true,"identifier":"ML_GLASS_GENDER","searchable":true,"facetable":false},{"storeDisplay":false,"values":[{"sequence":"0","value":"L","uniqueID":"7741124012287684129","unitOfMeasure":"","unitID":"","identifier":"L"}],"sequence":"10000","name":"Size","associatedKeyword":"-","usage":"Defining","uniqueID":"7741124012285183347","displayable":true,"comparable":true,"identifier":"MODEL_SIZE_DISPLAY","searchable":true,"facetable":false},{"storeDisplay":false,"values":[{"sequence":"0","value":"Full Rim","uniqueID":"7741124012286537790","unitOfMeasure":"","unitID":"","identifier":"Full Rim"}],"sequence":"10000","name":"Frame Type","associatedKeyword":"-","usage":"Descriptive","uniqueID":"7741124012285183357","displayable":false,"comparable":true,"identifier":"FRAMETYPE","searchable":true,"facetable":false},{"storeDisplay":false,"values":[{"sequence":"0","value":"False","uniqueID":"7741124012286585859","unitOfMeasure":"","unitID":"","identifier":"FALSE"}],"sequence":"10000","name":"Foldable","associatedKeyword":"-","usage":"Descriptive","uniqueID":"7741124012285183342","displayable":false,"comparable":true,"identifier":"FOLDABLE","searchable":true,"facetable":true},{"storeDisplay":false,"values":[{"sequence":"0","value":"Phantos","uniqueID":"7741124012286537424","unitOfMeasure":"","unitID":"","identifier":"Phantos"}],"sequence":"10000","name":"FRAME_SHAPE","associatedKeyword":"-","usage":"Descriptive","uniqueID":"7741124012285183344","displayable":false,"comparable":true,"identifier":"FRAME_SHAPE","searchable":true,"facetable":false},{"storeDisplay":false,"values":[{"sequence":"0","value":"Sun","uniqueID":"7741124012286543504","unitOfMeasure":"","unitID":"","identifier":"Sun"}],"sequence":"10000","name":"Producttype","associatedKeyword":"-","usage":"Descriptive","uniqueID":"7741124012285183374","displayable":false,"comparable":true,"identifier":"PRODUCTTYPE","searchable":true,"facetable":false},{"storeDisplay":false,"values":[{"sequence":"0","value":"Other","uniqueID":"7741124012286540227","unitOfMeasure":"","unitID":"","identifier":"Other"}],"sequence":"10000","name":"Model family","associatedKeyword":"-","usage":"Descriptive","uniqueID":"7741124012285183382","displayable":false,"comparable":true,"identifier":"MODEL_FAMILY","searchable":true,"facetable":true},{"storeDisplay":false,"values":[{"sequence":"0","value":"False","uniqueID":"7741124012286539021","unitOfMeasure":"","unitID":"","identifier":"False"}],"sequence":"10000","name":"BESTSELLERS","associatedKeyword":"-","usage":"Descriptive","uniqueID":"7741124012285183337","displayable":false,"comparable":true,"identifier":"BESTSELLERS","searchable":true,"facetable":false},{"storeDisplay":false,"values":[{"sequence":"0","value":"True","uniqueID":"7741124012286585858","unitOfMeasure":"","unitID":"","identifier":"TRUE"}],"sequence":"10000","name":"FLEX","associatedKeyword":"-","usage":"Descriptive","uniqueID":"7741124012285183414","displayable":false,"comparable":true,"identifier":"FLEX","searchable":true,"facetable":false},{"storeDisplay":false,"values":[{"sequence":"0","value":"True","uniqueID":"7741124012286585960","unitOfMeasure":"","unitID":"","identifier":"TRUE"}],"sequence":"10000","name":"MEFLECTO","associatedKeyword":"-","usage":"Descriptive","uniqueID":"7741124012285183415","displayable":false,"comparable":false,"identifier":"MEFLECTO","searchable":true,"facetable":false},{"storeDisplay":false,"values":[{"sequence":"0","value":"Round","uniqueID":"7741124012286537431","unitOfMeasure":"","unitID":"","identifier":"Round"}],"sequence":"10000","name":"Frame shape","associatedKeyword":"-","usage":"Descriptive","uniqueID":"7741124012285183345","displayable":false,"comparable":true,"identifier":"FRAME_SHAPE_FACET","searchable":true,"facetable":true},{"storeDisplay":false,"values":[{"sequence":"0","value":"Trending Now","uniqueID":"7741124012286539394","unitOfMeasure":"","unitID":"","identifier":"Trending Now"}],"sequence":"10000","name":"PRIMARY_FAMILY","associatedKeyword":"-","usage":"Descriptive","uniqueID":"7741124012285183373","displayable":false,"comparable":true,"identifier":"PRIMARY_FAMILY","searchable":true,"facetable":false},{"storeDisplay":false,"values":[{"sequence":"0","value":"Sartoria","uniqueID":"7741124012286538837","unitOfMeasure":"","unitID":"","identifier":"Sartoria"}],"sequence":"10000","name":"Range","associatedKeyword":"-","usage":"Descriptive","uniqueID":"7741124012285183366","displayable":false,"comparable":true,"identifier":"RANGE","searchable":true,"facetable":true},{"storeDisplay":false,"values":[],"sequence":"10000","name":"IS_ASIAN","associatedKeyword":"-","usage":"Defining","uniqueID":"7741124012285273839","displayable":false,"comparable":true,"identifier":"IS_ASIAN","searchable":true,"facetable":true},{"storeDisplay":false,"values":[{"sequence":"0","value":"50","uniqueID":"7741124012287804012","unitOfMeasure":"","unitID":"","identifier":"50"}],"sequence":"10000","name":"MOST_SOLD_SIZE","associatedKeyword":"-","usage":"Descriptive","uniqueID":"7741124012285273840","displayable":false,"comparable":true,"identifier":"MOST_SOLD_SIZE","searchable":false,"facetable":false},{"storeDisplay":false,"values":[{"sequence":"0","value":"Silver","uniqueID":"7741124012286538430","unitOfMeasure":"","unitID":"","identifier":"Silver"}],"sequence":"10000","name":"TEMPLE_COLOR","associatedKeyword":"-","usage":"Descriptive","uniqueID":"7741124012285183377","displayable":false,"comparable":true,"identifier":"TEMPLE_COLOR","searchable":true,"facetable":false},{"storeDisplay":false,"values":[{"image1":"https:\/\/assets.persol.com\/extra\/image\/TargetOptical\/filters\/grey.png","sequence":"0","value":"Grey","uniqueID":"7741124012286537575","image1path":"https:\/\/assets.persol.com\/extra\/image\/TargetOptical\/filters\/grey.png","unitOfMeasure":"","unitID":"","identifier":"Grey"}],"sequence":"10000","name":"Frame color","associatedKeyword":"-","usage":"Descriptive","uniqueID":"7741124012285183349","displayable":false,"comparable":true,"identifier":"FRONT_COLOR_FACET","searchable":true,"facetable":true},{"storeDisplay":false,"values":[{"sequence":"0","value":"Silver","uniqueID":"7741124012286538460","unitOfMeasure":"","unitID":"","identifier":"Silver"}],"sequence":"10000","name":"Temple color facet","associatedKeyword":"-","usage":"Descriptive","uniqueID":"7741124012285183378","displayable":false,"comparable":true,"identifier":"TEMPLE_COLOR_FACET","searchable":true,"facetable":false},{"storeDisplay":false,"values":[{"sequence":"0","value":"202101","uniqueID":"7741124012286787335","unitOfMeasure":"","unitID":"","identifier":"202101"}],"sequence":"10000","name":"Collection","associatedKeyword":"-","usage":"Descriptive","uniqueID":"7741124012285183338","displayable":false,"comparable":true,"identifier":"COLLECTION","searchable":true,"facetable":false},{"storeDisplay":false,"values":[{"sequence":"0","value":"1N","uniqueID":"7741124012286538076","unitOfMeasure":"","unitID":"","identifier":"1N"}],"sequence":"10000","name":"NOTAINFORMATIVA","associatedKeyword":"-","usage":"Descriptive","uniqueID":"7741124012285183370","displayable":false,"comparable":true,"identifier":"NOTAINFORMATIVA","searchable":true,"facetable":false},{"storeDisplay":false,"values":[{"sequence":"0","value":"Grey","uniqueID":"7741124012286537666","unitOfMeasure":"","unitID":"","identifier":"Grey"}],"sequence":"10000","name":"FRONT_INNER_COLOR","associatedKeyword":"-","usage":"Descriptive","uniqueID":"7741124012285183351","displayable":false,"comparable":true,"identifier":"FRONT_INNER_COLOR","searchable":true,"facetable":false},{"storeDisplay":false,"values":[{"sequence":"0","value":"Acetate","uniqueID":"7741124012286537418","unitOfMeasure":"","unitID":"","identifier":"Acetate"}],"sequence":"10000","name":"Frame Material","associatedKeyword":"-","usage":"Descriptive","uniqueID":"7741124012285183388","displayable":false,"comparable":true,"identifier":"FRAMEMATERIAL_FACET","searchable":true,"facetable":true},{"storeDisplay":false,"values":[{"sequence":"0","value":"Polished","uniqueID":"7741124012286537585","unitOfMeasure":"","unitID":"","identifier":"Polished"}],"sequence":"10000","name":"FINISHING","associatedKeyword":"-","usage":"Descriptive","uniqueID":"7741124012285183350","displayable":false,"comparable":true,"identifier":"FINISHING","searchable":true,"facetable":false},{"storeDisplay":false,"values":[{"sequence":"0","value":"Double Bridge","uniqueID":"7741124012286537348","unitOfMeasure":"","unitID":"","identifier":"Double Bridge"}],"sequence":"10000","name":"BRIDGETYPE","associatedKeyword":"-","usage":"Descriptive","uniqueID":"7741124012285183419","displayable":false,"comparable":true,"identifier":"BRIDGETYPE","searchable":true,"facetable":false},{"storeDisplay":false,"values":[{"sequence":"0","value":"False","uniqueID":"7741124012286808336","unitOfMeasure":"","unitID":"","identifier":"FALSE"}],"sequence":"10000","name":"Photochromic","associatedKeyword":"-","usage":"Descriptive","uniqueID":"7741124012285183417","displayable":false,"comparable":true,"identifier":"PHOTOCHROMIC","searchable":true,"facetable":true},{"storeDisplay":false,"values":[{"sequence":"0","value":"Supreme 3,5 Flex","uniqueID":"7741124012286818835","unitOfMeasure":"","unitID":"","identifier":"SUPREME 3,5 FLEX"}],"sequence":"10000","name":"ARROW","associatedKeyword":"-","usage":"Descriptive","uniqueID":"7741124012285183418","displayable":false,"comparable":true,"identifier":"ARROW","searchable":true,"facetable":false},{"storeDisplay":false,"values":[{"sequence":"0","value":"True","uniqueID":"7741124012286551645","unitOfMeasure":"","unitID":"","identifier":"True"}],"sequence":"10000","name":"ENGRAVINGELIGIBLE","associatedKeyword":"-","usage":"Descriptive","uniqueID":"7741124012285183402","displayable":false,"comparable":true,"identifier":"ENGRAVINGELIGIBLE","searchable":true,"facetable":false},{"storeDisplay":false,"values":[{"sequence":"0","value":"False","uniqueID":"7741124012286551777","unitOfMeasure":"","unitID":"","identifier":"False"}],"sequence":"10000","name":"Limited edition","associatedKeyword":"-","usage":"Descriptive","uniqueID":"7741124012285183364","displayable":false,"comparable":true,"identifier":"LIMITED_EDITION","searchable":true,"facetable":false},{"storeDisplay":false,"values":[{"sequence":"0","value":"Lenses-sun;material-acetate;arrow-all;meflecto-all","uniqueID":"7741124012286551531","unitOfMeasure":"","unitID":"","identifier":"Lenses-sun;material-acetate;arrow-all;meflecto-all"}],"sequence":"10000","name":"FEATURES","associatedKeyword":"-","usage":"Descriptive","uniqueID":"7741124012285183399","displayable":false,"comparable":false,"identifier":"FEATURES","searchable":true,"facetable":false},{"storeDisplay":false,"values":[{"sequence":"0","value":"309\/4q","uniqueID":"7741124012286815342","unitOfMeasure":"","unitID":"","identifier":"309\/4q"}],"sequence":"10000","name":"COLOR_CODE","associatedKeyword":"-","usage":"Descriptive","uniqueID":"7741124012285183339","displayable":false,"comparable":false,"identifier":"COLOR_CODE","searchable":true,"facetable":false},{"storeDisplay":false,"values":[{"sequence":"0","value":"False","uniqueID":"7741124012286815386","unitOfMeasure":"","unitID":"","identifier":"False"}],"sequence":"10000","name":"IS_ROXABLE","associatedKeyword":"-","usage":"Descriptive","uniqueID":"7741124012285183384","displayable":false,"comparable":true,"identifier":"IS_ROXABLE","searchable":true,"facetable":true},{"storeDisplay":false,"values":[{"sequence":"0","value":"A220c","uniqueID":"7741124012286815343","unitOfMeasure":"","unitID":"","identifier":"A220c"}],"sequence":"10000","name":"CLEN","associatedKeyword":"-","usage":"Descriptive","uniqueID":"7741124012285183360","displayable":false,"comparable":true,"identifier":"CLEN","searchable":true,"facetable":false},{"storeDisplay":false,"values":[{"sequence":"0","value":"False","uniqueID":"7741124012286811847","unitOfMeasure":"","unitID":"","identifier":"False"}],"sequence":"10000","name":"AVANT_PREMIERE","associatedKeyword":"-","usage":"Descriptive","uniqueID":"7741124012285183335","displayable":false,"comparable":true,"identifier":"AVANT_PREMIERE","searchable":true,"facetable":false},{"storeDisplay":false,"values":[{"sequence":"0","value":"PO_pack5_gallery","uniqueID":"7741124012286854445","unitOfMeasure":"","unitID":"","identifier":"PO_pack5_gallery"}],"sequence":"10000","name":"CASE","associatedKeyword":"-","usage":"Descriptive","uniqueID":"7741124012285183410","displayable":false,"comparable":false,"identifier":"CASE","searchable":true,"facetable":false},{"storeDisplay":false,"values":[{"sequence":"0","value":"False","uniqueID":"7741124012286551805","unitOfMeasure":"","unitID":"","identifier":"False"}],"sequence":"10000","name":"Exclusive","associatedKeyword":"-","usage":"Descriptive","uniqueID":"7741124012285183341","displayable":false,"comparable":true,"identifier":"EXCLUSIVE","searchable":true,"facetable":true},{"storeDisplay":false,"values":[{"sequence":"0","value":"False","uniqueID":"7741124012286808341","unitOfMeasure":"","unitID":"","identifier":"FALSE"}],"sequence":"10000","name":"VINTAGECELEBRATION","associatedKeyword":"-","usage":"Descriptive","uniqueID":"7741124012285183420","displayable":false,"comparable":false,"identifier":"VINTAGECELEBRATION","searchable":true,"facetable":false},{"storeDisplay":false,"values":[{"sequence":"0","value":"Classic","uniqueID":"7741124012286537798","unitOfMeasure":"","unitID":"","identifier":"Classic"}],"sequence":"10000","name":"Lens type","associatedKeyword":"-","usage":"Descriptive","uniqueID":"7741124012285183389","displayable":false,"comparable":true,"identifier":"LENS_TREATMENT_FACET","searchable":true,"facetable":true},{"storeDisplay":false,"values":[{"sequence":"0","value":"False","uniqueID":"7741124012286585969","unitOfMeasure":"","unitID":"","identifier":"FALSE"}],"sequence":"10000","name":"Polarized","associatedKeyword":"-","usage":"Descriptive","uniqueID":"7741124012285183372","displayable":false,"comparable":true,"identifier":"POLARIZED","searchable":true,"facetable":true},{"storeDisplay":false,"values":[{"sequence":"0","value":"PO3264S","uniqueID":"7741124012286813394","unitOfMeasure":"","unitID":"","identifier":"PO3264S"}],"sequence":"10000","name":"MODELNAME","associatedKeyword":"-","usage":"Descriptive","uniqueID":"7741124012285183376","displayable":false,"comparable":true,"identifier":"MODELNAME","searchable":true,"facetable":false},{"storeDisplay":false,"values":[{"image1":"https:\/\/assets.persol.com\/extra\/image\/TargetOptical\/filters\/pink.png","sequence":"0","value":"Pink","uniqueID":"7741124012286813362","image1path":"https:\/\/assets.persol.com\/extra\/image\/TargetOptical\/filters\/pink.png","unitOfMeasure":"","unitID":"","identifier":"Pink"}],"sequence":"10000","name":"Lens color","associatedKeyword":"-","usage":"Descriptive","uniqueID":"7741124012285183362","displayable":false,"comparable":true,"identifier":"LENS_COLOR_FACET","searchable":true,"facetable":true},{"storeDisplay":false,"values":[{"sequence":"0","value":"Silver","uniqueID":"7741124012286538589","unitOfMeasure":"","unitID":"","identifier":"Silver"}],"sequence":"10000","name":"TEMPLE_INNER_COLOR","associatedKeyword":"-","usage":"Descriptive","uniqueID":"7741124012285183379","displayable":false,"comparable":true,"identifier":"TEMPLE_INNER_COLOR","searchable":true,"facetable":false},{"storeDisplay":false,"values":[{"sequence":"0","value":"Sunglasses","uniqueID":"7741124012286544020","unitOfMeasure":"","unitID":"","identifier":"sunglasses"}],"sequence":"10000","name":"PROD_HIERARCHY_1","associatedKeyword":"-","usage":"Descriptive","uniqueID":"7741124012285183396","displayable":false,"comparable":false,"identifier":"PROD_HIERARCHY_1","searchable":true,"facetable":false},{"storeDisplay":false,"values":[{"sequence":"5","value":"L","uniqueID":"7741124012287791991","unitOfMeasure":"","unitID":"","identifier":"L"}],"sequence":"10000","name":"Size","associatedKeyword":"-","usage":"Descriptive","uniqueID":"7741124012285273336","displayable":false,"comparable":true,"identifier":"MODEL_SIZE_DISPLAY_PLP","searchable":true,"facetable":true},{"storeDisplay":false,"values":[{"sequence":"0","value":"Zpfn","uniqueID":"7741124012286585965","unitOfMeasure":"","unitID":"","identifier":"ZPFN"}],"sequence":"10000","name":"MATERIALTYPE","associatedKeyword":"-","usage":"Descriptive","uniqueID":"7741124012285183367","displayable":false,"comparable":true,"identifier":"MATERIALTYPE","searchable":true,"facetable":false},{"storeDisplay":false,"values":[{"sequence":"0","value":"25","uniqueID":"7741124012287386923","unitOfMeasure":"","unitID":"","identifier":"25"}],"sequence":"10000","name":"GROSSWEIGHT","associatedKeyword":"-","usage":"Descriptive","uniqueID":"7741124012285183356","displayable":false,"comparable":true,"identifier":"GROSSWEIGHT","searchable":true,"facetable":false},{"storeDisplay":false,"values":[{"sequence":"0","value":"Zpfn - Finished Goods","uniqueID":"7741124012287387028","unitOfMeasure":"","unitID":"","identifier":"Zpfn - Finished Goods"}],"sequence":"10000","name":"PROD_HIERARCHY_0","associatedKeyword":"-","usage":"Descriptive","uniqueID":"7741124012285183395","displayable":false,"comparable":false,"identifier":"PROD_HIERARCHY_0","searchable":true,"facetable":false},{"storeDisplay":false,"values":[{"sequence":"0","value":"Oval-heart-square","uniqueID":"7741124012287043335","unitOfMeasure":"","unitID":"","identifier":"Oval-heart-square"}],"sequence":"10000","name":"SUGGESTED_FACE_SHAPE","associatedKeyword":"-","usage":"Descriptive","uniqueID":"7741124012285183403","displayable":false,"comparable":true,"identifier":"SUGGESTED_FACE_SHAPE","searchable":true,"facetable":false},{"storeDisplay":false,"values":[{"sequence":"0","value":"Acetate","uniqueID":"7741124012287386405","unitOfMeasure":"","unitID":"","identifier":"Acetate"}],"sequence":"10000","name":"FRAME_MATERIAL_PERCEIVED","associatedKeyword":"-","usage":"Descriptive","uniqueID":"7741124012285183383","displayable":false,"comparable":true,"identifier":"FRAME_MATERIAL_PERCEIVED","searchable":true,"facetable":false},{"storeDisplay":false,"values":[{"sequence":"0","value":"Pink","uniqueID":"7741124012287142691","unitOfMeasure":"","unitID":"","identifier":"Pink"}],"sequence":"10000","name":"LENSCOLOR_FAMILY","associatedKeyword":"-","usage":"Descriptive","uniqueID":"7741124012285183363","displayable":false,"comparable":true,"identifier":"LENSCOLOR_FAMILY","searchable":true,"facetable":false},{"storeDisplay":false,"values":[{"sequence":"0","value":"Grey","uniqueID":"7741124012286537760","unitOfMeasure":"","unitID":"","identifier":"Grey"}],"sequence":"10000","name":"Front inner color facet","associatedKeyword":"-","usage":"Descriptive","uniqueID":"7741124012285183352","displayable":false,"comparable":true,"identifier":"FRONT_INNER_COLOR_FACET","searchable":true,"facetable":false},{"storeDisplay":false,"values":[{"sequence":"0","value":"Silver","uniqueID":"7741124012286538723","unitOfMeasure":"","unitID":"","identifier":"Silver"}],"sequence":"10000","name":"Temple inner color facet","associatedKeyword":"-","usage":"Descriptive","uniqueID":"7741124012285183380","displayable":false,"comparable":true,"identifier":"TEMPLE_INNER_COLOR_FACET","searchable":true,"facetable":false},{"storeDisplay":false,"values":[{"sequence":"0","value":"True","uniqueID":"7741124012287207578","unitOfMeasure":"","unitID":"","identifier":"True"}],"sequence":"10000","name":"IS_ROX_FRIENDLY","associatedKeyword":"-","usage":"Descriptive","uniqueID":"7741124012285183412","displayable":false,"comparable":true,"identifier":"IS_ROX_FRIENDLY","searchable":true,"facetable":false},{"storeDisplay":false,"values":[{"sequence":"0","value":"Man","uniqueID":"7741124012287660339","unitOfMeasure":"","unitID":"","identifier":"MALE"}],"sequence":"10000","name":"Gender","associatedKeyword":"-","usage":"Descriptive","uniqueID":"7741124012285183353","displayable":false,"comparable":true,"identifier":"GENDER","searchable":true,"facetable":true},{"storeDisplay":false,"values":[{"sequence":"0","value":"Mini Supreme Acetate","uniqueID":"7741124012286538464","unitOfMeasure":"","unitID":"","identifier":"Mini Supreme Acetate"}],"sequence":"10000","name":"TEMPLE_LOGO","associatedKeyword":"-","usage":"Descriptive","uniqueID":"7741124012285183400","displayable":false,"comparable":true,"identifier":"TEMPLE_LOGO","searchable":true,"facetable":false},{"storeDisplay":false,"values":[{"sequence":"0","value":"False","uniqueID":"7741124012286585966","unitOfMeasure":"","unitID":"","identifier":"FALSE"}],"sequence":"10000","name":"Newreleases","associatedKeyword":"-","usage":"Descriptive","uniqueID":"7741124012285183368","displayable":false,"comparable":true,"identifier":"NEWRELEASES","searchable":true,"facetable":false},{"storeDisplay":false,"values":[{"sequence":"0","value":"Sunglass","uniqueID":"7741124012287792493","unitOfMeasure":"","unitID":"","identifier":"Sunglass"}],"sequence":"10000","name":"ML_PRODUCT_TYPE","associatedKeyword":"-","usage":"Descriptive","uniqueID":"7741124012285273851","displayable":false,"comparable":true,"identifier":"ML_PRODUCT_TYPE","searchable":true,"facetable":false}],"numberOfSKUs":1,"partNumber":"0PO3264S__309_4Q"}
On-point acetate rounded panthos shape, raised flat top acetate bar, metal low bridge and sophisticated material mixes make this model a nust-have for everybody
PO3264S
On-point acetate rounded panthos shape, raised flat top acetate bar, metal low bridge and sophisticated material mixes make this model a nust-have for everybody
Model code:

PO3264S 309/4Q 50-22

Front color:

Trasparent Grey

Lens color:

Light Pink

LENS MATERIAL:

Crystal

Frame Material:

Acetate

Measurements

:

Fit:

Regular Fitting

A medium lens front designed for those who prefer to cover an average portion of the face.

Bridge choice & nosepad:

High Bridge Fit

Offers a more secure and comfortable fit for those with a high nose bridge and lower cheekbones. A good choice if the bridge of your nose is above the level of your pupils.

Made in:

Italy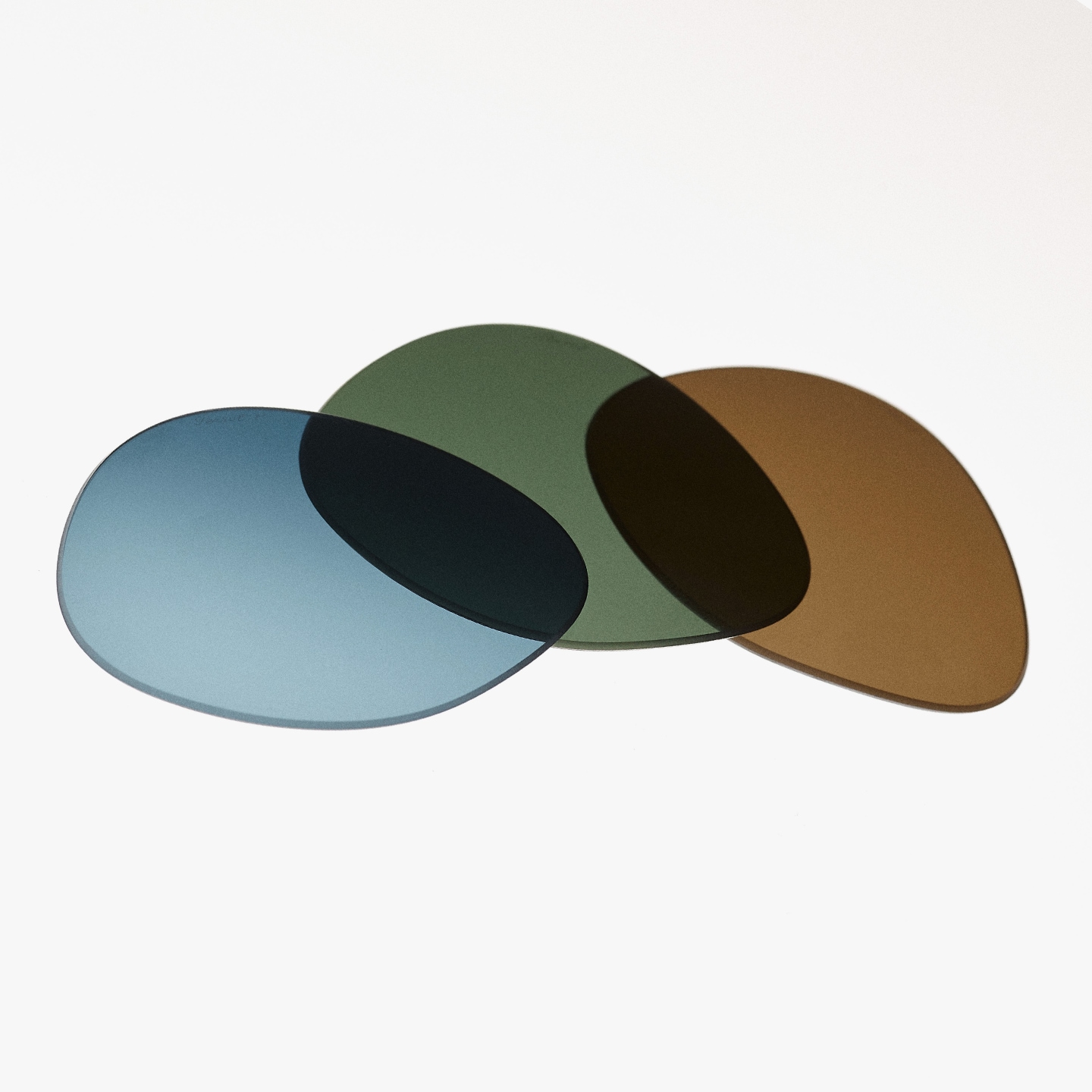 close
Persol's Premium Glass sun lenses.
Precious, durable and with enhanced visual clarity, choose to seek the sun with Barberini® and premium glass sun lenses, including 100% UV protection.
Introducing Persol's Premium Glass lenses
Seek the sun with Barberini®.
— Scroll to read more
Craftsmanship is the foundation of Persol. Ever since the first eyewear was developed in 1917, attention to detail has always been in the heart of everything the brand does. It is the brand's intuition of being able to balance functionality with aesthetics that makes Persol what it is today. That's why Persol's Premium Glass lenses are produced through the most sophisticated processes and a 100% quality control. This quality is ensured through decades of expertise and experience as well as a vertically integrated process by Barberini, the prestigious lens producer.
With over 100 years of history, Persol's sun expertise can be considered as the definition of excellence of the Italian eyewear industry. The Premium Glass lenses are the same lenses with the same exact quality and properties one expects from Persol, thanks also to the partnership with Barberini, the prestigious lens producer, specializing in optical glass. Each glass lens is developed and manufactured at the Barberini factory in Silvi, Italy. Due to its natural purity and transparency, glass offers enhanced visual clarity and is crafted through a process that combines advanced technologies with the human touch.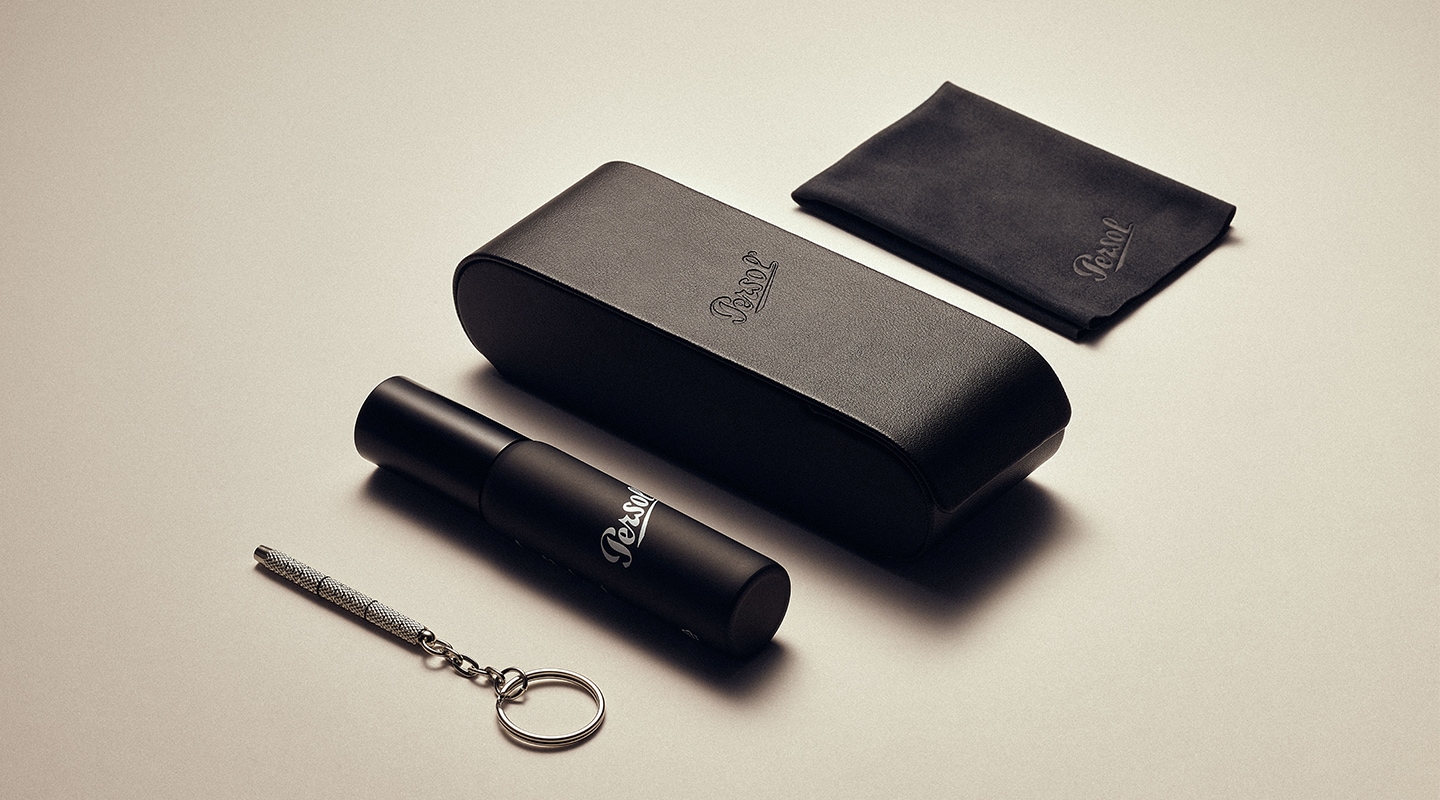 The perfect original accessory to pair with your Persol. The Persol Cleaning Kit, for advanced care.
Shop Cleaning Kit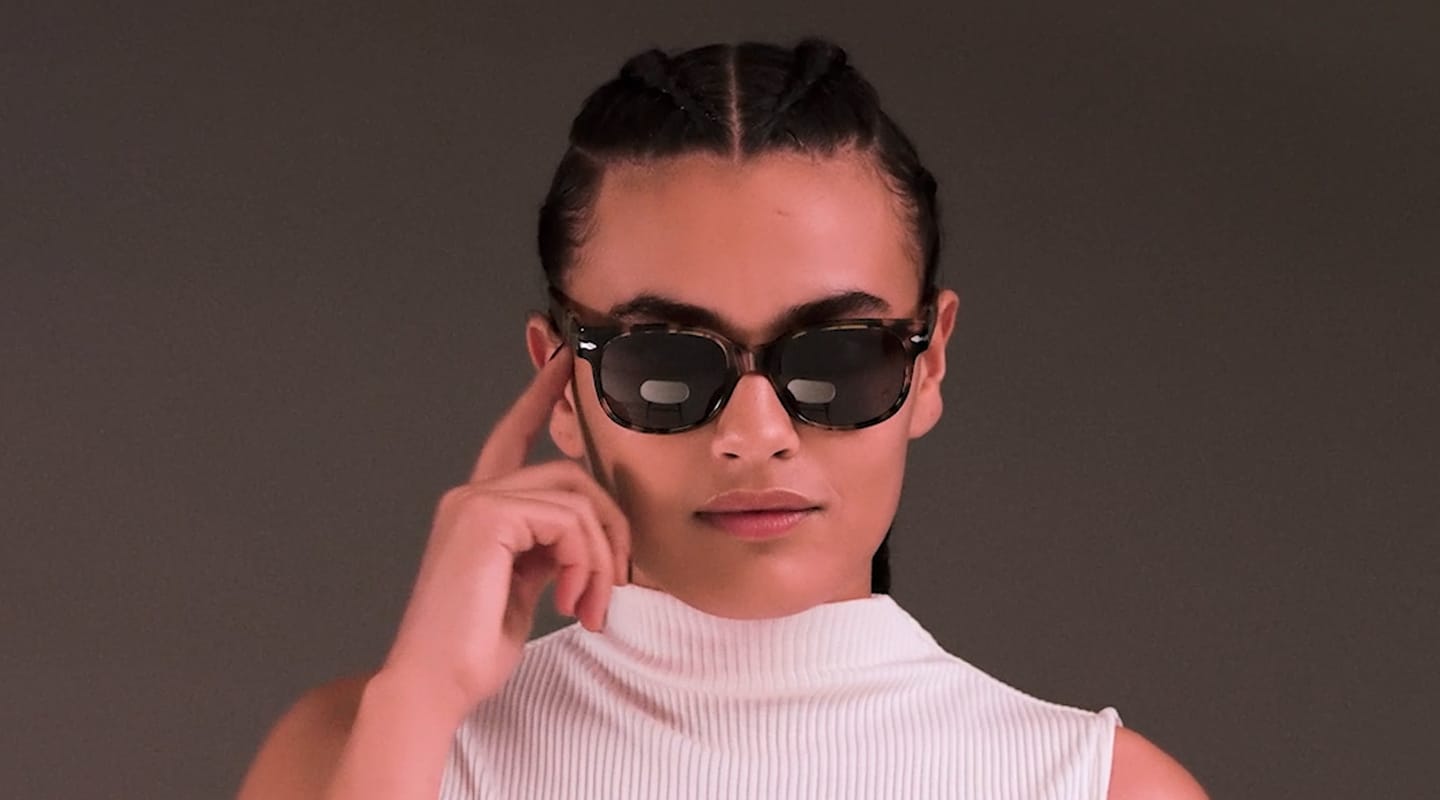 Want to see how your favorites frames look on?
Try on sunglasses and eyeglasses from the comfort of your home and see exactly how they suit you.
Try it now
Free Shipping
All you have to do is decide which frame you want. We'll handle the shipping.
Free Returns
The easiest way to get the perfect model, hassle free.
Eyewear Warranty
We guarantee against damages due to material or workmanship defects for 2 years from delivery date.