{"hasSingleSKU":false,"catalogEntryTypeCode":"ProductBean","parentCatalogGroupID":["3074457345616676668_3074457345616676669","3074457345616681818_3074457345616696201","3074457345616681818_3074457345616715668","3074457345616681818_3074457345616715669","3074457345616681818_3074457345616715670","3074457345616681818_3074457345616717670","3074457345616681818_3074457345616718170","3074457345616681818_3074457345616718174","3074457345616681818_3074457345616718178","3074457345616681818_3074457345616718180","3074457345616681818_3074457345616718181","3074457345616681818_3074457345616718191","3074457345616681818_3074457345616718192","3074457345616681818_3074457345616719669","3074457345616681818_3074457345616720168","3074457345616681818_3074457345616720169","3074457345616681818_3074457345616720176","3074457345616681818_3074457345616728168","3074457345616685418_3074457345616696201","3074457345616685418_3074457345616715668","3074457345616685418_3074457345616715669","3074457345616685418_3074457345616715670","3074457345616685418_3074457345616717670","3074457345616685418_3074457345616718170","3074457345616685418_3074457345616718174","3074457345616685418_3074457345616718178","3074457345616685418_3074457345616718180","3074457345616685418_3074457345616718181","3074457345616685418_3074457345616718191","3074457345616685418_3074457345616718192","3074457345616685418_3074457345616719669","3074457345616685418_3074457345616720168","3074457345616685418_3074457345616720169","3074457345616685418_3074457345616720176","3074457345616685418_3074457345616728168"],"manifest":{"payload":{"imagesCount":9,"packageType":"PI20","images":[{"order":1,"path":"https:\/\/assets2.persol.com\/cdn-record-files-pi\/845a2169-b45c-4525-80b0-acbc0030faa2\/a88d8ac0-3eb8-493a-ae7e-acbc0055564b\/0PO5007VT__8007__STD__noshad__fr.png","usage":"PLP","view":"PLP1"},{"order":2,"path":"https:\/\/assets2.persol.com\/cdn-record-files-pi\/845a2169-b45c-4525-80b0-acbc0030faa2\/45890ccc-76f7-4cff-8ea9-acbc0055545c\/0PO5007VT__8007__STD__noshad__qt.png","usage":"PLP","view":"PLP2"},{"order":1,"path":"https:\/\/assets2.persol.com\/cdn-record-files-pi\/845a2169-b45c-4525-80b0-acbc0030faa2\/3792f7cf-76fe-401b-b652-acbc00554dfa\/0PO5007VT__8007__STD__shad__qt.png","usage":"PDP Carousel","view":"Quarter (30) Shad"},{"order":2,"path":"https:\/\/assets2.persol.com\/cdn-record-files-pi\/845a2169-b45c-4525-80b0-acbc0030faa2\/d6d52112-7f6c-4431-9006-acbc005559e7\/0PO5007VT__8007__STD__shad__fr.png","usage":"PDP Carousel","view":"Front Shad"},{"order":3,"path":"https:\/\/assets2.persol.com\/cdn-record-files-pi\/845a2169-b45c-4525-80b0-acbc0030faa2\/cb9a0c0f-71f3-40af-98f8-acbc00555246\/0PO5007VT__8007__STD__shad__al2.png","usage":"PDP Carousel","view":"Alternative 2 Shad"},{"order":4,"path":"https:\/\/assets2.persol.com\/cdn-record-files-pi\/845a2169-b45c-4525-80b0-acbc0030faa2\/440d2259-a537-469e-98b8-acbc00555bb4\/0PO5007VT__8007__STD__shad__lt.png","usage":"PDP Carousel","view":"Lateral (90) Shad"},{"order":5,"path":"https:\/\/assets2.persol.com\/cdn-record-files-pi\/845a2169-b45c-4525-80b0-acbc0030faa2\/a6a167ab-db61-460e-9eac-acbc005557f1\/0PO5007VT__8007__STD__shad__bk.png","usage":"PDP Carousel","view":"Back (180) Shad"},{"order":6,"path":"https:\/\/assets2.persol.com\/cdn-record-files-pi\/845a2169-b45c-4525-80b0-acbc0030faa2\/ce29d719-7d92-4bae-8f59-acbc00555012\/0PO5007VT__8007__STD__shad__cfr.png","usage":"PDP Carousel","view":"Closed Front Shad"},{"order":7,"path":"https:\/\/assets2.persol.com\/cdn-record-files\/packaging\/46791fb9-9998-4957-8806-ae9300ed28c1\/PACK__PO__PACK12gallery.jpg","usage":"PDP Carousel","view":"Packaging"}]},"eventTime":"2022-08-18T20:41:05.667472484Z","channel":"PO","key":{"path":"PACK__PO__PACK12gallery","gender":"Unisex","mocoId":{"model":"0PO5007VT","colorCode":"8007"},"upc":"08056597443555","geoFit":"Adjustable Nosepads"}},"uniqueID":"3074457345616842173","price_EUR":"370.0","sKUs":[{"hasSingleSKU":false,"catalogEntryTypeCode":"ItemBean","parentCatalogGroupID":["3074457345616676668_3074457345616676669","3074457345616681818_3074457345616696201","3074457345616681818_3074457345616715668","3074457345616681818_3074457345616715669","3074457345616681818_3074457345616715670","3074457345616681818_3074457345616717670","3074457345616681818_3074457345616718170","3074457345616681818_3074457345616718174","3074457345616681818_3074457345616718178","3074457345616681818_3074457345616718180","3074457345616681818_3074457345616718181","3074457345616681818_3074457345616718191","3074457345616681818_3074457345616718192","3074457345616681818_3074457345616719669","3074457345616681818_3074457345616720168","3074457345616681818_3074457345616720169","3074457345616681818_3074457345616720176","3074457345616681818_3074457345616728168","3074457345616685418_3074457345616696201","3074457345616685418_3074457345616715668","3074457345616685418_3074457345616715669","3074457345616685418_3074457345616715670","3074457345616685418_3074457345616717670","3074457345616685418_3074457345616718170","3074457345616685418_3074457345616718174","3074457345616685418_3074457345616718178","3074457345616685418_3074457345616718180","3074457345616685418_3074457345616718181","3074457345616685418_3074457345616718191","3074457345616685418_3074457345616718192","3074457345616685418_3074457345616719669","3074457345616685418_3074457345616720168","3074457345616685418_3074457345616720169","3074457345616685418_3074457345616720176","3074457345616685418_3074457345616728168"],"uniqueID":"3074457345616842217","resourceId":"http:\/\/lrhsbrdilbp01.luxgroup.net:3737\/search\/resources\/store\/715838408\/productview\/byId\/3074457345616842217","price":[{"description":"L","value":"","usage":"Display","currency":"EUR"},{"description":"O","value":"","usage":"Offer","currency":"EUR"}],"thumbnail":"https:\/\/assets2.persol.com\/cdn-record-files-pi\/845a2169-b45c-4525-80b0-acbc0030faa2\/a88d8ac0-3eb8-493a-ae7e-acbc0055564b\/0PO5007VT__8007__STD__noshad__fr.png?impolicy=HB_parameters&sclw=0.25&sclh=0.25","mfPartNumber_ntk":"0PO5007VT","manufacturer":"Persol","name":"PO5007VT","buyable":"true","storeID":"715838084","attributes":[{"storeDisplay":false,"values":[{"sequence":"1","value":"0PO5007VT--8007","uniqueID":"7741124012287139913","unitOfMeasure":"","unitID":"","identifier":"0PO5007VT--8007"}],"sequence":"1","name":"Moco","usage":"Descriptive","uniqueID":"7741124012283407835","displayable":false,"comparable":false,"identifier":"MOCO","searchable":false,"facetable":false},{"storeDisplay":false,"values":[{"sequence":"0","value":"21","uniqueID":"7741124012286564641","unitOfMeasure":"","unitID":"","identifier":"21"}],"sequence":"10000","name":"BRIDGE","usage":"Descriptive","uniqueID":"7741124012285183401","displayable":true,"comparable":true,"identifier":"BRIDGE","searchable":true,"facetable":false},{"storeDisplay":false,"values":[{"sequence":"0","value":"4721","uniqueID":"7741124012286816280","unitOfMeasure":"","unitID":"","identifier":"4721"}],"sequence":"10000","name":"LENS_BRIDGE","usage":"Descriptive","uniqueID":"7741124012285183359","displayable":false,"comparable":true,"identifier":"LENS_BRIDGE","searchable":true,"facetable":false},{"storeDisplay":false,"values":[{"sequence":"0","value":"145","uniqueID":"7741124012286564875","unitOfMeasure":"","unitID":"","identifier":"145"}],"sequence":"10000","name":"TEMPLE_LENGTH","usage":"Descriptive","uniqueID":"7741124012285183381","displayable":false,"comparable":true,"identifier":"TEMPLE_LENGTH","searchable":true,"facetable":false},{"storeDisplay":false,"values":[{"sequence":"0","value":"125","uniqueID":"7741124012286572259","unitOfMeasure":"","unitID":"","identifier":"125"}],"sequence":"10000","name":"HINGE_DISTANCE","usage":"Descriptive","uniqueID":"7741124012285183405","displayable":false,"comparable":true,"identifier":"HINGE_DISTANCE","searchable":true,"facetable":false},{"storeDisplay":false,"values":[{"sequence":"0","value":"S","uniqueID":"7741124012287353863","unitOfMeasure":"","unitID":"","identifier":"S"}],"sequence":"10000","name":"Size","usage":"Defining","uniqueID":"7741124012285183347","displayable":true,"comparable":true,"identifier":"MODEL_SIZE_DISPLAY","searchable":true,"facetable":false},{"storeDisplay":false,"values":[{"sequence":"0","value":"47","uniqueID":"7741124012286573158","unitOfMeasure":"","unitID":"","identifier":"47"}],"sequence":"10000","name":"MODEL_SIZE","usage":"Descriptive","uniqueID":"7741124012285183346","displayable":false,"comparable":true,"identifier":"MODEL_SIZE","searchable":true,"facetable":false},{"storeDisplay":false,"values":[{"sequence":"0","value":"47.3","uniqueID":"7741124012286878179","unitOfMeasure":"","unitID":"","identifier":"47.3"}],"sequence":"10000","name":"LENS_WIDTH","usage":"Descriptive","uniqueID":"7741124012285183392","displayable":false,"comparable":false,"identifier":"LENS_WIDTH","searchable":true,"facetable":false},{"storeDisplay":false,"values":[{"sequence":"0","value":"160.000","uniqueID":"7741124012286564595","unitOfMeasure":"","unitID":"","identifier":"160.000"}],"sequence":"10000","name":"GROSSWEIGHT","usage":"Descriptive","uniqueID":"7741124012285183356","displayable":false,"comparable":true,"identifier":"GROSSWEIGHT","searchable":true,"facetable":false},{"storeDisplay":false,"values":[{"sequence":"0","value":"40.8","uniqueID":"7741124012286584342","unitOfMeasure":"","unitID":"","identifier":"40.8"}],"sequence":"10000","name":"LENSHEIGHT","usage":"Descriptive","uniqueID":"7741124012285183385","displayable":true,"comparable":true,"identifier":"LENSHEIGHT","searchable":true,"facetable":false},{"storeDisplay":false,"values":[{"sequence":"0","value":"21","uniqueID":"7741124012286871411","unitOfMeasure":"","unitID":"","identifier":"21"}],"sequence":"10000","name":"SEG_HEIGHT","usage":"Descriptive","uniqueID":"7741124012285183386","displayable":false,"comparable":true,"identifier":"SEG_HEIGHT","searchable":true,"facetable":false},{"storeDisplay":false,"values":[{"sequence":"0","value":"0po5007vt 47 8007","uniqueID":"7741124012287562679","unitOfMeasure":"","unitID":"","identifier":"0po5007vt 47 8007"}],"sequence":"10000","name":"SKU","usage":"Descriptive","uniqueID":"7741124012285183375","displayable":true,"comparable":true,"identifier":"SKU","searchable":true,"facetable":false},{"storeDisplay":false,"values":[{"sequence":"0","value":"8007 47","uniqueID":"7741124012286878269","unitOfMeasure":"","unitID":"","identifier":"8007 47"}],"sequence":"10000","name":"GRID","usage":"Descriptive","uniqueID":"7741124012285183355","displayable":false,"comparable":true,"identifier":"GRID","searchable":true,"facetable":false},{"storeDisplay":false,"values":[{"sequence":"0","value":"PO5007VT 8007 47-21","uniqueID":"7741124012286877932","unitOfMeasure":"","unitID":"","identifier":"PO5007VT 8007 47-21"}],"sequence":"10000","name":"DISPLAYSKU","usage":"Descriptive","uniqueID":"7741124012285183340","displayable":false,"comparable":true,"identifier":"DISPLAYSKU","searchable":true,"facetable":false}],"partNumber":"8056597443555"},{"hasSingleSKU":false,"catalogEntryTypeCode":"ItemBean","parentCatalogGroupID":["3074457345616676668_3074457345616676669","3074457345616681818_3074457345616696201","3074457345616681818_3074457345616715668","3074457345616681818_3074457345616715669","3074457345616681818_3074457345616715670","3074457345616681818_3074457345616717670","3074457345616681818_3074457345616718170","3074457345616681818_3074457345616718174","3074457345616681818_3074457345616718178","3074457345616681818_3074457345616718180","3074457345616681818_3074457345616718181","3074457345616681818_3074457345616718191","3074457345616681818_3074457345616718192","3074457345616681818_3074457345616719669","3074457345616681818_3074457345616720168","3074457345616681818_3074457345616720169","3074457345616681818_3074457345616720176","3074457345616681818_3074457345616728168","3074457345616685418_3074457345616696201","3074457345616685418_3074457345616715668","3074457345616685418_3074457345616715669","3074457345616685418_3074457345616715670","3074457345616685418_3074457345616717670","3074457345616685418_3074457345616718170","3074457345616685418_3074457345616718174","3074457345616685418_3074457345616718178","3074457345616685418_3074457345616718180","3074457345616685418_3074457345616718181","3074457345616685418_3074457345616718191","3074457345616685418_3074457345616718192","3074457345616685418_3074457345616719669","3074457345616685418_3074457345616720168","3074457345616685418_3074457345616720169","3074457345616685418_3074457345616720176","3074457345616685418_3074457345616728168"],"uniqueID":"3074457345616842218","resourceId":"http:\/\/lrhsbrdilbp01.luxgroup.net:3737\/search\/resources\/store\/715838408\/productview\/byId\/3074457345616842218","price":[{"description":"L","value":"","usage":"Display","currency":"EUR"},{"description":"O","value":"","usage":"Offer","currency":"EUR"}],"thumbnail":"https:\/\/assets2.persol.com\/cdn-record-files-pi\/845a2169-b45c-4525-80b0-acbc0030faa2\/a88d8ac0-3eb8-493a-ae7e-acbc0055564b\/0PO5007VT__8007__STD__noshad__fr.png?impolicy=HB_parameters&sclw=0.25&sclh=0.25","mfPartNumber_ntk":"0PO5007VT","manufacturer":"Persol","name":"PO5007VT","buyable":"true","storeID":"715838084","attributes":[{"storeDisplay":false,"values":[{"sequence":"1","value":"0PO5007VT--8007","uniqueID":"7741124012287139913","unitOfMeasure":"","unitID":"","identifier":"0PO5007VT--8007"}],"sequence":"1","name":"Moco","usage":"Descriptive","uniqueID":"7741124012283407835","displayable":false,"comparable":false,"identifier":"MOCO","searchable":false,"facetable":false},{"storeDisplay":false,"values":[{"sequence":"0","value":"4521","uniqueID":"7741124012286878067","unitOfMeasure":"","unitID":"","identifier":"4521"}],"sequence":"10000","name":"LENS_BRIDGE","usage":"Descriptive","uniqueID":"7741124012285183359","displayable":false,"comparable":true,"identifier":"LENS_BRIDGE","searchable":true,"facetable":false},{"storeDisplay":false,"values":[{"sequence":"0","value":"145","uniqueID":"7741124012286564875","unitOfMeasure":"","unitID":"","identifier":"145"}],"sequence":"10000","name":"TEMPLE_LENGTH","usage":"Descriptive","uniqueID":"7741124012285183381","displayable":false,"comparable":true,"identifier":"TEMPLE_LENGTH","searchable":true,"facetable":false},{"storeDisplay":false,"values":[{"sequence":"0","value":"160.000","uniqueID":"7741124012286564595","unitOfMeasure":"","unitID":"","identifier":"160.000"}],"sequence":"10000","name":"GROSSWEIGHT","usage":"Descriptive","uniqueID":"7741124012285183356","displayable":false,"comparable":true,"identifier":"GROSSWEIGHT","searchable":true,"facetable":false},{"storeDisplay":false,"values":[{"sequence":"0","value":"8007 45","uniqueID":"7741124012286878238","unitOfMeasure":"","unitID":"","identifier":"8007 45"}],"sequence":"10000","name":"GRID","usage":"Descriptive","uniqueID":"7741124012285183355","displayable":false,"comparable":true,"identifier":"GRID","searchable":true,"facetable":false},{"storeDisplay":false,"values":[{"sequence":"0","value":"XS","uniqueID":"7741124012287793012","unitOfMeasure":"","unitID":"","identifier":"XS"}],"sequence":"10000","name":"Size","usage":"Defining","uniqueID":"7741124012285183347","displayable":true,"comparable":true,"identifier":"MODEL_SIZE_DISPLAY","searchable":true,"facetable":false},{"storeDisplay":false,"values":[{"sequence":"0","value":"PO5007VT 8007 45-21","uniqueID":"7741124012286877944","unitOfMeasure":"","unitID":"","identifier":"PO5007VT 8007 45-21"}],"sequence":"10000","name":"DISPLAYSKU","usage":"Descriptive","uniqueID":"7741124012285183340","displayable":false,"comparable":true,"identifier":"DISPLAYSKU","searchable":true,"facetable":false},{"storeDisplay":false,"values":[{"sequence":"0","value":"45.3","uniqueID":"7741124012286878092","unitOfMeasure":"","unitID":"","identifier":"45.3"}],"sequence":"10000","name":"LENS_WIDTH","usage":"Descriptive","uniqueID":"7741124012285183392","displayable":false,"comparable":false,"identifier":"LENS_WIDTH","searchable":true,"facetable":false},{"storeDisplay":false,"values":[{"sequence":"0","value":"121","uniqueID":"7741124012286571489","unitOfMeasure":"","unitID":"","identifier":"121"}],"sequence":"10000","name":"HINGE_DISTANCE","usage":"Descriptive","uniqueID":"7741124012285183405","displayable":false,"comparable":true,"identifier":"HINGE_DISTANCE","searchable":true,"facetable":false},{"storeDisplay":false,"values":[{"sequence":"0","value":"39.1","uniqueID":"7741124012286582013","unitOfMeasure":"","unitID":"","identifier":"39.1"}],"sequence":"10000","name":"LENSHEIGHT","usage":"Descriptive","uniqueID":"7741124012285183385","displayable":true,"comparable":true,"identifier":"LENSHEIGHT","searchable":true,"facetable":false},{"storeDisplay":false,"values":[{"sequence":"0","value":"21","uniqueID":"7741124012286871411","unitOfMeasure":"","unitID":"","identifier":"21"}],"sequence":"10000","name":"SEG_HEIGHT","usage":"Descriptive","uniqueID":"7741124012285183386","displayable":false,"comparable":true,"identifier":"SEG_HEIGHT","searchable":true,"facetable":false},{"storeDisplay":false,"values":[{"sequence":"0","value":"0po5007vt 45 8007","uniqueID":"7741124012287562714","unitOfMeasure":"","unitID":"","identifier":"0po5007vt 45 8007"}],"sequence":"10000","name":"SKU","usage":"Descriptive","uniqueID":"7741124012285183375","displayable":true,"comparable":true,"identifier":"SKU","searchable":true,"facetable":false},{"storeDisplay":false,"values":[{"sequence":"0","value":"45","uniqueID":"7741124012286584453","unitOfMeasure":"","unitID":"","identifier":"45"}],"sequence":"10000","name":"MODEL_SIZE","usage":"Descriptive","uniqueID":"7741124012285183346","displayable":false,"comparable":true,"identifier":"MODEL_SIZE","searchable":true,"facetable":false},{"storeDisplay":false,"values":[{"sequence":"0","value":"21","uniqueID":"7741124012286564641","unitOfMeasure":"","unitID":"","identifier":"21"}],"sequence":"10000","name":"BRIDGE","usage":"Descriptive","uniqueID":"7741124012285183401","displayable":true,"comparable":true,"identifier":"BRIDGE","searchable":true,"facetable":false}],"partNumber":"8056597443562"}],"merchandisingAssociations":[{"hasSingleSKU":true,"catalogEntryTypeCode":"ProductBean","associationType":"UPSELL","parentCatalogGroupID":["3074457345616676668_3074457345616722668","3074457345616681818_3074457345616718168","3074457345616681818_3074457345616721168","3074457345616681818_3074457345616721668","3074457345616685418_3074457345616718168","3074457345616685418_3074457345616721168","3074457345616685418_3074457345616721668"],"price_EUR":"20.0","uniqueID":"3074457345616863168","singleSKUCatalogEntryID":"3074457345616863169","sKUs":[{"hasSingleSKU":false,"catalogEntryTypeCode":"ItemBean","parentCatalogGroupID":["3074457345616676668_3074457345616722668","3074457345616681818_3074457345616718168","3074457345616681818_3074457345616721168","3074457345616681818_3074457345616721668","3074457345616685418_3074457345616718168","3074457345616685418_3074457345616721168","3074457345616685418_3074457345616721668"],"uniqueID":"3074457345616863169","resourceId":"http:\/\/lrhsbrdilbp01.luxgroup.net:3737\/search\/resources\/store\/715838408\/productview\/byId\/3074457345616863169","price":[{"description":"L","value":"","usage":"Display","currency":"EUR"},{"description":"O","value":"","usage":"Offer","currency":"EUR"}],"thumbnail":"https:\/\/assets2.persol.com\/cdn-record-files-pi\/809403f0-75e4-4b52-ada5-ad640156a2f8\/8a5e1f7c-ad3b-49b8-b65c-ad7501265a22\/APO0001CK__000001.png?impolicy=HB_parameters&sclw=0.25&sclh=0.25","mfPartNumber_ntk":"APO0001CK","manufacturer":"Persol","name":"Cleaning Kit","buyable":"true","storeID":"715838084","attributes":[{"storeDisplay":false,"values":[{"sequence":"1","value":"APO0001CK--000001","uniqueID":"7741124012287383445","unitOfMeasure":"","unitID":"","identifier":"APO0001CK--000001"}],"sequence":"1","name":"Moco","usage":"Descriptive","uniqueID":"7741124012283407835","displayable":false,"comparable":false,"identifier":"MOCO","searchable":false,"facetable":false},{"storeDisplay":false,"values":[{"sequence":"0","value":"APO0001CK 000001","uniqueID":"7741124012287378035","unitOfMeasure":"","unitID":"","identifier":"APO0001CK 000001"}],"sequence":"10000","name":"DISPLAYSKU","usage":"Descriptive","uniqueID":"7741124012285183340","displayable":false,"comparable":true,"identifier":"DISPLAYSKU","searchable":true,"facetable":false},{"storeDisplay":false,"values":[{"sequence":"0","value":"00000100","uniqueID":"7741124012287378034","unitOfMeasure":"","unitID":"","identifier":"00000100"}],"sequence":"10000","name":"GRID","usage":"Descriptive","uniqueID":"7741124012285183355","displayable":false,"comparable":true,"identifier":"GRID","searchable":true,"facetable":false},{"storeDisplay":false,"values":[{"sequence":"0","value":"Apo0001ck 00 000001","uniqueID":"7741124012287583622","unitOfMeasure":"","unitID":"","identifier":"Apo0001ck 00 000001"}],"sequence":"10000","name":"SKU","usage":"Descriptive","uniqueID":"7741124012285183375","displayable":true,"comparable":true,"identifier":"SKU","searchable":true,"facetable":false},{"storeDisplay":false,"values":[{"sequence":"0","value":"Standard","uniqueID":"7741124012286537435","unitOfMeasure":"","unitID":"","identifier":"Standard"}],"sequence":"10000","name":"Size","usage":"Defining","uniqueID":"7741124012285183347","displayable":true,"comparable":true,"identifier":"MODEL_SIZE_DISPLAY","searchable":true,"facetable":false}],"partNumber":"8056597316644"}],"resourceId":"http:\/\/lrhsbrdilbp01.luxgroup.net:3737\/search\/resources\/store\/715838408\/productview\/byId\/3074457345616863168","price":[{"description":"L","value":"20.0","usage":"Display","currency":"EUR"},{"description":"O","value":"","usage":"Offer","currency":"EUR"}],"thumbnail":"https:\/\/assets2.persol.com\/cdn-record-files-pi\/809403f0-75e4-4b52-ada5-ad640156a2f8\/8a5e1f7c-ad3b-49b8-b65c-ad7501265a22\/APO0001CK__000001.png?impolicy=HB_parameters&sclw=0.25&sclh=0.25","manufacturer":"Persol","name":"Cleaning Kit","buyable":"true","quantity":1,"attributes":[{"storeDisplay":false,"values":[{"sequence":"0","value":"APO0001CK","uniqueID":"7741124012287377527","unitOfMeasure":"","unitID":"","identifier":"APO0001CK"}],"sequence":"0","name":"Model code","associatedKeyword":"-","usage":"Descriptive","uniqueID":"7741124012285183387","displayable":true,"comparable":true,"identifier":"MODEL_CODE_DISPLAY","searchable":true,"facetable":false},{"storeDisplay":false,"values":[{"sequence":"0","value":"Black","uniqueID":"7741124012286537438","unitOfMeasure":"","unitID":"","identifier":"Black"}],"sequence":"1","name":"Front color","associatedKeyword":"-","usage":"Descriptive","uniqueID":"7741124012285183348","displayable":true,"comparable":true,"identifier":"FRONT_COLOR","searchable":true,"facetable":false},{"storeDisplay":false,"values":[{"sequence":"0","value":"Demo Lens","uniqueID":"7741124012286537794","unitOfMeasure":"","unitID":"","identifier":"Demo Lens"}],"sequence":"3","name":"LENS_TREATMENT","associatedKeyword":"-","usage":"Descriptive","uniqueID":"7741124012285183358","displayable":false,"comparable":true,"identifier":"LENS_TREATMENT","searchable":true,"facetable":false},{"storeDisplay":false,"values":[{"sequence":"0","value":"Polyamide","uniqueID":"7741124012286933850","unitOfMeasure":"","unitID":"","identifier":"Polyamide"}],"sequence":"5","name":"LENS MATERIAL","associatedKeyword":"-","usage":"Descriptive","uniqueID":"7741124012285183391","displayable":true,"comparable":false,"identifier":"LENS_MATERIAL","searchable":true,"facetable":false},{"storeDisplay":false,"values":[{"sequence":"0","value":"Eyewear Accessories","uniqueID":"7741124012287759127","unitOfMeasure":"","unitID":"","identifier":"Eyewear Accessories"}],"sequence":"10000","name":"PROD_HIERARCHY_1","associatedKeyword":"-","usage":"Descriptive","uniqueID":"7741124012285183396","displayable":false,"comparable":false,"identifier":"PROD_HIERARCHY_1","searchable":true,"facetable":false},{"storeDisplay":false,"values":[{"sequence":"0","value":"Cleaning Kits","uniqueID":"7741124012287809803","unitOfMeasure":"","unitID":"","identifier":"Cleaning Kits"}],"sequence":"10000","name":"PROD_HIERARCHY_2","associatedKeyword":"-","usage":"Descriptive","uniqueID":"7741124012285183397","displayable":false,"comparable":false,"identifier":"PROD_HIERARCHY_2","searchable":true,"facetable":false},{"storeDisplay":false,"values":[{"sequence":"0","value":"Cleaning Kits","uniqueID":"7741124012287809804","unitOfMeasure":"","unitID":"","identifier":"Cleaning Kits"}],"sequence":"10000","name":"PROD_HIERARCHY_3","associatedKeyword":"-","usage":"Descriptive","uniqueID":"7741124012285183398","displayable":false,"comparable":true,"identifier":"PROD_HIERARCHY_3","searchable":true,"facetable":false},{"storeDisplay":false,"values":[{"sequence":"0","value":"202107","uniqueID":"7741124012287142677","unitOfMeasure":"","unitID":"","identifier":"202107"}],"sequence":"10000","name":"Collection","associatedKeyword":"-","usage":"Descriptive","uniqueID":"7741124012285183338","displayable":false,"comparable":true,"identifier":"COLLECTION","searchable":true,"facetable":false},{"storeDisplay":false,"values":[{"sequence":"0","value":"Not Classified","uniqueID":"7741124012287538287","unitOfMeasure":"","unitID":"","identifier":"Not Classified"}],"sequence":"10000","name":"Range","associatedKeyword":"-","usage":"Descriptive","uniqueID":"7741124012285183366","displayable":false,"comparable":true,"identifier":"RANGE","searchable":true,"facetable":true},{"storeDisplay":false,"values":[{"sequence":"0","value":"True","uniqueID":"7741124012286585967","unitOfMeasure":"","unitID":"","identifier":"TRUE"}],"sequence":"10000","name":"Newreleases","associatedKeyword":"-","usage":"Descriptive","uniqueID":"7741124012285183368","displayable":false,"comparable":true,"identifier":"NEWRELEASES","searchable":true,"facetable":false},{"storeDisplay":false,"values":[{"sequence":"0","value":"False","uniqueID":"7741124012286559531","unitOfMeasure":"","unitID":"","identifier":"False"}],"sequence":"10000","name":"ENGRAVINGELIGIBLE","associatedKeyword":"-","usage":"Descriptive","uniqueID":"7741124012285183402","displayable":false,"comparable":true,"identifier":"ENGRAVINGELIGIBLE","searchable":true,"facetable":false},{"storeDisplay":false,"values":[{"sequence":"0","value":"False","uniqueID":"7741124012286815386","unitOfMeasure":"","unitID":"","identifier":"False"}],"sequence":"10000","name":"IS_ROXABLE","associatedKeyword":"-","usage":"Descriptive","uniqueID":"7741124012285183384","displayable":false,"comparable":true,"identifier":"IS_ROXABLE","searchable":true,"facetable":true},{"storeDisplay":false,"values":[{"sequence":"0","value":"50","uniqueID":"7741124012287396294","unitOfMeasure":"","unitID":"","identifier":"50"}],"sequence":"10000","name":"GROSSWEIGHT","associatedKeyword":"-","usage":"Descriptive","uniqueID":"7741124012285183356","displayable":false,"comparable":true,"identifier":"GROSSWEIGHT","searchable":true,"facetable":false},{"storeDisplay":false,"values":[{"sequence":"0","value":"Demo Lens","uniqueID":"7741124012286537799","unitOfMeasure":"","unitID":"","identifier":"Demo Lens"}],"sequence":"10000","name":"Lens type","associatedKeyword":"-","usage":"Descriptive","uniqueID":"7741124012285183389","displayable":false,"comparable":true,"identifier":"LENS_TREATMENT_FACET","searchable":true,"facetable":true},{"storeDisplay":false,"values":[{"sequence":"0","value":"Not Classified","uniqueID":"7741124012286540244","unitOfMeasure":"","unitID":"","identifier":"Not Classified"}],"sequence":"10000","name":"MARKETING_THEME_STORY","associatedKeyword":"-","usage":"Descriptive","uniqueID":"7741124012285183404","displayable":false,"comparable":true,"identifier":"MARKETING_THEME_STORY","searchable":true,"facetable":false},{"storeDisplay":false,"values":[{"sequence":"0","value":"Zacc","uniqueID":"7741124012287479065","unitOfMeasure":"","unitID":"","identifier":"ZACC"}],"sequence":"10000","name":"MATERIALTYPE","associatedKeyword":"-","usage":"Descriptive","uniqueID":"7741124012285183367","displayable":false,"comparable":true,"identifier":"MATERIALTYPE","searchable":true,"facetable":false},{"storeDisplay":false,"values":[{"sequence":"0","value":"Accessories","uniqueID":"7741124012287378029","unitOfMeasure":"","unitID":"","identifier":"Accessories"}],"sequence":"10000","name":"Producttype","associatedKeyword":"-","usage":"Descriptive","uniqueID":"7741124012285183374","displayable":false,"comparable":true,"identifier":"PRODUCTTYPE","searchable":true,"facetable":false},{"storeDisplay":false,"values":[{"sequence":"0","value":"False","uniqueID":"7741124012286539021","unitOfMeasure":"","unitID":"","identifier":"False"}],"sequence":"10000","name":"BESTSELLERS","associatedKeyword":"-","usage":"Descriptive","uniqueID":"7741124012285183337","displayable":false,"comparable":true,"identifier":"BESTSELLERS","searchable":true,"facetable":false},{"storeDisplay":false,"values":[{"sequence":"0","value":"Cleaning Kit","uniqueID":"7741124012287377528","unitOfMeasure":"","unitID":"","identifier":"Cleaning Kit"}],"sequence":"10000","name":"MODELNAME","associatedKeyword":"-","usage":"Descriptive","uniqueID":"7741124012285183376","displayable":false,"comparable":true,"identifier":"MODELNAME","searchable":true,"facetable":false},{"storeDisplay":false,"values":[{"image1":"https:\/\/assets.persol.com\/extra\/image\/TargetOptical\/filters\/black.png","sequence":"0","value":"Black","uniqueID":"7741124012286537569","image1path":"https:\/\/assets.persol.com\/extra\/image\/TargetOptical\/filters\/black.png","unitOfMeasure":"","unitID":"","identifier":"Black"}],"sequence":"10000","name":"Frame color","associatedKeyword":"-","usage":"Descriptive","uniqueID":"7741124012285183349","displayable":false,"comparable":true,"identifier":"FRONT_COLOR_FACET","searchable":true,"facetable":true},{"storeDisplay":false,"values":[{"sequence":"0","value":"False","uniqueID":"7741124012286585969","unitOfMeasure":"","unitID":"","identifier":"FALSE"}],"sequence":"10000","name":"Polarized","associatedKeyword":"-","usage":"Descriptive","uniqueID":"7741124012285183372","displayable":false,"comparable":true,"identifier":"POLARIZED","searchable":true,"facetable":true},{"storeDisplay":false,"values":[{"sequence":"0","value":"False","uniqueID":"7741124012286808336","unitOfMeasure":"","unitID":"","identifier":"FALSE"}],"sequence":"10000","name":"Photochromic","associatedKeyword":"-","usage":"Descriptive","uniqueID":"7741124012285183417","displayable":false,"comparable":true,"identifier":"PHOTOCHROMIC","searchable":true,"facetable":true},{"storeDisplay":false,"values":[{"sequence":"0","value":"False","uniqueID":"7741124012286551805","unitOfMeasure":"","unitID":"","identifier":"False"}],"sequence":"10000","name":"Exclusive","associatedKeyword":"-","usage":"Descriptive","uniqueID":"7741124012285183341","displayable":false,"comparable":true,"identifier":"EXCLUSIVE","searchable":true,"facetable":true},{"storeDisplay":false,"values":[{"sequence":"0","value":"000001","uniqueID":"7741124012287378031","unitOfMeasure":"","unitID":"","identifier":"000001"}],"sequence":"10000","name":"COLOR_CODE","associatedKeyword":"-","usage":"Descriptive","uniqueID":"7741124012285183339","displayable":false,"comparable":false,"identifier":"COLOR_CODE","searchable":true,"facetable":false},{"storeDisplay":false,"values":[{"sequence":"0","value":"False","uniqueID":"7741124012286551777","unitOfMeasure":"","unitID":"","identifier":"False"}],"sequence":"10000","name":"Limited edition","associatedKeyword":"-","usage":"Descriptive","uniqueID":"7741124012285183364","displayable":false,"comparable":true,"identifier":"LIMITED_EDITION","searchable":true,"facetable":false},{"storeDisplay":false,"values":[{"sequence":"0","value":"Standard","uniqueID":"7741124012286537435","unitOfMeasure":"","unitID":"","identifier":"Standard"}],"sequence":"10000","name":"Size","associatedKeyword":"-","usage":"Defining","uniqueID":"7741124012285183347","displayable":true,"comparable":true,"identifier":"MODEL_SIZE_DISPLAY","searchable":true,"facetable":false},{"storeDisplay":false,"values":[{"sequence":"0","value":"Woman","uniqueID":"7741124012287660366","unitOfMeasure":"","unitID":"","identifier":"FEMALE"}],"sequence":"10000","name":"Gender","associatedKeyword":"-","usage":"Descriptive","uniqueID":"7741124012285183353","displayable":false,"comparable":true,"identifier":"GENDER","searchable":true,"facetable":true}],"storeID":"715838084","numberOfSKUs":1,"partNumber":"APO0001CK__000001"}],"fullImage":"https:\/\/assets.persol.com\/is\/image\/Persol\/8056597443555__001.png?impolicy=HB_parameters&sclw=1&sclh=1","resourceId":"http:\/\/lrhsbrdilbp01.luxgroup.net:3737\/search\/resources\/store\/715838408\/productview\/byId\/3074457345616842173","price":[{"description":"L","value":"370.0","usage":"Display","currency":"EUR"},{"description":"O","value":"","usage":"Offer","currency":"EUR"}],"thumbnail":"https:\/\/assets2.persol.com\/cdn-record-files-pi\/845a2169-b45c-4525-80b0-acbc0030faa2\/a88d8ac0-3eb8-493a-ae7e-acbc0055564b\/0PO5007VT__8007__STD__noshad__fr.png?impolicy=HB_parameters&sclw=0.25&sclh=0.25","thumbnail2":"https:\/\/assets2.persol.com\/cdn-record-files-pi\/845a2169-b45c-4525-80b0-acbc0030faa2\/45890ccc-76f7-4cff-8ea9-acbc0055545c\/0PO5007VT__8007__STD__noshad__qt.png?impolicy=HB_parameters&sclw=0.25&sclh=0.25","manufacturer":"Persol","name":"PO5007VT","longDescription":"With its new squared shape, this titanium model perfectly combines the skill, refinement and modernity of Japanese style with the distinctly Italian artisanal quality that has always defined Persol","buyable":"true","storeID":"715838084","attributes":[{"storeDisplay":false,"values":[{"sequence":"0","value":"PO5007VT","uniqueID":"7741124012286855347","unitOfMeasure":"","unitID":"","identifier":"PO5007VT"}],"sequence":"0","name":"Model code","associatedKeyword":"-","usage":"Descriptive","uniqueID":"7741124012285183387","displayable":true,"comparable":true,"identifier":"MODEL_CODE_DISPLAY","searchable":true,"facetable":false},{"storeDisplay":false,"values":[{"sequence":"0","value":"Brown\/Gunmetal","uniqueID":"7741124012286855337","unitOfMeasure":"","unitID":"","identifier":"Brown\/Gunmetal"}],"sequence":"1","name":"Front color","associatedKeyword":"-","usage":"Descriptive","uniqueID":"7741124012285183348","displayable":true,"comparable":true,"identifier":"FRONT_COLOR","searchable":true,"facetable":false},{"storeDisplay":false,"values":[{"sequence":"0","value":"Demo Lens","uniqueID":"7741124012286537812","unitOfMeasure":"","unitID":"","identifier":"Demo Lens"}],"sequence":"2","name":"Lens color","associatedKeyword":"-","usage":"Descriptive","uniqueID":"7741124012285183361","displayable":true,"comparable":true,"identifier":"LENS_COLOR","searchable":true,"facetable":false},{"storeDisplay":false,"values":[{"sequence":"0","value":"Demo Lens","uniqueID":"7741124012286537794","unitOfMeasure":"","unitID":"","identifier":"Demo Lens"}],"sequence":"3","name":"LENS_TREATMENT","associatedKeyword":"-","usage":"Descriptive","uniqueID":"7741124012285183358","displayable":false,"comparable":true,"identifier":"LENS_TREATMENT","searchable":true,"facetable":false},{"storeDisplay":false,"values":[{"sequence":"0","value":"Plastic","uniqueID":"7741124012287934038","unitOfMeasure":"","unitID":"","identifier":"Plastic"}],"sequence":"5","name":"LENS MATERIAL","associatedKeyword":"-","usage":"Descriptive","uniqueID":"7741124012285183391","displayable":true,"comparable":false,"identifier":"LENS_MATERIAL","searchable":true,"facetable":false},{"storeDisplay":false,"values":[{"sequence":"0","value":"Titanium","uniqueID":"7741124012286537417","unitOfMeasure":"","unitID":"","identifier":"Titanium"}],"sequence":"6","name":"Frame Material","associatedKeyword":"-","usage":"Descriptive","uniqueID":"7741124012285183343","displayable":true,"comparable":true,"identifier":"FRAMEMATERIAL","searchable":true,"facetable":false},{"storeDisplay":false,"values":[{"sequence":"0","value":"Adjustable","uniqueID":"7741124012286539872","unitOfMeasure":"","unitID":"","identifier":"Adjustable"}],"sequence":"7","name":"Nosepads","associatedKeyword":"-","usage":"Descriptive","uniqueID":"7741124012285183406","displayable":true,"comparable":true,"identifier":"NOSEPADS","searchable":true,"facetable":false},{"storeDisplay":false,"values":[{"sequence":"1","value":"1","uniqueID":"7741124012286536835","unitOfMeasure":"","unitID":"","identifier":"1"}],"sequence":"8","name":"PLACEHOLDER_SIZE","associatedKeyword":"-","usage":"Descriptive","uniqueID":"7741124012285182835","displayable":true,"comparable":false,"identifier":"PLACEHOLDER_SIZE","searchable":false,"facetable":false},{"storeDisplay":false,"values":[{"sequence":"0","value":"Narrow","uniqueID":"7741124012286537410","unitOfMeasure":"","unitID":"","identifier":"Narrow"}],"sequence":"10","name":"Fit","associatedKeyword":"-","usage":"Descriptive","uniqueID":"7741124012285183407","displayable":true,"comparable":true,"identifier":"FRAME_FIT","searchable":true,"facetable":true},{"storeDisplay":false,"values":[{"sequence":"0","value":"Adjustable Nosepads","uniqueID":"7741124012287792489","unitOfMeasure":"","unitID":"","identifier":"Adjustable Nosepads"}],"sequence":"11","name":"Bridge choice & nosepad","associatedKeyword":"-","usage":"Descriptive","uniqueID":"7741124012285183354","displayable":true,"comparable":true,"identifier":"GEO_FIT","searchable":true,"facetable":true},{"storeDisplay":false,"values":[{"sequence":"0","value":"Japan","uniqueID":"7741124012286558494","unitOfMeasure":"","unitID":"","identifier":"Japan"}],"sequence":"12","name":"Made in","associatedKeyword":"-","usage":"Descriptive","uniqueID":"7741124012285183365","displayable":true,"comparable":true,"identifier":"MADEIN","searchable":true,"facetable":false},{"storeDisplay":false,"values":[{"sequence":"0","value":"Mini Supreme Acetate","uniqueID":"7741124012286538464","unitOfMeasure":"","unitID":"","identifier":"Mini Supreme Acetate"}],"sequence":"10000","name":"TEMPLE_LOGO","associatedKeyword":"-","usage":"Descriptive","uniqueID":"7741124012285183400","displayable":false,"comparable":true,"identifier":"TEMPLE_LOGO","searchable":true,"facetable":false},{"storeDisplay":false,"values":[{"sequence":"0","value":"False","uniqueID":"7741124012286585966","unitOfMeasure":"","unitID":"","identifier":"FALSE"}],"sequence":"10000","name":"Newreleases","associatedKeyword":"-","usage":"Descriptive","uniqueID":"7741124012285183368","displayable":false,"comparable":true,"identifier":"NEWRELEASES","searchable":true,"facetable":false},{"storeDisplay":false,"values":[{"sequence":"0","value":"True","uniqueID":"7741124012287207578","unitOfMeasure":"","unitID":"","identifier":"True"}],"sequence":"10000","name":"IS_ROX_FRIENDLY","associatedKeyword":"-","usage":"Descriptive","uniqueID":"7741124012285183412","displayable":false,"comparable":true,"identifier":"IS_ROX_FRIENDLY","searchable":true,"facetable":false},{"storeDisplay":false,"values":[{"sequence":"0","value":"Titanium","uniqueID":"7741124012287437698","unitOfMeasure":"","unitID":"","identifier":"Titanium"}],"sequence":"10000","name":"FRAME_MATERIAL_PERCEIVED","associatedKeyword":"-","usage":"Descriptive","uniqueID":"7741124012285183383","displayable":false,"comparable":true,"identifier":"FRAME_MATERIAL_PERCEIVED","searchable":true,"facetable":false},{"storeDisplay":false,"values":[{"sequence":"0","value":"Product","uniqueID":"7741124012287437699","unitOfMeasure":"","unitID":"","identifier":"Product"}],"sequence":"10000","name":"COLLECTION_TYPE","associatedKeyword":"-","usage":"Descriptive","uniqueID":"7741124012285183409","displayable":false,"comparable":false,"identifier":"COLLECTION_TYPE","searchable":true,"facetable":false},{"storeDisplay":false,"values":[{"sequence":"0","value":"Gold","uniqueID":"7741124012286538673","unitOfMeasure":"","unitID":"","identifier":"Gold"}],"sequence":"10000","name":"Temple inner color facet","associatedKeyword":"-","usage":"Descriptive","uniqueID":"7741124012285183380","displayable":false,"comparable":true,"identifier":"TEMPLE_INNER_COLOR_FACET","searchable":true,"facetable":false},{"storeDisplay":false,"values":[{"sequence":"0","value":"Gold","uniqueID":"7741124012286537759","unitOfMeasure":"","unitID":"","identifier":"Gold"}],"sequence":"10000","name":"Front inner color facet","associatedKeyword":"-","usage":"Descriptive","uniqueID":"7741124012285183352","displayable":false,"comparable":true,"identifier":"FRONT_INNER_COLOR_FACET","searchable":true,"facetable":false},{"storeDisplay":false,"values":[{"sequence":"0","value":"True","uniqueID":"7741124012286585960","unitOfMeasure":"","unitID":"","identifier":"TRUE"}],"sequence":"10000","name":"MEFLECTO","associatedKeyword":"-","usage":"Descriptive","uniqueID":"7741124012285183415","displayable":false,"comparable":false,"identifier":"MEFLECTO","searchable":true,"facetable":false},{"storeDisplay":false,"values":[{"sequence":"0","value":"Square","uniqueID":"7741124012286537432","unitOfMeasure":"","unitID":"","identifier":"Square"}],"sequence":"10000","name":"Frame shape","associatedKeyword":"-","usage":"Descriptive","uniqueID":"7741124012285183345","displayable":false,"comparable":true,"identifier":"FRAME_SHAPE_FACET","searchable":true,"facetable":true},{"storeDisplay":false,"values":[{"sequence":"0","value":"False","uniqueID":"7741124012286585857","unitOfMeasure":"","unitID":"","identifier":"FALSE"}],"sequence":"10000","name":"FLEX","associatedKeyword":"-","usage":"Descriptive","uniqueID":"7741124012285183414","displayable":false,"comparable":true,"identifier":"FLEX","searchable":true,"facetable":false},{"storeDisplay":false,"values":[{"sequence":"0","value":"False","uniqueID":"7741124012286585859","unitOfMeasure":"","unitID":"","identifier":"FALSE"}],"sequence":"10000","name":"Foldable","associatedKeyword":"-","usage":"Descriptive","uniqueID":"7741124012285183342","displayable":false,"comparable":true,"identifier":"FOLDABLE","searchable":true,"facetable":true},{"storeDisplay":false,"values":[{"sequence":"0","value":"Full Rim","uniqueID":"7741124012286537790","unitOfMeasure":"","unitID":"","identifier":"Full Rim"}],"sequence":"10000","name":"Frame Type","associatedKeyword":"-","usage":"Descriptive","uniqueID":"7741124012285183357","displayable":false,"comparable":true,"identifier":"FRAMETYPE","searchable":true,"facetable":false},{"storeDisplay":false,"values":[{"sequence":"0","value":"Square","uniqueID":"7741124012286537428","unitOfMeasure":"","unitID":"","identifier":"Square"}],"sequence":"10000","name":"FRAME_SHAPE","associatedKeyword":"-","usage":"Descriptive","uniqueID":"7741124012285183344","displayable":false,"comparable":true,"identifier":"FRAME_SHAPE","searchable":true,"facetable":false},{"storeDisplay":false,"values":[{"sequence":"0","value":"Trending Now","uniqueID":"7741124012286539394","unitOfMeasure":"","unitID":"","identifier":"Trending Now"}],"sequence":"10000","name":"PRIMARY_FAMILY","associatedKeyword":"-","usage":"Descriptive","uniqueID":"7741124012285183373","displayable":false,"comparable":true,"identifier":"PRIMARY_FAMILY","searchable":true,"facetable":false},{"storeDisplay":false,"values":[{"sequence":"0","value":"Sartoria","uniqueID":"7741124012286538837","unitOfMeasure":"","unitID":"","identifier":"Sartoria"}],"sequence":"10000","name":"Range","associatedKeyword":"-","usage":"Descriptive","uniqueID":"7741124012285183366","displayable":false,"comparable":true,"identifier":"RANGE","searchable":true,"facetable":true},{"storeDisplay":false,"values":[{"sequence":"0","value":"Optical","uniqueID":"7741124012286538943","unitOfMeasure":"","unitID":"","identifier":"Optical"}],"sequence":"10000","name":"Producttype","associatedKeyword":"-","usage":"Descriptive","uniqueID":"7741124012285183374","displayable":false,"comparable":true,"identifier":"PRODUCTTYPE","searchable":true,"facetable":false},{"storeDisplay":false,"values":[{"sequence":"0","value":"False","uniqueID":"7741124012286539021","unitOfMeasure":"","unitID":"","identifier":"False"}],"sequence":"10000","name":"BESTSELLERS","associatedKeyword":"-","usage":"Descriptive","uniqueID":"7741124012285183337","displayable":false,"comparable":true,"identifier":"BESTSELLERS","searchable":true,"facetable":false},{"storeDisplay":false,"values":[{"sequence":"0","value":"Titanium Collection","uniqueID":"7741124012286541464","unitOfMeasure":"","unitID":"","identifier":"Titanium Collection"}],"sequence":"10000","name":"Model family","associatedKeyword":"-","usage":"Descriptive","uniqueID":"7741124012285183382","displayable":false,"comparable":true,"identifier":"MODEL_FAMILY","searchable":true,"facetable":true},{"storeDisplay":false,"values":[{"sequence":"0","value":"Brown","uniqueID":"7741124012286538453","unitOfMeasure":"","unitID":"","identifier":"Brown"}],"sequence":"10000","name":"Temple color facet","associatedKeyword":"-","usage":"Descriptive","uniqueID":"7741124012285183378","displayable":false,"comparable":true,"identifier":"TEMPLE_COLOR_FACET","searchable":true,"facetable":false},{"storeDisplay":false,"values":[{"sequence":"0","value":"202102","uniqueID":"7741124012286855335","unitOfMeasure":"","unitID":"","identifier":"202102"}],"sequence":"10000","name":"Collection","associatedKeyword":"-","usage":"Descriptive","uniqueID":"7741124012285183338","displayable":false,"comparable":true,"identifier":"COLLECTION","searchable":true,"facetable":false},{"storeDisplay":false,"values":[{"sequence":"0","value":"Demo Lens","uniqueID":"7741124012286537799","unitOfMeasure":"","unitID":"","identifier":"Demo Lens"}],"sequence":"10000","name":"Lens type","associatedKeyword":"-","usage":"Descriptive","uniqueID":"7741124012285183389","displayable":false,"comparable":true,"identifier":"LENS_TREATMENT_FACET","searchable":true,"facetable":true},{"storeDisplay":false,"values":[{"sequence":"0","value":"False","uniqueID":"7741124012286585969","unitOfMeasure":"","unitID":"","identifier":"FALSE"}],"sequence":"10000","name":"Polarized","associatedKeyword":"-","usage":"Descriptive","uniqueID":"7741124012285183372","displayable":false,"comparable":true,"identifier":"POLARIZED","searchable":true,"facetable":true},{"storeDisplay":false,"values":[{"sequence":"0","value":"Gold","uniqueID":"7741124012286538538","unitOfMeasure":"","unitID":"","identifier":"Gold"}],"sequence":"10000","name":"TEMPLE_INNER_COLOR","associatedKeyword":"-","usage":"Descriptive","uniqueID":"7741124012285183379","displayable":false,"comparable":true,"identifier":"TEMPLE_INNER_COLOR","searchable":true,"facetable":false},{"storeDisplay":false,"values":[{"sequence":"0","value":"Demo Lens","uniqueID":"7741124012286537850","unitOfMeasure":"","unitID":"","identifier":"Demo Lens"}],"sequence":"10000","name":"Lens color","associatedKeyword":"-","usage":"Descriptive","uniqueID":"7741124012285183362","displayable":false,"comparable":true,"identifier":"LENS_COLOR_FACET","searchable":true,"facetable":true},{"storeDisplay":false,"values":[{"sequence":"0","value":"PO5007VT","uniqueID":"7741124012286855350","unitOfMeasure":"","unitID":"","identifier":"PO5007VT"}],"sequence":"10000","name":"MODELNAME","associatedKeyword":"-","usage":"Descriptive","uniqueID":"7741124012285183376","displayable":false,"comparable":true,"identifier":"MODELNAME","searchable":true,"facetable":false},{"storeDisplay":false,"values":[{"sequence":"0","value":"Polished","uniqueID":"7741124012286537585","unitOfMeasure":"","unitID":"","identifier":"Polished"}],"sequence":"10000","name":"FINISHING","associatedKeyword":"-","usage":"Descriptive","uniqueID":"7741124012285183350","displayable":false,"comparable":true,"identifier":"FINISHING","searchable":true,"facetable":false},{"storeDisplay":false,"values":[{"sequence":"0","value":"Titanium","uniqueID":"7741124012286537420","unitOfMeasure":"","unitID":"","identifier":"Titanium"}],"sequence":"10000","name":"Frame Material","associatedKeyword":"-","usage":"Descriptive","uniqueID":"7741124012285183388","displayable":false,"comparable":true,"identifier":"FRAMEMATERIAL_FACET","searchable":true,"facetable":true},{"storeDisplay":false,"values":[{"sequence":"0","value":"Gold","uniqueID":"7741124012286537665","unitOfMeasure":"","unitID":"","identifier":"Gold"}],"sequence":"10000","name":"FRONT_INNER_COLOR","associatedKeyword":"-","usage":"Descriptive","uniqueID":"7741124012285183351","displayable":false,"comparable":true,"identifier":"FRONT_INNER_COLOR","searchable":true,"facetable":false},{"storeDisplay":false,"values":[{"image1":"https:\/\/assets.persol.com\/extra\/image\/TargetOptical\/filters\/brown.png","sequence":"0","value":"Brown","uniqueID":"7741124012286537571","image1path":"https:\/\/assets.persol.com\/extra\/image\/TargetOptical\/filters\/brown.png","unitOfMeasure":"","unitID":"","identifier":"Brown"}],"sequence":"10000","name":"Frame color","associatedKeyword":"-","usage":"Descriptive","uniqueID":"7741124012285183349","displayable":false,"comparable":true,"identifier":"FRONT_COLOR_FACET","searchable":true,"facetable":true},{"storeDisplay":false,"values":[{"sequence":"0","value":"False","uniqueID":"7741124012286808341","unitOfMeasure":"","unitID":"","identifier":"FALSE"}],"sequence":"10000","name":"VINTAGECELEBRATION","associatedKeyword":"-","usage":"Descriptive","uniqueID":"7741124012285183420","displayable":false,"comparable":false,"identifier":"VINTAGECELEBRATION","searchable":true,"facetable":false},{"storeDisplay":false,"values":[{"sequence":"0","value":"Standard","uniqueID":"7741124012286537351","unitOfMeasure":"","unitID":"","identifier":"Standard"}],"sequence":"10000","name":"BRIDGETYPE","associatedKeyword":"-","usage":"Descriptive","uniqueID":"7741124012285183419","displayable":false,"comparable":true,"identifier":"BRIDGETYPE","searchable":true,"facetable":false},{"storeDisplay":false,"values":[{"sequence":"0","value":"False","uniqueID":"7741124012286808336","unitOfMeasure":"","unitID":"","identifier":"FALSE"}],"sequence":"10000","name":"Photochromic","associatedKeyword":"-","usage":"Descriptive","uniqueID":"7741124012285183417","displayable":false,"comparable":true,"identifier":"PHOTOCHROMIC","searchable":true,"facetable":true},{"storeDisplay":false,"values":[{"sequence":"0","value":"Supreme 4,5","uniqueID":"7741124012286818836","unitOfMeasure":"","unitID":"","identifier":"SUPREME 4,5"}],"sequence":"10000","name":"ARROW","associatedKeyword":"-","usage":"Descriptive","uniqueID":"7741124012285183418","displayable":false,"comparable":true,"identifier":"ARROW","searchable":true,"facetable":false},{"storeDisplay":false,"values":[{"sequence":"0","value":"True","uniqueID":"7741124012286551645","unitOfMeasure":"","unitID":"","identifier":"True"}],"sequence":"10000","name":"ENGRAVINGELIGIBLE","associatedKeyword":"-","usage":"Descriptive","uniqueID":"7741124012285183402","displayable":false,"comparable":true,"identifier":"ENGRAVINGELIGIBLE","searchable":true,"facetable":false},{"storeDisplay":false,"values":[{"sequence":"0","value":"Material-titanium;arrow-all;meflecto-all","uniqueID":"7741124012286558540","unitOfMeasure":"","unitID":"","identifier":"Material-titanium;arrow-all;meflecto-all"}],"sequence":"10000","name":"FEATURES","associatedKeyword":"-","usage":"Descriptive","uniqueID":"7741124012285183399","displayable":false,"comparable":false,"identifier":"FEATURES","searchable":true,"facetable":false},{"storeDisplay":false,"values":[{"sequence":"0","value":"False","uniqueID":"7741124012286551805","unitOfMeasure":"","unitID":"","identifier":"False"}],"sequence":"10000","name":"Exclusive","associatedKeyword":"-","usage":"Descriptive","uniqueID":"7741124012285183341","displayable":false,"comparable":true,"identifier":"EXCLUSIVE","searchable":true,"facetable":true},{"storeDisplay":false,"values":[{"sequence":"0","value":"False","uniqueID":"7741124012286551777","unitOfMeasure":"","unitID":"","identifier":"False"}],"sequence":"10000","name":"Limited edition","associatedKeyword":"-","usage":"Descriptive","uniqueID":"7741124012285183364","displayable":false,"comparable":true,"identifier":"LIMITED_EDITION","searchable":true,"facetable":false},{"storeDisplay":false,"values":[{"sequence":"0","value":"False","uniqueID":"7741124012286811847","unitOfMeasure":"","unitID":"","identifier":"False"}],"sequence":"10000","name":"AVANT_PREMIERE","associatedKeyword":"-","usage":"Descriptive","uniqueID":"7741124012285183335","displayable":false,"comparable":true,"identifier":"AVANT_PREMIERE","searchable":true,"facetable":false},{"storeDisplay":false,"values":[{"sequence":"0","value":"PACK__PO__PACK12gallery","uniqueID":"7741124012287753328","unitOfMeasure":"","unitID":"","identifier":"PACK__PO__PACK12gallery"}],"sequence":"10000","name":"CASE","associatedKeyword":"-","usage":"Descriptive","uniqueID":"7741124012285183410","displayable":false,"comparable":false,"identifier":"CASE","searchable":true,"facetable":false},{"storeDisplay":false,"values":[{"sequence":"0","value":"8007","uniqueID":"7741124012286865781","unitOfMeasure":"","unitID":"","identifier":"8007"}],"sequence":"10000","name":"COLOR_CODE","associatedKeyword":"-","usage":"Descriptive","uniqueID":"7741124012285183339","displayable":false,"comparable":false,"identifier":"COLOR_CODE","searchable":true,"facetable":false},{"storeDisplay":false,"values":[{"sequence":"0","value":"True","uniqueID":"7741124012286863031","unitOfMeasure":"","unitID":"","identifier":"True"}],"sequence":"10000","name":"IS_ROXABLE","associatedKeyword":"-","usage":"Descriptive","uniqueID":"7741124012285183384","displayable":false,"comparable":true,"identifier":"IS_ROXABLE","searchable":true,"facetable":true},{"storeDisplay":false,"values":[{"sequence":"0","value":"Brown","uniqueID":"7741124012286538346","unitOfMeasure":"","unitID":"","identifier":"Brown"}],"sequence":"10000","name":"TEMPLE_COLOR","associatedKeyword":"-","usage":"Descriptive","uniqueID":"7741124012285183377","displayable":false,"comparable":true,"identifier":"TEMPLE_COLOR","searchable":true,"facetable":false},{"storeDisplay":false,"values":[{"sequence":"0","value":"Zpfn","uniqueID":"7741124012286585965","unitOfMeasure":"","unitID":"","identifier":"ZPFN"}],"sequence":"10000","name":"MATERIALTYPE","associatedKeyword":"-","usage":"Descriptive","uniqueID":"7741124012285183367","displayable":false,"comparable":true,"identifier":"MATERIALTYPE","searchable":true,"facetable":false},{"storeDisplay":false,"values":[{"sequence":"0","value":"160","uniqueID":"7741124012286564532","unitOfMeasure":"","unitID":"","identifier":"160"}],"sequence":"10000","name":"GROSSWEIGHT","associatedKeyword":"-","usage":"Descriptive","uniqueID":"7741124012285183356","displayable":false,"comparable":true,"identifier":"GROSSWEIGHT","searchable":true,"facetable":false},{"storeDisplay":false,"values":[{"sequence":"0","value":"Zpfn - Finished Goods","uniqueID":"7741124012287387028","unitOfMeasure":"","unitID":"","identifier":"Zpfn - Finished Goods"}],"sequence":"10000","name":"PROD_HIERARCHY_0","associatedKeyword":"-","usage":"Descriptive","uniqueID":"7741124012285183395","displayable":false,"comparable":false,"identifier":"PROD_HIERARCHY_0","searchable":true,"facetable":false},{"storeDisplay":false,"values":[{"sequence":"2","value":"XS","uniqueID":"7741124012287791989","unitOfMeasure":"","unitID":"","identifier":"XS"},{"sequence":"3","value":"S","uniqueID":"7741124012287791990","unitOfMeasure":"","unitID":"","identifier":"S"}],"sequence":"10000","name":"Size","associatedKeyword":"-","usage":"Descriptive","uniqueID":"7741124012285273336","displayable":false,"comparable":true,"identifier":"MODEL_SIZE_DISPLAY_PLP","searchable":true,"facetable":true},{"storeDisplay":false,"values":[{"sequence":"0","value":"XS","uniqueID":"7741124012287793012","unitOfMeasure":"","unitID":"","identifier":"XS"},{"sequence":"0","value":"S","uniqueID":"7741124012287353863","unitOfMeasure":"","unitID":"","identifier":"S"}],"sequence":"10000","name":"Size","associatedKeyword":"-","usage":"Defining","uniqueID":"7741124012285183347","displayable":true,"comparable":true,"identifier":"MODEL_SIZE_DISPLAY","searchable":true,"facetable":false},{"storeDisplay":false,"values":[{"sequence":"0","value":"47","uniqueID":"7741124012287803749","unitOfMeasure":"","unitID":"","identifier":"47"}],"sequence":"10000","name":"MOST_SOLD_SIZE","associatedKeyword":"-","usage":"Descriptive","uniqueID":"7741124012285273840","displayable":false,"comparable":true,"identifier":"MOST_SOLD_SIZE","searchable":false,"facetable":false},{"storeDisplay":false,"values":[{"sequence":"0","value":"Brown","uniqueID":"7741124012287386407","unitOfMeasure":"","unitID":"","identifier":"Brown"}],"sequence":"10000","name":"PREDOMINANT_COLOR_FACET","associatedKeyword":"-","usage":"Descriptive","uniqueID":"7741124012285183394","displayable":false,"comparable":false,"identifier":"PREDOMINANT_COLOR_FACET","searchable":true,"facetable":false},{"storeDisplay":false,"values":[{"sequence":"0","value":"Oval-round","uniqueID":"7741124012286537401","unitOfMeasure":"","unitID":"","identifier":"Oval-round"}],"sequence":"10000","name":"SUGGESTED_FACE_SHAPE","associatedKeyword":"-","usage":"Descriptive","uniqueID":"7741124012285183403","displayable":false,"comparable":true,"identifier":"SUGGESTED_FACE_SHAPE","searchable":true,"facetable":false},{"storeDisplay":false,"values":[{"sequence":"0","value":"Eyeglasses","uniqueID":"7741124012287737938","unitOfMeasure":"","unitID":"","identifier":"Eyeglasses"}],"sequence":"10000","name":"PROD_HIERARCHY_1","associatedKeyword":"-","usage":"Descriptive","uniqueID":"7741124012285183396","displayable":false,"comparable":false,"identifier":"PROD_HIERARCHY_1","searchable":true,"facetable":false},{"storeDisplay":false,"values":[{"sequence":"0","value":"Man","uniqueID":"7741124012287660339","unitOfMeasure":"","unitID":"","identifier":"MALE"}],"sequence":"10000","name":"Gender","associatedKeyword":"-","usage":"Descriptive","uniqueID":"7741124012285183353","displayable":false,"comparable":true,"identifier":"GENDER","searchable":true,"facetable":true},{"storeDisplay":false,"values":[{"sequence":"0","value":"True","uniqueID":"7741124012287939842","unitOfMeasure":"","unitID":"","identifier":"True"}],"sequence":"10000","name":"CLICK_AND_COLLECT","associatedKeyword":"-","usage":"Descriptive","uniqueID":"7741124012285273835","displayable":false,"comparable":false,"identifier":"CLICK_AND_COLLECT","searchable":false,"facetable":false},{"storeDisplay":false,"values":[{"sequence":"0","value":"True","uniqueID":"7741124012287939843","unitOfMeasure":"","unitID":"","identifier":"True"}],"sequence":"10000","name":"REAL_TIME_INVENTORY","associatedKeyword":"-","usage":"Descriptive","uniqueID":"7741124012285273836","displayable":false,"comparable":false,"identifier":"REAL_TIME_INVENTORY","searchable":false,"facetable":false},{"storeDisplay":false,"values":[{"sequence":"0","value":"True","uniqueID":"7741124012287939844","unitOfMeasure":"","unitID":"","identifier":"True"}],"sequence":"10000","name":"SHIP_FROM_STORE","associatedKeyword":"-","usage":"Descriptive","uniqueID":"7741124012285273837","displayable":false,"comparable":false,"identifier":"SHIP_FROM_STORE","searchable":false,"facetable":false},{"storeDisplay":false,"values":[{"sequence":"0","value":"True","uniqueID":"7741124012287939845","unitOfMeasure":"","unitID":"","identifier":"True"}],"sequence":"10000","name":"SHIP_TO_STORE","associatedKeyword":"-","usage":"Descriptive","uniqueID":"7741124012285273838","displayable":false,"comparable":false,"identifier":"SHIP_TO_STORE","searchable":false,"facetable":false}],"numberOfSKUs":2,"partNumber":"0PO5007VT__8007"}
With its new squared shape, this titanium model perfectly combines the skill, refinement and modernity of Japanese style with the distinctly Italian artisanal quality that has always defined Persol
PO5007VT
With its new squared shape, this titanium model perfectly combines the skill, refinement and modernity of Japanese style with the distinctly Italian artisanal quality that has always defined Persol
Model code:

PO5007VT 8007 45-21

Front color:

Brown/Gunmetal

Lens color:

Demo Lens

LENS MATERIAL:

Plastic

Frame Material:

Titanium

Measurements

:

Fit:

Narrow Fitting

A small lens front for those who prefer to cover a smaller portion of the face.

Bridge choice & nosepad:

Adjustable Nosepads

Nosepads that can be widened or narrowed to fit your unique nose shape.

Made in:

Japan
The Titanium Collection.
Back in a new edition.
Discover the newest edition of the Titanium collection, where Italian artisans and Japanese masters unite in heritage and expertise to become the unique frame sculptors of these three new shapes.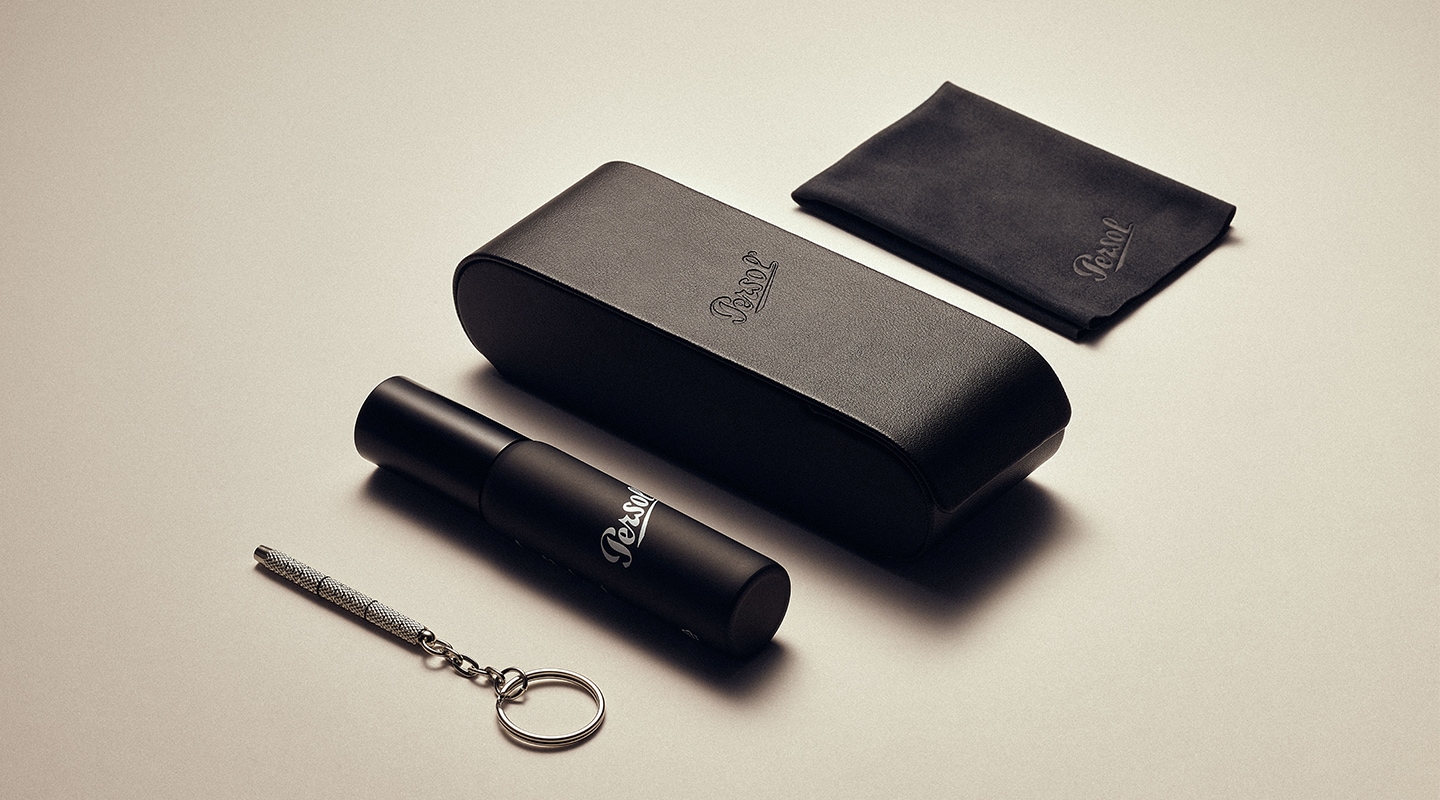 The perfect original accessory to pair with your Persol. The Persol Cleaning Kit, for advanced care.
Shop Cleaning Kit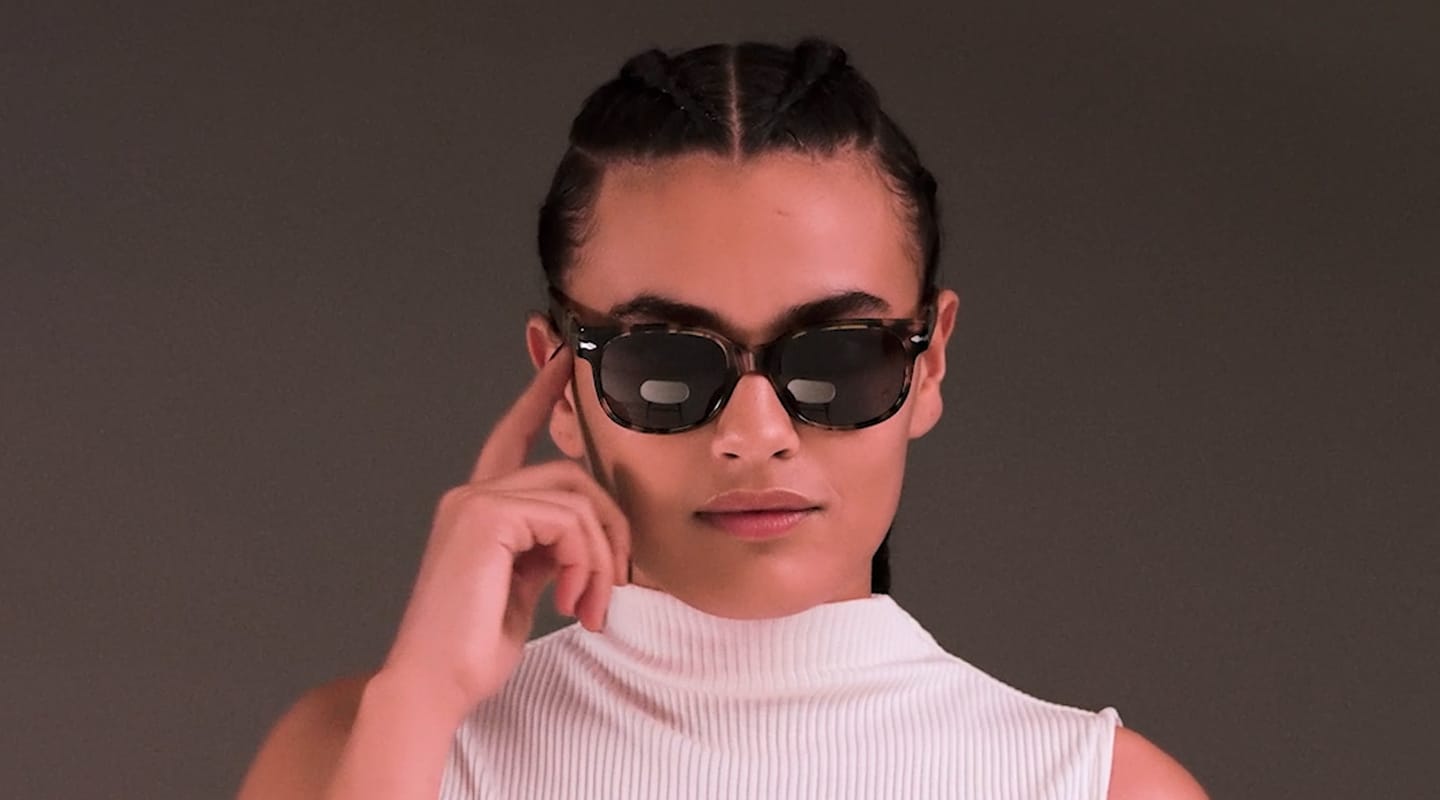 Want to see how your favorites frames look on?
Try on sunglasses and eyeglasses from the comfort of your home and see exactly how they suit you.
Try it now
Free Shipping
All you have to do is decide which frame you want. We'll handle the shipping.
Easy Returns
The easiest way to get the perfect model, hassle free.
Eyewear Warranty
We guarantee against damages due to material or workmanship defects for 2 years from delivery date.