{"hasSingleSKU":true,"catalogEntryTypeCode":"ProductBean","parentCatalogGroupID":["3074457345616676668_3074457345616676669","3074457345616681818_3074457345616678178","3074457345616681818_3074457345616696193","3074457345616681818_3074457345616696201","3074457345616681818_3074457345616700168","3074457345616681818_3074457345616700669","3074457345616681818_3074457345616700670","3074457345616681818_3074457345616710669","3074457345616681818_3074457345616710673","3074457345616681818_3074457345616715669","3074457345616681818_3074457345616716181","3074457345616681818_3074457345616716184"],"price_USD":"130.0","uniqueID":"3074457345616796677","singleSKUCatalogEntryID":"3074457345616797181","sKUs":[{"hasSingleSKU":false,"catalogEntryTypeCode":"ItemBean","parentCatalogGroupID":["3074457345616676668_3074457345616676669","3074457345616681818_3074457345616678178","3074457345616681818_3074457345616696193","3074457345616681818_3074457345616696201","3074457345616681818_3074457345616700168","3074457345616681818_3074457345616700669","3074457345616681818_3074457345616700670","3074457345616681818_3074457345616710669","3074457345616681818_3074457345616710673","3074457345616681818_3074457345616715669","3074457345616681818_3074457345616716181","3074457345616681818_3074457345616716184"],"uniqueID":"3074457345616797181","resourceId":"http:\/\/lux-prdlv-src01.lux-ecomm.net:3737\/search\/resources\/store\/715838388\/productview\/byId\/3074457345616797181","price":[{"description":"L","value":"","usage":"Display","currency":"USD"},{"description":"O","value":"","usage":"Offer","currency":"USD"}],"thumbnail":"https:\/\/assets.persol.com\/is\/image\/Persol\/8053672837735_noshad_fr.png?impolicy=HB_parameters&sclw=0.25&sclh=0.25","shortDescription":"PO3007V 1059 50-19","mfPartNumber_ntk":"0PO3007V","name":"PO3007V 1059 50-19","buyable":"true","storeID":"715838084","attributes":[{"storeDisplay":false,"values":[{"sequence":"1","value":"Standard","uniqueID":"7741124012283336345","unitOfMeasure":"","unitID":"","identifier":"Standard"}],"sequence":"1","name":"Size","usage":"Defining","uniqueID":"7741124012283334359","displayable":true,"comparable":false,"identifier":"MODEL_SIZE_DISPLAY","searchable":false,"facetable":false},{"storeDisplay":false,"values":[{"sequence":"2","value":"Demo Lens","uniqueID":"7741124012283336896","unitOfMeasure":"","unitID":"","identifier":"Demo Lens"}],"sequence":"3","name":"Lens treatment","usage":"Descriptive","uniqueID":"7741124012283334364","displayable":false,"comparable":false,"identifier":"LENS_TREATMENT","searchable":false,"facetable":false},{"storeDisplay":false,"values":[{"sequence":"4","value":"145","uniqueID":"7741124012283336892","unitOfMeasure":"","unitID":"","identifier":"145"}],"sequence":"462","name":"Temple length","usage":"Descriptive","uniqueID":"7741124012283334363","displayable":false,"comparable":false,"identifier":"TEMPLE_LENGTH","searchable":false,"facetable":false},{"storeDisplay":false,"values":[{"sequence":"3","value":"1059 50","uniqueID":"7741124012283759541","unitOfMeasure":"","unitID":"","identifier":"1059 50"}],"sequence":"462","name":"Grid Value","usage":"Descriptive","uniqueID":"7741124012283364837","displayable":true,"comparable":false,"identifier":"GRID VALUE","searchable":false,"facetable":false},{"storeDisplay":false,"values":[{"sequence":"1","value":"Demo Lens","uniqueID":"7741124012283336900","unitOfMeasure":"","unitID":"","identifier":"Demo Lens"}],"sequence":"462","name":"Lens type","usage":"Descriptive","uniqueID":"7741124012283334365","displayable":false,"comparable":false,"identifier":"LENS_TREATMENT_FACET","searchable":true,"facetable":true},{"storeDisplay":false,"values":[{"sequence":"1","value":"19","uniqueID":"7741124012283336885","unitOfMeasure":"","unitID":"","identifier":"19"}],"sequence":"462","name":"Lens bridge","usage":"Descriptive","uniqueID":"7741124012283334362","displayable":false,"comparable":false,"identifier":"LENS_BRIDGE","searchable":false,"facetable":false},{"storeDisplay":false,"values":[{"sequence":"1","value":"Trending Now","uniqueID":"7741124012284582837","unitOfMeasure":"","unitID":"","identifier":"Trending Now"}],"sequence":"462","name":"Primary family","usage":"Descriptive","uniqueID":"7741124012284026836","displayable":false,"comparable":false,"identifier":"PRIMARY_FAMILY","searchable":false,"facetable":false},{"storeDisplay":false,"values":[{"sequence":"5","value":"Acetate-all;arrow-all","uniqueID":"7741124012285345920","unitOfMeasure":"","unitID":"","identifier":"Acetate-all;arrow-all"}],"sequence":"462","name":"FEATURES","usage":"Descriptive","uniqueID":"7741124012284251845","displayable":false,"comparable":false,"identifier":"FEATURES","searchable":false,"facetable":false},{"storeDisplay":false,"values":[{"sequence":"1","value":"50","uniqueID":"7741124012283336334","unitOfMeasure":"","unitID":"","identifier":"50"}],"sequence":"462","name":"Model size","usage":"Descriptive","uniqueID":"7741124012283334358","displayable":false,"comparable":false,"identifier":"MODEL_SIZE","searchable":false,"facetable":false},{"storeDisplay":false,"values":[{"sequence":"1","value":"Zpfn","uniqueID":"7741124012283336923","unitOfMeasure":"","unitID":"","identifier":"Zpfn"}],"sequence":"462","name":"Materialtype","usage":"Descriptive","uniqueID":"7741124012283334372","displayable":false,"comparable":false,"identifier":"MATERIALTYPE","searchable":false,"facetable":false},{"storeDisplay":false,"values":[{"sequence":"4","value":"PO3007V 1059 50-19","uniqueID":"7741124012285345890","unitOfMeasure":"","unitID":"","identifier":"PO3007V 1059 50-19"}],"sequence":"462","name":"Displaysku","usage":"Descriptive","uniqueID":"7741124012283364836","displayable":false,"comparable":false,"identifier":"DISPLAYSKU","searchable":false,"facetable":false},{"storeDisplay":false,"values":[{"sequence":"5","value":"Supreme 3,5","uniqueID":"7741124012283355340","unitOfMeasure":"","unitID":"","identifier":"Supreme 3,5"}],"sequence":"1642","name":"Arrow","usage":"Descriptive","uniqueID":"7741124012283348835","displayable":false,"comparable":false,"identifier":"ARROW","searchable":false,"facetable":false}],"partNumber":"8053672837735"}],"merchandisingAssociations":[{"hasSingleSKU":false,"catalogEntryTypeCode":"ProductBean","associationType":"REPLACEMENT","parentCatalogGroupID":["3074457345616676668_3074457345616676669","3074457345616681818_3074457345616678178","3074457345616681818_3074457345616696193","3074457345616681818_3074457345616696201","3074457345616681818_3074457345616700168","3074457345616681818_3074457345616700669","3074457345616681818_3074457345616700670","3074457345616681818_3074457345616715669","3074457345616681818_3074457345616716181","3074457345616681818_3074457345616716187","3074457345616681818_3074457345616716189"],"price_USD":"265.0","uniqueID":"3074457345616679056","sKUs":[{"hasSingleSKU":false,"catalogEntryTypeCode":"ItemBean","parentCatalogGroupID":["3074457345616676668_3074457345616676669","3074457345616681818_3074457345616678178","3074457345616681818_3074457345616696193","3074457345616681818_3074457345616696201","3074457345616681818_3074457345616700168","3074457345616681818_3074457345616700669","3074457345616681818_3074457345616700670","3074457345616681818_3074457345616715669","3074457345616681818_3074457345616716181","3074457345616681818_3074457345616716187","3074457345616681818_3074457345616716189"],"uniqueID":"3074457345616679791","resourceId":"http:\/\/lux-prdlv-src01.lux-ecomm.net:3737\/search\/resources\/store\/715838388\/productview\/byId\/3074457345616679791","price":[{"description":"L","value":"","usage":"Display","currency":"USD"},{"description":"O","value":"","usage":"Offer","currency":"USD"}],"thumbnail":"https:\/\/assets.persol.com\/is\/image\/Persol\/713132362747_noshad_fr.png?impolicy=HB_parameters&sclw=0.25&sclh=0.25","shortDescription":"PO3007V 24 50-19","mfPartNumber_ntk":"0PO3007V","name":"PO3007V 24 50-19","buyable":"true","storeID":"715838084","attributes":[{"storeDisplay":false,"values":[{"sequence":"1","value":"Standard","uniqueID":"7741124012283336345","unitOfMeasure":"","unitID":"","identifier":"Standard"}],"sequence":"1","name":"Size","usage":"Defining","uniqueID":"7741124012283334359","displayable":true,"comparable":false,"identifier":"MODEL_SIZE_DISPLAY","searchable":false,"facetable":false},{"storeDisplay":false,"values":[{"sequence":"2","value":"Demo Lens","uniqueID":"7741124012283336896","unitOfMeasure":"","unitID":"","identifier":"Demo Lens"}],"sequence":"3","name":"Lens treatment","usage":"Descriptive","uniqueID":"7741124012283334364","displayable":false,"comparable":false,"identifier":"LENS_TREATMENT","searchable":false,"facetable":false},{"storeDisplay":false,"values":[{"sequence":"1","value":"19","uniqueID":"7741124012283336885","unitOfMeasure":"","unitID":"","identifier":"19"}],"sequence":"471","name":"Lens bridge","usage":"Descriptive","uniqueID":"7741124012283334362","displayable":false,"comparable":false,"identifier":"LENS_BRIDGE","searchable":false,"facetable":false},{"storeDisplay":false,"values":[{"sequence":"4","value":"145","uniqueID":"7741124012283336892","unitOfMeasure":"","unitID":"","identifier":"145"}],"sequence":"471","name":"Temple length","usage":"Descriptive","uniqueID":"7741124012283334363","displayable":false,"comparable":false,"identifier":"TEMPLE_LENGTH","searchable":false,"facetable":false},{"storeDisplay":false,"values":[{"sequence":"1","value":"24 50","uniqueID":"7741124012283360946","unitOfMeasure":"","unitID":"","identifier":"24 50"}],"sequence":"471","name":"Grid Value","usage":"Descriptive","uniqueID":"7741124012283364837","displayable":true,"comparable":false,"identifier":"GRID VALUE","searchable":false,"facetable":false},{"storeDisplay":false,"values":[{"sequence":"1","value":"Demo Lens","uniqueID":"7741124012283336900","unitOfMeasure":"","unitID":"","identifier":"Demo Lens"}],"sequence":"471","name":"Lens type","usage":"Descriptive","uniqueID":"7741124012283334365","displayable":false,"comparable":false,"identifier":"LENS_TREATMENT_FACET","searchable":true,"facetable":true},{"storeDisplay":false,"values":[{"sequence":"1","value":"Material-acetate;arrow-all;meflecto-all","uniqueID":"7741124012284859903","unitOfMeasure":"","unitID":"","identifier":"Material-acetate;arrow-all;meflecto-all"}],"sequence":"471","name":"FEATURES","usage":"Descriptive","uniqueID":"7741124012284251845","displayable":false,"comparable":false,"identifier":"FEATURES","searchable":false,"facetable":false},{"storeDisplay":false,"values":[{"sequence":"5","value":"PO3007V 24 50-19","uniqueID":"7741124012283759743","unitOfMeasure":"","unitID":"","identifier":"PO3007V 24 50-19"}],"sequence":"471","name":"Displaysku","usage":"Descriptive","uniqueID":"7741124012283364836","displayable":false,"comparable":false,"identifier":"DISPLAYSKU","searchable":false,"facetable":false},{"storeDisplay":false,"values":[{"sequence":"1","value":"50","uniqueID":"7741124012283336334","unitOfMeasure":"","unitID":"","identifier":"50"}],"sequence":"471","name":"Model size","usage":"Descriptive","uniqueID":"7741124012283334358","displayable":false,"comparable":false,"identifier":"MODEL_SIZE","searchable":false,"facetable":false},{"storeDisplay":false,"values":[{"sequence":"1","value":"Zpfn","uniqueID":"7741124012283336923","unitOfMeasure":"","unitID":"","identifier":"Zpfn"}],"sequence":"471","name":"Materialtype","usage":"Descriptive","uniqueID":"7741124012283334372","displayable":false,"comparable":false,"identifier":"MATERIALTYPE","searchable":false,"facetable":false},{"storeDisplay":false,"values":[{"sequence":"5","value":"150","uniqueID":"7741124012283336878","unitOfMeasure":"","unitID":"","identifier":"150"}],"sequence":"471","name":"Grossweight","usage":"Descriptive","uniqueID":"7741124012283334361","displayable":false,"comparable":false,"identifier":"GROSSWEIGHT","searchable":false,"facetable":false},{"storeDisplay":false,"values":[{"sequence":"1","value":"Trending Now","uniqueID":"7741124012284582837","unitOfMeasure":"","unitID":"","identifier":"Trending Now"}],"sequence":"471","name":"Primary family","usage":"Descriptive","uniqueID":"7741124012284026836","displayable":false,"comparable":false,"identifier":"PRIMARY_FAMILY","searchable":false,"facetable":false},{"storeDisplay":false,"values":[{"sequence":"5","value":"Supreme 3,5","uniqueID":"7741124012283355340","unitOfMeasure":"","unitID":"","identifier":"Supreme 3,5"}],"sequence":"1638","name":"Arrow","usage":"Descriptive","uniqueID":"7741124012283348835","displayable":false,"comparable":false,"identifier":"ARROW","searchable":false,"facetable":false}],"partNumber":"713132362747"},{"hasSingleSKU":false,"catalogEntryTypeCode":"ItemBean","parentCatalogGroupID":["3074457345616676668_3074457345616676669","3074457345616681818_3074457345616678178","3074457345616681818_3074457345616696193","3074457345616681818_3074457345616696201","3074457345616681818_3074457345616700168","3074457345616681818_3074457345616700669","3074457345616681818_3074457345616700670","3074457345616681818_3074457345616715669","3074457345616681818_3074457345616716181","3074457345616681818_3074457345616716187","3074457345616681818_3074457345616716189"],"uniqueID":"3074457345616679793","resourceId":"http:\/\/lux-prdlv-src01.lux-ecomm.net:3737\/search\/resources\/store\/715838388\/productview\/byId\/3074457345616679793","price":[{"description":"L","value":"","usage":"Display","currency":"USD"},{"description":"O","value":"","usage":"Offer","currency":"USD"}],"thumbnail":"https:\/\/assets.persol.com\/is\/image\/Persol\/8053672663501_noshad_fr.png?impolicy=HB_parameters&sclw=0.25&sclh=0.25","shortDescription":"PO3007V 24 52-19","mfPartNumber_ntk":"0PO3007V","name":"PO3007V 24 52-19","buyable":"true","storeID":"715838084","attributes":[{"storeDisplay":false,"values":[{"sequence":"3","value":"Large","uniqueID":"7741124012283336346","unitOfMeasure":"","unitID":"","identifier":"Large"}],"sequence":"1","name":"Size","usage":"Defining","uniqueID":"7741124012283334359","displayable":true,"comparable":false,"identifier":"MODEL_SIZE_DISPLAY","searchable":false,"facetable":false},{"storeDisplay":false,"values":[{"sequence":"2","value":"Demo Lens","uniqueID":"7741124012283336896","unitOfMeasure":"","unitID":"","identifier":"Demo Lens"}],"sequence":"3","name":"Lens treatment","usage":"Descriptive","uniqueID":"7741124012283334364","displayable":false,"comparable":false,"identifier":"LENS_TREATMENT","searchable":false,"facetable":false},{"storeDisplay":false,"values":[{"sequence":"1","value":"Zpfn","uniqueID":"7741124012283336923","unitOfMeasure":"","unitID":"","identifier":"Zpfn"}],"sequence":"472","name":"Materialtype","usage":"Descriptive","uniqueID":"7741124012283334372","displayable":false,"comparable":false,"identifier":"MATERIALTYPE","searchable":false,"facetable":false},{"storeDisplay":false,"values":[{"sequence":"3","value":"52","uniqueID":"7741124012283336336","unitOfMeasure":"","unitID":"","identifier":"52"}],"sequence":"472","name":"Model size","usage":"Descriptive","uniqueID":"7741124012283334358","displayable":false,"comparable":false,"identifier":"MODEL_SIZE","searchable":false,"facetable":false},{"storeDisplay":false,"values":[{"sequence":"3","value":"24 52","uniqueID":"7741124012283360941","unitOfMeasure":"","unitID":"","identifier":"24 52"}],"sequence":"472","name":"Grid Value","usage":"Descriptive","uniqueID":"7741124012283364837","displayable":true,"comparable":false,"identifier":"GRID VALUE","searchable":false,"facetable":false},{"storeDisplay":false,"values":[{"sequence":"4","value":"145","uniqueID":"7741124012283336892","unitOfMeasure":"","unitID":"","identifier":"145"}],"sequence":"472","name":"Temple length","usage":"Descriptive","uniqueID":"7741124012283334363","displayable":false,"comparable":false,"identifier":"TEMPLE_LENGTH","searchable":false,"facetable":false},{"storeDisplay":false,"values":[{"sequence":"1","value":"Material-acetate;arrow-all;meflecto-all","uniqueID":"7741124012284859903","unitOfMeasure":"","unitID":"","identifier":"Material-acetate;arrow-all;meflecto-all"}],"sequence":"472","name":"FEATURES","usage":"Descriptive","uniqueID":"7741124012284251845","displayable":false,"comparable":false,"identifier":"FEATURES","searchable":false,"facetable":false},{"storeDisplay":false,"values":[{"sequence":"1","value":"Demo Lens","uniqueID":"7741124012283336900","unitOfMeasure":"","unitID":"","identifier":"Demo Lens"}],"sequence":"472","name":"Lens type","usage":"Descriptive","uniqueID":"7741124012283334365","displayable":false,"comparable":false,"identifier":"LENS_TREATMENT_FACET","searchable":true,"facetable":true},{"storeDisplay":false,"values":[{"sequence":"1","value":"19","uniqueID":"7741124012283336885","unitOfMeasure":"","unitID":"","identifier":"19"}],"sequence":"472","name":"Lens bridge","usage":"Descriptive","uniqueID":"7741124012283334362","displayable":false,"comparable":false,"identifier":"LENS_BRIDGE","searchable":false,"facetable":false},{"storeDisplay":false,"values":[{"sequence":"3","value":"PO3007V 24 52-19","uniqueID":"7741124012283759630","unitOfMeasure":"","unitID":"","identifier":"PO3007V 24 52-19"}],"sequence":"472","name":"Displaysku","usage":"Descriptive","uniqueID":"7741124012283364836","displayable":false,"comparable":false,"identifier":"DISPLAYSKU","searchable":false,"facetable":false},{"storeDisplay":false,"values":[{"sequence":"5","value":"150","uniqueID":"7741124012283336878","unitOfMeasure":"","unitID":"","identifier":"150"}],"sequence":"472","name":"Grossweight","usage":"Descriptive","uniqueID":"7741124012283334361","displayable":false,"comparable":false,"identifier":"GROSSWEIGHT","searchable":false,"facetable":false},{"storeDisplay":false,"values":[{"sequence":"1","value":"Trending Now","uniqueID":"7741124012284582837","unitOfMeasure":"","unitID":"","identifier":"Trending Now"}],"sequence":"472","name":"Primary family","usage":"Descriptive","uniqueID":"7741124012284026836","displayable":false,"comparable":false,"identifier":"PRIMARY_FAMILY","searchable":false,"facetable":false},{"storeDisplay":false,"values":[{"sequence":"5","value":"Supreme 3,5","uniqueID":"7741124012283355340","unitOfMeasure":"","unitID":"","identifier":"Supreme 3,5"}],"sequence":"1639","name":"Arrow","usage":"Descriptive","uniqueID":"7741124012283348835","displayable":false,"comparable":false,"identifier":"ARROW","searchable":false,"facetable":false}],"partNumber":"8053672663501"}],"resourceId":"http:\/\/lux-prdlv-src01.lux-ecomm.net:3737\/search\/resources\/store\/715838388\/productview\/byId\/3074457345616679056","price":[{"description":"L","value":"265.0","usage":"Display","currency":"USD"},{"description":"O","value":"","usage":"Offer","currency":"USD"}],"thumbnail":"https:\/\/assets.persol.com\/is\/image\/Persol\/713132362747_noshad_fr.png?impolicy=HB_parameters&sclw=0.25&sclh=0.25","shortDescription":"PO3007V","mfPartNumber_ntk":"0PO3007V","name":"PO3007V","buyable":"true","quantity":1,"attributes":[{"storeDisplay":false,"values":[{"sequence":"5","value":"PO3007V","uniqueID":"7741124012283444287","unitOfMeasure":"","unitID":"","identifier":"PO3007V"}],"sequence":"0","name":"Model code","associatedKeyword":"-","usage":"Descriptive","uniqueID":"7741124012283334373","displayable":true,"comparable":false,"identifier":"MODEL_CODE_DISPLAY","searchable":false,"facetable":false},{"storeDisplay":false,"values":[{"image1":"https:\/\/assets.persol.com\/extra\/image\/TargetOptical\/filters\/havana.png","sequence":"5","value":"Havana","uniqueID":"7741124012283335886","image1path":"https:\/\/assets.persol.com\/extra\/image\/TargetOptical\/filters\/havana.png","unitOfMeasure":"","unitID":"","identifier":"Havana"}],"sequence":"1","name":"Front color","associatedKeyword":"-","usage":"Descriptive","uniqueID":"7741124012283334339","displayable":true,"comparable":false,"identifier":"FRONT_COLOR","searchable":false,"facetable":false},{"storeDisplay":false,"values":[{"sequence":"1","value":"Standard","uniqueID":"7741124012283336345","unitOfMeasure":"","unitID":"","identifier":"Standard"},{"sequence":"3","value":"Large","uniqueID":"7741124012283336346","unitOfMeasure":"","unitID":"","identifier":"Large"}],"sequence":"1","name":"Size","associatedKeyword":"-","usage":"Defining","uniqueID":"7741124012283334359","displayable":true,"comparable":false,"identifier":"MODEL_SIZE_DISPLAY","searchable":false,"facetable":false},{"storeDisplay":false,"values":[{"sequence":"2","value":"201607","uniqueID":"7741124012283335853","unitOfMeasure":"","unitID":"","identifier":"201607"}],"sequence":"1","name":"Collection","associatedKeyword":"-","usage":"Descriptive","uniqueID":"7741124012283334335","displayable":false,"comparable":false,"identifier":"COLLECTION","searchable":true,"facetable":false},{"storeDisplay":false,"values":[{"sequence":"5","value":"Square","uniqueID":"7741124012283336911","unitOfMeasure":"","unitID":"","identifier":"Square"}],"sequence":"2","name":"Frame shape","associatedKeyword":"-","usage":"Descriptive","uniqueID":"7741124012283334367","displayable":false,"comparable":false,"identifier":"FRAME_SHAPE","searchable":false,"facetable":false},{"storeDisplay":false,"values":[{"sequence":"1","value":"Demo Lens","uniqueID":"7741124012283336054","unitOfMeasure":"","unitID":"","identifier":"Demo Lens"}],"sequence":"2","name":"Lens color","associatedKeyword":"-","usage":"Descriptive","uniqueID":"7741124012283334346","displayable":true,"comparable":false,"identifier":"LENS_COLOR","searchable":false,"facetable":false},{"storeDisplay":false,"values":[{"sequence":"1","value":"Trending Now","uniqueID":"7741124012284582837","unitOfMeasure":"","unitID":"","identifier":"Trending Now"}],"sequence":"2","name":"Primary family","associatedKeyword":"-","usage":"Descriptive","uniqueID":"7741124012284026836","displayable":false,"comparable":false,"identifier":"PRIMARY_FAMILY","searchable":false,"facetable":false},{"storeDisplay":false,"values":[{"sequence":"2","value":"Demo Lens","uniqueID":"7741124012283336896","unitOfMeasure":"","unitID":"","identifier":"Demo Lens"}],"sequence":"3","name":"Lens treatment","associatedKeyword":"-","usage":"Descriptive","uniqueID":"7741124012283334364","displayable":false,"comparable":false,"identifier":"LENS_TREATMENT","searchable":false,"facetable":false},{"storeDisplay":false,"values":[{"sequence":"1","value":"False","uniqueID":"7741124012285955768","unitOfMeasure":"","unitID":"","identifier":"False"}],"sequence":"3","name":"Photochromic","associatedKeyword":"-","usage":"Descriptive","uniqueID":"7741124012284852335","displayable":false,"comparable":false,"identifier":"PHOTOCHROMIC","searchable":true,"facetable":true},{"storeDisplay":false,"values":[{"sequence":"2","value":"Acetate","uniqueID":"7741124012283335870","unitOfMeasure":"","unitID":"","identifier":"Acetate"}],"sequence":"4","name":"Frame material","associatedKeyword":"-","usage":"Descriptive","uniqueID":"7741124012283334338","displayable":false,"comparable":false,"identifier":"FRAMEMATERIAL_FACET","searchable":true,"facetable":true},{"storeDisplay":false,"values":[{"sequence":"1","value":"False","uniqueID":"7741124012283336065","unitOfMeasure":"","unitID":"","identifier":"False"}],"sequence":"5","name":"Limited edition","associatedKeyword":"-","usage":"Descriptive","uniqueID":"7741124012283334347","displayable":false,"comparable":false,"identifier":"LIMITED_EDITION","searchable":false,"facetable":false},{"storeDisplay":false,"values":[{"image1":"https:\/\/assets.persol.com\/extra\/image\/TargetOptical\/filters\/havana.png","sequence":"4","value":"Havana","uniqueID":"7741124012283336215","image1path":"https:\/\/assets.persol.com\/extra\/image\/TargetOptical\/filters\/havana.png","unitOfMeasure":"","unitID":"","identifier":"Havana"}],"sequence":"6","name":"Temple color","associatedKeyword":"-","usage":"Descriptive","uniqueID":"7741124012283334354","displayable":false,"comparable":false,"identifier":"TEMPLE_COLOR","searchable":false,"facetable":false},{"storeDisplay":false,"values":[{"sequence":"4","value":"Acetate","uniqueID":"7741124012283335867","unitOfMeasure":"","unitID":"","identifier":"Acetate"}],"sequence":"6","name":"Frame Material","associatedKeyword":"-","usage":"Descriptive","uniqueID":"7741124012283334337","displayable":true,"comparable":false,"identifier":"FRAMEMATERIAL","searchable":false,"facetable":false},{"storeDisplay":false,"values":[{"sequence":"1","value":"Not Adjustable","uniqueID":"7741124012284859354","unitOfMeasure":"","unitID":"","identifier":"Not Adjustable"}],"sequence":"7","name":"Nosepads","associatedKeyword":"-","usage":"Descriptive","uniqueID":"7741124012284251840","displayable":true,"comparable":false,"identifier":"NOSEPADS","searchable":true,"facetable":true},{"storeDisplay":false,"values":[{"sequence":"1","value":"Polished","uniqueID":"7741124012284859363","unitOfMeasure":"","unitID":"","identifier":"Polished"}],"sequence":"8","name":"FINISHING","associatedKeyword":"-","usage":"Descriptive","uniqueID":"7741124012284251844","displayable":false,"comparable":false,"identifier":"FINISHING","searchable":false,"facetable":false},{"storeDisplay":false,"values":[{"sequence":"1","value":"1","uniqueID":"7741124012284859356","unitOfMeasure":"","unitID":"","identifier":"1"}],"sequence":"8","name":"PLACEHOLDER_SIZE","associatedKeyword":"-","usage":"Descriptive","uniqueID":"7741124012284251841","displayable":true,"comparable":false,"identifier":"PLACEHOLDER_SIZE","searchable":false,"facetable":false},{"storeDisplay":false,"values":[{"sequence":"1","value":"Standard","uniqueID":"7741124012284859365","unitOfMeasure":"","unitID":"","identifier":"Standard"}],"sequence":"9","name":"FRAME FIT","associatedKeyword":"-","usage":"Descriptive","uniqueID":"7741124012284251846","displayable":true,"comparable":false,"identifier":"FRAME FIT","searchable":false,"facetable":false},{"storeDisplay":false,"values":[{"sequence":"5","value":"Keyhole Bridge","uniqueID":"7741124012284859339","unitOfMeasure":"","unitID":"","identifier":"Keyhole Bridge"}],"sequence":"9","name":"BRIDGE TYPE","associatedKeyword":"-","usage":"Descriptive","uniqueID":"7741124012284251836","displayable":false,"comparable":false,"identifier":"BRIDGE TYPE","searchable":false,"facetable":false},{"storeDisplay":false,"values":[{"sequence":"3","value":"Full Rim","uniqueID":"7741124012283360863","unitOfMeasure":"","unitID":"","identifier":"Full Rim"}],"sequence":"10","name":"Frame type","associatedKeyword":"-","usage":"Descriptive","uniqueID":"7741124012283334370","displayable":false,"comparable":false,"identifier":"FRAMETYPE","searchable":true,"facetable":false},{"storeDisplay":false,"values":[{"sequence":"1","value":"Italy","uniqueID":"7741124012283336067","unitOfMeasure":"","unitID":"","identifier":"Italy"}],"sequence":"10","name":"Made in","associatedKeyword":"-","usage":"Descriptive","uniqueID":"7741124012283334348","displayable":true,"comparable":false,"identifier":"MADEIN","searchable":false,"facetable":false},{"storeDisplay":false,"values":[{"sequence":"3","value":"Round Face;oval Face","uniqueID":"7741124012284860410","unitOfMeasure":"","unitID":"","identifier":"Round Face;oval Face"}],"sequence":"11","name":"SUGGESTED FACE SHAPE","associatedKeyword":"-","usage":"Descriptive","uniqueID":"7741124012284251843","displayable":false,"comparable":false,"identifier":"SUGGESTED_FACE_SHAPE","searchable":false,"facetable":false},{"storeDisplay":false,"values":[{"sequence":"4","value":"Mini Supreme Acetate","uniqueID":"7741124012283355349","unitOfMeasure":"","unitID":"","identifier":"Mini Supreme Acetate"}],"sequence":"11","name":"Temple logo","associatedKeyword":"-","usage":"Descriptive","uniqueID":"7741124012283348836","displayable":false,"comparable":true,"identifier":"TEMPLE_LOGO","searchable":false,"facetable":false},{"storeDisplay":false,"values":[{"sequence":"1","value":"24","uniqueID":"7741124012284861543","unitOfMeasure":"","unitID":"","identifier":"24"}],"sequence":"12","name":"COLOR CODE","associatedKeyword":"-","usage":"Descriptive","uniqueID":"7741124012284253335","displayable":false,"comparable":false,"identifier":"COLOR CODE","searchable":false,"facetable":false},{"storeDisplay":false,"values":[{"sequence":"3","value":"PO_pack5_gallery","uniqueID":"7741124012284859917","unitOfMeasure":"","unitID":"","identifier":"PO_pack5_gallery"}],"sequence":"14","name":"CASE","associatedKeyword":"-","usage":"Descriptive","uniqueID":"7741124012284251837","displayable":false,"comparable":false,"identifier":"CASE","searchable":false,"facetable":false},{"storeDisplay":false,"values":[{"sequence":"3","value":"Other","uniqueID":"7741124012283444307","unitOfMeasure":"","unitID":"","identifier":"Other"}],"sequence":"15","name":"Model family","associatedKeyword":"-","usage":"Descriptive","uniqueID":"7741124012283333374","displayable":false,"comparable":false,"identifier":"MODEL_FAMILY","searchable":true,"facetable":true},{"storeDisplay":false,"values":[{"image1":"https:\/\/assets.persol.com\/extra\/image\/TargetOptical\/filters\/havana.png","sequence":"5","value":"Havana","uniqueID":"7741124012283336323","image1path":"https:\/\/assets.persol.com\/extra\/image\/TargetOptical\/filters\/havana.png","unitOfMeasure":"","unitID":"","identifier":"Havana"}],"sequence":"16","name":"Temple inner color facet","associatedKeyword":"-","usage":"Descriptive","uniqueID":"7741124012283334357","displayable":false,"comparable":false,"identifier":"TEMPLE_INNER_COLOR_FACET","searchable":true,"facetable":false},{"storeDisplay":false,"values":[{"sequence":"1","value":"False","uniqueID":"7741124012283337030","unitOfMeasure":"","unitID":"","identifier":"False"}],"sequence":"18","name":"Noreturn","associatedKeyword":"-","usage":"Descriptive","uniqueID":"7741124012283334374","displayable":false,"comparable":false,"identifier":"NORETURN","searchable":false,"facetable":false},{"storeDisplay":false,"values":[{"sequence":"2","value":"True","uniqueID":"7741124012284859353","unitOfMeasure":"","unitID":"","identifier":"True"}],"sequence":"20","name":"ENGRAVINGELIGIBLE","associatedKeyword":"-","usage":"Descriptive","uniqueID":"7741124012284251838","displayable":false,"comparable":false,"identifier":"ENGRAVINGELIGIBLE","searchable":false,"facetable":false},{"storeDisplay":false,"values":[{"sequence":"1","value":"Galleria","uniqueID":"7741124012283336920","unitOfMeasure":"","unitID":"","identifier":"Galleria"}],"sequence":"21","name":"Range","associatedKeyword":"-","usage":"Descriptive","uniqueID":"7741124012283334371","displayable":false,"comparable":false,"identifier":"RANGE","searchable":false,"facetable":true},{"storeDisplay":false,"values":[{"sequence":"1","value":"Demo Lens","uniqueID":"7741124012283336042","unitOfMeasure":"","unitID":"","identifier":"Demo Lens"}],"sequence":"22","name":"Lens color","associatedKeyword":"-","usage":"Descriptive","uniqueID":"7741124012283334345","displayable":false,"comparable":false,"identifier":"LENS_COLOR_FACET","searchable":true,"facetable":true},{"storeDisplay":false,"values":[{"sequence":"1","value":"False","uniqueID":"7741124012283336068","unitOfMeasure":"","unitID":"","identifier":"False"}],"sequence":"23","name":"Newreleases","associatedKeyword":"-","usage":"Descriptive","uniqueID":"7741124012283334349","displayable":false,"comparable":false,"identifier":"NEWRELEASES","searchable":true,"facetable":false},{"storeDisplay":false,"values":[{"sequence":"0","value":"0","uniqueID":"0","unitOfMeasure":"","unitID":"","identifier":"0"}],"sequence":"25","name":"Clen","associatedKeyword":"-","usage":"Descriptive","uniqueID":"7741124012283334344","displayable":false,"comparable":false,"identifier":"CLEN","searchable":false,"facetable":false},{"storeDisplay":false,"values":[{"sequence":"5","value":"Supreme 3,5","uniqueID":"7741124012283355340","unitOfMeasure":"","unitID":"","identifier":"Supreme 3,5"}],"sequence":"26","name":"Arrow","associatedKeyword":"-","usage":"Descriptive","uniqueID":"7741124012283348835","displayable":false,"comparable":false,"identifier":"ARROW","searchable":false,"facetable":false},{"storeDisplay":false,"values":[{"sequence":"5","value":"364000","uniqueID":"7741124012284610851","unitOfMeasure":"","unitID":"","identifier":"364000"}],"sequence":"28","name":"Sequence","associatedKeyword":"-","usage":"Descriptive","uniqueID":"7741124012283593337","displayable":false,"comparable":false,"identifier":"SEQUENCE","searchable":true,"facetable":false},{"storeDisplay":false,"values":[{"sequence":"2","value":"Man","uniqueID":"7741124012283336014","unitOfMeasure":"","unitID":"","identifier":"Man"}],"sequence":"29","name":"Gender","associatedKeyword":"-","usage":"Descriptive","uniqueID":"7741124012283334343","displayable":false,"comparable":false,"identifier":"GENDER","searchable":true,"facetable":true},{"storeDisplay":false,"values":[{"sequence":"1","value":"False","uniqueID":"7741124012284860407","unitOfMeasure":"","unitID":"","identifier":"False"}],"sequence":"30","name":"Flex","associatedKeyword":"-","usage":"Descriptive","uniqueID":"7741124012283364835","displayable":false,"comparable":false,"identifier":"FLEX","searchable":false,"facetable":false},{"storeDisplay":false,"values":[{"sequence":"3","value":"True","uniqueID":"7741124012284582836","unitOfMeasure":"","unitID":"","identifier":"True"}],"sequence":"31","name":"Best Sellers","associatedKeyword":"-","usage":"Descriptive","uniqueID":"7741124012284026835","displayable":false,"comparable":false,"identifier":"BESTSELLERS","searchable":false,"facetable":false},{"storeDisplay":false,"values":[{"sequence":"5","value":"Havana","uniqueID":"7741124012283336007","unitOfMeasure":"","unitID":"","identifier":"Havana"}],"sequence":"32","name":"Front inner color facet","associatedKeyword":"-","usage":"Descriptive","uniqueID":"7741124012283334342","displayable":false,"comparable":false,"identifier":"FRONT_INNER_COLOR_FACET","searchable":true,"facetable":false},{"storeDisplay":false,"values":[{"sequence":"2","value":"PO3007V","uniqueID":"7741124012283336084","unitOfMeasure":"","unitID":"","identifier":"PO3007V"}],"sequence":"33","name":"Modelname","associatedKeyword":"-","usage":"Descriptive","uniqueID":"7741124012283334353","displayable":false,"comparable":false,"identifier":"MODELNAME","searchable":true,"facetable":false},{"storeDisplay":false,"values":[{"sequence":"1","value":"False","uniqueID":"7741124012283335865","unitOfMeasure":"","unitID":"","identifier":"False"}],"sequence":"34","name":"Exclusive","associatedKeyword":"-","usage":"Descriptive","uniqueID":"7741124012283334336","displayable":false,"comparable":false,"identifier":"EXCLUSIVE","searchable":false,"facetable":true},{"storeDisplay":false,"values":[{"image1":"https:\/\/assets.persol.com\/extra\/image\/Persol\/filters\/tortoise.png","sequence":"5","value":"Tortoise","uniqueID":"7741124012284314837","image1path":"https:\/\/assets.persol.com\/extra\/image\/Persol\/filters\/tortoise.png","unitOfMeasure":"","unitID":"","identifier":"Tortoise"}],"sequence":"35","name":"Frame color","associatedKeyword":"-","usage":"Descriptive","uniqueID":"7741124012283334340","displayable":false,"comparable":false,"identifier":"FRONT_COLOR_FACET","searchable":true,"facetable":true},{"storeDisplay":false,"values":[{"sequence":"1","value":"Square","uniqueID":"7741124012283336915","unitOfMeasure":"","unitID":"","identifier":"Square"}],"sequence":"37","name":"Frame shape","associatedKeyword":"-","usage":"Descriptive","uniqueID":"7741124012283334368","displayable":false,"comparable":false,"identifier":"FRAME_SHAPE_FACET","searchable":true,"facetable":true},{"storeDisplay":false,"values":[{"sequence":"1","value":"False","uniqueID":"7741124012283336078","unitOfMeasure":"","unitID":"","identifier":"False"}],"sequence":"38","name":"Polarized","associatedKeyword":"-","usage":"Descriptive","uniqueID":"7741124012283334352","displayable":false,"comparable":false,"identifier":"POLARIZED","searchable":true,"facetable":true},{"storeDisplay":false,"values":[{"sequence":"1","value":"False","uniqueID":"7741124012283336077","unitOfMeasure":"","unitID":"","identifier":"False"}],"sequence":"39","name":"Onsale","associatedKeyword":"-","usage":"Descriptive","uniqueID":"7741124012283334351","displayable":false,"comparable":false,"identifier":"ONSALE","searchable":false,"facetable":false},{"storeDisplay":false,"values":[{"sequence":"1","value":"False","uniqueID":"7741124012283355350","unitOfMeasure":"","unitID":"","identifier":"False"}],"sequence":"41","name":"Vintage Celebration","associatedKeyword":"-","usage":"Descriptive","uniqueID":"7741124012283348837","displayable":false,"comparable":false,"identifier":"VINTAGE CELEBRATION","searchable":false,"facetable":false},{"storeDisplay":false,"values":[{"sequence":"1","value":"False","uniqueID":"7741124012283336902","unitOfMeasure":"","unitID":"","identifier":"False"}],"sequence":"42","name":"Foldable","associatedKeyword":"-","usage":"Descriptive","uniqueID":"7741124012283334366","displayable":false,"comparable":false,"identifier":"FOLDABLE","searchable":true,"facetable":true},{"storeDisplay":false,"values":[{"sequence":"4","value":"Optical","uniqueID":"7741124012283333657","unitOfMeasure":"","unitID":"","identifier":"Optical"}],"sequence":"43","name":"Producttype","associatedKeyword":"-","usage":"Descriptive","uniqueID":"7741124012283333376","displayable":false,"comparable":false,"identifier":"PRODUCTTYPE","searchable":true,"facetable":false},{"storeDisplay":false,"values":[{"sequence":"1","value":"False","uniqueID":"7741124012284859336","unitOfMeasure":"","unitID":"","identifier":"False"}],"sequence":"44","name":"AVANT_PREMIERE","associatedKeyword":"-","usage":"Descriptive","uniqueID":"7741124012284251835","displayable":false,"comparable":false,"identifier":"AVANT_PREMIERE","searchable":false,"facetable":false},{"storeDisplay":false,"values":[{"sequence":"2","value":"Havana","uniqueID":"7741124012283335971","unitOfMeasure":"","unitID":"","identifier":"Havana"}],"sequence":"45","name":"Front inner color","associatedKeyword":"-","usage":"Descriptive","uniqueID":"7741124012283334341","displayable":false,"comparable":false,"identifier":"FRONT_INNER_COLOR","searchable":false,"facetable":false},{"storeDisplay":false,"values":[{"image1":"https:\/\/assets.persol.com\/extra\/image\/TargetOptical\/filters\/havana.png","sequence":"3","value":"Havana","uniqueID":"7741124012283336288","image1path":"https:\/\/assets.persol.com\/extra\/image\/TargetOptical\/filters\/havana.png","unitOfMeasure":"","unitID":"","identifier":"Havana"}],"sequence":"46","name":"Temple inner color","associatedKeyword":"-","usage":"Descriptive","uniqueID":"7741124012283334356","displayable":false,"comparable":false,"identifier":"TEMPLE_INNER_COLOR","searchable":false,"facetable":false},{"storeDisplay":false,"values":[{"image1":"https:\/\/assets.persol.com\/extra\/image\/TargetOptical\/filters\/havana.png","sequence":"3","value":"Havana","uniqueID":"7741124012283336250","image1path":"https:\/\/assets.persol.com\/extra\/image\/TargetOptical\/filters\/havana.png","unitOfMeasure":"","unitID":"","identifier":"Havana"}],"sequence":"47","name":"Temple color facet","associatedKeyword":"-","usage":"Descriptive","uniqueID":"7741124012283334355","displayable":false,"comparable":false,"identifier":"TEMPLE_COLOR_FACET","searchable":true,"facetable":false},{"storeDisplay":false,"values":[{"sequence":"2","value":"True","uniqueID":"7741124012284859902","unitOfMeasure":"","unitID":"","identifier":"True"}],"sequence":"48","name":"MEFLECTO","associatedKeyword":"-","usage":"Descriptive","uniqueID":"7741124012284251847","displayable":false,"comparable":false,"identifier":"MEFLECTO","searchable":false,"facetable":false},{"storeDisplay":false,"values":[{"sequence":"1","value":"Global","uniqueID":"7741124012283336916","unitOfMeasure":"","unitID":"","identifier":"Global"}],"sequence":"49","name":"Fitting","associatedKeyword":"-","usage":"Descriptive","uniqueID":"7741124012283334369","displayable":false,"comparable":false,"identifier":"GEO_FIT","searchable":true,"facetable":false}],"storeID":"715838084","numberOfSKUs":2,"partNumber":"0PO3007V__24"},{"hasSingleSKU":false,"catalogEntryTypeCode":"ProductBean","associationType":"REPLACEMENT","parentCatalogGroupID":["3074457345616676668_3074457345616676669","3074457345616681818_3074457345616678178","3074457345616681818_3074457345616696193","3074457345616681818_3074457345616696201","3074457345616681818_3074457345616700168","3074457345616681818_3074457345616700669","3074457345616681818_3074457345616700670","3074457345616681818_3074457345616715669","3074457345616681818_3074457345616716181","3074457345616681818_3074457345616716187","3074457345616681818_3074457345616716189"],"price_USD":"265.0","uniqueID":"3074457345616679057","sKUs":[{"hasSingleSKU":false,"catalogEntryTypeCode":"ItemBean","parentCatalogGroupID":["3074457345616676668_3074457345616676669","3074457345616681818_3074457345616678178","3074457345616681818_3074457345616696193","3074457345616681818_3074457345616696201","3074457345616681818_3074457345616700168","3074457345616681818_3074457345616700669","3074457345616681818_3074457345616700670","3074457345616681818_3074457345616715669","3074457345616681818_3074457345616716181","3074457345616681818_3074457345616716187","3074457345616681818_3074457345616716189"],"uniqueID":"3074457345616679794","resourceId":"http:\/\/lux-prdlv-src01.lux-ecomm.net:3737\/search\/resources\/store\/715838388\/productview\/byId\/3074457345616679794","price":[{"description":"L","value":"","usage":"Display","currency":"USD"},{"description":"O","value":"","usage":"Offer","currency":"USD"}],"thumbnail":"https:\/\/assets.persol.com\/is\/image\/Persol\/713132362723_noshad_fr.png?impolicy=HB_parameters&sclw=0.25&sclh=0.25","shortDescription":"PO3007V 95 50-19","mfPartNumber_ntk":"0PO3007V","name":"PO3007V 95 50-19","buyable":"true","storeID":"715838084","attributes":[{"storeDisplay":false,"values":[{"sequence":"1","value":"Standard","uniqueID":"7741124012283336345","unitOfMeasure":"","unitID":"","identifier":"Standard"}],"sequence":"1","name":"Size","usage":"Defining","uniqueID":"7741124012283334359","displayable":true,"comparable":false,"identifier":"MODEL_SIZE_DISPLAY","searchable":false,"facetable":false},{"storeDisplay":false,"values":[{"sequence":"2","value":"Demo Lens","uniqueID":"7741124012283336896","unitOfMeasure":"","unitID":"","identifier":"Demo Lens"}],"sequence":"3","name":"Lens treatment","usage":"Descriptive","uniqueID":"7741124012283334364","displayable":false,"comparable":false,"identifier":"LENS_TREATMENT","searchable":false,"facetable":false},{"storeDisplay":false,"values":[{"sequence":"4","value":"145","uniqueID":"7741124012283336892","unitOfMeasure":"","unitID":"","identifier":"145"}],"sequence":"474","name":"Temple length","usage":"Descriptive","uniqueID":"7741124012283334363","displayable":false,"comparable":false,"identifier":"TEMPLE_LENGTH","searchable":false,"facetable":false},{"storeDisplay":false,"values":[{"sequence":"1","value":"95 50","uniqueID":"7741124012283360927","unitOfMeasure":"","unitID":"","identifier":"95 50"}],"sequence":"474","name":"Grid Value","usage":"Descriptive","uniqueID":"7741124012283364837","displayable":true,"comparable":false,"identifier":"GRID VALUE","searchable":false,"facetable":false},{"storeDisplay":false,"values":[{"sequence":"1","value":"Material-acetate;arrow-all;meflecto-all","uniqueID":"7741124012284859903","unitOfMeasure":"","unitID":"","identifier":"Material-acetate;arrow-all;meflecto-all"}],"sequence":"474","name":"FEATURES","usage":"Descriptive","uniqueID":"7741124012284251845","displayable":false,"comparable":false,"identifier":"FEATURES","searchable":false,"facetable":false},{"storeDisplay":false,"values":[{"sequence":"1","value":"19","uniqueID":"7741124012283336885","unitOfMeasure":"","unitID":"","identifier":"19"}],"sequence":"474","name":"Lens bridge","usage":"Descriptive","uniqueID":"7741124012283334362","displayable":false,"comparable":false,"identifier":"LENS_BRIDGE","searchable":false,"facetable":false},{"storeDisplay":false,"values":[{"sequence":"2","value":"PO3007V 95 50-19","uniqueID":"7741124012283759691","unitOfMeasure":"","unitID":"","identifier":"PO3007V 95 50-19"}],"sequence":"474","name":"Displaysku","usage":"Descriptive","uniqueID":"7741124012283364836","displayable":false,"comparable":false,"identifier":"DISPLAYSKU","searchable":false,"facetable":false},{"storeDisplay":false,"values":[{"sequence":"1","value":"Zpfn","uniqueID":"7741124012283336923","unitOfMeasure":"","unitID":"","identifier":"Zpfn"}],"sequence":"474","name":"Materialtype","usage":"Descriptive","uniqueID":"7741124012283334372","displayable":false,"comparable":false,"identifier":"MATERIALTYPE","searchable":false,"facetable":false},{"storeDisplay":false,"values":[{"sequence":"1","value":"50","uniqueID":"7741124012283336334","unitOfMeasure":"","unitID":"","identifier":"50"}],"sequence":"474","name":"Model size","usage":"Descriptive","uniqueID":"7741124012283334358","displayable":false,"comparable":false,"identifier":"MODEL_SIZE","searchable":false,"facetable":false},{"storeDisplay":false,"values":[{"sequence":"1","value":"Demo Lens","uniqueID":"7741124012283336900","unitOfMeasure":"","unitID":"","identifier":"Demo Lens"}],"sequence":"474","name":"Lens type","usage":"Descriptive","uniqueID":"7741124012283334365","displayable":false,"comparable":false,"identifier":"LENS_TREATMENT_FACET","searchable":true,"facetable":true},{"storeDisplay":false,"values":[{"sequence":"5","value":"150","uniqueID":"7741124012283336878","unitOfMeasure":"","unitID":"","identifier":"150"}],"sequence":"474","name":"Grossweight","usage":"Descriptive","uniqueID":"7741124012283334361","displayable":false,"comparable":false,"identifier":"GROSSWEIGHT","searchable":false,"facetable":false},{"storeDisplay":false,"values":[{"sequence":"1","value":"Trending Now","uniqueID":"7741124012284582837","unitOfMeasure":"","unitID":"","identifier":"Trending Now"}],"sequence":"474","name":"Primary family","usage":"Descriptive","uniqueID":"7741124012284026836","displayable":false,"comparable":false,"identifier":"PRIMARY_FAMILY","searchable":false,"facetable":false},{"storeDisplay":false,"values":[{"sequence":"5","value":"Supreme 3,5","uniqueID":"7741124012283355340","unitOfMeasure":"","unitID":"","identifier":"Supreme 3,5"}],"sequence":"1664","name":"Arrow","usage":"Descriptive","uniqueID":"7741124012283348835","displayable":false,"comparable":false,"identifier":"ARROW","searchable":false,"facetable":false}],"partNumber":"713132362723"},{"hasSingleSKU":false,"catalogEntryTypeCode":"ItemBean","parentCatalogGroupID":["3074457345616676668_3074457345616676669","3074457345616681818_3074457345616678178","3074457345616681818_3074457345616696193","3074457345616681818_3074457345616696201","3074457345616681818_3074457345616700168","3074457345616681818_3074457345616700669","3074457345616681818_3074457345616700670","3074457345616681818_3074457345616715669","3074457345616681818_3074457345616716181","3074457345616681818_3074457345616716187","3074457345616681818_3074457345616716189"],"uniqueID":"3074457345616679796","resourceId":"http:\/\/lux-prdlv-src01.lux-ecomm.net:3737\/search\/resources\/store\/715838388\/productview\/byId\/3074457345616679796","price":[{"description":"L","value":"","usage":"Display","currency":"USD"},{"description":"O","value":"","usage":"Offer","currency":"USD"}],"thumbnail":"https:\/\/assets.persol.com\/is\/image\/Persol\/8053672663495_noshad_fr.png?impolicy=HB_parameters&sclw=0.25&sclh=0.25","shortDescription":"PO3007V 95 52-19","mfPartNumber_ntk":"0PO3007V","name":"PO3007V 95 52-19","buyable":"true","storeID":"715838084","attributes":[{"storeDisplay":false,"values":[{"sequence":"3","value":"Large","uniqueID":"7741124012283336346","unitOfMeasure":"","unitID":"","identifier":"Large"}],"sequence":"1","name":"Size","usage":"Defining","uniqueID":"7741124012283334359","displayable":true,"comparable":false,"identifier":"MODEL_SIZE_DISPLAY","searchable":false,"facetable":false},{"storeDisplay":false,"values":[{"sequence":"2","value":"Demo Lens","uniqueID":"7741124012283336896","unitOfMeasure":"","unitID":"","identifier":"Demo Lens"}],"sequence":"3","name":"Lens treatment","usage":"Descriptive","uniqueID":"7741124012283334364","displayable":false,"comparable":false,"identifier":"LENS_TREATMENT","searchable":false,"facetable":false},{"storeDisplay":false,"values":[{"sequence":"1","value":"Zpfn","uniqueID":"7741124012283336923","unitOfMeasure":"","unitID":"","identifier":"Zpfn"}],"sequence":"475","name":"Materialtype","usage":"Descriptive","uniqueID":"7741124012283334372","displayable":false,"comparable":false,"identifier":"MATERIALTYPE","searchable":false,"facetable":false},{"storeDisplay":false,"values":[{"sequence":"3","value":"52","uniqueID":"7741124012283336336","unitOfMeasure":"","unitID":"","identifier":"52"}],"sequence":"475","name":"Model size","usage":"Descriptive","uniqueID":"7741124012283334358","displayable":false,"comparable":false,"identifier":"MODEL_SIZE","searchable":false,"facetable":false},{"storeDisplay":false,"values":[{"sequence":"5","value":"95 52","uniqueID":"7741124012283360916","unitOfMeasure":"","unitID":"","identifier":"95 52"}],"sequence":"475","name":"Grid Value","usage":"Descriptive","uniqueID":"7741124012283364837","displayable":true,"comparable":false,"identifier":"GRID VALUE","searchable":false,"facetable":false},{"storeDisplay":false,"values":[{"sequence":"4","value":"145","uniqueID":"7741124012283336892","unitOfMeasure":"","unitID":"","identifier":"145"}],"sequence":"475","name":"Temple length","usage":"Descriptive","uniqueID":"7741124012283334363","displayable":false,"comparable":false,"identifier":"TEMPLE_LENGTH","searchable":false,"facetable":false},{"storeDisplay":false,"values":[{"sequence":"1","value":"Material-acetate;arrow-all;meflecto-all","uniqueID":"7741124012284859903","unitOfMeasure":"","unitID":"","identifier":"Material-acetate;arrow-all;meflecto-all"}],"sequence":"475","name":"FEATURES","usage":"Descriptive","uniqueID":"7741124012284251845","displayable":false,"comparable":false,"identifier":"FEATURES","searchable":false,"facetable":false},{"storeDisplay":false,"values":[{"sequence":"1","value":"Demo Lens","uniqueID":"7741124012283336900","unitOfMeasure":"","unitID":"","identifier":"Demo Lens"}],"sequence":"475","name":"Lens type","usage":"Descriptive","uniqueID":"7741124012283334365","displayable":false,"comparable":false,"identifier":"LENS_TREATMENT_FACET","searchable":true,"facetable":true},{"storeDisplay":false,"values":[{"sequence":"1","value":"19","uniqueID":"7741124012283336885","unitOfMeasure":"","unitID":"","identifier":"19"}],"sequence":"475","name":"Lens bridge","usage":"Descriptive","uniqueID":"7741124012283334362","displayable":false,"comparable":false,"identifier":"LENS_BRIDGE","searchable":false,"facetable":false},{"storeDisplay":false,"values":[{"sequence":"2","value":"PO3007V 95 52-19","uniqueID":"7741124012283759755","unitOfMeasure":"","unitID":"","identifier":"PO3007V 95 52-19"}],"sequence":"475","name":"Displaysku","usage":"Descriptive","uniqueID":"7741124012283364836","displayable":false,"comparable":false,"identifier":"DISPLAYSKU","searchable":false,"facetable":false},{"storeDisplay":false,"values":[{"sequence":"5","value":"150","uniqueID":"7741124012283336878","unitOfMeasure":"","unitID":"","identifier":"150"}],"sequence":"475","name":"Grossweight","usage":"Descriptive","uniqueID":"7741124012283334361","displayable":false,"comparable":false,"identifier":"GROSSWEIGHT","searchable":false,"facetable":false},{"storeDisplay":false,"values":[{"sequence":"1","value":"Trending Now","uniqueID":"7741124012284582837","unitOfMeasure":"","unitID":"","identifier":"Trending Now"}],"sequence":"475","name":"Primary family","usage":"Descriptive","uniqueID":"7741124012284026836","displayable":false,"comparable":false,"identifier":"PRIMARY_FAMILY","searchable":false,"facetable":false},{"storeDisplay":false,"values":[{"sequence":"5","value":"Supreme 3,5","uniqueID":"7741124012283355340","unitOfMeasure":"","unitID":"","identifier":"Supreme 3,5"}],"sequence":"1665","name":"Arrow","usage":"Descriptive","uniqueID":"7741124012283348835","displayable":false,"comparable":false,"identifier":"ARROW","searchable":false,"facetable":false}],"partNumber":"8053672663495"}],"resourceId":"http:\/\/lux-prdlv-src01.lux-ecomm.net:3737\/search\/resources\/store\/715838388\/productview\/byId\/3074457345616679057","price":[{"description":"L","value":"265.0","usage":"Display","currency":"USD"},{"description":"O","value":"","usage":"Offer","currency":"USD"}],"thumbnail":"https:\/\/assets.persol.com\/is\/image\/Persol\/713132362723_noshad_fr.png?impolicy=HB_parameters&sclw=0.25&sclh=0.25","shortDescription":"PO3007V","mfPartNumber_ntk":"0PO3007V","name":"PO3007V","buyable":"true","quantity":1,"attributes":[{"storeDisplay":false,"values":[{"sequence":"5","value":"PO3007V","uniqueID":"7741124012283444287","unitOfMeasure":"","unitID":"","identifier":"PO3007V"}],"sequence":"0","name":"Model code","associatedKeyword":"-","usage":"Descriptive","uniqueID":"7741124012283334373","displayable":true,"comparable":false,"identifier":"MODEL_CODE_DISPLAY","searchable":false,"facetable":false},{"storeDisplay":false,"values":[{"sequence":"5","value":"Black","uniqueID":"7741124012283335902","unitOfMeasure":"","unitID":"","identifier":"Black"}],"sequence":"1","name":"Front color","associatedKeyword":"-","usage":"Descriptive","uniqueID":"7741124012283334339","displayable":true,"comparable":false,"identifier":"FRONT_COLOR","searchable":false,"facetable":false},{"storeDisplay":false,"values":[{"sequence":"1","value":"Standard","uniqueID":"7741124012283336345","unitOfMeasure":"","unitID":"","identifier":"Standard"},{"sequence":"3","value":"Large","uniqueID":"7741124012283336346","unitOfMeasure":"","unitID":"","identifier":"Large"}],"sequence":"1","name":"Size","associatedKeyword":"-","usage":"Defining","uniqueID":"7741124012283334359","displayable":true,"comparable":false,"identifier":"MODEL_SIZE_DISPLAY","searchable":false,"facetable":false},{"storeDisplay":false,"values":[{"sequence":"2","value":"201607","uniqueID":"7741124012283335853","unitOfMeasure":"","unitID":"","identifier":"201607"}],"sequence":"1","name":"Collection","associatedKeyword":"-","usage":"Descriptive","uniqueID":"7741124012283334335","displayable":false,"comparable":false,"identifier":"COLLECTION","searchable":true,"facetable":false},{"storeDisplay":false,"values":[{"sequence":"1","value":"Trending Now","uniqueID":"7741124012284582837","unitOfMeasure":"","unitID":"","identifier":"Trending Now"}],"sequence":"2","name":"Primary family","associatedKeyword":"-","usage":"Descriptive","uniqueID":"7741124012284026836","displayable":false,"comparable":false,"identifier":"PRIMARY_FAMILY","searchable":false,"facetable":false},{"storeDisplay":false,"values":[{"sequence":"5","value":"Square","uniqueID":"7741124012283336911","unitOfMeasure":"","unitID":"","identifier":"Square"}],"sequence":"2","name":"Frame shape","associatedKeyword":"-","usage":"Descriptive","uniqueID":"7741124012283334367","displayable":false,"comparable":false,"identifier":"FRAME_SHAPE","searchable":false,"facetable":false},{"storeDisplay":false,"values":[{"sequence":"1","value":"Demo Lens","uniqueID":"7741124012283336054","unitOfMeasure":"","unitID":"","identifier":"Demo Lens"}],"sequence":"2","name":"Lens color","associatedKeyword":"-","usage":"Descriptive","uniqueID":"7741124012283334346","displayable":true,"comparable":false,"identifier":"LENS_COLOR","searchable":false,"facetable":false},{"storeDisplay":false,"values":[{"sequence":"1","value":"False","uniqueID":"7741124012285955768","unitOfMeasure":"","unitID":"","identifier":"False"}],"sequence":"3","name":"Photochromic","associatedKeyword":"-","usage":"Descriptive","uniqueID":"7741124012284852335","displayable":false,"comparable":false,"identifier":"PHOTOCHROMIC","searchable":true,"facetable":true},{"storeDisplay":false,"values":[{"sequence":"2","value":"Demo Lens","uniqueID":"7741124012283336896","unitOfMeasure":"","unitID":"","identifier":"Demo Lens"}],"sequence":"3","name":"Lens treatment","associatedKeyword":"-","usage":"Descriptive","uniqueID":"7741124012283334364","displayable":false,"comparable":false,"identifier":"LENS_TREATMENT","searchable":false,"facetable":false},{"storeDisplay":false,"values":[{"sequence":"2","value":"Acetate","uniqueID":"7741124012283335870","unitOfMeasure":"","unitID":"","identifier":"Acetate"}],"sequence":"4","name":"Frame material","associatedKeyword":"-","usage":"Descriptive","uniqueID":"7741124012283334338","displayable":false,"comparable":false,"identifier":"FRAMEMATERIAL_FACET","searchable":true,"facetable":true},{"storeDisplay":false,"values":[{"sequence":"1","value":"False","uniqueID":"7741124012283336065","unitOfMeasure":"","unitID":"","identifier":"False"}],"sequence":"5","name":"Limited edition","associatedKeyword":"-","usage":"Descriptive","uniqueID":"7741124012283334347","displayable":false,"comparable":false,"identifier":"LIMITED_EDITION","searchable":false,"facetable":false},{"storeDisplay":false,"values":[{"sequence":"4","value":"Acetate","uniqueID":"7741124012283335867","unitOfMeasure":"","unitID":"","identifier":"Acetate"}],"sequence":"6","name":"Frame Material","associatedKeyword":"-","usage":"Descriptive","uniqueID":"7741124012283334337","displayable":true,"comparable":false,"identifier":"FRAMEMATERIAL","searchable":false,"facetable":false},{"storeDisplay":false,"values":[{"sequence":"3","value":"Black","uniqueID":"7741124012283336212","unitOfMeasure":"","unitID":"","identifier":"Black"}],"sequence":"6","name":"Temple color","associatedKeyword":"-","usage":"Descriptive","uniqueID":"7741124012283334354","displayable":false,"comparable":false,"identifier":"TEMPLE_COLOR","searchable":false,"facetable":false},{"storeDisplay":false,"values":[{"sequence":"1","value":"Not Adjustable","uniqueID":"7741124012284859354","unitOfMeasure":"","unitID":"","identifier":"Not Adjustable"}],"sequence":"7","name":"Nosepads","associatedKeyword":"-","usage":"Descriptive","uniqueID":"7741124012284251840","displayable":true,"comparable":false,"identifier":"NOSEPADS","searchable":true,"facetable":true},{"storeDisplay":false,"values":[{"sequence":"1","value":"Polished","uniqueID":"7741124012284859363","unitOfMeasure":"","unitID":"","identifier":"Polished"}],"sequence":"8","name":"FINISHING","associatedKeyword":"-","usage":"Descriptive","uniqueID":"7741124012284251844","displayable":false,"comparable":false,"identifier":"FINISHING","searchable":false,"facetable":false},{"storeDisplay":false,"values":[{"sequence":"1","value":"1","uniqueID":"7741124012284859356","unitOfMeasure":"","unitID":"","identifier":"1"}],"sequence":"8","name":"PLACEHOLDER_SIZE","associatedKeyword":"-","usage":"Descriptive","uniqueID":"7741124012284251841","displayable":true,"comparable":false,"identifier":"PLACEHOLDER_SIZE","searchable":false,"facetable":false},{"storeDisplay":false,"values":[{"sequence":"1","value":"Standard","uniqueID":"7741124012284859365","unitOfMeasure":"","unitID":"","identifier":"Standard"}],"sequence":"9","name":"FRAME FIT","associatedKeyword":"-","usage":"Descriptive","uniqueID":"7741124012284251846","displayable":true,"comparable":false,"identifier":"FRAME FIT","searchable":false,"facetable":false},{"storeDisplay":false,"values":[{"sequence":"5","value":"Keyhole Bridge","uniqueID":"7741124012284859339","unitOfMeasure":"","unitID":"","identifier":"Keyhole Bridge"}],"sequence":"9","name":"BRIDGE TYPE","associatedKeyword":"-","usage":"Descriptive","uniqueID":"7741124012284251836","displayable":false,"comparable":false,"identifier":"BRIDGE TYPE","searchable":false,"facetable":false},{"storeDisplay":false,"values":[{"sequence":"1","value":"Italy","uniqueID":"7741124012283336067","unitOfMeasure":"","unitID":"","identifier":"Italy"}],"sequence":"10","name":"Made in","associatedKeyword":"-","usage":"Descriptive","uniqueID":"7741124012283334348","displayable":true,"comparable":false,"identifier":"MADEIN","searchable":false,"facetable":false},{"storeDisplay":false,"values":[{"sequence":"3","value":"Full Rim","uniqueID":"7741124012283360863","unitOfMeasure":"","unitID":"","identifier":"Full Rim"}],"sequence":"10","name":"Frame type","associatedKeyword":"-","usage":"Descriptive","uniqueID":"7741124012283334370","displayable":false,"comparable":false,"identifier":"FRAMETYPE","searchable":true,"facetable":false},{"storeDisplay":false,"values":[{"sequence":"4","value":"Mini Supreme Acetate","uniqueID":"7741124012283355349","unitOfMeasure":"","unitID":"","identifier":"Mini Supreme Acetate"}],"sequence":"11","name":"Temple logo","associatedKeyword":"-","usage":"Descriptive","uniqueID":"7741124012283348836","displayable":false,"comparable":true,"identifier":"TEMPLE_LOGO","searchable":false,"facetable":false},{"storeDisplay":false,"values":[{"sequence":"3","value":"Round Face;oval Face","uniqueID":"7741124012284860410","unitOfMeasure":"","unitID":"","identifier":"Round Face;oval Face"}],"sequence":"11","name":"SUGGESTED FACE SHAPE","associatedKeyword":"-","usage":"Descriptive","uniqueID":"7741124012284251843","displayable":false,"comparable":false,"identifier":"SUGGESTED_FACE_SHAPE","searchable":false,"facetable":false},{"storeDisplay":false,"values":[{"sequence":"3","value":"95","uniqueID":"7741124012284861568","unitOfMeasure":"","unitID":"","identifier":"95"}],"sequence":"12","name":"COLOR CODE","associatedKeyword":"-","usage":"Descriptive","uniqueID":"7741124012284253335","displayable":false,"comparable":false,"identifier":"COLOR CODE","searchable":false,"facetable":false},{"storeDisplay":false,"values":[{"sequence":"3","value":"PO_pack5_gallery","uniqueID":"7741124012284859917","unitOfMeasure":"","unitID":"","identifier":"PO_pack5_gallery"}],"sequence":"14","name":"CASE","associatedKeyword":"-","usage":"Descriptive","uniqueID":"7741124012284251837","displayable":false,"comparable":false,"identifier":"CASE","searchable":false,"facetable":false},{"storeDisplay":false,"values":[{"sequence":"3","value":"Other","uniqueID":"7741124012283444307","unitOfMeasure":"","unitID":"","identifier":"Other"}],"sequence":"15","name":"Model family","associatedKeyword":"-","usage":"Descriptive","uniqueID":"7741124012283333374","displayable":false,"comparable":false,"identifier":"MODEL_FAMILY","searchable":true,"facetable":true},{"storeDisplay":false,"values":[{"sequence":"2","value":"Black","uniqueID":"7741124012283336322","unitOfMeasure":"","unitID":"","identifier":"Black"}],"sequence":"16","name":"Temple inner color facet","associatedKeyword":"-","usage":"Descriptive","uniqueID":"7741124012283334357","displayable":false,"comparable":false,"identifier":"TEMPLE_INNER_COLOR_FACET","searchable":true,"facetable":false},{"storeDisplay":false,"values":[{"sequence":"1","value":"False","uniqueID":"7741124012283337030","unitOfMeasure":"","unitID":"","identifier":"False"}],"sequence":"18","name":"Noreturn","associatedKeyword":"-","usage":"Descriptive","uniqueID":"7741124012283334374","displayable":false,"comparable":false,"identifier":"NORETURN","searchable":false,"facetable":false},{"storeDisplay":false,"values":[{"sequence":"2","value":"True","uniqueID":"7741124012284859353","unitOfMeasure":"","unitID":"","identifier":"True"}],"sequence":"20","name":"ENGRAVINGELIGIBLE","associatedKeyword":"-","usage":"Descriptive","uniqueID":"7741124012284251838","displayable":false,"comparable":false,"identifier":"ENGRAVINGELIGIBLE","searchable":false,"facetable":false},{"storeDisplay":false,"values":[{"sequence":"1","value":"Galleria","uniqueID":"7741124012283336920","unitOfMeasure":"","unitID":"","identifier":"Galleria"}],"sequence":"21","name":"Range","associatedKeyword":"-","usage":"Descriptive","uniqueID":"7741124012283334371","displayable":false,"comparable":false,"identifier":"RANGE","searchable":false,"facetable":true},{"storeDisplay":false,"values":[{"sequence":"1","value":"Demo Lens","uniqueID":"7741124012283336042","unitOfMeasure":"","unitID":"","identifier":"Demo Lens"}],"sequence":"22","name":"Lens color","associatedKeyword":"-","usage":"Descriptive","uniqueID":"7741124012283334345","displayable":false,"comparable":false,"identifier":"LENS_COLOR_FACET","searchable":true,"facetable":true},{"storeDisplay":false,"values":[{"sequence":"1","value":"False","uniqueID":"7741124012283336068","unitOfMeasure":"","unitID":"","identifier":"False"}],"sequence":"23","name":"Newreleases","associatedKeyword":"-","usage":"Descriptive","uniqueID":"7741124012283334349","displayable":false,"comparable":false,"identifier":"NEWRELEASES","searchable":true,"facetable":false},{"storeDisplay":false,"values":[{"sequence":"0","value":"0","uniqueID":"0","unitOfMeasure":"","unitID":"","identifier":"0"}],"sequence":"25","name":"Clen","associatedKeyword":"-","usage":"Descriptive","uniqueID":"7741124012283334344","displayable":false,"comparable":false,"identifier":"CLEN","searchable":false,"facetable":false},{"storeDisplay":false,"values":[{"sequence":"5","value":"Supreme 3,5","uniqueID":"7741124012283355340","unitOfMeasure":"","unitID":"","identifier":"Supreme 3,5"}],"sequence":"26","name":"Arrow","associatedKeyword":"-","usage":"Descriptive","uniqueID":"7741124012283348835","displayable":false,"comparable":false,"identifier":"ARROW","searchable":false,"facetable":false},{"storeDisplay":false,"values":[{"sequence":"3","value":"368000","uniqueID":"7741124012284610943","unitOfMeasure":"","unitID":"","identifier":"368000"}],"sequence":"28","name":"Sequence","associatedKeyword":"-","usage":"Descriptive","uniqueID":"7741124012283593337","displayable":false,"comparable":false,"identifier":"SEQUENCE","searchable":true,"facetable":false},{"storeDisplay":false,"values":[{"sequence":"2","value":"Man","uniqueID":"7741124012283336014","unitOfMeasure":"","unitID":"","identifier":"Man"}],"sequence":"29","name":"Gender","associatedKeyword":"-","usage":"Descriptive","uniqueID":"7741124012283334343","displayable":false,"comparable":false,"identifier":"GENDER","searchable":true,"facetable":true},{"storeDisplay":false,"values":[{"sequence":"1","value":"False","uniqueID":"7741124012284860407","unitOfMeasure":"","unitID":"","identifier":"False"}],"sequence":"30","name":"Flex","associatedKeyword":"-","usage":"Descriptive","uniqueID":"7741124012283364835","displayable":false,"comparable":false,"identifier":"FLEX","searchable":false,"facetable":false},{"storeDisplay":false,"values":[{"sequence":"3","value":"True","uniqueID":"7741124012284582836","unitOfMeasure":"","unitID":"","identifier":"True"}],"sequence":"31","name":"Best Sellers","associatedKeyword":"-","usage":"Descriptive","uniqueID":"7741124012284026835","displayable":false,"comparable":false,"identifier":"BESTSELLERS","searchable":false,"facetable":false},{"storeDisplay":false,"values":[{"sequence":"5","value":"Black","uniqueID":"7741124012283336006","unitOfMeasure":"","unitID":"","identifier":"Black"}],"sequence":"32","name":"Front inner color facet","associatedKeyword":"-","usage":"Descriptive","uniqueID":"7741124012283334342","displayable":false,"comparable":false,"identifier":"FRONT_INNER_COLOR_FACET","searchable":true,"facetable":false},{"storeDisplay":false,"values":[{"sequence":"2","value":"PO3007V","uniqueID":"7741124012283336084","unitOfMeasure":"","unitID":"","identifier":"PO3007V"}],"sequence":"33","name":"Modelname","associatedKeyword":"-","usage":"Descriptive","uniqueID":"7741124012283334353","displayable":false,"comparable":false,"identifier":"MODELNAME","searchable":true,"facetable":false},{"storeDisplay":false,"values":[{"sequence":"1","value":"False","uniqueID":"7741124012283335865","unitOfMeasure":"","unitID":"","identifier":"False"}],"sequence":"34","name":"Exclusive","associatedKeyword":"-","usage":"Descriptive","uniqueID":"7741124012283334336","displayable":false,"comparable":false,"identifier":"EXCLUSIVE","searchable":false,"facetable":true},{"storeDisplay":false,"values":[{"image1":"https:\/\/assets.persol.com\/extra\/image\/Persol\/filters\/black.png","sequence":"1","value":"Black","uniqueID":"7741124012283335934","image1path":"https:\/\/assets.persol.com\/extra\/image\/Persol\/filters\/black.png","unitOfMeasure":"","unitID":"","identifier":"Black"}],"sequence":"35","name":"Frame color","associatedKeyword":"-","usage":"Descriptive","uniqueID":"7741124012283334340","displayable":false,"comparable":false,"identifier":"FRONT_COLOR_FACET","searchable":true,"facetable":true},{"storeDisplay":false,"values":[{"sequence":"1","value":"Square","uniqueID":"7741124012283336915","unitOfMeasure":"","unitID":"","identifier":"Square"}],"sequence":"37","name":"Frame shape","associatedKeyword":"-","usage":"Descriptive","uniqueID":"7741124012283334368","displayable":false,"comparable":false,"identifier":"FRAME_SHAPE_FACET","searchable":true,"facetable":true},{"storeDisplay":false,"values":[{"sequence":"1","value":"False","uniqueID":"7741124012283336078","unitOfMeasure":"","unitID":"","identifier":"False"}],"sequence":"38","name":"Polarized","associatedKeyword":"-","usage":"Descriptive","uniqueID":"7741124012283334352","displayable":false,"comparable":false,"identifier":"POLARIZED","searchable":true,"facetable":true},{"storeDisplay":false,"values":[{"sequence":"1","value":"False","uniqueID":"7741124012283336077","unitOfMeasure":"","unitID":"","identifier":"False"}],"sequence":"39","name":"Onsale","associatedKeyword":"-","usage":"Descriptive","uniqueID":"7741124012283334351","displayable":false,"comparable":false,"identifier":"ONSALE","searchable":false,"facetable":false},{"storeDisplay":false,"values":[{"sequence":"1","value":"False","uniqueID":"7741124012283355350","unitOfMeasure":"","unitID":"","identifier":"False"}],"sequence":"41","name":"Vintage Celebration","associatedKeyword":"-","usage":"Descriptive","uniqueID":"7741124012283348837","displayable":false,"comparable":false,"identifier":"VINTAGE CELEBRATION","searchable":false,"facetable":false},{"storeDisplay":false,"values":[{"sequence":"1","value":"False","uniqueID":"7741124012283336902","unitOfMeasure":"","unitID":"","identifier":"False"}],"sequence":"42","name":"Foldable","associatedKeyword":"-","usage":"Descriptive","uniqueID":"7741124012283334366","displayable":false,"comparable":false,"identifier":"FOLDABLE","searchable":true,"facetable":true},{"storeDisplay":false,"values":[{"sequence":"4","value":"Optical","uniqueID":"7741124012283333657","unitOfMeasure":"","unitID":"","identifier":"Optical"}],"sequence":"43","name":"Producttype","associatedKeyword":"-","usage":"Descriptive","uniqueID":"7741124012283333376","displayable":false,"comparable":false,"identifier":"PRODUCTTYPE","searchable":true,"facetable":false},{"storeDisplay":false,"values":[{"sequence":"1","value":"False","uniqueID":"7741124012284859336","unitOfMeasure":"","unitID":"","identifier":"False"}],"sequence":"44","name":"AVANT_PREMIERE","associatedKeyword":"-","usage":"Descriptive","uniqueID":"7741124012284251835","displayable":false,"comparable":false,"identifier":"AVANT_PREMIERE","searchable":false,"facetable":false},{"storeDisplay":false,"values":[{"sequence":"2","value":"Black","uniqueID":"7741124012283335969","unitOfMeasure":"","unitID":"","identifier":"Black"}],"sequence":"45","name":"Front inner color","associatedKeyword":"-","usage":"Descriptive","uniqueID":"7741124012283334341","displayable":false,"comparable":false,"identifier":"FRONT_INNER_COLOR","searchable":false,"facetable":false},{"storeDisplay":false,"values":[{"sequence":"2","value":"Black","uniqueID":"7741124012283336285","unitOfMeasure":"","unitID":"","identifier":"Black"}],"sequence":"46","name":"Temple inner color","associatedKeyword":"-","usage":"Descriptive","uniqueID":"7741124012283334356","displayable":false,"comparable":false,"identifier":"TEMPLE_INNER_COLOR","searchable":false,"facetable":false},{"storeDisplay":false,"values":[{"sequence":"4","value":"Black","uniqueID":"7741124012283336249","unitOfMeasure":"","unitID":"","identifier":"Black"}],"sequence":"47","name":"Temple color facet","associatedKeyword":"-","usage":"Descriptive","uniqueID":"7741124012283334355","displayable":false,"comparable":false,"identifier":"TEMPLE_COLOR_FACET","searchable":true,"facetable":false},{"storeDisplay":false,"values":[{"sequence":"2","value":"True","uniqueID":"7741124012284859902","unitOfMeasure":"","unitID":"","identifier":"True"}],"sequence":"48","name":"MEFLECTO","associatedKeyword":"-","usage":"Descriptive","uniqueID":"7741124012284251847","displayable":false,"comparable":false,"identifier":"MEFLECTO","searchable":false,"facetable":false},{"storeDisplay":false,"values":[{"sequence":"1","value":"Global","uniqueID":"7741124012283336916","unitOfMeasure":"","unitID":"","identifier":"Global"}],"sequence":"49","name":"Fitting","associatedKeyword":"-","usage":"Descriptive","uniqueID":"7741124012283334369","displayable":false,"comparable":false,"identifier":"GEO_FIT","searchable":true,"facetable":false}],"storeID":"715838084","numberOfSKUs":2,"partNumber":"0PO3007V__95"},{"hasSingleSKU":false,"catalogEntryTypeCode":"ProductBean","associationType":"REPLACEMENT","parentCatalogGroupID":["3074457345616676668_3074457345616676669","3074457345616681818_3074457345616678178","3074457345616681818_3074457345616696193","3074457345616681818_3074457345616696201","3074457345616681818_3074457345616700168","3074457345616681818_3074457345616700669","3074457345616681818_3074457345616700670","3074457345616681818_3074457345616715669","3074457345616681818_3074457345616716181","3074457345616681818_3074457345616716187","3074457345616681818_3074457345616716189"],"price_USD":"265.0","uniqueID":"3074457345616679058","sKUs":[{"hasSingleSKU":false,"catalogEntryTypeCode":"ItemBean","parentCatalogGroupID":["3074457345616676668_3074457345616676669","3074457345616681818_3074457345616678178","3074457345616681818_3074457345616696193","3074457345616681818_3074457345616696201","3074457345616681818_3074457345616700168","3074457345616681818_3074457345616700669","3074457345616681818_3074457345616700670","3074457345616681818_3074457345616715669","3074457345616681818_3074457345616716181","3074457345616681818_3074457345616716187","3074457345616681818_3074457345616716189"],"uniqueID":"3074457345616679797","resourceId":"http:\/\/lux-prdlv-src01.lux-ecomm.net:3737\/search\/resources\/store\/715838388\/productview\/byId\/3074457345616679797","price":[{"description":"L","value":"","usage":"Display","currency":"USD"},{"description":"O","value":"","usage":"Offer","currency":"USD"}],"thumbnail":"https:\/\/assets.persol.com\/is\/image\/Persol\/8053672473483_noshad_fr.png?impolicy=HB_parameters&sclw=0.25&sclh=0.25","shortDescription":"PO3007V 1022 50-19","mfPartNumber_ntk":"0PO3007V","name":"PO3007V 1022 50-19","buyable":"true","storeID":"715838084","attributes":[{"storeDisplay":false,"values":[{"sequence":"1","value":"Standard","uniqueID":"7741124012283336345","unitOfMeasure":"","unitID":"","identifier":"Standard"}],"sequence":"1","name":"Size","usage":"Defining","uniqueID":"7741124012283334359","displayable":true,"comparable":false,"identifier":"MODEL_SIZE_DISPLAY","searchable":false,"facetable":false},{"storeDisplay":false,"values":[{"sequence":"2","value":"Demo Lens","uniqueID":"7741124012283336896","unitOfMeasure":"","unitID":"","identifier":"Demo Lens"}],"sequence":"3","name":"Lens treatment","usage":"Descriptive","uniqueID":"7741124012283334364","displayable":false,"comparable":false,"identifier":"LENS_TREATMENT","searchable":false,"facetable":false},{"storeDisplay":false,"values":[{"sequence":"1","value":"Zpfn","uniqueID":"7741124012283336923","unitOfMeasure":"","unitID":"","identifier":"Zpfn"}],"sequence":"451","name":"Materialtype","usage":"Descriptive","uniqueID":"7741124012283334372","displayable":false,"comparable":false,"identifier":"MATERIALTYPE","searchable":false,"facetable":false},{"storeDisplay":false,"values":[{"sequence":"1","value":"50","uniqueID":"7741124012283336334","unitOfMeasure":"","unitID":"","identifier":"50"}],"sequence":"451","name":"Model size","usage":"Descriptive","uniqueID":"7741124012283334358","displayable":false,"comparable":false,"identifier":"MODEL_SIZE","searchable":false,"facetable":false},{"storeDisplay":false,"values":[{"sequence":"5","value":"1022 50","uniqueID":"7741124012283759538","unitOfMeasure":"","unitID":"","identifier":"1022 50"}],"sequence":"451","name":"Grid Value","usage":"Descriptive","uniqueID":"7741124012283364837","displayable":true,"comparable":false,"identifier":"GRID VALUE","searchable":false,"facetable":false},{"storeDisplay":false,"values":[{"sequence":"4","value":"145","uniqueID":"7741124012283336892","unitOfMeasure":"","unitID":"","identifier":"145"}],"sequence":"451","name":"Temple length","usage":"Descriptive","uniqueID":"7741124012283334363","displayable":false,"comparable":false,"identifier":"TEMPLE_LENGTH","searchable":false,"facetable":false},{"storeDisplay":false,"values":[{"sequence":"1","value":"Material-acetate;arrow-all;meflecto-all","uniqueID":"7741124012284859903","unitOfMeasure":"","unitID":"","identifier":"Material-acetate;arrow-all;meflecto-all"}],"sequence":"451","name":"FEATURES","usage":"Descriptive","uniqueID":"7741124012284251845","displayable":false,"comparable":false,"identifier":"FEATURES","searchable":false,"facetable":false},{"storeDisplay":false,"values":[{"sequence":"1","value":"Demo Lens","uniqueID":"7741124012283336900","unitOfMeasure":"","unitID":"","identifier":"Demo Lens"}],"sequence":"451","name":"Lens type","usage":"Descriptive","uniqueID":"7741124012283334365","displayable":false,"comparable":false,"identifier":"LENS_TREATMENT_FACET","searchable":true,"facetable":true},{"storeDisplay":false,"values":[{"sequence":"1","value":"19","uniqueID":"7741124012283336885","unitOfMeasure":"","unitID":"","identifier":"19"}],"sequence":"451","name":"Lens bridge","usage":"Descriptive","uniqueID":"7741124012283334362","displayable":false,"comparable":false,"identifier":"LENS_BRIDGE","searchable":false,"facetable":false},{"storeDisplay":false,"values":[{"sequence":"2","value":"PO3007V 1022 50-19","uniqueID":"7741124012283759735","unitOfMeasure":"","unitID":"","identifier":"PO3007V 1022 50-19"}],"sequence":"451","name":"Displaysku","usage":"Descriptive","uniqueID":"7741124012283364836","displayable":false,"comparable":false,"identifier":"DISPLAYSKU","searchable":false,"facetable":false},{"storeDisplay":false,"values":[{"sequence":"5","value":"150","uniqueID":"7741124012283336878","unitOfMeasure":"","unitID":"","identifier":"150"}],"sequence":"451","name":"Grossweight","usage":"Descriptive","uniqueID":"7741124012283334361","displayable":false,"comparable":false,"identifier":"GROSSWEIGHT","searchable":false,"facetable":false},{"storeDisplay":false,"values":[{"sequence":"1","value":"Trending Now","uniqueID":"7741124012284582837","unitOfMeasure":"","unitID":"","identifier":"Trending Now"}],"sequence":"451","name":"Primary family","usage":"Descriptive","uniqueID":"7741124012284026836","displayable":false,"comparable":false,"identifier":"PRIMARY_FAMILY","searchable":false,"facetable":false},{"storeDisplay":false,"values":[{"sequence":"5","value":"Supreme 3,5","uniqueID":"7741124012283355340","unitOfMeasure":"","unitID":"","identifier":"Supreme 3,5"}],"sequence":"1654","name":"Arrow","usage":"Descriptive","uniqueID":"7741124012283348835","displayable":false,"comparable":false,"identifier":"ARROW","searchable":false,"facetable":false}],"partNumber":"8053672473483"},{"hasSingleSKU":false,"catalogEntryTypeCode":"ItemBean","parentCatalogGroupID":["3074457345616676668_3074457345616676669","3074457345616681818_3074457345616678178","3074457345616681818_3074457345616696193","3074457345616681818_3074457345616696201","3074457345616681818_3074457345616700168","3074457345616681818_3074457345616700669","3074457345616681818_3074457345616700670","3074457345616681818_3074457345616715669","3074457345616681818_3074457345616716181","3074457345616681818_3074457345616716187","3074457345616681818_3074457345616716189"],"uniqueID":"3074457345616679798","resourceId":"http:\/\/lux-prdlv-src01.lux-ecomm.net:3737\/search\/resources\/store\/715838388\/productview\/byId\/3074457345616679798","price":[{"description":"L","value":"","usage":"Display","currency":"USD"},{"description":"O","value":"","usage":"Offer","currency":"USD"}],"thumbnail":"https:\/\/assets.persol.com\/is\/image\/Persol\/8053672663587_noshad_fr.png?impolicy=HB_parameters&sclw=0.25&sclh=0.25","shortDescription":"PO3007V 1022 52-19","mfPartNumber_ntk":"0PO3007V","name":"PO3007V 1022 52-19","buyable":"true","storeID":"715838084","attributes":[{"storeDisplay":false,"values":[{"sequence":"3","value":"Large","uniqueID":"7741124012283336346","unitOfMeasure":"","unitID":"","identifier":"Large"}],"sequence":"1","name":"Size","usage":"Defining","uniqueID":"7741124012283334359","displayable":true,"comparable":false,"identifier":"MODEL_SIZE_DISPLAY","searchable":false,"facetable":false},{"storeDisplay":false,"values":[{"sequence":"2","value":"Demo Lens","uniqueID":"7741124012283336896","unitOfMeasure":"","unitID":"","identifier":"Demo Lens"}],"sequence":"3","name":"Lens treatment","usage":"Descriptive","uniqueID":"7741124012283334364","displayable":false,"comparable":false,"identifier":"LENS_TREATMENT","searchable":false,"facetable":false},{"storeDisplay":false,"values":[{"sequence":"1","value":"Zpfn","uniqueID":"7741124012283336923","unitOfMeasure":"","unitID":"","identifier":"Zpfn"}],"sequence":"452","name":"Materialtype","usage":"Descriptive","uniqueID":"7741124012283334372","displayable":false,"comparable":false,"identifier":"MATERIALTYPE","searchable":false,"facetable":false},{"storeDisplay":false,"values":[{"sequence":"3","value":"52","uniqueID":"7741124012283336336","unitOfMeasure":"","unitID":"","identifier":"52"}],"sequence":"452","name":"Model size","usage":"Descriptive","uniqueID":"7741124012283334358","displayable":false,"comparable":false,"identifier":"MODEL_SIZE","searchable":false,"facetable":false},{"storeDisplay":false,"values":[{"sequence":"4","value":"1022 52","uniqueID":"7741124012283759536","unitOfMeasure":"","unitID":"","identifier":"1022 52"}],"sequence":"452","name":"Grid Value","usage":"Descriptive","uniqueID":"7741124012283364837","displayable":true,"comparable":false,"identifier":"GRID VALUE","searchable":false,"facetable":false},{"storeDisplay":false,"values":[{"sequence":"4","value":"145","uniqueID":"7741124012283336892","unitOfMeasure":"","unitID":"","identifier":"145"}],"sequence":"452","name":"Temple length","usage":"Descriptive","uniqueID":"7741124012283334363","displayable":false,"comparable":false,"identifier":"TEMPLE_LENGTH","searchable":false,"facetable":false},{"storeDisplay":false,"values":[{"sequence":"1","value":"Material-acetate;arrow-all;meflecto-all","uniqueID":"7741124012284859903","unitOfMeasure":"","unitID":"","identifier":"Material-acetate;arrow-all;meflecto-all"}],"sequence":"452","name":"FEATURES","usage":"Descriptive","uniqueID":"7741124012284251845","displayable":false,"comparable":false,"identifier":"FEATURES","searchable":false,"facetable":false},{"storeDisplay":false,"values":[{"sequence":"1","value":"Demo Lens","uniqueID":"7741124012283336900","unitOfMeasure":"","unitID":"","identifier":"Demo Lens"}],"sequence":"452","name":"Lens type","usage":"Descriptive","uniqueID":"7741124012283334365","displayable":false,"comparable":false,"identifier":"LENS_TREATMENT_FACET","searchable":true,"facetable":true},{"storeDisplay":false,"values":[{"sequence":"1","value":"19","uniqueID":"7741124012283336885","unitOfMeasure":"","unitID":"","identifier":"19"}],"sequence":"452","name":"Lens bridge","usage":"Descriptive","uniqueID":"7741124012283334362","displayable":false,"comparable":false,"identifier":"LENS_BRIDGE","searchable":false,"facetable":false},{"storeDisplay":false,"values":[{"sequence":"5","value":"PO3007V 1022 52-19","uniqueID":"7741124012283759722","unitOfMeasure":"","unitID":"","identifier":"PO3007V 1022 52-19"}],"sequence":"452","name":"Displaysku","usage":"Descriptive","uniqueID":"7741124012283364836","displayable":false,"comparable":false,"identifier":"DISPLAYSKU","searchable":false,"facetable":false},{"storeDisplay":false,"values":[{"sequence":"5","value":"150","uniqueID":"7741124012283336878","unitOfMeasure":"","unitID":"","identifier":"150"}],"sequence":"452","name":"Grossweight","usage":"Descriptive","uniqueID":"7741124012283334361","displayable":false,"comparable":false,"identifier":"GROSSWEIGHT","searchable":false,"facetable":false},{"storeDisplay":false,"values":[{"sequence":"1","value":"Trending Now","uniqueID":"7741124012284582837","unitOfMeasure":"","unitID":"","identifier":"Trending Now"}],"sequence":"452","name":"Primary family","usage":"Descriptive","uniqueID":"7741124012284026836","displayable":false,"comparable":false,"identifier":"PRIMARY_FAMILY","searchable":false,"facetable":false},{"storeDisplay":false,"values":[{"sequence":"5","value":"Supreme 3,5","uniqueID":"7741124012283355340","unitOfMeasure":"","unitID":"","identifier":"Supreme 3,5"}],"sequence":"1655","name":"Arrow","usage":"Descriptive","uniqueID":"7741124012283348835","displayable":false,"comparable":false,"identifier":"ARROW","searchable":false,"facetable":false}],"partNumber":"8053672663587"}],"resourceId":"http:\/\/lux-prdlv-src01.lux-ecomm.net:3737\/search\/resources\/store\/715838388\/productview\/byId\/3074457345616679058","price":[{"description":"L","value":"265.0","usage":"Display","currency":"USD"},{"description":"O","value":"","usage":"Offer","currency":"USD"}],"thumbnail":"https:\/\/assets.persol.com\/is\/image\/Persol\/8053672473483_noshad_fr.png?impolicy=HB_parameters&sclw=0.25&sclh=0.25","shortDescription":"PO3007V","mfPartNumber_ntk":"0PO3007V","name":"PO3007V","buyable":"true","quantity":1,"attributes":[{"storeDisplay":false,"values":[{"sequence":"5","value":"PO3007V","uniqueID":"7741124012283444287","unitOfMeasure":"","unitID":"","identifier":"PO3007V"}],"sequence":"0","name":"Model code","associatedKeyword":"-","usage":"Descriptive","uniqueID":"7741124012283334373","displayable":true,"comparable":false,"identifier":"MODEL_CODE_DISPLAY","searchable":false,"facetable":false},{"storeDisplay":false,"values":[{"image1":"https:\/\/assets.persol.com\/extra\/image\/TargetOptical\/filters\/fuoco-e-ardesia.png","sequence":"1","value":"Terra E Oceano","uniqueID":"7741124012283335892","image1path":"https:\/\/assets.persol.com\/extra\/image\/TargetOptical\/filters\/fuoco-e-ardesia.png","unitOfMeasure":"","unitID":"","identifier":"Terra E Oceano"}],"sequence":"1","name":"Front color","associatedKeyword":"-","usage":"Descriptive","uniqueID":"7741124012283334339","displayable":true,"comparable":false,"identifier":"FRONT_COLOR","searchable":false,"facetable":false},{"storeDisplay":false,"values":[{"sequence":"1","value":"Standard","uniqueID":"7741124012283336345","unitOfMeasure":"","unitID":"","identifier":"Standard"},{"sequence":"3","value":"Large","uniqueID":"7741124012283336346","unitOfMeasure":"","unitID":"","identifier":"Large"}],"sequence":"1","name":"Size","associatedKeyword":"-","usage":"Defining","uniqueID":"7741124012283334359","displayable":true,"comparable":false,"identifier":"MODEL_SIZE_DISPLAY","searchable":false,"facetable":false},{"storeDisplay":false,"values":[{"sequence":"2","value":"201607","uniqueID":"7741124012283335853","unitOfMeasure":"","unitID":"","identifier":"201607"}],"sequence":"1","name":"Collection","associatedKeyword":"-","usage":"Descriptive","uniqueID":"7741124012283334335","displayable":false,"comparable":false,"identifier":"COLLECTION","searchable":true,"facetable":false},{"storeDisplay":false,"values":[{"sequence":"5","value":"Square","uniqueID":"7741124012283336911","unitOfMeasure":"","unitID":"","identifier":"Square"}],"sequence":"2","name":"Frame shape","associatedKeyword":"-","usage":"Descriptive","uniqueID":"7741124012283334367","displayable":false,"comparable":false,"identifier":"FRAME_SHAPE","searchable":false,"facetable":false},{"storeDisplay":false,"values":[{"sequence":"1","value":"Demo Lens","uniqueID":"7741124012283336054","unitOfMeasure":"","unitID":"","identifier":"Demo Lens"}],"sequence":"2","name":"Lens color","associatedKeyword":"-","usage":"Descriptive","uniqueID":"7741124012283334346","displayable":true,"comparable":false,"identifier":"LENS_COLOR","searchable":false,"facetable":false},{"storeDisplay":false,"values":[{"sequence":"1","value":"Trending Now","uniqueID":"7741124012284582837","unitOfMeasure":"","unitID":"","identifier":"Trending Now"}],"sequence":"2","name":"Primary family","associatedKeyword":"-","usage":"Descriptive","uniqueID":"7741124012284026836","displayable":false,"comparable":false,"identifier":"PRIMARY_FAMILY","searchable":false,"facetable":false},{"storeDisplay":false,"values":[{"sequence":"2","value":"Demo Lens","uniqueID":"7741124012283336896","unitOfMeasure":"","unitID":"","identifier":"Demo Lens"}],"sequence":"3","name":"Lens treatment","associatedKeyword":"-","usage":"Descriptive","uniqueID":"7741124012283334364","displayable":false,"comparable":false,"identifier":"LENS_TREATMENT","searchable":false,"facetable":false},{"storeDisplay":false,"values":[{"sequence":"1","value":"False","uniqueID":"7741124012285955768","unitOfMeasure":"","unitID":"","identifier":"False"}],"sequence":"3","name":"Photochromic","associatedKeyword":"-","usage":"Descriptive","uniqueID":"7741124012284852335","displayable":false,"comparable":false,"identifier":"PHOTOCHROMIC","searchable":true,"facetable":true},{"storeDisplay":false,"values":[{"sequence":"2","value":"Acetate","uniqueID":"7741124012283335870","unitOfMeasure":"","unitID":"","identifier":"Acetate"}],"sequence":"4","name":"Frame material","associatedKeyword":"-","usage":"Descriptive","uniqueID":"7741124012283334338","displayable":false,"comparable":false,"identifier":"FRAMEMATERIAL_FACET","searchable":true,"facetable":true},{"storeDisplay":false,"values":[{"sequence":"1","value":"False","uniqueID":"7741124012283336065","unitOfMeasure":"","unitID":"","identifier":"False"}],"sequence":"5","name":"Limited edition","associatedKeyword":"-","usage":"Descriptive","uniqueID":"7741124012283334347","displayable":false,"comparable":false,"identifier":"LIMITED_EDITION","searchable":false,"facetable":false},{"storeDisplay":false,"values":[{"image1":"https:\/\/assets.persol.com\/extra\/image\/TargetOptical\/filters\/havana.png","sequence":"4","value":"Havana","uniqueID":"7741124012283336215","image1path":"https:\/\/assets.persol.com\/extra\/image\/TargetOptical\/filters\/havana.png","unitOfMeasure":"","unitID":"","identifier":"Havana"}],"sequence":"6","name":"Temple color","associatedKeyword":"-","usage":"Descriptive","uniqueID":"7741124012283334354","displayable":false,"comparable":false,"identifier":"TEMPLE_COLOR","searchable":false,"facetable":false},{"storeDisplay":false,"values":[{"sequence":"4","value":"Acetate","uniqueID":"7741124012283335867","unitOfMeasure":"","unitID":"","identifier":"Acetate"}],"sequence":"6","name":"Frame Material","associatedKeyword":"-","usage":"Descriptive","uniqueID":"7741124012283334337","displayable":true,"comparable":false,"identifier":"FRAMEMATERIAL","searchable":false,"facetable":false},{"storeDisplay":false,"values":[{"sequence":"1","value":"Not Adjustable","uniqueID":"7741124012284859354","unitOfMeasure":"","unitID":"","identifier":"Not Adjustable"}],"sequence":"7","name":"Nosepads","associatedKeyword":"-","usage":"Descriptive","uniqueID":"7741124012284251840","displayable":true,"comparable":false,"identifier":"NOSEPADS","searchable":true,"facetable":true},{"storeDisplay":false,"values":[{"sequence":"1","value":"Polished","uniqueID":"7741124012284859363","unitOfMeasure":"","unitID":"","identifier":"Polished"}],"sequence":"8","name":"FINISHING","associatedKeyword":"-","usage":"Descriptive","uniqueID":"7741124012284251844","displayable":false,"comparable":false,"identifier":"FINISHING","searchable":false,"facetable":false},{"storeDisplay":false,"values":[{"sequence":"1","value":"1","uniqueID":"7741124012284859356","unitOfMeasure":"","unitID":"","identifier":"1"}],"sequence":"8","name":"PLACEHOLDER_SIZE","associatedKeyword":"-","usage":"Descriptive","uniqueID":"7741124012284251841","displayable":true,"comparable":false,"identifier":"PLACEHOLDER_SIZE","searchable":false,"facetable":false},{"storeDisplay":false,"values":[{"sequence":"1","value":"Standard","uniqueID":"7741124012284859365","unitOfMeasure":"","unitID":"","identifier":"Standard"}],"sequence":"9","name":"FRAME FIT","associatedKeyword":"-","usage":"Descriptive","uniqueID":"7741124012284251846","displayable":true,"comparable":false,"identifier":"FRAME FIT","searchable":false,"facetable":false},{"storeDisplay":false,"values":[{"sequence":"5","value":"Keyhole Bridge","uniqueID":"7741124012284859339","unitOfMeasure":"","unitID":"","identifier":"Keyhole Bridge"}],"sequence":"9","name":"BRIDGE TYPE","associatedKeyword":"-","usage":"Descriptive","uniqueID":"7741124012284251836","displayable":false,"comparable":false,"identifier":"BRIDGE TYPE","searchable":false,"facetable":false},{"storeDisplay":false,"values":[{"sequence":"3","value":"Full Rim","uniqueID":"7741124012283360863","unitOfMeasure":"","unitID":"","identifier":"Full Rim"}],"sequence":"10","name":"Frame type","associatedKeyword":"-","usage":"Descriptive","uniqueID":"7741124012283334370","displayable":false,"comparable":false,"identifier":"FRAMETYPE","searchable":true,"facetable":false},{"storeDisplay":false,"values":[{"sequence":"1","value":"Italy","uniqueID":"7741124012283336067","unitOfMeasure":"","unitID":"","identifier":"Italy"}],"sequence":"10","name":"Made in","associatedKeyword":"-","usage":"Descriptive","uniqueID":"7741124012283334348","displayable":true,"comparable":false,"identifier":"MADEIN","searchable":false,"facetable":false},{"storeDisplay":false,"values":[{"sequence":"3","value":"Round Face;oval Face","uniqueID":"7741124012284860410","unitOfMeasure":"","unitID":"","identifier":"Round Face;oval Face"}],"sequence":"11","name":"SUGGESTED FACE SHAPE","associatedKeyword":"-","usage":"Descriptive","uniqueID":"7741124012284251843","displayable":false,"comparable":false,"identifier":"SUGGESTED_FACE_SHAPE","searchable":false,"facetable":false},{"storeDisplay":false,"values":[{"sequence":"4","value":"Mini Supreme Acetate","uniqueID":"7741124012283355349","unitOfMeasure":"","unitID":"","identifier":"Mini Supreme Acetate"}],"sequence":"11","name":"Temple logo","associatedKeyword":"-","usage":"Descriptive","uniqueID":"7741124012283348836","displayable":false,"comparable":true,"identifier":"TEMPLE_LOGO","searchable":false,"facetable":false},{"storeDisplay":false,"values":[{"sequence":"5","value":"1022","uniqueID":"7741124012284861346","unitOfMeasure":"","unitID":"","identifier":"1022"}],"sequence":"12","name":"COLOR CODE","associatedKeyword":"-","usage":"Descriptive","uniqueID":"7741124012284253335","displayable":false,"comparable":false,"identifier":"COLOR CODE","searchable":false,"facetable":false},{"storeDisplay":false,"values":[{"sequence":"3","value":"PO_pack5_gallery","uniqueID":"7741124012284859917","unitOfMeasure":"","unitID":"","identifier":"PO_pack5_gallery"}],"sequence":"14","name":"CASE","associatedKeyword":"-","usage":"Descriptive","uniqueID":"7741124012284251837","displayable":false,"comparable":false,"identifier":"CASE","searchable":false,"facetable":false},{"storeDisplay":false,"values":[{"sequence":"3","value":"Other","uniqueID":"7741124012283444307","unitOfMeasure":"","unitID":"","identifier":"Other"}],"sequence":"15","name":"Model family","associatedKeyword":"-","usage":"Descriptive","uniqueID":"7741124012283333374","displayable":false,"comparable":false,"identifier":"MODEL_FAMILY","searchable":true,"facetable":true},{"storeDisplay":false,"values":[{"image1":"https:\/\/assets.persol.com\/extra\/image\/TargetOptical\/filters\/havana.png","sequence":"5","value":"Havana","uniqueID":"7741124012283336323","image1path":"https:\/\/assets.persol.com\/extra\/image\/TargetOptical\/filters\/havana.png","unitOfMeasure":"","unitID":"","identifier":"Havana"}],"sequence":"16","name":"Temple inner color facet","associatedKeyword":"-","usage":"Descriptive","uniqueID":"7741124012283334357","displayable":false,"comparable":false,"identifier":"TEMPLE_INNER_COLOR_FACET","searchable":true,"facetable":false},{"storeDisplay":false,"values":[{"sequence":"1","value":"False","uniqueID":"7741124012283337030","unitOfMeasure":"","unitID":"","identifier":"False"}],"sequence":"18","name":"Noreturn","associatedKeyword":"-","usage":"Descriptive","uniqueID":"7741124012283334374","displayable":false,"comparable":false,"identifier":"NORETURN","searchable":false,"facetable":false},{"storeDisplay":false,"values":[{"sequence":"2","value":"True","uniqueID":"7741124012284859353","unitOfMeasure":"","unitID":"","identifier":"True"}],"sequence":"20","name":"ENGRAVINGELIGIBLE","associatedKeyword":"-","usage":"Descriptive","uniqueID":"7741124012284251838","displayable":false,"comparable":false,"identifier":"ENGRAVINGELIGIBLE","searchable":false,"facetable":false},{"storeDisplay":false,"values":[{"sequence":"1","value":"Galleria","uniqueID":"7741124012283336920","unitOfMeasure":"","unitID":"","identifier":"Galleria"}],"sequence":"21","name":"Range","associatedKeyword":"-","usage":"Descriptive","uniqueID":"7741124012283334371","displayable":false,"comparable":false,"identifier":"RANGE","searchable":false,"facetable":true},{"storeDisplay":false,"values":[{"sequence":"1","value":"Demo Lens","uniqueID":"7741124012283336042","unitOfMeasure":"","unitID":"","identifier":"Demo Lens"}],"sequence":"22","name":"Lens color","associatedKeyword":"-","usage":"Descriptive","uniqueID":"7741124012283334345","displayable":false,"comparable":false,"identifier":"LENS_COLOR_FACET","searchable":true,"facetable":true},{"storeDisplay":false,"values":[{"sequence":"1","value":"False","uniqueID":"7741124012283336068","unitOfMeasure":"","unitID":"","identifier":"False"}],"sequence":"23","name":"Newreleases","associatedKeyword":"-","usage":"Descriptive","uniqueID":"7741124012283334349","displayable":false,"comparable":false,"identifier":"NEWRELEASES","searchable":true,"facetable":false},{"storeDisplay":false,"values":[{"sequence":"0","value":"0","uniqueID":"0","unitOfMeasure":"","unitID":"","identifier":"0"}],"sequence":"25","name":"Clen","associatedKeyword":"-","usage":"Descriptive","uniqueID":"7741124012283334344","displayable":false,"comparable":false,"identifier":"CLEN","searchable":false,"facetable":false},{"storeDisplay":false,"values":[{"sequence":"5","value":"Supreme 3,5","uniqueID":"7741124012283355340","unitOfMeasure":"","unitID":"","identifier":"Supreme 3,5"}],"sequence":"26","name":"Arrow","associatedKeyword":"-","usage":"Descriptive","uniqueID":"7741124012283348835","displayable":false,"comparable":false,"identifier":"ARROW","searchable":false,"facetable":false},{"storeDisplay":false,"values":[{"sequence":"5","value":"365500","uniqueID":"7741124012284611550","unitOfMeasure":"","unitID":"","identifier":"365500"}],"sequence":"28","name":"Sequence","associatedKeyword":"-","usage":"Descriptive","uniqueID":"7741124012283593337","displayable":false,"comparable":false,"identifier":"SEQUENCE","searchable":true,"facetable":false},{"storeDisplay":false,"values":[{"sequence":"2","value":"Man","uniqueID":"7741124012283336014","unitOfMeasure":"","unitID":"","identifier":"Man"}],"sequence":"29","name":"Gender","associatedKeyword":"-","usage":"Descriptive","uniqueID":"7741124012283334343","displayable":false,"comparable":false,"identifier":"GENDER","searchable":true,"facetable":true},{"storeDisplay":false,"values":[{"sequence":"1","value":"False","uniqueID":"7741124012284860407","unitOfMeasure":"","unitID":"","identifier":"False"}],"sequence":"30","name":"Flex","associatedKeyword":"-","usage":"Descriptive","uniqueID":"7741124012283364835","displayable":false,"comparable":false,"identifier":"FLEX","searchable":false,"facetable":false},{"storeDisplay":false,"values":[{"sequence":"3","value":"True","uniqueID":"7741124012284582836","unitOfMeasure":"","unitID":"","identifier":"True"}],"sequence":"31","name":"Best Sellers","associatedKeyword":"-","usage":"Descriptive","uniqueID":"7741124012284026835","displayable":false,"comparable":false,"identifier":"BESTSELLERS","searchable":false,"facetable":false},{"storeDisplay":false,"values":[{"image1":"https:\/\/assets.persol.com\/extra\/image\/TargetOptical\/filters\/fuoco-e-ardesia.png","sequence":"4","value":"Terra E Oceano","uniqueID":"7741124012283336002","image1path":"https:\/\/assets.persol.com\/extra\/image\/TargetOptical\/filters\/fuoco-e-ardesia.png","unitOfMeasure":"","unitID":"","identifier":"Terra E Oceano"}],"sequence":"32","name":"Front inner color facet","associatedKeyword":"-","usage":"Descriptive","uniqueID":"7741124012283334342","displayable":false,"comparable":false,"identifier":"FRONT_INNER_COLOR_FACET","searchable":true,"facetable":false},{"storeDisplay":false,"values":[{"sequence":"2","value":"PO3007V","uniqueID":"7741124012283336084","unitOfMeasure":"","unitID":"","identifier":"PO3007V"}],"sequence":"33","name":"Modelname","associatedKeyword":"-","usage":"Descriptive","uniqueID":"7741124012283334353","displayable":false,"comparable":false,"identifier":"MODELNAME","searchable":true,"facetable":false},{"storeDisplay":false,"values":[{"sequence":"1","value":"False","uniqueID":"7741124012283335865","unitOfMeasure":"","unitID":"","identifier":"False"}],"sequence":"34","name":"Exclusive","associatedKeyword":"-","usage":"Descriptive","uniqueID":"7741124012283334336","displayable":false,"comparable":false,"identifier":"EXCLUSIVE","searchable":false,"facetable":true},{"storeDisplay":false,"values":[{"image1":"https:\/\/assets.persol.com\/extra\/image\/Persol\/filters\/tortoise.png","sequence":"5","value":"Tortoise","uniqueID":"7741124012284314837","image1path":"https:\/\/assets.persol.com\/extra\/image\/Persol\/filters\/tortoise.png","unitOfMeasure":"","unitID":"","identifier":"Tortoise"}],"sequence":"35","name":"Frame color","associatedKeyword":"-","usage":"Descriptive","uniqueID":"7741124012283334340","displayable":false,"comparable":false,"identifier":"FRONT_COLOR_FACET","searchable":true,"facetable":true},{"storeDisplay":false,"values":[{"sequence":"1","value":"Square","uniqueID":"7741124012283336915","unitOfMeasure":"","unitID":"","identifier":"Square"}],"sequence":"37","name":"Frame shape","associatedKeyword":"-","usage":"Descriptive","uniqueID":"7741124012283334368","displayable":false,"comparable":false,"identifier":"FRAME_SHAPE_FACET","searchable":true,"facetable":true},{"storeDisplay":false,"values":[{"sequence":"1","value":"False","uniqueID":"7741124012283336078","unitOfMeasure":"","unitID":"","identifier":"False"}],"sequence":"38","name":"Polarized","associatedKeyword":"-","usage":"Descriptive","uniqueID":"7741124012283334352","displayable":false,"comparable":false,"identifier":"POLARIZED","searchable":true,"facetable":true},{"storeDisplay":false,"values":[{"sequence":"1","value":"False","uniqueID":"7741124012283336077","unitOfMeasure":"","unitID":"","identifier":"False"}],"sequence":"39","name":"Onsale","associatedKeyword":"-","usage":"Descriptive","uniqueID":"7741124012283334351","displayable":false,"comparable":false,"identifier":"ONSALE","searchable":false,"facetable":false},{"storeDisplay":false,"values":[{"sequence":"2","value":"True","uniqueID":"7741124012283355351","unitOfMeasure":"","unitID":"","identifier":"True"}],"sequence":"41","name":"Vintage Celebration","associatedKeyword":"-","usage":"Descriptive","uniqueID":"7741124012283348837","displayable":false,"comparable":false,"identifier":"VINTAGE CELEBRATION","searchable":false,"facetable":false},{"storeDisplay":false,"values":[{"sequence":"1","value":"False","uniqueID":"7741124012283336902","unitOfMeasure":"","unitID":"","identifier":"False"}],"sequence":"42","name":"Foldable","associatedKeyword":"-","usage":"Descriptive","uniqueID":"7741124012283334366","displayable":false,"comparable":false,"identifier":"FOLDABLE","searchable":true,"facetable":true},{"storeDisplay":false,"values":[{"sequence":"4","value":"Optical","uniqueID":"7741124012283333657","unitOfMeasure":"","unitID":"","identifier":"Optical"}],"sequence":"43","name":"Producttype","associatedKeyword":"-","usage":"Descriptive","uniqueID":"7741124012283333376","displayable":false,"comparable":false,"identifier":"PRODUCTTYPE","searchable":true,"facetable":false},{"storeDisplay":false,"values":[{"sequence":"1","value":"False","uniqueID":"7741124012284859336","unitOfMeasure":"","unitID":"","identifier":"False"}],"sequence":"44","name":"AVANT_PREMIERE","associatedKeyword":"-","usage":"Descriptive","uniqueID":"7741124012284251835","displayable":false,"comparable":false,"identifier":"AVANT_PREMIERE","searchable":false,"facetable":false},{"storeDisplay":false,"values":[{"image1":"https:\/\/assets.persol.com\/extra\/image\/TargetOptical\/filters\/fuoco-e-ardesia.png","sequence":"2","value":"Terra E Oceano","uniqueID":"7741124012283335960","image1path":"https:\/\/assets.persol.com\/extra\/image\/TargetOptical\/filters\/fuoco-e-ardesia.png","unitOfMeasure":"","unitID":"","identifier":"Terra E Oceano"}],"sequence":"45","name":"Front inner color","associatedKeyword":"-","usage":"Descriptive","uniqueID":"7741124012283334341","displayable":false,"comparable":false,"identifier":"FRONT_INNER_COLOR","searchable":false,"facetable":false},{"storeDisplay":false,"values":[{"image1":"https:\/\/assets.persol.com\/extra\/image\/TargetOptical\/filters\/havana.png","sequence":"3","value":"Havana","uniqueID":"7741124012283336288","image1path":"https:\/\/assets.persol.com\/extra\/image\/TargetOptical\/filters\/havana.png","unitOfMeasure":"","unitID":"","identifier":"Havana"}],"sequence":"46","name":"Temple inner color","associatedKeyword":"-","usage":"Descriptive","uniqueID":"7741124012283334356","displayable":false,"comparable":false,"identifier":"TEMPLE_INNER_COLOR","searchable":false,"facetable":false},{"storeDisplay":false,"values":[{"image1":"https:\/\/assets.persol.com\/extra\/image\/TargetOptical\/filters\/havana.png","sequence":"3","value":"Havana","uniqueID":"7741124012283336250","image1path":"https:\/\/assets.persol.com\/extra\/image\/TargetOptical\/filters\/havana.png","unitOfMeasure":"","unitID":"","identifier":"Havana"}],"sequence":"47","name":"Temple color facet","associatedKeyword":"-","usage":"Descriptive","uniqueID":"7741124012283334355","displayable":false,"comparable":false,"identifier":"TEMPLE_COLOR_FACET","searchable":true,"facetable":false},{"storeDisplay":false,"values":[{"sequence":"2","value":"True","uniqueID":"7741124012284859902","unitOfMeasure":"","unitID":"","identifier":"True"}],"sequence":"48","name":"MEFLECTO","associatedKeyword":"-","usage":"Descriptive","uniqueID":"7741124012284251847","displayable":false,"comparable":false,"identifier":"MEFLECTO","searchable":false,"facetable":false},{"storeDisplay":false,"values":[{"sequence":"1","value":"Global","uniqueID":"7741124012283336916","unitOfMeasure":"","unitID":"","identifier":"Global"}],"sequence":"49","name":"Fitting","associatedKeyword":"-","usage":"Descriptive","uniqueID":"7741124012283334369","displayable":false,"comparable":false,"identifier":"GEO_FIT","searchable":true,"facetable":false}],"storeID":"715838084","numberOfSKUs":2,"partNumber":"0PO3007V__1022"},{"hasSingleSKU":false,"catalogEntryTypeCode":"ProductBean","associationType":"REPLACEMENT","parentCatalogGroupID":["3074457345616676668_3074457345616676669","3074457345616681818_3074457345616678178","3074457345616681818_3074457345616696193","3074457345616681818_3074457345616696201","3074457345616681818_3074457345616700168","3074457345616681818_3074457345616700669","3074457345616681818_3074457345616700670","3074457345616681818_3074457345616710669","3074457345616681818_3074457345616710673","3074457345616681818_3074457345616715669","3074457345616681818_3074457345616716181","3074457345616681818_3074457345616716184"],"price_USD":"132.5","uniqueID":"3074457345616679059","sKUs":[{"hasSingleSKU":false,"catalogEntryTypeCode":"ItemBean","parentCatalogGroupID":["3074457345616676668_3074457345616676669","3074457345616681818_3074457345616678178","3074457345616681818_3074457345616696193","3074457345616681818_3074457345616696201","3074457345616681818_3074457345616700168","3074457345616681818_3074457345616700669","3074457345616681818_3074457345616700670","3074457345616681818_3074457345616710669","3074457345616681818_3074457345616710673","3074457345616681818_3074457345616715669","3074457345616681818_3074457345616716181","3074457345616681818_3074457345616716184"],"uniqueID":"3074457345616679799","resourceId":"http:\/\/lux-prdlv-src01.lux-ecomm.net:3737\/search\/resources\/store\/715838388\/productview\/byId\/3074457345616679799","price":[{"description":"L","value":"","usage":"Display","currency":"USD"},{"description":"O","value":"","usage":"Offer","currency":"USD"}],"thumbnail":"https:\/\/assets.persol.com\/is\/image\/Persol\/8053672473520_noshad_fr.png?impolicy=HB_parameters&sclw=0.25&sclh=0.25","shortDescription":"PO3007V 1023 50-19","mfPartNumber_ntk":"0PO3007V","name":"PO3007V 1023 50-19","buyable":"true","storeID":"715838084","attributes":[{"storeDisplay":false,"values":[{"sequence":"1","value":"Standard","uniqueID":"7741124012283336345","unitOfMeasure":"","unitID":"","identifier":"Standard"}],"sequence":"1","name":"Size","usage":"Defining","uniqueID":"7741124012283334359","displayable":true,"comparable":false,"identifier":"MODEL_SIZE_DISPLAY","searchable":false,"facetable":false},{"storeDisplay":false,"values":[{"sequence":"2","value":"Demo Lens","uniqueID":"7741124012283336896","unitOfMeasure":"","unitID":"","identifier":"Demo Lens"}],"sequence":"3","name":"Lens treatment","usage":"Descriptive","uniqueID":"7741124012283334364","displayable":false,"comparable":false,"identifier":"LENS_TREATMENT","searchable":false,"facetable":false},{"storeDisplay":false,"values":[{"sequence":"1","value":"Zpfn","uniqueID":"7741124012283336923","unitOfMeasure":"","unitID":"","identifier":"Zpfn"}],"sequence":"453","name":"Materialtype","usage":"Descriptive","uniqueID":"7741124012283334372","displayable":false,"comparable":false,"identifier":"MATERIALTYPE","searchable":false,"facetable":false},{"storeDisplay":false,"values":[{"sequence":"1","value":"50","uniqueID":"7741124012283336334","unitOfMeasure":"","unitID":"","identifier":"50"}],"sequence":"453","name":"Model size","usage":"Descriptive","uniqueID":"7741124012283334358","displayable":false,"comparable":false,"identifier":"MODEL_SIZE","searchable":false,"facetable":false},{"storeDisplay":false,"values":[{"sequence":"4","value":"1023 50","uniqueID":"7741124012283759496","unitOfMeasure":"","unitID":"","identifier":"1023 50"}],"sequence":"453","name":"Grid Value","usage":"Descriptive","uniqueID":"7741124012283364837","displayable":true,"comparable":false,"identifier":"GRID VALUE","searchable":false,"facetable":false},{"storeDisplay":false,"values":[{"sequence":"4","value":"145","uniqueID":"7741124012283336892","unitOfMeasure":"","unitID":"","identifier":"145"}],"sequence":"453","name":"Temple length","usage":"Descriptive","uniqueID":"7741124012283334363","displayable":false,"comparable":false,"identifier":"TEMPLE_LENGTH","searchable":false,"facetable":false},{"storeDisplay":false,"values":[{"sequence":"1","value":"Material-acetate;arrow-all;meflecto-all","uniqueID":"7741124012284859903","unitOfMeasure":"","unitID":"","identifier":"Material-acetate;arrow-all;meflecto-all"}],"sequence":"453","name":"FEATURES","usage":"Descriptive","uniqueID":"7741124012284251845","displayable":false,"comparable":false,"identifier":"FEATURES","searchable":false,"facetable":false},{"storeDisplay":false,"values":[{"sequence":"1","value":"Demo Lens","uniqueID":"7741124012283336900","unitOfMeasure":"","unitID":"","identifier":"Demo Lens"}],"sequence":"453","name":"Lens type","usage":"Descriptive","uniqueID":"7741124012283334365","displayable":false,"comparable":false,"identifier":"LENS_TREATMENT_FACET","searchable":true,"facetable":true},{"storeDisplay":false,"values":[{"sequence":"1","value":"19","uniqueID":"7741124012283336885","unitOfMeasure":"","unitID":"","identifier":"19"}],"sequence":"453","name":"Lens bridge","usage":"Descriptive","uniqueID":"7741124012283334362","displayable":false,"comparable":false,"identifier":"LENS_BRIDGE","searchable":false,"facetable":false},{"storeDisplay":false,"values":[{"sequence":"1","value":"PO3007V 1023 50-19","uniqueID":"7741124012283759749","unitOfMeasure":"","unitID":"","identifier":"PO3007V 1023 50-19"}],"sequence":"453","name":"Displaysku","usage":"Descriptive","uniqueID":"7741124012283364836","displayable":false,"comparable":false,"identifier":"DISPLAYSKU","searchable":false,"facetable":false},{"storeDisplay":false,"values":[{"sequence":"5","value":"150","uniqueID":"7741124012283336878","unitOfMeasure":"","unitID":"","identifier":"150"}],"sequence":"453","name":"Grossweight","usage":"Descriptive","uniqueID":"7741124012283334361","displayable":false,"comparable":false,"identifier":"GROSSWEIGHT","searchable":false,"facetable":false},{"storeDisplay":false,"values":[{"sequence":"1","value":"Trending Now","uniqueID":"7741124012284582837","unitOfMeasure":"","unitID":"","identifier":"Trending Now"}],"sequence":"453","name":"Primary family","usage":"Descriptive","uniqueID":"7741124012284026836","displayable":false,"comparable":false,"identifier":"PRIMARY_FAMILY","searchable":false,"facetable":false},{"storeDisplay":false,"values":[{"sequence":"5","value":"Supreme 3,5","uniqueID":"7741124012283355340","unitOfMeasure":"","unitID":"","identifier":"Supreme 3,5"}],"sequence":"1656","name":"Arrow","usage":"Descriptive","uniqueID":"7741124012283348835","displayable":false,"comparable":false,"identifier":"ARROW","searchable":false,"facetable":false}],"partNumber":"8053672473520"},{"hasSingleSKU":false,"catalogEntryTypeCode":"ItemBean","parentCatalogGroupID":["3074457345616676668_3074457345616676669","3074457345616681818_3074457345616678178","3074457345616681818_3074457345616696193","3074457345616681818_3074457345616696201","3074457345616681818_3074457345616700168","3074457345616681818_3074457345616700669","3074457345616681818_3074457345616700670","3074457345616681818_3074457345616710669","3074457345616681818_3074457345616710673","3074457345616681818_3074457345616715669","3074457345616681818_3074457345616716181","3074457345616681818_3074457345616716184"],"uniqueID":"3074457345616679800","resourceId":"http:\/\/lux-prdlv-src01.lux-ecomm.net:3737\/search\/resources\/store\/715838388\/productview\/byId\/3074457345616679800","price":[{"description":"L","value":"","usage":"Display","currency":"USD"},{"description":"O","value":"","usage":"Offer","currency":"USD"}],"thumbnail":"https:\/\/assets.persol.com\/is\/image\/Persol\/8053672663600_noshad_fr.png?impolicy=HB_parameters&sclw=0.25&sclh=0.25","shortDescription":"PO3007V 1023 52-19","mfPartNumber_ntk":"0PO3007V","name":"PO3007V 1023 52-19","buyable":"true","storeID":"715838084","attributes":[{"storeDisplay":false,"values":[{"sequence":"3","value":"Large","uniqueID":"7741124012283336346","unitOfMeasure":"","unitID":"","identifier":"Large"}],"sequence":"1","name":"Size","usage":"Defining","uniqueID":"7741124012283334359","displayable":true,"comparable":false,"identifier":"MODEL_SIZE_DISPLAY","searchable":false,"facetable":false},{"storeDisplay":false,"values":[{"sequence":"2","value":"Demo Lens","uniqueID":"7741124012283336896","unitOfMeasure":"","unitID":"","identifier":"Demo Lens"}],"sequence":"3","name":"Lens treatment","usage":"Descriptive","uniqueID":"7741124012283334364","displayable":false,"comparable":false,"identifier":"LENS_TREATMENT","searchable":false,"facetable":false},{"storeDisplay":false,"values":[{"sequence":"1","value":"19","uniqueID":"7741124012283336885","unitOfMeasure":"","unitID":"","identifier":"19"}],"sequence":"454","name":"Lens bridge","usage":"Descriptive","uniqueID":"7741124012283334362","displayable":false,"comparable":false,"identifier":"LENS_BRIDGE","searchable":false,"facetable":false},{"storeDisplay":false,"values":[{"sequence":"4","value":"PO3007V 1023 52-19","uniqueID":"7741124012283995537","unitOfMeasure":"","unitID":"","identifier":"PO3007V 1023 52-19"}],"sequence":"454","name":"Displaysku","usage":"Descriptive","uniqueID":"7741124012283364836","displayable":false,"comparable":false,"identifier":"DISPLAYSKU","searchable":false,"facetable":false},{"storeDisplay":false,"values":[{"sequence":"3","value":"52","uniqueID":"7741124012283336336","unitOfMeasure":"","unitID":"","identifier":"52"}],"sequence":"454","name":"Model size","usage":"Descriptive","uniqueID":"7741124012283334358","displayable":false,"comparable":false,"identifier":"MODEL_SIZE","searchable":false,"facetable":false},{"storeDisplay":false,"values":[{"sequence":"1","value":"Material-acetate;arrow-all;meflecto-all","uniqueID":"7741124012284859903","unitOfMeasure":"","unitID":"","identifier":"Material-acetate;arrow-all;meflecto-all"}],"sequence":"454","name":"FEATURES","usage":"Descriptive","uniqueID":"7741124012284251845","displayable":false,"comparable":false,"identifier":"FEATURES","searchable":false,"facetable":false},{"storeDisplay":false,"values":[{"sequence":"1","value":"Demo Lens","uniqueID":"7741124012283336900","unitOfMeasure":"","unitID":"","identifier":"Demo Lens"}],"sequence":"454","name":"Lens type","usage":"Descriptive","uniqueID":"7741124012283334365","displayable":false,"comparable":false,"identifier":"LENS_TREATMENT_FACET","searchable":true,"facetable":true},{"storeDisplay":false,"values":[{"sequence":"1","value":"1023 52","uniqueID":"7741124012283995464","unitOfMeasure":"","unitID":"","identifier":"1023 52"}],"sequence":"454","name":"Grid Value","usage":"Descriptive","uniqueID":"7741124012283364837","displayable":true,"comparable":false,"identifier":"GRID VALUE","searchable":false,"facetable":false},{"storeDisplay":false,"values":[{"sequence":"1","value":"Zpfn","uniqueID":"7741124012283336923","unitOfMeasure":"","unitID":"","identifier":"Zpfn"}],"sequence":"454","name":"Materialtype","usage":"Descriptive","uniqueID":"7741124012283334372","displayable":false,"comparable":false,"identifier":"MATERIALTYPE","searchable":false,"facetable":false},{"storeDisplay":false,"values":[{"sequence":"4","value":"145","uniqueID":"7741124012283336892","unitOfMeasure":"","unitID":"","identifier":"145"}],"sequence":"454","name":"Temple length","usage":"Descriptive","uniqueID":"7741124012283334363","displayable":false,"comparable":false,"identifier":"TEMPLE_LENGTH","searchable":false,"facetable":false},{"storeDisplay":false,"values":[{"sequence":"5","value":"150","uniqueID":"7741124012283336878","unitOfMeasure":"","unitID":"","identifier":"150"}],"sequence":"454","name":"Grossweight","usage":"Descriptive","uniqueID":"7741124012283334361","displayable":false,"comparable":false,"identifier":"GROSSWEIGHT","searchable":false,"facetable":false},{"storeDisplay":false,"values":[{"sequence":"1","value":"Trending Now","uniqueID":"7741124012284582837","unitOfMeasure":"","unitID":"","identifier":"Trending Now"}],"sequence":"454","name":"Primary family","usage":"Descriptive","uniqueID":"7741124012284026836","displayable":false,"comparable":false,"identifier":"PRIMARY_FAMILY","searchable":false,"facetable":false},{"storeDisplay":false,"values":[{"sequence":"5","value":"Supreme 3,5","uniqueID":"7741124012283355340","unitOfMeasure":"","unitID":"","identifier":"Supreme 3,5"}],"sequence":"1657","name":"Arrow","usage":"Descriptive","uniqueID":"7741124012283348835","displayable":false,"comparable":false,"identifier":"ARROW","searchable":false,"facetable":false}],"partNumber":"8053672663600"}],"resourceId":"http:\/\/lux-prdlv-src01.lux-ecomm.net:3737\/search\/resources\/store\/715838388\/productview\/byId\/3074457345616679059","price":[{"description":"L","value":"265.0","usage":"Display","currency":"USD"},{"description":"O","value":"","usage":"Offer","currency":"USD"}],"thumbnail":"https:\/\/assets.persol.com\/is\/image\/Persol\/8053672473520_noshad_fr.png?impolicy=HB_parameters&sclw=0.25&sclh=0.25","shortDescription":"PO3007V","mfPartNumber_ntk":"0PO3007V","name":"PO3007V","buyable":"true","quantity":1,"attributes":[{"storeDisplay":false,"values":[{"sequence":"5","value":"PO3007V","uniqueID":"7741124012283444287","unitOfMeasure":"","unitID":"","identifier":"PO3007V"}],"sequence":"0","name":"Model code","associatedKeyword":"-","usage":"Descriptive","uniqueID":"7741124012283334373","displayable":true,"comparable":false,"identifier":"MODEL_CODE_DISPLAY","searchable":false,"facetable":false},{"storeDisplay":false,"values":[{"sequence":"2","value":"201607","uniqueID":"7741124012283335853","unitOfMeasure":"","unitID":"","identifier":"201607"}],"sequence":"1","name":"Collection","associatedKeyword":"-","usage":"Descriptive","uniqueID":"7741124012283334335","displayable":false,"comparable":false,"identifier":"COLLECTION","searchable":true,"facetable":false},{"storeDisplay":false,"values":[{"sequence":"1","value":"Standard","uniqueID":"7741124012283336345","unitOfMeasure":"","unitID":"","identifier":"Standard"},{"sequence":"3","value":"Large","uniqueID":"7741124012283336346","unitOfMeasure":"","unitID":"","identifier":"Large"}],"sequence":"1","name":"Size","associatedKeyword":"-","usage":"Defining","uniqueID":"7741124012283334359","displayable":true,"comparable":false,"identifier":"MODEL_SIZE_DISPLAY","searchable":false,"facetable":false},{"storeDisplay":false,"values":[{"sequence":"5","value":"Fuoco E Ardesia","uniqueID":"7741124012283335899","unitOfMeasure":"","unitID":"","identifier":"Fuoco E Ardesia"}],"sequence":"1","name":"Front color","associatedKeyword":"-","usage":"Descriptive","uniqueID":"7741124012283334339","displayable":true,"comparable":false,"identifier":"FRONT_COLOR","searchable":false,"facetable":false},{"storeDisplay":false,"values":[{"sequence":"1","value":"Demo Lens","uniqueID":"7741124012283336054","unitOfMeasure":"","unitID":"","identifier":"Demo Lens"}],"sequence":"2","name":"Lens color","associatedKeyword":"-","usage":"Descriptive","uniqueID":"7741124012283334346","displayable":true,"comparable":false,"identifier":"LENS_COLOR","searchable":false,"facetable":false},{"storeDisplay":false,"values":[{"sequence":"1","value":"Trending Now","uniqueID":"7741124012284582837","unitOfMeasure":"","unitID":"","identifier":"Trending Now"}],"sequence":"2","name":"Primary family","associatedKeyword":"-","usage":"Descriptive","uniqueID":"7741124012284026836","displayable":false,"comparable":false,"identifier":"PRIMARY_FAMILY","searchable":false,"facetable":false},{"storeDisplay":false,"values":[{"sequence":"5","value":"Square","uniqueID":"7741124012283336911","unitOfMeasure":"","unitID":"","identifier":"Square"}],"sequence":"2","name":"Frame shape","associatedKeyword":"-","usage":"Descriptive","uniqueID":"7741124012283334367","displayable":false,"comparable":false,"identifier":"FRAME_SHAPE","searchable":false,"facetable":false},{"storeDisplay":false,"values":[{"sequence":"1","value":"False","uniqueID":"7741124012285955768","unitOfMeasure":"","unitID":"","identifier":"False"}],"sequence":"3","name":"Photochromic","associatedKeyword":"-","usage":"Descriptive","uniqueID":"7741124012284852335","displayable":false,"comparable":false,"identifier":"PHOTOCHROMIC","searchable":true,"facetable":true},{"storeDisplay":false,"values":[{"sequence":"2","value":"Demo Lens","uniqueID":"7741124012283336896","unitOfMeasure":"","unitID":"","identifier":"Demo Lens"}],"sequence":"3","name":"Lens treatment","associatedKeyword":"-","usage":"Descriptive","uniqueID":"7741124012283334364","displayable":false,"comparable":false,"identifier":"LENS_TREATMENT","searchable":false,"facetable":false},{"storeDisplay":false,"values":[{"sequence":"2","value":"Acetate","uniqueID":"7741124012283335870","unitOfMeasure":"","unitID":"","identifier":"Acetate"}],"sequence":"4","name":"Frame material","associatedKeyword":"-","usage":"Descriptive","uniqueID":"7741124012283334338","displayable":false,"comparable":false,"identifier":"FRAMEMATERIAL_FACET","searchable":true,"facetable":true},{"storeDisplay":false,"values":[{"sequence":"1","value":"False","uniqueID":"7741124012283336065","unitOfMeasure":"","unitID":"","identifier":"False"}],"sequence":"5","name":"Limited edition","associatedKeyword":"-","usage":"Descriptive","uniqueID":"7741124012283334347","displayable":false,"comparable":false,"identifier":"LIMITED_EDITION","searchable":false,"facetable":false},{"storeDisplay":false,"values":[{"image1":"https:\/\/assets.persol.com\/extra\/image\/TargetOptical\/filters\/havana.png","sequence":"4","value":"Havana","uniqueID":"7741124012283336215","image1path":"https:\/\/assets.persol.com\/extra\/image\/TargetOptical\/filters\/havana.png","unitOfMeasure":"","unitID":"","identifier":"Havana"}],"sequence":"6","name":"Temple color","associatedKeyword":"-","usage":"Descriptive","uniqueID":"7741124012283334354","displayable":false,"comparable":false,"identifier":"TEMPLE_COLOR","searchable":false,"facetable":false},{"storeDisplay":false,"values":[{"sequence":"4","value":"Acetate","uniqueID":"7741124012283335867","unitOfMeasure":"","unitID":"","identifier":"Acetate"}],"sequence":"6","name":"Frame Material","associatedKeyword":"-","usage":"Descriptive","uniqueID":"7741124012283334337","displayable":true,"comparable":false,"identifier":"FRAMEMATERIAL","searchable":false,"facetable":false},{"storeDisplay":false,"values":[{"sequence":"1","value":"Not Adjustable","uniqueID":"7741124012284859354","unitOfMeasure":"","unitID":"","identifier":"Not Adjustable"}],"sequence":"7","name":"Nosepads","associatedKeyword":"-","usage":"Descriptive","uniqueID":"7741124012284251840","displayable":true,"comparable":false,"identifier":"NOSEPADS","searchable":true,"facetable":true},{"storeDisplay":false,"values":[{"sequence":"1","value":"Polished","uniqueID":"7741124012284859363","unitOfMeasure":"","unitID":"","identifier":"Polished"}],"sequence":"8","name":"FINISHING","associatedKeyword":"-","usage":"Descriptive","uniqueID":"7741124012284251844","displayable":false,"comparable":false,"identifier":"FINISHING","searchable":false,"facetable":false},{"storeDisplay":false,"values":[{"sequence":"1","value":"1","uniqueID":"7741124012284859356","unitOfMeasure":"","unitID":"","identifier":"1"}],"sequence":"8","name":"PLACEHOLDER_SIZE","associatedKeyword":"-","usage":"Descriptive","uniqueID":"7741124012284251841","displayable":true,"comparable":false,"identifier":"PLACEHOLDER_SIZE","searchable":false,"facetable":false},{"storeDisplay":false,"values":[{"sequence":"5","value":"Keyhole Bridge","uniqueID":"7741124012284859339","unitOfMeasure":"","unitID":"","identifier":"Keyhole Bridge"}],"sequence":"9","name":"BRIDGE TYPE","associatedKeyword":"-","usage":"Descriptive","uniqueID":"7741124012284251836","displayable":false,"comparable":false,"identifier":"BRIDGE TYPE","searchable":false,"facetable":false},{"storeDisplay":false,"values":[{"sequence":"1","value":"Standard","uniqueID":"7741124012284859365","unitOfMeasure":"","unitID":"","identifier":"Standard"}],"sequence":"9","name":"FRAME FIT","associatedKeyword":"-","usage":"Descriptive","uniqueID":"7741124012284251846","displayable":true,"comparable":false,"identifier":"FRAME FIT","searchable":false,"facetable":false},{"storeDisplay":false,"values":[{"sequence":"3","value":"Full Rim","uniqueID":"7741124012283360863","unitOfMeasure":"","unitID":"","identifier":"Full Rim"}],"sequence":"10","name":"Frame type","associatedKeyword":"-","usage":"Descriptive","uniqueID":"7741124012283334370","displayable":false,"comparable":false,"identifier":"FRAMETYPE","searchable":true,"facetable":false},{"storeDisplay":false,"values":[{"sequence":"1","value":"Italy","uniqueID":"7741124012283336067","unitOfMeasure":"","unitID":"","identifier":"Italy"}],"sequence":"10","name":"Made in","associatedKeyword":"-","usage":"Descriptive","uniqueID":"7741124012283334348","displayable":true,"comparable":false,"identifier":"MADEIN","searchable":false,"facetable":false},{"storeDisplay":false,"values":[{"sequence":"3","value":"Round Face;oval Face","uniqueID":"7741124012284860410","unitOfMeasure":"","unitID":"","identifier":"Round Face;oval Face"}],"sequence":"11","name":"SUGGESTED FACE SHAPE","associatedKeyword":"-","usage":"Descriptive","uniqueID":"7741124012284251843","displayable":false,"comparable":false,"identifier":"SUGGESTED_FACE_SHAPE","searchable":false,"facetable":false},{"storeDisplay":false,"values":[{"sequence":"4","value":"Mini Supreme Acetate","uniqueID":"7741124012283355349","unitOfMeasure":"","unitID":"","identifier":"Mini Supreme Acetate"}],"sequence":"11","name":"Temple logo","associatedKeyword":"-","usage":"Descriptive","uniqueID":"7741124012283348836","displayable":false,"comparable":true,"identifier":"TEMPLE_LOGO","searchable":false,"facetable":false},{"storeDisplay":false,"values":[{"sequence":"2","value":"1023","uniqueID":"7741124012284861353","unitOfMeasure":"","unitID":"","identifier":"1023"}],"sequence":"12","name":"COLOR CODE","associatedKeyword":"-","usage":"Descriptive","uniqueID":"7741124012284253335","displayable":false,"comparable":false,"identifier":"COLOR CODE","searchable":false,"facetable":false},{"storeDisplay":false,"values":[{"sequence":"3","value":"PO_pack5_gallery","uniqueID":"7741124012284859917","unitOfMeasure":"","unitID":"","identifier":"PO_pack5_gallery"}],"sequence":"14","name":"CASE","associatedKeyword":"-","usage":"Descriptive","uniqueID":"7741124012284251837","displayable":false,"comparable":false,"identifier":"CASE","searchable":false,"facetable":false},{"storeDisplay":false,"values":[{"sequence":"3","value":"Other","uniqueID":"7741124012283444307","unitOfMeasure":"","unitID":"","identifier":"Other"}],"sequence":"15","name":"Model family","associatedKeyword":"-","usage":"Descriptive","uniqueID":"7741124012283333374","displayable":false,"comparable":false,"identifier":"MODEL_FAMILY","searchable":true,"facetable":true},{"storeDisplay":false,"values":[{"image1":"https:\/\/assets.persol.com\/extra\/image\/TargetOptical\/filters\/havana.png","sequence":"5","value":"Havana","uniqueID":"7741124012283336323","image1path":"https:\/\/assets.persol.com\/extra\/image\/TargetOptical\/filters\/havana.png","unitOfMeasure":"","unitID":"","identifier":"Havana"}],"sequence":"16","name":"Temple inner color facet","associatedKeyword":"-","usage":"Descriptive","uniqueID":"7741124012283334357","displayable":false,"comparable":false,"identifier":"TEMPLE_INNER_COLOR_FACET","searchable":true,"facetable":false},{"storeDisplay":false,"values":[{"sequence":"1","value":"False","uniqueID":"7741124012283337030","unitOfMeasure":"","unitID":"","identifier":"False"}],"sequence":"18","name":"Noreturn","associatedKeyword":"-","usage":"Descriptive","uniqueID":"7741124012283334374","displayable":false,"comparable":false,"identifier":"NORETURN","searchable":false,"facetable":false},{"storeDisplay":false,"values":[{"sequence":"2","value":"True","uniqueID":"7741124012284859353","unitOfMeasure":"","unitID":"","identifier":"True"}],"sequence":"20","name":"ENGRAVINGELIGIBLE","associatedKeyword":"-","usage":"Descriptive","uniqueID":"7741124012284251838","displayable":false,"comparable":false,"identifier":"ENGRAVINGELIGIBLE","searchable":false,"facetable":false},{"storeDisplay":false,"values":[{"sequence":"1","value":"Galleria","uniqueID":"7741124012283336920","unitOfMeasure":"","unitID":"","identifier":"Galleria"}],"sequence":"21","name":"Range","associatedKeyword":"-","usage":"Descriptive","uniqueID":"7741124012283334371","displayable":false,"comparable":false,"identifier":"RANGE","searchable":false,"facetable":true},{"storeDisplay":false,"values":[{"sequence":"1","value":"Demo Lens","uniqueID":"7741124012283336042","unitOfMeasure":"","unitID":"","identifier":"Demo Lens"}],"sequence":"22","name":"Lens color","associatedKeyword":"-","usage":"Descriptive","uniqueID":"7741124012283334345","displayable":false,"comparable":false,"identifier":"LENS_COLOR_FACET","searchable":true,"facetable":true},{"storeDisplay":false,"values":[{"sequence":"1","value":"False","uniqueID":"7741124012283336068","unitOfMeasure":"","unitID":"","identifier":"False"}],"sequence":"23","name":"Newreleases","associatedKeyword":"-","usage":"Descriptive","uniqueID":"7741124012283334349","displayable":false,"comparable":false,"identifier":"NEWRELEASES","searchable":true,"facetable":false},{"storeDisplay":false,"values":[{"sequence":"0","value":"0","uniqueID":"0","unitOfMeasure":"","unitID":"","identifier":"0"}],"sequence":"25","name":"Clen","associatedKeyword":"-","usage":"Descriptive","uniqueID":"7741124012283334344","displayable":false,"comparable":false,"identifier":"CLEN","searchable":false,"facetable":false},{"storeDisplay":false,"values":[{"sequence":"5","value":"Supreme 3,5","uniqueID":"7741124012283355340","unitOfMeasure":"","unitID":"","identifier":"Supreme 3,5"}],"sequence":"26","name":"Arrow","associatedKeyword":"-","usage":"Descriptive","uniqueID":"7741124012283348835","displayable":false,"comparable":false,"identifier":"ARROW","searchable":false,"facetable":false},{"storeDisplay":false,"values":[{"sequence":"3","value":"366000","uniqueID":"7741124012284611387","unitOfMeasure":"","unitID":"","identifier":"366000"}],"sequence":"28","name":"Sequence","associatedKeyword":"-","usage":"Descriptive","uniqueID":"7741124012283593337","displayable":false,"comparable":false,"identifier":"SEQUENCE","searchable":true,"facetable":false},{"storeDisplay":false,"values":[{"sequence":"2","value":"Man","uniqueID":"7741124012283336014","unitOfMeasure":"","unitID":"","identifier":"Man"}],"sequence":"29","name":"Gender","associatedKeyword":"-","usage":"Descriptive","uniqueID":"7741124012283334343","displayable":false,"comparable":false,"identifier":"GENDER","searchable":true,"facetable":true},{"storeDisplay":false,"values":[{"sequence":"1","value":"False","uniqueID":"7741124012284860407","unitOfMeasure":"","unitID":"","identifier":"False"}],"sequence":"30","name":"Flex","associatedKeyword":"-","usage":"Descriptive","uniqueID":"7741124012283364835","displayable":false,"comparable":false,"identifier":"FLEX","searchable":false,"facetable":false},{"storeDisplay":false,"values":[{"sequence":"3","value":"True","uniqueID":"7741124012284582836","unitOfMeasure":"","unitID":"","identifier":"True"}],"sequence":"31","name":"Best Sellers","associatedKeyword":"-","usage":"Descriptive","uniqueID":"7741124012284026835","displayable":false,"comparable":false,"identifier":"BESTSELLERS","searchable":false,"facetable":false},{"storeDisplay":false,"values":[{"sequence":"1","value":"Fuoco E Ardesia","uniqueID":"7741124012283336004","unitOfMeasure":"","unitID":"","identifier":"Fuoco E Ardesia"}],"sequence":"32","name":"Front inner color facet","associatedKeyword":"-","usage":"Descriptive","uniqueID":"7741124012283334342","displayable":false,"comparable":false,"identifier":"FRONT_INNER_COLOR_FACET","searchable":true,"facetable":false},{"storeDisplay":false,"values":[{"sequence":"2","value":"PO3007V","uniqueID":"7741124012283336084","unitOfMeasure":"","unitID":"","identifier":"PO3007V"}],"sequence":"33","name":"Modelname","associatedKeyword":"-","usage":"Descriptive","uniqueID":"7741124012283334353","displayable":false,"comparable":false,"identifier":"MODELNAME","searchable":true,"facetable":false},{"storeDisplay":false,"values":[{"sequence":"1","value":"False","uniqueID":"7741124012283335865","unitOfMeasure":"","unitID":"","identifier":"False"}],"sequence":"34","name":"Exclusive","associatedKeyword":"-","usage":"Descriptive","uniqueID":"7741124012283334336","displayable":false,"comparable":false,"identifier":"EXCLUSIVE","searchable":false,"facetable":true},{"storeDisplay":false,"values":[{"image1":"https:\/\/assets.persol.com\/extra\/image\/Persol\/filters\/brown.png","sequence":"2","value":"Brown","uniqueID":"7741124012283335928","image1path":"https:\/\/assets.persol.com\/extra\/image\/Persol\/filters\/brown.png","unitOfMeasure":"","unitID":"","identifier":"Brown"}],"sequence":"35","name":"Frame color","associatedKeyword":"-","usage":"Descriptive","uniqueID":"7741124012283334340","displayable":false,"comparable":false,"identifier":"FRONT_COLOR_FACET","searchable":true,"facetable":true},{"storeDisplay":false,"values":[{"sequence":"1","value":"Square","uniqueID":"7741124012283336915","unitOfMeasure":"","unitID":"","identifier":"Square"}],"sequence":"37","name":"Frame shape","associatedKeyword":"-","usage":"Descriptive","uniqueID":"7741124012283334368","displayable":false,"comparable":false,"identifier":"FRAME_SHAPE_FACET","searchable":true,"facetable":true},{"storeDisplay":false,"values":[{"sequence":"1","value":"False","uniqueID":"7741124012283336078","unitOfMeasure":"","unitID":"","identifier":"False"}],"sequence":"38","name":"Polarized","associatedKeyword":"-","usage":"Descriptive","uniqueID":"7741124012283334352","displayable":false,"comparable":false,"identifier":"POLARIZED","searchable":true,"facetable":true},{"storeDisplay":false,"values":[{"sequence":"1","value":"False","uniqueID":"7741124012283336077","unitOfMeasure":"","unitID":"","identifier":"False"}],"sequence":"39","name":"Onsale","associatedKeyword":"-","usage":"Descriptive","uniqueID":"7741124012283334351","displayable":false,"comparable":false,"identifier":"ONSALE","searchable":false,"facetable":false},{"storeDisplay":false,"values":[{"sequence":"2","value":"True","uniqueID":"7741124012283355351","unitOfMeasure":"","unitID":"","identifier":"True"}],"sequence":"41","name":"Vintage Celebration","associatedKeyword":"-","usage":"Descriptive","uniqueID":"7741124012283348837","displayable":false,"comparable":false,"identifier":"VINTAGE CELEBRATION","searchable":false,"facetable":false},{"storeDisplay":false,"values":[{"sequence":"1","value":"False","uniqueID":"7741124012283336902","unitOfMeasure":"","unitID":"","identifier":"False"}],"sequence":"42","name":"Foldable","associatedKeyword":"-","usage":"Descriptive","uniqueID":"7741124012283334366","displayable":false,"comparable":false,"identifier":"FOLDABLE","searchable":true,"facetable":true},{"storeDisplay":false,"values":[{"sequence":"4","value":"Optical","uniqueID":"7741124012283333657","unitOfMeasure":"","unitID":"","identifier":"Optical"}],"sequence":"43","name":"Producttype","associatedKeyword":"-","usage":"Descriptive","uniqueID":"7741124012283333376","displayable":false,"comparable":false,"identifier":"PRODUCTTYPE","searchable":true,"facetable":false},{"storeDisplay":false,"values":[{"sequence":"1","value":"False","uniqueID":"7741124012284859336","unitOfMeasure":"","unitID":"","identifier":"False"}],"sequence":"44","name":"AVANT_PREMIERE","associatedKeyword":"-","usage":"Descriptive","uniqueID":"7741124012284251835","displayable":false,"comparable":false,"identifier":"AVANT_PREMIERE","searchable":false,"facetable":false},{"storeDisplay":false,"values":[{"sequence":"3","value":"Fuoco E Ardesia","uniqueID":"7741124012283335966","unitOfMeasure":"","unitID":"","identifier":"Fuoco E Ardesia"}],"sequence":"45","name":"Front inner color","associatedKeyword":"-","usage":"Descriptive","uniqueID":"7741124012283334341","displayable":false,"comparable":false,"identifier":"FRONT_INNER_COLOR","searchable":false,"facetable":false},{"storeDisplay":false,"values":[{"image1":"https:\/\/assets.persol.com\/extra\/image\/TargetOptical\/filters\/havana.png","sequence":"3","value":"Havana","uniqueID":"7741124012283336288","image1path":"https:\/\/assets.persol.com\/extra\/image\/TargetOptical\/filters\/havana.png","unitOfMeasure":"","unitID":"","identifier":"Havana"}],"sequence":"46","name":"Temple inner color","associatedKeyword":"-","usage":"Descriptive","uniqueID":"7741124012283334356","displayable":false,"comparable":false,"identifier":"TEMPLE_INNER_COLOR","searchable":false,"facetable":false},{"storeDisplay":false,"values":[{"image1":"https:\/\/assets.persol.com\/extra\/image\/TargetOptical\/filters\/havana.png","sequence":"3","value":"Havana","uniqueID":"7741124012283336250","image1path":"https:\/\/assets.persol.com\/extra\/image\/TargetOptical\/filters\/havana.png","unitOfMeasure":"","unitID":"","identifier":"Havana"}],"sequence":"47","name":"Temple color facet","associatedKeyword":"-","usage":"Descriptive","uniqueID":"7741124012283334355","displayable":false,"comparable":false,"identifier":"TEMPLE_COLOR_FACET","searchable":true,"facetable":false},{"storeDisplay":false,"values":[{"sequence":"2","value":"True","uniqueID":"7741124012284859902","unitOfMeasure":"","unitID":"","identifier":"True"}],"sequence":"48","name":"MEFLECTO","associatedKeyword":"-","usage":"Descriptive","uniqueID":"7741124012284251847","displayable":false,"comparable":false,"identifier":"MEFLECTO","searchable":false,"facetable":false},{"storeDisplay":false,"values":[{"sequence":"1","value":"Global","uniqueID":"7741124012283336916","unitOfMeasure":"","unitID":"","identifier":"Global"}],"sequence":"49","name":"Fitting","associatedKeyword":"-","usage":"Descriptive","uniqueID":"7741124012283334369","displayable":false,"comparable":false,"identifier":"GEO_FIT","searchable":true,"facetable":false}],"storeID":"715838084","numberOfSKUs":2,"partNumber":"0PO3007V__1023"},{"hasSingleSKU":false,"catalogEntryTypeCode":"ProductBean","associationType":"REPLACEMENT","parentCatalogGroupID":["3074457345616676668_3074457345616676669","3074457345616681818_3074457345616678178","3074457345616681818_3074457345616696193","3074457345616681818_3074457345616696201","3074457345616681818_3074457345616700168","3074457345616681818_3074457345616700669","3074457345616681818_3074457345616700670","3074457345616681818_3074457345616715669","3074457345616681818_3074457345616716181","3074457345616681818_3074457345616716187","3074457345616681818_3074457345616716189"],"price_USD":"265.0","uniqueID":"3074457345616679060","sKUs":[{"hasSingleSKU":false,"catalogEntryTypeCode":"ItemBean","parentCatalogGroupID":["3074457345616676668_3074457345616676669","3074457345616681818_3074457345616678178","3074457345616681818_3074457345616696193","3074457345616681818_3074457345616696201","3074457345616681818_3074457345616700168","3074457345616681818_3074457345616700669","3074457345616681818_3074457345616700670","3074457345616681818_3074457345616715669","3074457345616681818_3074457345616716181","3074457345616681818_3074457345616716187","3074457345616681818_3074457345616716189"],"uniqueID":"3074457345616679801","resourceId":"http:\/\/lux-prdlv-src01.lux-ecomm.net:3737\/search\/resources\/store\/715838388\/productview\/byId\/3074457345616679801","price":[{"description":"L","value":"","usage":"Display","currency":"USD"},{"description":"O","value":"","usage":"Offer","currency":"USD"}],"thumbnail":"https:\/\/assets.persol.com\/is\/image\/Persol\/8053672668087_noshad_fr.png?impolicy=HB_parameters&sclw=0.25&sclh=0.25","shortDescription":"PO3007V 1056 50-19","mfPartNumber_ntk":"0PO3007V","name":"PO3007V 1056 50-19","buyable":"true","storeID":"715838084","attributes":[{"storeDisplay":false,"values":[{"sequence":"1","value":"Standard","uniqueID":"7741124012283336345","unitOfMeasure":"","unitID":"","identifier":"Standard"}],"sequence":"1","name":"Size","usage":"Defining","uniqueID":"7741124012283334359","displayable":true,"comparable":false,"identifier":"MODEL_SIZE_DISPLAY","searchable":false,"facetable":false},{"storeDisplay":false,"values":[{"sequence":"2","value":"Demo Lens","uniqueID":"7741124012283336896","unitOfMeasure":"","unitID":"","identifier":"Demo Lens"}],"sequence":"3","name":"Lens treatment","usage":"Descriptive","uniqueID":"7741124012283334364","displayable":false,"comparable":false,"identifier":"LENS_TREATMENT","searchable":false,"facetable":false},{"storeDisplay":false,"values":[{"sequence":"1","value":"Zpfn","uniqueID":"7741124012283336923","unitOfMeasure":"","unitID":"","identifier":"Zpfn"}],"sequence":"460","name":"Materialtype","usage":"Descriptive","uniqueID":"7741124012283334372","displayable":false,"comparable":false,"identifier":"MATERIALTYPE","searchable":false,"facetable":false},{"storeDisplay":false,"values":[{"sequence":"1","value":"50","uniqueID":"7741124012283336334","unitOfMeasure":"","unitID":"","identifier":"50"}],"sequence":"460","name":"Model size","usage":"Descriptive","uniqueID":"7741124012283334358","displayable":false,"comparable":false,"identifier":"MODEL_SIZE","searchable":false,"facetable":false},{"storeDisplay":false,"values":[{"sequence":"1","value":"PO3007V 1056 50-19","uniqueID":"7741124012283759705","unitOfMeasure":"","unitID":"","identifier":"PO3007V 1056 50-19"}],"sequence":"460","name":"Displaysku","usage":"Descriptive","uniqueID":"7741124012283364836","displayable":false,"comparable":false,"identifier":"DISPLAYSKU","searchable":false,"facetable":false},{"storeDisplay":false,"values":[{"sequence":"4","value":"145","uniqueID":"7741124012283336892","unitOfMeasure":"","unitID":"","identifier":"145"}],"sequence":"460","name":"Temple length","usage":"Descriptive","uniqueID":"7741124012283334363","displayable":false,"comparable":false,"identifier":"TEMPLE_LENGTH","searchable":false,"facetable":false},{"storeDisplay":false,"values":[{"sequence":"5","value":"150","uniqueID":"7741124012283336878","unitOfMeasure":"","unitID":"","identifier":"150"}],"sequence":"460","name":"Grossweight","usage":"Descriptive","uniqueID":"7741124012283334361","displayable":false,"comparable":false,"identifier":"GROSSWEIGHT","searchable":false,"facetable":false},{"storeDisplay":false,"values":[{"sequence":"2","value":"1056 50","uniqueID":"7741124012283759550","unitOfMeasure":"","unitID":"","identifier":"1056 50"}],"sequence":"460","name":"Grid Value","usage":"Descriptive","uniqueID":"7741124012283364837","displayable":true,"comparable":false,"identifier":"GRID VALUE","searchable":false,"facetable":false},{"storeDisplay":false,"values":[{"sequence":"1","value":"Demo Lens","uniqueID":"7741124012283336900","unitOfMeasure":"","unitID":"","identifier":"Demo Lens"}],"sequence":"460","name":"Lens type","usage":"Descriptive","uniqueID":"7741124012283334365","displayable":false,"comparable":false,"identifier":"LENS_TREATMENT_FACET","searchable":true,"facetable":true},{"storeDisplay":false,"values":[{"sequence":"1","value":"19","uniqueID":"7741124012283336885","unitOfMeasure":"","unitID":"","identifier":"19"}],"sequence":"460","name":"Lens bridge","usage":"Descriptive","uniqueID":"7741124012283334362","displayable":false,"comparable":false,"identifier":"LENS_BRIDGE","searchable":false,"facetable":false},{"storeDisplay":false,"values":[{"sequence":"1","value":"Trending Now","uniqueID":"7741124012284582837","unitOfMeasure":"","unitID":"","identifier":"Trending Now"}],"sequence":"460","name":"Primary family","usage":"Descriptive","uniqueID":"7741124012284026836","displayable":false,"comparable":false,"identifier":"PRIMARY_FAMILY","searchable":false,"facetable":false},{"storeDisplay":false,"values":[{"sequence":"1","value":"Material-acetate;arrow-all;meflecto-all","uniqueID":"7741124012284859903","unitOfMeasure":"","unitID":"","identifier":"Material-acetate;arrow-all;meflecto-all"}],"sequence":"460","name":"FEATURES","usage":"Descriptive","uniqueID":"7741124012284251845","displayable":false,"comparable":false,"identifier":"FEATURES","searchable":false,"facetable":false},{"storeDisplay":false,"values":[{"sequence":"5","value":"Supreme 3,5","uniqueID":"7741124012283355340","unitOfMeasure":"","unitID":"","identifier":"Supreme 3,5"}],"sequence":"1663","name":"Arrow","usage":"Descriptive","uniqueID":"7741124012283348835","displayable":false,"comparable":false,"identifier":"ARROW","searchable":false,"facetable":false}],"partNumber":"8053672668087"},{"hasSingleSKU":false,"catalogEntryTypeCode":"ItemBean","parentCatalogGroupID":["3074457345616676668_3074457345616676669","3074457345616681818_3074457345616678178","3074457345616681818_3074457345616696193","3074457345616681818_3074457345616696201","3074457345616681818_3074457345616700168","3074457345616681818_3074457345616700669","3074457345616681818_3074457345616700670","3074457345616681818_3074457345616715669","3074457345616681818_3074457345616716181","3074457345616681818_3074457345616716187","3074457345616681818_3074457345616716189"],"uniqueID":"3074457345616679802","resourceId":"http:\/\/lux-prdlv-src01.lux-ecomm.net:3737\/search\/resources\/store\/715838388\/productview\/byId\/3074457345616679802","price":[{"description":"L","value":"","usage":"Display","currency":"USD"},{"description":"O","value":"","usage":"Offer","currency":"USD"}],"thumbnail":"https:\/\/assets.persol.com\/is\/image\/Persol\/8053672668100_noshad_fr.png?impolicy=HB_parameters&sclw=0.25&sclh=0.25","shortDescription":"PO3007V 1056 52-19","mfPartNumber_ntk":"0PO3007V","name":"PO3007V 1056 52-19","buyable":"true","storeID":"715838084","attributes":[{"storeDisplay":false,"values":[{"sequence":"3","value":"Large","uniqueID":"7741124012283336346","unitOfMeasure":"","unitID":"","identifier":"Large"}],"sequence":"1","name":"Size","usage":"Defining","uniqueID":"7741124012283334359","displayable":true,"comparable":false,"identifier":"MODEL_SIZE_DISPLAY","searchable":false,"facetable":false},{"storeDisplay":false,"values":[{"sequence":"2","value":"Demo Lens","uniqueID":"7741124012283336896","unitOfMeasure":"","unitID":"","identifier":"Demo Lens"}],"sequence":"3","name":"Lens treatment","usage":"Descriptive","uniqueID":"7741124012283334364","displayable":false,"comparable":false,"identifier":"LENS_TREATMENT","searchable":false,"facetable":false},{"storeDisplay":false,"values":[{"sequence":"1","value":"19","uniqueID":"7741124012283336885","unitOfMeasure":"","unitID":"","identifier":"19"}],"sequence":"459","name":"Lens bridge","usage":"Descriptive","uniqueID":"7741124012283334362","displayable":false,"comparable":false,"identifier":"LENS_BRIDGE","searchable":false,"facetable":false},{"storeDisplay":false,"values":[{"sequence":"4","value":"145","uniqueID":"7741124012283336892","unitOfMeasure":"","unitID":"","identifier":"145"}],"sequence":"459","name":"Temple length","usage":"Descriptive","uniqueID":"7741124012283334363","displayable":false,"comparable":false,"identifier":"TEMPLE_LENGTH","searchable":false,"facetable":false},{"storeDisplay":false,"values":[{"sequence":"5","value":"1056 52","uniqueID":"7741124012283759547","unitOfMeasure":"","unitID":"","identifier":"1056 52"}],"sequence":"459","name":"Grid Value","usage":"Descriptive","uniqueID":"7741124012283364837","displayable":true,"comparable":false,"identifier":"GRID VALUE","searchable":false,"facetable":false},{"storeDisplay":false,"values":[{"sequence":"1","value":"Demo Lens","uniqueID":"7741124012283336900","unitOfMeasure":"","unitID":"","identifier":"Demo Lens"}],"sequence":"459","name":"Lens type","usage":"Descriptive","uniqueID":"7741124012283334365","displayable":false,"comparable":false,"identifier":"LENS_TREATMENT_FACET","searchable":true,"facetable":true},{"storeDisplay":false,"values":[{"sequence":"1","value":"Material-acetate;arrow-all;meflecto-all","uniqueID":"7741124012284859903","unitOfMeasure":"","unitID":"","identifier":"Material-acetate;arrow-all;meflecto-all"}],"sequence":"459","name":"FEATURES","usage":"Descriptive","uniqueID":"7741124012284251845","displayable":false,"comparable":false,"identifier":"FEATURES","searchable":false,"facetable":false},{"storeDisplay":false,"values":[{"sequence":"1","value":"PO3007V 1056 52-19","uniqueID":"7741124012283759637","unitOfMeasure":"","unitID":"","identifier":"PO3007V 1056 52-19"}],"sequence":"459","name":"Displaysku","usage":"Descriptive","uniqueID":"7741124012283364836","displayable":false,"comparable":false,"identifier":"DISPLAYSKU","searchable":false,"facetable":false},{"storeDisplay":false,"values":[{"sequence":"3","value":"52","uniqueID":"7741124012283336336","unitOfMeasure":"","unitID":"","identifier":"52"}],"sequence":"459","name":"Model size","usage":"Descriptive","uniqueID":"7741124012283334358","displayable":false,"comparable":false,"identifier":"MODEL_SIZE","searchable":false,"facetable":false},{"storeDisplay":false,"values":[{"sequence":"1","value":"Zpfn","uniqueID":"7741124012283336923","unitOfMeasure":"","unitID":"","identifier":"Zpfn"}],"sequence":"459","name":"Materialtype","usage":"Descriptive","uniqueID":"7741124012283334372","displayable":false,"comparable":false,"identifier":"MATERIALTYPE","searchable":false,"facetable":false},{"storeDisplay":false,"values":[{"sequence":"5","value":"150","uniqueID":"7741124012283336878","unitOfMeasure":"","unitID":"","identifier":"150"}],"sequence":"459","name":"Grossweight","usage":"Descriptive","uniqueID":"7741124012283334361","displayable":false,"comparable":false,"identifier":"GROSSWEIGHT","searchable":false,"facetable":false},{"storeDisplay":false,"values":[{"sequence":"1","value":"Trending Now","uniqueID":"7741124012284582837","unitOfMeasure":"","unitID":"","identifier":"Trending Now"}],"sequence":"459","name":"Primary family","usage":"Descriptive","uniqueID":"7741124012284026836","displayable":false,"comparable":false,"identifier":"PRIMARY_FAMILY","searchable":false,"facetable":false},{"storeDisplay":false,"values":[{"sequence":"5","value":"Supreme 3,5","uniqueID":"7741124012283355340","unitOfMeasure":"","unitID":"","identifier":"Supreme 3,5"}],"sequence":"1662","name":"Arrow","usage":"Descriptive","uniqueID":"7741124012283348835","displayable":false,"comparable":false,"identifier":"ARROW","searchable":false,"facetable":false}],"partNumber":"8053672668100"}],"resourceId":"http:\/\/lux-prdlv-src01.lux-ecomm.net:3737\/search\/resources\/store\/715838388\/productview\/byId\/3074457345616679060","price":[{"description":"L","value":"265.0","usage":"Display","currency":"USD"},{"description":"O","value":"","usage":"Offer","currency":"USD"}],"thumbnail":"https:\/\/assets.persol.com\/is\/image\/Persol\/8053672668100_noshad_fr.png?impolicy=HB_parameters&sclw=0.25&sclh=0.25","shortDescription":"PO3007V","mfPartNumber_ntk":"0PO3007V","name":"PO3007V","buyable":"true","quantity":1,"attributes":[{"storeDisplay":false,"values":[{"sequence":"5","value":"PO3007V","uniqueID":"7741124012283444287","unitOfMeasure":"","unitID":"","identifier":"PO3007V"}],"sequence":"0","name":"Model code","associatedKeyword":"-","usage":"Descriptive","uniqueID":"7741124012283334373","displayable":true,"comparable":false,"identifier":"MODEL_CODE_DISPLAY","searchable":false,"facetable":false},{"storeDisplay":false,"values":[{"sequence":"2","value":"201607","uniqueID":"7741124012283335853","unitOfMeasure":"","unitID":"","identifier":"201607"}],"sequence":"1","name":"Collection","associatedKeyword":"-","usage":"Descriptive","uniqueID":"7741124012283334335","displayable":false,"comparable":false,"identifier":"COLLECTION","searchable":true,"facetable":false},{"storeDisplay":false,"values":[{"sequence":"1","value":"Standard","uniqueID":"7741124012283336345","unitOfMeasure":"","unitID":"","identifier":"Standard"},{"sequence":"3","value":"Large","uniqueID":"7741124012283336346","unitOfMeasure":"","unitID":"","identifier":"Large"}],"sequence":"1","name":"Size","associatedKeyword":"-","usage":"Defining","uniqueID":"7741124012283334359","displayable":true,"comparable":false,"identifier":"MODEL_SIZE_DISPLAY","searchable":false,"facetable":false},{"storeDisplay":false,"values":[{"sequence":"1","value":"Brown-beige Tortoise","uniqueID":"7741124012284859864","unitOfMeasure":"","unitID":"","identifier":"Brown-beige Tortoise"}],"sequence":"1","name":"Front color","associatedKeyword":"-","usage":"Descriptive","uniqueID":"7741124012283334339","displayable":true,"comparable":false,"identifier":"FRONT_COLOR","searchable":false,"facetable":false},{"storeDisplay":false,"values":[{"sequence":"5","value":"Square","uniqueID":"7741124012283336911","unitOfMeasure":"","unitID":"","identifier":"Square"}],"sequence":"2","name":"Frame shape","associatedKeyword":"-","usage":"Descriptive","uniqueID":"7741124012283334367","displayable":false,"comparable":false,"identifier":"FRAME_SHAPE","searchable":false,"facetable":false},{"storeDisplay":false,"values":[{"sequence":"1","value":"Demo Lens","uniqueID":"7741124012283336054","unitOfMeasure":"","unitID":"","identifier":"Demo Lens"}],"sequence":"2","name":"Lens color","associatedKeyword":"-","usage":"Descriptive","uniqueID":"7741124012283334346","displayable":true,"comparable":false,"identifier":"LENS_COLOR","searchable":false,"facetable":false},{"storeDisplay":false,"values":[{"sequence":"1","value":"Trending Now","uniqueID":"7741124012284582837","unitOfMeasure":"","unitID":"","identifier":"Trending Now"}],"sequence":"2","name":"Primary family","associatedKeyword":"-","usage":"Descriptive","uniqueID":"7741124012284026836","displayable":false,"comparable":false,"identifier":"PRIMARY_FAMILY","searchable":false,"facetable":false},{"storeDisplay":false,"values":[{"sequence":"2","value":"Demo Lens","uniqueID":"7741124012283336896","unitOfMeasure":"","unitID":"","identifier":"Demo Lens"}],"sequence":"3","name":"Lens treatment","associatedKeyword":"-","usage":"Descriptive","uniqueID":"7741124012283334364","displayable":false,"comparable":false,"identifier":"LENS_TREATMENT","searchable":false,"facetable":false},{"storeDisplay":false,"values":[{"sequence":"1","value":"False","uniqueID":"7741124012285955768","unitOfMeasure":"","unitID":"","identifier":"False"}],"sequence":"3","name":"Photochromic","associatedKeyword":"-","usage":"Descriptive","uniqueID":"7741124012284852335","displayable":false,"comparable":false,"identifier":"PHOTOCHROMIC","searchable":true,"facetable":true},{"storeDisplay":false,"values":[{"sequence":"2","value":"Acetate","uniqueID":"7741124012283335870","unitOfMeasure":"","unitID":"","identifier":"Acetate"}],"sequence":"4","name":"Frame material","associatedKeyword":"-","usage":"Descriptive","uniqueID":"7741124012283334338","displayable":false,"comparable":false,"identifier":"FRAMEMATERIAL_FACET","searchable":true,"facetable":true},{"storeDisplay":false,"values":[{"sequence":"1","value":"False","uniqueID":"7741124012283336065","unitOfMeasure":"","unitID":"","identifier":"False"}],"sequence":"5","name":"Limited edition","associatedKeyword":"-","usage":"Descriptive","uniqueID":"7741124012283334347","displayable":false,"comparable":false,"identifier":"LIMITED_EDITION","searchable":false,"facetable":false},{"storeDisplay":false,"values":[{"sequence":"2","value":"Brown\/beige Tortoise","uniqueID":"7741124012283336187","unitOfMeasure":"","unitID":"","identifier":"Brown\/beige Tortoise"}],"sequence":"6","name":"Temple color","associatedKeyword":"-","usage":"Descriptive","uniqueID":"7741124012283334354","displayable":false,"comparable":false,"identifier":"TEMPLE_COLOR","searchable":false,"facetable":false},{"storeDisplay":false,"values":[{"sequence":"4","value":"Acetate","uniqueID":"7741124012283335867","unitOfMeasure":"","unitID":"","identifier":"Acetate"}],"sequence":"6","name":"Frame Material","associatedKeyword":"-","usage":"Descriptive","uniqueID":"7741124012283334337","displayable":true,"comparable":false,"identifier":"FRAMEMATERIAL","searchable":false,"facetable":false},{"storeDisplay":false,"values":[{"sequence":"1","value":"Not Adjustable","uniqueID":"7741124012284859354","unitOfMeasure":"","unitID":"","identifier":"Not Adjustable"}],"sequence":"7","name":"Nosepads","associatedKeyword":"-","usage":"Descriptive","uniqueID":"7741124012284251840","displayable":true,"comparable":false,"identifier":"NOSEPADS","searchable":true,"facetable":true},{"storeDisplay":false,"values":[{"sequence":"1","value":"Polished","uniqueID":"7741124012284859363","unitOfMeasure":"","unitID":"","identifier":"Polished"}],"sequence":"8","name":"FINISHING","associatedKeyword":"-","usage":"Descriptive","uniqueID":"7741124012284251844","displayable":false,"comparable":false,"identifier":"FINISHING","searchable":false,"facetable":false},{"storeDisplay":false,"values":[{"sequence":"1","value":"1","uniqueID":"7741124012284859356","unitOfMeasure":"","unitID":"","identifier":"1"}],"sequence":"8","name":"PLACEHOLDER_SIZE","associatedKeyword":"-","usage":"Descriptive","uniqueID":"7741124012284251841","displayable":true,"comparable":false,"identifier":"PLACEHOLDER_SIZE","searchable":false,"facetable":false},{"storeDisplay":false,"values":[{"sequence":"5","value":"Keyhole Bridge","uniqueID":"7741124012284859339","unitOfMeasure":"","unitID":"","identifier":"Keyhole Bridge"}],"sequence":"9","name":"BRIDGE TYPE","associatedKeyword":"-","usage":"Descriptive","uniqueID":"7741124012284251836","displayable":false,"comparable":false,"identifier":"BRIDGE TYPE","searchable":false,"facetable":false},{"storeDisplay":false,"values":[{"sequence":"1","value":"Standard","uniqueID":"7741124012284859365","unitOfMeasure":"","unitID":"","identifier":"Standard"}],"sequence":"9","name":"FRAME FIT","associatedKeyword":"-","usage":"Descriptive","uniqueID":"7741124012284251846","displayable":true,"comparable":false,"identifier":"FRAME FIT","searchable":false,"facetable":false},{"storeDisplay":false,"values":[{"sequence":"1","value":"Italy","uniqueID":"7741124012283336067","unitOfMeasure":"","unitID":"","identifier":"Italy"}],"sequence":"10","name":"Made in","associatedKeyword":"-","usage":"Descriptive","uniqueID":"7741124012283334348","displayable":true,"comparable":false,"identifier":"MADEIN","searchable":false,"facetable":false},{"storeDisplay":false,"values":[{"sequence":"3","value":"Full Rim","uniqueID":"7741124012283360863","unitOfMeasure":"","unitID":"","identifier":"Full Rim"}],"sequence":"10","name":"Frame type","associatedKeyword":"-","usage":"Descriptive","uniqueID":"7741124012283334370","displayable":false,"comparable":false,"identifier":"FRAMETYPE","searchable":true,"facetable":false},{"storeDisplay":false,"values":[{"sequence":"4","value":"Mini Supreme Acetate","uniqueID":"7741124012283355349","unitOfMeasure":"","unitID":"","identifier":"Mini Supreme Acetate"}],"sequence":"11","name":"Temple logo","associatedKeyword":"-","usage":"Descriptive","uniqueID":"7741124012283348836","displayable":false,"comparable":true,"identifier":"TEMPLE_LOGO","searchable":false,"facetable":false},{"storeDisplay":false,"values":[{"sequence":"3","value":"Round Face;oval Face","uniqueID":"7741124012284860410","unitOfMeasure":"","unitID":"","identifier":"Round Face;oval Face"}],"sequence":"11","name":"SUGGESTED FACE SHAPE","associatedKeyword":"-","usage":"Descriptive","uniqueID":"7741124012284251843","displayable":false,"comparable":false,"identifier":"SUGGESTED_FACE_SHAPE","searchable":false,"facetable":false},{"storeDisplay":false,"values":[{"sequence":"2","value":"1056","uniqueID":"7741124012284861381","unitOfMeasure":"","unitID":"","identifier":"1056"}],"sequence":"12","name":"COLOR CODE","associatedKeyword":"-","usage":"Descriptive","uniqueID":"7741124012284253335","displayable":false,"comparable":false,"identifier":"COLOR CODE","searchable":false,"facetable":false},{"storeDisplay":false,"values":[{"sequence":"3","value":"PO_pack5_gallery","uniqueID":"7741124012284859917","unitOfMeasure":"","unitID":"","identifier":"PO_pack5_gallery"}],"sequence":"14","name":"CASE","associatedKeyword":"-","usage":"Descriptive","uniqueID":"7741124012284251837","displayable":false,"comparable":false,"identifier":"CASE","searchable":false,"facetable":false},{"storeDisplay":false,"values":[{"sequence":"3","value":"Other","uniqueID":"7741124012283444307","unitOfMeasure":"","unitID":"","identifier":"Other"}],"sequence":"15","name":"Model family","associatedKeyword":"-","usage":"Descriptive","uniqueID":"7741124012283333374","displayable":false,"comparable":false,"identifier":"MODEL_FAMILY","searchable":true,"facetable":true},{"storeDisplay":false,"values":[{"sequence":"1","value":"Tortoise","uniqueID":"7741124012283336314","unitOfMeasure":"","unitID":"","identifier":"Tortoise"}],"sequence":"16","name":"Temple inner color facet","associatedKeyword":"-","usage":"Descriptive","uniqueID":"7741124012283334357","displayable":false,"comparable":false,"identifier":"TEMPLE_INNER_COLOR_FACET","searchable":true,"facetable":false},{"storeDisplay":false,"values":[{"sequence":"1","value":"False","uniqueID":"7741124012283337030","unitOfMeasure":"","unitID":"","identifier":"False"}],"sequence":"18","name":"Noreturn","associatedKeyword":"-","usage":"Descriptive","uniqueID":"7741124012283334374","displayable":false,"comparable":false,"identifier":"NORETURN","searchable":false,"facetable":false},{"storeDisplay":false,"values":[{"sequence":"2","value":"True","uniqueID":"7741124012284859353","unitOfMeasure":"","unitID":"","identifier":"True"}],"sequence":"20","name":"ENGRAVINGELIGIBLE","associatedKeyword":"-","usage":"Descriptive","uniqueID":"7741124012284251838","displayable":false,"comparable":false,"identifier":"ENGRAVINGELIGIBLE","searchable":false,"facetable":false},{"storeDisplay":false,"values":[{"sequence":"1","value":"Galleria","uniqueID":"7741124012283336920","unitOfMeasure":"","unitID":"","identifier":"Galleria"}],"sequence":"21","name":"Range","associatedKeyword":"-","usage":"Descriptive","uniqueID":"7741124012283334371","displayable":false,"comparable":false,"identifier":"RANGE","searchable":false,"facetable":true},{"storeDisplay":false,"values":[{"sequence":"1","value":"Demo Lens","uniqueID":"7741124012283336042","unitOfMeasure":"","unitID":"","identifier":"Demo Lens"}],"sequence":"22","name":"Lens color","associatedKeyword":"-","usage":"Descriptive","uniqueID":"7741124012283334345","displayable":false,"comparable":false,"identifier":"LENS_COLOR_FACET","searchable":true,"facetable":true},{"storeDisplay":false,"values":[{"sequence":"1","value":"False","uniqueID":"7741124012283336068","unitOfMeasure":"","unitID":"","identifier":"False"}],"sequence":"23","name":"Newreleases","associatedKeyword":"-","usage":"Descriptive","uniqueID":"7741124012283334349","displayable":false,"comparable":false,"identifier":"NEWRELEASES","searchable":true,"facetable":false},{"storeDisplay":false,"values":[{"sequence":"0","value":"0","uniqueID":"0","unitOfMeasure":"","unitID":"","identifier":"0"}],"sequence":"25","name":"Clen","associatedKeyword":"-","usage":"Descriptive","uniqueID":"7741124012283334344","displayable":false,"comparable":false,"identifier":"CLEN","searchable":false,"facetable":false},{"storeDisplay":false,"values":[{"sequence":"5","value":"Supreme 3,5","uniqueID":"7741124012283355340","unitOfMeasure":"","unitID":"","identifier":"Supreme 3,5"}],"sequence":"26","name":"Arrow","associatedKeyword":"-","usage":"Descriptive","uniqueID":"7741124012283348835","displayable":false,"comparable":false,"identifier":"ARROW","searchable":false,"facetable":false},{"storeDisplay":false,"values":[{"sequence":"4","value":"367500","uniqueID":"7741124012284610854","unitOfMeasure":"","unitID":"","identifier":"367500"}],"sequence":"28","name":"Sequence","associatedKeyword":"-","usage":"Descriptive","uniqueID":"7741124012283593337","displayable":false,"comparable":false,"identifier":"SEQUENCE","searchable":true,"facetable":false},{"storeDisplay":false,"values":[{"sequence":"2","value":"Man","uniqueID":"7741124012283336014","unitOfMeasure":"","unitID":"","identifier":"Man"}],"sequence":"29","name":"Gender","associatedKeyword":"-","usage":"Descriptive","uniqueID":"7741124012283334343","displayable":false,"comparable":false,"identifier":"GENDER","searchable":true,"facetable":true},{"storeDisplay":false,"values":[{"sequence":"1","value":"False","uniqueID":"7741124012284860407","unitOfMeasure":"","unitID":"","identifier":"False"}],"sequence":"30","name":"Flex","associatedKeyword":"-","usage":"Descriptive","uniqueID":"7741124012283364835","displayable":false,"comparable":false,"identifier":"FLEX","searchable":false,"facetable":false},{"storeDisplay":false,"values":[{"sequence":"3","value":"True","uniqueID":"7741124012284582836","unitOfMeasure":"","unitID":"","identifier":"True"}],"sequence":"31","name":"Best Sellers","associatedKeyword":"-","usage":"Descriptive","uniqueID":"7741124012284026835","displayable":false,"comparable":false,"identifier":"BESTSELLERS","searchable":false,"facetable":false},{"storeDisplay":false,"values":[{"sequence":"3","value":"Brown","uniqueID":"7741124012283336000","unitOfMeasure":"","unitID":"","identifier":"Brown"}],"sequence":"32","name":"Front inner color facet","associatedKeyword":"-","usage":"Descriptive","uniqueID":"7741124012283334342","displayable":false,"comparable":false,"identifier":"FRONT_INNER_COLOR_FACET","searchable":true,"facetable":false},{"storeDisplay":false,"values":[{"sequence":"2","value":"PO3007V","uniqueID":"7741124012283336084","unitOfMeasure":"","unitID":"","identifier":"PO3007V"}],"sequence":"33","name":"Modelname","associatedKeyword":"-","usage":"Descriptive","uniqueID":"7741124012283334353","displayable":false,"comparable":false,"identifier":"MODELNAME","searchable":true,"facetable":false},{"storeDisplay":false,"values":[{"sequence":"1","value":"False","uniqueID":"7741124012283335865","unitOfMeasure":"","unitID":"","identifier":"False"}],"sequence":"34","name":"Exclusive","associatedKeyword":"-","usage":"Descriptive","uniqueID":"7741124012283334336","displayable":false,"comparable":false,"identifier":"EXCLUSIVE","searchable":false,"facetable":true},{"storeDisplay":false,"values":[{"image1":"https:\/\/assets.persol.com\/extra\/image\/Persol\/filters\/tortoise.png","sequence":"5","value":"Tortoise","uniqueID":"7741124012284314837","image1path":"https:\/\/assets.persol.com\/extra\/image\/Persol\/filters\/tortoise.png","unitOfMeasure":"","unitID":"","identifier":"Tortoise"}],"sequence":"35","name":"Frame color","associatedKeyword":"-","usage":"Descriptive","uniqueID":"7741124012283334340","displayable":false,"comparable":false,"identifier":"FRONT_COLOR_FACET","searchable":true,"facetable":true},{"storeDisplay":false,"values":[{"sequence":"1","value":"Square","uniqueID":"7741124012283336915","unitOfMeasure":"","unitID":"","identifier":"Square"}],"sequence":"37","name":"Frame shape","associatedKeyword":"-","usage":"Descriptive","uniqueID":"7741124012283334368","displayable":false,"comparable":false,"identifier":"FRAME_SHAPE_FACET","searchable":true,"facetable":true},{"storeDisplay":false,"values":[{"sequence":"1","value":"False","uniqueID":"7741124012283336078","unitOfMeasure":"","unitID":"","identifier":"False"}],"sequence":"38","name":"Polarized","associatedKeyword":"-","usage":"Descriptive","uniqueID":"7741124012283334352","displayable":false,"comparable":false,"identifier":"POLARIZED","searchable":true,"facetable":true},{"storeDisplay":false,"values":[{"sequence":"1","value":"False","uniqueID":"7741124012283336077","unitOfMeasure":"","unitID":"","identifier":"False"}],"sequence":"39","name":"Onsale","associatedKeyword":"-","usage":"Descriptive","uniqueID":"7741124012283334351","displayable":false,"comparable":false,"identifier":"ONSALE","searchable":false,"facetable":false},{"storeDisplay":false,"values":[{"sequence":"1","value":"False","uniqueID":"7741124012283355350","unitOfMeasure":"","unitID":"","identifier":"False"}],"sequence":"41","name":"Vintage Celebration","associatedKeyword":"-","usage":"Descriptive","uniqueID":"7741124012283348837","displayable":false,"comparable":false,"identifier":"VINTAGE CELEBRATION","searchable":false,"facetable":false},{"storeDisplay":false,"values":[{"sequence":"1","value":"False","uniqueID":"7741124012283336902","unitOfMeasure":"","unitID":"","identifier":"False"}],"sequence":"42","name":"Foldable","associatedKeyword":"-","usage":"Descriptive","uniqueID":"7741124012283334366","displayable":false,"comparable":false,"identifier":"FOLDABLE","searchable":true,"facetable":true},{"storeDisplay":false,"values":[{"sequence":"4","value":"Optical","uniqueID":"7741124012283333657","unitOfMeasure":"","unitID":"","identifier":"Optical"}],"sequence":"43","name":"Producttype","associatedKeyword":"-","usage":"Descriptive","uniqueID":"7741124012283333376","displayable":false,"comparable":false,"identifier":"PRODUCTTYPE","searchable":true,"facetable":false},{"storeDisplay":false,"values":[{"sequence":"1","value":"False","uniqueID":"7741124012284859336","unitOfMeasure":"","unitID":"","identifier":"False"}],"sequence":"44","name":"AVANT_PREMIERE","associatedKeyword":"-","usage":"Descriptive","uniqueID":"7741124012284251835","displayable":false,"comparable":false,"identifier":"AVANT_PREMIERE","searchable":false,"facetable":false},{"storeDisplay":false,"values":[{"sequence":"3","value":"Brown-beige Tortoise","uniqueID":"7741124012285955639","unitOfMeasure":"","unitID":"","identifier":"Brown-beige Tortoise"}],"sequence":"45","name":"Front inner color","associatedKeyword":"-","usage":"Descriptive","uniqueID":"7741124012283334341","displayable":false,"comparable":false,"identifier":"FRONT_INNER_COLOR","searchable":false,"facetable":false},{"storeDisplay":false,"values":[{"sequence":"2","value":"Brown\/beige Tortoise","uniqueID":"7741124012283336259","unitOfMeasure":"","unitID":"","identifier":"Brown\/beige Tortoise"}],"sequence":"46","name":"Temple inner color","associatedKeyword":"-","usage":"Descriptive","uniqueID":"7741124012283334356","displayable":false,"comparable":false,"identifier":"TEMPLE_INNER_COLOR","searchable":false,"facetable":false},{"storeDisplay":false,"values":[{"sequence":"3","value":"Tortoise","uniqueID":"7741124012283336241","unitOfMeasure":"","unitID":"","identifier":"Tortoise"}],"sequence":"47","name":"Temple color facet","associatedKeyword":"-","usage":"Descriptive","uniqueID":"7741124012283334355","displayable":false,"comparable":false,"identifier":"TEMPLE_COLOR_FACET","searchable":true,"facetable":false},{"storeDisplay":false,"values":[{"sequence":"2","value":"True","uniqueID":"7741124012284859902","unitOfMeasure":"","unitID":"","identifier":"True"}],"sequence":"48","name":"MEFLECTO","associatedKeyword":"-","usage":"Descriptive","uniqueID":"7741124012284251847","displayable":false,"comparable":false,"identifier":"MEFLECTO","searchable":false,"facetable":false},{"storeDisplay":false,"values":[{"sequence":"1","value":"Global","uniqueID":"7741124012283336916","unitOfMeasure":"","unitID":"","identifier":"Global"}],"sequence":"49","name":"Fitting","associatedKeyword":"-","usage":"Descriptive","uniqueID":"7741124012283334369","displayable":false,"comparable":false,"identifier":"GEO_FIT","searchable":true,"facetable":false}],"storeID":"715838084","numberOfSKUs":2,"partNumber":"0PO3007V__1056"},{"hasSingleSKU":true,"catalogEntryTypeCode":"ProductBean","associationType":"REPLACEMENT","parentCatalogGroupID":["3074457345616676668_3074457345616676669","3074457345616681818_3074457345616678178","3074457345616681818_3074457345616696193","3074457345616681818_3074457345616696201","3074457345616681818_3074457345616700168","3074457345616681818_3074457345616700669","3074457345616681818_3074457345616700670","3074457345616681818_3074457345616715669","3074457345616681818_3074457345616716181","3074457345616681818_3074457345616716187","3074457345616681818_3074457345616716189"],"price_USD":"265.0","uniqueID":"3074457345616679061","singleSKUCatalogEntryID":"3074457345616679803","sKUs":[{"hasSingleSKU":false,"catalogEntryTypeCode":"ItemBean","parentCatalogGroupID":["3074457345616676668_3074457345616676669","3074457345616681818_3074457345616678178","3074457345616681818_3074457345616696193","3074457345616681818_3074457345616696201","3074457345616681818_3074457345616700168","3074457345616681818_3074457345616700669","3074457345616681818_3074457345616700670","3074457345616681818_3074457345616715669","3074457345616681818_3074457345616716181","3074457345616681818_3074457345616716187","3074457345616681818_3074457345616716189"],"uniqueID":"3074457345616679803","resourceId":"http:\/\/lux-prdlv-src01.lux-ecomm.net:3737\/search\/resources\/store\/715838388\/productview\/byId\/3074457345616679803","price":[{"description":"L","value":"","usage":"Display","currency":"USD"},{"description":"O","value":"","usage":"Offer","currency":"USD"}],"thumbnail":"https:\/\/assets.persol.com\/is\/image\/Persol\/8053672249064_noshad_fr.png?impolicy=HB_parameters&sclw=0.25&sclh=0.25","shortDescription":"PO3007V 1015 50-19","mfPartNumber_ntk":"0PO3007V","name":"PO3007V 1015 50-19","buyable":"true","storeID":"715838084","attributes":[{"storeDisplay":false,"values":[{"sequence":"1","value":"Standard","uniqueID":"7741124012283336345","unitOfMeasure":"","unitID":"","identifier":"Standard"}],"sequence":"1","name":"Size","usage":"Defining","uniqueID":"7741124012283334359","displayable":true,"comparable":false,"identifier":"MODEL_SIZE_DISPLAY","searchable":false,"facetable":false},{"storeDisplay":false,"values":[{"sequence":"2","value":"Demo Lens","uniqueID":"7741124012283336896","unitOfMeasure":"","unitID":"","identifier":"Demo Lens"}],"sequence":"3","name":"Lens treatment","usage":"Descriptive","uniqueID":"7741124012283334364","displayable":false,"comparable":false,"identifier":"LENS_TREATMENT","searchable":false,"facetable":false},{"storeDisplay":false,"values":[{"sequence":"1","value":"Zpfn","uniqueID":"7741124012283336923","unitOfMeasure":"","unitID":"","identifier":"Zpfn"}],"sequence":"450","name":"Materialtype","usage":"Descriptive","uniqueID":"7741124012283334372","displayable":false,"comparable":false,"identifier":"MATERIALTYPE","searchable":false,"facetable":false},{"storeDisplay":false,"values":[{"sequence":"1","value":"50","uniqueID":"7741124012283336334","unitOfMeasure":"","unitID":"","identifier":"50"}],"sequence":"450","name":"Model size","usage":"Descriptive","uniqueID":"7741124012283334358","displayable":false,"comparable":false,"identifier":"MODEL_SIZE","searchable":false,"facetable":false},{"storeDisplay":false,"values":[{"sequence":"3","value":"1015 50","uniqueID":"7741124012283759491","unitOfMeasure":"","unitID":"","identifier":"1015 50"}],"sequence":"450","name":"Grid Value","usage":"Descriptive","uniqueID":"7741124012283364837","displayable":true,"comparable":false,"identifier":"GRID VALUE","searchable":false,"facetable":false},{"storeDisplay":false,"values":[{"sequence":"4","value":"145","uniqueID":"7741124012283336892","unitOfMeasure":"","unitID":"","identifier":"145"}],"sequence":"450","name":"Temple length","usage":"Descriptive","uniqueID":"7741124012283334363","displayable":false,"comparable":false,"identifier":"TEMPLE_LENGTH","searchable":false,"facetable":false},{"storeDisplay":false,"values":[{"sequence":"1","value":"Material-acetate;arrow-all;meflecto-all","uniqueID":"7741124012284859903","unitOfMeasure":"","unitID":"","identifier":"Material-acetate;arrow-all;meflecto-all"}],"sequence":"450","name":"FEATURES","usage":"Descriptive","uniqueID":"7741124012284251845","displayable":false,"comparable":false,"identifier":"FEATURES","searchable":false,"facetable":false},{"storeDisplay":false,"values":[{"sequence":"1","value":"Demo Lens","uniqueID":"7741124012283336900","unitOfMeasure":"","unitID":"","identifier":"Demo Lens"}],"sequence":"450","name":"Lens type","usage":"Descriptive","uniqueID":"7741124012283334365","displayable":false,"comparable":false,"identifier":"LENS_TREATMENT_FACET","searchable":true,"facetable":true},{"storeDisplay":false,"values":[{"sequence":"1","value":"19","uniqueID":"7741124012283336885","unitOfMeasure":"","unitID":"","identifier":"19"}],"sequence":"450","name":"Lens bridge","usage":"Descriptive","uniqueID":"7741124012283334362","displayable":false,"comparable":false,"identifier":"LENS_BRIDGE","searchable":false,"facetable":false},{"storeDisplay":false,"values":[{"sequence":"4","value":"PO3007V 1015 50-19","uniqueID":"7741124012283759642","unitOfMeasure":"","unitID":"","identifier":"PO3007V 1015 50-19"}],"sequence":"450","name":"Displaysku","usage":"Descriptive","uniqueID":"7741124012283364836","displayable":false,"comparable":false,"identifier":"DISPLAYSKU","searchable":false,"facetable":false},{"storeDisplay":false,"values":[{"sequence":"5","value":"150","uniqueID":"7741124012283336878","unitOfMeasure":"","unitID":"","identifier":"150"}],"sequence":"450","name":"Grossweight","usage":"Descriptive","uniqueID":"7741124012283334361","displayable":false,"comparable":false,"identifier":"GROSSWEIGHT","searchable":false,"facetable":false},{"storeDisplay":false,"values":[{"sequence":"1","value":"Trending Now","uniqueID":"7741124012284582837","unitOfMeasure":"","unitID":"","identifier":"Trending Now"}],"sequence":"450","name":"Primary family","usage":"Descriptive","uniqueID":"7741124012284026836","displayable":false,"comparable":false,"identifier":"PRIMARY_FAMILY","searchable":false,"facetable":false},{"storeDisplay":false,"values":[{"sequence":"5","value":"Supreme 3,5","uniqueID":"7741124012283355340","unitOfMeasure":"","unitID":"","identifier":"Supreme 3,5"}],"sequence":"1653","name":"Arrow","usage":"Descriptive","uniqueID":"7741124012283348835","displayable":false,"comparable":false,"identifier":"ARROW","searchable":false,"facetable":false}],"partNumber":"8053672249064"}],"resourceId":"http:\/\/lux-prdlv-src01.lux-ecomm.net:3737\/search\/resources\/store\/715838388\/productview\/byId\/3074457345616679061","price":[{"description":"L","value":"265.0","usage":"Display","currency":"USD"},{"description":"O","value":"","usage":"Offer","currency":"USD"}],"thumbnail":"https:\/\/assets.persol.com\/is\/image\/Persol\/8053672249064_noshad_fr.png?impolicy=HB_parameters&sclw=0.25&sclh=0.25","shortDescription":"PO3007V","mfPartNumber_ntk":"0PO3007V","name":"PO3007V","buyable":"true","quantity":1,"attributes":[{"storeDisplay":false,"values":[{"sequence":"5","value":"PO3007V","uniqueID":"7741124012283444287","unitOfMeasure":"","unitID":"","identifier":"PO3007V"}],"sequence":"0","name":"Model code","associatedKeyword":"-","usage":"Descriptive","uniqueID":"7741124012283334373","displayable":true,"comparable":false,"identifier":"MODEL_CODE_DISPLAY","searchable":false,"facetable":false},{"storeDisplay":false,"values":[{"sequence":"4","value":"201402","uniqueID":"7741124012283335858","unitOfMeasure":"","unitID":"","identifier":"201402"}],"sequence":"1","name":"Collection","associatedKeyword":"-","usage":"Descriptive","uniqueID":"7741124012283334335","displayable":false,"comparable":false,"identifier":"COLLECTION","searchable":true,"facetable":false},{"storeDisplay":false,"values":[{"image1":"https:\/\/assets.persol.com\/extra\/image\/TargetOptical\/filters\/blue-brush.png","sequence":"1","value":"Blue","uniqueID":"7741124012283335873","image1path":"https:\/\/assets.persol.com\/extra\/image\/TargetOptical\/filters\/blue-brush.png","unitOfMeasure":"","unitID":"","identifier":"Blue"}],"sequence":"1","name":"Front color","associatedKeyword":"-","usage":"Descriptive","uniqueID":"7741124012283334339","displayable":true,"comparable":false,"identifier":"FRONT_COLOR","searchable":false,"facetable":false},{"storeDisplay":false,"values":[{"sequence":"1","value":"Standard","uniqueID":"7741124012283336345","unitOfMeasure":"","unitID":"","identifier":"Standard"}],"sequence":"1","name":"Size","associatedKeyword":"-","usage":"Defining","uniqueID":"7741124012283334359","displayable":true,"comparable":false,"identifier":"MODEL_SIZE_DISPLAY","searchable":false,"facetable":false},{"storeDisplay":false,"values":[{"sequence":"1","value":"Demo Lens","uniqueID":"7741124012283336054","unitOfMeasure":"","unitID":"","identifier":"Demo Lens"}],"sequence":"2","name":"Lens color","associatedKeyword":"-","usage":"Descriptive","uniqueID":"7741124012283334346","displayable":true,"comparable":false,"identifier":"LENS_COLOR","searchable":false,"facetable":false},{"storeDisplay":false,"values":[{"sequence":"5","value":"Square","uniqueID":"7741124012283336911","unitOfMeasure":"","unitID":"","identifier":"Square"}],"sequence":"2","name":"Frame shape","associatedKeyword":"-","usage":"Descriptive","uniqueID":"7741124012283334367","displayable":false,"comparable":false,"identifier":"FRAME_SHAPE","searchable":false,"facetable":false},{"storeDisplay":false,"values":[{"sequence":"1","value":"Trending Now","uniqueID":"7741124012284582837","unitOfMeasure":"","unitID":"","identifier":"Trending Now"}],"sequence":"2","name":"Primary family","associatedKeyword":"-","usage":"Descriptive","uniqueID":"7741124012284026836","displayable":false,"comparable":false,"identifier":"PRIMARY_FAMILY","searchable":false,"facetable":false},{"storeDisplay":false,"values":[{"sequence":"2","value":"Demo Lens","uniqueID":"7741124012283336896","unitOfMeasure":"","unitID":"","identifier":"Demo Lens"}],"sequence":"3","name":"Lens treatment","associatedKeyword":"-","usage":"Descriptive","uniqueID":"7741124012283334364","displayable":false,"comparable":false,"identifier":"LENS_TREATMENT","searchable":false,"facetable":false},{"storeDisplay":false,"values":[{"sequence":"1","value":"False","uniqueID":"7741124012285955768","unitOfMeasure":"","unitID":"","identifier":"False"}],"sequence":"3","name":"Photochromic","associatedKeyword":"-","usage":"Descriptive","uniqueID":"7741124012284852335","displayable":false,"comparable":false,"identifier":"PHOTOCHROMIC","searchable":true,"facetable":true},{"storeDisplay":false,"values":[{"sequence":"2","value":"Acetate","uniqueID":"7741124012283335870","unitOfMeasure":"","unitID":"","identifier":"Acetate"}],"sequence":"4","name":"Frame material","associatedKeyword":"-","usage":"Descriptive","uniqueID":"7741124012283334338","displayable":false,"comparable":false,"identifier":"FRAMEMATERIAL_FACET","searchable":true,"facetable":true},{"storeDisplay":false,"values":[{"sequence":"1","value":"False","uniqueID":"7741124012283336065","unitOfMeasure":"","unitID":"","identifier":"False"}],"sequence":"5","name":"Limited edition","associatedKeyword":"-","usage":"Descriptive","uniqueID":"7741124012283334347","displayable":false,"comparable":false,"identifier":"LIMITED_EDITION","searchable":false,"facetable":false},{"storeDisplay":false,"values":[{"image1":"https:\/\/assets.persol.com\/extra\/image\/TargetOptical\/filters\/blue-brush.png","sequence":"2","value":"Blue","uniqueID":"7741124012283336186","image1path":"https:\/\/assets.persol.com\/extra\/image\/TargetOptical\/filters\/blue-brush.png","unitOfMeasure":"","unitID":"","identifier":"Blue"}],"sequence":"6","name":"Temple color","associatedKeyword":"-","usage":"Descriptive","uniqueID":"7741124012283334354","displayable":false,"comparable":false,"identifier":"TEMPLE_COLOR","searchable":false,"facetable":false},{"storeDisplay":false,"values":[{"sequence":"4","value":"Acetate","uniqueID":"7741124012283335867","unitOfMeasure":"","unitID":"","identifier":"Acetate"}],"sequence":"6","name":"Frame Material","associatedKeyword":"-","usage":"Descriptive","uniqueID":"7741124012283334337","displayable":true,"comparable":false,"identifier":"FRAMEMATERIAL","searchable":false,"facetable":false},{"storeDisplay":false,"values":[{"sequence":"1","value":"Not Adjustable","uniqueID":"7741124012284859354","unitOfMeasure":"","unitID":"","identifier":"Not Adjustable"}],"sequence":"7","name":"Nosepads","associatedKeyword":"-","usage":"Descriptive","uniqueID":"7741124012284251840","displayable":true,"comparable":false,"identifier":"NOSEPADS","searchable":true,"facetable":true},{"storeDisplay":false,"values":[{"sequence":"1","value":"Polished","uniqueID":"7741124012284859363","unitOfMeasure":"","unitID":"","identifier":"Polished"}],"sequence":"8","name":"FINISHING","associatedKeyword":"-","usage":"Descriptive","uniqueID":"7741124012284251844","displayable":false,"comparable":false,"identifier":"FINISHING","searchable":false,"facetable":false},{"storeDisplay":false,"values":[{"sequence":"1","value":"1","uniqueID":"7741124012284859356","unitOfMeasure":"","unitID":"","identifier":"1"}],"sequence":"8","name":"PLACEHOLDER_SIZE","associatedKeyword":"-","usage":"Descriptive","uniqueID":"7741124012284251841","displayable":true,"comparable":false,"identifier":"PLACEHOLDER_SIZE","searchable":false,"facetable":false},{"storeDisplay":false,"values":[{"sequence":"5","value":"Keyhole Bridge","uniqueID":"7741124012284859339","unitOfMeasure":"","unitID":"","identifier":"Keyhole Bridge"}],"sequence":"9","name":"BRIDGE TYPE","associatedKeyword":"-","usage":"Descriptive","uniqueID":"7741124012284251836","displayable":false,"comparable":false,"identifier":"BRIDGE TYPE","searchable":false,"facetable":false},{"storeDisplay":false,"values":[{"sequence":"1","value":"Standard","uniqueID":"7741124012284859365","unitOfMeasure":"","unitID":"","identifier":"Standard"}],"sequence":"9","name":"FRAME FIT","associatedKeyword":"-","usage":"Descriptive","uniqueID":"7741124012284251846","displayable":true,"comparable":false,"identifier":"FRAME FIT","searchable":false,"facetable":false},{"storeDisplay":false,"values":[{"sequence":"3","value":"Full Rim","uniqueID":"7741124012283360863","unitOfMeasure":"","unitID":"","identifier":"Full Rim"}],"sequence":"10","name":"Frame type","associatedKeyword":"-","usage":"Descriptive","uniqueID":"7741124012283334370","displayable":false,"comparable":false,"identifier":"FRAMETYPE","searchable":true,"facetable":false},{"storeDisplay":false,"values":[{"sequence":"1","value":"Italy","uniqueID":"7741124012283336067","unitOfMeasure":"","unitID":"","identifier":"Italy"}],"sequence":"10","name":"Made in","associatedKeyword":"-","usage":"Descriptive","uniqueID":"7741124012283334348","displayable":true,"comparable":false,"identifier":"MADEIN","searchable":false,"facetable":false},{"storeDisplay":false,"values":[{"sequence":"3","value":"Round Face;oval Face","uniqueID":"7741124012284860410","unitOfMeasure":"","unitID":"","identifier":"Round Face;oval Face"}],"sequence":"11","name":"SUGGESTED FACE SHAPE","associatedKeyword":"-","usage":"Descriptive","uniqueID":"7741124012284251843","displayable":false,"comparable":false,"identifier":"SUGGESTED_FACE_SHAPE","searchable":false,"facetable":false},{"storeDisplay":false,"values":[{"sequence":"4","value":"Mini Supreme Acetate","uniqueID":"7741124012283355349","unitOfMeasure":"","unitID":"","identifier":"Mini Supreme Acetate"}],"sequence":"11","name":"Temple logo","associatedKeyword":"-","usage":"Descriptive","uniqueID":"7741124012283348836","displayable":false,"comparable":true,"identifier":"TEMPLE_LOGO","searchable":false,"facetable":false},{"storeDisplay":false,"values":[{"sequence":"2","value":"1015","uniqueID":"7741124012284861348","unitOfMeasure":"","unitID":"","identifier":"1015"}],"sequence":"12","name":"COLOR CODE","associatedKeyword":"-","usage":"Descriptive","uniqueID":"7741124012284253335","displayable":false,"comparable":false,"identifier":"COLOR CODE","searchable":false,"facetable":false},{"storeDisplay":false,"values":[{"sequence":"3","value":"PO_pack5_gallery","uniqueID":"7741124012284859917","unitOfMeasure":"","unitID":"","identifier":"PO_pack5_gallery"}],"sequence":"14","name":"CASE","associatedKeyword":"-","usage":"Descriptive","uniqueID":"7741124012284251837","displayable":false,"comparable":false,"identifier":"CASE","searchable":false,"facetable":false},{"storeDisplay":false,"values":[{"sequence":"3","value":"Other","uniqueID":"7741124012283444307","unitOfMeasure":"","unitID":"","identifier":"Other"}],"sequence":"15","name":"Model family","associatedKeyword":"-","usage":"Descriptive","uniqueID":"7741124012283333374","displayable":false,"comparable":false,"identifier":"MODEL_FAMILY","searchable":true,"facetable":true},{"storeDisplay":false,"values":[{"image1":"https:\/\/assets.persol.com\/extra\/image\/TargetOptical\/filters\/blue-brush.png","sequence":"5","value":"Blue","uniqueID":"7741124012283336313","image1path":"https:\/\/assets.persol.com\/extra\/image\/TargetOptical\/filters\/blue-brush.png","unitOfMeasure":"","unitID":"","identifier":"Blue"}],"sequence":"16","name":"Temple inner color facet","associatedKeyword":"-","usage":"Descriptive","uniqueID":"7741124012283334357","displayable":false,"comparable":false,"identifier":"TEMPLE_INNER_COLOR_FACET","searchable":true,"facetable":false},{"storeDisplay":false,"values":[{"sequence":"1","value":"False","uniqueID":"7741124012283337030","unitOfMeasure":"","unitID":"","identifier":"False"}],"sequence":"18","name":"Noreturn","associatedKeyword":"-","usage":"Descriptive","uniqueID":"7741124012283334374","displayable":false,"comparable":false,"identifier":"NORETURN","searchable":false,"facetable":false},{"storeDisplay":false,"values":[{"sequence":"2","value":"True","uniqueID":"7741124012284859353","unitOfMeasure":"","unitID":"","identifier":"True"}],"sequence":"20","name":"ENGRAVINGELIGIBLE","associatedKeyword":"-","usage":"Descriptive","uniqueID":"7741124012284251838","displayable":false,"comparable":false,"identifier":"ENGRAVINGELIGIBLE","searchable":false,"facetable":false},{"storeDisplay":false,"values":[{"sequence":"1","value":"Galleria","uniqueID":"7741124012283336920","unitOfMeasure":"","unitID":"","identifier":"Galleria"}],"sequence":"21","name":"Range","associatedKeyword":"-","usage":"Descriptive","uniqueID":"7741124012283334371","displayable":false,"comparable":false,"identifier":"RANGE","searchable":false,"facetable":true},{"storeDisplay":false,"values":[{"sequence":"1","value":"Demo Lens","uniqueID":"7741124012283336042","unitOfMeasure":"","unitID":"","identifier":"Demo Lens"}],"sequence":"22","name":"Lens color","associatedKeyword":"-","usage":"Descriptive","uniqueID":"7741124012283334345","displayable":false,"comparable":false,"identifier":"LENS_COLOR_FACET","searchable":true,"facetable":true},{"storeDisplay":false,"values":[{"sequence":"1","value":"False","uniqueID":"7741124012283336068","unitOfMeasure":"","unitID":"","identifier":"False"}],"sequence":"23","name":"Newreleases","associatedKeyword":"-","usage":"Descriptive","uniqueID":"7741124012283334349","displayable":false,"comparable":false,"identifier":"NEWRELEASES","searchable":true,"facetable":false},{"storeDisplay":false,"values":[{"sequence":"0","value":"0","uniqueID":"0","unitOfMeasure":"","unitID":"","identifier":"0"}],"sequence":"25","name":"Clen","associatedKeyword":"-","usage":"Descriptive","uniqueID":"7741124012283334344","displayable":false,"comparable":false,"identifier":"CLEN","searchable":false,"facetable":false},{"storeDisplay":false,"values":[{"sequence":"5","value":"Supreme 3,5","uniqueID":"7741124012283355340","unitOfMeasure":"","unitID":"","identifier":"Supreme 3,5"}],"sequence":"26","name":"Arrow","associatedKeyword":"-","usage":"Descriptive","uniqueID":"7741124012283348835","displayable":false,"comparable":false,"identifier":"ARROW","searchable":false,"facetable":false},{"storeDisplay":false,"values":[{"sequence":"4","value":"365000","uniqueID":"7741124012284611123","unitOfMeasure":"","unitID":"","identifier":"365000"}],"sequence":"28","name":"Sequence","associatedKeyword":"-","usage":"Descriptive","uniqueID":"7741124012283593337","displayable":false,"comparable":false,"identifier":"SEQUENCE","searchable":true,"facetable":false},{"storeDisplay":false,"values":[{"sequence":"2","value":"Man","uniqueID":"7741124012283336014","unitOfMeasure":"","unitID":"","identifier":"Man"}],"sequence":"29","name":"Gender","associatedKeyword":"-","usage":"Descriptive","uniqueID":"7741124012283334343","displayable":false,"comparable":false,"identifier":"GENDER","searchable":true,"facetable":true},{"storeDisplay":false,"values":[{"sequence":"1","value":"False","uniqueID":"7741124012284860407","unitOfMeasure":"","unitID":"","identifier":"False"}],"sequence":"30","name":"Flex","associatedKeyword":"-","usage":"Descriptive","uniqueID":"7741124012283364835","displayable":false,"comparable":false,"identifier":"FLEX","searchable":false,"facetable":false},{"storeDisplay":false,"values":[{"sequence":"3","value":"True","uniqueID":"7741124012284582836","unitOfMeasure":"","unitID":"","identifier":"True"}],"sequence":"31","name":"Best Sellers","associatedKeyword":"-","usage":"Descriptive","uniqueID":"7741124012284026835","displayable":false,"comparable":false,"identifier":"BESTSELLERS","searchable":false,"facetable":false},{"storeDisplay":false,"values":[{"image1":"https:\/\/assets.persol.com\/extra\/image\/TargetOptical\/filters\/blue-brush.png","sequence":"4","value":"Blue","uniqueID":"7741124012283335995","image1path":"https:\/\/assets.persol.com\/extra\/image\/TargetOptical\/filters\/blue-brush.png","unitOfMeasure":"","unitID":"","identifier":"Blue"}],"sequence":"32","name":"Front inner color facet","associatedKeyword":"-","usage":"Descriptive","uniqueID":"7741124012283334342","displayable":false,"comparable":false,"identifier":"FRONT_INNER_COLOR_FACET","searchable":true,"facetable":false},{"storeDisplay":false,"values":[{"sequence":"2","value":"PO3007V","uniqueID":"7741124012283336084","unitOfMeasure":"","unitID":"","identifier":"PO3007V"}],"sequence":"33","name":"Modelname","associatedKeyword":"-","usage":"Descriptive","uniqueID":"7741124012283334353","displayable":false,"comparable":false,"identifier":"MODELNAME","searchable":true,"facetable":false},{"storeDisplay":false,"values":[{"sequence":"1","value":"False","uniqueID":"7741124012283335865","unitOfMeasure":"","unitID":"","identifier":"False"}],"sequence":"34","name":"Exclusive","associatedKeyword":"-","usage":"Descriptive","uniqueID":"7741124012283334336","displayable":false,"comparable":false,"identifier":"EXCLUSIVE","searchable":false,"facetable":true},{"storeDisplay":false,"values":[{"image1":"https:\/\/assets.persol.com\/extra\/image\/Persol\/filters\/blue.png","sequence":"4","value":"Blue","uniqueID":"7741124012283335926","image1path":"https:\/\/assets.persol.com\/extra\/image\/Persol\/filters\/blue.png","unitOfMeasure":"","unitID":"","identifier":"Blue"}],"sequence":"35","name":"Frame color","associatedKeyword":"-","usage":"Descriptive","uniqueID":"7741124012283334340","displayable":false,"comparable":false,"identifier":"FRONT_COLOR_FACET","searchable":true,"facetable":true},{"storeDisplay":false,"values":[{"sequence":"1","value":"Square","uniqueID":"7741124012283336915","unitOfMeasure":"","unitID":"","identifier":"Square"}],"sequence":"37","name":"Frame shape","associatedKeyword":"-","usage":"Descriptive","uniqueID":"7741124012283334368","displayable":false,"comparable":false,"identifier":"FRAME_SHAPE_FACET","searchable":true,"facetable":true},{"storeDisplay":false,"values":[{"sequence":"1","value":"False","uniqueID":"7741124012283336078","unitOfMeasure":"","unitID":"","identifier":"False"}],"sequence":"38","name":"Polarized","associatedKeyword":"-","usage":"Descriptive","uniqueID":"7741124012283334352","displayable":false,"comparable":false,"identifier":"POLARIZED","searchable":true,"facetable":true},{"storeDisplay":false,"values":[{"sequence":"1","value":"False","uniqueID":"7741124012283336077","unitOfMeasure":"","unitID":"","identifier":"False"}],"sequence":"39","name":"Onsale","associatedKeyword":"-","usage":"Descriptive","uniqueID":"7741124012283334351","displayable":false,"comparable":false,"identifier":"ONSALE","searchable":false,"facetable":false},{"storeDisplay":false,"values":[{"sequence":"1","value":"False","uniqueID":"7741124012283355350","unitOfMeasure":"","unitID":"","identifier":"False"}],"sequence":"41","name":"Vintage Celebration","associatedKeyword":"-","usage":"Descriptive","uniqueID":"7741124012283348837","displayable":false,"comparable":false,"identifier":"VINTAGE CELEBRATION","searchable":false,"facetable":false},{"storeDisplay":false,"values":[{"sequence":"1","value":"False","uniqueID":"7741124012283336902","unitOfMeasure":"","unitID":"","identifier":"False"}],"sequence":"42","name":"Foldable","associatedKeyword":"-","usage":"Descriptive","uniqueID":"7741124012283334366","displayable":false,"comparable":false,"identifier":"FOLDABLE","searchable":true,"facetable":true},{"storeDisplay":false,"values":[{"sequence":"4","value":"Optical","uniqueID":"7741124012283333657","unitOfMeasure":"","unitID":"","identifier":"Optical"}],"sequence":"43","name":"Producttype","associatedKeyword":"-","usage":"Descriptive","uniqueID":"7741124012283333376","displayable":false,"comparable":false,"identifier":"PRODUCTTYPE","searchable":true,"facetable":false},{"storeDisplay":false,"values":[{"sequence":"1","value":"False","uniqueID":"7741124012284859336","unitOfMeasure":"","unitID":"","identifier":"False"}],"sequence":"44","name":"AVANT_PREMIERE","associatedKeyword":"-","usage":"Descriptive","uniqueID":"7741124012284251835","displayable":false,"comparable":false,"identifier":"AVANT_PREMIERE","searchable":false,"facetable":false},{"storeDisplay":false,"values":[{"image1":"https:\/\/assets.persol.com\/extra\/image\/TargetOptical\/filters\/blue-brush.png","sequence":"5","value":"Blue","uniqueID":"7741124012283335940","image1path":"https:\/\/assets.persol.com\/extra\/image\/TargetOptical\/filters\/blue-brush.png","unitOfMeasure":"","unitID":"","identifier":"Blue"}],"sequence":"45","name":"Front inner color","associatedKeyword":"-","usage":"Descriptive","uniqueID":"7741124012283334341","displayable":false,"comparable":false,"identifier":"FRONT_INNER_COLOR","searchable":false,"facetable":false},{"storeDisplay":false,"values":[{"image1":"https:\/\/assets.persol.com\/extra\/image\/TargetOptical\/filters\/blue-brush.png","sequence":"1","value":"Blue","uniqueID":"7741124012283336258","image1path":"https:\/\/assets.persol.com\/extra\/image\/TargetOptical\/filters\/blue-brush.png","unitOfMeasure":"","unitID":"","identifier":"Blue"}],"sequence":"46","name":"Temple inner color","associatedKeyword":"-","usage":"Descriptive","uniqueID":"7741124012283334356","displayable":false,"comparable":false,"identifier":"TEMPLE_INNER_COLOR","searchable":false,"facetable":false},{"storeDisplay":false,"values":[{"image1":"https:\/\/assets.persol.com\/extra\/image\/TargetOptical\/filters\/blue-brush.png","sequence":"2","value":"Blue","uniqueID":"7741124012283336240","image1path":"https:\/\/assets.persol.com\/extra\/image\/TargetOptical\/filters\/blue-brush.png","unitOfMeasure":"","unitID":"","identifier":"Blue"}],"sequence":"47","name":"Temple color facet","associatedKeyword":"-","usage":"Descriptive","uniqueID":"7741124012283334355","displayable":false,"comparable":false,"identifier":"TEMPLE_COLOR_FACET","searchable":true,"facetable":false},{"storeDisplay":false,"values":[{"sequence":"2","value":"True","uniqueID":"7741124012284859902","unitOfMeasure":"","unitID":"","identifier":"True"}],"sequence":"48","name":"MEFLECTO","associatedKeyword":"-","usage":"Descriptive","uniqueID":"7741124012284251847","displayable":false,"comparable":false,"identifier":"MEFLECTO","searchable":false,"facetable":false},{"storeDisplay":false,"values":[{"sequence":"1","value":"Global","uniqueID":"7741124012283336916","unitOfMeasure":"","unitID":"","identifier":"Global"}],"sequence":"49","name":"Fitting","associatedKeyword":"-","usage":"Descriptive","uniqueID":"7741124012283334369","displayable":false,"comparable":false,"identifier":"GEO_FIT","searchable":true,"facetable":false}],"storeID":"715838084","numberOfSKUs":1,"partNumber":"0PO3007V__1015"},{"hasSingleSKU":false,"catalogEntryTypeCode":"ProductBean","associationType":"REPLACEMENT","parentCatalogGroupID":["3074457345616676668_3074457345616676669","3074457345616681818_3074457345616678178","3074457345616681818_3074457345616694171","3074457345616681818_3074457345616695669","3074457345616681818_3074457345616696188","3074457345616681818_3074457345616696193","3074457345616681818_3074457345616696201","3074457345616681818_3074457345616700168","3074457345616681818_3074457345616700669","3074457345616681818_3074457345616700670","3074457345616681818_3074457345616715669","3074457345616681818_3074457345616716181","3074457345616681818_3074457345616716187","3074457345616681818_3074457345616716189"],"price_USD":"265.0","uniqueID":"3074457345616812223","sKUs":[{"hasSingleSKU":false,"catalogEntryTypeCode":"ItemBean","parentCatalogGroupID":["3074457345616676668_3074457345616676669","3074457345616681818_3074457345616678178","3074457345616681818_3074457345616694171","3074457345616681818_3074457345616695669","3074457345616681818_3074457345616696188","3074457345616681818_3074457345616696193","3074457345616681818_3074457345616696201","3074457345616681818_3074457345616700168","3074457345616681818_3074457345616700669","3074457345616681818_3074457345616700670","3074457345616681818_3074457345616715669","3074457345616681818_3074457345616716181","3074457345616681818_3074457345616716187","3074457345616681818_3074457345616716189"],"uniqueID":"3074457345616812736","resourceId":"http:\/\/lux-prdlv-src01.lux-ecomm.net:3737\/search\/resources\/store\/715838388\/productview\/byId\/3074457345616812736","price":[{"description":"L","value":"","usage":"Display","currency":"USD"},{"description":"O","value":"","usage":"Offer","currency":"USD"}],"thumbnail":"https:\/\/assets.persol.com\/is\/image\/Persol\/8056597374453_noshad_fr.png?impolicy=HB_parameters&sclw=0.25&sclh=0.25","shortDescription":"PO3007V 1137 50-19","mfPartNumber_ntk":"0PO3007V","name":"PO3007V 1137 50-19","buyable":"true","storeID":"715838084","attributes":[{"storeDisplay":false,"values":[{"sequence":"1","value":"Standard","uniqueID":"7741124012283336345","unitOfMeasure":"","unitID":"","identifier":"Standard"}],"sequence":"1","name":"Size","usage":"Defining","uniqueID":"7741124012283334359","displayable":true,"comparable":false,"identifier":"MODEL_SIZE_DISPLAY","searchable":false,"facetable":false},{"storeDisplay":false,"values":[{"sequence":"2","value":"Demo Lens","uniqueID":"7741124012283336896","unitOfMeasure":"","unitID":"","identifier":"Demo Lens"}],"sequence":"3","name":"Lens treatment","usage":"Descriptive","uniqueID":"7741124012283334364","displayable":false,"comparable":false,"identifier":"LENS_TREATMENT","searchable":false,"facetable":false},{"storeDisplay":false,"values":[{"sequence":"1","value":"Material-acetate;arrow-all;meflecto-all","uniqueID":"7741124012284859903","unitOfMeasure":"","unitID":"","identifier":"Material-acetate;arrow-all;meflecto-all"}],"sequence":"467","name":"FEATURES","usage":"Descriptive","uniqueID":"7741124012284251845","displayable":false,"comparable":false,"identifier":"FEATURES","searchable":false,"facetable":false},{"storeDisplay":false,"values":[{"sequence":"1","value":"50","uniqueID":"7741124012283336334","unitOfMeasure":"","unitID":"","identifier":"50"}],"sequence":"467","name":"Model size","usage":"Descriptive","uniqueID":"7741124012283334358","displayable":false,"comparable":false,"identifier":"MODEL_SIZE","searchable":false,"facetable":false},{"storeDisplay":false,"values":[{"sequence":"1","value":"Zpfn","uniqueID":"7741124012283336923","unitOfMeasure":"","unitID":"","identifier":"Zpfn"}],"sequence":"467","name":"Materialtype","usage":"Descriptive","uniqueID":"7741124012283334372","displayable":false,"comparable":false,"identifier":"MATERIALTYPE","searchable":false,"facetable":false},{"storeDisplay":false,"values":[{"sequence":"1","value":"19","uniqueID":"7741124012283336885","unitOfMeasure":"","unitID":"","identifier":"19"}],"sequence":"467","name":"Lens bridge","usage":"Descriptive","uniqueID":"7741124012283334362","displayable":false,"comparable":false,"identifier":"LENS_BRIDGE","searchable":false,"facetable":false},{"storeDisplay":false,"values":[{"sequence":"2","value":"PO3007V 1137 50-19","uniqueID":"7741124012285955529","unitOfMeasure":"","unitID":"","identifier":"PO3007V 1137 50-19"}],"sequence":"467","name":"Displaysku","usage":"Descriptive","uniqueID":"7741124012283364836","displayable":false,"comparable":false,"identifier":"DISPLAYSKU","searchable":false,"facetable":false},{"storeDisplay":false,"values":[{"sequence":"4","value":"145","uniqueID":"7741124012283336892","unitOfMeasure":"","unitID":"","identifier":"145"}],"sequence":"467","name":"Temple length","usage":"Descriptive","uniqueID":"7741124012283334363","displayable":false,"comparable":false,"identifier":"TEMPLE_LENGTH","searchable":false,"facetable":false},{"storeDisplay":false,"values":[{"sequence":"1","value":"1137 50","uniqueID":"7741124012285955467","unitOfMeasure":"","unitID":"","identifier":"1137 50"}],"sequence":"467","name":"Grid Value","usage":"Descriptive","uniqueID":"7741124012283364837","displayable":true,"comparable":false,"identifier":"GRID VALUE","searchable":false,"facetable":false},{"storeDisplay":false,"values":[{"sequence":"1","value":"Trending Now","uniqueID":"7741124012284582837","unitOfMeasure":"","unitID":"","identifier":"Trending Now"}],"sequence":"467","name":"Primary family","usage":"Descriptive","uniqueID":"7741124012284026836","displayable":false,"comparable":false,"identifier":"PRIMARY_FAMILY","searchable":false,"facetable":false},{"storeDisplay":false,"values":[{"sequence":"1","value":"Demo Lens","uniqueID":"7741124012283336900","unitOfMeasure":"","unitID":"","identifier":"Demo Lens"}],"sequence":"467","name":"Lens type","usage":"Descriptive","uniqueID":"7741124012283334365","displayable":false,"comparable":false,"identifier":"LENS_TREATMENT_FACET","searchable":true,"facetable":true},{"storeDisplay":false,"values":[{"sequence":"5","value":"Supreme 3,5","uniqueID":"7741124012283355340","unitOfMeasure":"","unitID":"","identifier":"Supreme 3,5"}],"sequence":"1648","name":"Arrow","usage":"Descriptive","uniqueID":"7741124012283348835","displayable":false,"comparable":false,"identifier":"ARROW","searchable":false,"facetable":false}],"partNumber":"8056597374453"},{"hasSingleSKU":false,"catalogEntryTypeCode":"ItemBean","parentCatalogGroupID":["3074457345616676668_3074457345616676669","3074457345616681818_3074457345616678178","3074457345616681818_3074457345616694171","3074457345616681818_3074457345616695669","3074457345616681818_3074457345616696188","3074457345616681818_3074457345616696193","3074457345616681818_3074457345616696201","3074457345616681818_3074457345616700168","3074457345616681818_3074457345616700669","3074457345616681818_3074457345616700670","3074457345616681818_3074457345616715669","3074457345616681818_3074457345616716181","3074457345616681818_3074457345616716187","3074457345616681818_3074457345616716189"],"uniqueID":"3074457345616812738","resourceId":"http:\/\/lux-prdlv-src01.lux-ecomm.net:3737\/search\/resources\/store\/715838388\/productview\/byId\/3074457345616812738","price":[{"description":"L","value":"","usage":"Display","currency":"USD"},{"description":"O","value":"","usage":"Offer","currency":"USD"}],"thumbnail":"https:\/\/assets.persol.com\/is\/image\/Persol\/8056597374477_noshad_fr.png?impolicy=HB_parameters&sclw=0.25&sclh=0.25","shortDescription":"PO3007V 1137 52-19","mfPartNumber_ntk":"0PO3007V","name":"PO3007V 1137 52-19","buyable":"true","storeID":"715838084","attributes":[{"storeDisplay":false,"values":[{"sequence":"3","value":"Large","uniqueID":"7741124012283336346","unitOfMeasure":"","unitID":"","identifier":"Large"}],"sequence":"1","name":"Size","usage":"Defining","uniqueID":"7741124012283334359","displayable":true,"comparable":false,"identifier":"MODEL_SIZE_DISPLAY","searchable":false,"facetable":false},{"storeDisplay":false,"values":[{"sequence":"2","value":"Demo Lens","uniqueID":"7741124012283336896","unitOfMeasure":"","unitID":"","identifier":"Demo Lens"}],"sequence":"3","name":"Lens treatment","usage":"Descriptive","uniqueID":"7741124012283334364","displayable":false,"comparable":false,"identifier":"LENS_TREATMENT","searchable":false,"facetable":false},{"storeDisplay":false,"values":[{"sequence":"4","value":"145","uniqueID":"7741124012283336892","unitOfMeasure":"","unitID":"","identifier":"145"}],"sequence":"469","name":"Temple length","usage":"Descriptive","uniqueID":"7741124012283334363","displayable":false,"comparable":false,"identifier":"TEMPLE_LENGTH","searchable":false,"facetable":false},{"storeDisplay":false,"values":[{"sequence":"3","value":"1137 52","uniqueID":"7741124012285955469","unitOfMeasure":"","unitID":"","identifier":"1137 52"}],"sequence":"469","name":"Grid Value","usage":"Descriptive","uniqueID":"7741124012283364837","displayable":true,"comparable":false,"identifier":"GRID VALUE","searchable":false,"facetable":false},{"storeDisplay":false,"values":[{"sequence":"1","value":"Demo Lens","uniqueID":"7741124012283336900","unitOfMeasure":"","unitID":"","identifier":"Demo Lens"}],"sequence":"469","name":"Lens type","usage":"Descriptive","uniqueID":"7741124012283334365","displayable":false,"comparable":false,"identifier":"LENS_TREATMENT_FACET","searchable":true,"facetable":true},{"storeDisplay":false,"values":[{"sequence":"1","value":"19","uniqueID":"7741124012283336885","unitOfMeasure":"","unitID":"","identifier":"19"}],"sequence":"469","name":"Lens bridge","usage":"Descriptive","uniqueID":"7741124012283334362","displayable":false,"comparable":false,"identifier":"LENS_BRIDGE","searchable":false,"facetable":false},{"storeDisplay":false,"values":[{"sequence":"1","value":"Trending Now","uniqueID":"7741124012284582837","unitOfMeasure":"","unitID":"","identifier":"Trending Now"}],"sequence":"469","name":"Primary family","usage":"Descriptive","uniqueID":"7741124012284026836","displayable":false,"comparable":false,"identifier":"PRIMARY_FAMILY","searchable":false,"facetable":false},{"storeDisplay":false,"values":[{"sequence":"1","value":"Material-acetate;arrow-all;meflecto-all","uniqueID":"7741124012284859903","unitOfMeasure":"","unitID":"","identifier":"Material-acetate;arrow-all;meflecto-all"}],"sequence":"469","name":"FEATURES","usage":"Descriptive","uniqueID":"7741124012284251845","displayable":false,"comparable":false,"identifier":"FEATURES","searchable":false,"facetable":false},{"storeDisplay":false,"values":[{"sequence":"3","value":"52","uniqueID":"7741124012283336336","unitOfMeasure":"","unitID":"","identifier":"52"}],"sequence":"469","name":"Model size","usage":"Descriptive","uniqueID":"7741124012283334358","displayable":false,"comparable":false,"identifier":"MODEL_SIZE","searchable":false,"facetable":false},{"storeDisplay":false,"values":[{"sequence":"1","value":"Zpfn","uniqueID":"7741124012283336923","unitOfMeasure":"","unitID":"","identifier":"Zpfn"}],"sequence":"469","name":"Materialtype","usage":"Descriptive","uniqueID":"7741124012283334372","displayable":false,"comparable":false,"identifier":"MATERIALTYPE","searchable":false,"facetable":false},{"storeDisplay":false,"values":[{"sequence":"5","value":"PO3007V 1137 52-19","uniqueID":"7741124012285955546","unitOfMeasure":"","unitID":"","identifier":"PO3007V 1137 52-19"}],"sequence":"469","name":"Displaysku","usage":"Descriptive","uniqueID":"7741124012283364836","displayable":false,"comparable":false,"identifier":"DISPLAYSKU","searchable":false,"facetable":false},{"storeDisplay":false,"values":[{"sequence":"5","value":"Supreme 3,5","uniqueID":"7741124012283355340","unitOfMeasure":"","unitID":"","identifier":"Supreme 3,5"}],"sequence":"1650","name":"Arrow","usage":"Descriptive","uniqueID":"7741124012283348835","displayable":false,"comparable":false,"identifier":"ARROW","searchable":false,"facetable":false}],"partNumber":"8056597374477"}],"resourceId":"http:\/\/lux-prdlv-src01.lux-ecomm.net:3737\/search\/resources\/store\/715838388\/productview\/byId\/3074457345616812223","price":[{"description":"L","value":"265.0","usage":"Display","currency":"USD"},{"description":"O","value":"","usage":"Offer","currency":"USD"}],"thumbnail":"https:\/\/assets.persol.com\/is\/image\/Persol\/8056597374453_noshad_fr.png?impolicy=HB_parameters&sclw=0.25&sclh=0.25","shortDescription":"PO3007V","mfPartNumber_ntk":"0PO3007V","name":"PO3007V","buyable":"true","quantity":1,"attributes":[{"storeDisplay":false,"values":[{"sequence":"5","value":"PO3007V","uniqueID":"7741124012283444287","unitOfMeasure":"","unitID":"","identifier":"PO3007V"}],"sequence":"0","name":"Model code","associatedKeyword":"-","usage":"Descriptive","uniqueID":"7741124012283334373","displayable":true,"comparable":false,"identifier":"MODEL_CODE_DISPLAY","searchable":false,"facetable":false},{"storeDisplay":false,"values":[{"sequence":"5","value":"Striped Brown","uniqueID":"7741124012283335907","unitOfMeasure":"","unitID":"","identifier":"Striped Brown"}],"sequence":"1","name":"Front color","associatedKeyword":"-","usage":"Descriptive","uniqueID":"7741124012283334339","displayable":true,"comparable":false,"identifier":"FRONT_COLOR","searchable":false,"facetable":false},{"storeDisplay":false,"values":[{"sequence":"1","value":"Standard","uniqueID":"7741124012283336345","unitOfMeasure":"","unitID":"","identifier":"Standard"},{"sequence":"3","value":"Large","uniqueID":"7741124012283336346","unitOfMeasure":"","unitID":"","identifier":"Large"}],"sequence":"1","name":"Size","associatedKeyword":"-","usage":"Defining","uniqueID":"7741124012283334359","displayable":true,"comparable":false,"identifier":"MODEL_SIZE_DISPLAY","searchable":false,"facetable":false},{"storeDisplay":false,"values":[{"sequence":"3","value":"202008","uniqueID":"7741124012285701342","unitOfMeasure":"","unitID":"","identifier":"202008"}],"sequence":"1","name":"Collection","associatedKeyword":"-","usage":"Descriptive","uniqueID":"7741124012283334335","displayable":false,"comparable":false,"identifier":"COLLECTION","searchable":true,"facetable":false},{"storeDisplay":false,"values":[{"sequence":"1","value":"Demo Lens","uniqueID":"7741124012283336054","unitOfMeasure":"","unitID":"","identifier":"Demo Lens"}],"sequence":"2","name":"Lens color","associatedKeyword":"-","usage":"Descriptive","uniqueID":"7741124012283334346","displayable":true,"comparable":false,"identifier":"LENS_COLOR","searchable":false,"facetable":false},{"storeDisplay":false,"values":[{"sequence":"5","value":"Square","uniqueID":"7741124012283336911","unitOfMeasure":"","unitID":"","identifier":"Square"}],"sequence":"2","name":"Frame shape","associatedKeyword":"-","usage":"Descriptive","uniqueID":"7741124012283334367","displayable":false,"comparable":false,"identifier":"FRAME_SHAPE","searchable":false,"facetable":false},{"storeDisplay":false,"values":[{"sequence":"1","value":"False","uniqueID":"7741124012285955768","unitOfMeasure":"","unitID":"","identifier":"False"}],"sequence":"3","name":"Photochromic","associatedKeyword":"-","usage":"Descriptive","uniqueID":"7741124012284852335","displayable":false,"comparable":false,"identifier":"PHOTOCHROMIC","searchable":true,"facetable":true},{"storeDisplay":false,"values":[{"sequence":"2","value":"Demo Lens","uniqueID":"7741124012283336896","unitOfMeasure":"","unitID":"","identifier":"Demo Lens"}],"sequence":"3","name":"Lens treatment","associatedKeyword":"-","usage":"Descriptive","uniqueID":"7741124012283334364","displayable":false,"comparable":false,"identifier":"LENS_TREATMENT","searchable":false,"facetable":false},{"storeDisplay":false,"values":[{"sequence":"2","value":"Acetate","uniqueID":"7741124012283335870","unitOfMeasure":"","unitID":"","identifier":"Acetate"}],"sequence":"4","name":"Frame material","associatedKeyword":"-","usage":"Descriptive","uniqueID":"7741124012283334338","displayable":false,"comparable":false,"identifier":"FRAMEMATERIAL_FACET","searchable":true,"facetable":true},{"storeDisplay":false,"values":[{"sequence":"1","value":"False","uniqueID":"7741124012283336065","unitOfMeasure":"","unitID":"","identifier":"False"}],"sequence":"5","name":"Limited edition","associatedKeyword":"-","usage":"Descriptive","uniqueID":"7741124012283334347","displayable":false,"comparable":false,"identifier":"LIMITED_EDITION","searchable":false,"facetable":false},{"storeDisplay":false,"values":[{"sequence":"4","value":"Striped Brown","uniqueID":"7741124012283336220","unitOfMeasure":"","unitID":"","identifier":"Striped Brown"}],"sequence":"6","name":"Temple color","associatedKeyword":"-","usage":"Descriptive","uniqueID":"7741124012283334354","displayable":false,"comparable":false,"identifier":"TEMPLE_COLOR","searchable":false,"facetable":false},{"storeDisplay":false,"values":[{"sequence":"4","value":"Acetate","uniqueID":"7741124012283335867","unitOfMeasure":"","unitID":"","identifier":"Acetate"}],"sequence":"6","name":"Frame Material","associatedKeyword":"-","usage":"Descriptive","uniqueID":"7741124012283334337","displayable":true,"comparable":false,"identifier":"FRAMEMATERIAL","searchable":false,"facetable":false},{"storeDisplay":false,"values":[{"sequence":"1","value":"Not Adjustable","uniqueID":"7741124012284859354","unitOfMeasure":"","unitID":"","identifier":"Not Adjustable"}],"sequence":"7","name":"Nosepads","associatedKeyword":"-","usage":"Descriptive","uniqueID":"7741124012284251840","displayable":true,"comparable":false,"identifier":"NOSEPADS","searchable":true,"facetable":true},{"storeDisplay":false,"values":[{"sequence":"1","value":"1","uniqueID":"7741124012284859356","unitOfMeasure":"","unitID":"","identifier":"1"}],"sequence":"8","name":"PLACEHOLDER_SIZE","associatedKeyword":"-","usage":"Descriptive","uniqueID":"7741124012284251841","displayable":true,"comparable":false,"identifier":"PLACEHOLDER_SIZE","searchable":false,"facetable":false},{"storeDisplay":false,"values":[{"sequence":"1","value":"Polished","uniqueID":"7741124012284859363","unitOfMeasure":"","unitID":"","identifier":"Polished"}],"sequence":"8","name":"FINISHING","associatedKeyword":"-","usage":"Descriptive","uniqueID":"7741124012284251844","displayable":false,"comparable":false,"identifier":"FINISHING","searchable":false,"facetable":false},{"storeDisplay":false,"values":[{"sequence":"5","value":"Keyhole Bridge","uniqueID":"7741124012284859339","unitOfMeasure":"","unitID":"","identifier":"Keyhole Bridge"}],"sequence":"9","name":"BRIDGE TYPE","associatedKeyword":"-","usage":"Descriptive","uniqueID":"7741124012284251836","displayable":false,"comparable":false,"identifier":"BRIDGE TYPE","searchable":false,"facetable":false},{"storeDisplay":false,"values":[{"sequence":"1","value":"Standard","uniqueID":"7741124012284859365","unitOfMeasure":"","unitID":"","identifier":"Standard"}],"sequence":"9","name":"FRAME FIT","associatedKeyword":"-","usage":"Descriptive","uniqueID":"7741124012284251846","displayable":true,"comparable":false,"identifier":"FRAME FIT","searchable":false,"facetable":false},{"storeDisplay":false,"values":[{"sequence":"1","value":"Italy","uniqueID":"7741124012283336067","unitOfMeasure":"","unitID":"","identifier":"Italy"}],"sequence":"10","name":"Made in","associatedKeyword":"-","usage":"Descriptive","uniqueID":"7741124012283334348","displayable":true,"comparable":false,"identifier":"MADEIN","searchable":false,"facetable":false},{"storeDisplay":false,"values":[{"sequence":"3","value":"Full Rim","uniqueID":"7741124012283360863","unitOfMeasure":"","unitID":"","identifier":"Full Rim"}],"sequence":"10","name":"Frame type","associatedKeyword":"-","usage":"Descriptive","uniqueID":"7741124012283334370","displayable":false,"comparable":false,"identifier":"FRAMETYPE","searchable":true,"facetable":false},{"storeDisplay":false,"values":[{"sequence":"4","value":"Mini Supreme Acetate","uniqueID":"7741124012283355349","unitOfMeasure":"","unitID":"","identifier":"Mini Supreme Acetate"}],"sequence":"11","name":"Temple logo","associatedKeyword":"-","usage":"Descriptive","uniqueID":"7741124012283348836","displayable":false,"comparable":true,"identifier":"TEMPLE_LOGO","searchable":false,"facetable":false},{"storeDisplay":false,"values":[{"sequence":"3","value":"Round Face;oval Face","uniqueID":"7741124012284860410","unitOfMeasure":"","unitID":"","identifier":"Round Face;oval Face"}],"sequence":"11","name":"SUGGESTED FACE SHAPE","associatedKeyword":"-","usage":"Descriptive","uniqueID":"7741124012284251843","displayable":false,"comparable":false,"identifier":"SUGGESTED_FACE_SHAPE","searchable":false,"facetable":false},{"storeDisplay":false,"values":[{"sequence":"3","value":"1137","uniqueID":"7741124012285955754","unitOfMeasure":"","unitID":"","identifier":"1137"}],"sequence":"12","name":"COLOR CODE","associatedKeyword":"-","usage":"Descriptive","uniqueID":"7741124012284253335","displayable":false,"comparable":false,"identifier":"COLOR CODE","searchable":false,"facetable":false},{"storeDisplay":false,"values":[{"sequence":"3","value":"Other","uniqueID":"7741124012283444307","unitOfMeasure":"","unitID":"","identifier":"Other"}],"sequence":"14","name":"Model family","associatedKeyword":"-","usage":"Descriptive","uniqueID":"7741124012283333374","displayable":false,"comparable":false,"identifier":"MODEL_FAMILY","searchable":true,"facetable":true},{"storeDisplay":false,"values":[{"sequence":"5","value":"Grey","uniqueID":"7741124012283336317","unitOfMeasure":"","unitID":"","identifier":"Grey"}],"sequence":"15","name":"Temple inner color facet","associatedKeyword":"-","usage":"Descriptive","uniqueID":"7741124012283334357","displayable":false,"comparable":false,"identifier":"TEMPLE_INNER_COLOR_FACET","searchable":true,"facetable":false},{"storeDisplay":false,"values":[{"sequence":"1","value":"False","uniqueID":"7741124012283337030","unitOfMeasure":"","unitID":"","identifier":"False"}],"sequence":"17","name":"Noreturn","associatedKeyword":"-","usage":"Descriptive","uniqueID":"7741124012283334374","displayable":false,"comparable":false,"identifier":"NORETURN","searchable":false,"facetable":false},{"storeDisplay":false,"values":[{"sequence":"2","value":"True","uniqueID":"7741124012284859353","unitOfMeasure":"","unitID":"","identifier":"True"}],"sequence":"19","name":"ENGRAVINGELIGIBLE","associatedKeyword":"-","usage":"Descriptive","uniqueID":"7741124012284251838","displayable":false,"comparable":false,"identifier":"ENGRAVINGELIGIBLE","searchable":false,"facetable":false},{"storeDisplay":false,"values":[{"sequence":"1","value":"Galleria","uniqueID":"7741124012283336920","unitOfMeasure":"","unitID":"","identifier":"Galleria"}],"sequence":"20","name":"Range","associatedKeyword":"-","usage":"Descriptive","uniqueID":"7741124012283334371","displayable":false,"comparable":false,"identifier":"RANGE","searchable":false,"facetable":true},{"storeDisplay":false,"values":[{"sequence":"1","value":"Demo Lens","uniqueID":"7741124012283336042","unitOfMeasure":"","unitID":"","identifier":"Demo Lens"}],"sequence":"21","name":"Lens color","associatedKeyword":"-","usage":"Descriptive","uniqueID":"7741124012283334345","displayable":false,"comparable":false,"identifier":"LENS_COLOR_FACET","searchable":true,"facetable":true},{"storeDisplay":false,"values":[{"sequence":"2","value":"True","uniqueID":"7741124012283336069","unitOfMeasure":"","unitID":"","identifier":"True"}],"sequence":"22","name":"Newreleases","associatedKeyword":"-","usage":"Descriptive","uniqueID":"7741124012283334349","displayable":false,"comparable":false,"identifier":"NEWRELEASES","searchable":true,"facetable":false},{"storeDisplay":false,"values":[{"sequence":"0","value":"0","uniqueID":"0","unitOfMeasure":"","unitID":"","identifier":"0"}],"sequence":"24","name":"Clen","associatedKeyword":"-","usage":"Descriptive","uniqueID":"7741124012283334344","displayable":false,"comparable":false,"identifier":"CLEN","searchable":false,"facetable":false},{"storeDisplay":false,"values":[{"sequence":"5","value":"Supreme 3,5","uniqueID":"7741124012283355340","unitOfMeasure":"","unitID":"","identifier":"Supreme 3,5"}],"sequence":"25","name":"Arrow","associatedKeyword":"-","usage":"Descriptive","uniqueID":"7741124012283348835","displayable":false,"comparable":false,"identifier":"ARROW","searchable":false,"facetable":false},{"storeDisplay":false,"values":[{"sequence":"3","value":"364415","uniqueID":"7741124012285955732","unitOfMeasure":"","unitID":"","identifier":"364415"}],"sequence":"27","name":"Sequence","associatedKeyword":"-","usage":"Descriptive","uniqueID":"7741124012283593337","displayable":false,"comparable":false,"identifier":"SEQUENCE","searchable":true,"facetable":false},{"storeDisplay":false,"values":[{"sequence":"2","value":"Man","uniqueID":"7741124012283336014","unitOfMeasure":"","unitID":"","identifier":"Man"}],"sequence":"28","name":"Gender","associatedKeyword":"-","usage":"Descriptive","uniqueID":"7741124012283334343","displayable":false,"comparable":false,"identifier":"GENDER","searchable":true,"facetable":true},{"storeDisplay":false,"values":[{"sequence":"1","value":"False","uniqueID":"7741124012284860407","unitOfMeasure":"","unitID":"","identifier":"False"}],"sequence":"29","name":"Flex","associatedKeyword":"-","usage":"Descriptive","uniqueID":"7741124012283364835","displayable":false,"comparable":false,"identifier":"FLEX","searchable":false,"facetable":false},{"storeDisplay":false,"values":[{"sequence":"3","value":"True","uniqueID":"7741124012284582836","unitOfMeasure":"","unitID":"","identifier":"True"}],"sequence":"30","name":"Best Sellers","associatedKeyword":"-","usage":"Descriptive","uniqueID":"7741124012284026835","displayable":false,"comparable":false,"identifier":"BESTSELLERS","searchable":false,"facetable":false},{"storeDisplay":false,"values":[{"sequence":"3","value":"Grey","uniqueID":"7741124012283336001","unitOfMeasure":"","unitID":"","identifier":"Grey"}],"sequence":"31","name":"Front inner color facet","associatedKeyword":"-","usage":"Descriptive","uniqueID":"7741124012283334342","displayable":false,"comparable":false,"identifier":"FRONT_INNER_COLOR_FACET","searchable":true,"facetable":false},{"storeDisplay":false,"values":[{"sequence":"2","value":"PO3007V","uniqueID":"7741124012283336084","unitOfMeasure":"","unitID":"","identifier":"PO3007V"}],"sequence":"32","name":"Modelname","associatedKeyword":"-","usage":"Descriptive","uniqueID":"7741124012283334353","displayable":false,"comparable":false,"identifier":"MODELNAME","searchable":true,"facetable":false},{"storeDisplay":false,"values":[{"sequence":"1","value":"False","uniqueID":"7741124012283335865","unitOfMeasure":"","unitID":"","identifier":"False"}],"sequence":"33","name":"Exclusive","associatedKeyword":"-","usage":"Descriptive","uniqueID":"7741124012283334336","displayable":false,"comparable":false,"identifier":"EXCLUSIVE","searchable":false,"facetable":true},{"storeDisplay":false,"values":[{"image1":"https:\/\/assets.persol.com\/extra\/image\/Persol\/filters\/grey.png","sequence":"3","value":"Grey","uniqueID":"7741124012283335929","image1path":"https:\/\/assets.persol.com\/extra\/image\/Persol\/filters\/grey.png","unitOfMeasure":"","unitID":"","identifier":"Grey"}],"sequence":"34","name":"Frame color","associatedKeyword":"-","usage":"Descriptive","uniqueID":"7741124012283334340","displayable":false,"comparable":false,"identifier":"FRONT_COLOR_FACET","searchable":true,"facetable":true},{"storeDisplay":false,"values":[{"sequence":"1","value":"Square","uniqueID":"7741124012283336915","unitOfMeasure":"","unitID":"","identifier":"Square"}],"sequence":"36","name":"Frame shape","associatedKeyword":"-","usage":"Descriptive","uniqueID":"7741124012283334368","displayable":false,"comparable":false,"identifier":"FRAME_SHAPE_FACET","searchable":true,"facetable":true},{"storeDisplay":false,"values":[{"sequence":"1","value":"False","uniqueID":"7741124012283336078","unitOfMeasure":"","unitID":"","identifier":"False"}],"sequence":"37","name":"Polarized","associatedKeyword":"-","usage":"Descriptive","uniqueID":"7741124012283334352","displayable":false,"comparable":false,"identifier":"POLARIZED","searchable":true,"facetable":true},{"storeDisplay":false,"values":[{"sequence":"1","value":"False","uniqueID":"7741124012283336077","unitOfMeasure":"","unitID":"","identifier":"False"}],"sequence":"38","name":"Onsale","associatedKeyword":"-","usage":"Descriptive","uniqueID":"7741124012283334351","displayable":false,"comparable":false,"identifier":"ONSALE","searchable":false,"facetable":false},{"storeDisplay":false,"values":[{"sequence":"1","value":"False","uniqueID":"7741124012283355350","unitOfMeasure":"","unitID":"","identifier":"False"}],"sequence":"40","name":"Vintage Celebration","associatedKeyword":"-","usage":"Descriptive","uniqueID":"7741124012283348837","displayable":false,"comparable":false,"identifier":"VINTAGE CELEBRATION","searchable":false,"facetable":false},{"storeDisplay":false,"values":[{"sequence":"1","value":"False","uniqueID":"7741124012283336902","unitOfMeasure":"","unitID":"","identifier":"False"}],"sequence":"41","name":"Foldable","associatedKeyword":"-","usage":"Descriptive","uniqueID":"7741124012283334366","displayable":false,"comparable":false,"identifier":"FOLDABLE","searchable":true,"facetable":true},{"storeDisplay":false,"values":[{"sequence":"4","value":"Optical","uniqueID":"7741124012283333657","unitOfMeasure":"","unitID":"","identifier":"Optical"}],"sequence":"42","name":"Producttype","associatedKeyword":"-","usage":"Descriptive","uniqueID":"7741124012283333376","displayable":false,"comparable":false,"identifier":"PRODUCTTYPE","searchable":true,"facetable":false},{"storeDisplay":false,"values":[{"sequence":"1","value":"False","uniqueID":"7741124012284859336","unitOfMeasure":"","unitID":"","identifier":"False"}],"sequence":"43","name":"AVANT_PREMIERE","associatedKeyword":"-","usage":"Descriptive","uniqueID":"7741124012284251835","displayable":false,"comparable":false,"identifier":"AVANT_PREMIERE","searchable":false,"facetable":false},{"storeDisplay":false,"values":[{"sequence":"2","value":"Striped Brown","uniqueID":"7741124012283335976","unitOfMeasure":"","unitID":"","identifier":"Striped Brown"}],"sequence":"44","name":"Front inner color","associatedKeyword":"-","usage":"Descriptive","uniqueID":"7741124012283334341","displayable":false,"comparable":false,"identifier":"FRONT_INNER_COLOR","searchable":false,"facetable":false},{"storeDisplay":false,"values":[{"sequence":"3","value":"Striped Brown","uniqueID":"7741124012283336293","unitOfMeasure":"","unitID":"","identifier":"Striped Brown"}],"sequence":"45","name":"Temple inner color","associatedKeyword":"-","usage":"Descriptive","uniqueID":"7741124012283334356","displayable":false,"comparable":false,"identifier":"TEMPLE_INNER_COLOR","searchable":false,"facetable":false},{"storeDisplay":false,"values":[{"sequence":"2","value":"Grey","uniqueID":"7741124012283336244","unitOfMeasure":"","unitID":"","identifier":"Grey"}],"sequence":"46","name":"Temple color facet","associatedKeyword":"-","usage":"Descriptive","uniqueID":"7741124012283334355","displayable":false,"comparable":false,"identifier":"TEMPLE_COLOR_FACET","searchable":true,"facetable":false},{"storeDisplay":false,"values":[{"sequence":"2","value":"True","uniqueID":"7741124012284859902","unitOfMeasure":"","unitID":"","identifier":"True"}],"sequence":"47","name":"MEFLECTO","associatedKeyword":"-","usage":"Descriptive","uniqueID":"7741124012284251847","displayable":false,"comparable":false,"identifier":"MEFLECTO","searchable":false,"facetable":false},{"storeDisplay":false,"values":[{"sequence":"1","value":"Global","uniqueID":"7741124012283336916","unitOfMeasure":"","unitID":"","identifier":"Global"}],"sequence":"48","name":"Fitting","associatedKeyword":"-","usage":"Descriptive","uniqueID":"7741124012283334369","displayable":false,"comparable":false,"identifier":"GEO_FIT","searchable":true,"facetable":false}],"storeID":"715838084","numberOfSKUs":2,"partNumber":"0PO3007V__1137"},{"hasSingleSKU":false,"catalogEntryTypeCode":"ProductBean","associationType":"REPLACEMENT","parentCatalogGroupID":["3074457345616676668_3074457345616676669","3074457345616681818_3074457345616678178","3074457345616681818_3074457345616696193","3074457345616681818_3074457345616696201","3074457345616681818_3074457345616700168","3074457345616681818_3074457345616700669","3074457345616681818_3074457345616700670","3074457345616681818_3074457345616715669","3074457345616681818_3074457345616716181","3074457345616681818_3074457345616716187","3074457345616681818_3074457345616716189"],"price_USD":"265.0","uniqueID":"3074457345616689752","sKUs":[{"hasSingleSKU":false,"catalogEntryTypeCode":"ItemBean","parentCatalogGroupID":["3074457345616676668_3074457345616676669","3074457345616681818_3074457345616678178","3074457345616681818_3074457345616696193","3074457345616681818_3074457345616696201","3074457345616681818_3074457345616700168","3074457345616681818_3074457345616700669","3074457345616681818_3074457345616700670","3074457345616681818_3074457345616715669","3074457345616681818_3074457345616716181","3074457345616681818_3074457345616716187","3074457345616681818_3074457345616716189"],"uniqueID":"3074457345616689922","resourceId":"http:\/\/lux-prdlv-src01.lux-ecomm.net:3737\/search\/resources\/store\/715838388\/productview\/byId\/3074457345616689922","price":[{"description":"L","value":"","usage":"Display","currency":"USD"},{"description":"O","value":"","usage":"Offer","currency":"USD"}],"thumbnail":"https:\/\/assets.persol.com\/is\/image\/Persol\/8053672896213_noshad_fr.png?impolicy=HB_parameters&sclw=0.25&sclh=0.25","shortDescription":"PO3007V 1012 50-19","mfPartNumber_ntk":"0PO3007V","name":"PO3007V 1012 50-19","buyable":"true","storeID":"715838084","attributes":[{"storeDisplay":false,"values":[{"sequence":"1","value":"Standard","uniqueID":"7741124012283336345","unitOfMeasure":"","unitID":"","identifier":"Standard"}],"sequence":"1","name":"Size","usage":"Defining","uniqueID":"7741124012283334359","displayable":true,"comparable":false,"identifier":"MODEL_SIZE_DISPLAY","searchable":false,"facetable":false},{"storeDisplay":false,"values":[{"sequence":"2","value":"Demo Lens","uniqueID":"7741124012283336896","unitOfMeasure":"","unitID":"","identifier":"Demo Lens"}],"sequence":"3","name":"Lens treatment","usage":"Descriptive","uniqueID":"7741124012283334364","displayable":false,"comparable":false,"identifier":"LENS_TREATMENT","searchable":false,"facetable":false},{"storeDisplay":false,"values":[{"sequence":"1","value":"Zpfn","uniqueID":"7741124012283336923","unitOfMeasure":"","unitID":"","identifier":"Zpfn"}],"sequence":"448","name":"Materialtype","usage":"Descriptive","uniqueID":"7741124012283334372","displayable":false,"comparable":false,"identifier":"MATERIALTYPE","searchable":false,"facetable":false},{"storeDisplay":false,"values":[{"sequence":"1","value":"50","uniqueID":"7741124012283336334","unitOfMeasure":"","unitID":"","identifier":"50"}],"sequence":"448","name":"Model size","usage":"Descriptive","uniqueID":"7741124012283334358","displayable":false,"comparable":false,"identifier":"MODEL_SIZE","searchable":false,"facetable":false},{"storeDisplay":false,"values":[{"sequence":"5","value":"1012 50","uniqueID":"7741124012283444044","unitOfMeasure":"","unitID":"","identifier":"1012 50"}],"sequence":"448","name":"Grid Value","usage":"Descriptive","uniqueID":"7741124012283364837","displayable":true,"comparable":false,"identifier":"GRID VALUE","searchable":false,"facetable":false},{"storeDisplay":false,"values":[{"sequence":"4","value":"145","uniqueID":"7741124012283336892","unitOfMeasure":"","unitID":"","identifier":"145"}],"sequence":"448","name":"Temple length","usage":"Descriptive","uniqueID":"7741124012283334363","displayable":false,"comparable":false,"identifier":"TEMPLE_LENGTH","searchable":false,"facetable":false},{"storeDisplay":false,"values":[{"sequence":"1","value":"Material-acetate;arrow-all;meflecto-all","uniqueID":"7741124012284859903","unitOfMeasure":"","unitID":"","identifier":"Material-acetate;arrow-all;meflecto-all"}],"sequence":"448","name":"FEATURES","usage":"Descriptive","uniqueID":"7741124012284251845","displayable":false,"comparable":false,"identifier":"FEATURES","searchable":false,"facetable":false},{"storeDisplay":false,"values":[{"sequence":"1","value":"Demo Lens","uniqueID":"7741124012283336900","unitOfMeasure":"","unitID":"","identifier":"Demo Lens"}],"sequence":"448","name":"Lens type","usage":"Descriptive","uniqueID":"7741124012283334365","displayable":false,"comparable":false,"identifier":"LENS_TREATMENT_FACET","searchable":true,"facetable":true},{"storeDisplay":false,"values":[{"sequence":"1","value":"19","uniqueID":"7741124012283336885","unitOfMeasure":"","unitID":"","identifier":"19"}],"sequence":"448","name":"Lens bridge","usage":"Descriptive","uniqueID":"7741124012283334362","displayable":false,"comparable":false,"identifier":"LENS_BRIDGE","searchable":false,"facetable":false},{"storeDisplay":false,"values":[{"sequence":"4","value":"PO3007V 1012 50-19","uniqueID":"7741124012283444203","unitOfMeasure":"","unitID":"","identifier":"PO3007V 1012 50-19"}],"sequence":"448","name":"Displaysku","usage":"Descriptive","uniqueID":"7741124012283364836","displayable":false,"comparable":false,"identifier":"DISPLAYSKU","searchable":false,"facetable":false},{"storeDisplay":false,"values":[{"sequence":"5","value":"150","uniqueID":"7741124012283336878","unitOfMeasure":"","unitID":"","identifier":"150"}],"sequence":"448","name":"Grossweight","usage":"Descriptive","uniqueID":"7741124012283334361","displayable":false,"comparable":false,"identifier":"GROSSWEIGHT","searchable":false,"facetable":false},{"storeDisplay":false,"values":[{"sequence":"1","value":"Trending Now","uniqueID":"7741124012284582837","unitOfMeasure":"","unitID":"","identifier":"Trending Now"}],"sequence":"448","name":"Primary family","usage":"Descriptive","uniqueID":"7741124012284026836","displayable":false,"comparable":false,"identifier":"PRIMARY_FAMILY","searchable":false,"facetable":false},{"storeDisplay":false,"values":[{"sequence":"5","value":"Supreme 3,5","uniqueID":"7741124012283355340","unitOfMeasure":"","unitID":"","identifier":"Supreme 3,5"}],"sequence":"1651","name":"Arrow","usage":"Descriptive","uniqueID":"7741124012283348835","displayable":false,"comparable":false,"identifier":"ARROW","searchable":false,"facetable":false}],"partNumber":"8053672896213"},{"hasSingleSKU":false,"catalogEntryTypeCode":"ItemBean","parentCatalogGroupID":["3074457345616676668_3074457345616676669","3074457345616681818_3074457345616678178","3074457345616681818_3074457345616696193","3074457345616681818_3074457345616696201","3074457345616681818_3074457345616700168","3074457345616681818_3074457345616700669","3074457345616681818_3074457345616700670","3074457345616681818_3074457345616715669","3074457345616681818_3074457345616716181","3074457345616681818_3074457345616716187","3074457345616681818_3074457345616716189"],"uniqueID":"3074457345616689923","resourceId":"http:\/\/lux-prdlv-src01.lux-ecomm.net:3737\/search\/resources\/store\/715838388\/productview\/byId\/3074457345616689923","price":[{"description":"L","value":"","usage":"Display","currency":"USD"},{"description":"O","value":"","usage":"Offer","currency":"USD"}],"thumbnail":"https:\/\/assets.persol.com\/is\/image\/Persol\/8053672896237_noshad_fr.png?impolicy=HB_parameters&sclw=0.25&sclh=0.25","shortDescription":"PO3007V 1012 52-19","mfPartNumber_ntk":"0PO3007V","name":"PO3007V 1012 52-19","buyable":"true","storeID":"715838084","attributes":[{"storeDisplay":false,"values":[{"sequence":"3","value":"Large","uniqueID":"7741124012283336346","unitOfMeasure":"","unitID":"","identifier":"Large"}],"sequence":"1","name":"Size","usage":"Defining","uniqueID":"7741124012283334359","displayable":true,"comparable":false,"identifier":"MODEL_SIZE_DISPLAY","searchable":false,"facetable":false},{"storeDisplay":false,"values":[{"sequence":"2","value":"Demo Lens","uniqueID":"7741124012283336896","unitOfMeasure":"","unitID":"","identifier":"Demo Lens"}],"sequence":"3","name":"Lens treatment","usage":"Descriptive","uniqueID":"7741124012283334364","displayable":false,"comparable":false,"identifier":"LENS_TREATMENT","searchable":false,"facetable":false},{"storeDisplay":false,"values":[{"sequence":"3","value":"52","uniqueID":"7741124012283336336","unitOfMeasure":"","unitID":"","identifier":"52"}],"sequence":"449","name":"Model size","usage":"Descriptive","uniqueID":"7741124012283334358","displayable":false,"comparable":false,"identifier":"MODEL_SIZE","searchable":false,"facetable":false},{"storeDisplay":false,"values":[{"sequence":"1","value":"Zpfn","uniqueID":"7741124012283336923","unitOfMeasure":"","unitID":"","identifier":"Zpfn"}],"sequence":"449","name":"Materialtype","usage":"Descriptive","uniqueID":"7741124012283334372","displayable":false,"comparable":false,"identifier":"MATERIALTYPE","searchable":false,"facetable":false},{"storeDisplay":false,"values":[{"sequence":"4","value":"145","uniqueID":"7741124012283336892","unitOfMeasure":"","unitID":"","identifier":"145"}],"sequence":"449","name":"Temple length","usage":"Descriptive","uniqueID":"7741124012283334363","displayable":false,"comparable":false,"identifier":"TEMPLE_LENGTH","searchable":false,"facetable":false},{"storeDisplay":false,"values":[{"sequence":"2","value":"1012 52","uniqueID":"7741124012283444046","unitOfMeasure":"","unitID":"","identifier":"1012 52"}],"sequence":"449","name":"Grid Value","usage":"Descriptive","uniqueID":"7741124012283364837","displayable":true,"comparable":false,"identifier":"GRID VALUE","searchable":false,"facetable":false},{"storeDisplay":false,"values":[{"sequence":"1","value":"Demo Lens","uniqueID":"7741124012283336900","unitOfMeasure":"","unitID":"","identifier":"Demo Lens"}],"sequence":"449","name":"Lens type","usage":"Descriptive","uniqueID":"7741124012283334365","displayable":false,"comparable":false,"identifier":"LENS_TREATMENT_FACET","searchable":true,"facetable":true},{"storeDisplay":false,"values":[{"sequence":"1","value":"19","uniqueID":"7741124012283336885","unitOfMeasure":"","unitID":"","identifier":"19"}],"sequence":"449","name":"Lens bridge","usage":"Descriptive","uniqueID":"7741124012283334362","displayable":false,"comparable":false,"identifier":"LENS_BRIDGE","searchable":false,"facetable":false},{"storeDisplay":false,"values":[{"sequence":"1","value":"PO3007V 1012 52-19","uniqueID":"7741124012283444178","unitOfMeasure":"","unitID":"","identifier":"PO3007V 1012 52-19"}],"sequence":"449","name":"Displaysku","usage":"Descriptive","uniqueID":"7741124012283364836","displayable":false,"comparable":false,"identifier":"DISPLAYSKU","searchable":false,"facetable":false},{"storeDisplay":false,"values":[{"sequence":"5","value":"150","uniqueID":"7741124012283336878","unitOfMeasure":"","unitID":"","identifier":"150"}],"sequence":"449","name":"Grossweight","usage":"Descriptive","uniqueID":"7741124012283334361","displayable":false,"comparable":false,"identifier":"GROSSWEIGHT","searchable":false,"facetable":false},{"storeDisplay":false,"values":[{"sequence":"1","value":"Trending Now","uniqueID":"7741124012284582837","unitOfMeasure":"","unitID":"","identifier":"Trending Now"}],"sequence":"449","name":"Primary family","usage":"Descriptive","uniqueID":"7741124012284026836","displayable":false,"comparable":false,"identifier":"PRIMARY_FAMILY","searchable":false,"facetable":false},{"storeDisplay":false,"values":[{"sequence":"1","value":"Material-acetate;arrow-all;meflecto-all","uniqueID":"7741124012284859903","unitOfMeasure":"","unitID":"","identifier":"Material-acetate;arrow-all;meflecto-all"}],"sequence":"449","name":"FEATURES","usage":"Descriptive","uniqueID":"7741124012284251845","displayable":false,"comparable":false,"identifier":"FEATURES","searchable":false,"facetable":false},{"storeDisplay":false,"values":[{"sequence":"5","value":"Supreme 3,5","uniqueID":"7741124012283355340","unitOfMeasure":"","unitID":"","identifier":"Supreme 3,5"}],"sequence":"1652","name":"Arrow","usage":"Descriptive","uniqueID":"7741124012283348835","displayable":false,"comparable":false,"identifier":"ARROW","searchable":false,"facetable":false}],"partNumber":"8053672896237"}],"resourceId":"http:\/\/lux-prdlv-src01.lux-ecomm.net:3737\/search\/resources\/store\/715838388\/productview\/byId\/3074457345616689752","price":[{"description":"L","value":"265.0","usage":"Display","currency":"USD"},{"description":"O","value":"","usage":"Offer","currency":"USD"}],"thumbnail":"https:\/\/assets.persol.com\/is\/image\/Persol\/8053672896213_noshad_fr.png?impolicy=HB_parameters&sclw=0.25&sclh=0.25","shortDescription":"PO3007V","mfPartNumber_ntk":"0PO3007V","name":"PO3007V","buyable":"true","quantity":1,"attributes":[{"storeDisplay":false,"values":[{"sequence":"5","value":"PO3007V","uniqueID":"7741124012283444287","unitOfMeasure":"","unitID":"","identifier":"PO3007V"}],"sequence":"0","name":"Model code","associatedKeyword":"-","usage":"Descriptive","uniqueID":"7741124012283334373","displayable":true,"comparable":false,"identifier":"MODEL_CODE_DISPLAY","searchable":false,"facetable":false},{"storeDisplay":false,"values":[{"sequence":"4","value":"201802","uniqueID":"7741124012283376835","unitOfMeasure":"","unitID":"","identifier":"201802"}],"sequence":"1","name":"Collection","associatedKeyword":"-","usage":"Descriptive","uniqueID":"7741124012283334335","displayable":false,"comparable":false,"identifier":"COLLECTION","searchable":true,"facetable":false},{"storeDisplay":false,"values":[{"sequence":"1","value":"Standard","uniqueID":"7741124012283336345","unitOfMeasure":"","unitID":"","identifier":"Standard"},{"sequence":"3","value":"Large","uniqueID":"7741124012283336346","unitOfMeasure":"","unitID":"","identifier":"Large"}],"sequence":"1","name":"Size","associatedKeyword":"-","usage":"Defining","uniqueID":"7741124012283334359","displayable":true,"comparable":false,"identifier":"MODEL_SIZE_DISPLAY","searchable":false,"facetable":false},{"storeDisplay":false,"values":[{"sequence":"3","value":"Grey Striped Green Gradient","uniqueID":"7741124012284385571","unitOfMeasure":"","unitID":"","identifier":"Grey Striped Green Gradient"}],"sequence":"1","name":"Front color","associatedKeyword":"-","usage":"Descriptive","uniqueID":"7741124012283334339","displayable":true,"comparable":false,"identifier":"FRONT_COLOR","searchable":false,"facetable":false},{"storeDisplay":false,"values":[{"sequence":"5","value":"Square","uniqueID":"7741124012283336911","unitOfMeasure":"","unitID":"","identifier":"Square"}],"sequence":"2","name":"Frame shape","associatedKeyword":"-","usage":"Descriptive","uniqueID":"7741124012283334367","displayable":false,"comparable":false,"identifier":"FRAME_SHAPE","searchable":false,"facetable":false},{"storeDisplay":false,"values":[{"sequence":"1","value":"Trending Now","uniqueID":"7741124012284582837","unitOfMeasure":"","unitID":"","identifier":"Trending Now"}],"sequence":"2","name":"Primary family","associatedKeyword":"-","usage":"Descriptive","uniqueID":"7741124012284026836","displayable":false,"comparable":false,"identifier":"PRIMARY_FAMILY","searchable":false,"facetable":false},{"storeDisplay":false,"values":[{"sequence":"1","value":"Demo Lens","uniqueID":"7741124012283336054","unitOfMeasure":"","unitID":"","identifier":"Demo Lens"}],"sequence":"2","name":"Lens color","associatedKeyword":"-","usage":"Descriptive","uniqueID":"7741124012283334346","displayable":true,"comparable":false,"identifier":"LENS_COLOR","searchable":false,"facetable":false},{"storeDisplay":false,"values":[{"sequence":"1","value":"False","uniqueID":"7741124012285955768","unitOfMeasure":"","unitID":"","identifier":"False"}],"sequence":"3","name":"Photochromic","associatedKeyword":"-","usage":"Descriptive","uniqueID":"7741124012284852335","displayable":false,"comparable":false,"identifier":"PHOTOCHROMIC","searchable":true,"facetable":true},{"storeDisplay":false,"values":[{"sequence":"2","value":"Demo Lens","uniqueID":"7741124012283336896","unitOfMeasure":"","unitID":"","identifier":"Demo Lens"}],"sequence":"3","name":"Lens treatment","associatedKeyword":"-","usage":"Descriptive","uniqueID":"7741124012283334364","displayable":false,"comparable":false,"identifier":"LENS_TREATMENT","searchable":false,"facetable":false},{"storeDisplay":false,"values":[{"sequence":"2","value":"Acetate","uniqueID":"7741124012283335870","unitOfMeasure":"","unitID":"","identifier":"Acetate"}],"sequence":"4","name":"Frame material","associatedKeyword":"-","usage":"Descriptive","uniqueID":"7741124012283334338","displayable":false,"comparable":false,"identifier":"FRAMEMATERIAL_FACET","searchable":true,"facetable":true},{"storeDisplay":false,"values":[{"sequence":"1","value":"False","uniqueID":"7741124012283336065","unitOfMeasure":"","unitID":"","identifier":"False"}],"sequence":"5","name":"Limited edition","associatedKeyword":"-","usage":"Descriptive","uniqueID":"7741124012283334347","displayable":false,"comparable":false,"identifier":"LIMITED_EDITION","searchable":false,"facetable":false},{"storeDisplay":false,"values":[{"sequence":"4","value":"Acetate","uniqueID":"7741124012283335867","unitOfMeasure":"","unitID":"","identifier":"Acetate"}],"sequence":"6","name":"Frame Material","associatedKeyword":"-","usage":"Descriptive","uniqueID":"7741124012283334337","displayable":true,"comparable":false,"identifier":"FRAMEMATERIAL","searchable":false,"facetable":false},{"storeDisplay":false,"values":[{"image1":"https:\/\/assets.persol.com\/extra\/image\/TargetOptical\/filters\/grey-brush.png","sequence":"5","value":"Grey","uniqueID":"7741124012283336201","image1path":"https:\/\/assets.persol.com\/extra\/image\/TargetOptical\/filters\/grey-brush.png","unitOfMeasure":"","unitID":"","identifier":"Grey"}],"sequence":"6","name":"Temple color","associatedKeyword":"-","usage":"Descriptive","uniqueID":"7741124012283334354","displayable":false,"comparable":false,"identifier":"TEMPLE_COLOR","searchable":false,"facetable":false},{"storeDisplay":false,"values":[{"sequence":"1","value":"Not Adjustable","uniqueID":"7741124012284859354","unitOfMeasure":"","unitID":"","identifier":"Not Adjustable"}],"sequence":"7","name":"Nosepads","associatedKeyword":"-","usage":"Descriptive","uniqueID":"7741124012284251840","displayable":true,"comparable":false,"identifier":"NOSEPADS","searchable":true,"facetable":true},{"storeDisplay":false,"values":[{"sequence":"1","value":"1","uniqueID":"7741124012284859356","unitOfMeasure":"","unitID":"","identifier":"1"}],"sequence":"8","name":"PLACEHOLDER_SIZE","associatedKeyword":"-","usage":"Descriptive","uniqueID":"7741124012284251841","displayable":true,"comparable":false,"identifier":"PLACEHOLDER_SIZE","searchable":false,"facetable":false},{"storeDisplay":false,"values":[{"sequence":"1","value":"Polished","uniqueID":"7741124012284859363","unitOfMeasure":"","unitID":"","identifier":"Polished"}],"sequence":"8","name":"FINISHING","associatedKeyword":"-","usage":"Descriptive","uniqueID":"7741124012284251844","displayable":false,"comparable":false,"identifier":"FINISHING","searchable":false,"facetable":false},{"storeDisplay":false,"values":[{"sequence":"1","value":"Standard","uniqueID":"7741124012284859365","unitOfMeasure":"","unitID":"","identifier":"Standard"}],"sequence":"9","name":"FRAME FIT","associatedKeyword":"-","usage":"Descriptive","uniqueID":"7741124012284251846","displayable":true,"comparable":false,"identifier":"FRAME FIT","searchable":false,"facetable":false},{"storeDisplay":false,"values":[{"sequence":"5","value":"Keyhole Bridge","uniqueID":"7741124012284859339","unitOfMeasure":"","unitID":"","identifier":"Keyhole Bridge"}],"sequence":"9","name":"BRIDGE TYPE","associatedKeyword":"-","usage":"Descriptive","uniqueID":"7741124012284251836","displayable":false,"comparable":false,"identifier":"BRIDGE TYPE","searchable":false,"facetable":false},{"storeDisplay":false,"values":[{"sequence":"3","value":"Full Rim","uniqueID":"7741124012283360863","unitOfMeasure":"","unitID":"","identifier":"Full Rim"}],"sequence":"10","name":"Frame type","associatedKeyword":"-","usage":"Descriptive","uniqueID":"7741124012283334370","displayable":false,"comparable":false,"identifier":"FRAMETYPE","searchable":true,"facetable":false},{"storeDisplay":false,"values":[{"sequence":"1","value":"Italy","uniqueID":"7741124012283336067","unitOfMeasure":"","unitID":"","identifier":"Italy"}],"sequence":"10","name":"Made in","associatedKeyword":"-","usage":"Descriptive","uniqueID":"7741124012283334348","displayable":true,"comparable":false,"identifier":"MADEIN","searchable":false,"facetable":false},{"storeDisplay":false,"values":[{"sequence":"3","value":"Round Face;oval Face","uniqueID":"7741124012284860410","unitOfMeasure":"","unitID":"","identifier":"Round Face;oval Face"}],"sequence":"11","name":"SUGGESTED FACE SHAPE","associatedKeyword":"-","usage":"Descriptive","uniqueID":"7741124012284251843","displayable":false,"comparable":false,"identifier":"SUGGESTED_FACE_SHAPE","searchable":false,"facetable":false},{"storeDisplay":false,"values":[{"sequence":"4","value":"Mini Supreme Acetate","uniqueID":"7741124012283355349","unitOfMeasure":"","unitID":"","identifier":"Mini Supreme Acetate"}],"sequence":"11","name":"Temple logo","associatedKeyword":"-","usage":"Descriptive","uniqueID":"7741124012283348836","displayable":false,"comparable":true,"identifier":"TEMPLE_LOGO","searchable":false,"facetable":false},{"storeDisplay":false,"values":[{"sequence":"0","value":"0","uniqueID":"0","unitOfMeasure":"","unitID":"","identifier":"0"}],"sequence":"12","name":"Notainformativa","associatedKeyword":"-","usage":"Descriptive","uniqueID":"7741124012283334350","displayable":false,"comparable":false,"identifier":"NOTAINFORMATIVA","searchable":false,"facetable":false},{"storeDisplay":false,"values":[{"sequence":"3","value":"1012","uniqueID":"7741124012284861349","unitOfMeasure":"","unitID":"","identifier":"1012"}],"sequence":"13","name":"COLOR CODE","associatedKeyword":"-","usage":"Descriptive","uniqueID":"7741124012284253335","displayable":false,"comparable":false,"identifier":"COLOR CODE","searchable":false,"facetable":false},{"storeDisplay":false,"values":[{"sequence":"3","value":"PO_pack5_gallery","uniqueID":"7741124012284859917","unitOfMeasure":"","unitID":"","identifier":"PO_pack5_gallery"}],"sequence":"15","name":"CASE","associatedKeyword":"-","usage":"Descriptive","uniqueID":"7741124012284251837","displayable":false,"comparable":false,"identifier":"CASE","searchable":false,"facetable":false},{"storeDisplay":false,"values":[{"sequence":"3","value":"Other","uniqueID":"7741124012283444307","unitOfMeasure":"","unitID":"","identifier":"Other"}],"sequence":"16","name":"Model family","associatedKeyword":"-","usage":"Descriptive","uniqueID":"7741124012283333374","displayable":false,"comparable":false,"identifier":"MODEL_FAMILY","searchable":true,"facetable":true},{"storeDisplay":false,"values":[{"sequence":"5","value":"Grey","uniqueID":"7741124012283336317","unitOfMeasure":"","unitID":"","identifier":"Grey"}],"sequence":"17","name":"Temple inner color facet","associatedKeyword":"-","usage":"Descriptive","uniqueID":"7741124012283334357","displayable":false,"comparable":false,"identifier":"TEMPLE_INNER_COLOR_FACET","searchable":true,"facetable":false},{"storeDisplay":false,"values":[{"sequence":"1","value":"False","uniqueID":"7741124012283337030","unitOfMeasure":"","unitID":"","identifier":"False"}],"sequence":"19","name":"Noreturn","associatedKeyword":"-","usage":"Descriptive","uniqueID":"7741124012283334374","displayable":false,"comparable":false,"identifier":"NORETURN","searchable":false,"facetable":false},{"storeDisplay":false,"values":[{"sequence":"2","value":"True","uniqueID":"7741124012284859353","unitOfMeasure":"","unitID":"","identifier":"True"}],"sequence":"21","name":"ENGRAVINGELIGIBLE","associatedKeyword":"-","usage":"Descriptive","uniqueID":"7741124012284251838","displayable":false,"comparable":false,"identifier":"ENGRAVINGELIGIBLE","searchable":false,"facetable":false},{"storeDisplay":false,"values":[{"sequence":"1","value":"Galleria","uniqueID":"7741124012283336920","unitOfMeasure":"","unitID":"","identifier":"Galleria"}],"sequence":"22","name":"Range","associatedKeyword":"-","usage":"Descriptive","uniqueID":"7741124012283334371","displayable":false,"comparable":false,"identifier":"RANGE","searchable":false,"facetable":true},{"storeDisplay":false,"values":[{"sequence":"1","value":"Demo Lens","uniqueID":"7741124012283336042","unitOfMeasure":"","unitID":"","identifier":"Demo Lens"}],"sequence":"23","name":"Lens color","associatedKeyword":"-","usage":"Descriptive","uniqueID":"7741124012283334345","displayable":false,"comparable":false,"identifier":"LENS_COLOR_FACET","searchable":true,"facetable":true},{"storeDisplay":false,"values":[{"sequence":"1","value":"False","uniqueID":"7741124012283336068","unitOfMeasure":"","unitID":"","identifier":"False"}],"sequence":"24","name":"Newreleases","associatedKeyword":"-","usage":"Descriptive","uniqueID":"7741124012283334349","displayable":false,"comparable":false,"identifier":"NEWRELEASES","searchable":true,"facetable":false},{"storeDisplay":false,"values":[{"sequence":"0","value":"0","uniqueID":"0","unitOfMeasure":"","unitID":"","identifier":"0"}],"sequence":"26","name":"Clen","associatedKeyword":"-","usage":"Descriptive","uniqueID":"7741124012283334344","displayable":false,"comparable":false,"identifier":"CLEN","searchable":false,"facetable":false},{"storeDisplay":false,"values":[{"sequence":"5","value":"Supreme 3,5","uniqueID":"7741124012283355340","unitOfMeasure":"","unitID":"","identifier":"Supreme 3,5"}],"sequence":"27","name":"Arrow","associatedKeyword":"-","usage":"Descriptive","uniqueID":"7741124012283348835","displayable":false,"comparable":false,"identifier":"ARROW","searchable":false,"facetable":false},{"storeDisplay":false,"values":[{"sequence":"1","value":"364500","uniqueID":"7741124012284611274","unitOfMeasure":"","unitID":"","identifier":"364500"}],"sequence":"29","name":"Sequence","associatedKeyword":"-","usage":"Descriptive","uniqueID":"7741124012283593337","displayable":false,"comparable":false,"identifier":"SEQUENCE","searchable":true,"facetable":false},{"storeDisplay":false,"values":[{"sequence":"2","value":"Man","uniqueID":"7741124012283336014","unitOfMeasure":"","unitID":"","identifier":"Man"}],"sequence":"30","name":"Gender","associatedKeyword":"-","usage":"Descriptive","uniqueID":"7741124012283334343","displayable":false,"comparable":false,"identifier":"GENDER","searchable":true,"facetable":true},{"storeDisplay":false,"values":[{"sequence":"1","value":"False","uniqueID":"7741124012284860407","unitOfMeasure":"","unitID":"","identifier":"False"}],"sequence":"31","name":"Flex","associatedKeyword":"-","usage":"Descriptive","uniqueID":"7741124012283364835","displayable":false,"comparable":false,"identifier":"FLEX","searchable":false,"facetable":false},{"storeDisplay":false,"values":[{"sequence":"3","value":"True","uniqueID":"7741124012284582836","unitOfMeasure":"","unitID":"","identifier":"True"}],"sequence":"32","name":"Best Sellers","associatedKeyword":"-","usage":"Descriptive","uniqueID":"7741124012284026835","displayable":false,"comparable":false,"identifier":"BESTSELLERS","searchable":false,"facetable":false},{"storeDisplay":false,"values":[{"sequence":"3","value":"Grey","uniqueID":"7741124012283336001","unitOfMeasure":"","unitID":"","identifier":"Grey"}],"sequence":"33","name":"Front inner color facet","associatedKeyword":"-","usage":"Descriptive","uniqueID":"7741124012283334342","displayable":false,"comparable":false,"identifier":"FRONT_INNER_COLOR_FACET","searchable":true,"facetable":false},{"storeDisplay":false,"values":[{"sequence":"2","value":"PO3007V","uniqueID":"7741124012283336084","unitOfMeasure":"","unitID":"","identifier":"PO3007V"}],"sequence":"34","name":"Modelname","associatedKeyword":"-","usage":"Descriptive","uniqueID":"7741124012283334353","displayable":false,"comparable":false,"identifier":"MODELNAME","searchable":true,"facetable":false},{"storeDisplay":false,"values":[{"sequence":"1","value":"False","uniqueID":"7741124012283335865","unitOfMeasure":"","unitID":"","identifier":"False"}],"sequence":"35","name":"Exclusive","associatedKeyword":"-","usage":"Descriptive","uniqueID":"7741124012283334336","displayable":false,"comparable":false,"identifier":"EXCLUSIVE","searchable":false,"facetable":true},{"storeDisplay":false,"values":[{"image1":"https:\/\/assets.persol.com\/extra\/image\/Persol\/filters\/grey.png","sequence":"3","value":"Grey","uniqueID":"7741124012283335929","image1path":"https:\/\/assets.persol.com\/extra\/image\/Persol\/filters\/grey.png","unitOfMeasure":"","unitID":"","identifier":"Grey"}],"sequence":"36","name":"Frame color","associatedKeyword":"-","usage":"Descriptive","uniqueID":"7741124012283334340","displayable":false,"comparable":false,"identifier":"FRONT_COLOR_FACET","searchable":true,"facetable":true},{"storeDisplay":false,"values":[{"sequence":"1","value":"Square","uniqueID":"7741124012283336915","unitOfMeasure":"","unitID":"","identifier":"Square"}],"sequence":"38","name":"Frame shape","associatedKeyword":"-","usage":"Descriptive","uniqueID":"7741124012283334368","displayable":false,"comparable":false,"identifier":"FRAME_SHAPE_FACET","searchable":true,"facetable":true},{"storeDisplay":false,"values":[{"sequence":"1","value":"False","uniqueID":"7741124012283336078","unitOfMeasure":"","unitID":"","identifier":"False"}],"sequence":"39","name":"Polarized","associatedKeyword":"-","usage":"Descriptive","uniqueID":"7741124012283334352","displayable":false,"comparable":false,"identifier":"POLARIZED","searchable":true,"facetable":true},{"storeDisplay":false,"values":[{"sequence":"1","value":"False","uniqueID":"7741124012283336077","unitOfMeasure":"","unitID":"","identifier":"False"}],"sequence":"40","name":"Onsale","associatedKeyword":"-","usage":"Descriptive","uniqueID":"7741124012283334351","displayable":false,"comparable":false,"identifier":"ONSALE","searchable":false,"facetable":false},{"storeDisplay":false,"values":[{"sequence":"1","value":"False","uniqueID":"7741124012283355350","unitOfMeasure":"","unitID":"","identifier":"False"}],"sequence":"42","name":"Vintage Celebration","associatedKeyword":"-","usage":"Descriptive","uniqueID":"7741124012283348837","displayable":false,"comparable":false,"identifier":"VINTAGE CELEBRATION","searchable":false,"facetable":false},{"storeDisplay":false,"values":[{"sequence":"1","value":"False","uniqueID":"7741124012283336902","unitOfMeasure":"","unitID":"","identifier":"False"}],"sequence":"43","name":"Foldable","associatedKeyword":"-","usage":"Descriptive","uniqueID":"7741124012283334366","displayable":false,"comparable":false,"identifier":"FOLDABLE","searchable":true,"facetable":true},{"storeDisplay":false,"values":[{"sequence":"4","value":"Optical","uniqueID":"7741124012283333657","unitOfMeasure":"","unitID":"","identifier":"Optical"}],"sequence":"44","name":"Producttype","associatedKeyword":"-","usage":"Descriptive","uniqueID":"7741124012283333376","displayable":false,"comparable":false,"identifier":"PRODUCTTYPE","searchable":true,"facetable":false},{"storeDisplay":false,"values":[{"sequence":"1","value":"False","uniqueID":"7741124012284859336","unitOfMeasure":"","unitID":"","identifier":"False"}],"sequence":"45","name":"AVANT_PREMIERE","associatedKeyword":"-","usage":"Descriptive","uniqueID":"7741124012284251835","displayable":false,"comparable":false,"identifier":"AVANT_PREMIERE","searchable":false,"facetable":false},{"storeDisplay":false,"values":[{"sequence":"4","value":"Grey Striped Green Gradient","uniqueID":"7741124012284385580","unitOfMeasure":"","unitID":"","identifier":"Grey Striped Green Gradient"}],"sequence":"46","name":"Front inner color","associatedKeyword":"-","usage":"Descriptive","uniqueID":"7741124012283334341","displayable":false,"comparable":false,"identifier":"FRONT_INNER_COLOR","searchable":false,"facetable":false},{"storeDisplay":false,"values":[{"image1":"https:\/\/assets.persol.com\/extra\/image\/TargetOptical\/filters\/grey-brush.png","sequence":"3","value":"Grey","uniqueID":"7741124012283336274","image1path":"https:\/\/assets.persol.com\/extra\/image\/TargetOptical\/filters\/grey-brush.png","unitOfMeasure":"","unitID":"","identifier":"Grey"}],"sequence":"47","name":"Temple inner color","associatedKeyword":"-","usage":"Descriptive","uniqueID":"7741124012283334356","displayable":false,"comparable":false,"identifier":"TEMPLE_INNER_COLOR","searchable":false,"facetable":false},{"storeDisplay":false,"values":[{"sequence":"2","value":"Grey","uniqueID":"7741124012283336244","unitOfMeasure":"","unitID":"","identifier":"Grey"}],"sequence":"48","name":"Temple color facet","associatedKeyword":"-","usage":"Descriptive","uniqueID":"7741124012283334355","displayable":false,"comparable":false,"identifier":"TEMPLE_COLOR_FACET","searchable":true,"facetable":false},{"storeDisplay":false,"values":[{"sequence":"2","value":"True","uniqueID":"7741124012284859902","unitOfMeasure":"","unitID":"","identifier":"True"}],"sequence":"49","name":"MEFLECTO","associatedKeyword":"-","usage":"Descriptive","uniqueID":"7741124012284251847","displayable":false,"comparable":false,"identifier":"MEFLECTO","searchable":false,"facetable":false},{"storeDisplay":false,"values":[{"sequence":"1","value":"Global","uniqueID":"7741124012283336916","unitOfMeasure":"","unitID":"","identifier":"Global"}],"sequence":"50","name":"Fitting","associatedKeyword":"-","usage":"Descriptive","uniqueID":"7741124012283334369","displayable":false,"comparable":false,"identifier":"GEO_FIT","searchable":true,"facetable":false}],"storeID":"715838084","numberOfSKUs":2,"partNumber":"0PO3007V__1012"},{"hasSingleSKU":false,"catalogEntryTypeCode":"ProductBean","associationType":"REPLACEMENT","parentCatalogGroupID":["3074457345616676668_3074457345616676669","3074457345616681818_3074457345616678178","3074457345616681818_3074457345616696193","3074457345616681818_3074457345616696201","3074457345616681818_3074457345616700168","3074457345616681818_3074457345616700669","3074457345616681818_3074457345616700670","3074457345616681818_3074457345616710669","3074457345616681818_3074457345616710673","3074457345616681818_3074457345616715669","3074457345616681818_3074457345616716181","3074457345616681818_3074457345616716184"],"price_USD":"130.0","uniqueID":"3074457345616689753","sKUs":[{"hasSingleSKU":false,"catalogEntryTypeCode":"ItemBean","parentCatalogGroupID":["3074457345616676668_3074457345616676669","3074457345616681818_3074457345616678178","3074457345616681818_3074457345616696193","3074457345616681818_3074457345616696201","3074457345616681818_3074457345616700168","3074457345616681818_3074457345616700669","3074457345616681818_3074457345616700670","3074457345616681818_3074457345616710669","3074457345616681818_3074457345616710673","3074457345616681818_3074457345616715669","3074457345616681818_3074457345616716181","3074457345616681818_3074457345616716184"],"uniqueID":"3074457345616689924","resourceId":"http:\/\/lux-prdlv-src01.lux-ecomm.net:3737\/search\/resources\/store\/715838388\/productview\/byId\/3074457345616689924","price":[{"description":"L","value":"","usage":"Display","currency":"USD"},{"description":"O","value":"","usage":"Offer","currency":"USD"}],"thumbnail":"https:\/\/assets.persol.com\/is\/image\/Persol\/8053672896183_noshad_fr.png?impolicy=HB_parameters&sclw=0.25&sclh=0.25","shortDescription":"PO3007V 1026 50-19","mfPartNumber_ntk":"0PO3007V","name":"PO3007V 1026 50-19","buyable":"true","storeID":"715838084","attributes":[{"storeDisplay":false,"values":[{"sequence":"1","value":"Standard","uniqueID":"7741124012283336345","unitOfMeasure":"","unitID":"","identifier":"Standard"}],"sequence":"1","name":"Size","usage":"Defining","uniqueID":"7741124012283334359","displayable":true,"comparable":false,"identifier":"MODEL_SIZE_DISPLAY","searchable":false,"facetable":false},{"storeDisplay":false,"values":[{"sequence":"2","value":"Demo Lens","uniqueID":"7741124012283336896","unitOfMeasure":"","unitID":"","identifier":"Demo Lens"}],"sequence":"3","name":"Lens treatment","usage":"Descriptive","uniqueID":"7741124012283334364","displayable":false,"comparable":false,"identifier":"LENS_TREATMENT","searchable":false,"facetable":false},{"storeDisplay":false,"values":[{"sequence":"1","value":"Zpfn","uniqueID":"7741124012283336923","unitOfMeasure":"","unitID":"","identifier":"Zpfn"}],"sequence":"456","name":"Materialtype","usage":"Descriptive","uniqueID":"7741124012283334372","displayable":false,"comparable":false,"identifier":"MATERIALTYPE","searchable":false,"facetable":false},{"storeDisplay":false,"values":[{"sequence":"1","value":"50","uniqueID":"7741124012283336334","unitOfMeasure":"","unitID":"","identifier":"50"}],"sequence":"456","name":"Model size","usage":"Descriptive","uniqueID":"7741124012283334358","displayable":false,"comparable":false,"identifier":"MODEL_SIZE","searchable":false,"facetable":false},{"storeDisplay":false,"values":[{"sequence":"5","value":"1026 50","uniqueID":"7741124012283443941","unitOfMeasure":"","unitID":"","identifier":"1026 50"}],"sequence":"456","name":"Grid Value","usage":"Descriptive","uniqueID":"7741124012283364837","displayable":true,"comparable":false,"identifier":"GRID VALUE","searchable":false,"facetable":false},{"storeDisplay":false,"values":[{"sequence":"4","value":"145","uniqueID":"7741124012283336892","unitOfMeasure":"","unitID":"","identifier":"145"}],"sequence":"456","name":"Temple length","usage":"Descriptive","uniqueID":"7741124012283334363","displayable":false,"comparable":false,"identifier":"TEMPLE_LENGTH","searchable":false,"facetable":false},{"storeDisplay":false,"values":[{"sequence":"1","value":"Material-acetate;arrow-all;meflecto-all","uniqueID":"7741124012284859903","unitOfMeasure":"","unitID":"","identifier":"Material-acetate;arrow-all;meflecto-all"}],"sequence":"456","name":"FEATURES","usage":"Descriptive","uniqueID":"7741124012284251845","displayable":false,"comparable":false,"identifier":"FEATURES","searchable":false,"facetable":false},{"storeDisplay":false,"values":[{"sequence":"1","value":"Demo Lens","uniqueID":"7741124012283336900","unitOfMeasure":"","unitID":"","identifier":"Demo Lens"}],"sequence":"456","name":"Lens type","usage":"Descriptive","uniqueID":"7741124012283334365","displayable":false,"comparable":false,"identifier":"LENS_TREATMENT_FACET","searchable":true,"facetable":true},{"storeDisplay":false,"values":[{"sequence":"1","value":"19","uniqueID":"7741124012283336885","unitOfMeasure":"","unitID":"","identifier":"19"}],"sequence":"456","name":"Lens bridge","usage":"Descriptive","uniqueID":"7741124012283334362","displayable":false,"comparable":false,"identifier":"LENS_BRIDGE","searchable":false,"facetable":false},{"storeDisplay":false,"values":[{"sequence":"5","value":"PO3007V 1026 50-19","uniqueID":"7741124012283444123","unitOfMeasure":"","unitID":"","identifier":"PO3007V 1026 50-19"}],"sequence":"456","name":"Displaysku","usage":"Descriptive","uniqueID":"7741124012283364836","displayable":false,"comparable":false,"identifier":"DISPLAYSKU","searchable":false,"facetable":false},{"storeDisplay":false,"values":[{"sequence":"5","value":"150","uniqueID":"7741124012283336878","unitOfMeasure":"","unitID":"","identifier":"150"}],"sequence":"456","name":"Grossweight","usage":"Descriptive","uniqueID":"7741124012283334361","displayable":false,"comparable":false,"identifier":"GROSSWEIGHT","searchable":false,"facetable":false},{"storeDisplay":false,"values":[{"sequence":"1","value":"Trending Now","uniqueID":"7741124012284582837","unitOfMeasure":"","unitID":"","identifier":"Trending Now"}],"sequence":"456","name":"Primary family","usage":"Descriptive","uniqueID":"7741124012284026836","displayable":false,"comparable":false,"identifier":"PRIMARY_FAMILY","searchable":false,"facetable":false},{"storeDisplay":false,"values":[{"sequence":"5","value":"Supreme 3,5","uniqueID":"7741124012283355340","unitOfMeasure":"","unitID":"","identifier":"Supreme 3,5"}],"sequence":"1659","name":"Arrow","usage":"Descriptive","uniqueID":"7741124012283348835","displayable":false,"comparable":false,"identifier":"ARROW","searchable":false,"facetable":false}],"partNumber":"8053672896183"},{"hasSingleSKU":false,"catalogEntryTypeCode":"ItemBean","parentCatalogGroupID":["3074457345616676668_3074457345616676669","3074457345616681818_3074457345616678178","3074457345616681818_3074457345616696193","3074457345616681818_3074457345616696201","3074457345616681818_3074457345616700168","3074457345616681818_3074457345616700669","3074457345616681818_3074457345616700670","3074457345616681818_3074457345616710669","3074457345616681818_3074457345616710673","3074457345616681818_3074457345616715669","3074457345616681818_3074457345616716181","3074457345616681818_3074457345616716184"],"uniqueID":"3074457345616689925","resourceId":"http:\/\/lux-prdlv-src01.lux-ecomm.net:3737\/search\/resources\/store\/715838388\/productview\/byId\/3074457345616689925","price":[{"description":"L","value":"","usage":"Display","currency":"USD"},{"description":"O","value":"","usage":"Offer","currency":"USD"}],"thumbnail":"https:\/\/assets.persol.com\/is\/image\/Persol\/8053672896206_noshad_fr.png?impolicy=HB_parameters&sclw=0.25&sclh=0.25","shortDescription":"PO3007V 1026 52-19","mfPartNumber_ntk":"0PO3007V","name":"PO3007V 1026 52-19","buyable":"true","storeID":"715838084","attributes":[{"storeDisplay":false,"values":[{"sequence":"3","value":"Large","uniqueID":"7741124012283336346","unitOfMeasure":"","unitID":"","identifier":"Large"}],"sequence":"1","name":"Size","usage":"Defining","uniqueID":"7741124012283334359","displayable":true,"comparable":false,"identifier":"MODEL_SIZE_DISPLAY","searchable":false,"facetable":false},{"storeDisplay":false,"values":[{"sequence":"2","value":"Demo Lens","uniqueID":"7741124012283336896","unitOfMeasure":"","unitID":"","identifier":"Demo Lens"}],"sequence":"3","name":"Lens treatment","usage":"Descriptive","uniqueID":"7741124012283334364","displayable":false,"comparable":false,"identifier":"LENS_TREATMENT","searchable":false,"facetable":false},{"storeDisplay":false,"values":[{"sequence":"1","value":"Demo Lens","uniqueID":"7741124012283336900","unitOfMeasure":"","unitID":"","identifier":"Demo Lens"}],"sequence":"455","name":"Lens type","usage":"Descriptive","uniqueID":"7741124012283334365","displayable":false,"comparable":false,"identifier":"LENS_TREATMENT_FACET","searchable":true,"facetable":true},{"storeDisplay":false,"values":[{"sequence":"1","value":"19","uniqueID":"7741124012283336885","unitOfMeasure":"","unitID":"","identifier":"19"}],"sequence":"455","name":"Lens bridge","usage":"Descriptive","uniqueID":"7741124012283334362","displayable":false,"comparable":false,"identifier":"LENS_BRIDGE","searchable":false,"facetable":false},{"storeDisplay":false,"values":[{"sequence":"2","value":"PO3007V 1026 52-19","uniqueID":"7741124012283444217","unitOfMeasure":"","unitID":"","identifier":"PO3007V 1026 52-19"}],"sequence":"455","name":"Displaysku","usage":"Descriptive","uniqueID":"7741124012283364836","displayable":false,"comparable":false,"identifier":"DISPLAYSKU","searchable":false,"facetable":false},{"storeDisplay":false,"values":[{"sequence":"1","value":"Material-acetate;arrow-all;meflecto-all","uniqueID":"7741124012284859903","unitOfMeasure":"","unitID":"","identifier":"Material-acetate;arrow-all;meflecto-all"}],"sequence":"455","name":"FEATURES","usage":"Descriptive","uniqueID":"7741124012284251845","displayable":false,"comparable":false,"identifier":"FEATURES","searchable":false,"facetable":false},{"storeDisplay":false,"values":[{"sequence":"1","value":"Zpfn","uniqueID":"7741124012283336923","unitOfMeasure":"","unitID":"","identifier":"Zpfn"}],"sequence":"455","name":"Materialtype","usage":"Descriptive","uniqueID":"7741124012283334372","displayable":false,"comparable":false,"identifier":"MATERIALTYPE","searchable":false,"facetable":false},{"storeDisplay":false,"values":[{"sequence":"5","value":"1026 52","uniqueID":"7741124012283443978","unitOfMeasure":"","unitID":"","identifier":"1026 52"}],"sequence":"455","name":"Grid Value","usage":"Descriptive","uniqueID":"7741124012283364837","displayable":true,"comparable":false,"identifier":"GRID VALUE","searchable":false,"facetable":false},{"storeDisplay":false,"values":[{"sequence":"4","value":"145","uniqueID":"7741124012283336892","unitOfMeasure":"","unitID":"","identifier":"145"}],"sequence":"455","name":"Temple length","usage":"Descriptive","uniqueID":"7741124012283334363","displayable":false,"comparable":false,"identifier":"TEMPLE_LENGTH","searchable":false,"facetable":false},{"storeDisplay":false,"values":[{"sequence":"3","value":"52","uniqueID":"7741124012283336336","unitOfMeasure":"","unitID":"","identifier":"52"}],"sequence":"455","name":"Model size","usage":"Descriptive","uniqueID":"7741124012283334358","displayable":false,"comparable":false,"identifier":"MODEL_SIZE","searchable":false,"facetable":false},{"storeDisplay":false,"values":[{"sequence":"5","value":"150","uniqueID":"7741124012283336878","unitOfMeasure":"","unitID":"","identifier":"150"}],"sequence":"455","name":"Grossweight","usage":"Descriptive","uniqueID":"7741124012283334361","displayable":false,"comparable":false,"identifier":"GROSSWEIGHT","searchable":false,"facetable":false},{"storeDisplay":false,"values":[{"sequence":"1","value":"Trending Now","uniqueID":"7741124012284582837","unitOfMeasure":"","unitID":"","identifier":"Trending Now"}],"sequence":"455","name":"Primary family","usage":"Descriptive","uniqueID":"7741124012284026836","displayable":false,"comparable":false,"identifier":"PRIMARY_FAMILY","searchable":false,"facetable":false},{"storeDisplay":false,"values":[{"sequence":"5","value":"Supreme 3,5","uniqueID":"7741124012283355340","unitOfMeasure":"","unitID":"","identifier":"Supreme 3,5"}],"sequence":"1658","name":"Arrow","usage":"Descriptive","uniqueID":"7741124012283348835","displayable":false,"comparable":false,"identifier":"ARROW","searchable":false,"facetable":false}],"partNumber":"8053672896206"}],"resourceId":"http:\/\/lux-prdlv-src01.lux-ecomm.net:3737\/search\/resources\/store\/715838388\/productview\/byId\/3074457345616689753","price":[{"description":"L","value":"260.0","usage":"Display","currency":"USD"},{"description":"O","value":"","usage":"Offer","currency":"USD"}],"thumbnail":"https:\/\/assets.persol.com\/is\/image\/Persol\/8053672896206_noshad_fr.png?impolicy=HB_parameters&sclw=0.25&sclh=0.25","shortDescription":"PO3007V","mfPartNumber_ntk":"0PO3007V","name":"PO3007V","buyable":"true","quantity":1,"attributes":[{"storeDisplay":false,"values":[{"sequence":"5","value":"PO3007V","uniqueID":"7741124012283444287","unitOfMeasure":"","unitID":"","identifier":"PO3007V"}],"sequence":"0","name":"Model code","associatedKeyword":"-","usage":"Descriptive","uniqueID":"7741124012283334373","displayable":true,"comparable":false,"identifier":"MODEL_CODE_DISPLAY","searchable":false,"facetable":false},{"storeDisplay":false,"values":[{"sequence":"4","value":"201802","uniqueID":"7741124012283376835","unitOfMeasure":"","unitID":"","identifier":"201802"}],"sequence":"1","name":"Collection","associatedKeyword":"-","usage":"Descriptive","uniqueID":"7741124012283334335","displayable":false,"comparable":false,"identifier":"COLLECTION","searchable":true,"facetable":false},{"storeDisplay":false,"values":[{"sequence":"1","value":"Standard","uniqueID":"7741124012283336345","unitOfMeasure":"","unitID":"","identifier":"Standard"},{"sequence":"3","value":"Large","uniqueID":"7741124012283336346","unitOfMeasure":"","unitID":"","identifier":"Large"}],"sequence":"1","name":"Size","associatedKeyword":"-","usage":"Defining","uniqueID":"7741124012283334359","displayable":true,"comparable":false,"identifier":"MODEL_SIZE_DISPLAY","searchable":false,"facetable":false},{"storeDisplay":false,"values":[{"sequence":"5","value":"Striped Brown","uniqueID":"7741124012283335907","unitOfMeasure":"","unitID":"","identifier":"Striped Brown"}],"sequence":"1","name":"Front color","associatedKeyword":"-","usage":"Descriptive","uniqueID":"7741124012283334339","displayable":true,"comparable":false,"identifier":"FRONT_COLOR","searchable":false,"facetable":false},{"storeDisplay":false,"values":[{"sequence":"5","value":"Square","uniqueID":"7741124012283336911","unitOfMeasure":"","unitID":"","identifier":"Square"}],"sequence":"2","name":"Frame shape","associatedKeyword":"-","usage":"Descriptive","uniqueID":"7741124012283334367","displayable":false,"comparable":false,"identifier":"FRAME_SHAPE","searchable":false,"facetable":false},{"storeDisplay":false,"values":[{"sequence":"1","value":"Trending Now","uniqueID":"7741124012284582837","unitOfMeasure":"","unitID":"","identifier":"Trending Now"}],"sequence":"2","name":"Primary family","associatedKeyword":"-","usage":"Descriptive","uniqueID":"7741124012284026836","displayable":false,"comparable":false,"identifier":"PRIMARY_FAMILY","searchable":false,"facetable":false},{"storeDisplay":false,"values":[{"sequence":"1","value":"Demo Lens","uniqueID":"7741124012283336054","unitOfMeasure":"","unitID":"","identifier":"Demo Lens"}],"sequence":"2","name":"Lens color","associatedKeyword":"-","usage":"Descriptive","uniqueID":"7741124012283334346","displayable":true,"comparable":false,"identifier":"LENS_COLOR","searchable":false,"facetable":false},{"storeDisplay":false,"values":[{"sequence":"1","value":"False","uniqueID":"7741124012285955768","unitOfMeasure":"","unitID":"","identifier":"False"}],"sequence":"3","name":"Photochromic","associatedKeyword":"-","usage":"Descriptive","uniqueID":"7741124012284852335","displayable":false,"comparable":false,"identifier":"PHOTOCHROMIC","searchable":true,"facetable":true},{"storeDisplay":false,"values":[{"sequence":"2","value":"Demo Lens","uniqueID":"7741124012283336896","unitOfMeasure":"","unitID":"","identifier":"Demo Lens"}],"sequence":"3","name":"Lens treatment","associatedKeyword":"-","usage":"Descriptive","uniqueID":"7741124012283334364","displayable":false,"comparable":false,"identifier":"LENS_TREATMENT","searchable":false,"facetable":false},{"storeDisplay":false,"values":[{"sequence":"2","value":"Acetate","uniqueID":"7741124012283335870","unitOfMeasure":"","unitID":"","identifier":"Acetate"}],"sequence":"4","name":"Frame material","associatedKeyword":"-","usage":"Descriptive","uniqueID":"7741124012283334338","displayable":false,"comparable":false,"identifier":"FRAMEMATERIAL_FACET","searchable":true,"facetable":true},{"storeDisplay":false,"values":[{"sequence":"1","value":"False","uniqueID":"7741124012283336065","unitOfMeasure":"","unitID":"","identifier":"False"}],"sequence":"5","name":"Limited edition","associatedKeyword":"-","usage":"Descriptive","uniqueID":"7741124012283334347","displayable":false,"comparable":false,"identifier":"LIMITED_EDITION","searchable":false,"facetable":false},{"storeDisplay":false,"values":[{"sequence":"4","value":"Acetate","uniqueID":"7741124012283335867","unitOfMeasure":"","unitID":"","identifier":"Acetate"}],"sequence":"6","name":"Frame Material","associatedKeyword":"-","usage":"Descriptive","uniqueID":"7741124012283334337","displayable":true,"comparable":false,"identifier":"FRAMEMATERIAL","searchable":false,"facetable":false},{"storeDisplay":false,"values":[{"image1":"https:\/\/assets.persol.com\/extra\/image\/TargetOptical\/filters\/brown2.png","sequence":"4","value":"Brown","uniqueID":"7741124012283336199","image1path":"https:\/\/assets.persol.com\/extra\/image\/TargetOptical\/filters\/brown2.png","unitOfMeasure":"","unitID":"","identifier":"Brown"}],"sequence":"6","name":"Temple color","associatedKeyword":"-","usage":"Descriptive","uniqueID":"7741124012283334354","displayable":false,"comparable":false,"identifier":"TEMPLE_COLOR","searchable":false,"facetable":false},{"storeDisplay":false,"values":[{"sequence":"1","value":"Not Adjustable","uniqueID":"7741124012284859354","unitOfMeasure":"","unitID":"","identifier":"Not Adjustable"}],"sequence":"7","name":"Nosepads","associatedKeyword":"-","usage":"Descriptive","uniqueID":"7741124012284251840","displayable":true,"comparable":false,"identifier":"NOSEPADS","searchable":true,"facetable":true},{"storeDisplay":false,"values":[{"sequence":"1","value":"Polished","uniqueID":"7741124012284859363","unitOfMeasure":"","unitID":"","identifier":"Polished"}],"sequence":"8","name":"FINISHING","associatedKeyword":"-","usage":"Descriptive","uniqueID":"7741124012284251844","displayable":false,"comparable":false,"identifier":"FINISHING","searchable":false,"facetable":false},{"storeDisplay":false,"values":[{"sequence":"1","value":"1","uniqueID":"7741124012284859356","unitOfMeasure":"","unitID":"","identifier":"1"}],"sequence":"8","name":"PLACEHOLDER_SIZE","associatedKeyword":"-","usage":"Descriptive","uniqueID":"7741124012284251841","displayable":true,"comparable":false,"identifier":"PLACEHOLDER_SIZE","searchable":false,"facetable":false},{"storeDisplay":false,"values":[{"sequence":"5","value":"Keyhole Bridge","uniqueID":"7741124012284859339","unitOfMeasure":"","unitID":"","identifier":"Keyhole Bridge"}],"sequence":"9","name":"BRIDGE TYPE","associatedKeyword":"-","usage":"Descriptive","uniqueID":"7741124012284251836","displayable":false,"comparable":false,"identifier":"BRIDGE TYPE","searchable":false,"facetable":false},{"storeDisplay":false,"values":[{"sequence":"1","value":"Standard","uniqueID":"7741124012284859365","unitOfMeasure":"","unitID":"","identifier":"Standard"}],"sequence":"9","name":"FRAME FIT","associatedKeyword":"-","usage":"Descriptive","uniqueID":"7741124012284251846","displayable":true,"comparable":false,"identifier":"FRAME FIT","searchable":false,"facetable":false},{"storeDisplay":false,"values":[{"sequence":"3","value":"Full Rim","uniqueID":"7741124012283360863","unitOfMeasure":"","unitID":"","identifier":"Full Rim"}],"sequence":"10","name":"Frame type","associatedKeyword":"-","usage":"Descriptive","uniqueID":"7741124012283334370","displayable":false,"comparable":false,"identifier":"FRAMETYPE","searchable":true,"facetable":false},{"storeDisplay":false,"values":[{"sequence":"1","value":"Italy","uniqueID":"7741124012283336067","unitOfMeasure":"","unitID":"","identifier":"Italy"}],"sequence":"10","name":"Made in","associatedKeyword":"-","usage":"Descriptive","uniqueID":"7741124012283334348","displayable":true,"comparable":false,"identifier":"MADEIN","searchable":false,"facetable":false},{"storeDisplay":false,"values":[{"sequence":"4","value":"Mini Supreme Acetate","uniqueID":"7741124012283355349","unitOfMeasure":"","unitID":"","identifier":"Mini Supreme Acetate"}],"sequence":"11","name":"Temple logo","associatedKeyword":"-","usage":"Descriptive","uniqueID":"7741124012283348836","displayable":false,"comparable":true,"identifier":"TEMPLE_LOGO","searchable":false,"facetable":false},{"storeDisplay":false,"values":[{"sequence":"3","value":"Round Face;oval Face","uniqueID":"7741124012284860410","unitOfMeasure":"","unitID":"","identifier":"Round Face;oval Face"}],"sequence":"11","name":"SUGGESTED FACE SHAPE","associatedKeyword":"-","usage":"Descriptive","uniqueID":"7741124012284251843","displayable":false,"comparable":false,"identifier":"SUGGESTED_FACE_SHAPE","searchable":false,"facetable":false},{"storeDisplay":false,"values":[{"sequence":"0","value":"0","uniqueID":"0","unitOfMeasure":"","unitID":"","identifier":"0"}],"sequence":"12","name":"Notainformativa","associatedKeyword":"-","usage":"Descriptive","uniqueID":"7741124012283334350","displayable":false,"comparable":false,"identifier":"NOTAINFORMATIVA","searchable":false,"facetable":false},{"storeDisplay":false,"values":[{"sequence":"1","value":"1026","uniqueID":"7741124012284861352","unitOfMeasure":"","unitID":"","identifier":"1026"}],"sequence":"13","name":"COLOR CODE","associatedKeyword":"-","usage":"Descriptive","uniqueID":"7741124012284253335","displayable":false,"comparable":false,"identifier":"COLOR CODE","searchable":false,"facetable":false},{"storeDisplay":false,"values":[{"sequence":"3","value":"Other","uniqueID":"7741124012283444307","unitOfMeasure":"","unitID":"","identifier":"Other"}],"sequence":"15","name":"Model family","associatedKeyword":"-","usage":"Descriptive","uniqueID":"7741124012283333374","displayable":false,"comparable":false,"identifier":"MODEL_FAMILY","searchable":true,"facetable":true},{"storeDisplay":false,"values":[{"sequence":"4","value":"Brown","uniqueID":"7741124012283336316","unitOfMeasure":"","unitID":"","identifier":"Brown"}],"sequence":"16","name":"Temple inner color facet","associatedKeyword":"-","usage":"Descriptive","uniqueID":"7741124012283334357","displayable":false,"comparable":false,"identifier":"TEMPLE_INNER_COLOR_FACET","searchable":true,"facetable":false},{"storeDisplay":false,"values":[{"sequence":"1","value":"False","uniqueID":"7741124012283337030","unitOfMeasure":"","unitID":"","identifier":"False"}],"sequence":"18","name":"Noreturn","associatedKeyword":"-","usage":"Descriptive","uniqueID":"7741124012283334374","displayable":false,"comparable":false,"identifier":"NORETURN","searchable":false,"facetable":false},{"storeDisplay":false,"values":[{"sequence":"2","value":"True","uniqueID":"7741124012284859353","unitOfMeasure":"","unitID":"","identifier":"True"}],"sequence":"20","name":"ENGRAVINGELIGIBLE","associatedKeyword":"-","usage":"Descriptive","uniqueID":"7741124012284251838","displayable":false,"comparable":false,"identifier":"ENGRAVINGELIGIBLE","searchable":false,"facetable":false},{"storeDisplay":false,"values":[{"sequence":"1","value":"Galleria","uniqueID":"7741124012283336920","unitOfMeasure":"","unitID":"","identifier":"Galleria"}],"sequence":"21","name":"Range","associatedKeyword":"-","usage":"Descriptive","uniqueID":"7741124012283334371","displayable":false,"comparable":false,"identifier":"RANGE","searchable":false,"facetable":true},{"storeDisplay":false,"values":[{"sequence":"1","value":"Demo Lens","uniqueID":"7741124012283336042","unitOfMeasure":"","unitID":"","identifier":"Demo Lens"}],"sequence":"22","name":"Lens color","associatedKeyword":"-","usage":"Descriptive","uniqueID":"7741124012283334345","displayable":false,"comparable":false,"identifier":"LENS_COLOR_FACET","searchable":true,"facetable":true},{"storeDisplay":false,"values":[{"sequence":"1","value":"False","uniqueID":"7741124012283336068","unitOfMeasure":"","unitID":"","identifier":"False"}],"sequence":"23","name":"Newreleases","associatedKeyword":"-","usage":"Descriptive","uniqueID":"7741124012283334349","displayable":false,"comparable":false,"identifier":"NEWRELEASES","searchable":true,"facetable":false},{"storeDisplay":false,"values":[{"sequence":"0","value":"0","uniqueID":"0","unitOfMeasure":"","unitID":"","identifier":"0"}],"sequence":"25","name":"Clen","associatedKeyword":"-","usage":"Descriptive","uniqueID":"7741124012283334344","displayable":false,"comparable":false,"identifier":"CLEN","searchable":false,"facetable":false},{"storeDisplay":false,"values":[{"sequence":"5","value":"Supreme 3,5","uniqueID":"7741124012283355340","unitOfMeasure":"","unitID":"","identifier":"Supreme 3,5"}],"sequence":"26","name":"Arrow","associatedKeyword":"-","usage":"Descriptive","uniqueID":"7741124012283348835","displayable":false,"comparable":false,"identifier":"ARROW","searchable":false,"facetable":false},{"storeDisplay":false,"values":[{"sequence":"1","value":"366500","uniqueID":"7741124012284611812","unitOfMeasure":"","unitID":"","identifier":"366500"}],"sequence":"28","name":"Sequence","associatedKeyword":"-","usage":"Descriptive","uniqueID":"7741124012283593337","displayable":false,"comparable":false,"identifier":"SEQUENCE","searchable":true,"facetable":false},{"storeDisplay":false,"values":[{"sequence":"2","value":"Man","uniqueID":"7741124012283336014","unitOfMeasure":"","unitID":"","identifier":"Man"}],"sequence":"29","name":"Gender","associatedKeyword":"-","usage":"Descriptive","uniqueID":"7741124012283334343","displayable":false,"comparable":false,"identifier":"GENDER","searchable":true,"facetable":true},{"storeDisplay":false,"values":[{"sequence":"1","value":"False","uniqueID":"7741124012284860407","unitOfMeasure":"","unitID":"","identifier":"False"}],"sequence":"30","name":"Flex","associatedKeyword":"-","usage":"Descriptive","uniqueID":"7741124012283364835","displayable":false,"comparable":false,"identifier":"FLEX","searchable":false,"facetable":false},{"storeDisplay":false,"values":[{"sequence":"3","value":"True","uniqueID":"7741124012284582836","unitOfMeasure":"","unitID":"","identifier":"True"}],"sequence":"31","name":"Best Sellers","associatedKeyword":"-","usage":"Descriptive","uniqueID":"7741124012284026835","displayable":false,"comparable":false,"identifier":"BESTSELLERS","searchable":false,"facetable":false},{"storeDisplay":false,"values":[{"sequence":"3","value":"Brown","uniqueID":"7741124012283336000","unitOfMeasure":"","unitID":"","identifier":"Brown"}],"sequence":"32","name":"Front inner color facet","associatedKeyword":"-","usage":"Descriptive","uniqueID":"7741124012283334342","displayable":false,"comparable":false,"identifier":"FRONT_INNER_COLOR_FACET","searchable":true,"facetable":false},{"storeDisplay":false,"values":[{"sequence":"2","value":"PO3007V","uniqueID":"7741124012283336084","unitOfMeasure":"","unitID":"","identifier":"PO3007V"}],"sequence":"33","name":"Modelname","associatedKeyword":"-","usage":"Descriptive","uniqueID":"7741124012283334353","displayable":false,"comparable":false,"identifier":"MODELNAME","searchable":true,"facetable":false},{"storeDisplay":false,"values":[{"sequence":"1","value":"False","uniqueID":"7741124012283335865","unitOfMeasure":"","unitID":"","identifier":"False"}],"sequence":"34","name":"Exclusive","associatedKeyword":"-","usage":"Descriptive","uniqueID":"7741124012283334336","displayable":false,"comparable":false,"identifier":"EXCLUSIVE","searchable":false,"facetable":true},{"storeDisplay":false,"values":[{"image1":"https:\/\/assets.persol.com\/extra\/image\/Persol\/filters\/brown.png","sequence":"2","value":"Brown","uniqueID":"7741124012283335928","image1path":"https:\/\/assets.persol.com\/extra\/image\/Persol\/filters\/brown.png","unitOfMeasure":"","unitID":"","identifier":"Brown"}],"sequence":"35","name":"Frame color","associatedKeyword":"-","usage":"Descriptive","uniqueID":"7741124012283334340","displayable":false,"comparable":false,"identifier":"FRONT_COLOR_FACET","searchable":true,"facetable":true},{"storeDisplay":false,"values":[{"sequence":"1","value":"Square","uniqueID":"7741124012283336915","unitOfMeasure":"","unitID":"","identifier":"Square"}],"sequence":"37","name":"Frame shape","associatedKeyword":"-","usage":"Descriptive","uniqueID":"7741124012283334368","displayable":false,"comparable":false,"identifier":"FRAME_SHAPE_FACET","searchable":true,"facetable":true},{"storeDisplay":false,"values":[{"sequence":"1","value":"False","uniqueID":"7741124012283336078","unitOfMeasure":"","unitID":"","identifier":"False"}],"sequence":"38","name":"Polarized","associatedKeyword":"-","usage":"Descriptive","uniqueID":"7741124012283334352","displayable":false,"comparable":false,"identifier":"POLARIZED","searchable":true,"facetable":true},{"storeDisplay":false,"values":[{"sequence":"1","value":"False","uniqueID":"7741124012283336077","unitOfMeasure":"","unitID":"","identifier":"False"}],"sequence":"39","name":"Onsale","associatedKeyword":"-","usage":"Descriptive","uniqueID":"7741124012283334351","displayable":false,"comparable":false,"identifier":"ONSALE","searchable":false,"facetable":false},{"storeDisplay":false,"values":[{"sequence":"1","value":"False","uniqueID":"7741124012283355350","unitOfMeasure":"","unitID":"","identifier":"False"}],"sequence":"41","name":"Vintage Celebration","associatedKeyword":"-","usage":"Descriptive","uniqueID":"7741124012283348837","displayable":false,"comparable":false,"identifier":"VINTAGE CELEBRATION","searchable":false,"facetable":false},{"storeDisplay":false,"values":[{"sequence":"1","value":"False","uniqueID":"7741124012283336902","unitOfMeasure":"","unitID":"","identifier":"False"}],"sequence":"42","name":"Foldable","associatedKeyword":"-","usage":"Descriptive","uniqueID":"7741124012283334366","displayable":false,"comparable":false,"identifier":"FOLDABLE","searchable":true,"facetable":true},{"storeDisplay":false,"values":[{"sequence":"4","value":"Optical","uniqueID":"7741124012283333657","unitOfMeasure":"","unitID":"","identifier":"Optical"}],"sequence":"43","name":"Producttype","associatedKeyword":"-","usage":"Descriptive","uniqueID":"7741124012283333376","displayable":false,"comparable":false,"identifier":"PRODUCTTYPE","searchable":true,"facetable":false},{"storeDisplay":false,"values":[{"sequence":"1","value":"False","uniqueID":"7741124012284859336","unitOfMeasure":"","unitID":"","identifier":"False"}],"sequence":"44","name":"AVANT_PREMIERE","associatedKeyword":"-","usage":"Descriptive","uniqueID":"7741124012284251835","displayable":false,"comparable":false,"identifier":"AVANT_PREMIERE","searchable":false,"facetable":false},{"storeDisplay":false,"values":[{"sequence":"2","value":"Striped Brown","uniqueID":"7741124012283335976","unitOfMeasure":"","unitID":"","identifier":"Striped Brown"}],"sequence":"45","name":"Front inner color","associatedKeyword":"-","usage":"Descriptive","uniqueID":"7741124012283334341","displayable":false,"comparable":false,"identifier":"FRONT_INNER_COLOR","searchable":false,"facetable":false},{"storeDisplay":false,"values":[{"image1":"https:\/\/assets.persol.com\/extra\/image\/TargetOptical\/filters\/brown2.png","sequence":"3","value":"Brown","uniqueID":"7741124012283336272","image1path":"https:\/\/assets.persol.com\/extra\/image\/TargetOptical\/filters\/brown2.png","unitOfMeasure":"","unitID":"","identifier":"Brown"}],"sequence":"46","name":"Temple inner color","associatedKeyword":"-","usage":"Descriptive","uniqueID":"7741124012283334356","displayable":false,"comparable":false,"identifier":"TEMPLE_INNER_COLOR","searchable":false,"facetable":false},{"storeDisplay":false,"values":[{"sequence":"1","value":"Brown","uniqueID":"7741124012283336243","unitOfMeasure":"","unitID":"","identifier":"Brown"}],"sequence":"47","name":"Temple color facet","associatedKeyword":"-","usage":"Descriptive","uniqueID":"7741124012283334355","displayable":false,"comparable":false,"identifier":"TEMPLE_COLOR_FACET","searchable":true,"facetable":false},{"storeDisplay":false,"values":[{"sequence":"2","value":"True","uniqueID":"7741124012284859902","unitOfMeasure":"","unitID":"","identifier":"True"}],"sequence":"48","name":"MEFLECTO","associatedKeyword":"-","usage":"Descriptive","uniqueID":"7741124012284251847","displayable":false,"comparable":false,"identifier":"MEFLECTO","searchable":false,"facetable":false},{"storeDisplay":false,"values":[{"sequence":"1","value":"Global","uniqueID":"7741124012283336916","unitOfMeasure":"","unitID":"","identifier":"Global"}],"sequence":"49","name":"Fitting","associatedKeyword":"-","usage":"Descriptive","uniqueID":"7741124012283334369","displayable":false,"comparable":false,"identifier":"GEO_FIT","searchable":true,"facetable":false}],"storeID":"715838084","numberOfSKUs":2,"partNumber":"0PO3007V__1026"},{"hasSingleSKU":true,"catalogEntryTypeCode":"ProductBean","associationType":"REPLACEMENT","parentCatalogGroupID":["3074457345616676668_3074457345616676669","3074457345616681818_3074457345616678178","3074457345616681818_3074457345616696193","3074457345616681818_3074457345616696201","3074457345616681818_3074457345616700168","3074457345616681818_3074457345616700669","3074457345616681818_3074457345616700670","3074457345616681818_3074457345616710669","3074457345616681818_3074457345616710673","3074457345616681818_3074457345616715669","3074457345616681818_3074457345616716181","3074457345616681818_3074457345616716184"],"price_USD":"130.0","uniqueID":"3074457345616796676","singleSKUCatalogEntryID":"3074457345616797180","sKUs":[{"hasSingleSKU":false,"catalogEntryTypeCode":"ItemBean","parentCatalogGroupID":["3074457345616676668_3074457345616676669","3074457345616681818_3074457345616678178","3074457345616681818_3074457345616696193","3074457345616681818_3074457345616696201","3074457345616681818_3074457345616700168","3074457345616681818_3074457345616700669","3074457345616681818_3074457345616700670","3074457345616681818_3074457345616710669","3074457345616681818_3074457345616710673","3074457345616681818_3074457345616715669","3074457345616681818_3074457345616716181","3074457345616681818_3074457345616716184"],"uniqueID":"3074457345616797180","resourceId":"http:\/\/lux-prdlv-src01.lux-ecomm.net:3737\/search\/resources\/store\/715838388\/productview\/byId\/3074457345616797180","price":[{"description":"L","value":"","usage":"Display","currency":"USD"},{"description":"O","value":"","usage":"Offer","currency":"USD"}],"thumbnail":"https:\/\/assets.persol.com\/is\/image\/Persol\/8053672837704_noshad_fr.png?impolicy=HB_parameters&sclw=0.25&sclh=0.25","shortDescription":"PO3007V 1058 50-19","mfPartNumber_ntk":"0PO3007V","name":"PO3007V 1058 50-19","buyable":"true","storeID":"715838084","attributes":[{"storeDisplay":false,"values":[{"sequence":"1","value":"Standard","uniqueID":"7741124012283336345","unitOfMeasure":"","unitID":"","identifier":"Standard"}],"sequence":"1","name":"Size","usage":"Defining","uniqueID":"7741124012283334359","displayable":true,"comparable":false,"identifier":"MODEL_SIZE_DISPLAY","searchable":false,"facetable":false},{"storeDisplay":false,"values":[{"sequence":"2","value":"Demo Lens","uniqueID":"7741124012283336896","unitOfMeasure":"","unitID":"","identifier":"Demo Lens"}],"sequence":"3","name":"Lens treatment","usage":"Descriptive","uniqueID":"7741124012283334364","displayable":false,"comparable":false,"identifier":"LENS_TREATMENT","searchable":false,"facetable":false},{"storeDisplay":false,"values":[{"sequence":"1","value":"Demo Lens","uniqueID":"7741124012283336900","unitOfMeasure":"","unitID":"","identifier":"Demo Lens"}],"sequence":"461","name":"Lens type","usage":"Descriptive","uniqueID":"7741124012283334365","displayable":false,"comparable":false,"identifier":"LENS_TREATMENT_FACET","searchable":true,"facetable":true},{"storeDisplay":false,"values":[{"sequence":"1","value":"19","uniqueID":"7741124012283336885","unitOfMeasure":"","unitID":"","identifier":"19"}],"sequence":"461","name":"Lens bridge","usage":"Descriptive","uniqueID":"7741124012283334362","displayable":false,"comparable":false,"identifier":"LENS_BRIDGE","searchable":false,"facetable":false},{"storeDisplay":false,"values":[{"sequence":"2","value":"PO3007V 1058 50-19","uniqueID":"7741124012285345877","unitOfMeasure":"","unitID":"","identifier":"PO3007V 1058 50-19"}],"sequence":"461","name":"Displaysku","usage":"Descriptive","uniqueID":"7741124012283364836","displayable":false,"comparable":false,"identifier":"DISPLAYSKU","searchable":false,"facetable":false},{"storeDisplay":false,"values":[{"sequence":"5","value":"Acetate-all;arrow-all","uniqueID":"7741124012285345920","unitOfMeasure":"","unitID":"","identifier":"Acetate-all;arrow-all"}],"sequence":"461","name":"FEATURES","usage":"Descriptive","uniqueID":"7741124012284251845","displayable":false,"comparable":false,"identifier":"FEATURES","searchable":false,"facetable":false},{"storeDisplay":false,"values":[{"sequence":"1","value":"50","uniqueID":"7741124012283336334","unitOfMeasure":"","unitID":"","identifier":"50"}],"sequence":"461","name":"Model size","usage":"Descriptive","uniqueID":"7741124012283334358","displayable":false,"comparable":false,"identifier":"MODEL_SIZE","searchable":false,"facetable":false},{"storeDisplay":false,"values":[{"sequence":"1","value":"Zpfn","uniqueID":"7741124012283336923","unitOfMeasure":"","unitID":"","identifier":"Zpfn"}],"sequence":"461","name":"Materialtype","usage":"Descriptive","uniqueID":"7741124012283334372","displayable":false,"comparable":false,"identifier":"MATERIALTYPE","searchable":false,"facetable":false},{"storeDisplay":false,"values":[{"sequence":"1","value":"1058 50","uniqueID":"7741124012283759492","unitOfMeasure":"","unitID":"","identifier":"1058 50"}],"sequence":"461","name":"Grid Value","usage":"Descriptive","uniqueID":"7741124012283364837","displayable":true,"comparable":false,"identifier":"GRID VALUE","searchable":false,"facetable":false},{"storeDisplay":false,"values":[{"sequence":"4","value":"145","uniqueID":"7741124012283336892","unitOfMeasure":"","unitID":"","identifier":"145"}],"sequence":"461","name":"Temple length","usage":"Descriptive","uniqueID":"7741124012283334363","displayable":false,"comparable":false,"identifier":"TEMPLE_LENGTH","searchable":false,"facetable":false},{"storeDisplay":false,"values":[{"sequence":"1","value":"Trending Now","uniqueID":"7741124012284582837","unitOfMeasure":"","unitID":"","identifier":"Trending Now"}],"sequence":"461","name":"Primary family","usage":"Descriptive","uniqueID":"7741124012284026836","displayable":false,"comparable":false,"identifier":"PRIMARY_FAMILY","searchable":false,"facetable":false},{"storeDisplay":false,"values":[{"sequence":"5","value":"Supreme 3,5","uniqueID":"7741124012283355340","unitOfMeasure":"","unitID":"","identifier":"Supreme 3,5"}],"sequence":"1641","name":"Arrow","usage":"Descriptive","uniqueID":"7741124012283348835","displayable":false,"comparable":false,"identifier":"ARROW","searchable":false,"facetable":false}],"partNumber":"8053672837704"}],"resourceId":"http:\/\/lux-prdlv-src01.lux-ecomm.net:3737\/search\/resources\/store\/715838388\/productview\/byId\/3074457345616796676","price":[{"description":"L","value":"260.0","usage":"Display","currency":"USD"},{"description":"O","value":"","usage":"Offer","currency":"USD"}],"thumbnail":"https:\/\/assets.persol.com\/is\/image\/Persol\/8053672837704_noshad_fr.png?impolicy=HB_parameters&sclw=0.25&sclh=0.25","shortDescription":"PO3007V","mfPartNumber_ntk":"0PO3007V","name":"PO3007V","buyable":"true","quantity":1,"attributes":[{"storeDisplay":false,"values":[{"sequence":"5","value":"PO3007V","uniqueID":"7741124012283444287","unitOfMeasure":"","unitID":"","identifier":"PO3007V"}],"sequence":"0","name":"Model code","associatedKeyword":"-","usage":"Descriptive","uniqueID":"7741124012283334373","displayable":true,"comparable":false,"identifier":"MODEL_CODE_DISPLAY","searchable":false,"facetable":false},{"storeDisplay":false,"values":[{"sequence":"2","value":"Brown Spotted Blue","uniqueID":"7741124012283335890","unitOfMeasure":"","unitID":"","identifier":"Brown Spotted Blue"}],"sequence":"1","name":"Front color","associatedKeyword":"-","usage":"Descriptive","uniqueID":"7741124012283334339","displayable":true,"comparable":false,"identifier":"FRONT_COLOR","searchable":false,"facetable":false},{"storeDisplay":false,"values":[{"sequence":"1","value":"Standard","uniqueID":"7741124012283336345","unitOfMeasure":"","unitID":"","identifier":"Standard"}],"sequence":"1","name":"Size","associatedKeyword":"-","usage":"Defining","uniqueID":"7741124012283334359","displayable":true,"comparable":false,"identifier":"MODEL_SIZE_DISPLAY","searchable":false,"facetable":false},{"storeDisplay":false,"values":[{"sequence":"3","value":"201707","uniqueID":"7741124012283335835","unitOfMeasure":"","unitID":"","identifier":"201707"}],"sequence":"1","name":"Collection","associatedKeyword":"-","usage":"Descriptive","uniqueID":"7741124012283334335","displayable":false,"comparable":false,"identifier":"COLLECTION","searchable":true,"facetable":false},{"storeDisplay":false,"values":[{"sequence":"5","value":"Square","uniqueID":"7741124012283336911","unitOfMeasure":"","unitID":"","identifier":"Square"}],"sequence":"2","name":"Frame shape","associatedKeyword":"-","usage":"Descriptive","uniqueID":"7741124012283334367","displayable":false,"comparable":false,"identifier":"FRAME_SHAPE","searchable":false,"facetable":false},{"storeDisplay":false,"values":[{"sequence":"1","value":"Demo Lens","uniqueID":"7741124012283336054","unitOfMeasure":"","unitID":"","identifier":"Demo Lens"}],"sequence":"2","name":"Lens color","associatedKeyword":"-","usage":"Descriptive","uniqueID":"7741124012283334346","displayable":true,"comparable":false,"identifier":"LENS_COLOR","searchable":false,"facetable":false},{"storeDisplay":false,"values":[{"sequence":"2","value":"Demo Lens","uniqueID":"7741124012283336896","unitOfMeasure":"","unitID":"","identifier":"Demo Lens"}],"sequence":"3","name":"Lens treatment","associatedKeyword":"-","usage":"Descriptive","uniqueID":"7741124012283334364","displayable":false,"comparable":false,"identifier":"LENS_TREATMENT","searchable":false,"facetable":false},{"storeDisplay":false,"values":[{"sequence":"1","value":"False","uniqueID":"7741124012285955768","unitOfMeasure":"","unitID":"","identifier":"False"}],"sequence":"3","name":"Photochromic","associatedKeyword":"-","usage":"Descriptive","uniqueID":"7741124012284852335","displayable":false,"comparable":false,"identifier":"PHOTOCHROMIC","searchable":true,"facetable":true},{"storeDisplay":false,"values":[{"sequence":"0","value":"0","uniqueID":"0","unitOfMeasure":"","unitID":"","identifier":"0"}],"sequence":"4","name":"LENS MATERIAL FACET","associatedKeyword":"-","usage":"Descriptive","uniqueID":"7741124012284251849","displayable":false,"comparable":false,"identifier":"LENS_MATERIAL_FACET","searchable":false,"facetable":false},{"storeDisplay":false,"values":[{"sequence":"0","value":"0","uniqueID":"0","unitOfMeasure":"","unitID":"","identifier":"0"}],"sequence":"5","name":"LENS MATERIAL","associatedKeyword":"-","usage":"Descriptive","uniqueID":"7741124012284251848","displayable":true,"comparable":false,"identifier":"LENS_MATERIAL","searchable":false,"facetable":false},{"storeDisplay":false,"values":[{"sequence":"2","value":"Acetate","uniqueID":"7741124012283335870","unitOfMeasure":"","unitID":"","identifier":"Acetate"}],"sequence":"5","name":"Frame material","associatedKeyword":"-","usage":"Descriptive","uniqueID":"7741124012283334338","displayable":false,"comparable":false,"identifier":"FRAMEMATERIAL_FACET","searchable":true,"facetable":true},{"storeDisplay":false,"values":[{"sequence":"4","value":"Acetate","uniqueID":"7741124012283335867","unitOfMeasure":"","unitID":"","identifier":"Acetate"}],"sequence":"6","name":"Frame Material","associatedKeyword":"-","usage":"Descriptive","uniqueID":"7741124012283334337","displayable":true,"comparable":false,"identifier":"FRAMEMATERIAL","searchable":false,"facetable":false},{"storeDisplay":false,"values":[{"sequence":"1","value":"False","uniqueID":"7741124012283336065","unitOfMeasure":"","unitID":"","identifier":"False"}],"sequence":"6","name":"Limited edition","associatedKeyword":"-","usage":"Descriptive","uniqueID":"7741124012283334347","displayable":false,"comparable":false,"identifier":"LIMITED_EDITION","searchable":false,"facetable":false},{"storeDisplay":false,"values":[{"sequence":"2","value":"Brown Spotted Blue","uniqueID":"7741124012283336200","unitOfMeasure":"","unitID":"","identifier":"Brown Spotted Blue"}],"sequence":"7","name":"Temple color","associatedKeyword":"-","usage":"Descriptive","uniqueID":"7741124012283334354","displayable":false,"comparable":false,"identifier":"TEMPLE_COLOR","searchable":false,"facetable":false},{"storeDisplay":false,"values":[{"sequence":"1","value":"Not Adjustable","uniqueID":"7741124012284859354","unitOfMeasure":"","unitID":"","identifier":"Not Adjustable"}],"sequence":"7","name":"Nosepads","associatedKeyword":"-","usage":"Descriptive","uniqueID":"7741124012284251840","displayable":true,"comparable":false,"identifier":"NOSEPADS","searchable":true,"facetable":true},{"storeDisplay":false,"values":[{"sequence":"1","value":"1","uniqueID":"7741124012284859356","unitOfMeasure":"","unitID":"","identifier":"1"}],"sequence":"8","name":"PLACEHOLDER_SIZE","associatedKeyword":"-","usage":"Descriptive","uniqueID":"7741124012284251841","displayable":true,"comparable":false,"identifier":"PLACEHOLDER_SIZE","searchable":false,"facetable":false},{"storeDisplay":false,"values":[{"sequence":"1","value":"Polished","uniqueID":"7741124012284859363","unitOfMeasure":"","unitID":"","identifier":"Polished"}],"sequence":"9","name":"FINISHING","associatedKeyword":"-","usage":"Descriptive","uniqueID":"7741124012284251844","displayable":false,"comparable":false,"identifier":"FINISHING","searchable":false,"facetable":false},{"storeDisplay":false,"values":[{"sequence":"1","value":"Standard","uniqueID":"7741124012284859365","unitOfMeasure":"","unitID":"","identifier":"Standard"}],"sequence":"9","name":"FRAME FIT","associatedKeyword":"-","usage":"Descriptive","uniqueID":"7741124012284251846","displayable":true,"comparable":false,"identifier":"FRAME FIT","searchable":false,"facetable":false},{"storeDisplay":false,"values":[{"sequence":"1","value":"Italy","uniqueID":"7741124012283336067","unitOfMeasure":"","unitID":"","identifier":"Italy"}],"sequence":"10","name":"Made in","associatedKeyword":"-","usage":"Descriptive","uniqueID":"7741124012283334348","displayable":true,"comparable":false,"identifier":"MADEIN","searchable":false,"facetable":false},{"storeDisplay":false,"values":[{"sequence":"5","value":"Keyhole Bridge","uniqueID":"7741124012284859339","unitOfMeasure":"","unitID":"","identifier":"Keyhole Bridge"}],"sequence":"10","name":"BRIDGE TYPE","associatedKeyword":"-","usage":"Descriptive","uniqueID":"7741124012284251836","displayable":false,"comparable":false,"identifier":"BRIDGE TYPE","searchable":false,"facetable":false},{"storeDisplay":false,"values":[{"sequence":"3","value":"Full Rim","uniqueID":"7741124012283360863","unitOfMeasure":"","unitID":"","identifier":"Full Rim"}],"sequence":"11","name":"Frame type","associatedKeyword":"-","usage":"Descriptive","uniqueID":"7741124012283334370","displayable":false,"comparable":false,"identifier":"FRAMETYPE","searchable":true,"facetable":false},{"storeDisplay":false,"values":[{"sequence":"4","value":"Mini Supreme Acetate","uniqueID":"7741124012283355349","unitOfMeasure":"","unitID":"","identifier":"Mini Supreme Acetate"}],"sequence":"11","name":"Temple logo","associatedKeyword":"-","usage":"Descriptive","uniqueID":"7741124012283348836","displayable":false,"comparable":true,"identifier":"TEMPLE_LOGO","searchable":false,"facetable":false},{"storeDisplay":false,"values":[{"sequence":"3","value":"Round Face;oval Face","uniqueID":"7741124012284860410","unitOfMeasure":"","unitID":"","identifier":"Round Face;oval Face"}],"sequence":"12","name":"SUGGESTED FACE SHAPE","associatedKeyword":"-","usage":"Descriptive","uniqueID":"7741124012284251843","displayable":false,"comparable":false,"identifier":"SUGGESTED_FACE_SHAPE","searchable":false,"facetable":false},{"storeDisplay":false,"values":[{"sequence":"5","value":"1058","uniqueID":"7741124012284861379","unitOfMeasure":"","unitID":"","identifier":"1058"}],"sequence":"13","name":"COLOR CODE","associatedKeyword":"-","usage":"Descriptive","uniqueID":"7741124012284253335","displayable":false,"comparable":false,"identifier":"COLOR CODE","searchable":false,"facetable":false},{"storeDisplay":false,"values":[{"sequence":"3","value":"Other","uniqueID":"7741124012283444307","unitOfMeasure":"","unitID":"","identifier":"Other"}],"sequence":"15","name":"Model family","associatedKeyword":"-","usage":"Descriptive","uniqueID":"7741124012283333374","displayable":false,"comparable":false,"identifier":"MODEL_FAMILY","searchable":true,"facetable":true},{"storeDisplay":false,"values":[{"image1":"https:\/\/assets.persol.com\/extra\/image\/TargetOptical\/filters\/havana.png","sequence":"5","value":"Havana","uniqueID":"7741124012283336323","image1path":"https:\/\/assets.persol.com\/extra\/image\/TargetOptical\/filters\/havana.png","unitOfMeasure":"","unitID":"","identifier":"Havana"}],"sequence":"16","name":"Temple inner color facet","associatedKeyword":"-","usage":"Descriptive","uniqueID":"7741124012283334357","displayable":false,"comparable":false,"identifier":"TEMPLE_INNER_COLOR_FACET","searchable":true,"facetable":false},{"storeDisplay":false,"values":[{"sequence":"1","value":"False","uniqueID":"7741124012283337030","unitOfMeasure":"","unitID":"","identifier":"False"}],"sequence":"18","name":"Noreturn","associatedKeyword":"-","usage":"Descriptive","uniqueID":"7741124012283334374","displayable":false,"comparable":false,"identifier":"NORETURN","searchable":false,"facetable":false},{"storeDisplay":false,"values":[{"sequence":"2","value":"True","uniqueID":"7741124012284859353","unitOfMeasure":"","unitID":"","identifier":"True"}],"sequence":"20","name":"ENGRAVINGELIGIBLE","associatedKeyword":"-","usage":"Descriptive","uniqueID":"7741124012284251838","displayable":false,"comparable":false,"identifier":"ENGRAVINGELIGIBLE","searchable":false,"facetable":false},{"storeDisplay":false,"values":[{"sequence":"1","value":"Galleria","uniqueID":"7741124012283336920","unitOfMeasure":"","unitID":"","identifier":"Galleria"}],"sequence":"21","name":"Range","associatedKeyword":"-","usage":"Descriptive","uniqueID":"7741124012283334371","displayable":false,"comparable":false,"identifier":"RANGE","searchable":false,"facetable":true},{"storeDisplay":false,"values":[{"sequence":"1","value":"Demo Lens","uniqueID":"7741124012283336042","unitOfMeasure":"","unitID":"","identifier":"Demo Lens"}],"sequence":"22","name":"Lens color","associatedKeyword":"-","usage":"Descriptive","uniqueID":"7741124012283334345","displayable":false,"comparable":false,"identifier":"LENS_COLOR_FACET","searchable":true,"facetable":true},{"storeDisplay":false,"values":[{"sequence":"1","value":"False","uniqueID":"7741124012283336068","unitOfMeasure":"","unitID":"","identifier":"False"}],"sequence":"23","name":"Newreleases","associatedKeyword":"-","usage":"Descriptive","uniqueID":"7741124012283334349","displayable":false,"comparable":false,"identifier":"NEWRELEASES","searchable":true,"facetable":false},{"storeDisplay":false,"values":[{"sequence":"0","value":"0","uniqueID":"0","unitOfMeasure":"","unitID":"","identifier":"0"}],"sequence":"25","name":"Clen","associatedKeyword":"-","usage":"Descriptive","uniqueID":"7741124012283334344","displayable":false,"comparable":false,"identifier":"CLEN","searchable":false,"facetable":false},{"storeDisplay":false,"values":[{"sequence":"5","value":"Supreme 3,5","uniqueID":"7741124012283355340","unitOfMeasure":"","unitID":"","identifier":"Supreme 3,5"}],"sequence":"26","name":"Arrow","associatedKeyword":"-","usage":"Descriptive","uniqueID":"7741124012283348835","displayable":false,"comparable":false,"identifier":"ARROW","searchable":false,"facetable":false},{"storeDisplay":false,"values":[{"sequence":"2","value":"364100","uniqueID":"7741124012285345915","unitOfMeasure":"","unitID":"","identifier":"364100"}],"sequence":"28","name":"Sequence","associatedKeyword":"-","usage":"Descriptive","uniqueID":"7741124012283593337","displayable":false,"comparable":false,"identifier":"SEQUENCE","searchable":true,"facetable":false},{"storeDisplay":false,"values":[{"sequence":"2","value":"Man","uniqueID":"7741124012283336014","unitOfMeasure":"","unitID":"","identifier":"Man"}],"sequence":"29","name":"Gender","associatedKeyword":"-","usage":"Descriptive","uniqueID":"7741124012283334343","displayable":false,"comparable":false,"identifier":"GENDER","searchable":true,"facetable":true},{"storeDisplay":false,"values":[{"sequence":"1","value":"False","uniqueID":"7741124012284860407","unitOfMeasure":"","unitID":"","identifier":"False"}],"sequence":"30","name":"Flex","associatedKeyword":"-","usage":"Descriptive","uniqueID":"7741124012283364835","displayable":false,"comparable":false,"identifier":"FLEX","searchable":false,"facetable":false},{"storeDisplay":false,"values":[{"sequence":"3","value":"True","uniqueID":"7741124012284582836","unitOfMeasure":"","unitID":"","identifier":"True"}],"sequence":"31","name":"Best Sellers","associatedKeyword":"-","usage":"Descriptive","uniqueID":"7741124012284026835","displayable":false,"comparable":false,"identifier":"BESTSELLERS","searchable":false,"facetable":false},{"storeDisplay":false,"values":[{"sequence":"5","value":"Havana","uniqueID":"7741124012283336007","unitOfMeasure":"","unitID":"","identifier":"Havana"}],"sequence":"32","name":"Front inner color facet","associatedKeyword":"-","usage":"Descriptive","uniqueID":"7741124012283334342","displayable":false,"comparable":false,"identifier":"FRONT_INNER_COLOR_FACET","searchable":true,"facetable":false},{"storeDisplay":false,"values":[{"sequence":"2","value":"PO3007V","uniqueID":"7741124012283336084","unitOfMeasure":"","unitID":"","identifier":"PO3007V"}],"sequence":"33","name":"Modelname","associatedKeyword":"-","usage":"Descriptive","uniqueID":"7741124012283334353","displayable":false,"comparable":false,"identifier":"MODELNAME","searchable":true,"facetable":false},{"storeDisplay":false,"values":[{"sequence":"1","value":"False","uniqueID":"7741124012283335865","unitOfMeasure":"","unitID":"","identifier":"False"}],"sequence":"34","name":"Exclusive","associatedKeyword":"-","usage":"Descriptive","uniqueID":"7741124012283334336","displayable":false,"comparable":false,"identifier":"EXCLUSIVE","searchable":false,"facetable":true},{"storeDisplay":false,"values":[{"image1":"https:\/\/assets.persol.com\/extra\/image\/Persol\/filters\/tortoise.png","sequence":"5","value":"Tortoise","uniqueID":"7741124012284314837","image1path":"https:\/\/assets.persol.com\/extra\/image\/Persol\/filters\/tortoise.png","unitOfMeasure":"","unitID":"","identifier":"Tortoise"}],"sequence":"35","name":"Frame color","associatedKeyword":"-","usage":"Descriptive","uniqueID":"7741124012283334340","displayable":false,"comparable":false,"identifier":"FRONT_COLOR_FACET","searchable":true,"facetable":true},{"storeDisplay":false,"values":[{"sequence":"1","value":"Square","uniqueID":"7741124012283336915","unitOfMeasure":"","unitID":"","identifier":"Square"}],"sequence":"37","name":"Frame shape","associatedKeyword":"-","usage":"Descriptive","uniqueID":"7741124012283334368","displayable":false,"comparable":false,"identifier":"FRAME_SHAPE_FACET","searchable":true,"facetable":true},{"storeDisplay":false,"values":[{"sequence":"1","value":"False","uniqueID":"7741124012283336078","unitOfMeasure":"","unitID":"","identifier":"False"}],"sequence":"38","name":"Polarized","associatedKeyword":"-","usage":"Descriptive","uniqueID":"7741124012283334352","displayable":false,"comparable":false,"identifier":"POLARIZED","searchable":true,"facetable":true},{"storeDisplay":false,"values":[{"sequence":"1","value":"False","uniqueID":"7741124012283336077","unitOfMeasure":"","unitID":"","identifier":"False"}],"sequence":"39","name":"Onsale","associatedKeyword":"-","usage":"Descriptive","uniqueID":"7741124012283334351","displayable":false,"comparable":false,"identifier":"ONSALE","searchable":false,"facetable":false},{"storeDisplay":false,"values":[{"sequence":"1","value":"False","uniqueID":"7741124012283355350","unitOfMeasure":"","unitID":"","identifier":"False"}],"sequence":"42","name":"Vintage Celebration","associatedKeyword":"-","usage":"Descriptive","uniqueID":"7741124012283348837","displayable":false,"comparable":false,"identifier":"VINTAGE CELEBRATION","searchable":false,"facetable":false},{"storeDisplay":false,"values":[{"sequence":"1","value":"False","uniqueID":"7741124012283336902","unitOfMeasure":"","unitID":"","identifier":"False"}],"sequence":"43","name":"Foldable","associatedKeyword":"-","usage":"Descriptive","uniqueID":"7741124012283334366","displayable":false,"comparable":false,"identifier":"FOLDABLE","searchable":true,"facetable":true},{"storeDisplay":false,"values":[{"sequence":"1","value":"False","uniqueID":"7741124012284859336","unitOfMeasure":"","unitID":"","identifier":"False"}],"sequence":"43","name":"AVANT_PREMIERE","associatedKeyword":"-","usage":"Descriptive","uniqueID":"7741124012284251835","displayable":false,"comparable":false,"identifier":"AVANT_PREMIERE","searchable":false,"facetable":false},{"storeDisplay":false,"values":[{"sequence":"4","value":"Optical","uniqueID":"7741124012283333657","unitOfMeasure":"","unitID":"","identifier":"Optical"}],"sequence":"44","name":"Producttype","associatedKeyword":"-","usage":"Descriptive","uniqueID":"7741124012283333376","displayable":false,"comparable":false,"identifier":"PRODUCTTYPE","searchable":true,"facetable":false},{"storeDisplay":false,"values":[{"sequence":"4","value":"Brown Spotted Blue","uniqueID":"7741124012283335958","unitOfMeasure":"","unitID":"","identifier":"Brown Spotted Blue"}],"sequence":"45","name":"Front inner color","associatedKeyword":"-","usage":"Descriptive","uniqueID":"7741124012283334341","displayable":false,"comparable":false,"identifier":"FRONT_INNER_COLOR","searchable":false,"facetable":false},{"storeDisplay":false,"values":[{"sequence":"1","value":"Brown Spotted Blue","uniqueID":"7741124012283336273","unitOfMeasure":"","unitID":"","identifier":"Brown Spotted Blue"}],"sequence":"46","name":"Temple inner color","associatedKeyword":"-","usage":"Descriptive","uniqueID":"7741124012283334356","displayable":false,"comparable":false,"identifier":"TEMPLE_INNER_COLOR","searchable":false,"facetable":false},{"storeDisplay":false,"values":[{"image1":"https:\/\/assets.persol.com\/extra\/image\/TargetOptical\/filters\/havana.png","sequence":"3","value":"Havana","uniqueID":"7741124012283336250","image1path":"https:\/\/assets.persol.com\/extra\/image\/TargetOptical\/filters\/havana.png","unitOfMeasure":"","unitID":"","identifier":"Havana"}],"sequence":"47","name":"Temple color facet","associatedKeyword":"-","usage":"Descriptive","uniqueID":"7741124012283334355","displayable":false,"comparable":false,"identifier":"TEMPLE_COLOR_FACET","searchable":true,"facetable":false},{"storeDisplay":false,"values":[{"sequence":"2","value":"True","uniqueID":"7741124012284859902","unitOfMeasure":"","unitID":"","identifier":"True"}],"sequence":"48","name":"MEFLECTO","associatedKeyword":"-","usage":"Descriptive","uniqueID":"7741124012284251847","displayable":false,"comparable":false,"identifier":"MEFLECTO","searchable":false,"facetable":false},{"storeDisplay":false,"values":[{"sequence":"1","value":"Global","uniqueID":"7741124012283336916","unitOfMeasure":"","unitID":"","identifier":"Global"}],"sequence":"49","name":"Fitting","associatedKeyword":"-","usage":"Descriptive","uniqueID":"7741124012283334369","displayable":false,"comparable":false,"identifier":"GEO_FIT","searchable":true,"facetable":false}],"storeID":"715838084","numberOfSKUs":1,"partNumber":"0PO3007V__1058"},{"hasSingleSKU":true,"catalogEntryTypeCode":"ProductBean","associationType":"REPLACEMENT","parentCatalogGroupID":["3074457345616676668_3074457345616676669","3074457345616681818_3074457345616678178","3074457345616681818_3074457345616696193","3074457345616681818_3074457345616696201","3074457345616681818_3074457345616700168","3074457345616681818_3074457345616700669","3074457345616681818_3074457345616700670","3074457345616681818_3074457345616715669","3074457345616681818_3074457345616716181","3074457345616681818_3074457345616716187","3074457345616681818_3074457345616716189"],"price_USD":"265.0","uniqueID":"3074457345616796683","singleSKUCatalogEntryID":"3074457345616797187","sKUs":[{"hasSingleSKU":false,"catalogEntryTypeCode":"ItemBean","parentCatalogGroupID":["3074457345616676668_3074457345616676669","3074457345616681818_3074457345616678178","3074457345616681818_3074457345616696193","3074457345616681818_3074457345616696201","3074457345616681818_3074457345616700168","3074457345616681818_3074457345616700669","3074457345616681818_3074457345616700670","3074457345616681818_3074457345616715669","3074457345616681818_3074457345616716181","3074457345616681818_3074457345616716187","3074457345616681818_3074457345616716189"],"uniqueID":"3074457345616797187","resourceId":"http:\/\/lux-prdlv-src01.lux-ecomm.net:3737\/search\/resources\/store\/715838388\/productview\/byId\/3074457345616797187","price":[{"description":"L","value":"","usage":"Display","currency":"USD"},{"description":"O","value":"","usage":"Offer","currency":"USD"}],"thumbnail":"https:\/\/assets.persol.com\/is\/image\/Persol\/8056597086851_noshad_fr.png?impolicy=HB_parameters&sclw=0.25&sclh=0.25","shortDescription":"PO3007V 204 50-19","mfPartNumber_ntk":"0PO3007V","name":"PO3007V 204 50-19","buyable":"true","storeID":"715838084","attributes":[{"storeDisplay":false,"values":[{"sequence":"1","value":"Standard","uniqueID":"7741124012283336345","unitOfMeasure":"","unitID":"","identifier":"Standard"}],"sequence":"1","name":"Size","usage":"Defining","uniqueID":"7741124012283334359","displayable":true,"comparable":false,"identifier":"MODEL_SIZE_DISPLAY","searchable":false,"facetable":false},{"storeDisplay":false,"values":[{"sequence":"2","value":"Demo Lens","uniqueID":"7741124012283336896","unitOfMeasure":"","unitID":"","identifier":"Demo Lens"}],"sequence":"3","name":"Lens treatment","usage":"Descriptive","uniqueID":"7741124012283334364","displayable":false,"comparable":false,"identifier":"LENS_TREATMENT","searchable":false,"facetable":false},{"storeDisplay":false,"values":[{"sequence":"1","value":"204 50","uniqueID":"7741124012285345867","unitOfMeasure":"","unitID":"","identifier":"204 50"}],"sequence":"470","name":"Grid Value","usage":"Descriptive","uniqueID":"7741124012283364837","displayable":true,"comparable":false,"identifier":"GRID VALUE","searchable":false,"facetable":false},{"storeDisplay":false,"values":[{"sequence":"1","value":"Demo Lens","uniqueID":"7741124012283336900","unitOfMeasure":"","unitID":"","identifier":"Demo Lens"}],"sequence":"470","name":"Lens type","usage":"Descriptive","uniqueID":"7741124012283334365","displayable":false,"comparable":false,"identifier":"LENS_TREATMENT_FACET","searchable":true,"facetable":true},{"storeDisplay":false,"values":[{"sequence":"1","value":"19","uniqueID":"7741124012283336885","unitOfMeasure":"","unitID":"","identifier":"19"}],"sequence":"470","name":"Lens bridge","usage":"Descriptive","uniqueID":"7741124012283334362","displayable":false,"comparable":false,"identifier":"LENS_BRIDGE","searchable":false,"facetable":false},{"storeDisplay":false,"values":[{"sequence":"5","value":"Acetate-all;arrow-all","uniqueID":"7741124012285345920","unitOfMeasure":"","unitID":"","identifier":"Acetate-all;arrow-all"}],"sequence":"470","name":"FEATURES","usage":"Descriptive","uniqueID":"7741124012284251845","displayable":false,"comparable":false,"identifier":"FEATURES","searchable":false,"facetable":false},{"storeDisplay":false,"values":[{"sequence":"1","value":"50","uniqueID":"7741124012283336334","unitOfMeasure":"","unitID":"","identifier":"50"}],"sequence":"470","name":"Model size","usage":"Descriptive","uniqueID":"7741124012283334358","displayable":false,"comparable":false,"identifier":"MODEL_SIZE","searchable":false,"facetable":false},{"storeDisplay":false,"values":[{"sequence":"1","value":"Zpfn","uniqueID":"7741124012283336923","unitOfMeasure":"","unitID":"","identifier":"Zpfn"}],"sequence":"470","name":"Materialtype","usage":"Descriptive","uniqueID":"7741124012283334372","displayable":false,"comparable":false,"identifier":"MATERIALTYPE","searchable":false,"facetable":false},{"storeDisplay":false,"values":[{"sequence":"4","value":"145","uniqueID":"7741124012283336892","unitOfMeasure":"","unitID":"","identifier":"145"}],"sequence":"470","name":"Temple length","usage":"Descriptive","uniqueID":"7741124012283334363","displayable":false,"comparable":false,"identifier":"TEMPLE_LENGTH","searchable":false,"facetable":false},{"storeDisplay":false,"values":[{"sequence":"5","value":"PO3007V 204 50-19","uniqueID":"7741124012285345888","unitOfMeasure":"","unitID":"","identifier":"PO3007V 204 50-19"}],"sequence":"470","name":"Displaysku","usage":"Descriptive","uniqueID":"7741124012283364836","displayable":false,"comparable":false,"identifier":"DISPLAYSKU","searchable":false,"facetable":false},{"storeDisplay":false,"values":[{"sequence":"1","value":"Trending Now","uniqueID":"7741124012284582837","unitOfMeasure":"","unitID":"","identifier":"Trending Now"}],"sequence":"470","name":"Primary family","usage":"Descriptive","uniqueID":"7741124012284026836","displayable":false,"comparable":false,"identifier":"PRIMARY_FAMILY","searchable":false,"facetable":false},{"storeDisplay":false,"values":[{"sequence":"5","value":"Supreme 3,5","uniqueID":"7741124012283355340","unitOfMeasure":"","unitID":"","identifier":"Supreme 3,5"}],"sequence":"1643","name":"Arrow","usage":"Descriptive","uniqueID":"7741124012283348835","displayable":false,"comparable":false,"identifier":"ARROW","searchable":false,"facetable":false}],"partNumber":"8056597086851"}],"resourceId":"http:\/\/lux-prdlv-src01.lux-ecomm.net:3737\/search\/resources\/store\/715838388\/productview\/byId\/3074457345616796683","price":[{"description":"L","value":"265.0","usage":"Display","currency":"USD"},{"description":"O","value":"","usage":"Offer","currency":"USD"}],"thumbnail":"https:\/\/assets.persol.com\/is\/image\/Persol\/8056597086851_noshad_fr.png?impolicy=HB_parameters&sclw=0.25&sclh=0.25","shortDescription":"PO3007V","mfPartNumber_ntk":"0PO3007V","name":"PO3007V","buyable":"true","quantity":1,"attributes":[{"storeDisplay":false,"values":[{"sequence":"5","value":"PO3007V","uniqueID":"7741124012283444287","unitOfMeasure":"","unitID":"","identifier":"PO3007V"}],"sequence":"0","name":"Model code","associatedKeyword":"-","usage":"Descriptive","uniqueID":"7741124012283334373","displayable":true,"comparable":false,"identifier":"MODEL_CODE_DISPLAY","searchable":false,"facetable":false},{"storeDisplay":false,"values":[{"image1":"https:\/\/assets.persol.com\/extra\/image\/TargetOptical\/filters\/Honey.png","sequence":"5","value":"Honey","uniqueID":"7741124012284598534","image1path":"https:\/\/assets.persol.com\/extra\/image\/TargetOptical\/filters\/Honey.png","unitOfMeasure":"","unitID":"","identifier":"Honey"}],"sequence":"1","name":"Front color","associatedKeyword":"-","usage":"Descriptive","uniqueID":"7741124012283334339","displayable":true,"comparable":false,"identifier":"FRONT_COLOR","searchable":false,"facetable":false},{"storeDisplay":false,"values":[{"sequence":"5","value":"201810","uniqueID":"7741124012284147350","unitOfMeasure":"","unitID":"","identifier":"201810"}],"sequence":"1","name":"Collection","associatedKeyword":"-","usage":"Descriptive","uniqueID":"7741124012283334335","displayable":false,"comparable":false,"identifier":"COLLECTION","searchable":true,"facetable":false},{"storeDisplay":false,"values":[{"sequence":"1","value":"Standard","uniqueID":"7741124012283336345","unitOfMeasure":"","unitID":"","identifier":"Standard"}],"sequence":"1","name":"Size","associatedKeyword":"-","usage":"Defining","uniqueID":"7741124012283334359","displayable":true,"comparable":false,"identifier":"MODEL_SIZE_DISPLAY","searchable":false,"facetable":false},{"storeDisplay":false,"values":[{"sequence":"1","value":"Demo Lens","uniqueID":"7741124012283336054","unitOfMeasure":"","unitID":"","identifier":"Demo Lens"}],"sequence":"2","name":"Lens color","associatedKeyword":"-","usage":"Descriptive","uniqueID":"7741124012283334346","displayable":true,"comparable":false,"identifier":"LENS_COLOR","searchable":false,"facetable":false},{"storeDisplay":false,"values":[{"sequence":"5","value":"Square","uniqueID":"7741124012283336911","unitOfMeasure":"","unitID":"","identifier":"Square"}],"sequence":"2","name":"Frame shape","associatedKeyword":"-","usage":"Descriptive","uniqueID":"7741124012283334367","displayable":false,"comparable":false,"identifier":"FRAME_SHAPE","searchable":false,"facetable":false},{"storeDisplay":false,"values":[{"sequence":"2","value":"Demo Lens","uniqueID":"7741124012283336896","unitOfMeasure":"","unitID":"","identifier":"Demo Lens"}],"sequence":"3","name":"Lens treatment","associatedKeyword":"-","usage":"Descriptive","uniqueID":"7741124012283334364","displayable":false,"comparable":false,"identifier":"LENS_TREATMENT","searchable":false,"facetable":false},{"storeDisplay":false,"values":[{"sequence":"1","value":"False","uniqueID":"7741124012285955768","unitOfMeasure":"","unitID":"","identifier":"False"}],"sequence":"3","name":"Photochromic","associatedKeyword":"-","usage":"Descriptive","uniqueID":"7741124012284852335","displayable":false,"comparable":false,"identifier":"PHOTOCHROMIC","searchable":true,"facetable":true},{"storeDisplay":false,"values":[{"sequence":"0","value":"0","uniqueID":"0","unitOfMeasure":"","unitID":"","identifier":"0"}],"sequence":"4","name":"LENS MATERIAL FACET","associatedKeyword":"-","usage":"Descriptive","uniqueID":"7741124012284251849","displayable":false,"comparable":false,"identifier":"LENS_MATERIAL_FACET","searchable":false,"facetable":false},{"storeDisplay":false,"values":[{"sequence":"0","value":"0","uniqueID":"0","unitOfMeasure":"","unitID":"","identifier":"0"}],"sequence":"5","name":"LENS MATERIAL","associatedKeyword":"-","usage":"Descriptive","uniqueID":"7741124012284251848","displayable":true,"comparable":false,"identifier":"LENS_MATERIAL","searchable":false,"facetable":false},{"storeDisplay":false,"values":[{"sequence":"2","value":"Acetate","uniqueID":"7741124012283335870","unitOfMeasure":"","unitID":"","identifier":"Acetate"}],"sequence":"5","name":"Frame material","associatedKeyword":"-","usage":"Descriptive","uniqueID":"7741124012283334338","displayable":false,"comparable":false,"identifier":"FRAMEMATERIAL_FACET","searchable":true,"facetable":true},{"storeDisplay":false,"values":[{"sequence":"1","value":"False","uniqueID":"7741124012283336065","unitOfMeasure":"","unitID":"","identifier":"False"}],"sequence":"6","name":"Limited edition","associatedKeyword":"-","usage":"Descriptive","uniqueID":"7741124012283334347","displayable":false,"comparable":false,"identifier":"LIMITED_EDITION","searchable":false,"facetable":false},{"storeDisplay":false,"values":[{"sequence":"4","value":"Acetate","uniqueID":"7741124012283335867","unitOfMeasure":"","unitID":"","identifier":"Acetate"}],"sequence":"6","name":"Frame Material","associatedKeyword":"-","usage":"Descriptive","uniqueID":"7741124012283334337","displayable":true,"comparable":false,"identifier":"FRAMEMATERIAL","searchable":false,"facetable":false},{"storeDisplay":false,"values":[{"sequence":"1","value":"Not Adjustable","uniqueID":"7741124012284859354","unitOfMeasure":"","unitID":"","identifier":"Not Adjustable"}],"sequence":"7","name":"Nosepads","associatedKeyword":"-","usage":"Descriptive","uniqueID":"7741124012284251840","displayable":true,"comparable":false,"identifier":"NOSEPADS","searchable":true,"facetable":true},{"storeDisplay":false,"values":[{"image1":"https:\/\/assets.persol.com\/extra\/image\/TargetOptical\/filters\/Honey.png","sequence":"5","value":"Honey","uniqueID":"7741124012284600836","image1path":"https:\/\/assets.persol.com\/extra\/image\/TargetOptical\/filters\/Honey.png","unitOfMeasure":"","unitID":"","identifier":"Honey"}],"sequence":"7","name":"Temple color","associatedKeyword":"-","usage":"Descriptive","uniqueID":"7741124012283334354","displayable":false,"comparable":false,"identifier":"TEMPLE_COLOR","searchable":false,"facetable":false},{"storeDisplay":false,"values":[{"sequence":"1","value":"1","uniqueID":"7741124012284859356","unitOfMeasure":"","unitID":"","identifier":"1"}],"sequence":"8","name":"PLACEHOLDER_SIZE","associatedKeyword":"-","usage":"Descriptive","uniqueID":"7741124012284251841","displayable":true,"comparable":false,"identifier":"PLACEHOLDER_SIZE","searchable":false,"facetable":false},{"storeDisplay":false,"values":[{"sequence":"1","value":"Standard","uniqueID":"7741124012284859365","unitOfMeasure":"","unitID":"","identifier":"Standard"}],"sequence":"9","name":"FRAME FIT","associatedKeyword":"-","usage":"Descriptive","uniqueID":"7741124012284251846","displayable":true,"comparable":false,"identifier":"FRAME FIT","searchable":false,"facetable":false},{"storeDisplay":false,"values":[{"sequence":"1","value":"Polished","uniqueID":"7741124012284859363","unitOfMeasure":"","unitID":"","identifier":"Polished"}],"sequence":"9","name":"FINISHING","associatedKeyword":"-","usage":"Descriptive","uniqueID":"7741124012284251844","displayable":false,"comparable":false,"identifier":"FINISHING","searchable":false,"facetable":false},{"storeDisplay":false,"values":[{"sequence":"5","value":"Keyhole Bridge","uniqueID":"7741124012284859339","unitOfMeasure":"","unitID":"","identifier":"Keyhole Bridge"}],"sequence":"10","name":"BRIDGE TYPE","associatedKeyword":"-","usage":"Descriptive","uniqueID":"7741124012284251836","displayable":false,"comparable":false,"identifier":"BRIDGE TYPE","searchable":false,"facetable":false},{"storeDisplay":false,"values":[{"sequence":"1","value":"Italy","uniqueID":"7741124012283336067","unitOfMeasure":"","unitID":"","identifier":"Italy"}],"sequence":"10","name":"Made in","associatedKeyword":"-","usage":"Descriptive","uniqueID":"7741124012283334348","displayable":true,"comparable":false,"identifier":"MADEIN","searchable":false,"facetable":false},{"storeDisplay":false,"values":[{"sequence":"3","value":"Full Rim","uniqueID":"7741124012283360863","unitOfMeasure":"","unitID":"","identifier":"Full Rim"}],"sequence":"11","name":"Frame type","associatedKeyword":"-","usage":"Descriptive","uniqueID":"7741124012283334370","displayable":false,"comparable":false,"identifier":"FRAMETYPE","searchable":true,"facetable":false},{"storeDisplay":false,"values":[{"sequence":"4","value":"Mini Supreme Acetate","uniqueID":"7741124012283355349","unitOfMeasure":"","unitID":"","identifier":"Mini Supreme Acetate"}],"sequence":"11","name":"Temple logo","associatedKeyword":"-","usage":"Descriptive","uniqueID":"7741124012283348836","displayable":false,"comparable":true,"identifier":"TEMPLE_LOGO","searchable":false,"facetable":false},{"storeDisplay":false,"values":[{"sequence":"3","value":"Round Face;oval Face","uniqueID":"7741124012284860410","unitOfMeasure":"","unitID":"","identifier":"Round Face;oval Face"}],"sequence":"12","name":"SUGGESTED FACE SHAPE","associatedKeyword":"-","usage":"Descriptive","uniqueID":"7741124012284251843","displayable":false,"comparable":false,"identifier":"SUGGESTED_FACE_SHAPE","searchable":false,"facetable":false},{"storeDisplay":false,"values":[{"sequence":"3","value":"204","uniqueID":"7741124012284861423","unitOfMeasure":"","unitID":"","identifier":"204"}],"sequence":"13","name":"COLOR CODE","associatedKeyword":"-","usage":"Descriptive","uniqueID":"7741124012284253335","displayable":false,"comparable":false,"identifier":"COLOR CODE","searchable":false,"facetable":false},{"storeDisplay":false,"values":[{"sequence":"3","value":"Other","uniqueID":"7741124012283444307","unitOfMeasure":"","unitID":"","identifier":"Other"}],"sequence":"15","name":"Model family","associatedKeyword":"-","usage":"Descriptive","uniqueID":"7741124012283333374","displayable":false,"comparable":false,"identifier":"MODEL_FAMILY","searchable":true,"facetable":true},{"storeDisplay":false,"values":[{"image1":"https:\/\/assets.persol.com\/extra\/image\/TargetOptical\/filters\/Honey.png","sequence":"3","value":"Honey","uniqueID":"7741124012284600839","image1path":"https:\/\/assets.persol.com\/extra\/image\/TargetOptical\/filters\/Honey.png","unitOfMeasure":"","unitID":"","identifier":"Honey"}],"sequence":"16","name":"Temple inner color facet","associatedKeyword":"-","usage":"Descriptive","uniqueID":"7741124012283334357","displayable":false,"comparable":false,"identifier":"TEMPLE_INNER_COLOR_FACET","searchable":true,"facetable":false},{"storeDisplay":false,"values":[{"sequence":"1","value":"False","uniqueID":"7741124012283337030","unitOfMeasure":"","unitID":"","identifier":"False"}],"sequence":"18","name":"Noreturn","associatedKeyword":"-","usage":"Descriptive","uniqueID":"7741124012283334374","displayable":false,"comparable":false,"identifier":"NORETURN","searchable":false,"facetable":false},{"storeDisplay":false,"values":[{"sequence":"2","value":"True","uniqueID":"7741124012284859353","unitOfMeasure":"","unitID":"","identifier":"True"}],"sequence":"20","name":"ENGRAVINGELIGIBLE","associatedKeyword":"-","usage":"Descriptive","uniqueID":"7741124012284251838","displayable":false,"comparable":false,"identifier":"ENGRAVINGELIGIBLE","searchable":false,"facetable":false},{"storeDisplay":false,"values":[{"sequence":"1","value":"Galleria","uniqueID":"7741124012283336920","unitOfMeasure":"","unitID":"","identifier":"Galleria"}],"sequence":"21","name":"Range","associatedKeyword":"-","usage":"Descriptive","uniqueID":"7741124012283334371","displayable":false,"comparable":false,"identifier":"RANGE","searchable":false,"facetable":true},{"storeDisplay":false,"values":[{"sequence":"1","value":"Demo Lens","uniqueID":"7741124012283336042","unitOfMeasure":"","unitID":"","identifier":"Demo Lens"}],"sequence":"22","name":"Lens color","associatedKeyword":"-","usage":"Descriptive","uniqueID":"7741124012283334345","displayable":false,"comparable":false,"identifier":"LENS_COLOR_FACET","searchable":true,"facetable":true},{"storeDisplay":false,"values":[{"sequence":"1","value":"False","uniqueID":"7741124012283336068","unitOfMeasure":"","unitID":"","identifier":"False"}],"sequence":"23","name":"Newreleases","associatedKeyword":"-","usage":"Descriptive","uniqueID":"7741124012283334349","displayable":false,"comparable":false,"identifier":"NEWRELEASES","searchable":true,"facetable":false},{"storeDisplay":false,"values":[{"sequence":"0","value":"0","uniqueID":"0","unitOfMeasure":"","unitID":"","identifier":"0"}],"sequence":"25","name":"Clen","associatedKeyword":"-","usage":"Descriptive","uniqueID":"7741124012283334344","displayable":false,"comparable":false,"identifier":"CLEN","searchable":false,"facetable":false},{"storeDisplay":false,"values":[{"sequence":"5","value":"Supreme 3,5","uniqueID":"7741124012283355340","unitOfMeasure":"","unitID":"","identifier":"Supreme 3,5"}],"sequence":"26","name":"Arrow","associatedKeyword":"-","usage":"Descriptive","uniqueID":"7741124012283348835","displayable":false,"comparable":false,"identifier":"ARROW","searchable":false,"facetable":false},{"storeDisplay":false,"values":[{"sequence":"1","value":"364300","uniqueID":"7741124012285345917","unitOfMeasure":"","unitID":"","identifier":"364300"}],"sequence":"28","name":"Sequence","associatedKeyword":"-","usage":"Descriptive","uniqueID":"7741124012283593337","displayable":false,"comparable":false,"identifier":"SEQUENCE","searchable":true,"facetable":false},{"storeDisplay":false,"values":[{"sequence":"2","value":"Man","uniqueID":"7741124012283336014","unitOfMeasure":"","unitID":"","identifier":"Man"}],"sequence":"29","name":"Gender","associatedKeyword":"-","usage":"Descriptive","uniqueID":"7741124012283334343","displayable":false,"comparable":false,"identifier":"GENDER","searchable":true,"facetable":true},{"storeDisplay":false,"values":[{"sequence":"1","value":"False","uniqueID":"7741124012284860407","unitOfMeasure":"","unitID":"","identifier":"False"}],"sequence":"30","name":"Flex","associatedKeyword":"-","usage":"Descriptive","uniqueID":"7741124012283364835","displayable":false,"comparable":false,"identifier":"FLEX","searchable":false,"facetable":false},{"storeDisplay":false,"values":[{"sequence":"3","value":"True","uniqueID":"7741124012284582836","unitOfMeasure":"","unitID":"","identifier":"True"}],"sequence":"31","name":"Best Sellers","associatedKeyword":"-","usage":"Descriptive","uniqueID":"7741124012284026835","displayable":false,"comparable":false,"identifier":"BESTSELLERS","searchable":false,"facetable":false},{"storeDisplay":false,"values":[{"image1":"https:\/\/assets.persol.com\/extra\/image\/TargetOptical\/filters\/Honey.png","sequence":"2","value":"Honey","uniqueID":"7741124012284597225","image1path":"https:\/\/assets.persol.com\/extra\/image\/TargetOptical\/filters\/Honey.png","unitOfMeasure":"","unitID":"","identifier":"Honey"}],"sequence":"32","name":"Front inner color facet","associatedKeyword":"-","usage":"Descriptive","uniqueID":"7741124012283334342","displayable":false,"comparable":false,"identifier":"FRONT_INNER_COLOR_FACET","searchable":true,"facetable":false},{"storeDisplay":false,"values":[{"sequence":"2","value":"PO3007V","uniqueID":"7741124012283336084","unitOfMeasure":"","unitID":"","identifier":"PO3007V"}],"sequence":"33","name":"Modelname","associatedKeyword":"-","usage":"Descriptive","uniqueID":"7741124012283334353","displayable":false,"comparable":false,"identifier":"MODELNAME","searchable":true,"facetable":false},{"storeDisplay":false,"values":[{"sequence":"1","value":"False","uniqueID":"7741124012283335865","unitOfMeasure":"","unitID":"","identifier":"False"}],"sequence":"34","name":"Exclusive","associatedKeyword":"-","usage":"Descriptive","uniqueID":"7741124012283334336","displayable":false,"comparable":false,"identifier":"EXCLUSIVE","searchable":false,"facetable":true},{"storeDisplay":false,"values":[{"image1":"https:\/\/assets.persol.com\/extra\/image\/Persol\/filters\/yellow.png","sequence":"4","value":"Yellow","uniqueID":"7741124012283335931","image1path":"https:\/\/assets.persol.com\/extra\/image\/Persol\/filters\/yellow.png","unitOfMeasure":"","unitID":"","identifier":"Yellow"}],"sequence":"35","name":"Frame color","associatedKeyword":"-","usage":"Descriptive","uniqueID":"7741124012283334340","displayable":false,"comparable":false,"identifier":"FRONT_COLOR_FACET","searchable":true,"facetable":true},{"storeDisplay":false,"values":[{"sequence":"1","value":"Square","uniqueID":"7741124012283336915","unitOfMeasure":"","unitID":"","identifier":"Square"}],"sequence":"37","name":"Frame shape","associatedKeyword":"-","usage":"Descriptive","uniqueID":"7741124012283334368","displayable":false,"comparable":false,"identifier":"FRAME_SHAPE_FACET","searchable":true,"facetable":true},{"storeDisplay":false,"values":[{"sequence":"1","value":"False","uniqueID":"7741124012283336078","unitOfMeasure":"","unitID":"","identifier":"False"}],"sequence":"38","name":"Polarized","associatedKeyword":"-","usage":"Descriptive","uniqueID":"7741124012283334352","displayable":false,"comparable":false,"identifier":"POLARIZED","searchable":true,"facetable":true},{"storeDisplay":false,"values":[{"sequence":"1","value":"False","uniqueID":"7741124012283336077","unitOfMeasure":"","unitID":"","identifier":"False"}],"sequence":"39","name":"Onsale","associatedKeyword":"-","usage":"Descriptive","uniqueID":"7741124012283334351","displayable":false,"comparable":false,"identifier":"ONSALE","searchable":false,"facetable":false},{"storeDisplay":false,"values":[{"sequence":"1","value":"False","uniqueID":"7741124012283355350","unitOfMeasure":"","unitID":"","identifier":"False"}],"sequence":"42","name":"Vintage Celebration","associatedKeyword":"-","usage":"Descriptive","uniqueID":"7741124012283348837","displayable":false,"comparable":false,"identifier":"VINTAGE CELEBRATION","searchable":false,"facetable":false},{"storeDisplay":false,"values":[{"sequence":"1","value":"False","uniqueID":"7741124012284859336","unitOfMeasure":"","unitID":"","identifier":"False"}],"sequence":"43","name":"AVANT_PREMIERE","associatedKeyword":"-","usage":"Descriptive","uniqueID":"7741124012284251835","displayable":false,"comparable":false,"identifier":"AVANT_PREMIERE","searchable":false,"facetable":false},{"storeDisplay":false,"values":[{"sequence":"1","value":"False","uniqueID":"7741124012283336902","unitOfMeasure":"","unitID":"","identifier":"False"}],"sequence":"43","name":"Foldable","associatedKeyword":"-","usage":"Descriptive","uniqueID":"7741124012283334366","displayable":false,"comparable":false,"identifier":"FOLDABLE","searchable":true,"facetable":true},{"storeDisplay":false,"values":[{"sequence":"4","value":"Optical","uniqueID":"7741124012283333657","unitOfMeasure":"","unitID":"","identifier":"Optical"}],"sequence":"44","name":"Producttype","associatedKeyword":"-","usage":"Descriptive","uniqueID":"7741124012283333376","displayable":false,"comparable":false,"identifier":"PRODUCTTYPE","searchable":true,"facetable":false},{"storeDisplay":false,"values":[{"image1":"https:\/\/assets.persol.com\/extra\/image\/TargetOptical\/filters\/Honey.png","sequence":"2","value":"Honey","uniqueID":"7741124012284600840","image1path":"https:\/\/assets.persol.com\/extra\/image\/TargetOptical\/filters\/Honey.png","unitOfMeasure":"","unitID":"","identifier":"Honey"}],"sequence":"45","name":"Front inner color","associatedKeyword":"-","usage":"Descriptive","uniqueID":"7741124012283334341","displayable":false,"comparable":false,"identifier":"FRONT_INNER_COLOR","searchable":false,"facetable":false},{"storeDisplay":false,"values":[{"image1":"https:\/\/assets.persol.com\/extra\/image\/TargetOptical\/filters\/Honey.png","sequence":"4","value":"Honey","uniqueID":"7741124012284600841","image1path":"https:\/\/assets.persol.com\/extra\/image\/TargetOptical\/filters\/Honey.png","unitOfMeasure":"","unitID":"","identifier":"Honey"}],"sequence":"46","name":"Temple inner color","associatedKeyword":"-","usage":"Descriptive","uniqueID":"7741124012283334356","displayable":false,"comparable":false,"identifier":"TEMPLE_INNER_COLOR","searchable":false,"facetable":false},{"storeDisplay":false,"values":[{"image1":"https:\/\/assets.persol.com\/extra\/image\/TargetOptical\/filters\/Honey.png","sequence":"5","value":"Honey","uniqueID":"7741124012284600842","image1path":"https:\/\/assets.persol.com\/extra\/image\/TargetOptical\/filters\/Honey.png","unitOfMeasure":"","unitID":"","identifier":"Honey"}],"sequence":"47","name":"Temple color facet","associatedKeyword":"-","usage":"Descriptive","uniqueID":"7741124012283334355","displayable":false,"comparable":false,"identifier":"TEMPLE_COLOR_FACET","searchable":true,"facetable":false},{"storeDisplay":false,"values":[{"sequence":"2","value":"True","uniqueID":"7741124012284859902","unitOfMeasure":"","unitID":"","identifier":"True"}],"sequence":"48","name":"MEFLECTO","associatedKeyword":"-","usage":"Descriptive","uniqueID":"7741124012284251847","displayable":false,"comparable":false,"identifier":"MEFLECTO","searchable":false,"facetable":false},{"storeDisplay":false,"values":[{"sequence":"1","value":"Global","uniqueID":"7741124012283336916","unitOfMeasure":"","unitID":"","identifier":"Global"}],"sequence":"49","name":"Fitting","associatedKeyword":"-","usage":"Descriptive","uniqueID":"7741124012283334369","displayable":false,"comparable":false,"identifier":"GEO_FIT","searchable":true,"facetable":false}],"storeID":"715838084","numberOfSKUs":1,"partNumber":"0PO3007V__204"},{"hasSingleSKU":false,"catalogEntryTypeCode":"ProductBean","associationType":"REPLACEMENT","parentCatalogGroupID":["3074457345616676668_3074457345616676669","3074457345616681818_3074457345616678178","3074457345616681818_3074457345616694171","3074457345616681818_3074457345616695669","3074457345616681818_3074457345616696188","3074457345616681818_3074457345616696193","3074457345616681818_3074457345616696201","3074457345616681818_3074457345616700168","3074457345616681818_3074457345616700669","3074457345616681818_3074457345616700670","3074457345616681818_3074457345616715669","3074457345616681818_3074457345616716181","3074457345616681818_3074457345616716187","3074457345616681818_3074457345616716189"],"price_USD":"265.0","uniqueID":"3074457345616812221","sKUs":[{"hasSingleSKU":false,"catalogEntryTypeCode":"ItemBean","parentCatalogGroupID":["3074457345616676668_3074457345616676669","3074457345616681818_3074457345616678178","3074457345616681818_3074457345616694171","3074457345616681818_3074457345616695669","3074457345616681818_3074457345616696188","3074457345616681818_3074457345616696193","3074457345616681818_3074457345616696201","3074457345616681818_3074457345616700168","3074457345616681818_3074457345616700669","3074457345616681818_3074457345616700670","3074457345616681818_3074457345616715669","3074457345616681818_3074457345616716181","3074457345616681818_3074457345616716187","3074457345616681818_3074457345616716189"],"uniqueID":"3074457345616812732","resourceId":"http:\/\/lux-prdlv-src01.lux-ecomm.net:3737\/search\/resources\/store\/715838388\/productview\/byId\/3074457345616812732","price":[{"description":"L","value":"","usage":"Display","currency":"USD"},{"description":"O","value":"","usage":"Offer","currency":"USD"}],"thumbnail":"https:\/\/assets.persol.com\/is\/image\/Persol\/8056597374415_noshad_fr.png?impolicy=HB_parameters&sclw=0.25&sclh=0.25","shortDescription":"PO3007V 1135 50-19","mfPartNumber_ntk":"0PO3007V","name":"PO3007V 1135 50-19","buyable":"true","storeID":"715838084","attributes":[{"storeDisplay":false,"values":[{"sequence":"1","value":"Standard","uniqueID":"7741124012283336345","unitOfMeasure":"","unitID":"","identifier":"Standard"}],"sequence":"1","name":"Size","usage":"Defining","uniqueID":"7741124012283334359","displayable":true,"comparable":false,"identifier":"MODEL_SIZE_DISPLAY","searchable":false,"facetable":false},{"storeDisplay":false,"values":[{"sequence":"2","value":"Demo Lens","uniqueID":"7741124012283336896","unitOfMeasure":"","unitID":"","identifier":"Demo Lens"}],"sequence":"3","name":"Lens treatment","usage":"Descriptive","uniqueID":"7741124012283334364","displayable":false,"comparable":false,"identifier":"LENS_TREATMENT","searchable":false,"facetable":false},{"storeDisplay":false,"values":[{"sequence":"1","value":"Demo Lens","uniqueID":"7741124012283336900","unitOfMeasure":"","unitID":"","identifier":"Demo Lens"}],"sequence":"463","name":"Lens type","usage":"Descriptive","uniqueID":"7741124012283334365","displayable":false,"comparable":false,"identifier":"LENS_TREATMENT_FACET","searchable":true,"facetable":true},{"storeDisplay":false,"values":[{"sequence":"1","value":"19","uniqueID":"7741124012283336885","unitOfMeasure":"","unitID":"","identifier":"19"}],"sequence":"463","name":"Lens bridge","usage":"Descriptive","uniqueID":"7741124012283334362","displayable":false,"comparable":false,"identifier":"LENS_BRIDGE","searchable":false,"facetable":false},{"storeDisplay":false,"values":[{"sequence":"1","value":"Trending Now","uniqueID":"7741124012284582837","unitOfMeasure":"","unitID":"","identifier":"Trending Now"}],"sequence":"463","name":"Primary family","usage":"Descriptive","uniqueID":"7741124012284026836","displayable":false,"comparable":false,"identifier":"PRIMARY_FAMILY","searchable":false,"facetable":false},{"storeDisplay":false,"values":[{"sequence":"1","value":"50","uniqueID":"7741124012283336334","unitOfMeasure":"","unitID":"","identifier":"50"}],"sequence":"463","name":"Model size","usage":"Descriptive","uniqueID":"7741124012283334358","displayable":false,"comparable":false,"identifier":"MODEL_SIZE","searchable":false,"facetable":false},{"storeDisplay":false,"values":[{"sequence":"1","value":"Zpfn","uniqueID":"7741124012283336923","unitOfMeasure":"","unitID":"","identifier":"Zpfn"}],"sequence":"463","name":"Materialtype","usage":"Descriptive","uniqueID":"7741124012283334372","displayable":false,"comparable":false,"identifier":"MATERIALTYPE","searchable":false,"facetable":false},{"storeDisplay":false,"values":[{"sequence":"4","value":"1135 50","uniqueID":"7741124012285955429","unitOfMeasure":"","unitID":"","identifier":"1135 50"}],"sequence":"463","name":"Grid Value","usage":"Descriptive","uniqueID":"7741124012283364837","displayable":true,"comparable":false,"identifier":"GRID VALUE","searchable":false,"facetable":false},{"storeDisplay":false,"values":[{"sequence":"4","value":"145","uniqueID":"7741124012283336892","unitOfMeasure":"","unitID":"","identifier":"145"}],"sequence":"463","name":"Temple length","usage":"Descriptive","uniqueID":"7741124012283334363","displayable":false,"comparable":false,"identifier":"TEMPLE_LENGTH","searchable":false,"facetable":false},{"storeDisplay":false,"values":[{"sequence":"1","value":"Material-acetate;arrow-all;meflecto-all","uniqueID":"7741124012284859903","unitOfMeasure":"","unitID":"","identifier":"Material-acetate;arrow-all;meflecto-all"}],"sequence":"463","name":"FEATURES","usage":"Descriptive","uniqueID":"7741124012284251845","displayable":false,"comparable":false,"identifier":"FEATURES","searchable":false,"facetable":false},{"storeDisplay":false,"values":[{"sequence":"3","value":"PO3007V 1135 50-19","uniqueID":"7741124012285955627","unitOfMeasure":"","unitID":"","identifier":"PO3007V 1135 50-19"}],"sequence":"463","name":"Displaysku","usage":"Descriptive","uniqueID":"7741124012283364836","displayable":false,"comparable":false,"identifier":"DISPLAYSKU","searchable":false,"facetable":false},{"storeDisplay":false,"values":[{"sequence":"5","value":"Supreme 3,5","uniqueID":"7741124012283355340","unitOfMeasure":"","unitID":"","identifier":"Supreme 3,5"}],"sequence":"1644","name":"Arrow","usage":"Descriptive","uniqueID":"7741124012283348835","displayable":false,"comparable":false,"identifier":"ARROW","searchable":false,"facetable":false}],"partNumber":"8056597374415"},{"hasSingleSKU":false,"catalogEntryTypeCode":"ItemBean","parentCatalogGroupID":["3074457345616676668_3074457345616676669","3074457345616681818_3074457345616678178","3074457345616681818_3074457345616694171","3074457345616681818_3074457345616695669","3074457345616681818_3074457345616696188","3074457345616681818_3074457345616696193","3074457345616681818_3074457345616696201","3074457345616681818_3074457345616700168","3074457345616681818_3074457345616700669","3074457345616681818_3074457345616700670","3074457345616681818_3074457345616715669","3074457345616681818_3074457345616716181","3074457345616681818_3074457345616716187","3074457345616681818_3074457345616716189"],"uniqueID":"3074457345616812733","resourceId":"http:\/\/lux-prdlv-src01.lux-ecomm.net:3737\/search\/resources\/store\/715838388\/productview\/byId\/3074457345616812733","price":[{"description":"L","value":"","usage":"Display","currency":"USD"},{"description":"O","value":"","usage":"Offer","currency":"USD"}],"thumbnail":"https:\/\/assets.persol.com\/is\/image\/Persol\/8056597374422_noshad_fr.png?impolicy=HB_parameters&sclw=0.25&sclh=0.25","shortDescription":"PO3007V 1135 52-19","mfPartNumber_ntk":"0PO3007V","name":"PO3007V 1135 52-19","buyable":"true","storeID":"715838084","attributes":[{"storeDisplay":false,"values":[{"sequence":"3","value":"Large","uniqueID":"7741124012283336346","unitOfMeasure":"","unitID":"","identifier":"Large"}],"sequence":"1","name":"Size","usage":"Defining","uniqueID":"7741124012283334359","displayable":true,"comparable":false,"identifier":"MODEL_SIZE_DISPLAY","searchable":false,"facetable":false},{"storeDisplay":false,"values":[{"sequence":"2","value":"Demo Lens","uniqueID":"7741124012283336896","unitOfMeasure":"","unitID":"","identifier":"Demo Lens"}],"sequence":"3","name":"Lens treatment","usage":"Descriptive","uniqueID":"7741124012283334364","displayable":false,"comparable":false,"identifier":"LENS_TREATMENT","searchable":false,"facetable":false},{"storeDisplay":false,"values":[{"sequence":"1","value":"Demo Lens","uniqueID":"7741124012283336900","unitOfMeasure":"","unitID":"","identifier":"Demo Lens"}],"sequence":"464","name":"Lens type","usage":"Descriptive","uniqueID":"7741124012283334365","displayable":false,"comparable":false,"identifier":"LENS_TREATMENT_FACET","searchable":true,"facetable":true},{"storeDisplay":false,"values":[{"sequence":"1","value":"19","uniqueID":"7741124012283336885","unitOfMeasure":"","unitID":"","identifier":"19"}],"sequence":"464","name":"Lens bridge","usage":"Descriptive","uniqueID":"7741124012283334362","displayable":false,"comparable":false,"identifier":"LENS_BRIDGE","searchable":false,"facetable":false},{"storeDisplay":false,"values":[{"sequence":"1","value":"Trending Now","uniqueID":"7741124012284582837","unitOfMeasure":"","unitID":"","identifier":"Trending Now"}],"sequence":"464","name":"Primary family","usage":"Descriptive","uniqueID":"7741124012284026836","displayable":false,"comparable":false,"identifier":"PRIMARY_FAMILY","searchable":false,"facetable":false},{"storeDisplay":false,"values":[{"sequence":"3","value":"52","uniqueID":"7741124012283336336","unitOfMeasure":"","unitID":"","identifier":"52"}],"sequence":"464","name":"Model size","usage":"Descriptive","uniqueID":"7741124012283334358","displayable":false,"comparable":false,"identifier":"MODEL_SIZE","searchable":false,"facetable":false},{"storeDisplay":false,"values":[{"sequence":"1","value":"Zpfn","uniqueID":"7741124012283336923","unitOfMeasure":"","unitID":"","identifier":"Zpfn"}],"sequence":"464","name":"Materialtype","usage":"Descriptive","uniqueID":"7741124012283334372","displayable":false,"comparable":false,"identifier":"MATERIALTYPE","searchable":false,"facetable":false},{"storeDisplay":false,"values":[{"sequence":"1","value":"1135 52","uniqueID":"7741124012285955428","unitOfMeasure":"","unitID":"","identifier":"1135 52"}],"sequence":"464","name":"Grid Value","usage":"Descriptive","uniqueID":"7741124012283364837","displayable":true,"comparable":false,"identifier":"GRID VALUE","searchable":false,"facetable":false},{"storeDisplay":false,"values":[{"sequence":"4","value":"145","uniqueID":"7741124012283336892","unitOfMeasure":"","unitID":"","identifier":"145"}],"sequence":"464","name":"Temple length","usage":"Descriptive","uniqueID":"7741124012283334363","displayable":false,"comparable":false,"identifier":"TEMPLE_LENGTH","searchable":false,"facetable":false},{"storeDisplay":false,"values":[{"sequence":"1","value":"Material-acetate;arrow-all;meflecto-all","uniqueID":"7741124012284859903","unitOfMeasure":"","unitID":"","identifier":"Material-acetate;arrow-all;meflecto-all"}],"sequence":"464","name":"FEATURES","usage":"Descriptive","uniqueID":"7741124012284251845","displayable":false,"comparable":false,"identifier":"FEATURES","searchable":false,"facetable":false},{"storeDisplay":false,"values":[{"sequence":"4","value":"PO3007V 1135 52-19","uniqueID":"7741124012285955563","unitOfMeasure":"","unitID":"","identifier":"PO3007V 1135 52-19"}],"sequence":"464","name":"Displaysku","usage":"Descriptive","uniqueID":"7741124012283364836","displayable":false,"comparable":false,"identifier":"DISPLAYSKU","searchable":false,"facetable":false},{"storeDisplay":false,"values":[{"sequence":"5","value":"Supreme 3,5","uniqueID":"7741124012283355340","unitOfMeasure":"","unitID":"","identifier":"Supreme 3,5"}],"sequence":"1645","name":"Arrow","usage":"Descriptive","uniqueID":"7741124012283348835","displayable":false,"comparable":false,"identifier":"ARROW","searchable":false,"facetable":false}],"partNumber":"8056597374422"}],"resourceId":"http:\/\/lux-prdlv-src01.lux-ecomm.net:3737\/search\/resources\/store\/715838388\/productview\/byId\/3074457345616812221","price":[{"description":"L","value":"265.0","usage":"Display","currency":"USD"},{"description":"O","value":"","usage":"Offer","currency":"USD"}],"thumbnail":"https:\/\/assets.persol.com\/is\/image\/Persol\/8056597374415_noshad_fr.png?impolicy=HB_parameters&sclw=0.25&sclh=0.25","shortDescription":"PO3007V","mfPartNumber_ntk":"0PO3007V","name":"PO3007V","buyable":"true","quantity":1,"attributes":[{"storeDisplay":false,"values":[{"sequence":"5","value":"PO3007V","uniqueID":"7741124012283444287","unitOfMeasure":"","unitID":"","identifier":"PO3007V"}],"sequence":"0","name":"Model code","associatedKeyword":"-","usage":"Descriptive","uniqueID":"7741124012283334373","displayable":true,"comparable":false,"identifier":"MODEL_CODE_DISPLAY","searchable":false,"facetable":false},{"storeDisplay":false,"values":[{"sequence":"5","value":"Striped Brown","uniqueID":"7741124012283335907","unitOfMeasure":"","unitID":"","identifier":"Striped Brown"}],"sequence":"1","name":"Front color","associatedKeyword":"-","usage":"Descriptive","uniqueID":"7741124012283334339","displayable":true,"comparable":false,"identifier":"FRONT_COLOR","searchable":false,"facetable":false},{"storeDisplay":false,"values":[{"sequence":"1","value":"Standard","uniqueID":"7741124012283336345","unitOfMeasure":"","unitID":"","identifier":"Standard"},{"sequence":"3","value":"Large","uniqueID":"7741124012283336346","unitOfMeasure":"","unitID":"","identifier":"Large"}],"sequence":"1","name":"Size","associatedKeyword":"-","usage":"Defining","uniqueID":"7741124012283334359","displayable":true,"comparable":false,"identifier":"MODEL_SIZE_DISPLAY","searchable":false,"facetable":false},{"storeDisplay":false,"values":[{"sequence":"3","value":"202008","uniqueID":"7741124012285701342","unitOfMeasure":"","unitID":"","identifier":"202008"}],"sequence":"1","name":"Collection","associatedKeyword":"-","usage":"Descriptive","uniqueID":"7741124012283334335","displayable":false,"comparable":false,"identifier":"COLLECTION","searchable":true,"facetable":false},{"storeDisplay":false,"values":[{"sequence":"1","value":"Demo Lens","uniqueID":"7741124012283336054","unitOfMeasure":"","unitID":"","identifier":"Demo Lens"}],"sequence":"2","name":"Lens color","associatedKeyword":"-","usage":"Descriptive","uniqueID":"7741124012283334346","displayable":true,"comparable":false,"identifier":"LENS_COLOR","searchable":false,"facetable":false},{"storeDisplay":false,"values":[{"sequence":"5","value":"Square","uniqueID":"7741124012283336911","unitOfMeasure":"","unitID":"","identifier":"Square"}],"sequence":"2","name":"Frame shape","associatedKeyword":"-","usage":"Descriptive","uniqueID":"7741124012283334367","displayable":false,"comparable":false,"identifier":"FRAME_SHAPE","searchable":false,"facetable":false},{"storeDisplay":false,"values":[{"sequence":"1","value":"False","uniqueID":"7741124012285955768","unitOfMeasure":"","unitID":"","identifier":"False"}],"sequence":"3","name":"Photochromic","associatedKeyword":"-","usage":"Descriptive","uniqueID":"7741124012284852335","displayable":false,"comparable":false,"identifier":"PHOTOCHROMIC","searchable":true,"facetable":true},{"storeDisplay":false,"values":[{"sequence":"2","value":"Demo Lens","uniqueID":"7741124012283336896","unitOfMeasure":"","unitID":"","identifier":"Demo Lens"}],"sequence":"3","name":"Lens treatment","associatedKeyword":"-","usage":"Descriptive","uniqueID":"7741124012283334364","displayable":false,"comparable":false,"identifier":"LENS_TREATMENT","searchable":false,"facetable":false},{"storeDisplay":false,"values":[{"sequence":"2","value":"Acetate","uniqueID":"7741124012283335870","unitOfMeasure":"","unitID":"","identifier":"Acetate"}],"sequence":"4","name":"Frame material","associatedKeyword":"-","usage":"Descriptive","uniqueID":"7741124012283334338","displayable":false,"comparable":false,"identifier":"FRAMEMATERIAL_FACET","searchable":true,"facetable":true},{"storeDisplay":false,"values":[{"sequence":"1","value":"False","uniqueID":"7741124012283336065","unitOfMeasure":"","unitID":"","identifier":"False"}],"sequence":"5","name":"Limited edition","associatedKeyword":"-","usage":"Descriptive","uniqueID":"7741124012283334347","displayable":false,"comparable":false,"identifier":"LIMITED_EDITION","searchable":false,"facetable":false},{"storeDisplay":false,"values":[{"sequence":"4","value":"Striped Brown","uniqueID":"7741124012283336220","unitOfMeasure":"","unitID":"","identifier":"Striped Brown"}],"sequence":"6","name":"Temple color","associatedKeyword":"-","usage":"Descriptive","uniqueID":"7741124012283334354","displayable":false,"comparable":false,"identifier":"TEMPLE_COLOR","searchable":false,"facetable":false},{"storeDisplay":false,"values":[{"sequence":"4","value":"Acetate","uniqueID":"7741124012283335867","unitOfMeasure":"","unitID":"","identifier":"Acetate"}],"sequence":"6","name":"Frame Material","associatedKeyword":"-","usage":"Descriptive","uniqueID":"7741124012283334337","displayable":true,"comparable":false,"identifier":"FRAMEMATERIAL","searchable":false,"facetable":false},{"storeDisplay":false,"values":[{"sequence":"1","value":"Not Adjustable","uniqueID":"7741124012284859354","unitOfMeasure":"","unitID":"","identifier":"Not Adjustable"}],"sequence":"7","name":"Nosepads","associatedKeyword":"-","usage":"Descriptive","uniqueID":"7741124012284251840","displayable":true,"comparable":false,"identifier":"NOSEPADS","searchable":true,"facetable":true},{"storeDisplay":false,"values":[{"sequence":"1","value":"1","uniqueID":"7741124012284859356","unitOfMeasure":"","unitID":"","identifier":"1"}],"sequence":"8","name":"PLACEHOLDER_SIZE","associatedKeyword":"-","usage":"Descriptive","uniqueID":"7741124012284251841","displayable":true,"comparable":false,"identifier":"PLACEHOLDER_SIZE","searchable":false,"facetable":false},{"storeDisplay":false,"values":[{"sequence":"1","value":"Polished","uniqueID":"7741124012284859363","unitOfMeasure":"","unitID":"","identifier":"Polished"}],"sequence":"8","name":"FINISHING","associatedKeyword":"-","usage":"Descriptive","uniqueID":"7741124012284251844","displayable":false,"comparable":false,"identifier":"FINISHING","searchable":false,"facetable":false},{"storeDisplay":false,"values":[{"sequence":"5","value":"Keyhole Bridge","uniqueID":"7741124012284859339","unitOfMeasure":"","unitID":"","identifier":"Keyhole Bridge"}],"sequence":"9","name":"BRIDGE TYPE","associatedKeyword":"-","usage":"Descriptive","uniqueID":"7741124012284251836","displayable":false,"comparable":false,"identifier":"BRIDGE TYPE","searchable":false,"facetable":false},{"storeDisplay":false,"values":[{"sequence":"1","value":"Standard","uniqueID":"7741124012284859365","unitOfMeasure":"","unitID":"","identifier":"Standard"}],"sequence":"9","name":"FRAME FIT","associatedKeyword":"-","usage":"Descriptive","uniqueID":"7741124012284251846","displayable":true,"comparable":false,"identifier":"FRAME FIT","searchable":false,"facetable":false},{"storeDisplay":false,"values":[{"sequence":"1","value":"Italy","uniqueID":"7741124012283336067","unitOfMeasure":"","unitID":"","identifier":"Italy"}],"sequence":"10","name":"Made in","associatedKeyword":"-","usage":"Descriptive","uniqueID":"7741124012283334348","displayable":true,"comparable":false,"identifier":"MADEIN","searchable":false,"facetable":false},{"storeDisplay":false,"values":[{"sequence":"3","value":"Full Rim","uniqueID":"7741124012283360863","unitOfMeasure":"","unitID":"","identifier":"Full Rim"}],"sequence":"10","name":"Frame type","associatedKeyword":"-","usage":"Descriptive","uniqueID":"7741124012283334370","displayable":false,"comparable":false,"identifier":"FRAMETYPE","searchable":true,"facetable":false},{"storeDisplay":false,"values":[{"sequence":"4","value":"Mini Supreme Acetate","uniqueID":"7741124012283355349","unitOfMeasure":"","unitID":"","identifier":"Mini Supreme Acetate"}],"sequence":"11","name":"Temple logo","associatedKeyword":"-","usage":"Descriptive","uniqueID":"7741124012283348836","displayable":false,"comparable":true,"identifier":"TEMPLE_LOGO","searchable":false,"facetable":false},{"storeDisplay":false,"values":[{"sequence":"3","value":"Round Face;oval Face","uniqueID":"7741124012284860410","unitOfMeasure":"","unitID":"","identifier":"Round Face;oval Face"}],"sequence":"11","name":"SUGGESTED FACE SHAPE","associatedKeyword":"-","usage":"Descriptive","uniqueID":"7741124012284251843","displayable":false,"comparable":false,"identifier":"SUGGESTED_FACE_SHAPE","searchable":false,"facetable":false},{"storeDisplay":false,"values":[{"sequence":"5","value":"1135","uniqueID":"7741124012285955756","unitOfMeasure":"","unitID":"","identifier":"1135"}],"sequence":"12","name":"COLOR CODE","associatedKeyword":"-","usage":"Descriptive","uniqueID":"7741124012284253335","displayable":false,"comparable":false,"identifier":"COLOR CODE","searchable":false,"facetable":false},{"storeDisplay":false,"values":[{"sequence":"3","value":"Other","uniqueID":"7741124012283444307","unitOfMeasure":"","unitID":"","identifier":"Other"}],"sequence":"14","name":"Model family","associatedKeyword":"-","usage":"Descriptive","uniqueID":"7741124012283333374","displayable":false,"comparable":false,"identifier":"MODEL_FAMILY","searchable":true,"facetable":true},{"storeDisplay":false,"values":[{"sequence":"4","value":"Brown","uniqueID":"7741124012283336316","unitOfMeasure":"","unitID":"","identifier":"Brown"}],"sequence":"15","name":"Temple inner color facet","associatedKeyword":"-","usage":"Descriptive","uniqueID":"7741124012283334357","displayable":false,"comparable":false,"identifier":"TEMPLE_INNER_COLOR_FACET","searchable":true,"facetable":false},{"storeDisplay":false,"values":[{"sequence":"1","value":"False","uniqueID":"7741124012283337030","unitOfMeasure":"","unitID":"","identifier":"False"}],"sequence":"17","name":"Noreturn","associatedKeyword":"-","usage":"Descriptive","uniqueID":"7741124012283334374","displayable":false,"comparable":false,"identifier":"NORETURN","searchable":false,"facetable":false},{"storeDisplay":false,"values":[{"sequence":"2","value":"True","uniqueID":"7741124012284859353","unitOfMeasure":"","unitID":"","identifier":"True"}],"sequence":"19","name":"ENGRAVINGELIGIBLE","associatedKeyword":"-","usage":"Descriptive","uniqueID":"7741124012284251838","displayable":false,"comparable":false,"identifier":"ENGRAVINGELIGIBLE","searchable":false,"facetable":false},{"storeDisplay":false,"values":[{"sequence":"1","value":"Galleria","uniqueID":"7741124012283336920","unitOfMeasure":"","unitID":"","identifier":"Galleria"}],"sequence":"20","name":"Range","associatedKeyword":"-","usage":"Descriptive","uniqueID":"7741124012283334371","displayable":false,"comparable":false,"identifier":"RANGE","searchable":false,"facetable":true},{"storeDisplay":false,"values":[{"sequence":"1","value":"Demo Lens","uniqueID":"7741124012283336042","unitOfMeasure":"","unitID":"","identifier":"Demo Lens"}],"sequence":"21","name":"Lens color","associatedKeyword":"-","usage":"Descriptive","uniqueID":"7741124012283334345","displayable":false,"comparable":false,"identifier":"LENS_COLOR_FACET","searchable":true,"facetable":true},{"storeDisplay":false,"values":[{"sequence":"2","value":"True","uniqueID":"7741124012283336069","unitOfMeasure":"","unitID":"","identifier":"True"}],"sequence":"22","name":"Newreleases","associatedKeyword":"-","usage":"Descriptive","uniqueID":"7741124012283334349","displayable":false,"comparable":false,"identifier":"NEWRELEASES","searchable":true,"facetable":false},{"storeDisplay":false,"values":[{"sequence":"0","value":"0","uniqueID":"0","unitOfMeasure":"","unitID":"","identifier":"0"}],"sequence":"24","name":"Clen","associatedKeyword":"-","usage":"Descriptive","uniqueID":"7741124012283334344","displayable":false,"comparable":false,"identifier":"CLEN","searchable":false,"facetable":false},{"storeDisplay":false,"values":[{"sequence":"5","value":"Supreme 3,5","uniqueID":"7741124012283355340","unitOfMeasure":"","unitID":"","identifier":"Supreme 3,5"}],"sequence":"25","name":"Arrow","associatedKeyword":"-","usage":"Descriptive","uniqueID":"7741124012283348835","displayable":false,"comparable":false,"identifier":"ARROW","searchable":false,"facetable":false},{"storeDisplay":false,"values":[{"sequence":"1","value":"364400","uniqueID":"7741124012285955723","unitOfMeasure":"","unitID":"","identifier":"364400"}],"sequence":"27","name":"Sequence","associatedKeyword":"-","usage":"Descriptive","uniqueID":"7741124012283593337","displayable":false,"comparable":false,"identifier":"SEQUENCE","searchable":true,"facetable":false},{"storeDisplay":false,"values":[{"sequence":"2","value":"Man","uniqueID":"7741124012283336014","unitOfMeasure":"","unitID":"","identifier":"Man"}],"sequence":"28","name":"Gender","associatedKeyword":"-","usage":"Descriptive","uniqueID":"7741124012283334343","displayable":false,"comparable":false,"identifier":"GENDER","searchable":true,"facetable":true},{"storeDisplay":false,"values":[{"sequence":"1","value":"False","uniqueID":"7741124012284860407","unitOfMeasure":"","unitID":"","identifier":"False"}],"sequence":"29","name":"Flex","associatedKeyword":"-","usage":"Descriptive","uniqueID":"7741124012283364835","displayable":false,"comparable":false,"identifier":"FLEX","searchable":false,"facetable":false},{"storeDisplay":false,"values":[{"sequence":"3","value":"True","uniqueID":"7741124012284582836","unitOfMeasure":"","unitID":"","identifier":"True"}],"sequence":"30","name":"Best Sellers","associatedKeyword":"-","usage":"Descriptive","uniqueID":"7741124012284026835","displayable":false,"comparable":false,"identifier":"BESTSELLERS","searchable":false,"facetable":false},{"storeDisplay":false,"values":[{"sequence":"3","value":"Brown","uniqueID":"7741124012283336000","unitOfMeasure":"","unitID":"","identifier":"Brown"}],"sequence":"31","name":"Front inner color facet","associatedKeyword":"-","usage":"Descriptive","uniqueID":"7741124012283334342","displayable":false,"comparable":false,"identifier":"FRONT_INNER_COLOR_FACET","searchable":true,"facetable":false},{"storeDisplay":false,"values":[{"sequence":"2","value":"PO3007V","uniqueID":"7741124012283336084","unitOfMeasure":"","unitID":"","identifier":"PO3007V"}],"sequence":"32","name":"Modelname","associatedKeyword":"-","usage":"Descriptive","uniqueID":"7741124012283334353","displayable":false,"comparable":false,"identifier":"MODELNAME","searchable":true,"facetable":false},{"storeDisplay":false,"values":[{"sequence":"1","value":"False","uniqueID":"7741124012283335865","unitOfMeasure":"","unitID":"","identifier":"False"}],"sequence":"33","name":"Exclusive","associatedKeyword":"-","usage":"Descriptive","uniqueID":"7741124012283334336","displayable":false,"comparable":false,"identifier":"EXCLUSIVE","searchable":false,"facetable":true},{"storeDisplay":false,"values":[{"image1":"https:\/\/assets.persol.com\/extra\/image\/Persol\/filters\/brown.png","sequence":"2","value":"Brown","uniqueID":"7741124012283335928","image1path":"https:\/\/assets.persol.com\/extra\/image\/Persol\/filters\/brown.png","unitOfMeasure":"","unitID":"","identifier":"Brown"}],"sequence":"34","name":"Frame color","associatedKeyword":"-","usage":"Descriptive","uniqueID":"7741124012283334340","displayable":false,"comparable":false,"identifier":"FRONT_COLOR_FACET","searchable":true,"facetable":true},{"storeDisplay":false,"values":[{"sequence":"1","value":"Square","uniqueID":"7741124012283336915","unitOfMeasure":"","unitID":"","identifier":"Square"}],"sequence":"36","name":"Frame shape","associatedKeyword":"-","usage":"Descriptive","uniqueID":"7741124012283334368","displayable":false,"comparable":false,"identifier":"FRAME_SHAPE_FACET","searchable":true,"facetable":true},{"storeDisplay":false,"values":[{"sequence":"1","value":"False","uniqueID":"7741124012283336078","unitOfMeasure":"","unitID":"","identifier":"False"}],"sequence":"37","name":"Polarized","associatedKeyword":"-","usage":"Descriptive","uniqueID":"7741124012283334352","displayable":false,"comparable":false,"identifier":"POLARIZED","searchable":true,"facetable":true},{"storeDisplay":false,"values":[{"sequence":"1","value":"False","uniqueID":"7741124012283336077","unitOfMeasure":"","unitID":"","identifier":"False"}],"sequence":"38","name":"Onsale","associatedKeyword":"-","usage":"Descriptive","uniqueID":"7741124012283334351","displayable":false,"comparable":false,"identifier":"ONSALE","searchable":false,"facetable":false},{"storeDisplay":false,"values":[{"sequence":"1","value":"False","uniqueID":"7741124012283355350","unitOfMeasure":"","unitID":"","identifier":"False"}],"sequence":"40","name":"Vintage Celebration","associatedKeyword":"-","usage":"Descriptive","uniqueID":"7741124012283348837","displayable":false,"comparable":false,"identifier":"VINTAGE CELEBRATION","searchable":false,"facetable":false},{"storeDisplay":false,"values":[{"sequence":"1","value":"False","uniqueID":"7741124012283336902","unitOfMeasure":"","unitID":"","identifier":"False"}],"sequence":"41","name":"Foldable","associatedKeyword":"-","usage":"Descriptive","uniqueID":"7741124012283334366","displayable":false,"comparable":false,"identifier":"FOLDABLE","searchable":true,"facetable":true},{"storeDisplay":false,"values":[{"sequence":"4","value":"Optical","uniqueID":"7741124012283333657","unitOfMeasure":"","unitID":"","identifier":"Optical"}],"sequence":"42","name":"Producttype","associatedKeyword":"-","usage":"Descriptive","uniqueID":"7741124012283333376","displayable":false,"comparable":false,"identifier":"PRODUCTTYPE","searchable":true,"facetable":false},{"storeDisplay":false,"values":[{"sequence":"1","value":"False","uniqueID":"7741124012284859336","unitOfMeasure":"","unitID":"","identifier":"False"}],"sequence":"43","name":"AVANT_PREMIERE","associatedKeyword":"-","usage":"Descriptive","uniqueID":"7741124012284251835","displayable":false,"comparable":false,"identifier":"AVANT_PREMIERE","searchable":false,"facetable":false},{"storeDisplay":false,"values":[{"sequence":"2","value":"Striped Brown","uniqueID":"7741124012283335976","unitOfMeasure":"","unitID":"","identifier":"Striped Brown"}],"sequence":"44","name":"Front inner color","associatedKeyword":"-","usage":"Descriptive","uniqueID":"7741124012283334341","displayable":false,"comparable":false,"identifier":"FRONT_INNER_COLOR","searchable":false,"facetable":false},{"storeDisplay":false,"values":[{"sequence":"3","value":"Striped Brown","uniqueID":"7741124012283336293","unitOfMeasure":"","unitID":"","identifier":"Striped Brown"}],"sequence":"45","name":"Temple inner color","associatedKeyword":"-","usage":"Descriptive","uniqueID":"7741124012283334356","displayable":false,"comparable":false,"identifier":"TEMPLE_INNER_COLOR","searchable":false,"facetable":false},{"storeDisplay":false,"values":[{"sequence":"1","value":"Brown","uniqueID":"7741124012283336243","unitOfMeasure":"","unitID":"","identifier":"Brown"}],"sequence":"46","name":"Temple color facet","associatedKeyword":"-","usage":"Descriptive","uniqueID":"7741124012283334355","displayable":false,"comparable":false,"identifier":"TEMPLE_COLOR_FACET","searchable":true,"facetable":false},{"storeDisplay":false,"values":[{"sequence":"2","value":"True","uniqueID":"7741124012284859902","unitOfMeasure":"","unitID":"","identifier":"True"}],"sequence":"47","name":"MEFLECTO","associatedKeyword":"-","usage":"Descriptive","uniqueID":"7741124012284251847","displayable":false,"comparable":false,"identifier":"MEFLECTO","searchable":false,"facetable":false},{"storeDisplay":false,"values":[{"sequence":"1","value":"Global","uniqueID":"7741124012283336916","unitOfMeasure":"","unitID":"","identifier":"Global"}],"sequence":"48","name":"Fitting","associatedKeyword":"-","usage":"Descriptive","uniqueID":"7741124012283334369","displayable":false,"comparable":false,"identifier":"GEO_FIT","searchable":true,"facetable":false}],"storeID":"715838084","numberOfSKUs":2,"partNumber":"0PO3007V__1135"},{"hasSingleSKU":false,"catalogEntryTypeCode":"ProductBean","associationType":"REPLACEMENT","parentCatalogGroupID":["3074457345616676668_3074457345616676669","3074457345616681818_3074457345616678178","3074457345616681818_3074457345616694171","3074457345616681818_3074457345616695669","3074457345616681818_3074457345616696188","3074457345616681818_3074457345616696193","3074457345616681818_3074457345616696201","3074457345616681818_3074457345616700168","3074457345616681818_3074457345616700669","3074457345616681818_3074457345616700670","3074457345616681818_3074457345616715669","3074457345616681818_3074457345616716181","3074457345616681818_3074457345616716187","3074457345616681818_3074457345616716189"],"price_USD":"265.0","uniqueID":"3074457345616812222","sKUs":[{"hasSingleSKU":false,"catalogEntryTypeCode":"ItemBean","parentCatalogGroupID":["3074457345616676668_3074457345616676669","3074457345616681818_3074457345616678178","3074457345616681818_3074457345616694171","3074457345616681818_3074457345616695669","3074457345616681818_3074457345616696188","3074457345616681818_3074457345616696193","3074457345616681818_3074457345616696201","3074457345616681818_3074457345616700168","3074457345616681818_3074457345616700669","3074457345616681818_3074457345616700670","3074457345616681818_3074457345616715669","3074457345616681818_3074457345616716181","3074457345616681818_3074457345616716187","3074457345616681818_3074457345616716189"],"uniqueID":"3074457345616812734","resourceId":"http:\/\/lux-prdlv-src01.lux-ecomm.net:3737\/search\/resources\/store\/715838388\/productview\/byId\/3074457345616812734","price":[{"description":"L","value":"","usage":"Display","currency":"USD"},{"description":"O","value":"","usage":"Offer","currency":"USD"}],"thumbnail":"https:\/\/assets.persol.com\/is\/image\/Persol\/8056597374439_noshad_fr.png?impolicy=HB_parameters&sclw=0.25&sclh=0.25","shortDescription":"PO3007V 1136 50-19","mfPartNumber_ntk":"0PO3007V","name":"PO3007V 1136 50-19","buyable":"true","storeID":"715838084","attributes":[{"storeDisplay":false,"values":[{"sequence":"1","value":"Standard","uniqueID":"7741124012283336345","unitOfMeasure":"","unitID":"","identifier":"Standard"}],"sequence":"1","name":"Size","usage":"Defining","uniqueID":"7741124012283334359","displayable":true,"comparable":false,"identifier":"MODEL_SIZE_DISPLAY","searchable":false,"facetable":false},{"storeDisplay":false,"values":[{"sequence":"2","value":"Demo Lens","uniqueID":"7741124012283336896","unitOfMeasure":"","unitID":"","identifier":"Demo Lens"}],"sequence":"3","name":"Lens treatment","usage":"Descriptive","uniqueID":"7741124012283334364","displayable":false,"comparable":false,"identifier":"LENS_TREATMENT","searchable":false,"facetable":false},{"storeDisplay":false,"values":[{"sequence":"1","value":"Demo Lens","uniqueID":"7741124012283336900","unitOfMeasure":"","unitID":"","identifier":"Demo Lens"}],"sequence":"465","name":"Lens type","usage":"Descriptive","uniqueID":"7741124012283334365","displayable":false,"comparable":false,"identifier":"LENS_TREATMENT_FACET","searchable":true,"facetable":true},{"storeDisplay":false,"values":[{"sequence":"1","value":"19","uniqueID":"7741124012283336885","unitOfMeasure":"","unitID":"","identifier":"19"}],"sequence":"465","name":"Lens bridge","usage":"Descriptive","uniqueID":"7741124012283334362","displayable":false,"comparable":false,"identifier":"LENS_BRIDGE","searchable":false,"facetable":false},{"storeDisplay":false,"values":[{"sequence":"1","value":"Trending Now","uniqueID":"7741124012284582837","unitOfMeasure":"","unitID":"","identifier":"Trending Now"}],"sequence":"465","name":"Primary family","usage":"Descriptive","uniqueID":"7741124012284026836","displayable":false,"comparable":false,"identifier":"PRIMARY_FAMILY","searchable":false,"facetable":false},{"storeDisplay":false,"values":[{"sequence":"1","value":"50","uniqueID":"7741124012283336334","unitOfMeasure":"","unitID":"","identifier":"50"}],"sequence":"465","name":"Model size","usage":"Descriptive","uniqueID":"7741124012283334358","displayable":false,"comparable":false,"identifier":"MODEL_SIZE","searchable":false,"facetable":false},{"storeDisplay":false,"values":[{"sequence":"1","value":"Zpfn","uniqueID":"7741124012283336923","unitOfMeasure":"","unitID":"","identifier":"Zpfn"}],"sequence":"465","name":"Materialtype","usage":"Descriptive","uniqueID":"7741124012283334372","displayable":false,"comparable":false,"identifier":"MATERIALTYPE","searchable":false,"facetable":false},{"storeDisplay":false,"values":[{"sequence":"1","value":"1136 50","uniqueID":"7741124012285955478","unitOfMeasure":"","unitID":"","identifier":"1136 50"}],"sequence":"465","name":"Grid Value","usage":"Descriptive","uniqueID":"7741124012283364837","displayable":true,"comparable":false,"identifier":"GRID VALUE","searchable":false,"facetable":false},{"storeDisplay":false,"values":[{"sequence":"4","value":"145","uniqueID":"7741124012283336892","unitOfMeasure":"","unitID":"","identifier":"145"}],"sequence":"465","name":"Temple length","usage":"Descriptive","uniqueID":"7741124012283334363","displayable":false,"comparable":false,"identifier":"TEMPLE_LENGTH","searchable":false,"facetable":false},{"storeDisplay":false,"values":[{"sequence":"1","value":"Material-acetate;arrow-all;meflecto-all","uniqueID":"7741124012284859903","unitOfMeasure":"","unitID":"","identifier":"Material-acetate;arrow-all;meflecto-all"}],"sequence":"465","name":"FEATURES","usage":"Descriptive","uniqueID":"7741124012284251845","displayable":false,"comparable":false,"identifier":"FEATURES","searchable":false,"facetable":false},{"storeDisplay":false,"values":[{"sequence":"2","value":"PO3007V 1136 50-19","uniqueID":"7741124012285955606","unitOfMeasure":"","unitID":"","identifier":"PO3007V 1136 50-19"}],"sequence":"465","name":"Displaysku","usage":"Descriptive","uniqueID":"7741124012283364836","displayable":false,"comparable":false,"identifier":"DISPLAYSKU","searchable":false,"facetable":false},{"storeDisplay":false,"values":[{"sequence":"5","value":"Supreme 3,5","uniqueID":"7741124012283355340","unitOfMeasure":"","unitID":"","identifier":"Supreme 3,5"}],"sequence":"1646","name":"Arrow","usage":"Descriptive","uniqueID":"7741124012283348835","displayable":false,"comparable":false,"identifier":"ARROW","searchable":false,"facetable":false}],"partNumber":"8056597374439"},{"hasSingleSKU":false,"catalogEntryTypeCode":"ItemBean","parentCatalogGroupID":["3074457345616676668_3074457345616676669","3074457345616681818_3074457345616678178","3074457345616681818_3074457345616694171","3074457345616681818_3074457345616695669","3074457345616681818_3074457345616696188","3074457345616681818_3074457345616696193","3074457345616681818_3074457345616696201","3074457345616681818_3074457345616700168","3074457345616681818_3074457345616700669","3074457345616681818_3074457345616700670","3074457345616681818_3074457345616715669","3074457345616681818_3074457345616716181","3074457345616681818_3074457345616716187","3074457345616681818_3074457345616716189"],"uniqueID":"3074457345616812735","resourceId":"http:\/\/lux-prdlv-src01.lux-ecomm.net:3737\/search\/resources\/store\/715838388\/productview\/byId\/3074457345616812735","price":[{"description":"L","value":"","usage":"Display","currency":"USD"},{"description":"O","value":"","usage":"Offer","currency":"USD"}],"thumbnail":"https:\/\/assets.persol.com\/is\/image\/Persol\/8056597374446_noshad_fr.png?impolicy=HB_parameters&sclw=0.25&sclh=0.25","shortDescription":"PO3007V 1136 52-19","mfPartNumber_ntk":"0PO3007V","name":"PO3007V 1136 52-19","buyable":"true","storeID":"715838084","attributes":[{"storeDisplay":false,"values":[{"sequence":"3","value":"Large","uniqueID":"7741124012283336346","unitOfMeasure":"","unitID":"","identifier":"Large"}],"sequence":"1","name":"Size","usage":"Defining","uniqueID":"7741124012283334359","displayable":true,"comparable":false,"identifier":"MODEL_SIZE_DISPLAY","searchable":false,"facetable":false},{"storeDisplay":false,"values":[{"sequence":"2","value":"Demo Lens","uniqueID":"7741124012283336896","unitOfMeasure":"","unitID":"","identifier":"Demo Lens"}],"sequence":"3","name":"Lens treatment","usage":"Descriptive","uniqueID":"7741124012283334364","displayable":false,"comparable":false,"identifier":"LENS_TREATMENT","searchable":false,"facetable":false},{"storeDisplay":false,"values":[{"sequence":"1","value":"Demo Lens","uniqueID":"7741124012283336900","unitOfMeasure":"","unitID":"","identifier":"Demo Lens"}],"sequence":"466","name":"Lens type","usage":"Descriptive","uniqueID":"7741124012283334365","displayable":false,"comparable":false,"identifier":"LENS_TREATMENT_FACET","searchable":true,"facetable":true},{"storeDisplay":false,"values":[{"sequence":"1","value":"19","uniqueID":"7741124012283336885","unitOfMeasure":"","unitID":"","identifier":"19"}],"sequence":"466","name":"Lens bridge","usage":"Descriptive","uniqueID":"7741124012283334362","displayable":false,"comparable":false,"identifier":"LENS_BRIDGE","searchable":false,"facetable":false},{"storeDisplay":false,"values":[{"sequence":"1","value":"Trending Now","uniqueID":"7741124012284582837","unitOfMeasure":"","unitID":"","identifier":"Trending Now"}],"sequence":"466","name":"Primary family","usage":"Descriptive","uniqueID":"7741124012284026836","displayable":false,"comparable":false,"identifier":"PRIMARY_FAMILY","searchable":false,"facetable":false},{"storeDisplay":false,"values":[{"sequence":"3","value":"52","uniqueID":"7741124012283336336","unitOfMeasure":"","unitID":"","identifier":"52"}],"sequence":"466","name":"Model size","usage":"Descriptive","uniqueID":"7741124012283334358","displayable":false,"comparable":false,"identifier":"MODEL_SIZE","searchable":false,"facetable":false},{"storeDisplay":false,"values":[{"sequence":"1","value":"Zpfn","uniqueID":"7741124012283336923","unitOfMeasure":"","unitID":"","identifier":"Zpfn"}],"sequence":"466","name":"Materialtype","usage":"Descriptive","uniqueID":"7741124012283334372","displayable":false,"comparable":false,"identifier":"MATERIALTYPE","searchable":false,"facetable":false},{"storeDisplay":false,"values":[{"sequence":"2","value":"1136 52","uniqueID":"7741124012285955476","unitOfMeasure":"","unitID":"","identifier":"1136 52"}],"sequence":"466","name":"Grid Value","usage":"Descriptive","uniqueID":"7741124012283364837","displayable":true,"comparable":false,"identifier":"GRID VALUE","searchable":false,"facetable":false},{"storeDisplay":false,"values":[{"sequence":"4","value":"145","uniqueID":"7741124012283336892","unitOfMeasure":"","unitID":"","identifier":"145"}],"sequence":"466","name":"Temple length","usage":"Descriptive","uniqueID":"7741124012283334363","displayable":false,"comparable":false,"identifier":"TEMPLE_LENGTH","searchable":false,"facetable":false},{"storeDisplay":false,"values":[{"sequence":"1","value":"Material-acetate;arrow-all;meflecto-all","uniqueID":"7741124012284859903","unitOfMeasure":"","unitID":"","identifier":"Material-acetate;arrow-all;meflecto-all"}],"sequence":"466","name":"FEATURES","usage":"Descriptive","uniqueID":"7741124012284251845","displayable":false,"comparable":false,"identifier":"FEATURES","searchable":false,"facetable":false},{"storeDisplay":false,"values":[{"sequence":"4","value":"PO3007V 1136 52-19","uniqueID":"7741124012285955553","unitOfMeasure":"","unitID":"","identifier":"PO3007V 1136 52-19"}],"sequence":"466","name":"Displaysku","usage":"Descriptive","uniqueID":"7741124012283364836","displayable":false,"comparable":false,"identifier":"DISPLAYSKU","searchable":false,"facetable":false},{"storeDisplay":false,"values":[{"sequence":"5","value":"Supreme 3,5","uniqueID":"7741124012283355340","unitOfMeasure":"","unitID":"","identifier":"Supreme 3,5"}],"sequence":"1647","name":"Arrow","usage":"Descriptive","uniqueID":"7741124012283348835","displayable":false,"comparable":false,"identifier":"ARROW","searchable":false,"facetable":false}],"partNumber":"8056597374446"}],"resourceId":"http:\/\/lux-prdlv-src01.lux-ecomm.net:3737\/search\/resources\/store\/715838388\/productview\/byId\/3074457345616812222","price":[{"description":"L","value":"265.0","usage":"Display","currency":"USD"},{"description":"O","value":"","usage":"Offer","currency":"USD"}],"thumbnail":"https:\/\/assets.persol.com\/is\/image\/Persol\/8056597374439_noshad_fr.png?impolicy=HB_parameters&sclw=0.25&sclh=0.25","shortDescription":"PO3007V","mfPartNumber_ntk":"0PO3007V","name":"PO3007V","buyable":"true","quantity":1,"attributes":[{"storeDisplay":false,"values":[{"sequence":"5","value":"PO3007V","uniqueID":"7741124012283444287","unitOfMeasure":"","unitID":"","identifier":"PO3007V"}],"sequence":"0","name":"Model code","associatedKeyword":"-","usage":"Descriptive","uniqueID":"7741124012283334373","displayable":true,"comparable":false,"identifier":"MODEL_CODE_DISPLAY","searchable":false,"facetable":false},{"storeDisplay":false,"values":[{"sequence":"5","value":"Striped Brown","uniqueID":"7741124012283335907","unitOfMeasure":"","unitID":"","identifier":"Striped Brown"}],"sequence":"1","name":"Front color","associatedKeyword":"-","usage":"Descriptive","uniqueID":"7741124012283334339","displayable":true,"comparable":false,"identifier":"FRONT_COLOR","searchable":false,"facetable":false},{"storeDisplay":false,"values":[{"sequence":"3","value":"202008","uniqueID":"7741124012285701342","unitOfMeasure":"","unitID":"","identifier":"202008"}],"sequence":"1","name":"Collection","associatedKeyword":"-","usage":"Descriptive","uniqueID":"7741124012283334335","displayable":false,"comparable":false,"identifier":"COLLECTION","searchable":true,"facetable":false},{"storeDisplay":false,"values":[{"sequence":"1","value":"Standard","uniqueID":"7741124012283336345","unitOfMeasure":"","unitID":"","identifier":"Standard"},{"sequence":"3","value":"Large","uniqueID":"7741124012283336346","unitOfMeasure":"","unitID":"","identifier":"Large"}],"sequence":"1","name":"Size","associatedKeyword":"-","usage":"Defining","uniqueID":"7741124012283334359","displayable":true,"comparable":false,"identifier":"MODEL_SIZE_DISPLAY","searchable":false,"facetable":false},{"storeDisplay":false,"values":[{"sequence":"5","value":"Square","uniqueID":"7741124012283336911","unitOfMeasure":"","unitID":"","identifier":"Square"}],"sequence":"2","name":"Frame shape","associatedKeyword":"-","usage":"Descriptive","uniqueID":"7741124012283334367","displayable":false,"comparable":false,"identifier":"FRAME_SHAPE","searchable":false,"facetable":false},{"storeDisplay":false,"values":[{"sequence":"1","value":"Demo Lens","uniqueID":"7741124012283336054","unitOfMeasure":"","unitID":"","identifier":"Demo Lens"}],"sequence":"2","name":"Lens color","associatedKeyword":"-","usage":"Descriptive","uniqueID":"7741124012283334346","displayable":true,"comparable":false,"identifier":"LENS_COLOR","searchable":false,"facetable":false},{"storeDisplay":false,"values":[{"sequence":"1","value":"False","uniqueID":"7741124012285955768","unitOfMeasure":"","unitID":"","identifier":"False"}],"sequence":"3","name":"Photochromic","associatedKeyword":"-","usage":"Descriptive","uniqueID":"7741124012284852335","displayable":false,"comparable":false,"identifier":"PHOTOCHROMIC","searchable":true,"facetable":true},{"storeDisplay":false,"values":[{"sequence":"2","value":"Demo Lens","uniqueID":"7741124012283336896","unitOfMeasure":"","unitID":"","identifier":"Demo Lens"}],"sequence":"3","name":"Lens treatment","associatedKeyword":"-","usage":"Descriptive","uniqueID":"7741124012283334364","displayable":false,"comparable":false,"identifier":"LENS_TREATMENT","searchable":false,"facetable":false},{"storeDisplay":false,"values":[{"sequence":"2","value":"Acetate","uniqueID":"7741124012283335870","unitOfMeasure":"","unitID":"","identifier":"Acetate"}],"sequence":"4","name":"Frame material","associatedKeyword":"-","usage":"Descriptive","uniqueID":"7741124012283334338","displayable":false,"comparable":false,"identifier":"FRAMEMATERIAL_FACET","searchable":true,"facetable":true},{"storeDisplay":false,"values":[{"sequence":"1","value":"False","uniqueID":"7741124012283336065","unitOfMeasure":"","unitID":"","identifier":"False"}],"sequence":"5","name":"Limited edition","associatedKeyword":"-","usage":"Descriptive","uniqueID":"7741124012283334347","displayable":false,"comparable":false,"identifier":"LIMITED_EDITION","searchable":false,"facetable":false},{"storeDisplay":false,"values":[{"sequence":"4","value":"Striped Brown","uniqueID":"7741124012283336220","unitOfMeasure":"","unitID":"","identifier":"Striped Brown"}],"sequence":"6","name":"Temple color","associatedKeyword":"-","usage":"Descriptive","uniqueID":"7741124012283334354","displayable":false,"comparable":false,"identifier":"TEMPLE_COLOR","searchable":false,"facetable":false},{"storeDisplay":false,"values":[{"sequence":"4","value":"Acetate","uniqueID":"7741124012283335867","unitOfMeasure":"","unitID":"","identifier":"Acetate"}],"sequence":"6","name":"Frame Material","associatedKeyword":"-","usage":"Descriptive","uniqueID":"7741124012283334337","displayable":true,"comparable":false,"identifier":"FRAMEMATERIAL","searchable":false,"facetable":false},{"storeDisplay":false,"values":[{"sequence":"1","value":"Not Adjustable","uniqueID":"7741124012284859354","unitOfMeasure":"","unitID":"","identifier":"Not Adjustable"}],"sequence":"7","name":"Nosepads","associatedKeyword":"-","usage":"Descriptive","uniqueID":"7741124012284251840","displayable":true,"comparable":false,"identifier":"NOSEPADS","searchable":true,"facetable":true},{"storeDisplay":false,"values":[{"sequence":"1","value":"1","uniqueID":"7741124012284859356","unitOfMeasure":"","unitID":"","identifier":"1"}],"sequence":"8","name":"PLACEHOLDER_SIZE","associatedKeyword":"-","usage":"Descriptive","uniqueID":"7741124012284251841","displayable":true,"comparable":false,"identifier":"PLACEHOLDER_SIZE","searchable":false,"facetable":false},{"storeDisplay":false,"values":[{"sequence":"1","value":"Polished","uniqueID":"7741124012284859363","unitOfMeasure":"","unitID":"","identifier":"Polished"}],"sequence":"8","name":"FINISHING","associatedKeyword":"-","usage":"Descriptive","uniqueID":"7741124012284251844","displayable":false,"comparable":false,"identifier":"FINISHING","searchable":false,"facetable":false},{"storeDisplay":false,"values":[{"sequence":"5","value":"Keyhole Bridge","uniqueID":"7741124012284859339","unitOfMeasure":"","unitID":"","identifier":"Keyhole Bridge"}],"sequence":"9","name":"BRIDGE TYPE","associatedKeyword":"-","usage":"Descriptive","uniqueID":"7741124012284251836","displayable":false,"comparable":false,"identifier":"BRIDGE TYPE","searchable":false,"facetable":false},{"storeDisplay":false,"values":[{"sequence":"1","value":"Standard","uniqueID":"7741124012284859365","unitOfMeasure":"","unitID":"","identifier":"Standard"}],"sequence":"9","name":"FRAME FIT","associatedKeyword":"-","usage":"Descriptive","uniqueID":"7741124012284251846","displayable":true,"comparable":false,"identifier":"FRAME FIT","searchable":false,"facetable":false},{"storeDisplay":false,"values":[{"sequence":"1","value":"Italy","uniqueID":"7741124012283336067","unitOfMeasure":"","unitID":"","identifier":"Italy"}],"sequence":"10","name":"Made in","associatedKeyword":"-","usage":"Descriptive","uniqueID":"7741124012283334348","displayable":true,"comparable":false,"identifier":"MADEIN","searchable":false,"facetable":false},{"storeDisplay":false,"values":[{"sequence":"3","value":"Full Rim","uniqueID":"7741124012283360863","unitOfMeasure":"","unitID":"","identifier":"Full Rim"}],"sequence":"10","name":"Frame type","associatedKeyword":"-","usage":"Descriptive","uniqueID":"7741124012283334370","displayable":false,"comparable":false,"identifier":"FRAMETYPE","searchable":true,"facetable":false},{"storeDisplay":false,"values":[{"sequence":"4","value":"Mini Supreme Acetate","uniqueID":"7741124012283355349","unitOfMeasure":"","unitID":"","identifier":"Mini Supreme Acetate"}],"sequence":"11","name":"Temple logo","associatedKeyword":"-","usage":"Descriptive","uniqueID":"7741124012283348836","displayable":false,"comparable":true,"identifier":"TEMPLE_LOGO","searchable":false,"facetable":false},{"storeDisplay":false,"values":[{"sequence":"3","value":"Round Face;oval Face","uniqueID":"7741124012284860410","unitOfMeasure":"","unitID":"","identifier":"Round Face;oval Face"}],"sequence":"11","name":"SUGGESTED FACE SHAPE","associatedKeyword":"-","usage":"Descriptive","uniqueID":"7741124012284251843","displayable":false,"comparable":false,"identifier":"SUGGESTED_FACE_SHAPE","searchable":false,"facetable":false},{"storeDisplay":false,"values":[{"sequence":"4","value":"1136","uniqueID":"7741124012285955755","unitOfMeasure":"","unitID":"","identifier":"1136"}],"sequence":"12","name":"COLOR CODE","associatedKeyword":"-","usage":"Descriptive","uniqueID":"7741124012284253335","displayable":false,"comparable":false,"identifier":"COLOR CODE","searchable":false,"facetable":false},{"storeDisplay":false,"values":[{"sequence":"3","value":"Other","uniqueID":"7741124012283444307","unitOfMeasure":"","unitID":"","identifier":"Other"}],"sequence":"14","name":"Model family","associatedKeyword":"-","usage":"Descriptive","uniqueID":"7741124012283333374","displayable":false,"comparable":false,"identifier":"MODEL_FAMILY","searchable":true,"facetable":true},{"storeDisplay":false,"values":[{"sequence":"4","value":"Brown","uniqueID":"7741124012283336316","unitOfMeasure":"","unitID":"","identifier":"Brown"}],"sequence":"15","name":"Temple inner color facet","associatedKeyword":"-","usage":"Descriptive","uniqueID":"7741124012283334357","displayable":false,"comparable":false,"identifier":"TEMPLE_INNER_COLOR_FACET","searchable":true,"facetable":false},{"storeDisplay":false,"values":[{"sequence":"1","value":"False","uniqueID":"7741124012283337030","unitOfMeasure":"","unitID":"","identifier":"False"}],"sequence":"17","name":"Noreturn","associatedKeyword":"-","usage":"Descriptive","uniqueID":"7741124012283334374","displayable":false,"comparable":false,"identifier":"NORETURN","searchable":false,"facetable":false},{"storeDisplay":false,"values":[{"sequence":"2","value":"True","uniqueID":"7741124012284859353","unitOfMeasure":"","unitID":"","identifier":"True"}],"sequence":"19","name":"ENGRAVINGELIGIBLE","associatedKeyword":"-","usage":"Descriptive","uniqueID":"7741124012284251838","displayable":false,"comparable":false,"identifier":"ENGRAVINGELIGIBLE","searchable":false,"facetable":false},{"storeDisplay":false,"values":[{"sequence":"1","value":"Galleria","uniqueID":"7741124012283336920","unitOfMeasure":"","unitID":"","identifier":"Galleria"}],"sequence":"20","name":"Range","associatedKeyword":"-","usage":"Descriptive","uniqueID":"7741124012283334371","displayable":false,"comparable":false,"identifier":"RANGE","searchable":false,"facetable":true},{"storeDisplay":false,"values":[{"sequence":"1","value":"Demo Lens","uniqueID":"7741124012283336042","unitOfMeasure":"","unitID":"","identifier":"Demo Lens"}],"sequence":"21","name":"Lens color","associatedKeyword":"-","usage":"Descriptive","uniqueID":"7741124012283334345","displayable":false,"comparable":false,"identifier":"LENS_COLOR_FACET","searchable":true,"facetable":true},{"storeDisplay":false,"values":[{"sequence":"2","value":"True","uniqueID":"7741124012283336069","unitOfMeasure":"","unitID":"","identifier":"True"}],"sequence":"22","name":"Newreleases","associatedKeyword":"-","usage":"Descriptive","uniqueID":"7741124012283334349","displayable":false,"comparable":false,"identifier":"NEWRELEASES","searchable":true,"facetable":false},{"storeDisplay":false,"values":[{"sequence":"0","value":"0","uniqueID":"0","unitOfMeasure":"","unitID":"","identifier":"0"}],"sequence":"24","name":"Clen","associatedKeyword":"-","usage":"Descriptive","uniqueID":"7741124012283334344","displayable":false,"comparable":false,"identifier":"CLEN","searchable":false,"facetable":false},{"storeDisplay":false,"values":[{"sequence":"5","value":"Supreme 3,5","uniqueID":"7741124012283355340","unitOfMeasure":"","unitID":"","identifier":"Supreme 3,5"}],"sequence":"25","name":"Arrow","associatedKeyword":"-","usage":"Descriptive","uniqueID":"7741124012283348835","displayable":false,"comparable":false,"identifier":"ARROW","searchable":false,"facetable":false},{"storeDisplay":false,"values":[{"sequence":"1","value":"364410","uniqueID":"7741124012285955731","unitOfMeasure":"","unitID":"","identifier":"364410"}],"sequence":"27","name":"Sequence","associatedKeyword":"-","usage":"Descriptive","uniqueID":"7741124012283593337","displayable":false,"comparable":false,"identifier":"SEQUENCE","searchable":true,"facetable":false},{"storeDisplay":false,"values":[{"sequence":"2","value":"Man","uniqueID":"7741124012283336014","unitOfMeasure":"","unitID":"","identifier":"Man"}],"sequence":"28","name":"Gender","associatedKeyword":"-","usage":"Descriptive","uniqueID":"7741124012283334343","displayable":false,"comparable":false,"identifier":"GENDER","searchable":true,"facetable":true},{"storeDisplay":false,"values":[{"sequence":"1","value":"False","uniqueID":"7741124012284860407","unitOfMeasure":"","unitID":"","identifier":"False"}],"sequence":"29","name":"Flex","associatedKeyword":"-","usage":"Descriptive","uniqueID":"7741124012283364835","displayable":false,"comparable":false,"identifier":"FLEX","searchable":false,"facetable":false},{"storeDisplay":false,"values":[{"sequence":"3","value":"True","uniqueID":"7741124012284582836","unitOfMeasure":"","unitID":"","identifier":"True"}],"sequence":"30","name":"Best Sellers","associatedKeyword":"-","usage":"Descriptive","uniqueID":"7741124012284026835","displayable":false,"comparable":false,"identifier":"BESTSELLERS","searchable":false,"facetable":false},{"storeDisplay":false,"values":[{"sequence":"3","value":"Brown","uniqueID":"7741124012283336000","unitOfMeasure":"","unitID":"","identifier":"Brown"}],"sequence":"31","name":"Front inner color facet","associatedKeyword":"-","usage":"Descriptive","uniqueID":"7741124012283334342","displayable":false,"comparable":false,"identifier":"FRONT_INNER_COLOR_FACET","searchable":true,"facetable":false},{"storeDisplay":false,"values":[{"sequence":"2","value":"PO3007V","uniqueID":"7741124012283336084","unitOfMeasure":"","unitID":"","identifier":"PO3007V"}],"sequence":"32","name":"Modelname","associatedKeyword":"-","usage":"Descriptive","uniqueID":"7741124012283334353","displayable":false,"comparable":false,"identifier":"MODELNAME","searchable":true,"facetable":false},{"storeDisplay":false,"values":[{"sequence":"1","value":"False","uniqueID":"7741124012283335865","unitOfMeasure":"","unitID":"","identifier":"False"}],"sequence":"33","name":"Exclusive","associatedKeyword":"-","usage":"Descriptive","uniqueID":"7741124012283334336","displayable":false,"comparable":false,"identifier":"EXCLUSIVE","searchable":false,"facetable":true},{"storeDisplay":false,"values":[{"image1":"https:\/\/assets.persol.com\/extra\/image\/Persol\/filters\/brown.png","sequence":"2","value":"Brown","uniqueID":"7741124012283335928","image1path":"https:\/\/assets.persol.com\/extra\/image\/Persol\/filters\/brown.png","unitOfMeasure":"","unitID":"","identifier":"Brown"}],"sequence":"34","name":"Frame color","associatedKeyword":"-","usage":"Descriptive","uniqueID":"7741124012283334340","displayable":false,"comparable":false,"identifier":"FRONT_COLOR_FACET","searchable":true,"facetable":true},{"storeDisplay":false,"values":[{"sequence":"1","value":"Square","uniqueID":"7741124012283336915","unitOfMeasure":"","unitID":"","identifier":"Square"}],"sequence":"36","name":"Frame shape","associatedKeyword":"-","usage":"Descriptive","uniqueID":"7741124012283334368","displayable":false,"comparable":false,"identifier":"FRAME_SHAPE_FACET","searchable":true,"facetable":true},{"storeDisplay":false,"values":[{"sequence":"1","value":"False","uniqueID":"7741124012283336078","unitOfMeasure":"","unitID":"","identifier":"False"}],"sequence":"37","name":"Polarized","associatedKeyword":"-","usage":"Descriptive","uniqueID":"7741124012283334352","displayable":false,"comparable":false,"identifier":"POLARIZED","searchable":true,"facetable":true},{"storeDisplay":false,"values":[{"sequence":"1","value":"False","uniqueID":"7741124012283336077","unitOfMeasure":"","unitID":"","identifier":"False"}],"sequence":"38","name":"Onsale","associatedKeyword":"-","usage":"Descriptive","uniqueID":"7741124012283334351","displayable":false,"comparable":false,"identifier":"ONSALE","searchable":false,"facetable":false},{"storeDisplay":false,"values":[{"sequence":"1","value":"False","uniqueID":"7741124012283355350","unitOfMeasure":"","unitID":"","identifier":"False"}],"sequence":"40","name":"Vintage Celebration","associatedKeyword":"-","usage":"Descriptive","uniqueID":"7741124012283348837","displayable":false,"comparable":false,"identifier":"VINTAGE CELEBRATION","searchable":false,"facetable":false},{"storeDisplay":false,"values":[{"sequence":"1","value":"False","uniqueID":"7741124012283336902","unitOfMeasure":"","unitID":"","identifier":"False"}],"sequence":"41","name":"Foldable","associatedKeyword":"-","usage":"Descriptive","uniqueID":"7741124012283334366","displayable":false,"comparable":false,"identifier":"FOLDABLE","searchable":true,"facetable":true},{"storeDisplay":false,"values":[{"sequence":"4","value":"Optical","uniqueID":"7741124012283333657","unitOfMeasure":"","unitID":"","identifier":"Optical"}],"sequence":"42","name":"Producttype","associatedKeyword":"-","usage":"Descriptive","uniqueID":"7741124012283333376","displayable":false,"comparable":false,"identifier":"PRODUCTTYPE","searchable":true,"facetable":false},{"storeDisplay":false,"values":[{"sequence":"1","value":"False","uniqueID":"7741124012284859336","unitOfMeasure":"","unitID":"","identifier":"False"}],"sequence":"43","name":"AVANT_PREMIERE","associatedKeyword":"-","usage":"Descriptive","uniqueID":"7741124012284251835","displayable":false,"comparable":false,"identifier":"AVANT_PREMIERE","searchable":false,"facetable":false},{"storeDisplay":false,"values":[{"sequence":"2","value":"Striped Brown","uniqueID":"7741124012283335976","unitOfMeasure":"","unitID":"","identifier":"Striped Brown"}],"sequence":"44","name":"Front inner color","associatedKeyword":"-","usage":"Descriptive","uniqueID":"7741124012283334341","displayable":false,"comparable":false,"identifier":"FRONT_INNER_COLOR","searchable":false,"facetable":false},{"storeDisplay":false,"values":[{"sequence":"3","value":"Striped Brown","uniqueID":"7741124012283336293","unitOfMeasure":"","unitID":"","identifier":"Striped Brown"}],"sequence":"45","name":"Temple inner color","associatedKeyword":"-","usage":"Descriptive","uniqueID":"7741124012283334356","displayable":false,"comparable":false,"identifier":"TEMPLE_INNER_COLOR","searchable":false,"facetable":false},{"storeDisplay":false,"values":[{"sequence":"1","value":"Brown","uniqueID":"7741124012283336243","unitOfMeasure":"","unitID":"","identifier":"Brown"}],"sequence":"46","name":"Temple color facet","associatedKeyword":"-","usage":"Descriptive","uniqueID":"7741124012283334355","displayable":false,"comparable":false,"identifier":"TEMPLE_COLOR_FACET","searchable":true,"facetable":false},{"storeDisplay":false,"values":[{"sequence":"2","value":"True","uniqueID":"7741124012284859902","unitOfMeasure":"","unitID":"","identifier":"True"}],"sequence":"47","name":"MEFLECTO","associatedKeyword":"-","usage":"Descriptive","uniqueID":"7741124012284251847","displayable":false,"comparable":false,"identifier":"MEFLECTO","searchable":false,"facetable":false},{"storeDisplay":false,"values":[{"sequence":"1","value":"Global","uniqueID":"7741124012283336916","unitOfMeasure":"","unitID":"","identifier":"Global"}],"sequence":"48","name":"Fitting","associatedKeyword":"-","usage":"Descriptive","uniqueID":"7741124012283334369","displayable":false,"comparable":false,"identifier":"GEO_FIT","searchable":true,"facetable":false}],"storeID":"715838084","numberOfSKUs":2,"partNumber":"0PO3007V__1136"}],"fullImage":"https:\/\/assets.persol.com\/is\/image\/Persol\/8053672837735_noshad_qt.png?impolicy=HB_parameters&sclw=1&sclh=1","resourceId":"http:\/\/lux-prdlv-src01.lux-ecomm.net:3737\/search\/resources\/store\/715838388\/productview\/byId\/3074457345616796677","price":[{"description":"L","value":"260.0","usage":"Display","currency":"USD"},{"description":"O","value":"","usage":"Offer","currency":"USD"}],"thumbnail":"https:\/\/assets.persol.com\/is\/image\/Persol\/8053672837735_noshad_fr.png?impolicy=HB_parameters&sclw=0.25&sclh=0.25","shortDescription":"PO3007V","mfPartNumber_ntk":"0PO3007V","name":"PO3007V","longDescription":"PO3007V","buyable":"true","storeID":"715838084","attributes":[{"storeDisplay":false,"values":[{"sequence":"5","value":"PO3007V","uniqueID":"7741124012283444287","unitOfMeasure":"","unitID":"","identifier":"PO3007V"}],"sequence":"0","name":"Model code","associatedKeyword":"-","usage":"Descriptive","uniqueID":"7741124012283334373","displayable":true,"comparable":false,"identifier":"MODEL_CODE_DISPLAY","searchable":false,"facetable":false},{"storeDisplay":false,"values":[{"sequence":"3","value":"201707","uniqueID":"7741124012283335835","unitOfMeasure":"","unitID":"","identifier":"201707"}],"sequence":"1","name":"Collection","associatedKeyword":"-","usage":"Descriptive","uniqueID":"7741124012283334335","displayable":false,"comparable":false,"identifier":"COLLECTION","searchable":true,"facetable":false},{"storeDisplay":false,"values":[{"sequence":"5","value":"Havana Rose Brown","uniqueID":"7741124012283335914","unitOfMeasure":"","unitID":"","identifier":"Havana Rose Brown"}],"sequence":"1","name":"Front color","associatedKeyword":"-","usage":"Descriptive","uniqueID":"7741124012283334339","displayable":true,"comparable":false,"identifier":"FRONT_COLOR","searchable":false,"facetable":false},{"storeDisplay":false,"values":[{"sequence":"1","value":"Standard","uniqueID":"7741124012283336345","unitOfMeasure":"","unitID":"","identifier":"Standard"}],"sequence":"1","name":"Size","associatedKeyword":"-","usage":"Defining","uniqueID":"7741124012283334359","displayable":true,"comparable":false,"identifier":"MODEL_SIZE_DISPLAY","searchable":false,"facetable":false},{"storeDisplay":false,"values":[{"sequence":"1","value":"Demo Lens","uniqueID":"7741124012283336054","unitOfMeasure":"","unitID":"","identifier":"Demo Lens"}],"sequence":"2","name":"Lens color","associatedKeyword":"-","usage":"Descriptive","uniqueID":"7741124012283334346","displayable":true,"comparable":false,"identifier":"LENS_COLOR","searchable":false,"facetable":false},{"storeDisplay":false,"values":[{"sequence":"5","value":"Square","uniqueID":"7741124012283336911","unitOfMeasure":"","unitID":"","identifier":"Square"}],"sequence":"2","name":"Frame shape","associatedKeyword":"-","usage":"Descriptive","uniqueID":"7741124012283334367","displayable":false,"comparable":false,"identifier":"FRAME_SHAPE","searchable":false,"facetable":false},{"storeDisplay":false,"values":[{"sequence":"2","value":"Demo Lens","uniqueID":"7741124012283336896","unitOfMeasure":"","unitID":"","identifier":"Demo Lens"}],"sequence":"3","name":"Lens treatment","associatedKeyword":"-","usage":"Descriptive","uniqueID":"7741124012283334364","displayable":false,"comparable":false,"identifier":"LENS_TREATMENT","searchable":false,"facetable":false},{"storeDisplay":false,"values":[{"sequence":"1","value":"False","uniqueID":"7741124012285955768","unitOfMeasure":"","unitID":"","identifier":"False"}],"sequence":"3","name":"Photochromic","associatedKeyword":"-","usage":"Descriptive","uniqueID":"7741124012284852335","displayable":false,"comparable":false,"identifier":"PHOTOCHROMIC","searchable":true,"facetable":true},{"storeDisplay":false,"values":[{"sequence":"0","value":"0","uniqueID":"0","unitOfMeasure":"","unitID":"","identifier":"0"}],"sequence":"4","name":"LENS MATERIAL FACET","associatedKeyword":"-","usage":"Descriptive","uniqueID":"7741124012284251849","displayable":false,"comparable":false,"identifier":"LENS_MATERIAL_FACET","searchable":false,"facetable":false},{"storeDisplay":false,"values":[{"sequence":"2","value":"Acetate","uniqueID":"7741124012283335870","unitOfMeasure":"","unitID":"","identifier":"Acetate"}],"sequence":"5","name":"Frame material","associatedKeyword":"-","usage":"Descriptive","uniqueID":"7741124012283334338","displayable":false,"comparable":false,"identifier":"FRAMEMATERIAL_FACET","searchable":true,"facetable":true},{"storeDisplay":false,"values":[{"sequence":"0","value":"0","uniqueID":"0","unitOfMeasure":"","unitID":"","identifier":"0"}],"sequence":"5","name":"LENS MATERIAL","associatedKeyword":"-","usage":"Descriptive","uniqueID":"7741124012284251848","displayable":true,"comparable":false,"identifier":"LENS_MATERIAL","searchable":false,"facetable":false},{"storeDisplay":false,"values":[{"sequence":"1","value":"False","uniqueID":"7741124012283336065","unitOfMeasure":"","unitID":"","identifier":"False"}],"sequence":"6","name":"Limited edition","associatedKeyword":"-","usage":"Descriptive","uniqueID":"7741124012283334347","displayable":false,"comparable":false,"identifier":"LIMITED_EDITION","searchable":false,"facetable":false},{"storeDisplay":false,"values":[{"sequence":"4","value":"Acetate","uniqueID":"7741124012283335867","unitOfMeasure":"","unitID":"","identifier":"Acetate"}],"sequence":"6","name":"Frame Material","associatedKeyword":"-","usage":"Descriptive","uniqueID":"7741124012283334337","displayable":true,"comparable":false,"identifier":"FRAMEMATERIAL","searchable":false,"facetable":false},{"storeDisplay":false,"values":[{"sequence":"1","value":"Not Adjustable","uniqueID":"7741124012284859354","unitOfMeasure":"","unitID":"","identifier":"Not Adjustable"}],"sequence":"7","name":"Nosepads","associatedKeyword":"-","usage":"Descriptive","uniqueID":"7741124012284251840","displayable":true,"comparable":false,"identifier":"NOSEPADS","searchable":true,"facetable":true},{"storeDisplay":false,"values":[{"sequence":"1","value":"Havana Rose Brown","uniqueID":"7741124012284313303","unitOfMeasure":"","unitID":"","identifier":"Havana Rose Brown"}],"sequence":"7","name":"Temple color","associatedKeyword":"-","usage":"Descriptive","uniqueID":"7741124012283334354","displayable":false,"comparable":false,"identifier":"TEMPLE_COLOR","searchable":false,"facetable":false},{"storeDisplay":false,"values":[{"sequence":"1","value":"1","uniqueID":"7741124012284859356","unitOfMeasure":"","unitID":"","identifier":"1"}],"sequence":"8","name":"PLACEHOLDER_SIZE","associatedKeyword":"-","usage":"Descriptive","uniqueID":"7741124012284251841","displayable":true,"comparable":false,"identifier":"PLACEHOLDER_SIZE","searchable":false,"facetable":false},{"storeDisplay":false,"values":[{"sequence":"1","value":"Standard","uniqueID":"7741124012284859365","unitOfMeasure":"","unitID":"","identifier":"Standard"}],"sequence":"9","name":"FRAME FIT","associatedKeyword":"-","usage":"Descriptive","uniqueID":"7741124012284251846","displayable":true,"comparable":false,"identifier":"FRAME FIT","searchable":false,"facetable":false},{"storeDisplay":false,"values":[{"sequence":"1","value":"Polished","uniqueID":"7741124012284859363","unitOfMeasure":"","unitID":"","identifier":"Polished"}],"sequence":"9","name":"FINISHING","associatedKeyword":"-","usage":"Descriptive","uniqueID":"7741124012284251844","displayable":false,"comparable":false,"identifier":"FINISHING","searchable":false,"facetable":false},{"storeDisplay":false,"values":[{"sequence":"1","value":"Italy","uniqueID":"7741124012283336067","unitOfMeasure":"","unitID":"","identifier":"Italy"}],"sequence":"10","name":"Made in","associatedKeyword":"-","usage":"Descriptive","uniqueID":"7741124012283334348","displayable":true,"comparable":false,"identifier":"MADEIN","searchable":false,"facetable":false},{"storeDisplay":false,"values":[{"sequence":"5","value":"Keyhole Bridge","uniqueID":"7741124012284859339","unitOfMeasure":"","unitID":"","identifier":"Keyhole Bridge"}],"sequence":"10","name":"BRIDGE TYPE","associatedKeyword":"-","usage":"Descriptive","uniqueID":"7741124012284251836","displayable":false,"comparable":false,"identifier":"BRIDGE TYPE","searchable":false,"facetable":false},{"storeDisplay":false,"values":[{"sequence":"3","value":"Full Rim","uniqueID":"7741124012283360863","unitOfMeasure":"","unitID":"","identifier":"Full Rim"}],"sequence":"11","name":"Frame type","associatedKeyword":"-","usage":"Descriptive","uniqueID":"7741124012283334370","displayable":false,"comparable":false,"identifier":"FRAMETYPE","searchable":true,"facetable":false},{"storeDisplay":false,"values":[{"sequence":"4","value":"Mini Supreme Acetate","uniqueID":"7741124012283355349","unitOfMeasure":"","unitID":"","identifier":"Mini Supreme Acetate"}],"sequence":"11","name":"Temple logo","associatedKeyword":"-","usage":"Descriptive","uniqueID":"7741124012283348836","displayable":false,"comparable":true,"identifier":"TEMPLE_LOGO","searchable":false,"facetable":false},{"storeDisplay":false,"values":[{"sequence":"3","value":"Round Face;oval Face","uniqueID":"7741124012284860410","unitOfMeasure":"","unitID":"","identifier":"Round Face;oval Face"}],"sequence":"12","name":"SUGGESTED FACE SHAPE","associatedKeyword":"-","usage":"Descriptive","uniqueID":"7741124012284251843","displayable":false,"comparable":false,"identifier":"SUGGESTED_FACE_SHAPE","searchable":false,"facetable":false},{"storeDisplay":false,"values":[{"sequence":"4","value":"1059","uniqueID":"7741124012284861378","unitOfMeasure":"","unitID":"","identifier":"1059"}],"sequence":"13","name":"COLOR CODE","associatedKeyword":"-","usage":"Descriptive","uniqueID":"7741124012284253335","displayable":false,"comparable":false,"identifier":"COLOR CODE","searchable":false,"facetable":false},{"storeDisplay":false,"values":[{"sequence":"3","value":"Other","uniqueID":"7741124012283444307","unitOfMeasure":"","unitID":"","identifier":"Other"}],"sequence":"15","name":"Model family","associatedKeyword":"-","usage":"Descriptive","uniqueID":"7741124012283333374","displayable":false,"comparable":false,"identifier":"MODEL_FAMILY","searchable":true,"facetable":true},{"storeDisplay":false,"values":[{"image1":"https:\/\/assets.persol.com\/extra\/image\/TargetOptical\/filters\/havana.png","sequence":"5","value":"Havana","uniqueID":"7741124012283336323","image1path":"https:\/\/assets.persol.com\/extra\/image\/TargetOptical\/filters\/havana.png","unitOfMeasure":"","unitID":"","identifier":"Havana"}],"sequence":"16","name":"Temple inner color facet","associatedKeyword":"-","usage":"Descriptive","uniqueID":"7741124012283334357","displayable":false,"comparable":false,"identifier":"TEMPLE_INNER_COLOR_FACET","searchable":true,"facetable":false},{"storeDisplay":false,"values":[{"sequence":"1","value":"False","uniqueID":"7741124012283337030","unitOfMeasure":"","unitID":"","identifier":"False"}],"sequence":"18","name":"Noreturn","associatedKeyword":"-","usage":"Descriptive","uniqueID":"7741124012283334374","displayable":false,"comparable":false,"identifier":"NORETURN","searchable":false,"facetable":false},{"storeDisplay":false,"values":[{"sequence":"2","value":"True","uniqueID":"7741124012284859353","unitOfMeasure":"","unitID":"","identifier":"True"}],"sequence":"20","name":"ENGRAVINGELIGIBLE","associatedKeyword":"-","usage":"Descriptive","uniqueID":"7741124012284251838","displayable":false,"comparable":false,"identifier":"ENGRAVINGELIGIBLE","searchable":false,"facetable":false},{"storeDisplay":false,"values":[{"sequence":"1","value":"Galleria","uniqueID":"7741124012283336920","unitOfMeasure":"","unitID":"","identifier":"Galleria"}],"sequence":"21","name":"Range","associatedKeyword":"-","usage":"Descriptive","uniqueID":"7741124012283334371","displayable":false,"comparable":false,"identifier":"RANGE","searchable":false,"facetable":true},{"storeDisplay":false,"values":[{"sequence":"1","value":"Demo Lens","uniqueID":"7741124012283336042","unitOfMeasure":"","unitID":"","identifier":"Demo Lens"}],"sequence":"22","name":"Lens color","associatedKeyword":"-","usage":"Descriptive","uniqueID":"7741124012283334345","displayable":false,"comparable":false,"identifier":"LENS_COLOR_FACET","searchable":true,"facetable":true},{"storeDisplay":false,"values":[{"sequence":"1","value":"False","uniqueID":"7741124012283336068","unitOfMeasure":"","unitID":"","identifier":"False"}],"sequence":"23","name":"Newreleases","associatedKeyword":"-","usage":"Descriptive","uniqueID":"7741124012283334349","displayable":false,"comparable":false,"identifier":"NEWRELEASES","searchable":true,"facetable":false},{"storeDisplay":false,"values":[{"sequence":"0","value":"0","uniqueID":"0","unitOfMeasure":"","unitID":"","identifier":"0"}],"sequence":"25","name":"Clen","associatedKeyword":"-","usage":"Descriptive","uniqueID":"7741124012283334344","displayable":false,"comparable":false,"identifier":"CLEN","searchable":false,"facetable":false},{"storeDisplay":false,"values":[{"sequence":"5","value":"Supreme 3,5","uniqueID":"7741124012283355340","unitOfMeasure":"","unitID":"","identifier":"Supreme 3,5"}],"sequence":"26","name":"Arrow","associatedKeyword":"-","usage":"Descriptive","uniqueID":"7741124012283348835","displayable":false,"comparable":false,"identifier":"ARROW","searchable":false,"facetable":false},{"storeDisplay":false,"values":[{"sequence":"3","value":"364200","uniqueID":"7741124012285345916","unitOfMeasure":"","unitID":"","identifier":"364200"}],"sequence":"28","name":"Sequence","associatedKeyword":"-","usage":"Descriptive","uniqueID":"7741124012283593337","displayable":false,"comparable":false,"identifier":"SEQUENCE","searchable":true,"facetable":false},{"storeDisplay":false,"values":[{"sequence":"2","value":"Man","uniqueID":"7741124012283336014","unitOfMeasure":"","unitID":"","identifier":"Man"}],"sequence":"29","name":"Gender","associatedKeyword":"-","usage":"Descriptive","uniqueID":"7741124012283334343","displayable":false,"comparable":false,"identifier":"GENDER","searchable":true,"facetable":true},{"storeDisplay":false,"values":[{"sequence":"1","value":"False","uniqueID":"7741124012284860407","unitOfMeasure":"","unitID":"","identifier":"False"}],"sequence":"30","name":"Flex","associatedKeyword":"-","usage":"Descriptive","uniqueID":"7741124012283364835","displayable":false,"comparable":false,"identifier":"FLEX","searchable":false,"facetable":false},{"storeDisplay":false,"values":[{"sequence":"3","value":"True","uniqueID":"7741124012284582836","unitOfMeasure":"","unitID":"","identifier":"True"}],"sequence":"31","name":"Best Sellers","associatedKeyword":"-","usage":"Descriptive","uniqueID":"7741124012284026835","displayable":false,"comparable":false,"identifier":"BESTSELLERS","searchable":false,"facetable":false},{"storeDisplay":false,"values":[{"sequence":"5","value":"Havana","uniqueID":"7741124012283336007","unitOfMeasure":"","unitID":"","identifier":"Havana"}],"sequence":"32","name":"Front inner color facet","associatedKeyword":"-","usage":"Descriptive","uniqueID":"7741124012283334342","displayable":false,"comparable":false,"identifier":"FRONT_INNER_COLOR_FACET","searchable":true,"facetable":false},{"storeDisplay":false,"values":[{"sequence":"2","value":"PO3007V","uniqueID":"7741124012283336084","unitOfMeasure":"","unitID":"","identifier":"PO3007V"}],"sequence":"33","name":"Modelname","associatedKeyword":"-","usage":"Descriptive","uniqueID":"7741124012283334353","displayable":false,"comparable":false,"identifier":"MODELNAME","searchable":true,"facetable":false},{"storeDisplay":false,"values":[{"sequence":"1","value":"False","uniqueID":"7741124012283335865","unitOfMeasure":"","unitID":"","identifier":"False"}],"sequence":"34","name":"Exclusive","associatedKeyword":"-","usage":"Descriptive","uniqueID":"7741124012283334336","displayable":false,"comparable":false,"identifier":"EXCLUSIVE","searchable":false,"facetable":true},{"storeDisplay":false,"values":[{"image1":"https:\/\/assets.persol.com\/extra\/image\/Persol\/filters\/tortoise.png","sequence":"5","value":"Tortoise","uniqueID":"7741124012284314837","image1path":"https:\/\/assets.persol.com\/extra\/image\/Persol\/filters\/tortoise.png","unitOfMeasure":"","unitID":"","identifier":"Tortoise"}],"sequence":"35","name":"Frame color","associatedKeyword":"-","usage":"Descriptive","uniqueID":"7741124012283334340","displayable":false,"comparable":false,"identifier":"FRONT_COLOR_FACET","searchable":true,"facetable":true},{"storeDisplay":false,"values":[{"sequence":"1","value":"Square","uniqueID":"7741124012283336915","unitOfMeasure":"","unitID":"","identifier":"Square"}],"sequence":"37","name":"Frame shape","associatedKeyword":"-","usage":"Descriptive","uniqueID":"7741124012283334368","displayable":false,"comparable":false,"identifier":"FRAME_SHAPE_FACET","searchable":true,"facetable":true},{"storeDisplay":false,"values":[{"sequence":"1","value":"False","uniqueID":"7741124012283336078","unitOfMeasure":"","unitID":"","identifier":"False"}],"sequence":"38","name":"Polarized","associatedKeyword":"-","usage":"Descriptive","uniqueID":"7741124012283334352","displayable":false,"comparable":false,"identifier":"POLARIZED","searchable":true,"facetable":true},{"storeDisplay":false,"values":[{"sequence":"1","value":"False","uniqueID":"7741124012283336077","unitOfMeasure":"","unitID":"","identifier":"False"}],"sequence":"39","name":"Onsale","associatedKeyword":"-","usage":"Descriptive","uniqueID":"7741124012283334351","displayable":false,"comparable":false,"identifier":"ONSALE","searchable":false,"facetable":false},{"storeDisplay":false,"values":[{"sequence":"1","value":"False","uniqueID":"7741124012283355350","unitOfMeasure":"","unitID":"","identifier":"False"}],"sequence":"42","name":"Vintage Celebration","associatedKeyword":"-","usage":"Descriptive","uniqueID":"7741124012283348837","displayable":false,"comparable":false,"identifier":"VINTAGE CELEBRATION","searchable":false,"facetable":false},{"storeDisplay":false,"values":[{"sequence":"1","value":"False","uniqueID":"7741124012284859336","unitOfMeasure":"","unitID":"","identifier":"False"}],"sequence":"43","name":"AVANT_PREMIERE","associatedKeyword":"-","usage":"Descriptive","uniqueID":"7741124012284251835","displayable":false,"comparable":false,"identifier":"AVANT_PREMIERE","searchable":false,"facetable":false},{"storeDisplay":false,"values":[{"sequence":"1","value":"False","uniqueID":"7741124012283336902","unitOfMeasure":"","unitID":"","identifier":"False"}],"sequence":"43","name":"Foldable","associatedKeyword":"-","usage":"Descriptive","uniqueID":"7741124012283334366","displayable":false,"comparable":false,"identifier":"FOLDABLE","searchable":true,"facetable":true},{"storeDisplay":false,"values":[{"sequence":"4","value":"Optical","uniqueID":"7741124012283333657","unitOfMeasure":"","unitID":"","identifier":"Optical"}],"sequence":"44","name":"Producttype","associatedKeyword":"-","usage":"Descriptive","uniqueID":"7741124012283333376","displayable":false,"comparable":false,"identifier":"PRODUCTTYPE","searchable":true,"facetable":false},{"storeDisplay":false,"values":[{"sequence":"2","value":"Havana Rose Brown","uniqueID":"7741124012283335984","unitOfMeasure":"","unitID":"","identifier":"Havana Rose Brown"}],"sequence":"45","name":"Front inner color","associatedKeyword":"-","usage":"Descriptive","uniqueID":"7741124012283334341","displayable":false,"comparable":false,"identifier":"FRONT_INNER_COLOR","searchable":false,"facetable":false},{"storeDisplay":false,"values":[{"sequence":"5","value":"Havana Rose Brown","uniqueID":"7741124012284313313","unitOfMeasure":"","unitID":"","identifier":"Havana Rose Brown"}],"sequence":"46","name":"Temple inner color","associatedKeyword":"-","usage":"Descriptive","uniqueID":"7741124012283334356","displayable":false,"comparable":false,"identifier":"TEMPLE_INNER_COLOR","searchable":false,"facetable":false},{"storeDisplay":false,"values":[{"image1":"https:\/\/assets.persol.com\/extra\/image\/TargetOptical\/filters\/havana.png","sequence":"3","value":"Havana","uniqueID":"7741124012283336250","image1path":"https:\/\/assets.persol.com\/extra\/image\/TargetOptical\/filters\/havana.png","unitOfMeasure":"","unitID":"","identifier":"Havana"}],"sequence":"47","name":"Temple color facet","associatedKeyword":"-","usage":"Descriptive","uniqueID":"7741124012283334355","displayable":false,"comparable":false,"identifier":"TEMPLE_COLOR_FACET","searchable":true,"facetable":false},{"storeDisplay":false,"values":[{"sequence":"2","value":"True","uniqueID":"7741124012284859902","unitOfMeasure":"","unitID":"","identifier":"True"}],"sequence":"48","name":"MEFLECTO","associatedKeyword":"-","usage":"Descriptive","uniqueID":"7741124012284251847","displayable":false,"comparable":false,"identifier":"MEFLECTO","searchable":false,"facetable":false},{"storeDisplay":false,"values":[{"sequence":"1","value":"Global","uniqueID":"7741124012283336916","unitOfMeasure":"","unitID":"","identifier":"Global"}],"sequence":"49","name":"Fitting","associatedKeyword":"-","usage":"Descriptive","uniqueID":"7741124012283334369","displayable":false,"comparable":false,"identifier":"GEO_FIT","searchable":true,"facetable":false}],"numberOfSKUs":1,"partNumber":"0PO3007V__1059"}
PO3007V
Model code:

PO3007V

Front color:

Havana Rose Brown

Lens color:

Demo Lens

Frame Material:

Acetate

Nosepads:

Not Adjustable

Measurements

:

FRAME FIT:

Standard

Made in:

Italy
Arrow
Persol's founder Giuseppe Ratti recognised the need to make his products iconic, choosing the sword of ancient warriors as an inspiration for the Arrow symbol, the unquestioned emblem of the Brand. This Arrow is what makes every Persol unmatchable.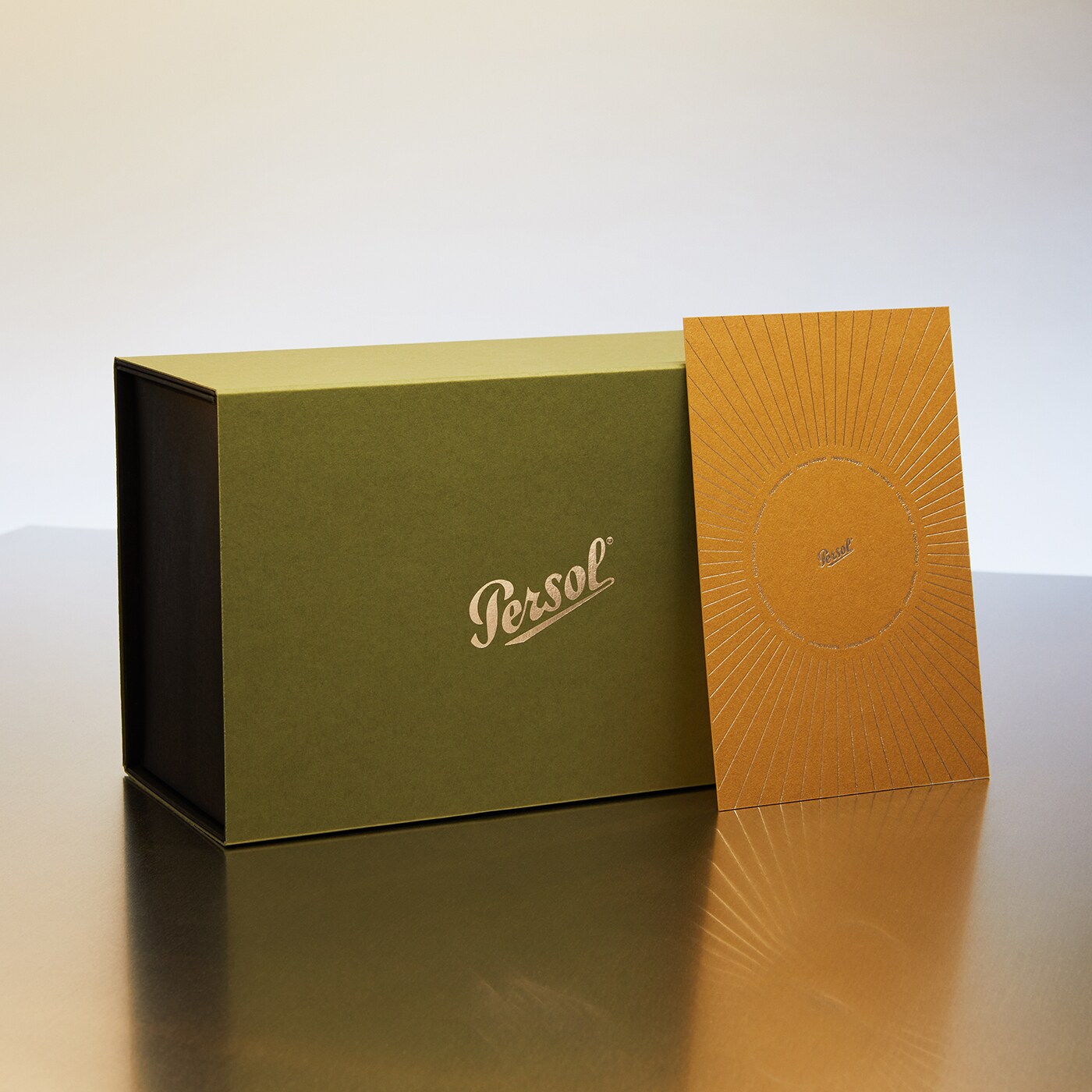 Our exclusive holiday gift box.
The perfect finishing touch.

Every Persol frame will be enclosed in this unique holiday gift box.
Free Shipping
All you have to do is decide which frame you want. We'll handle the shipping.
Free Returns
The easiest way to get the perfect model, hassle free.
Eyewear Warranty
We guarantee against damages due to material or workmanship defects for 2 years from delivery date.