PO3261S - Exclusive
Grey / Gradient Blue Polar
Other
Online Exclusive
Handmade in Italy
{"hasSingleSKU":true,"catalogEntryTypeCode":"ProductBean","parentCatalogGroupID":["3074457345616676668_3074457345616676668","3074457345616681818_3074457345616714671","3074457345616681818_3074457345616714672","3074457345616685418_3074457345616714671","3074457345616685418_3074457345616714672"],"price_USD":"310.0","singleSKUCatalogEntryID":"3074457345616816678","uniqueID":"3074457345616816172","sKUs":[{"hasSingleSKU":false,"catalogEntryTypeCode":"ItemBean","parentCatalogGroupID":["3074457345616676668_3074457345616676668","3074457345616681818_3074457345616714671","3074457345616681818_3074457345616714672","3074457345616685418_3074457345616714671","3074457345616685418_3074457345616714672"],"uniqueID":"3074457345616816678","fullImage":"https:\/\/assets.persol.com\/is\/image\/Persol\/8056597393874__001.png?impolicy=HB_parameters&sclw=1&sclh=1","resourceId":"http:\/\/lux-prdlv-src01.lux-ecomm.net:3737\/search\/resources\/store\/715838388\/productview\/byId\/3074457345616816678","price":[{"description":"L","value":"","usage":"Display","currency":"USD"},{"description":"O","value":"","usage":"Offer","currency":"USD"}],"thumbnail":"https:\/\/assets.persol.com\/is\/image\/Persol\/8056597393874__001.png?impolicy=HB_parameters&sclw=0.25&sclh=0.25","manufacturer":"Persol","mfPartNumber_ntk":"0PO3261S","name":"PO3261S - Exclusive","buyable":"true","storeID":"715838084","attributes":[{"storeDisplay":false,"values":[{"sequence":"0","value":"160.000","uniqueID":"7741124012286564595","unitOfMeasure":"","unitID":"","identifier":"160.000"}],"sequence":"10000","name":"GROSSWEIGHT","usage":"Descriptive","uniqueID":"7741124012285183356","displayable":false,"comparable":true,"identifier":"GROSSWEIGHT","searchable":true,"facetable":false},{"storeDisplay":false,"values":[{"sequence":"0","value":"128","uniqueID":"7741124012286568080","unitOfMeasure":"","unitID":"","identifier":"128"}],"sequence":"10000","name":"HINGE_DISTANCE","usage":"Descriptive","uniqueID":"7741124012285183405","displayable":false,"comparable":false,"identifier":"HINGE_DISTANCE","searchable":true,"facetable":false},{"storeDisplay":false,"values":[{"sequence":"0","value":"16","uniqueID":"7741124012286584826","unitOfMeasure":"","unitID":"","identifier":"16"}],"sequence":"10000","name":"BRIDGE","usage":"Descriptive","uniqueID":"7741124012285183401","displayable":true,"comparable":true,"identifier":"BRIDGE","searchable":true,"facetable":false},{"storeDisplay":false,"values":[{"sequence":"0","value":"1138S354","uniqueID":"7741124012286585465","unitOfMeasure":"","unitID":"","identifier":"1138S354"}],"sequence":"10000","name":"GRID","usage":"Descriptive","uniqueID":"7741124012285183355","displayable":false,"comparable":true,"identifier":"GRID","searchable":true,"facetable":false},{"storeDisplay":false,"values":[{"sequence":"0","value":"Standard","uniqueID":"7741124012286537435","unitOfMeasure":"","unitID":"","identifier":"Standard"}],"sequence":"10000","name":"Size","usage":"Defining","uniqueID":"7741124012285183347","displayable":true,"comparable":true,"identifier":"MODEL_SIZE_DISPLAY","searchable":true,"facetable":false},{"storeDisplay":false,"values":[{"sequence":"0","value":"1654","uniqueID":"7741124012286584053","unitOfMeasure":"","unitID":"","identifier":"1654"}],"sequence":"10000","name":"LENS_BRIDGE","usage":"Descriptive","uniqueID":"7741124012285183359","displayable":false,"comparable":true,"identifier":"LENS_BRIDGE","searchable":true,"facetable":false},{"storeDisplay":false,"values":[{"sequence":"0","value":"44","uniqueID":"7741124012286585456","unitOfMeasure":"","unitID":"","identifier":"44"}],"sequence":"10000","name":"LENSHEIGHT","usage":"Descriptive","uniqueID":"7741124012285183385","displayable":true,"comparable":true,"identifier":"LENSHEIGHT","searchable":true,"facetable":false},{"storeDisplay":false,"values":[{"sequence":"0","value":"0po3261s1138s354","uniqueID":"7741124012286585457","unitOfMeasure":"","unitID":"","identifier":"0po3261s1138s354"}],"sequence":"10000","name":"SKU","usage":"Descriptive","uniqueID":"7741124012285183375","displayable":true,"comparable":true,"identifier":"SKU","searchable":true,"facetable":false},{"storeDisplay":false,"values":[{"sequence":"0","value":"54","uniqueID":"7741124012286564575","unitOfMeasure":"","unitID":"","identifier":"54"}],"sequence":"10000","name":"MODEL_SIZE","usage":"Descriptive","uniqueID":"7741124012285183346","displayable":false,"comparable":true,"identifier":"MODEL_SIZE","searchable":true,"facetable":false},{"storeDisplay":false,"values":[{"sequence":"0","value":"145","uniqueID":"7741124012286564875","unitOfMeasure":"","unitID":"","identifier":"145"}],"sequence":"10000","name":"TEMPLE_LENGTH","usage":"Descriptive","uniqueID":"7741124012285183381","displayable":false,"comparable":true,"identifier":"TEMPLE_LENGTH","searchable":true,"facetable":false},{"storeDisplay":false,"values":[{"sequence":"0","value":"54.1","uniqueID":"7741124012286585460","unitOfMeasure":"","unitID":"","identifier":"54.1"}],"sequence":"10000","name":"LENS_WIDTH","usage":"Descriptive","uniqueID":"7741124012285183392","displayable":false,"comparable":false,"identifier":"LENS_WIDTH","searchable":true,"facetable":false},{"storeDisplay":false,"values":[{"sequence":"0","value":"0PO3261S","uniqueID":"7741124012286585455","unitOfMeasure":"","unitID":"","identifier":"0PO3261S"}],"sequence":"10000","name":"DISPLAYSKU","usage":"Descriptive","uniqueID":"7741124012285183340","displayable":false,"comparable":true,"identifier":"DISPLAYSKU","searchable":true,"facetable":false}],"partNumber":"8056597393874"}],"fullImage":"https:\/\/assets.persol.com\/is\/image\/Persol\/8056597393874__001.png?impolicy=HB_parameters&sclw=1&sclh=1","resourceId":"http:\/\/lux-prdlv-src01.lux-ecomm.net:3737\/search\/resources\/store\/715838388\/productview\/byId\/3074457345616816172","price":[{"description":"L","value":"","usage":"Display","currency":"USD"},{"description":"O","value":"","usage":"Offer","currency":"USD"}],"thumbnail":"https:\/\/assets.persol.com\/is\/image\/Persol\/8056597393874__001.png?impolicy=HB_parameters&sclw=0.25&sclh=0.25","manufacturer":"Persol","name":"PO3261S - Exclusive","buyable":"true","storeID":"715838084","attributes":[{"storeDisplay":false,"values":[{"sequence":"0","value":"PO3261S","uniqueID":"7741124012286538051","unitOfMeasure":"","unitID":"","identifier":"PO3261S"}],"sequence":"0","name":"Model code","associatedKeyword":"-","usage":"Descriptive","uniqueID":"7741124012285183387","displayable":true,"comparable":true,"identifier":"MODEL_CODE_DISPLAY","searchable":true,"facetable":false},{"storeDisplay":false,"values":[{"sequence":"0","value":"Grey","uniqueID":"7741124012286537500","unitOfMeasure":"","unitID":"","identifier":"Grey"}],"sequence":"1","name":"Front color","associatedKeyword":"-","usage":"Descriptive","uniqueID":"7741124012285183348","displayable":true,"comparable":true,"identifier":"FRONT_COLOR","searchable":true,"facetable":false},{"storeDisplay":false,"values":[{"sequence":"0","value":"Gradient Blue Polar","uniqueID":"7741124012286537813","unitOfMeasure":"","unitID":"","identifier":"Gradient Blue Polar"}],"sequence":"2","name":"Lens color","associatedKeyword":"-","usage":"Descriptive","uniqueID":"7741124012285183361","displayable":true,"comparable":true,"identifier":"LENS_COLOR","searchable":true,"facetable":false},{"storeDisplay":false,"values":[{"sequence":"0","value":"Gradient","uniqueID":"7741124012286537795","unitOfMeasure":"","unitID":"","identifier":"Gradient"}],"sequence":"3","name":"LENS_TREATMENT","associatedKeyword":"-","usage":"Descriptive","uniqueID":"7741124012285183358","displayable":false,"comparable":true,"identifier":"LENS_TREATMENT","searchable":true,"facetable":false},{"storeDisplay":false,"values":[{"sequence":"0","value":"Crystal","uniqueID":"7741124012286537865","unitOfMeasure":"","unitID":"","identifier":"Crystal"}],"sequence":"5","name":"LENS MATERIAL","associatedKeyword":"-","usage":"Descriptive","uniqueID":"7741124012285183391","displayable":true,"comparable":false,"identifier":"LENS_MATERIAL","searchable":true,"facetable":false},{"storeDisplay":false,"values":[{"sequence":"0","value":"Acetate","uniqueID":"7741124012286537413","unitOfMeasure":"","unitID":"","identifier":"Acetate"}],"sequence":"6","name":"Frame Material","associatedKeyword":"-","usage":"Descriptive","uniqueID":"7741124012285183343","displayable":true,"comparable":true,"identifier":"FRAMEMATERIAL","searchable":true,"facetable":false},{"storeDisplay":false,"values":[{"sequence":"0","value":"Not Adjustable","uniqueID":"7741124012286539241","unitOfMeasure":"","unitID":"","identifier":"Not Adjustable"}],"sequence":"7","name":"Nosepads","associatedKeyword":"-","usage":"Descriptive","uniqueID":"7741124012285183406","displayable":true,"comparable":true,"identifier":"NOSEPADS","searchable":true,"facetable":true},{"storeDisplay":false,"values":[{"sequence":"0","value":"Wide","uniqueID":"7741124012286537412","unitOfMeasure":"","unitID":"","identifier":"Wide"}],"sequence":"9","name":"FRAME FIT","associatedKeyword":"-","usage":"Descriptive","uniqueID":"7741124012285183407","displayable":true,"comparable":true,"identifier":"FRAME_FIT","searchable":true,"facetable":false},{"storeDisplay":false,"values":[{"sequence":"0","value":"Italy","uniqueID":"7741124012286551468","unitOfMeasure":"","unitID":"","identifier":"Italy"}],"sequence":"10","name":"Made in","associatedKeyword":"-","usage":"Descriptive","uniqueID":"7741124012285183365","displayable":true,"comparable":true,"identifier":"MADEIN","searchable":true,"facetable":false},{"storeDisplay":false,"values":[{"sequence":"0","value":"Grey","uniqueID":"7741124012286538381","unitOfMeasure":"","unitID":"","identifier":"Grey"}],"sequence":"10000","name":"TEMPLE_COLOR","associatedKeyword":"-","usage":"Descriptive","uniqueID":"7741124012285183377","displayable":false,"comparable":true,"identifier":"TEMPLE_COLOR","searchable":true,"facetable":false},{"storeDisplay":false,"values":[{"sequence":"0","value":"True","uniqueID":"7741124012286585967","unitOfMeasure":"","unitID":"","identifier":"TRUE"}],"sequence":"10000","name":"Newreleases","associatedKeyword":"-","usage":"Descriptive","uniqueID":"7741124012285183368","displayable":false,"comparable":true,"identifier":"NEWRELEASES","searchable":true,"facetable":false},{"storeDisplay":false,"values":[{"sequence":"0","value":"PO3261S - Exclusive","uniqueID":"7741124012286538289","unitOfMeasure":"","unitID":"","identifier":"PO3261S - Exclusive"}],"sequence":"10000","name":"MODELNAME","associatedKeyword":"-","usage":"Descriptive","uniqueID":"7741124012285183376","displayable":false,"comparable":true,"identifier":"MODELNAME","searchable":true,"facetable":false},{"storeDisplay":false,"values":[{"sequence":"0","value":"Polished","uniqueID":"7741124012286537585","unitOfMeasure":"","unitID":"","identifier":"Polished"}],"sequence":"10000","name":"FINISHING","associatedKeyword":"-","usage":"Descriptive","uniqueID":"7741124012285183350","displayable":false,"comparable":true,"identifier":"FINISHING","searchable":true,"facetable":false},{"storeDisplay":false,"values":[{"sequence":"0","value":"Grey","uniqueID":"7741124012286538457","unitOfMeasure":"","unitID":"","identifier":"Grey"}],"sequence":"10000","name":"Temple color facet","associatedKeyword":"-","usage":"Descriptive","uniqueID":"7741124012285183378","displayable":false,"comparable":true,"identifier":"TEMPLE_COLOR_FACET","searchable":true,"facetable":false},{"storeDisplay":false,"values":[{"sequence":"0","value":"Grey","uniqueID":"7741124012286538540","unitOfMeasure":"","unitID":"","identifier":"Grey"}],"sequence":"10000","name":"TEMPLE_INNER_COLOR","associatedKeyword":"-","usage":"Descriptive","uniqueID":"7741124012285183379","displayable":false,"comparable":true,"identifier":"TEMPLE_INNER_COLOR","searchable":true,"facetable":false},{"storeDisplay":false,"values":[{"sequence":"0","value":"3P","uniqueID":"7741124012286538082","unitOfMeasure":"","unitID":"","identifier":"3P"}],"sequence":"10000","name":"NOTAINFORMATIVA","associatedKeyword":"-","usage":"Descriptive","uniqueID":"7741124012285183370","displayable":false,"comparable":true,"identifier":"NOTAINFORMATIVA","searchable":true,"facetable":false},{"storeDisplay":false,"values":[{"sequence":"1","value":"True","uniqueID":"7741124012286585815","unitOfMeasure":"","unitID":"","identifier":"True"}],"sequence":"10000","name":"Polarized","associatedKeyword":"-","usage":"Descriptive","uniqueID":"7741124012285183372","displayable":false,"comparable":true,"identifier":"POLARIZED","searchable":true,"facetable":true},{"storeDisplay":false,"values":[{"sequence":"0","value":"Acetate","uniqueID":"7741124012286537418","unitOfMeasure":"","unitID":"","identifier":"Acetate"}],"sequence":"10000","name":"Frame Material","associatedKeyword":"-","usage":"Descriptive","uniqueID":"7741124012285183388","displayable":false,"comparable":true,"identifier":"FRAMEMATERIAL_FACET","searchable":true,"facetable":true},{"storeDisplay":false,"values":[{"sequence":"0","value":"Supreme 6","uniqueID":"7741124012286585846","unitOfMeasure":"","unitID":"","identifier":"SUPREME 6"}],"sequence":"10000","name":"ARROW","associatedKeyword":"-","usage":"Descriptive","uniqueID":"7741124012285183418","displayable":false,"comparable":true,"identifier":"ARROW","searchable":true,"facetable":false},{"storeDisplay":false,"values":[{"sequence":"0","value":"Standard","uniqueID":"7741124012286537351","unitOfMeasure":"","unitID":"","identifier":"Standard"}],"sequence":"10000","name":"BRIDGETYPE","associatedKeyword":"-","usage":"Descriptive","uniqueID":"7741124012285183419","displayable":false,"comparable":true,"identifier":"BRIDGETYPE","searchable":true,"facetable":false},{"storeDisplay":false,"values":[{"sequence":"0","value":"True","uniqueID":"7741124012286554501","unitOfMeasure":"","unitID":"","identifier":"True"}],"sequence":"10000","name":"Exclusive","associatedKeyword":"-","usage":"Descriptive","uniqueID":"7741124012285183341","displayable":false,"comparable":true,"identifier":"EXCLUSIVE","searchable":true,"facetable":true},{"storeDisplay":false,"values":[{"sequence":"0","value":"True","uniqueID":"7741124012286551645","unitOfMeasure":"","unitID":"","identifier":"True"}],"sequence":"10000","name":"ENGRAVINGELIGIBLE","associatedKeyword":"-","usage":"Descriptive","uniqueID":"7741124012285183402","displayable":false,"comparable":true,"identifier":"ENGRAVINGELIGIBLE","searchable":true,"facetable":false},{"storeDisplay":false,"values":[{"sequence":"0","value":"1138s3","uniqueID":"7741124012286564305","unitOfMeasure":"","unitID":"","identifier":"1138s3"}],"sequence":"10000","name":"COLOR_CODE","associatedKeyword":"-","usage":"Descriptive","uniqueID":"7741124012285183339","displayable":false,"comparable":false,"identifier":"COLOR_CODE","searchable":true,"facetable":false},{"storeDisplay":false,"values":[{"sequence":"0","value":"Lenses-sun;material-acetate;arrow-all;meflecto-all","uniqueID":"7741124012286551531","unitOfMeasure":"","unitID":"","identifier":"Lenses-sun;material-acetate;arrow-all;meflecto-all"}],"sequence":"10000","name":"FEATURES","associatedKeyword":"-","usage":"Descriptive","uniqueID":"7741124012285183399","displayable":false,"comparable":false,"identifier":"FEATURES","searchable":true,"facetable":false},{"storeDisplay":false,"values":[{"sequence":"0","value":"False","uniqueID":"7741124012286551777","unitOfMeasure":"","unitID":"","identifier":"False"}],"sequence":"10000","name":"Limited edition","associatedKeyword":"-","usage":"Descriptive","uniqueID":"7741124012285183364","displayable":false,"comparable":true,"identifier":"LIMITED_EDITION","searchable":true,"facetable":false},{"storeDisplay":false,"values":[{"sequence":"0","value":"L757c","uniqueID":"7741124012286552975","unitOfMeasure":"","unitID":"","identifier":"L757c"}],"sequence":"10000","name":"CLEN","associatedKeyword":"-","usage":"Descriptive","uniqueID":"7741124012285183360","displayable":false,"comparable":true,"identifier":"CLEN","searchable":true,"facetable":false},{"storeDisplay":false,"values":[{"sequence":"0","value":"False","uniqueID":"7741124012286585859","unitOfMeasure":"","unitID":"","identifier":"FALSE"}],"sequence":"10000","name":"Foldable","associatedKeyword":"-","usage":"Descriptive","uniqueID":"7741124012285183342","displayable":false,"comparable":true,"identifier":"FOLDABLE","searchable":true,"facetable":true},{"storeDisplay":false,"values":[{"sequence":"0","value":"Full Rim","uniqueID":"7741124012286537790","unitOfMeasure":"","unitID":"","identifier":"Full Rim"}],"sequence":"10000","name":"Frame Type","associatedKeyword":"-","usage":"Descriptive","uniqueID":"7741124012285183357","displayable":false,"comparable":true,"identifier":"FRAMETYPE","searchable":true,"facetable":false},{"storeDisplay":false,"values":[{"sequence":"0","value":"Rectangle","uniqueID":"7741124012286537426","unitOfMeasure":"","unitID":"","identifier":"Rectangle"}],"sequence":"10000","name":"FRAME_SHAPE","associatedKeyword":"-","usage":"Descriptive","uniqueID":"7741124012285183344","displayable":false,"comparable":true,"identifier":"FRAME_SHAPE","searchable":true,"facetable":false},{"storeDisplay":false,"values":[{"sequence":"0","value":"Global","uniqueID":"7741124012286537787","unitOfMeasure":"","unitID":"","identifier":"Global"}],"sequence":"10000","name":"Fitting","associatedKeyword":"-","usage":"Descriptive","uniqueID":"7741124012285183354","displayable":false,"comparable":true,"identifier":"GEO_FIT","searchable":true,"facetable":false},{"storeDisplay":false,"values":[{"sequence":"0","value":"Zpfn","uniqueID":"7741124012286585965","unitOfMeasure":"","unitID":"","identifier":"ZPFN"}],"sequence":"10000","name":"MATERIALTYPE","associatedKeyword":"-","usage":"Descriptive","uniqueID":"7741124012285183367","displayable":false,"comparable":true,"identifier":"MATERIALTYPE","searchable":true,"facetable":false},{"storeDisplay":false,"values":[{"sequence":"0","value":"Rectangle","uniqueID":"7741124012286537430","unitOfMeasure":"","unitID":"","identifier":"Rectangle"}],"sequence":"10000","name":"Frame shape","associatedKeyword":"-","usage":"Descriptive","uniqueID":"7741124012285183345","displayable":false,"comparable":true,"identifier":"FRAME_SHAPE_FACET","searchable":true,"facetable":true},{"storeDisplay":false,"values":[{"sequence":"0","value":"Oval-square","uniqueID":"7741124012286585853","unitOfMeasure":"","unitID":"","identifier":"Oval-Square"}],"sequence":"10000","name":"SUGGESTED_FACE_SHAPE","associatedKeyword":"-","usage":"Descriptive","uniqueID":"7741124012285183403","displayable":false,"comparable":true,"identifier":"SUGGESTED_FACE_SHAPE","searchable":true,"facetable":false},{"storeDisplay":false,"values":[{"sequence":"0","value":"True","uniqueID":"7741124012286585960","unitOfMeasure":"","unitID":"","identifier":"TRUE"}],"sequence":"10000","name":"MEFLECTO","associatedKeyword":"-","usage":"Descriptive","uniqueID":"7741124012285183415","displayable":false,"comparable":false,"identifier":"MEFLECTO","searchable":true,"facetable":false},{"storeDisplay":false,"values":[{"sequence":"0","value":"False","uniqueID":"7741124012286585857","unitOfMeasure":"","unitID":"","identifier":"FALSE"}],"sequence":"10000","name":"FLEX","associatedKeyword":"-","usage":"Descriptive","uniqueID":"7741124012285183414","displayable":false,"comparable":true,"identifier":"FLEX","searchable":true,"facetable":false},{"storeDisplay":false,"values":[{"sequence":"0","value":"Sun","uniqueID":"7741124012286543504","unitOfMeasure":"","unitID":"","identifier":"Sun"}],"sequence":"10000","name":"Producttype","associatedKeyword":"-","usage":"Descriptive","uniqueID":"7741124012285183374","displayable":false,"comparable":true,"identifier":"PRODUCTTYPE","searchable":true,"facetable":false},{"storeDisplay":false,"values":[{"sequence":"0","value":"Trending Now","uniqueID":"7741124012286539394","unitOfMeasure":"","unitID":"","identifier":"Trending Now"}],"sequence":"10000","name":"PRIMARY_FAMILY","associatedKeyword":"-","usage":"Descriptive","uniqueID":"7741124012285183373","displayable":false,"comparable":true,"identifier":"PRIMARY_FAMILY","searchable":true,"facetable":false},{"storeDisplay":false,"values":[{"sequence":"0","value":"Icona","uniqueID":"7741124012286541883","unitOfMeasure":"","unitID":"","identifier":"Icona"}],"sequence":"10000","name":"Range","associatedKeyword":"-","usage":"Descriptive","uniqueID":"7741124012285183366","displayable":false,"comparable":true,"identifier":"RANGE","searchable":true,"facetable":true},{"storeDisplay":false,"values":[{"sequence":"0","value":"Sunglasses","uniqueID":"7741124012286544020","unitOfMeasure":"","unitID":"","identifier":"sunglasses"}],"sequence":"10000","name":"PROD_HIERARCHY_1","associatedKeyword":"-","usage":"Descriptive","uniqueID":"7741124012285183396","displayable":false,"comparable":false,"identifier":"PROD_HIERARCHY_1","searchable":true,"facetable":false},{"storeDisplay":false,"values":[{"sequence":"0","value":"Eyewear","uniqueID":"7741124012286538909","unitOfMeasure":"","unitID":"","identifier":"eyewear"}],"sequence":"10000","name":"PROD_HIERARCHY_0","associatedKeyword":"-","usage":"Descriptive","uniqueID":"7741124012285183395","displayable":false,"comparable":false,"identifier":"PROD_HIERARCHY_0","searchable":true,"facetable":false},{"storeDisplay":false,"values":[{"sequence":"0","value":"False","uniqueID":"7741124012286538858","unitOfMeasure":"","unitID":"","identifier":"False"}],"sequence":"10000","name":"NORETURN","associatedKeyword":"-","usage":"Descriptive","uniqueID":"7741124012285183369","displayable":false,"comparable":true,"identifier":"NORETURN","searchable":true,"facetable":false},{"storeDisplay":false,"values":[{"sequence":"0","value":"False","uniqueID":"7741124012286539021","unitOfMeasure":"","unitID":"","identifier":"False"}],"sequence":"10000","name":"BESTSELLERS","associatedKeyword":"-","usage":"Descriptive","uniqueID":"7741124012285183337","displayable":false,"comparable":true,"identifier":"BESTSELLERS","searchable":true,"facetable":false},{"storeDisplay":false,"values":[{"sequence":"0","value":"Other","uniqueID":"7741124012286540227","unitOfMeasure":"","unitID":"","identifier":"Other"}],"sequence":"10000","name":"Model family","associatedKeyword":"-","usage":"Descriptive","uniqueID":"7741124012285183382","displayable":false,"comparable":true,"identifier":"MODEL_FAMILY","searchable":true,"facetable":true},{"storeDisplay":false,"values":[{"sequence":"0","value":"202008","uniqueID":"7741124012286537393","unitOfMeasure":"","unitID":"","identifier":"202008"}],"sequence":"10000","name":"Collection","associatedKeyword":"-","usage":"Descriptive","uniqueID":"7741124012285183338","displayable":false,"comparable":true,"identifier":"COLLECTION","searchable":true,"facetable":false},{"storeDisplay":false,"values":[{"sequence":"0","value":"Grey","uniqueID":"7741124012286538675","unitOfMeasure":"","unitID":"","identifier":"Grey"}],"sequence":"10000","name":"Temple inner color facet","associatedKeyword":"-","usage":"Descriptive","uniqueID":"7741124012285183380","displayable":false,"comparable":true,"identifier":"TEMPLE_INNER_COLOR_FACET","searchable":true,"facetable":false},{"storeDisplay":false,"values":[{"image1":"https:\/\/assets.persol.com\/extra\/image\/TargetOptical\/filters\/grey.png","sequence":"0","value":"Grey","uniqueID":"7741124012286537575","image1path":"https:\/\/assets.persol.com\/extra\/image\/TargetOptical\/filters\/grey.png","unitOfMeasure":"","unitID":"","identifier":"Grey"}],"sequence":"10000","name":"Frame color","associatedKeyword":"-","usage":"Descriptive","uniqueID":"7741124012285183349","displayable":false,"comparable":true,"identifier":"FRONT_COLOR_FACET","searchable":true,"facetable":true},{"storeDisplay":false,"values":[{"image1":"https:\/\/assets.persol.com\/extra\/image\/TargetOptical\/filters\/blue.png","sequence":"0","value":"Blue","uniqueID":"7741124012286537848","image1path":"https:\/\/assets.persol.com\/extra\/image\/TargetOptical\/filters\/blue.png","unitOfMeasure":"","unitID":"","identifier":"Blue"}],"sequence":"10000","name":"Lens color","associatedKeyword":"-","usage":"Descriptive","uniqueID":"7741124012285183362","displayable":false,"comparable":true,"identifier":"LENS_COLOR_FACET","searchable":true,"facetable":true},{"storeDisplay":false,"values":[{"sequence":"0","value":"Grey","uniqueID":"7741124012286537666","unitOfMeasure":"","unitID":"","identifier":"Grey"}],"sequence":"10000","name":"FRONT_INNER_COLOR","associatedKeyword":"-","usage":"Descriptive","uniqueID":"7741124012285183351","displayable":false,"comparable":true,"identifier":"FRONT_INNER_COLOR","searchable":true,"facetable":false},{"storeDisplay":false,"values":[{"sequence":"0","value":"Supreme Acetate","uniqueID":"7741124012286538468","unitOfMeasure":"","unitID":"","identifier":"Supreme Acetate"}],"sequence":"10000","name":"TEMPLE_LOGO","associatedKeyword":"-","usage":"Descriptive","uniqueID":"7741124012285183400","displayable":false,"comparable":true,"identifier":"TEMPLE_LOGO","searchable":true,"facetable":false},{"storeDisplay":false,"values":[{"sequence":"0","value":"Gradient","uniqueID":"7741124012286537800","unitOfMeasure":"","unitID":"","identifier":"Gradient"}],"sequence":"10000","name":"Lens type","associatedKeyword":"-","usage":"Descriptive","uniqueID":"7741124012285183389","displayable":false,"comparable":true,"identifier":"LENS_TREATMENT_FACET","searchable":true,"facetable":true},{"storeDisplay":false,"values":[{"sequence":"0","value":"Standard","uniqueID":"7741124012286537435","unitOfMeasure":"","unitID":"","identifier":"Standard"}],"sequence":"10000","name":"Size","associatedKeyword":"-","usage":"Defining","uniqueID":"7741124012285183347","displayable":true,"comparable":true,"identifier":"MODEL_SIZE_DISPLAY","searchable":true,"facetable":false},{"storeDisplay":false,"values":[{"sequence":"0","value":"Man","uniqueID":"7741124012286537785","unitOfMeasure":"","unitID":"","identifier":"MALE"},{"sequence":"0","value":"Woman","uniqueID":"7741124012286537784","unitOfMeasure":"","unitID":"","identifier":"FEMALE"}],"sequence":"10000","name":"Gender","associatedKeyword":"-","usage":"Descriptive","uniqueID":"7741124012285183353","displayable":false,"comparable":true,"identifier":"GENDER","searchable":true,"facetable":true}],"numberOfSKUs":1,"partNumber":"0PO3261S__1138S3"}
PO3261S - Exclusive
Model code:

PO3261S

Front color:

Grey

Lens color:

Gradient Blue Polar

LENS MATERIAL:

Crystal

Frame Material:

Acetate

Nosepads:

Not Adjustable

FRAME FIT:

Wide

Made in:

Italy
Lenses
From standard to polarized, the selection of crystal sun lenses represent quality and excellence, made from the most precious optical materials and used to guarantee the best protection and visual clarity.
Acetates
Acetate from​ cotton and powdery pigments blend to form​ variations that can only be found in Persol glasses, unique for each frame. Made by hand with the highest quality materials, all these glasses are a natural work of art.
Arrow
Persol's founder Giuseppe Ratti recognised the need to make his products iconic, choosing the sword of ancient warriors as an inspiration for the Arrow symbol, the unquestioned emblem of the Brand. This Arrow is what makes every Persol unmatchable.
Meflecto
Patented in the '30s, the Meflecto is the first flexible stem system designed for maximum comfort by eliminating pressure on the head from glasses. This system allows glasses to adapt to any face shape and still today represents a technologically unsurpassed solution.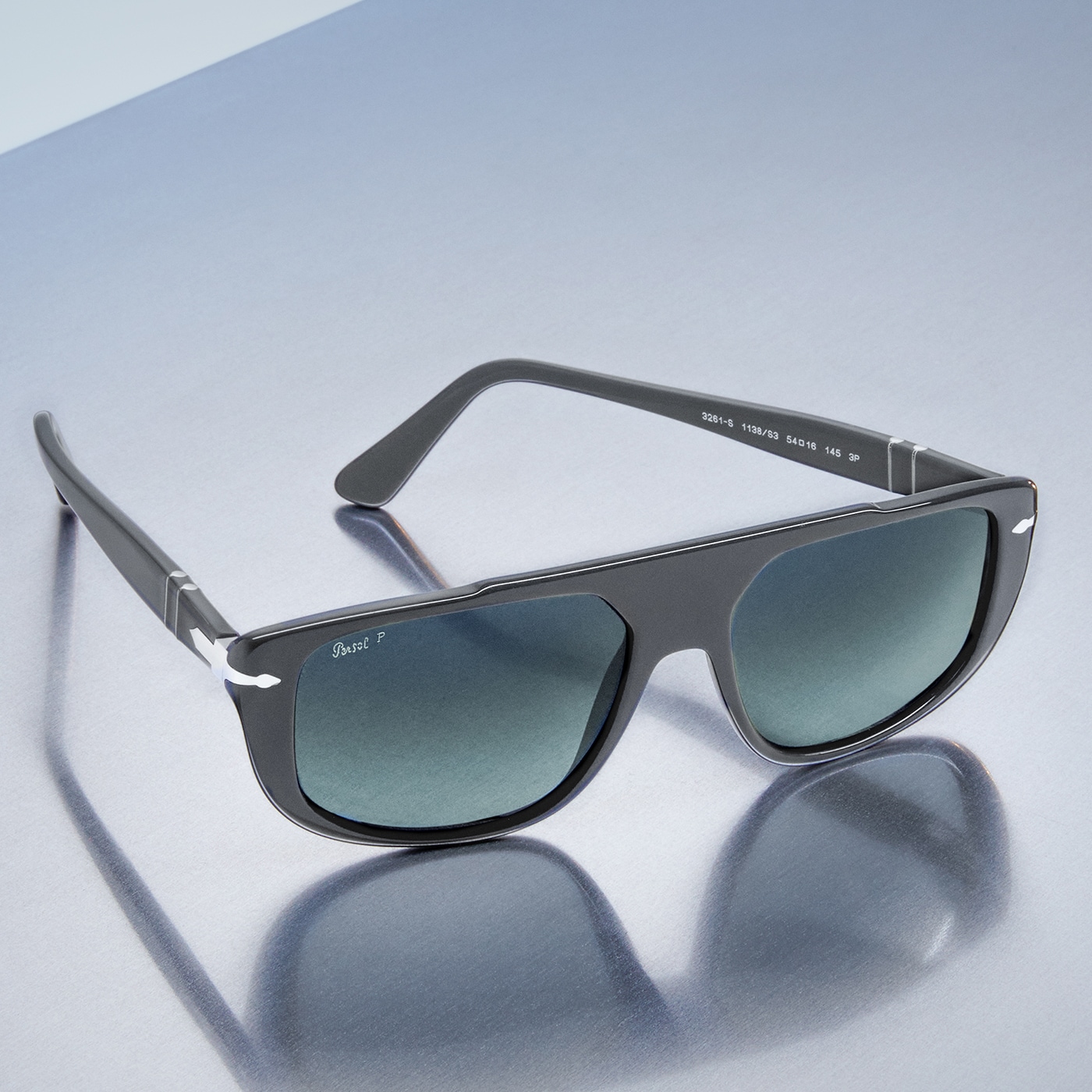 The PO3261S.
It's new. It's exclusive. It's bold.
A new exclusive that you'll only find online and in Persol stores: a grey frame with blue gradient polarized lenses, it comes in a special limited edition box. Make it even more exclusive with a unique engraving.
Free Shipping
All you have to do is decide which frame you want. We'll handle the shipping.
Free Returns
The easiest way to get the perfect model, hassle free.
Eyewear Warranty
We guarantee against damages due to material or workmanship defects for 2 years from delivery date.